When you take a Carnival cruise, it's always a good idea to scope out the drinks menus beforehand.
If you know what kinds of drinks you can order in the different bars and the prices, you'll avoid any awkward moments when the waiter asks what you went, you have no idea and then you accidentally spend 20 bucks on a drink that you don't even like!
When I went onboard Carnival Celebration recently, I took photos of the drinks menus for you. Each ship has a slightly different selection of bars, but this should still give you a good idea of the drinks prices on a Carnival cruise right now.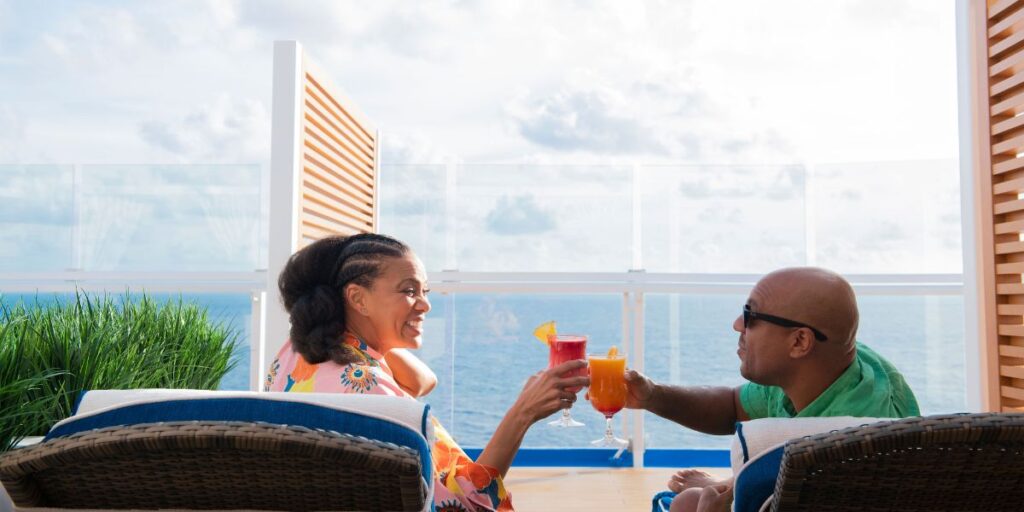 Are you wondering whether Carnival's Cheers drink package is worth it or not? I can help with that!
My drink package calculator will work out the total cost of your drinks, so that you can see whether you'd break even or not with a drink package.
Just pop your email address below and it will be sent to you immediately.
If you just want to know roughly how much drinks cost on Carnival cruise ships, here's the quick answer to that…
Carnival Cruise Bar Prices 2023:
Cocktails: $10.50 -$12.50
Beer (16oz): $7.00 to $8.50
Wine by the glass: $9.50 to $14.00
Spirit and mixer: $7.50 to $15.00
Soft Drinks: $2.75
Specialty Coffee: $2.50 – $4.95
Energy Drinks: $4.95
Smoothies: $6.50
Bottled Water: $1.50 – $3.95
Now, let's take a closer look at each of the Carnival drinks menus…
Atrium Bar Drinks Menu
Each Carnival ship has a bar in the atrium. Here, you can enjoy a good selection of drinks including beers, wines, spirits, cocktails and soft drinks. A cocktail is usually the most popular choice here, and according to these latest menus which I took photos of on the new ship, Carnival Celebration in November 2022, classic cocktails cost $10.50.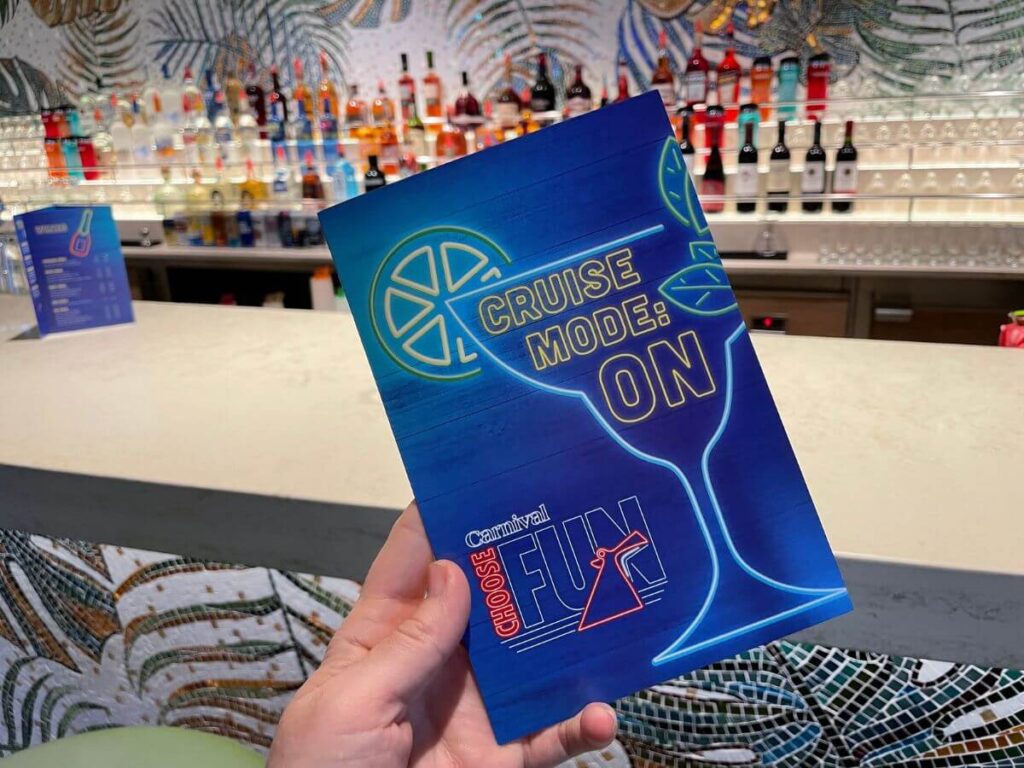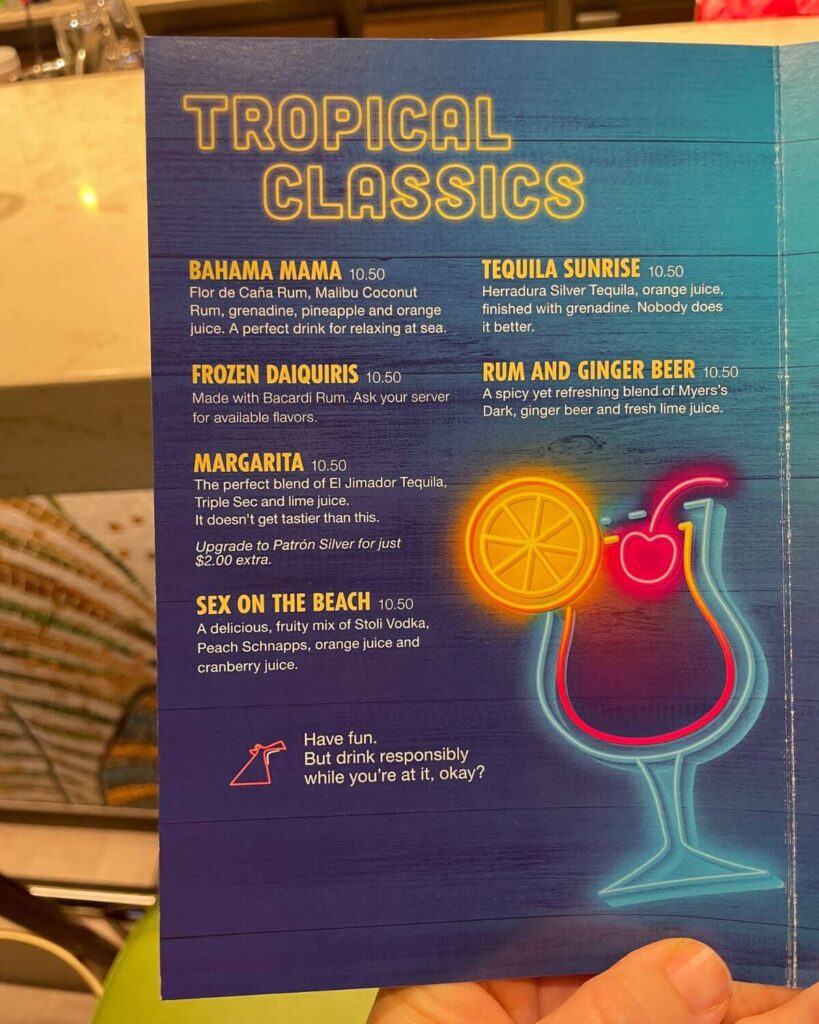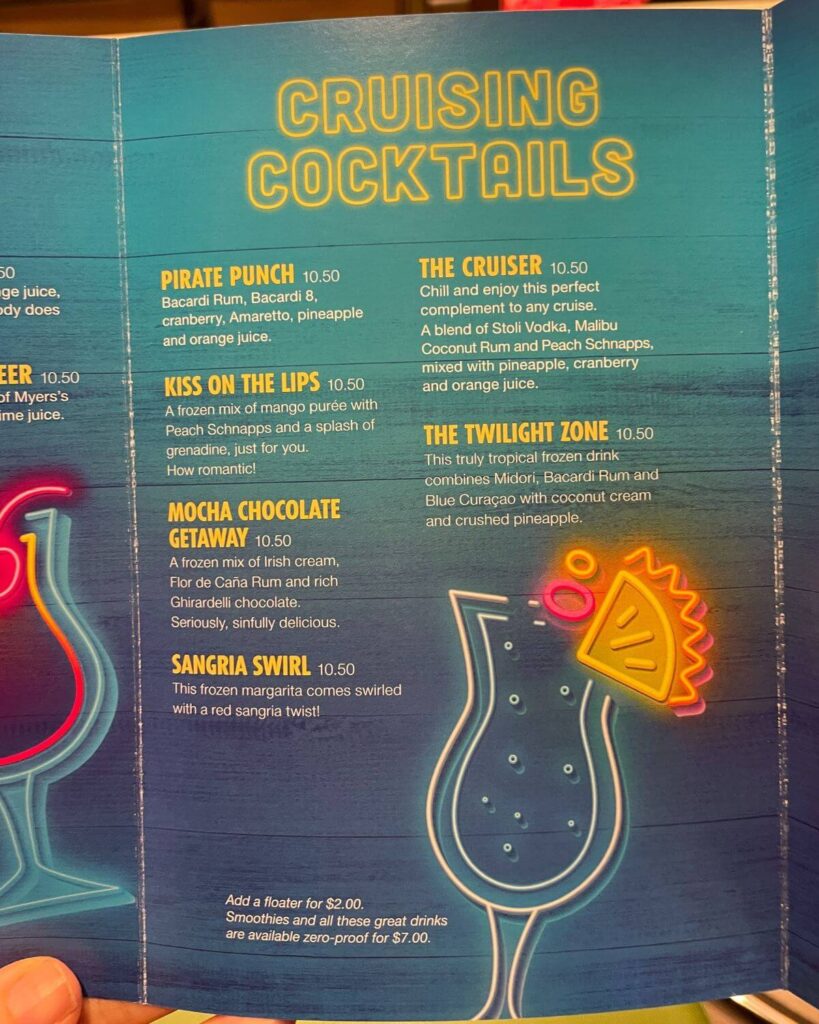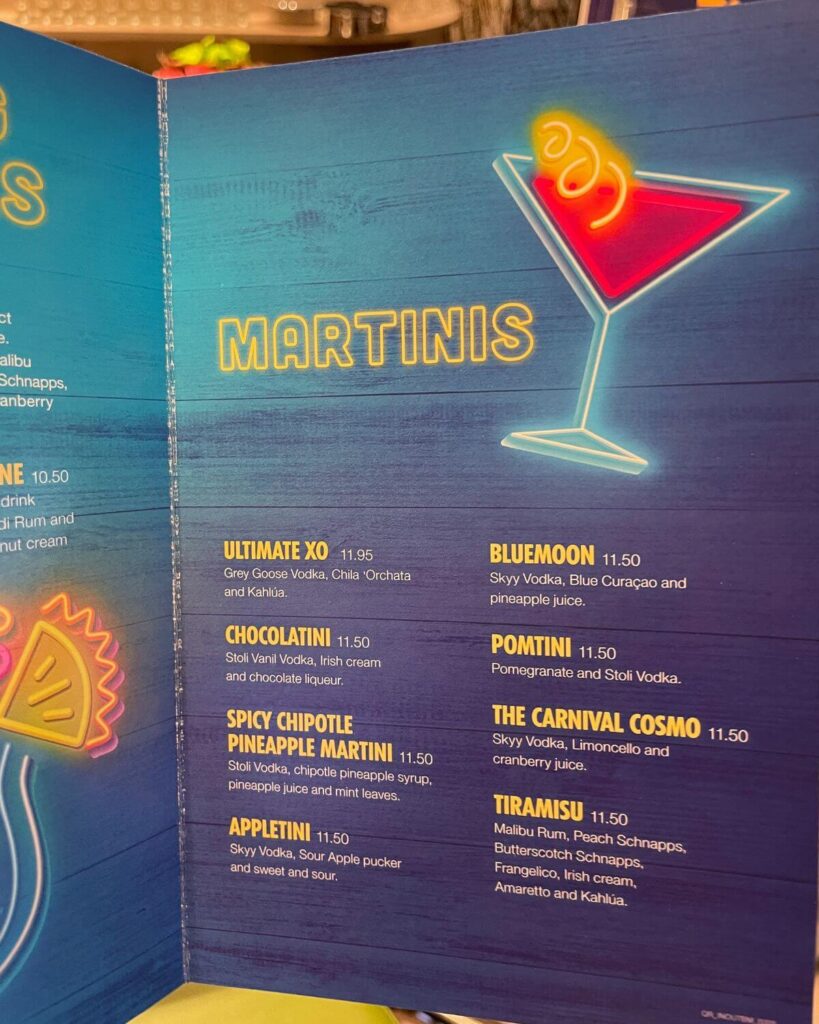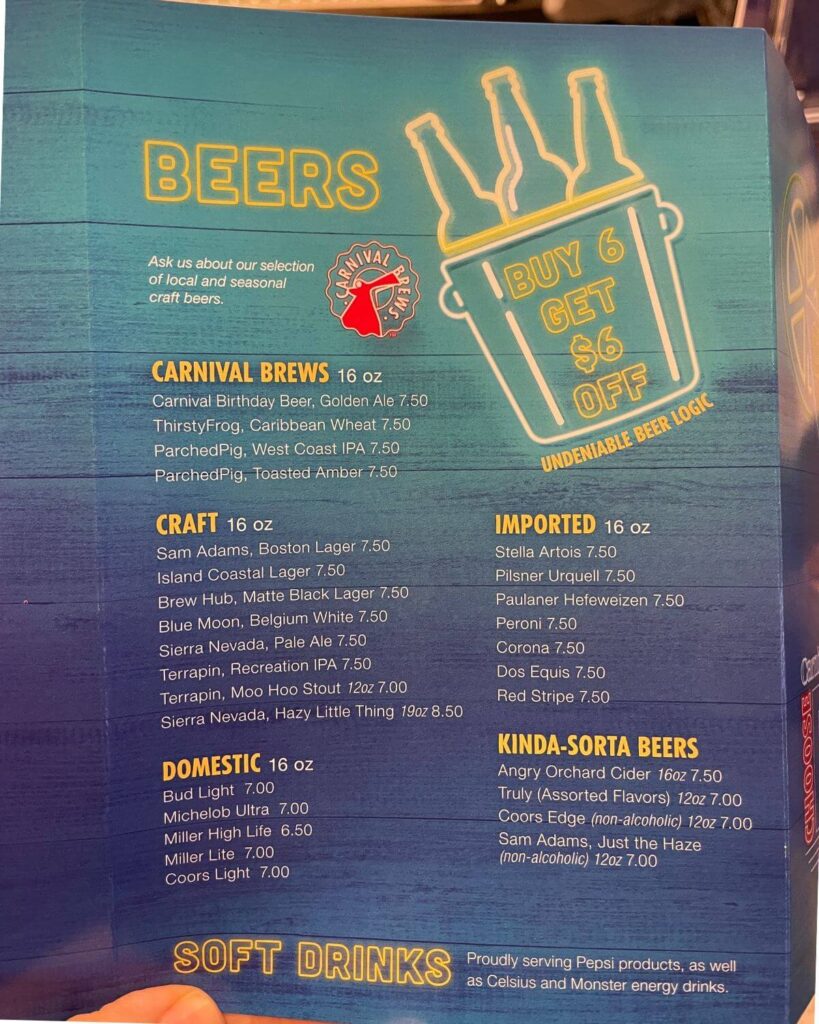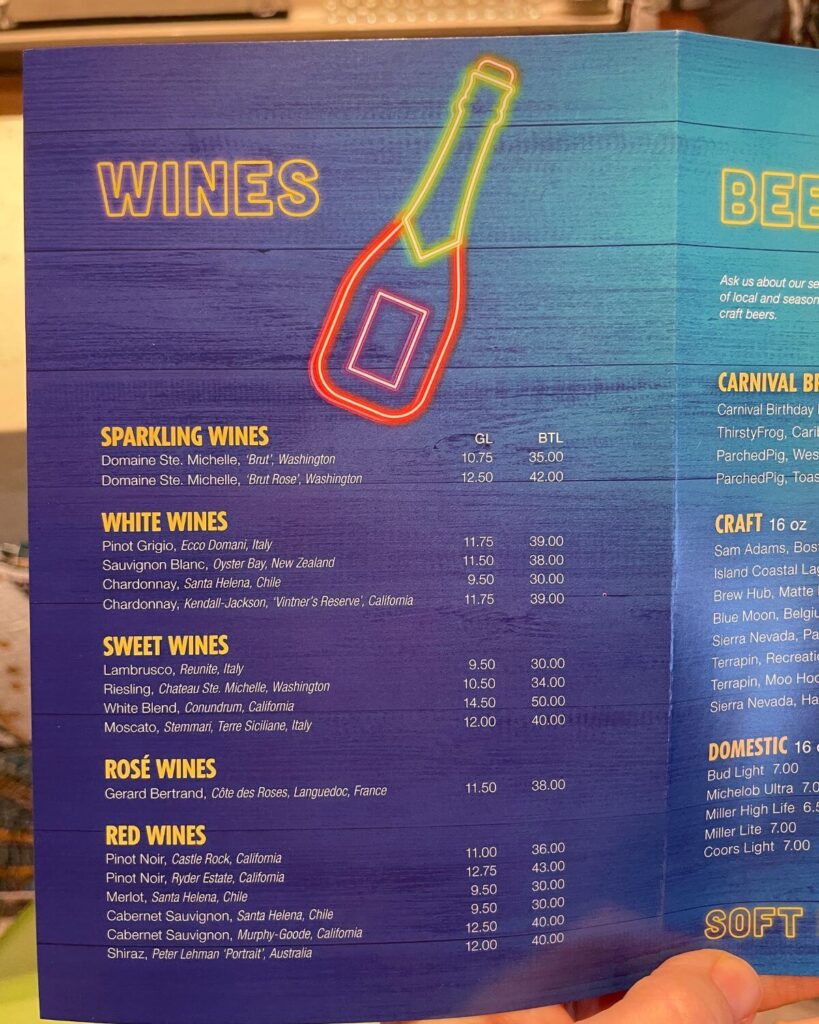 Alchemy Bar Cocktail List
Found on almost all Carnival ships (except Carnival Paradise), the Alchemy bar is a cross between a bar and a pharmacy! This vintage-themed cocktail bar is the place to go if you like to see tantalising cocktail creations mixed before your eyes.
Here cocktails cost $12, but they are a little more special than normal. Non-alcoholic versions cost $7.
Casino Bar Menu
Every Carnival ship has a casino and within it, there's a bar. You won't find full menus here, but there are some small menus on the tables that list cocktails and craft beers.
These are all slightly more expensive options, so there's an element of upselling going on here. The menu also suggests upgrading your mixed drinks with an extra shot for $4. Because of course, if there's anywhere on the ship that Carnival wants you to get a little tipsy, it's in the casino!
Bear in mind that if you do double up, the extra shot won't be covered by your Cheers drinks package, you'll be charged for it.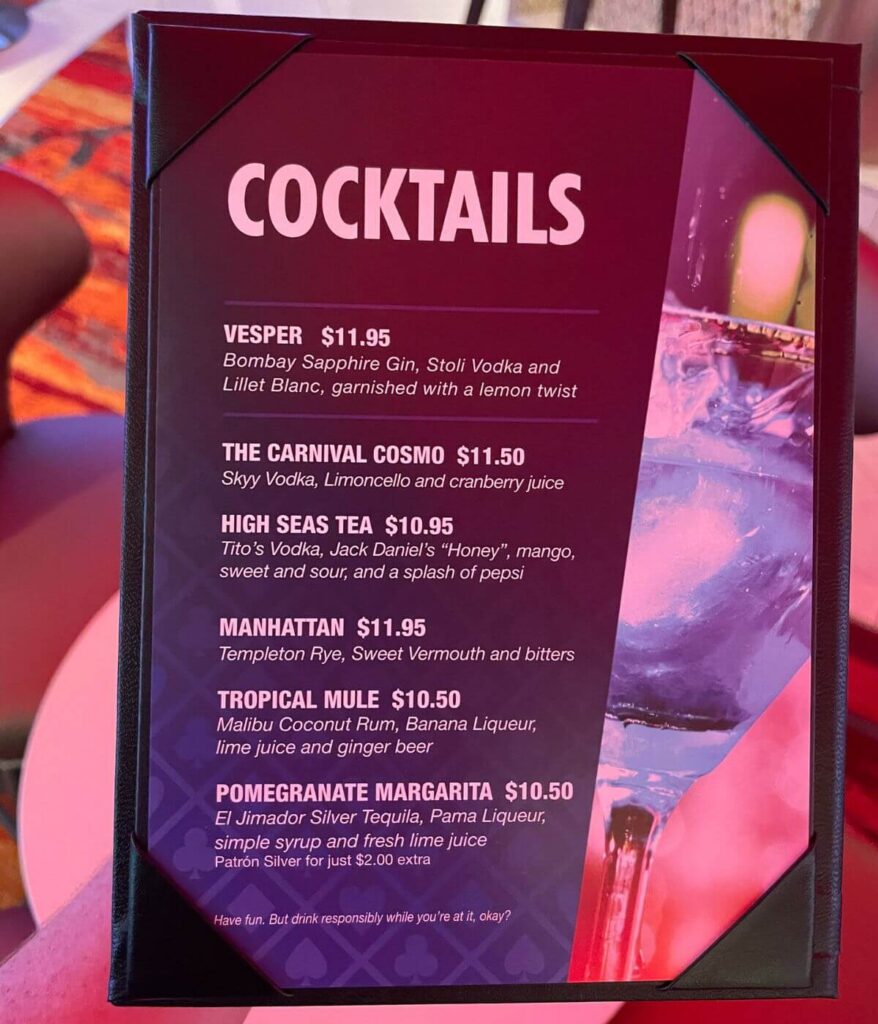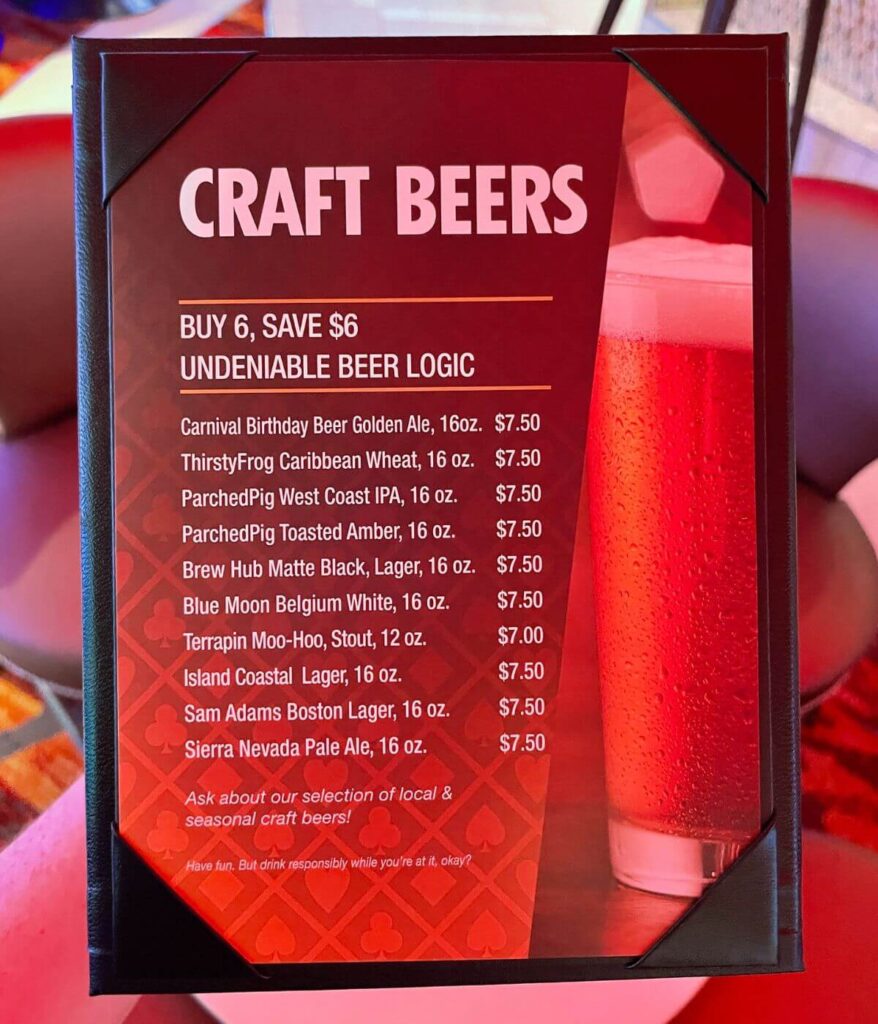 Havana Bar Menu
Available on Carnival Jubilee, Celebration, Mardi Gras, Panorama, Horizon, Vista and Sunshine, the Havana Bar is a Cuban-themed bar. While the Havana pool area is only for guests staying Havana rooms, the Havana Bar is open to all.
Here, you can enjoy Cuban coffees, Cuban sodas and rum-based cocktails.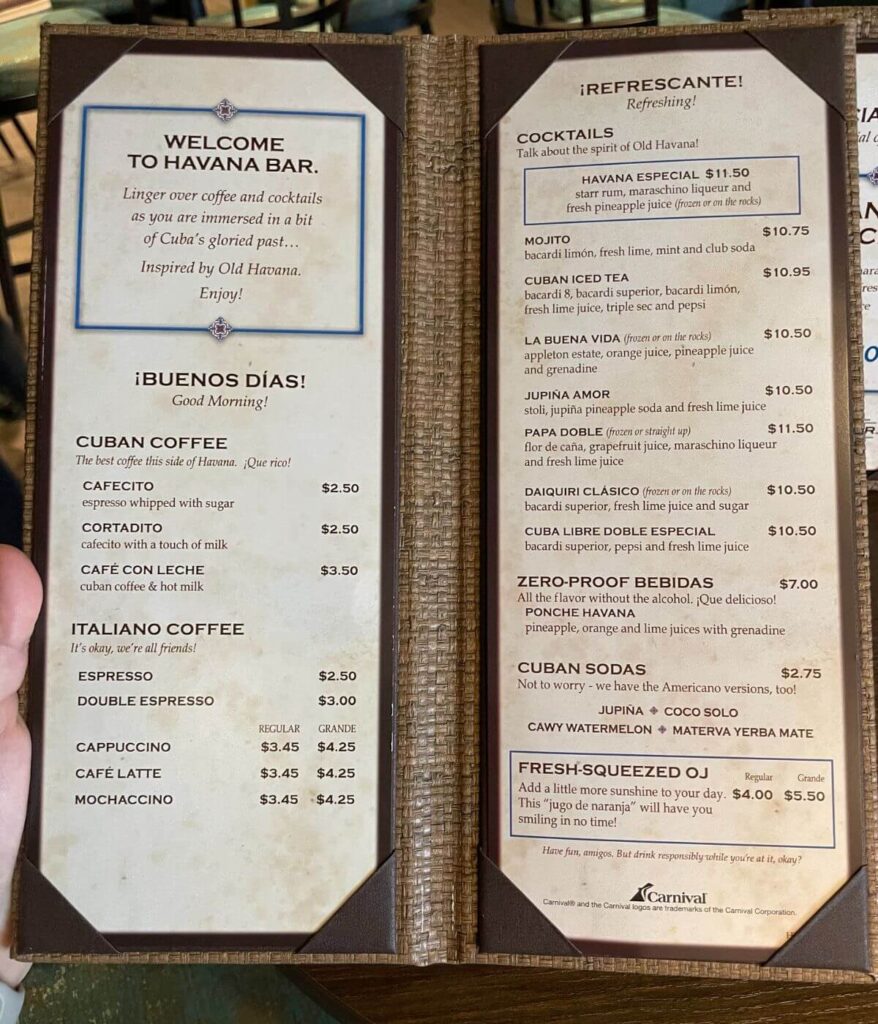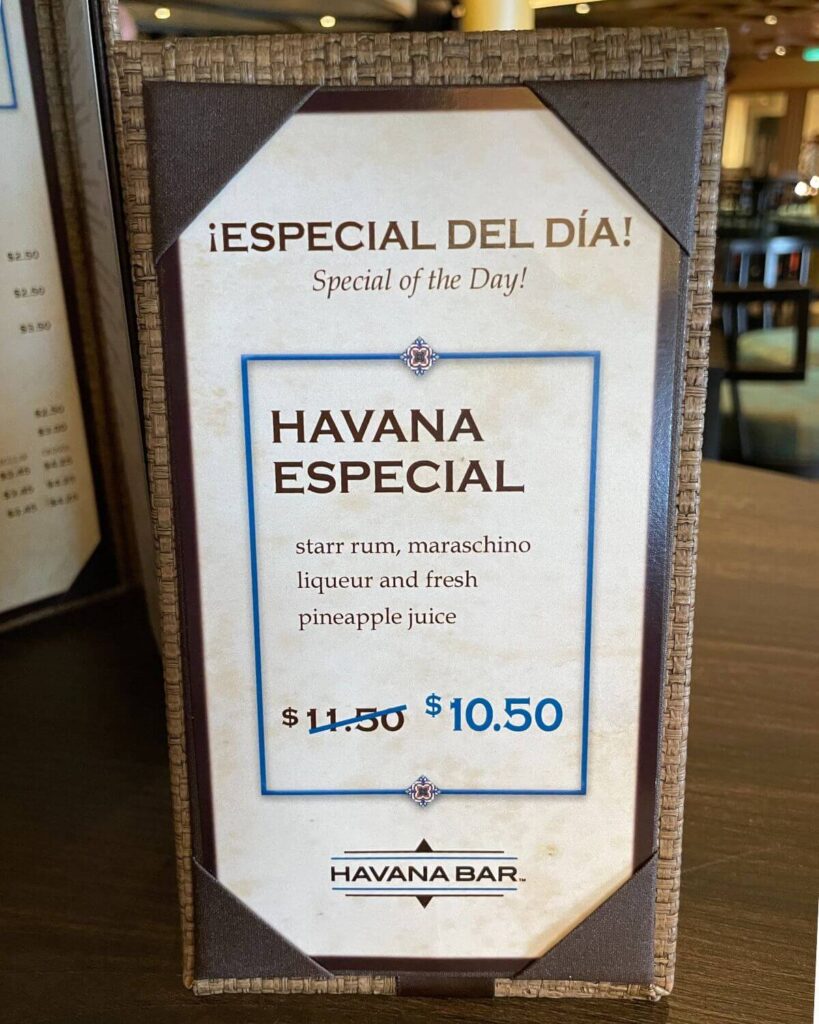 Guy's Pig & Anchor Brewhouse
On the new Excel-class and Vista-class ships, you'll find Guy's Brewhouse. An addition to the popular Guy's Smokehouse, this pub serves an exclusive line of Parched Pig craft beers.
You can also get cocktails here, either in a regular glass or in a large mason jar that you can take home with you.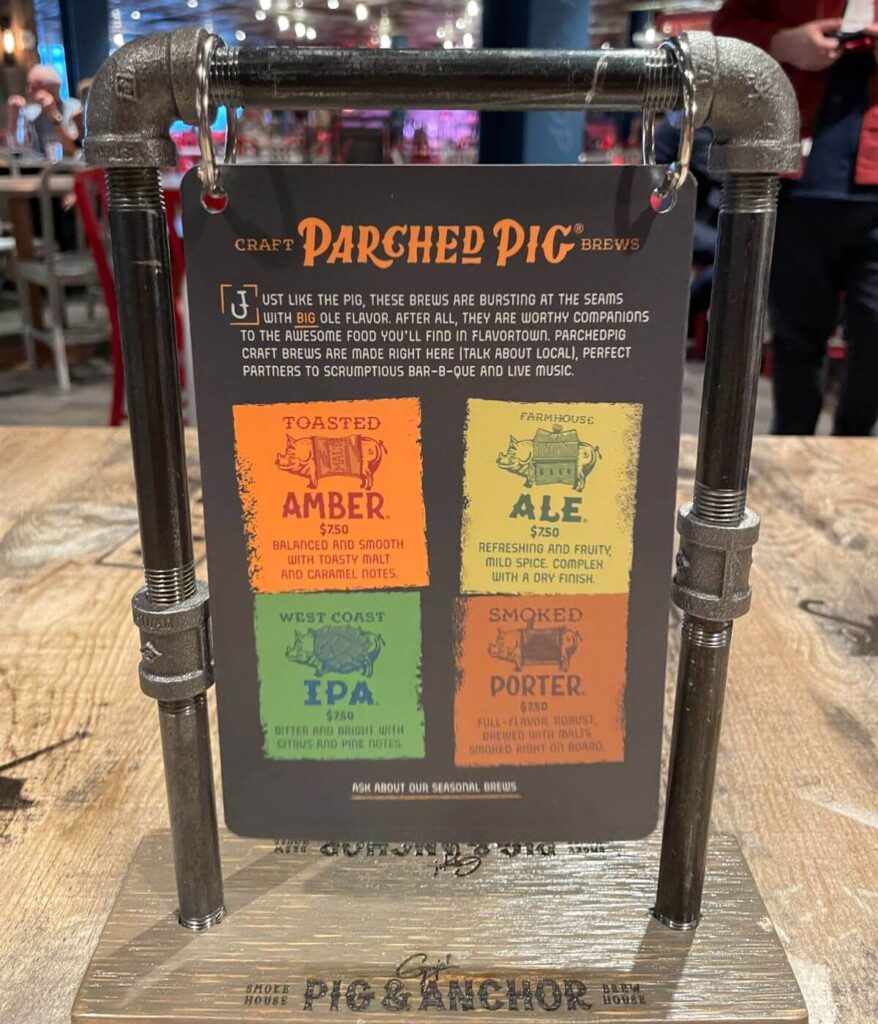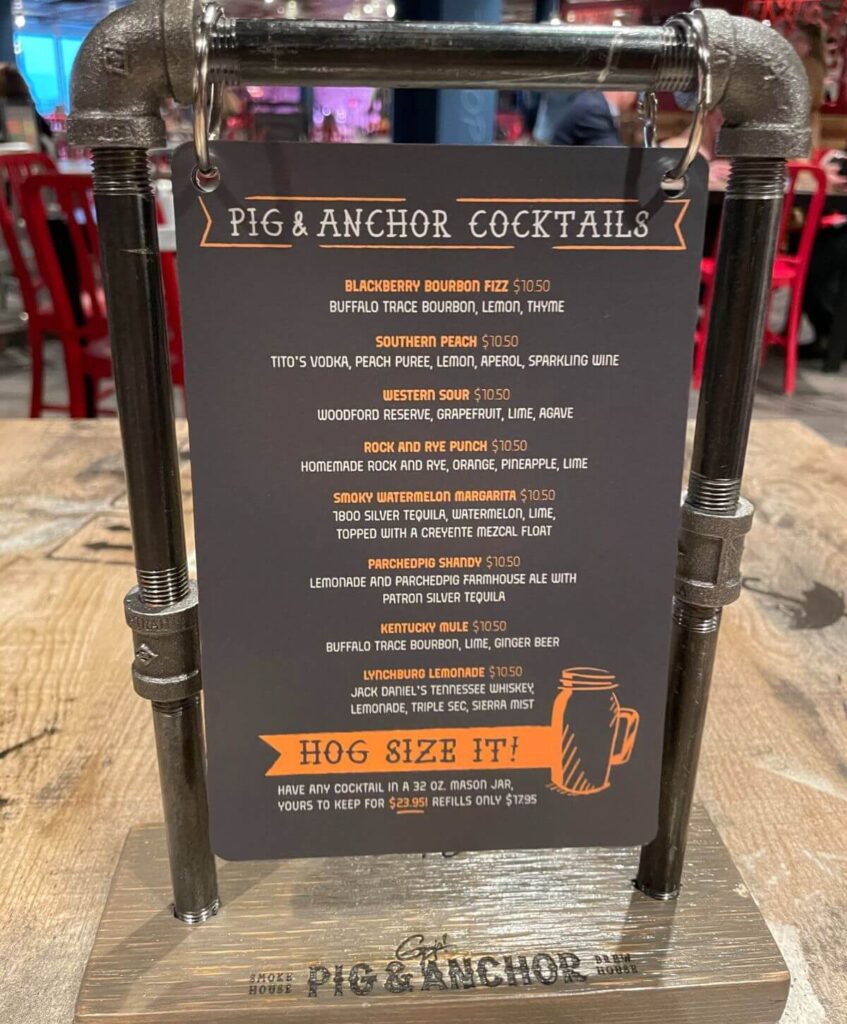 RedFrog Tiki Bar
Only on the newest Carnival ships – Carnival Jubilee, Carnival Celebration and Mardi Gras – the Red Frog Tiki bar is a South Pacific-themed bar where you can enjoy Polynesian punch, rum cocktails and RedFrog beers.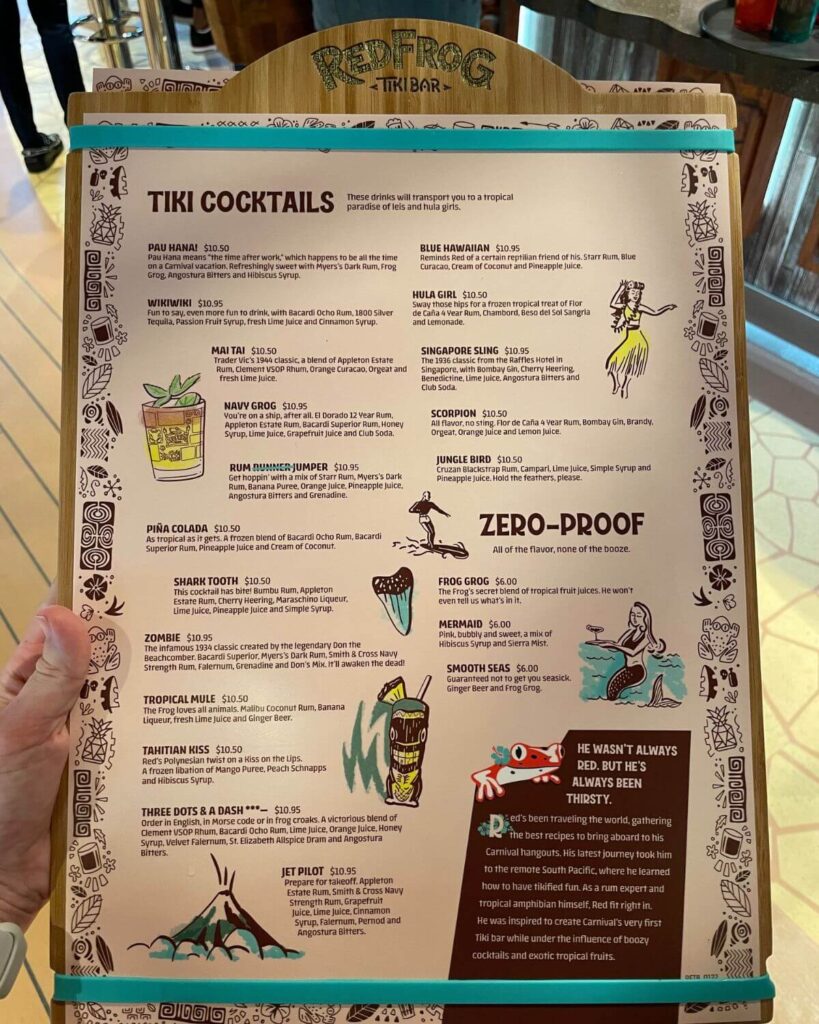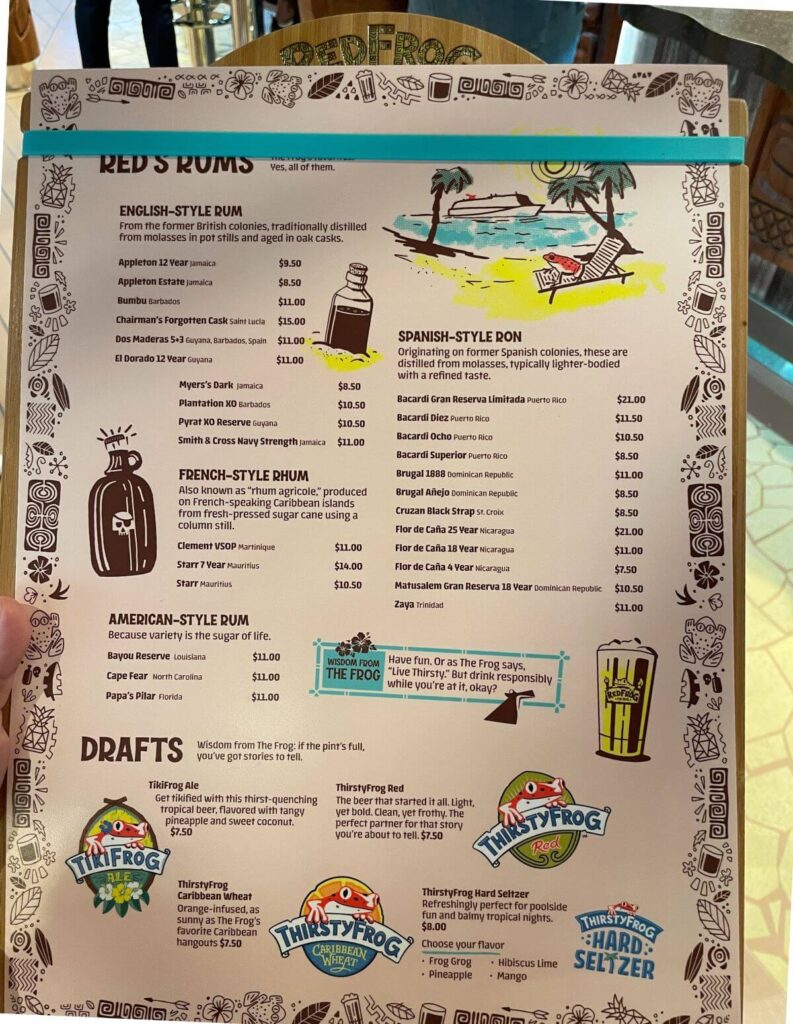 Serenity Adult-Only Retreat Drinks Menu
On every Carnival ship, you'll find the Serenity adults-only retreat. Only for those aged 21 and up, this relaxing area has comfy loungers and daybeds. I love that the drinks menus here are attached to the daybeds – so that you can easily see which cocktails, sangrias, wines and beers you can order without leaving your seat.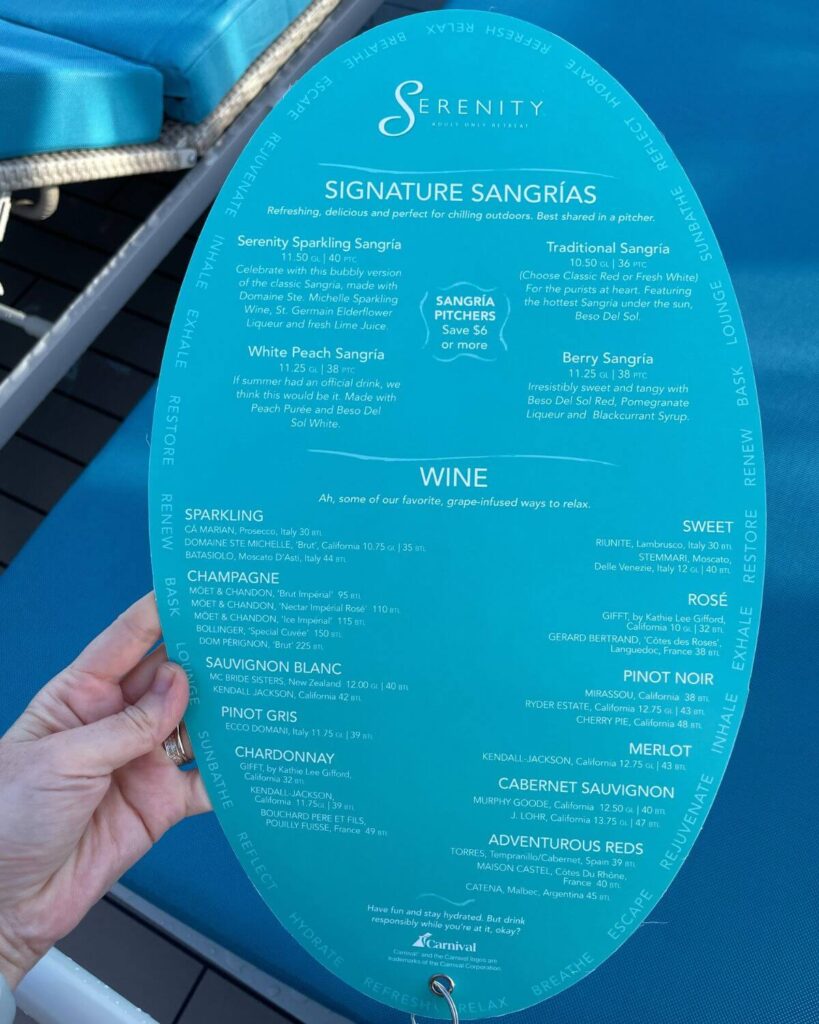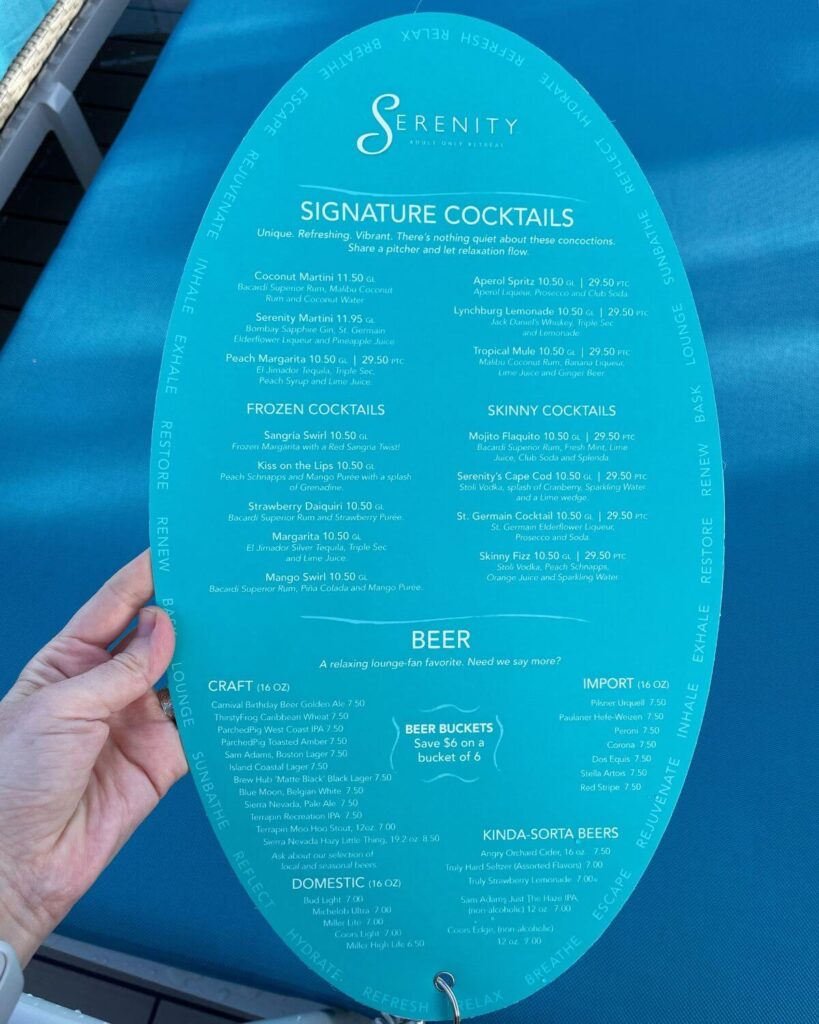 JavaBlue Cafe & Shake Spot Menu
Most Carnival ships feature the coffeeshop, JavaBlue. This is the go-to place for fancy coffees, including spiked versions, as well as milkshakes and floats.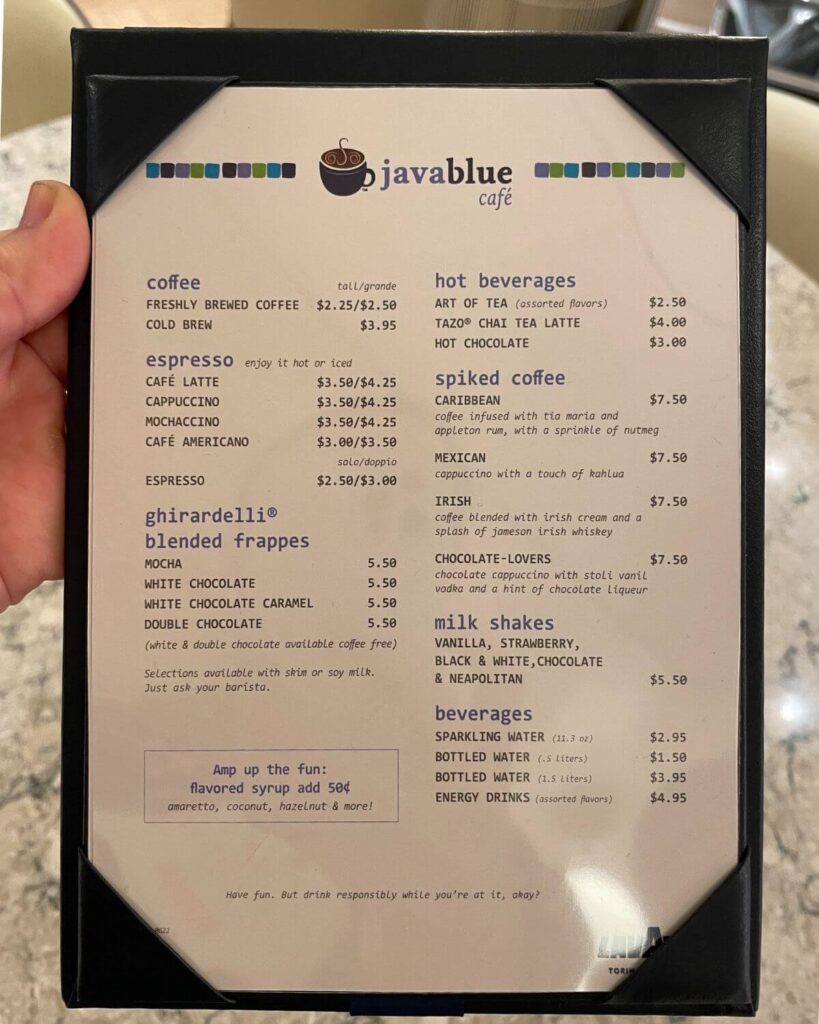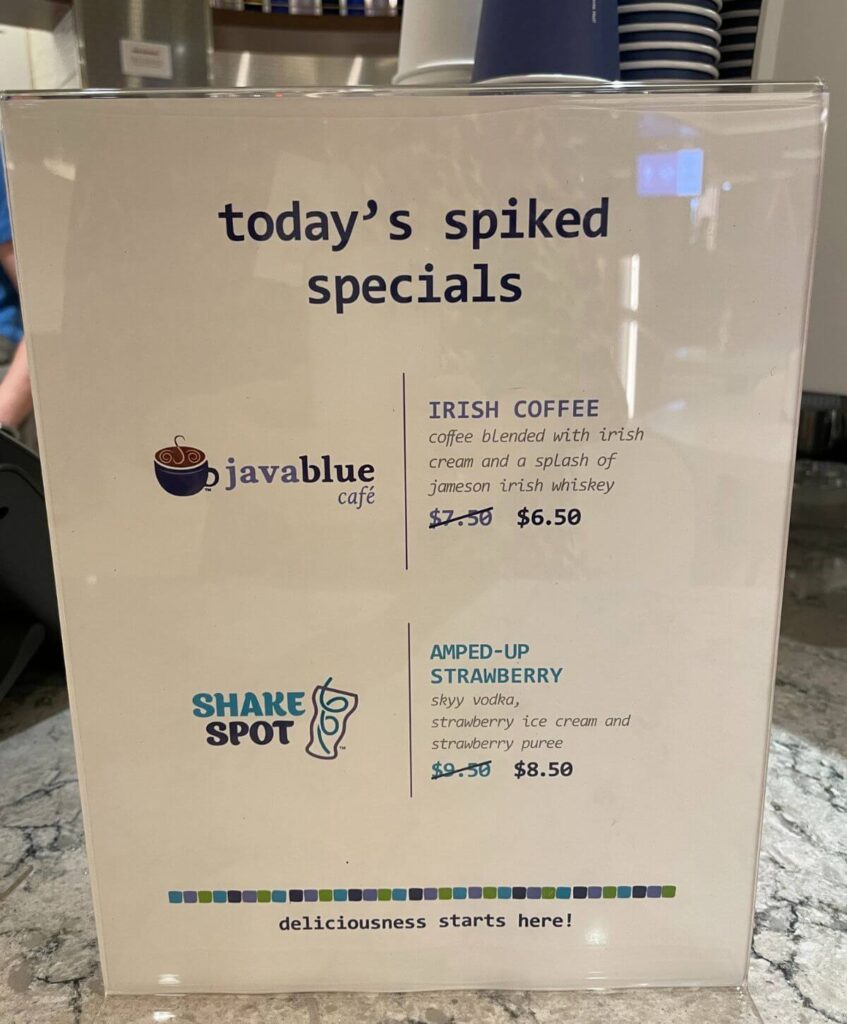 I hope that you found these photos of the drink menus on Carnival cruises to be helpful. I suggest that you also check out my guide to Carnival drink packages next.
I also have this list of Carnival Drink Package Tips to avoid getting ripped off with any hidden charges.
And, if you happen to have any onboard credit, don't miss this guide that shows you the best ways to spend it: 12 Ways to Use Your Carnival Onboard Credit Like a Pro.
NEW DEALS JUST RELEASED!
See the latest Carnival cruise offers…
Related Posts: