While most people are comfortable paying for their cruise fare, there are a couple of additional fees that can cause some confusion and concern. One of those is port fees, and the other is gratuities.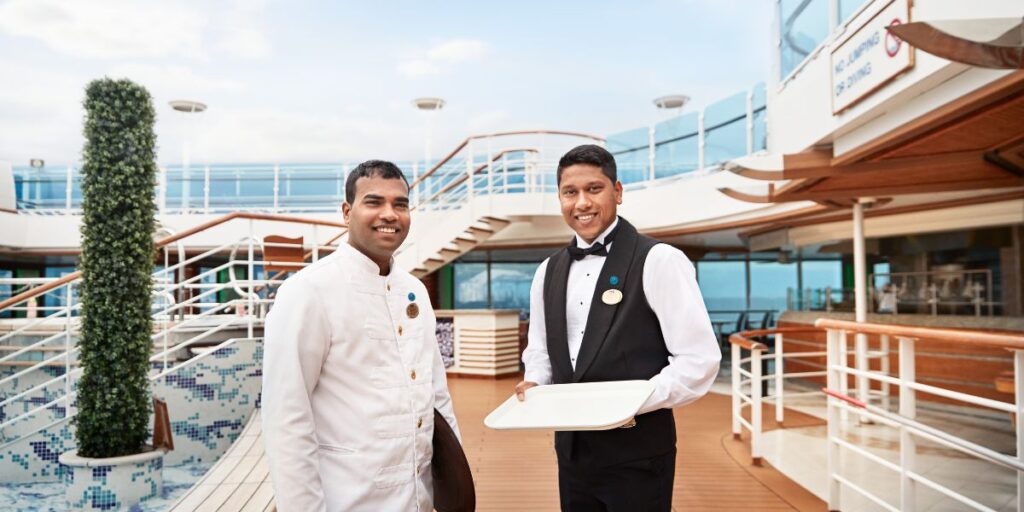 With gratuities, people generally have a good idea of what they're paying for, but there is still uncertainty over the best way to pay for them – a lot of cruise lines will let you prepay your gratuities, but is that something you should do? What if the service is terrible?
I would almost always recommend prepaying your gratuities, but there are a few exceptions. In this guide, I'll explain why.
How Gratuities Work On Cruise Ships
Gratuities are the tips that are paid to cruise ship crew members. These make up a large chunk of their salary. Gratuities are typically added to your cruise account automatically, but can also be prepaid. Some cruise lines include them in the cruise fare instead.
Most of the crew on a cruise ship are paid an hourly salary, which tends to be quite low. That salary is then supplemented with gratuities – a service charge that is applied to every guest on the ship (except, usually, for children under a certain age).
There are some cruise lines that include these gratuities in your cruise fare, so you don't have to worry about them.
Cruise lines that include gratuities:
Azamara
Celestyal
Marella
MSC Cruises (when booked in the UK)
P&O Cruises
Regent Seven Seas
Saga
Silversea
Virgin Voyages
There are also some other cruise lines which may offer special deals where gratuities are included – look out for these when you book.
Typically though, if you're cruising with another line not listed above, your gratuities will be added to your account during the sailing, and you'll then pay them off when you settle your final bill on the last day of your cruise.
But most cruise lines also give you the option to prepay your gratuities – paying for them in advance. You can sometimes add this option as you book your cruise, otherwise, you would log into your account with the cruise line and add them on once the booking has been made.
What do prepaid gratuities cover?
Prepaid gratuities cover the standard daily service charge that is added to your cruise account. They do not cover any additional service charges which may be added for one-off purchases when you're on your cruise, such as drinks or speciality dining reservations.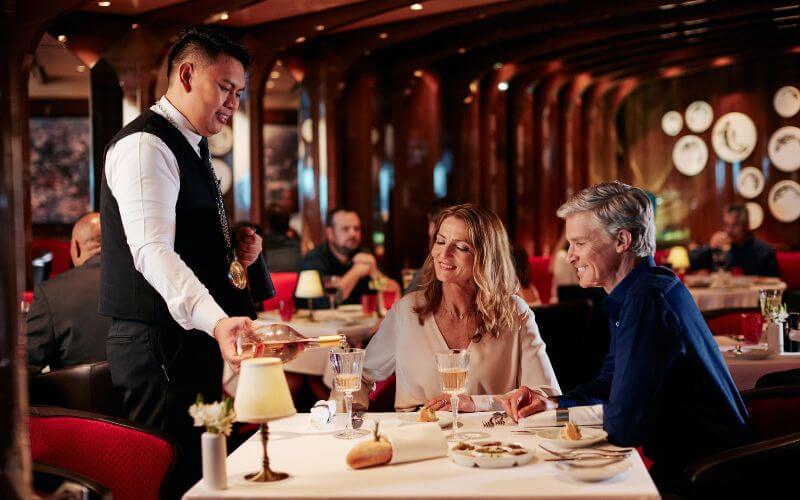 It's important to be clear on the distinction – there are two main types of service charge when you cruise. The first is the standard charge, which is the daily amount charged to every passenger on the ship.
| Cruise line | Daily cost of gratuities | Depending on |
| --- | --- | --- |
| Ambassador Cruise Line | £5 – £6 | Cruise length |
| Carnival | $16 – $18 | Stateroom type |
| Celebrity Cruises | $17.50 – $21 | Stateroom type |
| Costa Cruises | €11 – $16.50 | Stateroom type and destination |
| Cunard | $11.50 – $13.50 | Stateroom type |
| Disney Cruise Line | $14.50 – $15.50 | Stateroom type |
| Fred. Olsen | £5 | |
| Holland America | $16 – $17.50 | Stateroom type |
| NCL | $20 – $25 | Stateroom type |
| Princess Cruises | $16 – $18 | Stateroom type |
| Royal Caribbean | $16 – $18.50 | Stateroom type |
The second type is a service charge applied to certain purchases you make either during your cruise, or in advance of your cruise. Typically ranging from 15% to 20%, this is automatically added every time you buy a drink, or reserve a speciality dining restaurant. It can also be added to drinks packages too.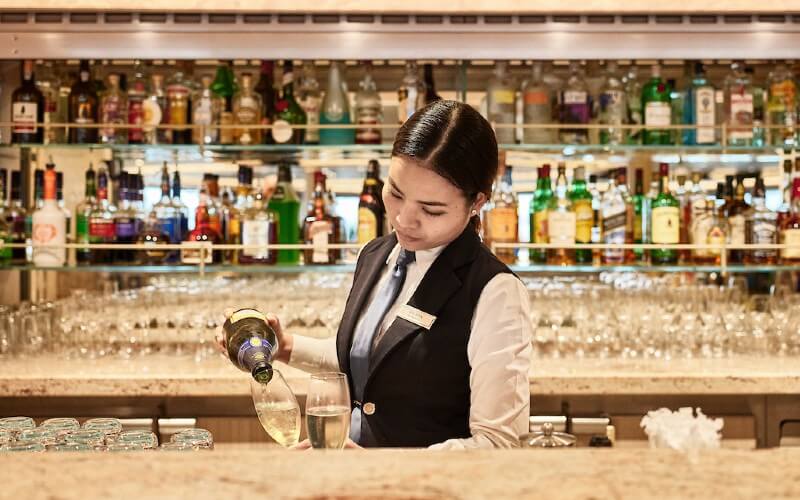 If you prepay your gratuities, you are paying for the standing daily charge only. You are not excluding yourself from the additional charges levied against drinks or dining reservations – you'll still need to pay those!
Why prepay gratuities?
There are a couple of key reasons why it makes sense to prepay your gratuities, and a third reason which applies only to some cruise lines.
1. Prepaying gratuities helps you to budget
When you prepay your gratuities, you're making it much easier to manage your spending budget onboard the ship. After all, it's one less thing you have to pay for.
Some cruise lines, like Carnival, add the gratuities in one bulk charge towards the end of your cruise. If you've forgotten about them, you might get a nasty surprise when it comes to the time to settle your bill!
Paying in advance means you don't need to set aside funds to cover your tips for the crew, and you know that you only need to pay for the drinks and other purchases you make during the cruise itself.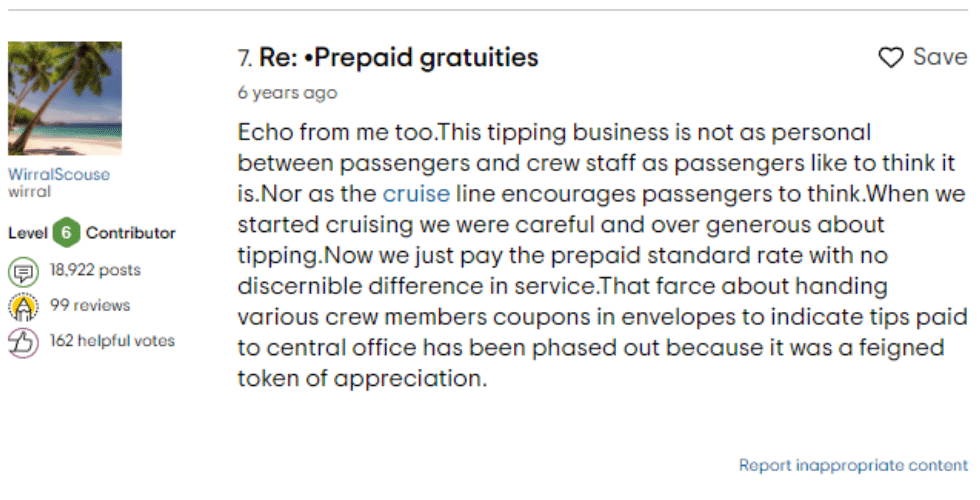 2. Prepaying tips locks in the price
Cruise gratuities are not a permanently fixed price, and for most cruise lines they typically rise every year.
Prepaying your gratuities, when you are cruising more than a year in advance, could therefore save you money since you can lock them in at the older rate, before any rise is pushed through.
Once a price rise is announced, anyone who has not yet prepaid gratuities will be subject to the higher rate if they are sailing after the increase date.
But if you have already prepaid, you won't pay extra, even if the costs do increase before you sail. The cruise line won't tell you to pay the difference between what you've prepaid and what you would pay with the new pricing.
3. Prepaying gratuities may unlock more dining options
With some cruise lines, prepaying your gratuities is required for certain flexible dining options.
Royal Caribbean is the most well-known example. If you don't want a traditional dining time, and you want the flexibility to eat in the Main Dining Room at a time that suits you, you'll need to choose MyTime Dining.
But to do that, you need to prepay your gratuities.
Why you might not want to prepay gratuities
There are three main reasons why you might not want to prepay gratuities. One of those is absolutely valid, but I disagree with the other two.
Let's start with the valid one though…
1. You may want to use onboard credit to pay for your tips
Some cruise lines, like Carnival and Royal Caribbean, may have special offers where you get a set amount of onboard credit to enjoy during your cruise. You can also get onboard credit for some cruise lines if you're a shareholder.
This credit can usually be applied to your tips, but only during your cruise. You aren't given the onboard credit in advance (the clue is in the name – "onboard" credit) so if you want to use it for gratuities, you have to wait until you're on the ship.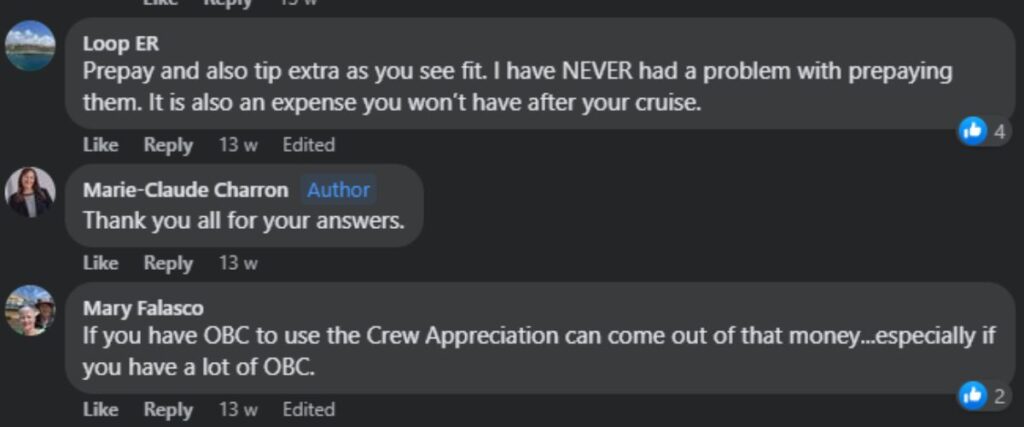 2. You may prefer to tip in cash
Some cruisers prefer to remove gratuities from their cruise account and instead hand out cash to crew members that they feel are most deserving of it. This may be in an envelope on the last day, or with a $2 bill for each drink.
However, I strongly believe that you should always pay your tips through your cruise account, either on the ship or by prepaying.
If you choose to pay in cash instead, you're missing out on tipping many of the crew who work behind the scenes to keep everything running perfectly during your cruise.
Trust me, you might think you can track down all of the crew who have made your vacation special, but you can't. There are so many people you don't see who work tirelessly, and are equally deserving of your gratuities.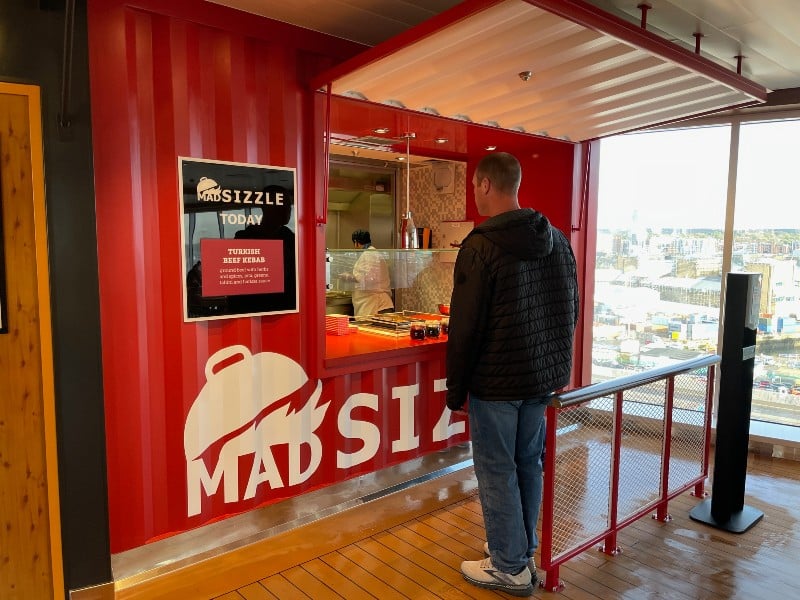 3. You might not be a fan of tipping at all unless the service justifies it
If you're someone who isn't a fan of tipping in general, you should understand that these crew members rely on tips for their salary. Tips are not really a reward – they are essential, and if you choose to avoid paying tips you're essentially saying the crew shouldn't be paid.
Whenever you have an issue with poor service, ask for help from Guest Services and they can probably resolve any problems quickly. That way you don't need to worry about withholding gratuities from crew members who really do deserve them.
Read more: Can You Refuse To Pay Gratuities On A Cruise?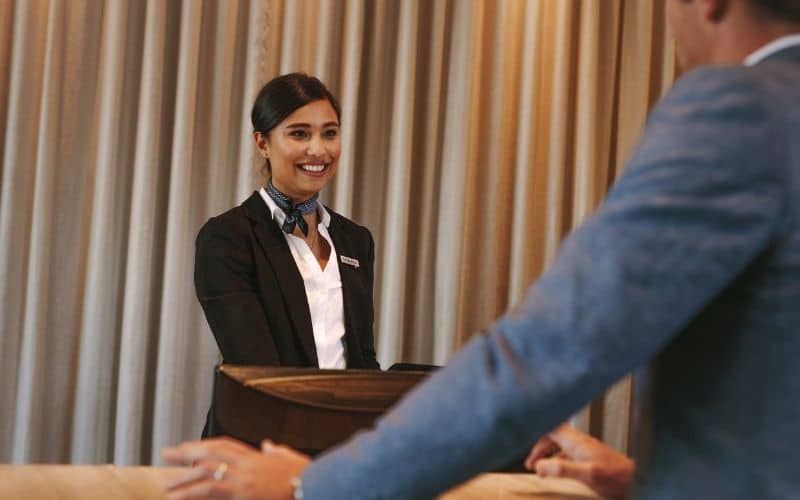 Is it better to do prepaid gratuities on a cruise?
It is normally better to prepay your gratuities for your cruise. The only exception is where you're able to apply onboard credit against your gratuity charges, and where you don't intend to spend that onboard credit on other things.
Prepaying your gratuities just makes everything easier – you know how much you need to spend before you sail, and then you don't have to worry about it.
Yes, if you have onboard credit it might make sense to put that towards gratuities instead. But if you intend to buy drinks, or spa treatments, or reserve seats at a speciality restaurant, you might be better off leaving your onboard credit to cover those purchases instead, and then prepaying the gratuities still makes sense.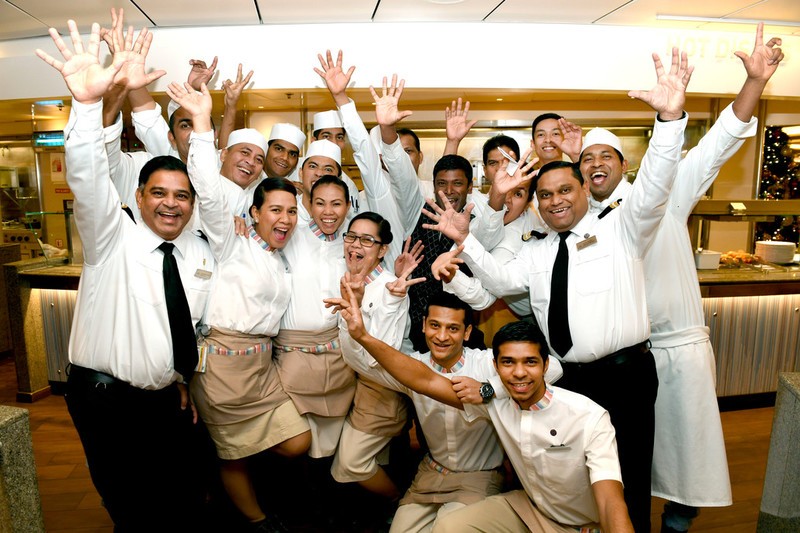 Is it cheaper to prepay gratuities on a cruise?
There are no cruise lines which offer cheaper deals on gratuities if you pay them in advance. However, it can be cheaper to do so anyway, as it can mean avoiding any price rises if you're booking at least a few months before you sail.
For example, in January each year, Carnival typically announces a hike in their gratuity charges, which will come into effect from the April or May of that year.
If you've booked a cruise after this announcement is made, you'd have to pay the new rate.
But if you had booked your summer cruise in the prior December, and prepaid your gratuities before the increase was announced, you'd still only pay the old rate even though your sailing was taking place once the price increase had happened.
So if you're inclined towards prepaying your gratuities, do so as soon as you can, to lock in the price before it goes up.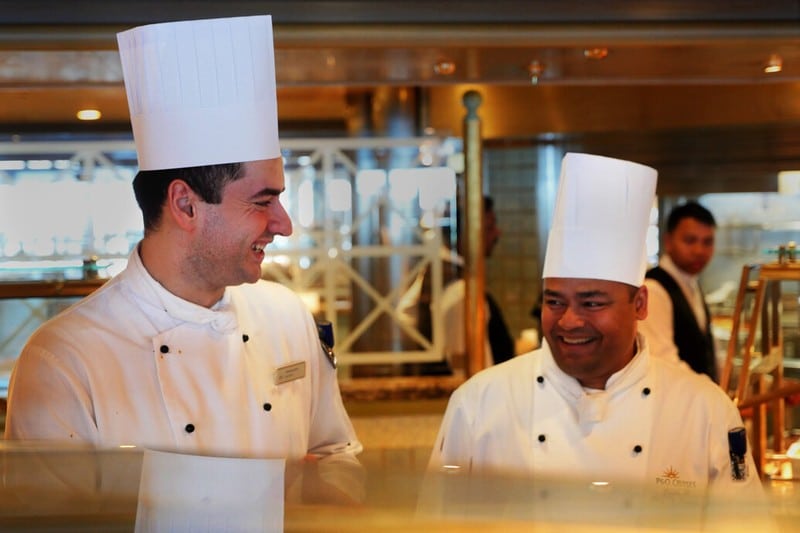 What does 'free prepaid gratuities' mean?
If a cruise line offers free prepaid gratuities, it means that your gratuities are included in the special deal and don't need to be paid by you. You'll still have to pay any additional service charges for drinks or dining reservations though.
Cruise lines that always include gratuities in their fare don't generally call it "free prepaid gratuities" – they just say that the tips are included in what you pay. So if you see "free prepaid gratuities" it is more likely to be a sale or discounted offer.
NEW DEALS JUST RELEASED!
Don't miss these hot cruise offers…
How To Prepay Gratuities
You can prepay your gratuities at any time before your cruise. The exact process will vary by cruise line, but generally, you should log onto your cruise booking on the cruise line's website.
There'll be an option to add extras to your booking, one of which will be prepaid gratuities. If you can't find it, or you have any problem adding it to your account, you should call the cruise line to find out more.
If you've booked with a travel agent, speak to them and they should be able to arrange to have the gratuities added to your account in advance.
Advice for each cruise line…
Check for your specific cruise line below for what you need to know about prepaying gratuities…
Is it better to prepay gratuities on a Carnival cruise?
It is usually better to prepay your gratuities on a Carnival cruise unless you want to use onboard credit to pay for them. You can prepay Carnival gratuities by logging onto your booking on the Carnival website and adding them to your package.
Is it better to prepay gratuities on Royal Caribbean?
It is typically better to prepay your Royal Caribbean gratuities. You can wait to pay them onboard if you want to use onboard credit to cover them, but be aware this means you can't choose MyTime Dining – that's only available when you prepay your tips.
Should you prepay gratuities on a Norwegian cruise?
It is best to prepay your gratuities on an NCL cruise if you can. A lot of NCL cruises will offer onboard credit as a special promotion, and you might prefer to wait and use that to cover the tips. There are also regular promotions that include free prepaid gratuities too.
Should you prepay gratuities on a Princess cruise?
If you want to manage your budget more effectively, it's a good idea to prepay your gratuities for your Princess cruise. The only time you would be better off waiting is if you want to use any onboard credit towards the gratuity amount.
Can you prepay gratuities on Disney Cruise?
You can prepay gratuities on your Disney cruise, although you have a slightly shorter window than with other cruise lines – you must do so at least three days before you sail. Other cruise lines let you prepay right up to your sailing day.
Can you prepay gratuities on Holland America?
You can prepay your Crew Appreciation service charges on a Holland America cruise. Once your cruise is booked, log onto the website with your booking details and you can find the option to add the gratuities and pay them in advance.
Final word
In most cases, it makes sense to prepay your gratuities where you can. Having one less thing to think about on the ship is a blessing, and means you can focus on budgeting for things you actually want to buy.
If you don't prepay, make sure you are still paying through the account – it really isn't fair on the background crew if you remove the gratuities and pay in cash.
Related Posts: