P&O Cruises don't include wifi, so if you want to use the internet while at sea, you'll need to pay for wifi.
In this guide, I'll show you all of the P&O Cruises internet packages and how to buy them, so that you can access the internet during your cruise without spending any more than you need to.
Do You Need Wifi On A Cruise?
Before you go ahead and buy a wifi package, let's think about whether you actually need one or not…
Can You Use Mobile Data?
Whenever the ship is docked, you'll usually be able to access 3G, 4G or 5G data. Even since Brexit, many mobile phone providers let you use your standard data allowance in Europe for no extra cost.
Outside of Europe, you'll likely have to pay for data on your phone. But this doesn't always cost a lot, so be sure to check with your mobile network before you go.
You can also use mobile data while at sea, but I definitely would not recommend that. Once the ship leaves port, your phone will connect to a maritime network and it will cost you a lot.
You can understand how much data roaming at sea costs and why here: How to Avoid Roaming Charges on a Cruise.
Can You Switch Off on Sea Days?
Unless you have a family member or urgent business to worry about back home, you might consider turning your phone off while your ship is at sea.
Most cruises have no more than two consecutive sea days and it can be great to spend time connecting with the people you're with without looking at your phone.
If there's ever an emergency at home, your family members would be able to contact the ship and pass on a message.
You Can Still Use the My Holiday Planner
During your cruise, you can use P&O Cruises' My Holiday planner to view your onboard account, make dining and theatre reservations, join virtual queues and book shore excursions.
The My Holiday planner isn't an app, it's a website. But you won't need a wifi package to access it as you can do so using P&O Cruises' limited free wifi. Just connect to 'P&OCruises_Guest_WIFI' and then use your browser to visit myholiday.pocruises.com.
P&O Cruises Wifi Packages
If you've decided that you would like to have internet access during your P&O Cruise, here's how you can arrange that…
P&O Cruises offer two different wifi packages, plus a 'Pay Per Minute' option:
1. My Wifi Essential
Cost: £18 for 24 hours (or £12 per day for the whole cruise)
P&O Cruises' My Wifi Essential is only for social media, web browsing and email. So you can check your Facebook, Instagram and Twitter as well as send messages via Whatsapp.
With this package, it used to be the case that you couldn't check your emails or browse the web for information. But, after some feedback from guests with complaints along the lines of "I bought the internet package and I can't use the internet", web browsing and email is now included.
2. My Wifi Ultimate
Cost: £24 for 24 hours (or £18 per day for the whole cruise)
My Wifi Ultimate gives you a faster connection and allows you to do voice and video calling and to stream music and video in addition to browsing the internet, sending emails and using social media and Whatsapp.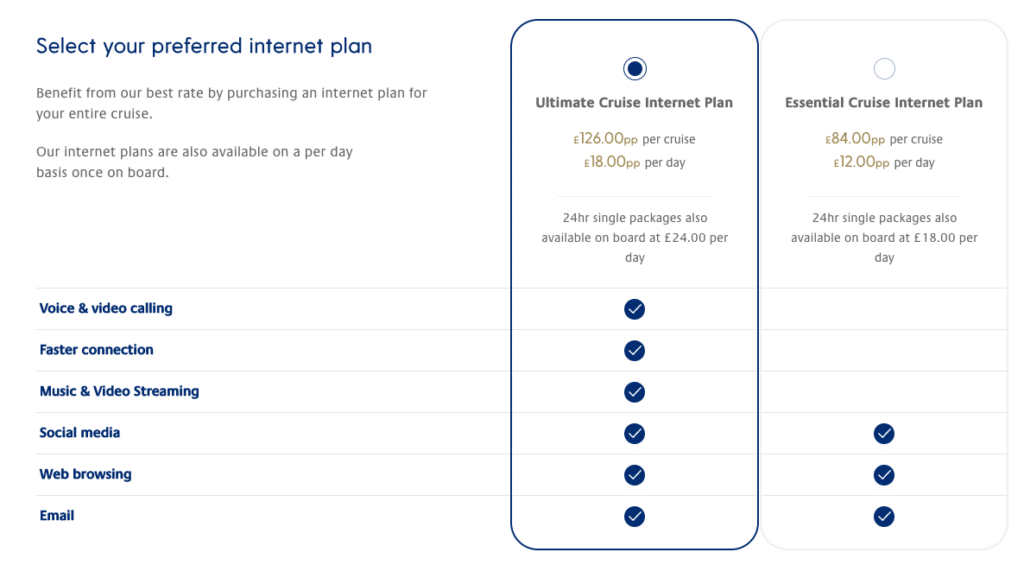 In theory, you should have a 3X faster connection speed. However, I used the Ultimate wifi package on my latest cruise on Arvia and it was so slow that it was virtually unusable. It wouldn't allow me to upload videos to social media so I couldn't update my Instagram stories.
On Christmas Day, the wifi didn't work at all (I expect that was because of the increased number of guests wanting to use it).
If you need to check emails and send messages, you'll be fine. But if you intend on doing a lot of work, then I wouldn't rely on P&O Cruises wifi, no matter which package you buy.
That said, if you're not happy with it, you can just go to guest services and they will refund your purchase with no fuss.
When To Buy P&O Wifi: Before or During Your Cruise?
If you intend to buy a P&O Cruises wifi package for your whole cruise, then you can buy before your cruise or once on board. 24-hour plans can only be purchased on board.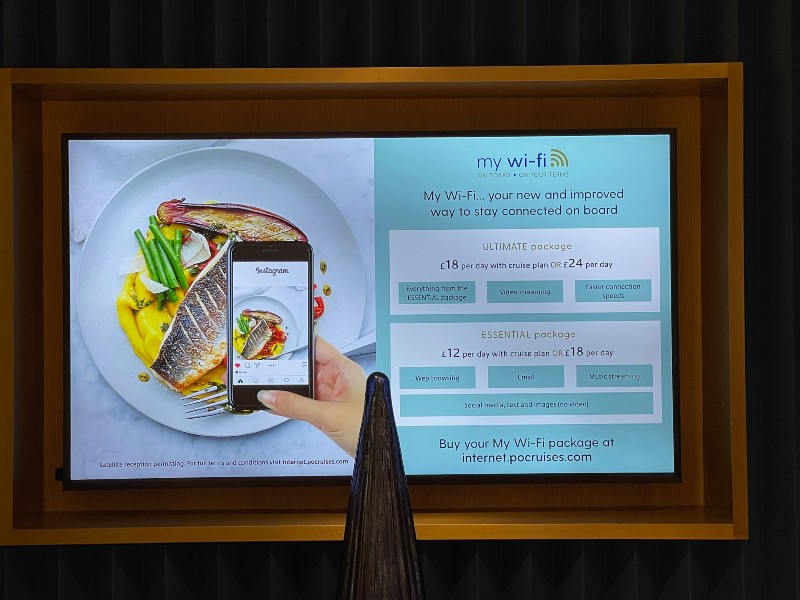 Buying Wifi Before You Cruise
To buy a wifi package before your cruise, you'll need to log in to the P&O Cruises Planner. Alternatively, you can call P&O Cruises' contact centre on 0344 338 8003 (local call charges apply).
Buying Wifi On Board
Once you're onboard your P&O Cruises ship, it's easy to buy a wifi package. Just open the My Holiday planner and navigate to wifi.
Alternatively, you can connect to the free guest wifi, go to internet.pocruises.com and follow the on-screen instructions.
You'll see all of the wifi options along with prices. Just tap the one you want and it will be billed to your onboard account.
Sharing a Wifi Package
One important thing to know about the P&O wifi is that you can use it on multiple devices, so long as you don't connect both devices at the same time. So if there are two of you, you can just purchase one wifi package and take it in turns to use it.
This does, however, mean that you can't use the wifi to message each other while you're on the ship. But, it can save you quite a lot of money.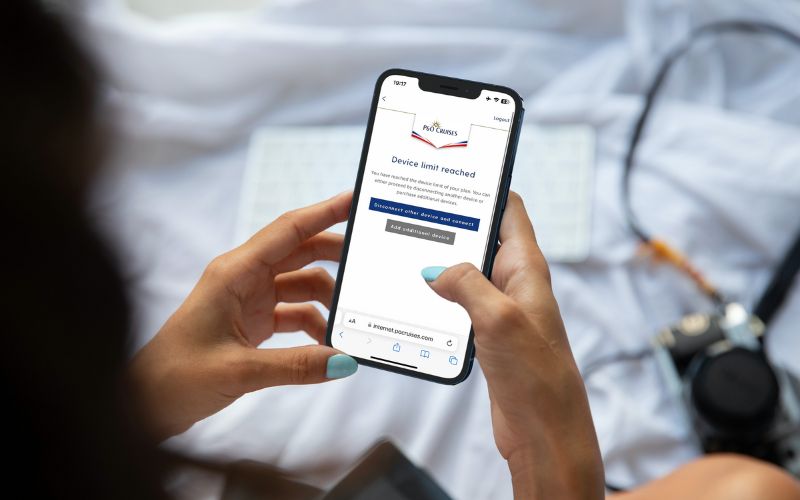 If your try to log in when the other person is already logged in, you can tap a button to kick them off the wifi so you can use it.
There is a 10% discount for multiple devices, but this is only if two devices are registered to the same guest.
Wifi for Medical Devices
If you need internet access for medical reasons such as a continuous glucose monitoring device for diabetes, you can get this free of charge on P&O Cruises. Just ask at the reception desk on board for a free internet voucher.
What If You Don't Have a Smartphone?
Most P&O Cruises ships have a library with public computers that you can use to access the internet if you don't have a working smartphone or tablet. These are open 24 hours per day. However, the newer ships, Arvia and Iona do not have public computers.
Should you need to print anything off, you can do so in the library for 30p per sheet. A scanning service is also available at Guest Services.
Is P&O Cruises Wifi Worth It?
Wifi at sea is never as fast as the wifi that you're used to at home. The speed that you'll get depends on where you are on the ship and how many other people are using the wifi at the same time.
There are always wifi blackspots on cruise ships, so head to a public lounge for your best chance of getting a good signal.
However, in 2023 P&O WiFi got a big boost, as the cruise line added SpaceX's Starlink to its fleet, beginning with Britannia and Azura, completing the work across the fleet by the end of 2023.
Starlink is a much faster internet service for cruise ships, meaning all of the P&O internet packages will now offer better speeds – guests will be able to stream shows and movies, or share their photos and videos, much quicker than they could before.
Personally, I don't think that buying wifi for your whole cruise is worth it. There are lots more fun things to be doing on a cruise ship rather than looking at your phone! But, if you really need to stay in touch on sea days, then buying a P&O Cruises' wifi package in 24-hour blocks is a good option.
NEW DEALS JUST RELEASED!
Don't miss the latest P&O Cruises offers…
Related Posts: