When booking your cruise accommodation, the number of options can be a little dizzying. It's even worse if you've never cruised before, or you're trying a new cruise line, because they all have different names for their stateroom categories.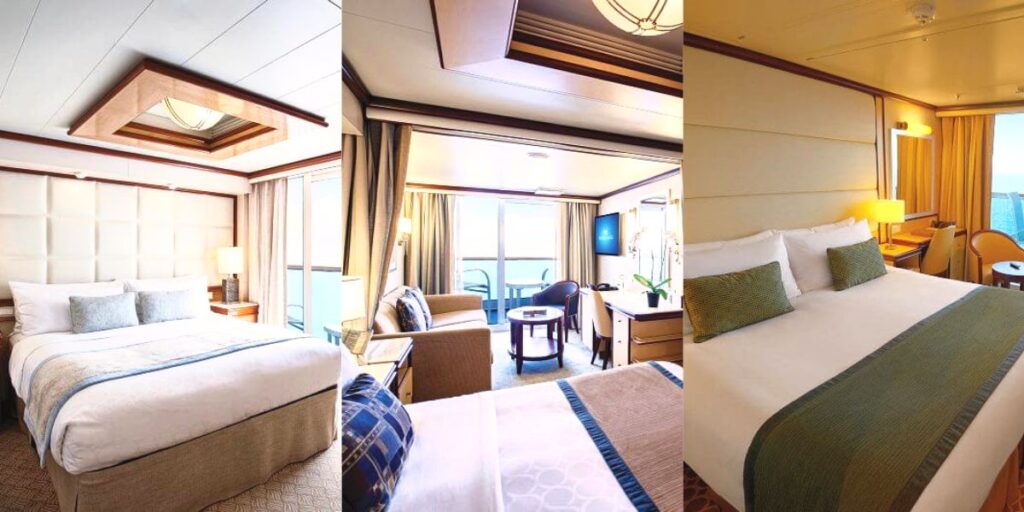 This guide will focus on Suites, Mini Suites and Balcony Staterooms – what are they, how are they different, and ultimately which one is the best choice for you?
What is the difference between a balcony room, a mini suite and a suite on a cruise?
Balcony Staterooms and Suites are similar, although Suites are often much larger. Suites will come with additional perks too, which may involve complimentary drinks, enhanced service or exclusive access to parts of the ship. Mini-Suites bridge the gap between Balcony Staterooms and Suites.
Balcony – Stateroom with an outdoor area
Mini Suite – More spacious than a Balcony with some extra perks
Suite – Even more spacious and with more perks
When I say that they're similar, what I mean is that typically (but not always) a Balcony Stateroom and a Suite will have a sleeping area, a living area and a balcony facing out onto the ocean.
But there are of course exceptions – some balconies don't face the ocean, some suites don't have balconies, and so on.
Plus, suites may have multiple bedrooms or living areas, or they may just be more separate, perhaps with a curtain. In most balcony staterooms on ships, the bedroom and living area are within the same actual room.
So what about Mini Suites? These aren't available on every cruise line and they can be known by various different names. Generally, they are very similar in layout (and sometimes size) to a Balcony Stateroom, but they may be slightly larger.
They may also have what you would consider as 'entry level' suite perks – not the full list by any means, but a few additional extras that make them better than a standard Balcony room.
Different Balcony & Suite Types
Here's a quick breakdown of the various types of Balcony or Suite you might find on a ship. This is not an exhaustive list, because every cruise line is different, but this gives you an idea of the various types of rooms that might be available.
Standard Balcony
A Standard Balcony cabin or stateroom will be the average balcony room on a ship – you'll get a decent-sized room and a balcony which usually has enough space for two chairs.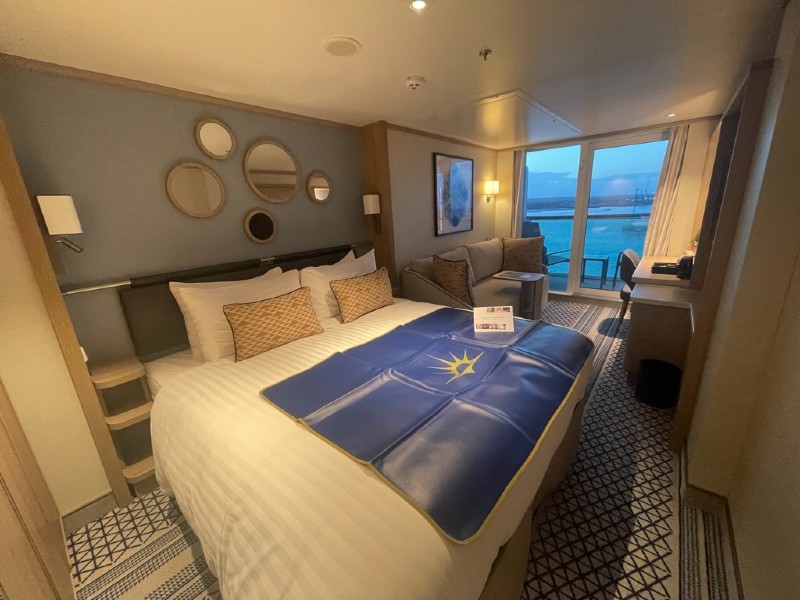 Smaller Balcony
Some Balcony Staterooms may be listed as having a smaller balcony – this will typically be due to the design of the ship. They may be cheaper, although not always – so it's good to check deck plans when you book.
Virtual Balcony
Available on some Royal Caribbean ships, a Virtual Balcony isn't a real balcony. Instead, it's an Inside Stateroom with a large TV screen that gives the illusion of a balcony.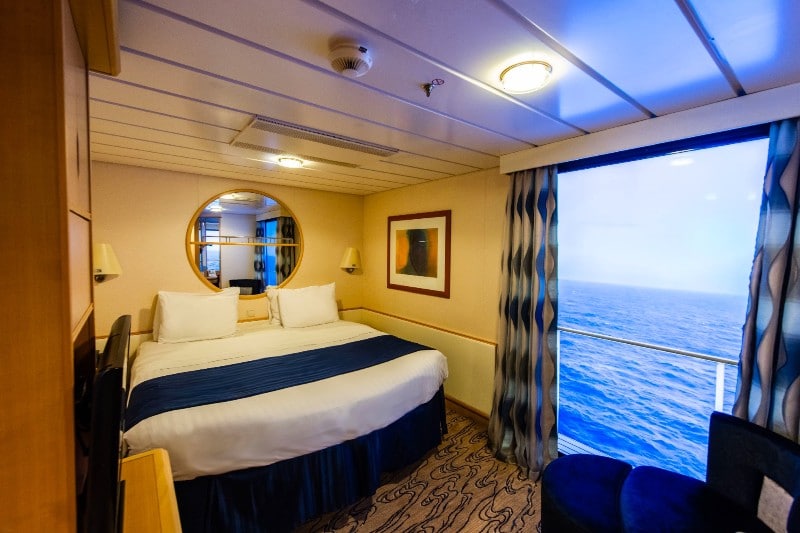 Internal Balcony
Some Balcony Staterooms don't have a view of the ocean, but instead have a view over an internal part of the ship. Commonly found on larger Royal Caribbean ships, they may have views of the Central Park or Boardwalk.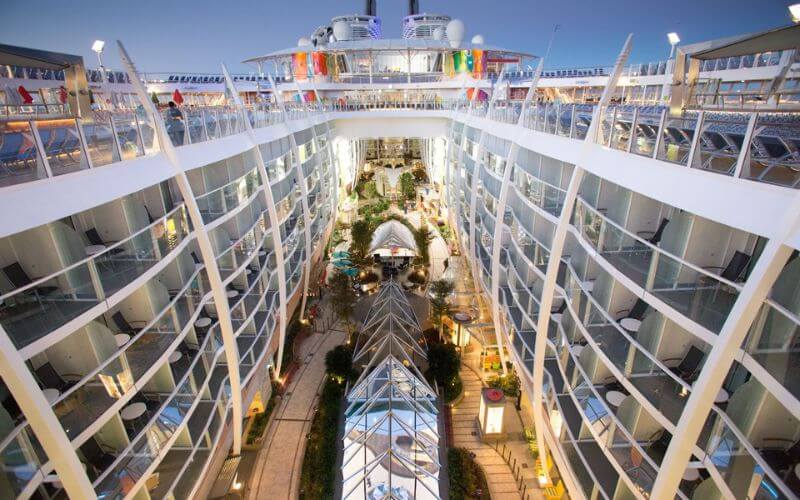 French Balcony
Available on river cruise ships, this is a balcony that you can't step out onto. French Balconies are common on river ships because the ships have to be narrow.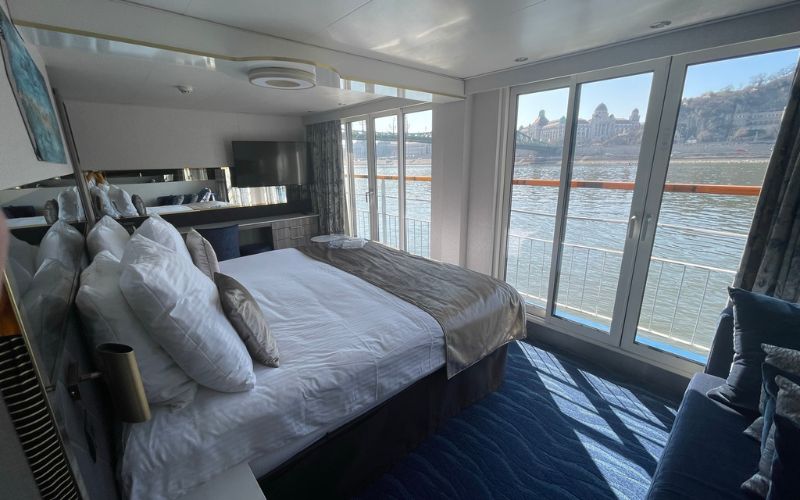 Obstructed View Balcony
Unfortunately, some Balcony Staterooms will have an obstructed view. This could be down to the lifeboats, or a metal railing instead of a clear one. Usually, these rooms are cheaper.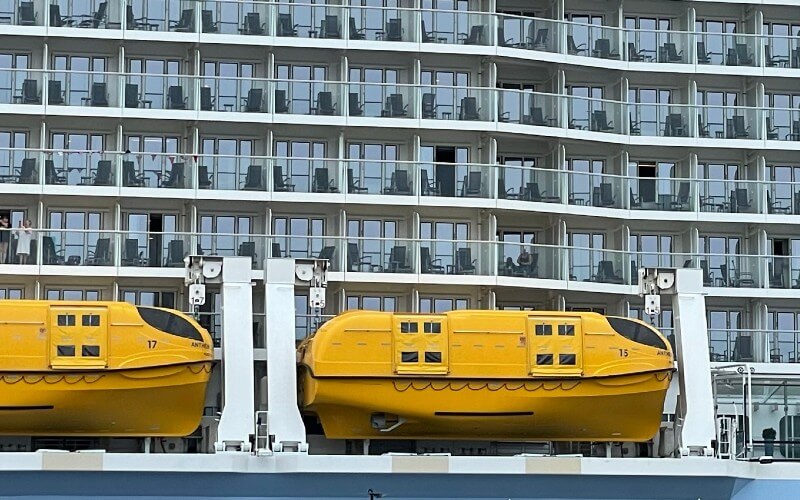 Enclosed Balcony
Some ships will have Balcony rooms that are more enclosed, with solid walls and a ceiling above you, likely paired with a solid metal railing too. You get less of a view, but more shelter from the weather. These are also known as Cove Balconies.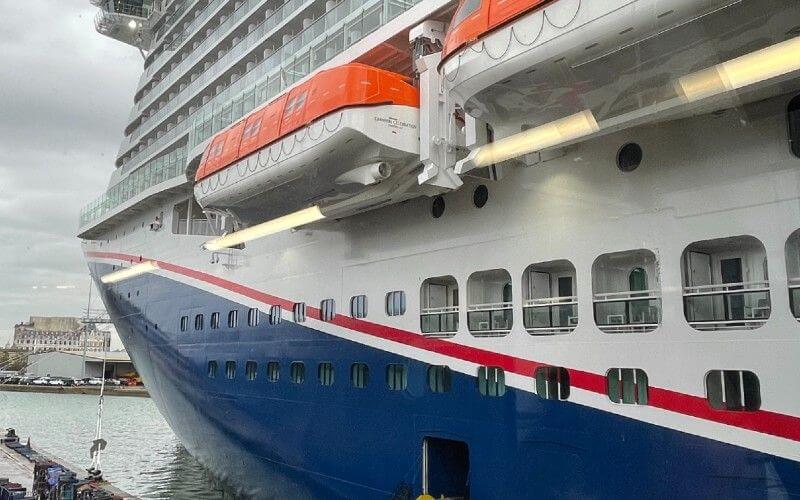 Deluxe Balcony
A Deluxe Balcony room will either have a larger room, a larger balcony, or both. They aren't usually significantly bigger or they would be classified as a suite, and so they aren't often of great value.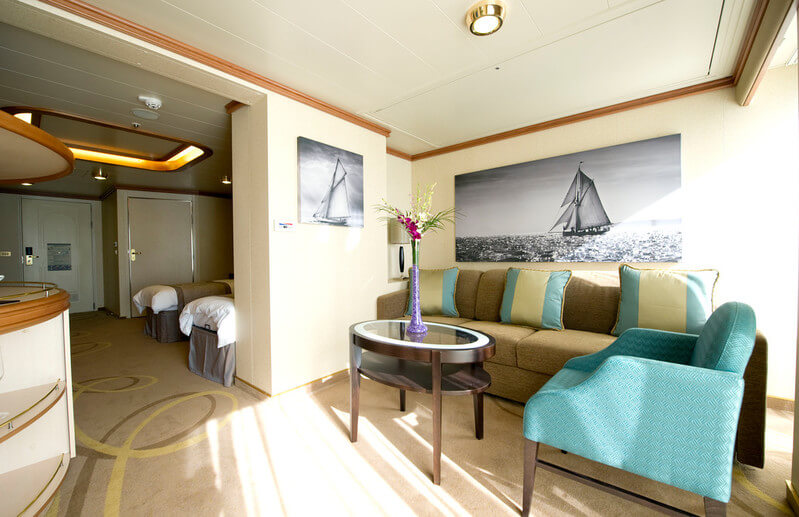 Mini Suite
Mini Suites are available on some cruise ships and are a middle step between Balcony staterooms and full suites. The perks are minimal, and sometimes the rooms aren't much bigger than Balcony rooms.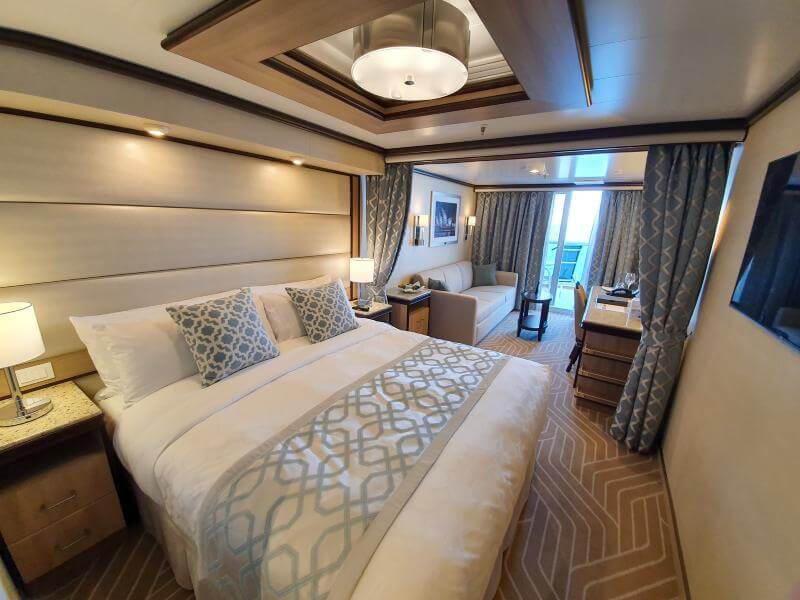 Junior Suite
Junior Suites are the same as Mini Suites, it's just that different cruise lines call them different things. They are typically a reasonable amount larger than a Balcony Cabin. Don't expect a huge list of perks though.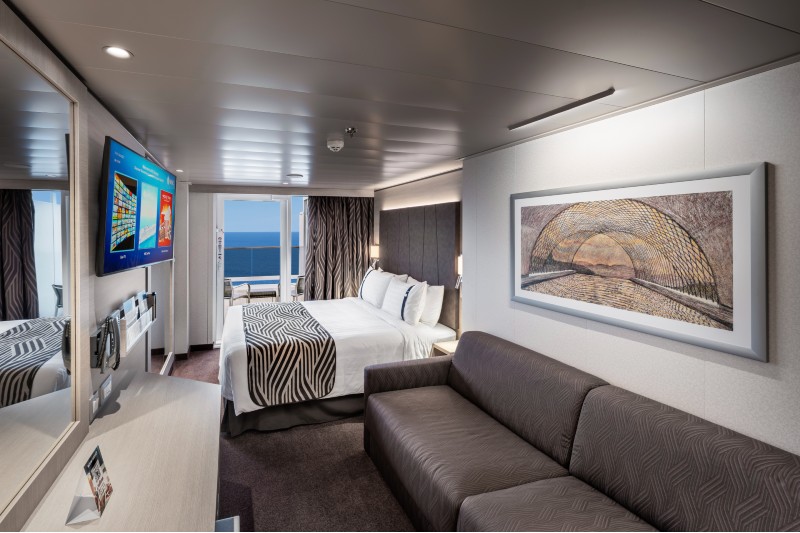 Ocean View (Window) Suite
While rare, some cruise ships have Suites that do not feature a balcony, but instead have large windows. Typically found at the front of a ship, where a balcony may not be permitted due to the weather, they are still worth considering.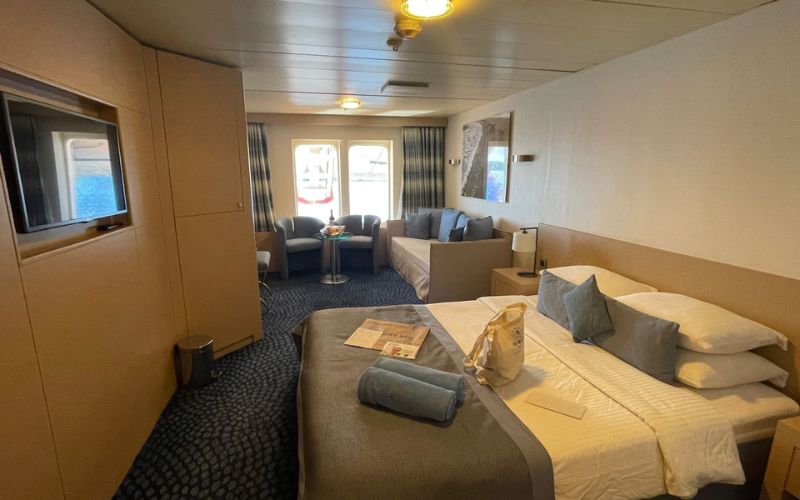 Grand Suite
Grand Suites (or equivalent) are typically the mid-level suite on a ship, and will include a reasonable amount of additional benefits to enhance your cruise.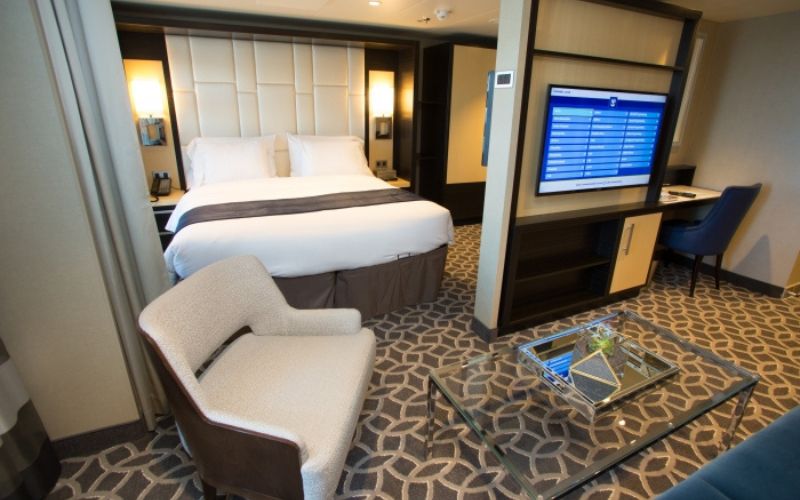 Spa Suite
Some cruise ships have Spa Suites – themed suites that include priority access to the onboard spa and select furnishings or features that are spa-like within the room.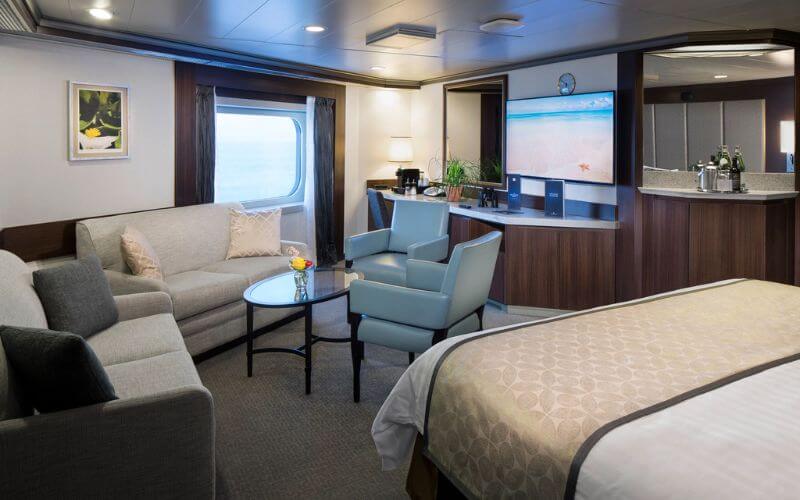 Family Suite
While many suites are capable of sleeping more than 4 guests, there are some ships which have dedicated Family Suites for larger travelling parties, potentially up to 14 guests. One of the best of these is the three-storey Ultimate Family Townhouse on Icon of the Seas.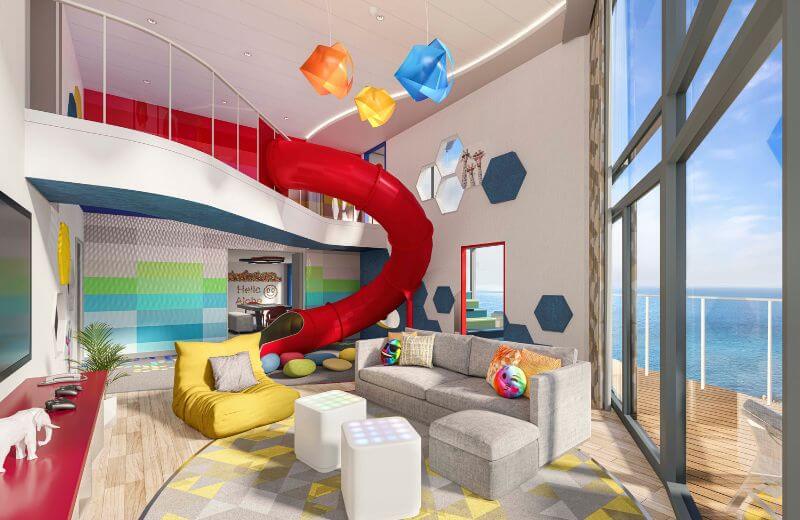 Special View Suites
Some suites may have a special view. This could just be a prime location on the ship, such as the aft, or it could be something specific, like Royal Caribbean's AquaTheater Suites which have a view over the ship's AquaTheater – your own private theatre seats every night.
Suites With Direct Access To Features
There are some cruise lines that have suites giving you direct access to features onboard. It may be the spa, or it could be a family area, like Surfside Suites on the Icon of the Seas for Royal Caribbean.
Owner's Suite
On most cruise ships, the Owner's Suite is the best suite on the ship, although not always. Typically the largest, it may have a balcony that is bigger than most standard rooms, never mind the actual suite itself.
Split-Level Suites
Some cruise lines have started designing suites split across multiple levels, giving guests more space and more distinction between the bedroom areas and the living spaces. Also known as Loft Suites or Duplex Suites, these are great for families or guests who like to host parties.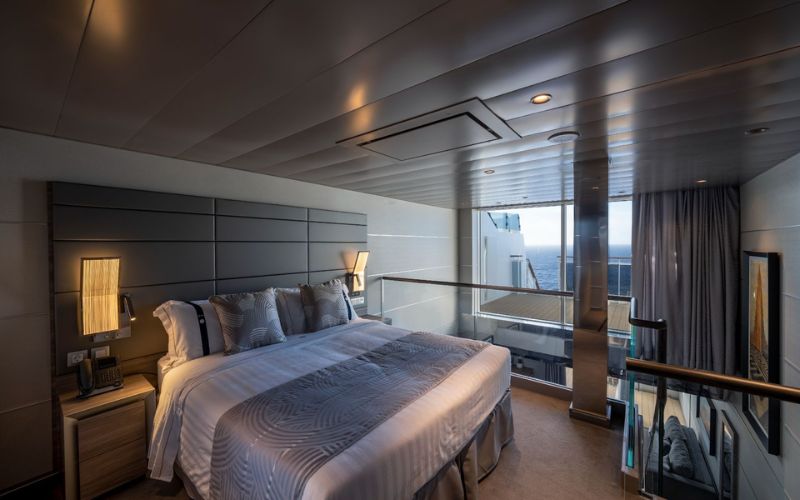 Balcony Staterooms, Mini Suites and Suites By Cruise Line
Here's an overview of the differences between Balcony Staterooms, Mini Suites and Suites for some of the world's biggest cruise lines.
Royal Caribbean
The Royal Caribbean fleet is huge, and there is a lot of variety among the ships in terms of available accommodation.
The cruise line doesn't have Mini Suites, instead, they call them Junior Suites. They are significantly larger than Balcony Staterooms, but the list of Junior Suite perks is limited.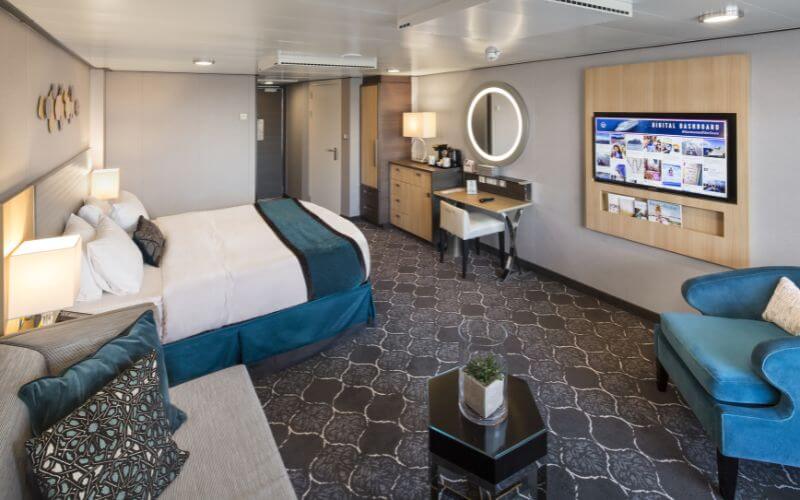 Most Royal Caribbean ships have Grand Suites. These are mid-range suites and the list of Grand Suite perks is considerably longer. They are usually available with either one or two bedrooms.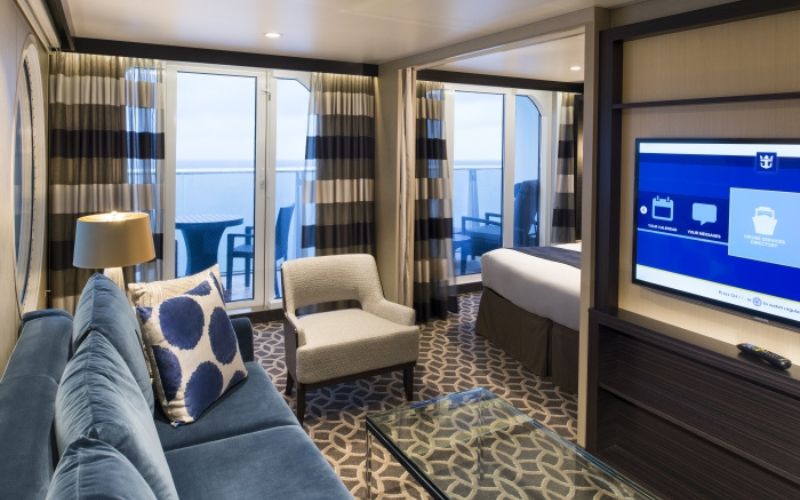 Here are the various options available across Royal Caribbean's ships:
| Balcony Staterooms | Mini Suites | Suites |
| --- | --- | --- |
| Standard Balcony Stateroom | Junior Suite* | Grand Suite (1 & 2 Bed) |
| Spacious Balcony Stateroom | Golden Junior Suite* | Panoramic View Suite (Window Only) |
| Boardwalk View Balcony | | Owner's Suite |
| Central Park View Balcony | | Crown Loft Suite |
| Infinite View Balcony | | AquaTheater Suite (1 & 2 Bed) |
| | | Sky Loft Suite |
| | | Star Loft Suite |
| | | Surfside Family Suite |
| | | Ultimate Panoramic Suite |
| | | Villa Suite |
| | | Grand Panoramic Suite |
| | | Owner's Panoramic Suite |
| | | Grand Loft Suite |
| | | Owner's Loft Suite |
| | | Royal Loft Suite |
| | | Icon Loft Suite |
| | | Ultimate Family Suite |
| | | Ultimate Family Townhouse |
Read more: Royal Caribbean Suite Perks
Carnival
Carnival ships have a range of Balcony options and some specialist suites that are worth explaining.
As well as the standard Balcony cabins, you can also choose Extended Balcony cabins, where the actual balcony is extended. But be careful as sometimes that's at the expense of space in the room.
Spa Balcony rooms are available, which are situated close to the onboard spa, and you can also book Cove Balcony cabins – these are more enclosed, with a walled-in balcony space and essentially a large open window area.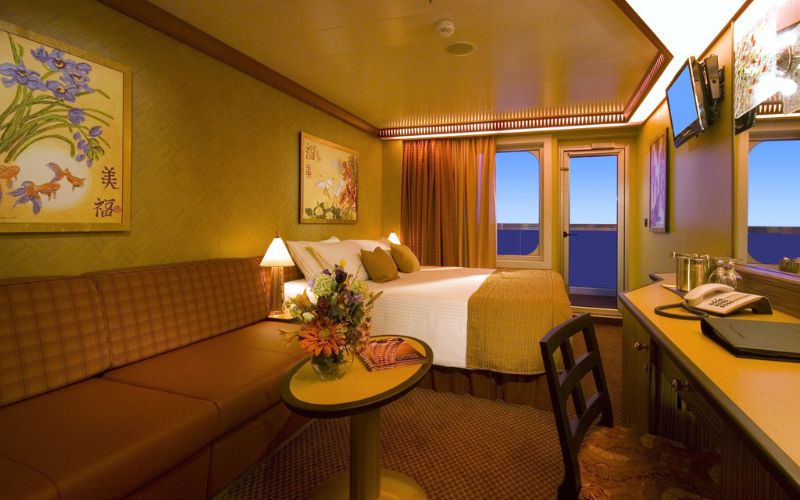 Carnival also has specialist room types – Cloud 9, Havana and Family Harbor. Cloud 9 rooms are spa-themed, Havana rooms are directly linked to the Havana poolside area (with Havana Balcony cabins and Suites including a private cabana).
Family Harbor staterooms and suites give access to the Family Harbor Lounge with various fun activities for all the family.
| Balcony Staterooms | Mini Suites | Suites |
| --- | --- | --- |
| Junior Balcony Cabin (small) | Junior Suite | Family Harbor Suite |
| Cove Balcony Cabin | | Vista Suite |
| Balcony Cabin | | Ocean Suite |
| Extended Balcony Cabin | | Grand Suite |
| Cloud 9 Spa Cove Balcony Cabin | | Cloud 9 Spa Suite |
| Cloud 9 Spa Balcony Cabin | | Havana Cabana Suite |
| Havana Cabana Cabin | | Carnival Excel Suite |
| Havana Extended Cabana Cabin | | Carnival Excel Aft Suite |
| | | Carnival Excel Presidential Suite |
Read more: Carnival Cruise Suite Benefits
Holland America Line
Holland America is another cruise line that officially does not have Mini Suites, but does offer a suite option which feels like it should be considered as a mini suite.
That's the Vista Suite. They're not much bigger than the Verandah Staterooms on the ship, and they don't offer many perks at all – just a choice of pillows, a stocked mini bar, and the use of some binoculars in your suite (but you can't keep them!).
The main thing to look out for with Holland America is the Spa accommodation. This is available at Verandah Level and at Suite level (you can also get Interior and Ocean View Spa rooms).
Spa Verandah Staterooms and Spa Suites are the same size as regular suites, but they offer perks such as priority booking of spa treatments, and a range of extras in your room such as a countertop water feature, yoga mats, bath salts and more.
| Balcony Staterooms | Mini Suites | Suites |
| --- | --- | --- |
| Standard Verandah Stateroom | Vista Suite | Signature Suite |
| Aft-View Verandah Stateroom | | Neptune Suite |
| Spa Verandah Stateroom | | Neptune Spa Suite |
| | | Pinnacle Suite |
Read more: Holland America Line Suite Benefits
Norwegian Cruise Line
With NCL, there aren't a huge number of Balcony cabins to choose from. You can either opt for a standard Balcony, one aimed at families, or the third option is a Spa Balcony – one with easy access to the onboard spa and themed amenities.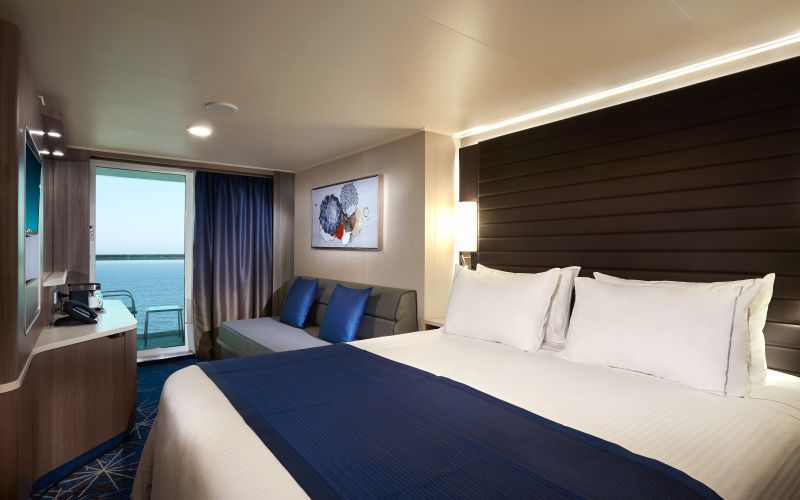 NCL does have Mini-Suites, although they have been rebranded as "Club Balcony" Suites. They're larger than the Balcony rooms and include the same variants – standard, family or spa. They include a small list of perks, including complimentary treats and a half-bottle of sparkling wine when you embark.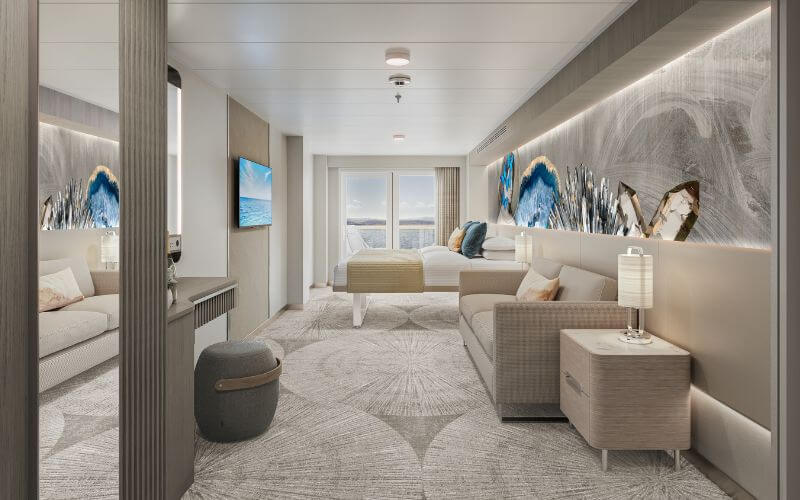 With the full suites, some of the modern ships have all of the suites in The Haven – an exclusive upmarket area of the ship. On older NCL ships, you might have a split between suites in The Haven and suites elsewhere on the ship. The perks you get for any of these suites is quite an extensive list.
| Balcony Staterooms | Mini Suites | Suites |
| --- | --- | --- |
| Balcony | Club Balcony Suite | Deluxe Family Suite |
| Family Balcony | Family Club Balcony Suite | Penthouse Suite |
| Spa Balcony | Spa Club Balcony Suite | Deluxe Penthouse Suite |
| | | The Haven Spa Suite |
| | | The Haven Deluxe Suite |
| | | The Haven Penthouse Suite |
| | | The Haven Courtyard Penthouse Suite |
| | | The Haven 2-Bedroom Family Villa |
| | | The Haven 3-Bedroom Garden Villa |
| | | The Haven Owner's Suite |
| | | The Haven Deluxe Owner's Suite |
Read more: NCL Suite Perks
Princess Cruises
Princess Cruises has probably the simplest breakdown of staterooms and suites of any of these major cruise lines.
But to be clear – not all options are available on all ships.
With Balcony Staterooms, you have a choice between Standard, Deluxe and Premium Deluxe. And it all comes down to size.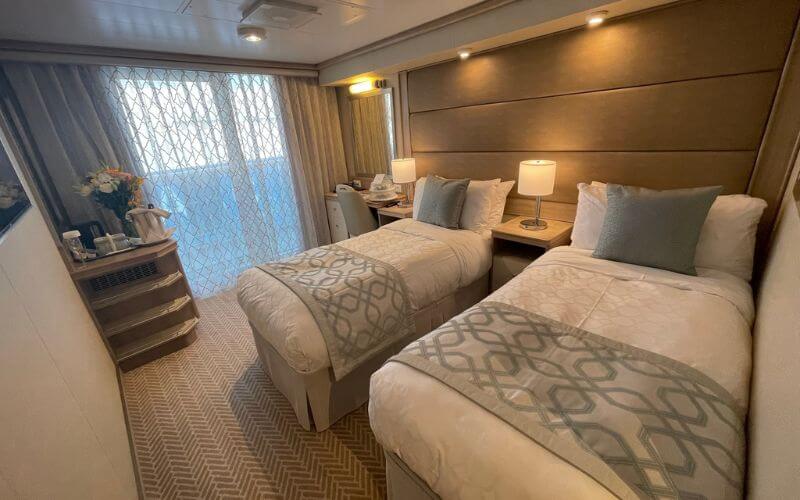 Typically a Standard Balcony will sleep 2 to 4 but use Pullman beds, while a Deluxe stateroom adds a sofa bed for additional comfort. Premium Deluxe Balcony Staterooms have a larger balcony, with both a sofa bed and Pullman bed.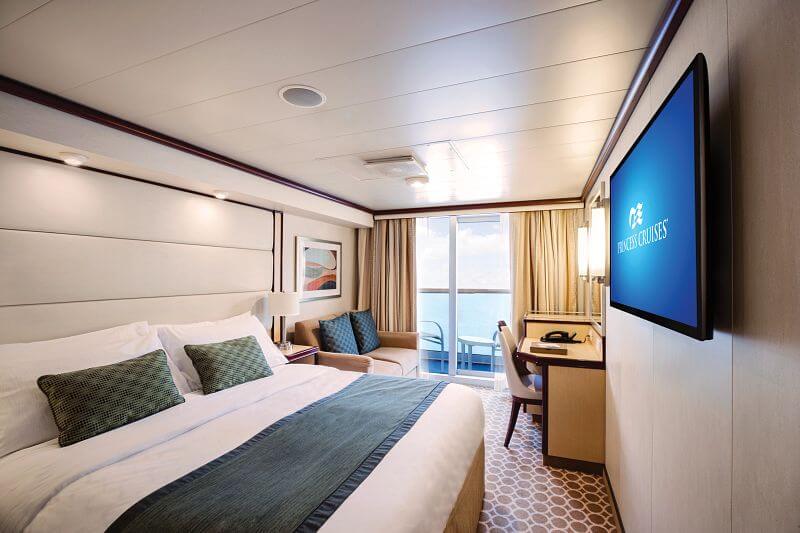 There are two categories of Mini Suite too, with the basic Mini Suites being as much as 46% larger than a Standard Balcony Stateroom. You get a few perks too, but only in the room – upgraded mattress topper, two TVs instead of one, and a bathtub with massage shower.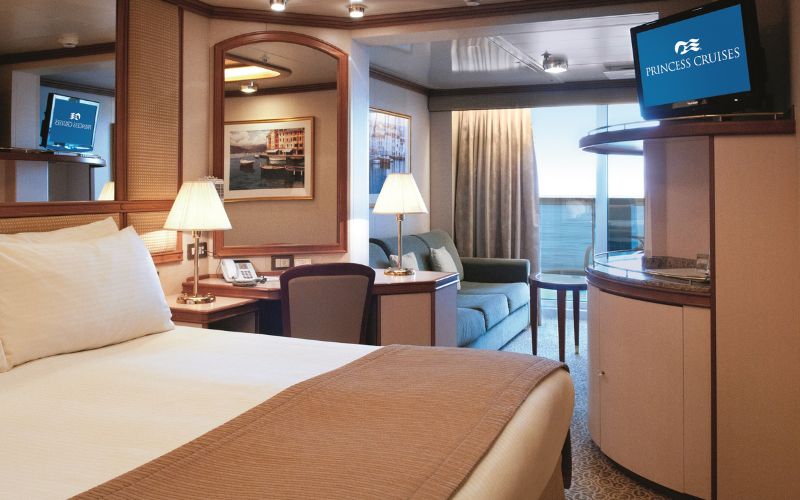 Club Class Mini Suites are where you start to get traditional Suite perks – priority embarkation, welcome drinks, access to exclusive dining options and so on.
And then Suites are the largest accommodation options on Princess Cruises, with a longer perk list too. The best are Sky Suites, though these are only available on the very latest ships. They have vast balconies overlooking the pool deck and are stunning.
| Balcony Staterooms | Mini Suites | Suites |
| --- | --- | --- |
| Balcony Stateroom | Mini Suites | Window Suite |
| Deluxe Balcony Stateroom | Club Class Mini Suites | Vista Suite |
| Premium Deluxe Balcony Stateroom | | Premium Suite |
| | | Penthouse Suite |
| | | Grand Suite |
| | | Owner's Suite |
| | | Sky Suite |
Read more: Princess Cruises Suite Perks
Final word
Generally, a Balcony Stateroom is a good choice of accommodation for most people who want to enjoy a view with fresh air. Suites are aimed at those with a larger budget, who want to be made to feel special on their cruise by either boarding early, or having free drinks waiting for them.
When it comes to Mini Suites, it depends on the cruise line. Some are barely worth the upgrade cost over a Balcony, while with cruise lines like Princess the difference can be substantial. That's why it's always worth checking deck plans and reading reviews before deciding which option is best for you.
To help you avoid these worst cabins , I've created a cabin checklist that you can get for free.
Just enter your email address below and you'll receive it in your inbox straight away.
Related Posts: