Celestyal Cruises is a Greek cruise line with two ships – Celestyal Discovery and Celestyal Journey.
But in 2022 I took a Greek Islands cruise on Celestyal Olympia, and ship that then left the fleet in 2023. In this honest review, I'll share my experiences of my time on board as well as ashore.
The newer ships have been refurbished to fit Celestyal Cruises' style, so if you're looking for Celestyal Discovery or Celestyal Journey reviews, a lot of this information will be relevant.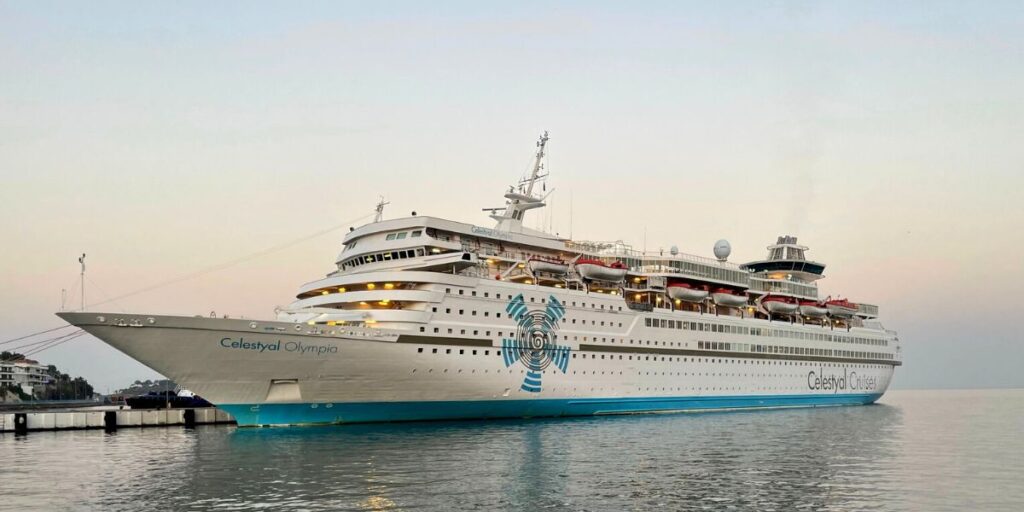 Before The Cruise
Our cruise was a package deal that included a pre-cruise hotel stay and transfers between the airport, hotel and port. While this is something that you would usually need to arrange yourself or ask a travel agent to do, this can be part of the service with Celestyal Cruises and you can even select a hotel and transfer package when you book online.
I love this option as it takes a lot of stress away from the start of your cruise holiday, as everything is taken care of for you.
When we arrived at the airport we were greeted by a friendly driver holding a sign with our names. He took us to the hotel and told us a little about Athens on the way.
When we arrived at the Royal Olympic Hotel, we were blown away by how beautiful it was. The Acropolis was just a short walk away, and we enjoyed the most amazing view of it from the rooftop restaurant.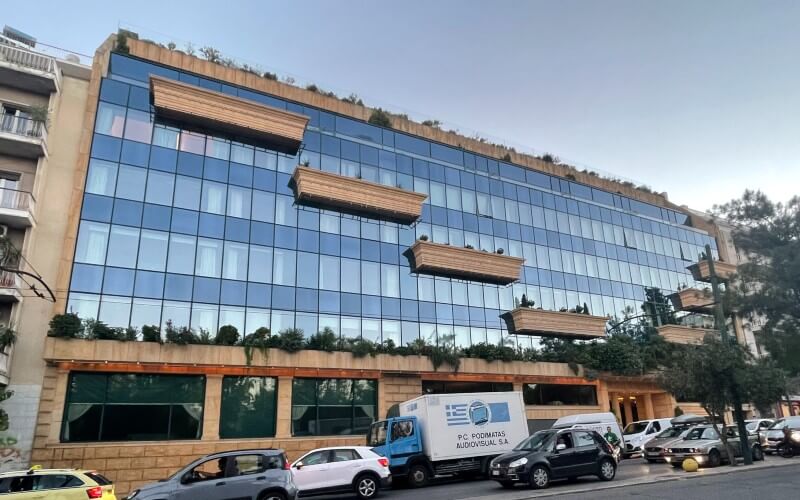 The next morning, we were collected from the hotel by the same driver and taken to the port. Check-in was really fast and we walked down the pier to board the ship.
We were on board by 10 am which is the earliest I have ever boarded a cruise ship! That gave us plenty of time to explore every deck of the ship before lunch.
First Impressions
Celestyal Olympia is a 40-year-old ex-Royal Caribbean cruise ship. She could accommodate 1,664 guests over 12 decks.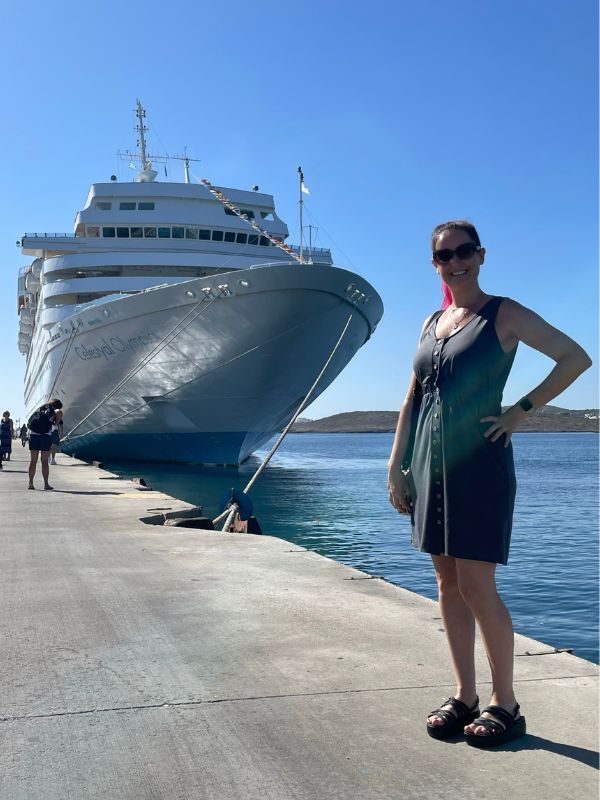 As someone who usually cruises on new ships that are three times the size of Celestyal Olympia, I wasn't sure if I'd like this ship, but I absolutely loved it!
Some of the decor was a little 80s in its styling, but I found that to be charming and original. The ship was spotlessly clean and everything worked as expected – she has clearly been very well looked after.
Being an older ship, most of the rooms had windows and only a handful of the top suites had balconies. We had a suite, which was very spacious. It had large windows overlooking the promenade deck. We could see out, but nobody could see in – I checked before changing in front of the window!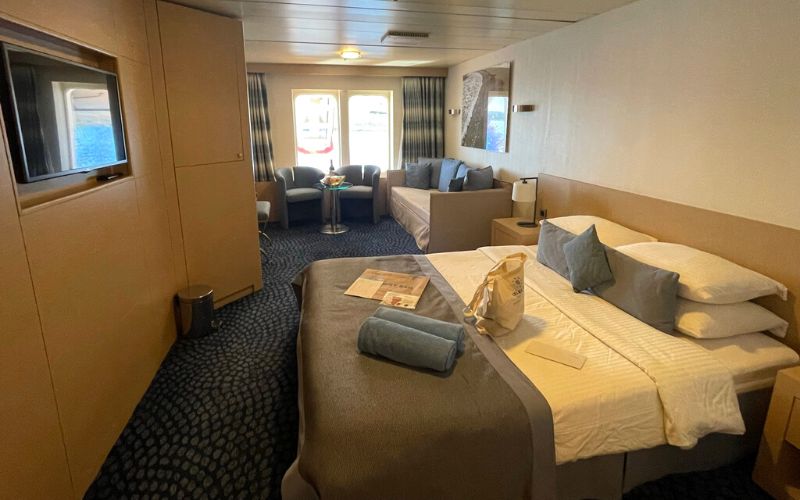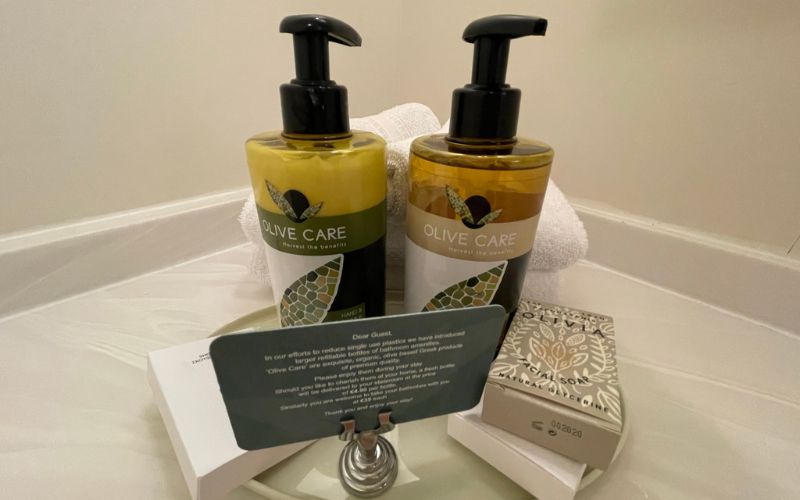 What wowed me the most was how spacious the ship was. There were some huge open spaces, which I had never seen before on a cruise ship as I usually expect to see every inch of floor space covered with deckchairs outside.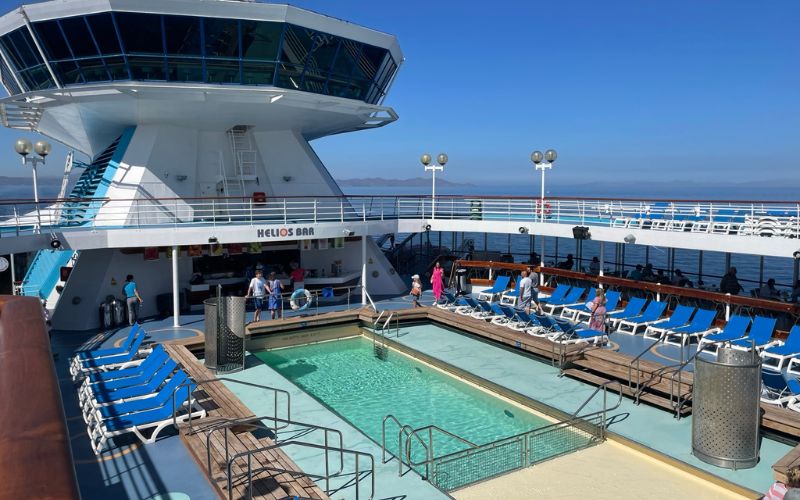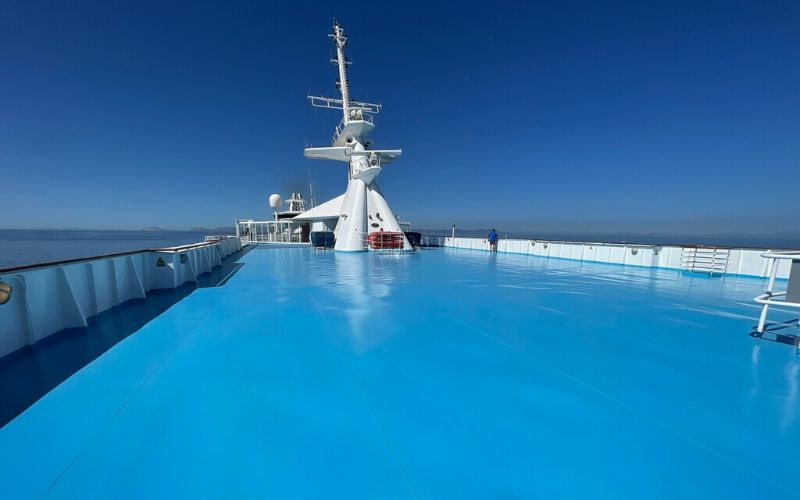 Celestyal Olympia was only around half-full on this cruise, but even if it were at full capacity, you would always have a choice of places to sit down.
I particularly loved that this ship had a bar around the funnel which had the most amazing views.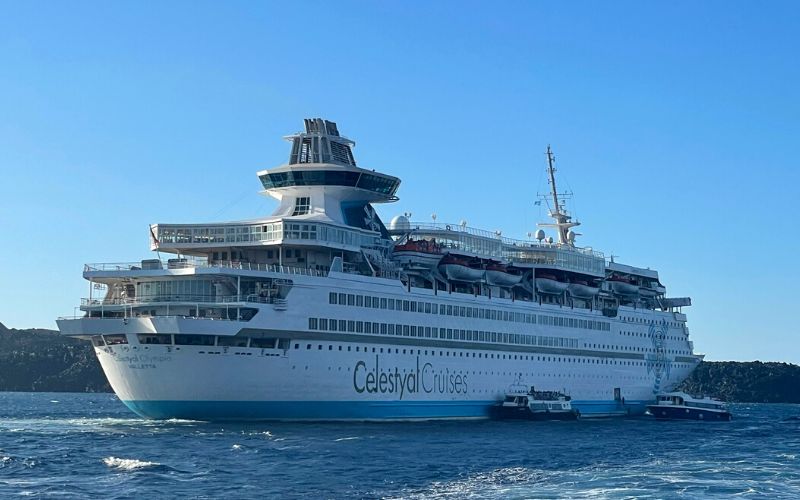 I've never seen so many crew members ready and available to help. Waiters were actually waiting, if you so much as looked up they would be straight over to ask if they could get you anything. Our wine was topped up as soon as the glass became half empty, which was lovely, although we never knew how much we had drunk!
A lot of other Celestyal Cruises reviews mention the crew in a positive way, so I know it wasn't just a one-off experience.
Itinerary
The itinerary for this cruise was intensive. We visited two ports per day, which meant that we got to see the highlights of the Greek Islands in just a weekend.
If you're short on annual leave, or want to combine this cruise with a longer stay in Athens, then this kind of itinerary is perfect.
We did see a few families on board, but for those with younger kids, I'd recommend one of the seven-night cruises that has one port per day as the early mornings and late nights aren't ideal for little ones.
Evening One: Mykonos
Visiting a port of call on embarkation day is something totally new to me as usually cruise ships sail away at around 5 or 6 pm and sometimes I'm not even on board until 4 pm. However, Celestyal Cruises are very different!
At 6 pm we arrived in Mykonos and were taken by coach to the centre of town where we had free time to explore and could return at any time until 10.30 pm.
We had a lovely stroll along the seafront until we reached the iconic windmills of Little Venice. The resort is very trendy – it seems that the main activities people enjoy here are taking selfies, shopping in designer boutiques and drinking €20 cocktails.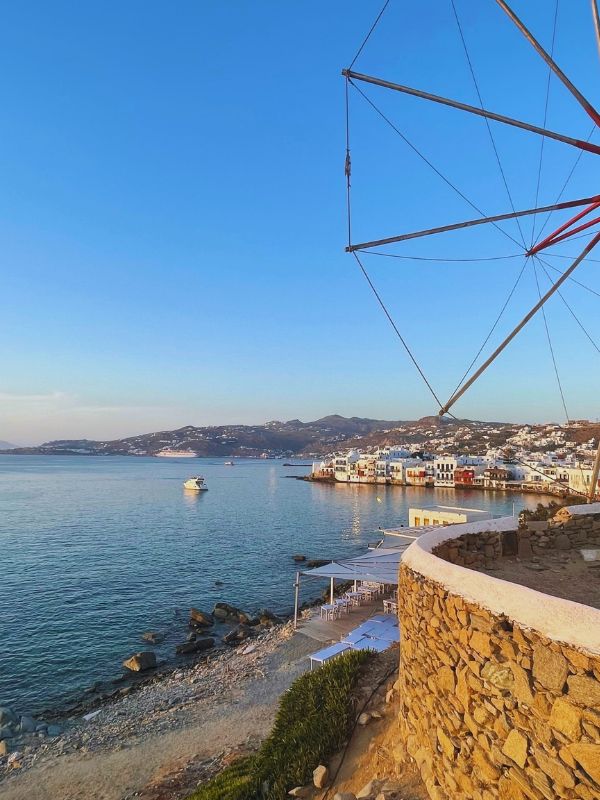 The great thing about a cruise is that you can visit places briefly to decide if you'd like to return to them later on for a longer holiday. Mykonos isn't for me, but I really enjoyed seeing what it was like.
Morning Two: Kusadasi
We set our alarm clocks for 6 am because at 7 am we docked in Kusadasi, Turkey. We enjoyed an excursion to the ruins of Ephesus, which is a UNESCO World Heritage Site.
Ephesus is an ancient city that was built around 3,000 years ago and is incredibly well-preserved. Our guide taught us so much about the history and culture of this ancient civilisation.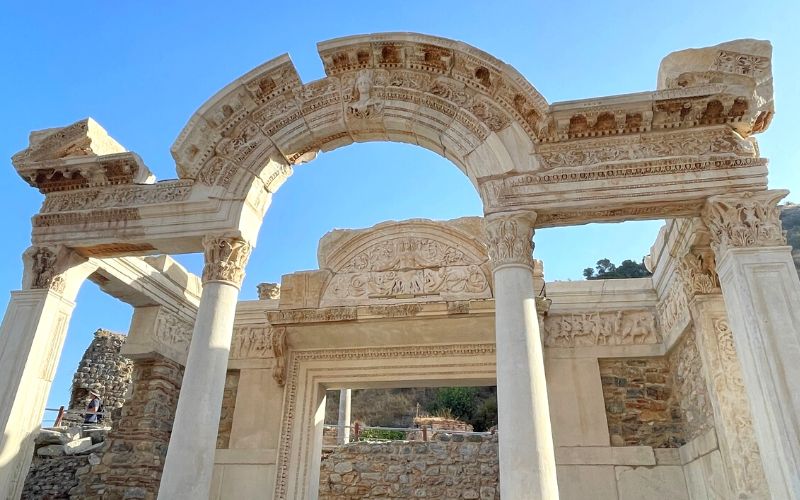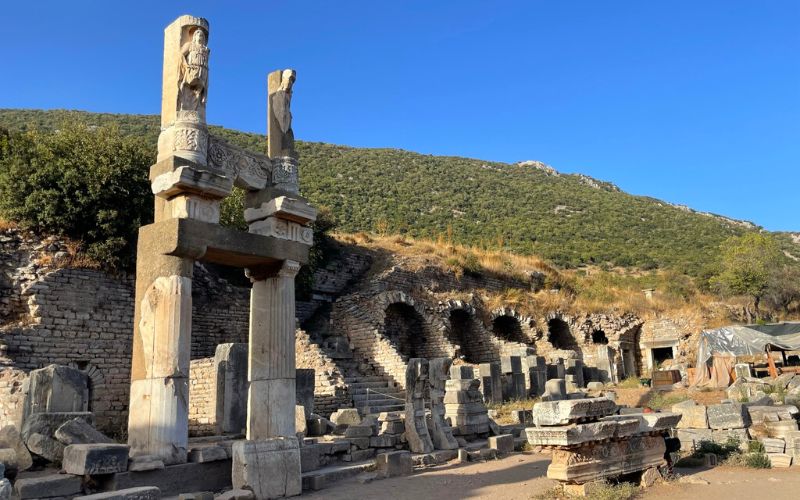 There were lots of dogs and cats roaming around which I thought was lovely. I did wonder who picks up the poo, as we didn't see any!
After the tour, we visited a Turkish carpet-making factory. I was a little horrified to hear how over 6,000 silkworms are boiled alive to make each kilogram of silk and how the silk is coloured with the blood of lac beetles, known as cochineal. We got to touch the cocoons and watch as they were thrown into the water.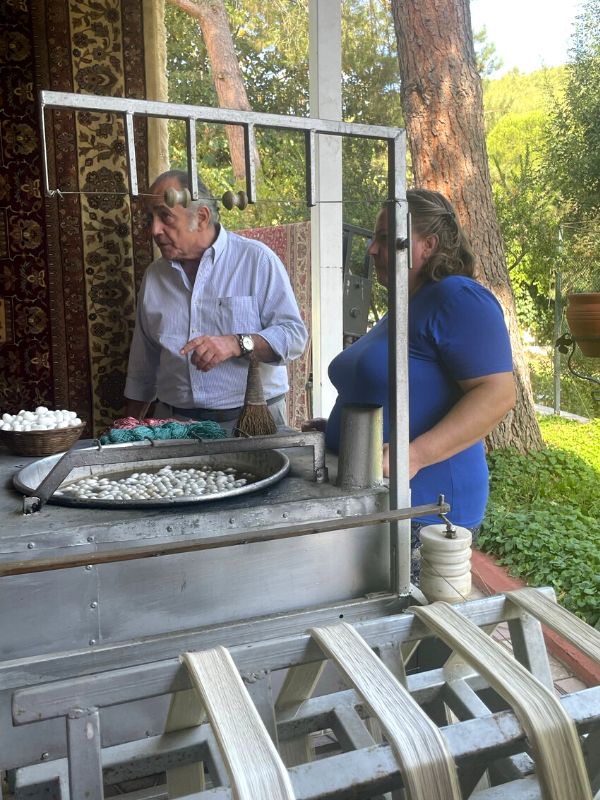 While this was a little horrifying for me as a vegan, I still found it to be very educational and I understand that not everyone sees animals the way that I do, particularly worms and beetles.
We were treated to wine and a lovely buffet brunch and then headed back to the ship.
Evening Two: Patmos
In the late afternoon, we visited Patmos. We took a tender boat to the shore, which was very exciting. I love tender boats and always try to sit by the door or upstairs for the best view.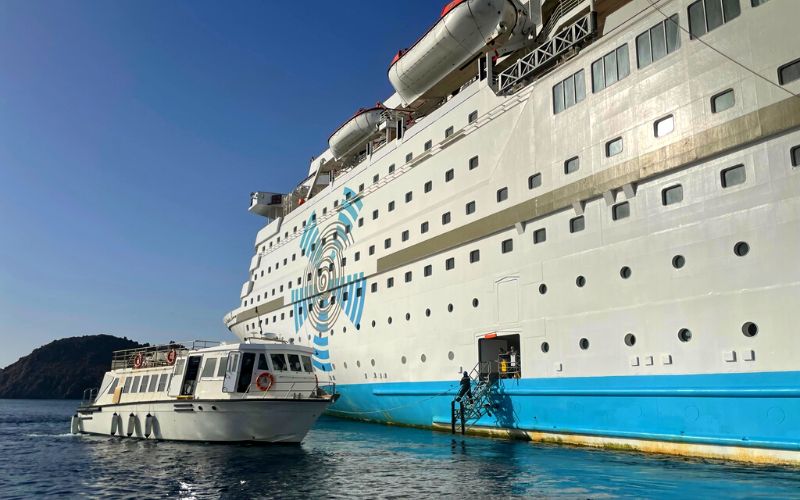 Our excursion in Patmos was a countryside tour, so we got to see a lot of this small, volcanic island with its dramatic cliffs.
Patmos is where John the Baptist is believed to have lived as we visited the Cave of the Apocalypse where he is said to have lived. There were several religious groups on our cruise and I understand why as the Greek Islands seem to be featured a lot in the Old Testament from what I learned on these excursions.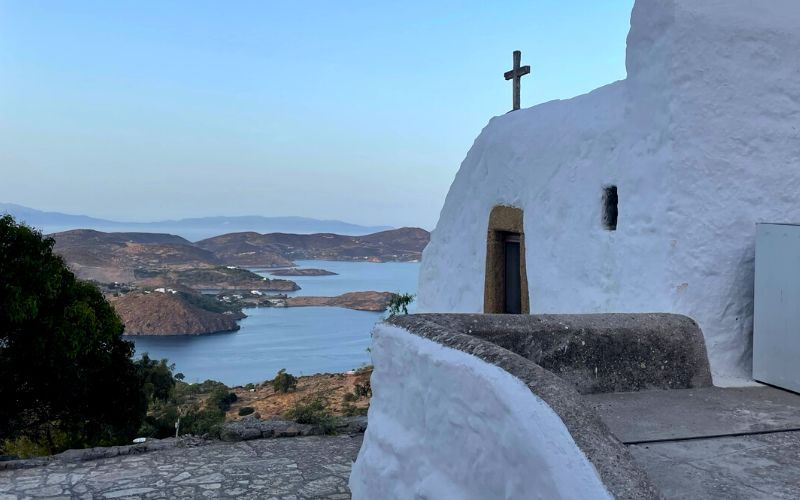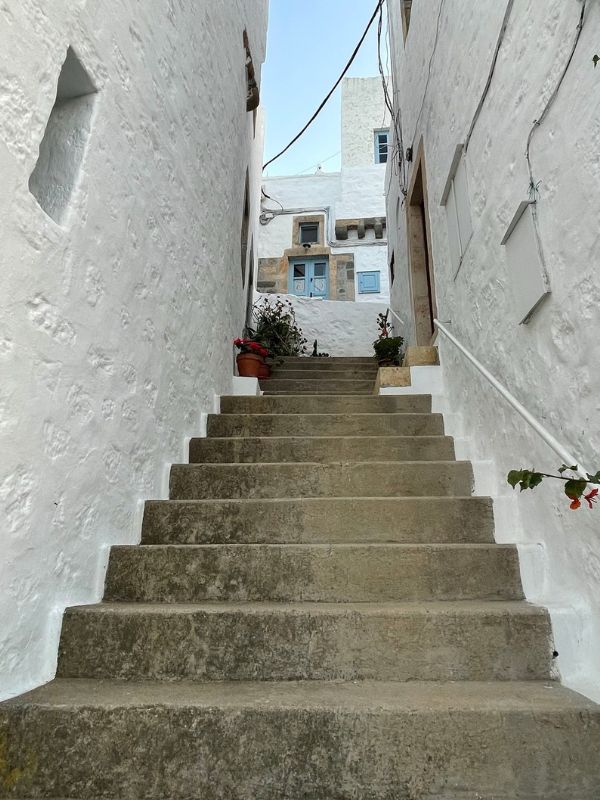 Morning Three: Heraklion
As the ship docked in Heraklion, Crete, we boarded a coach at 7 am for an excursion to the Palace of Knossos. Believed to be Europe's oldest city, this archaeological site dates back over 9,000 years.
We arrived at 8 am just as the doors opened, so our group was the first inside, which was a huge advantage as it got very busy behind us!
The ruins have been extensively restored since 1900, and there's an interesting mix of old and new, making it almost impossible to know what's original and what has been fashioned out of concrete!
Still, it was a very interesting trip and our guide was very knowledgeable. Afterwards, we had a little bit of free time in Heraklion for shopping by the port, but it was so hot at midday that we headed back to the ship.
Evening Three: Santorini
In the late afternoon, we took a tender boat to the beautiful island of Santorini. We were met by the coach that took us up the zigzag path to the top of the cliff and then on a tour of the island before dropping us off in Oia.
Oia is the most picturesque part of Santorini with the blue-domed churches and we arrived just in time for sunset. It was beautiful, although very busy indeed.
Disembarkation: Athens
We disembarked the cruise at 6.30 am and as our flight wasn't until the afternoon, we managed to squeeze in one last excursion on our way to the airport.
We enjoyed a city tour of Athens with a knowledgeable guide. Afterwards, we have two hours of free time in Athens so we decided to head to the Acropolis to visit the Parthenon. After all, you can't visit Athens without doing this, right?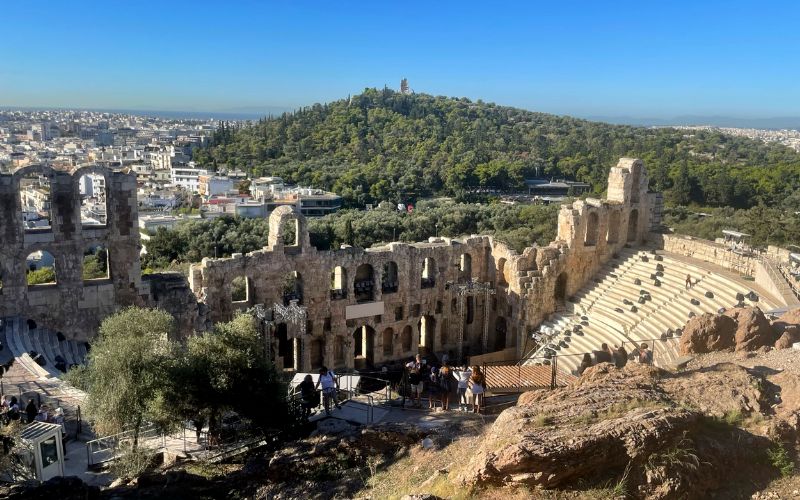 The view over Athens was fantastic, as was the incredible architecture. As we arrived at 9 am we managed to walk straight in and miss the thousands of people that were queuing at 10 am when we left.
If this trip has taught me anything, it's that arriving at tourist attractions as they open in the morning is well worth it. I plan to do this much more in the future!
Food
On Celestyal Olympia there is a single main dining room, a casual buffet restaurant and a poolside grill. All of the food was included, except for the poolside grill which served Greek gyros for €10 to €14.
Breakfast is served buffet-style in either the main dining room or the casual restaurant. It has everything you could want with continental and cooked breakfast items and an endless supply of coffee served at your table.
For lunch in the main dining room, you can dine a la carte or from the buffet. There's also the buffet restaurant which is handy if you happen to be by the pool. I preferred the main dining room buffet as there was the most choice and I loved the pasta station where you could order pasta cooked with your choice of ingredients.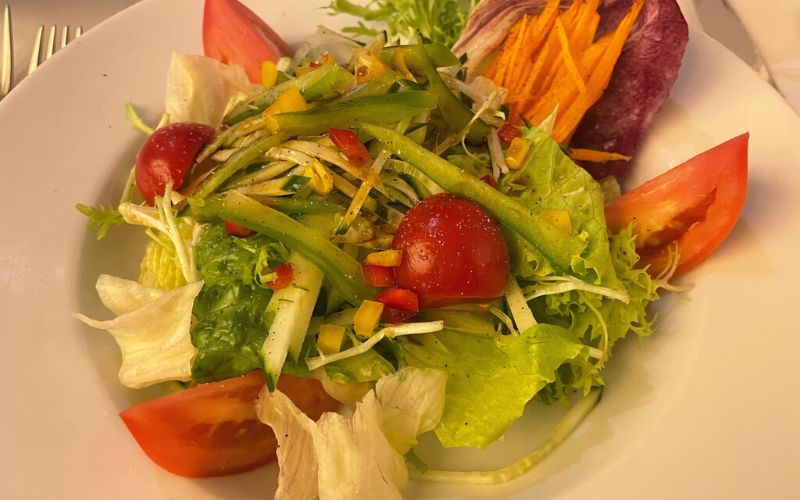 For dinner, you can eat a la carte in the main dining room or in the casual buffet. On one evening, there was a Greek barbecue outdoors.
As I am vegan, the waiter always showed me the menus for the next day and was happy to adjust anything I needed. He ordered me a portion of the gigantes plaki (butterbean stew) to be made without honey and saved me a bowl of soup from the lunch menu to eat at dinner.
Example menu:
The menus were marked with vegan or vegetarian symbols, but be careful. The fish dishes were marked as vegetarian and when my vegetarian friend questioned it she was told that it was because 'some vegetarians eat fish'. The buffet items aren't labelled, but the crew members are happy to advise.
I had a choice of soya or almond milk and vegan margarine was always available.
Most of the food on offer was traditional Greek cuisine and everything we ate was delicious. The tomatoes were so fresh and tasty that I had plenty of them on the side every time I visited a buffet and, while not Greek, the chips were the best chips I had ever tasted – it must be all the Greek olive oil!
Drinks
We had the drinks package which is very reasonably priced. Although even if you don't have a package, the drinks are some of the cheapest I've ever seen on a cruise ship.
Here's the drinks menu…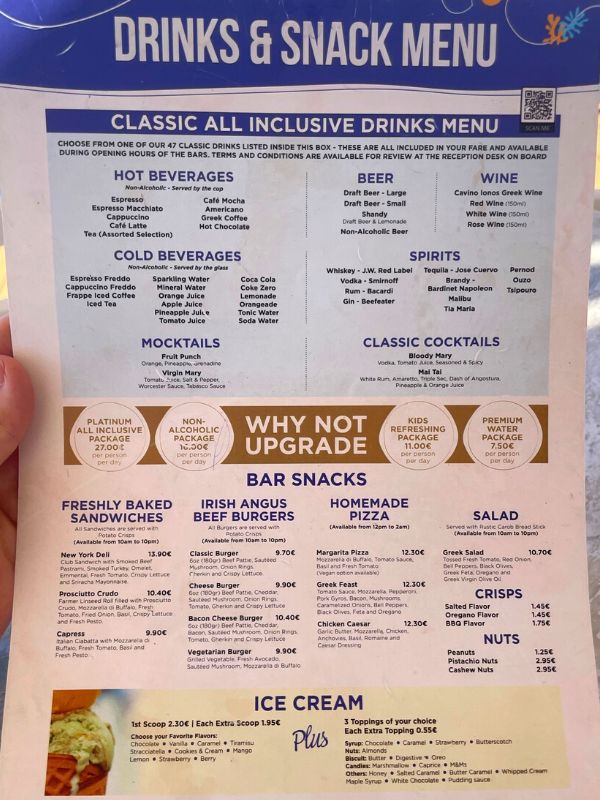 There was a good choice of cocktails and they were all fantastic. We enjoyed the Greek beer, Mythos, and had lots of cappuccino freddos (iced coffee) to keep us going!
The juices at breakfast are pretty awful as they often are on any cruise ship, so I'd recommend that you order a freshly-squeezed orange juice – it's so worth it!
Entertainment
I loved how all of the entertainment on Celestyal Olympia was Greek-themed – it really immersed us in the culture of Greece.
In the daytime, there was Greek dancing as well as all of the usual activities like bingo, Zumba, sports tournaments, arts and crafts and quizzes. There was also live Greek music in the day and into the evening.
There was a kids club that was open for one hour per day in the afternoon. We only saw eight children on board, so I expect that there may be more for kids in the school holidays.
The evening shows were performed by a group called Cirque Fantastique and we thoroughly enjoyed the mix of traditional Greek music, modern songs, dancing and acrobatics. I believe there was a nightclub afterwards, but we always went to bed at 11 pm after the show as we were so exhausted from a busy day!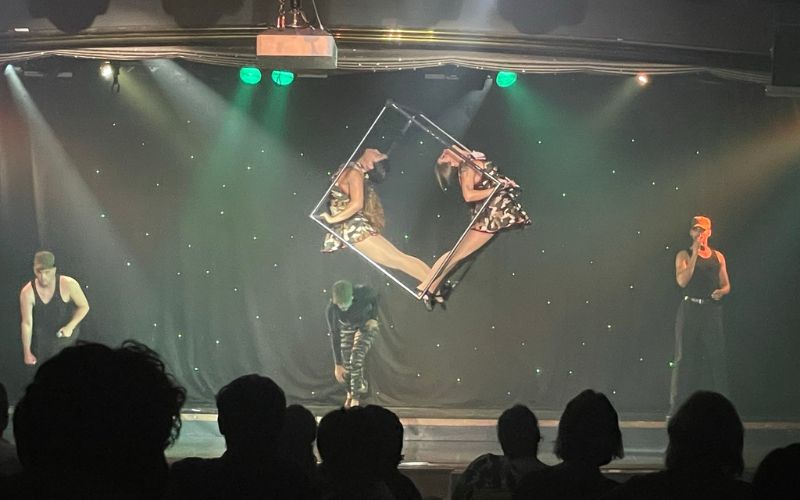 Service
The highlight of this cruise for me was how friendly, welcoming and attentive the crew members were. You couldn't walk past anyone without them saying hello and everyone was smiling and happy.
Our room was turned down twice each day and we were left a wonderful towel animal dog along with some snacks to keep us going during the excursions.
You're not meant to take food off the ship, but pre-packaged food is okay, so I would definitely recommend packing some cereal bars if you're the type of person who can't go six hours between meals like I am!
The tour guides were all fantastic as well, speaking perfect English and taking time to teach us so much about the history and culture of Greece, while keeping us entertained.
NEW DEALS JUST RELEASED!
Don't miss the latest Celestyal Cruises offers…
My Verdict
I've visited various Greek islands over the years, but I honestly believe that the best way to see Greece is with a Celestyal cruise. Because Celestyal Cruises is a Greek company, you'll experience the best Greek hospitality and enjoy well-thought-out itineraries with expert local guides.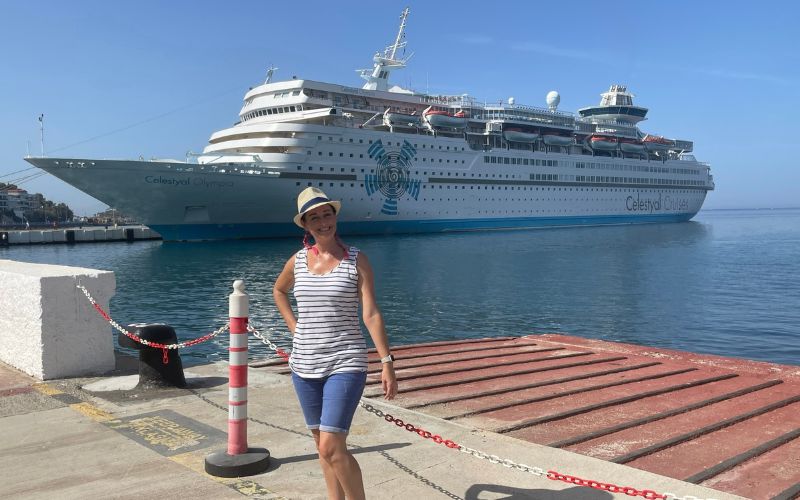 For me, cruising used to be all about the ship. I often didn't care where it was going, so long as there was lots to do on board and I've taken several cruises where we didn't get off at all! But this cruise with Celestyal has showed me that sometimes, the destinations are what matters the most.
To learn more about Celestyal Cruises, visit Celestyal.com.
NEW DEALS JUST RELEASED!
Don't miss the latest Celestyal Cruises offers…
Related Posts: