A lot of people think that a balcony stateroom is a must-have on a Carnival ship. And although I usually go for an inside myself, I suppose see where they're coming from – it is really nice to be able to enjoy a wonderful view of the ocean, and some fresh sea air, from the comfort of your own private space, first thing in the morning and last thing at night.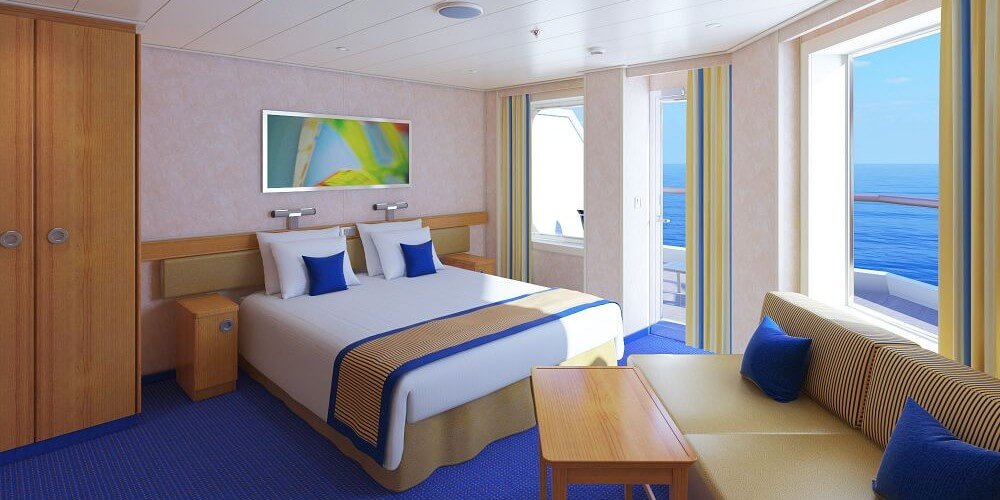 But, there are a lot of Carnival ships, and a lot of different balcony cabins on those ships – so which are the best, and which are the worst?
Is it even worth getting a balcony at all, or should you save your money? Let's find out…
What is a Balcony on Carnival?
A Balcony room on a Carnival ship is one that has its own private balcony area, accessible through a sliding door. They're usually slightly larger than an oceanview cabin and have the extra balcony floorspace too.
Most Balcony rooms on Carnival ships sleep up to four guests, although you can sometimes add a cot or trundle bed to sleep a fifth guest. Space will definitely be limited though!
How much more is a Balcony Room on a Carnival cruise?
A Balcony stateroom with Carnival generally costs somewhere between $50 and $300 more per night than an Ocean View room does, but it depends on the class of balcony. A typical seven-night Caribbean cruise costs $909 per person for a Balcony, compared to $799 for an Ocean View room with a window.
There are a few different factors in the cost of a room, with cruises where the weather is better likely to have more expensive Balcony accommodation – after all, people will be more willing to pay to enjoy their own outdoor space.
Suggested read: How Much Does a Cruise Cost?
The 18 Different Types of Balcony Rooms
When it comes to choosing a stateroom, it's far from straightforward. Across all of the Carnival ships, there are 18 different types of Balcony rooms to choose from. While not every ship will have every category, there will still be lots of different accommodation types to consider.
| Stateroom Type | Category |
| --- | --- |
| Balcony (obstructed views) | 7A |
| Cove Balcony | 7C |
| Junior balcony | 7X, 7Y |
| Balcony | 8A, 8B, 8C, 8D, 8E, 8F, 8G |
| Extended Balcony | 8J, 8K |
| Forward-View Extended Balcony | 8L |
| Aft-View Extended Balcony | 8M, 8N |
| Premium Balcony (obstructed views) | 9A |
| Premium Balcony | 9B |
| Premium Vista Balcony | 9C |
| Cloud 9 Cove Balcony | 7S |
| Cloud 9 Balcony | 8P, 8S, 8T |
| Cloud 9 Forward-View Extended Balcony | 8V |
| Family Harbor Cove Balcony | FM |
| Family Harbor Aft-View Extended Balcony | FO |
| Havana Aft-View Extended Balcony | HI |
| Havana Premium Balcony | HL |
| Havana Premium Vista Balcony | HM |
Now, let's take a look at some of these Balcony rooms in more detail…
Obstructed View Balcony Rooms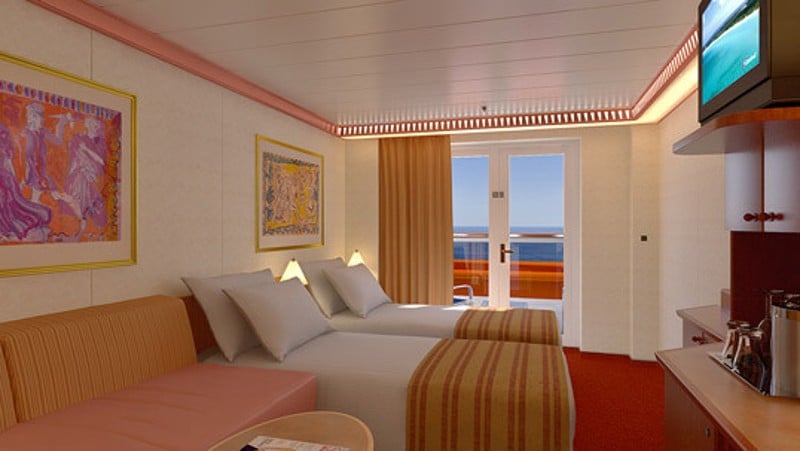 What is an obstructed view on a Carnival Balcony?
An obstructed view is where part of your view is blocked by the lifeboats on the ship. With Carnival, there aren't many obstructed balcony staterooms – most obstructed views are in rooms with a window.
Only Carnival Spirit, Carnival Legend and Carnival Miracle have obstructed view Balcony rooms. These are category 7A for the standard Obstructed Balconies and 9A for the Premium Obstructed Balconies.
On Carnival Miracle and Carnival Spirit, you can choose between a Premium or standard Balcony room if you're happy to have one with an obstructed view. On Carnival Legend it's only the Premium Balcony rooms where some have an obstructed view.
The benefit of choosing an obstructed view room is that it's cheaper. So, if you're someone who isn't too fussed for a full view but likes the idea of sitting outside still, then they could be perfect.
Junior Balcony Rooms
What is a Junior Balcony?
A Junior Balcony room (category codes 7X and 7Y) is similar to a standard Balcony room, except that it's a little smaller. The balcony is the same size (44 square feet), but the stateroom interior is smaller (172 square feet compared to 205 square feet).
If you want to save a little without sacrificing the outdoor space, then a Junior Balcony is a good option. They've got a maximum occupancy of two guests, so aren't suited to families with the reduced space. They're only available on Excel Class ships – so Mardi Gras only for now.
Cove Balcony Rooms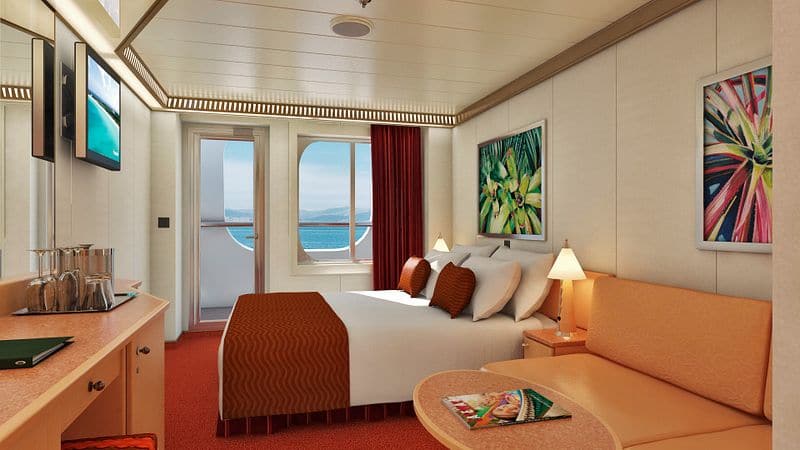 What's the difference between a Balcony and Cove Balcony?
A Cove Balcony stateroom (category 7C) is more enclosed than a standard Balcony. They have a smaller opening, with a completely solid bottom half rail and solid sides and roof. They are more like a large open window than an open-air balcony.
Cove Balcony rooms are available on Excel Class, Vista Class and Deam Class ships.
Read more: What Is A Cove Balcony On A Carnival Cruise?
Extended Balcony Rooms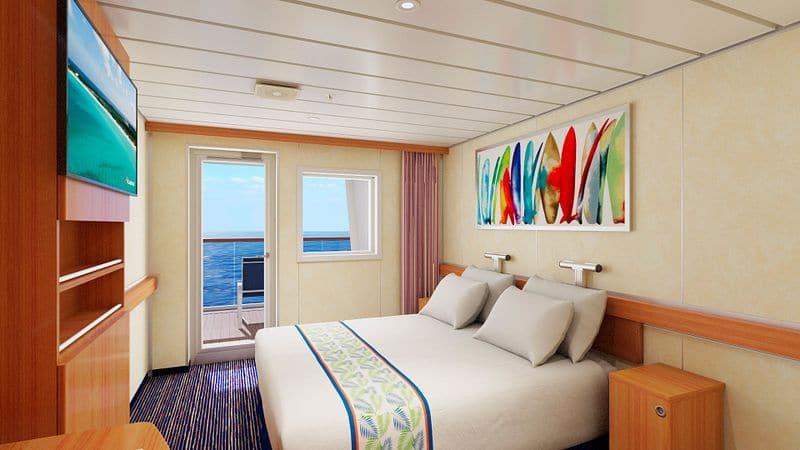 What is an Extended Balcony?
An Extended Balcony stateroom (8J, 8K, 8L, 8M and 8N) on a Carnival ship is one where the room is the same as a standard Balcony but the actual balcony space is larger. How much larger varies – some offer just 2 square feet more, while others have over 40 square feet more space outside.
There are three types of Extended Balcony rooms:
Regular Extended Balcony (8J or 8K)
Aft-View Extended Balcony (8M or 8N)
Forward-View Extended Balcony (8L)
Which is better – Forward-View or Aft-View?
Most people prefer an aft-view room because the views over the wake of the ship are more enjoyable. Forward-view rooms encounter a lot of wind, and you might be limited in the times that you can use the balcony when the ship is sailing, although some do have a windshield so that you can at least open the door.
Personally, I'd take an aft view over a forward view every time.
Premium Balcony Rooms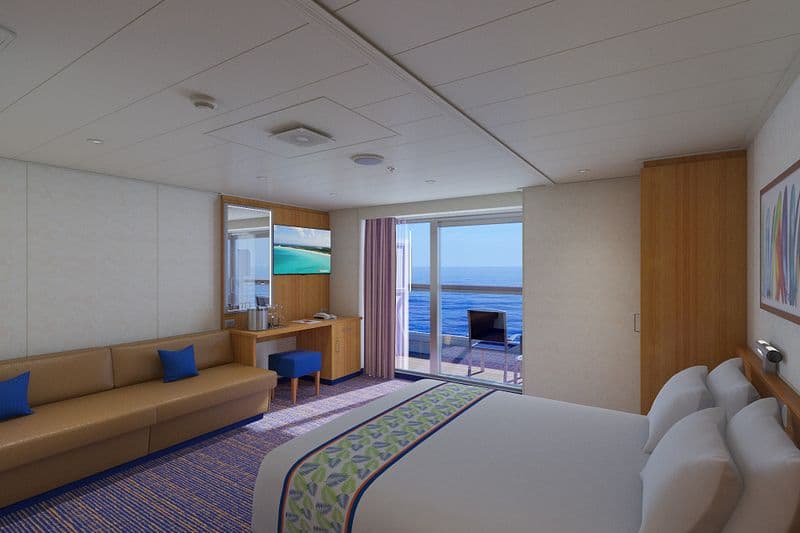 What's the difference between a Balcony and a Premium Balcony?
A Premium Balcony stateroom (9A, 9B and 9C) is a larger version of a standard Balcony stateroom. Both the inside of the room and the balcony are larger, unlike an Extended Balcony room where just the balcony is bigger.
They're available on almost all Carnival cruise ships – the only ships that don't have a Premium Balcony option are Mardi Gras, Carnival Pride, Carnival Elation and Carnival Paradise.
What is a Premium Vista Balcony?
A Premium Vista Balcony stateroom ( category 9C) is situated at the aft of the ship, wrapping around the corner. The stateroom is still a standard size, but the balcony is larger, giving you some great views towards the aft of the ship as well as the side.
They're available on all Dream Class, Conquest Class and Sunshine Class ships, as well as the Carnival Vista – but not on the other ships in the Vista Class (Panorama and Horizon).
Cloud 9 Spa Balcony Rooms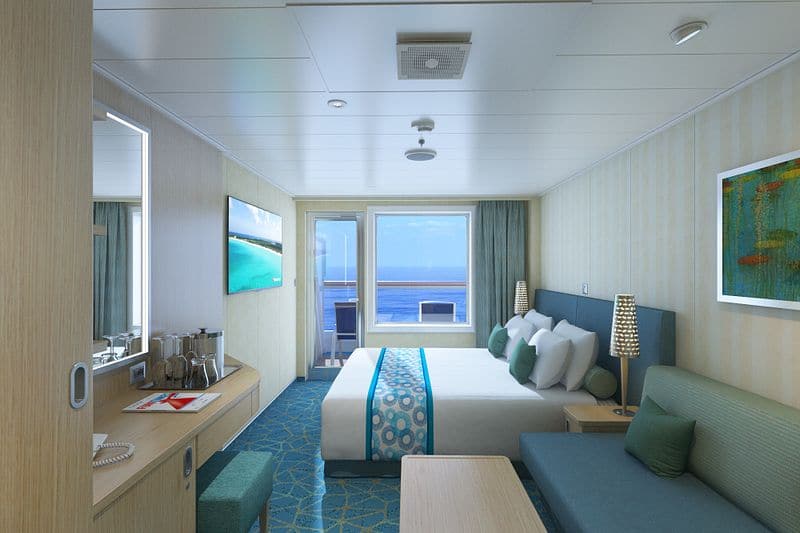 What does a Cloud 9 Spa Balcony include?
A Cloud 9 Spa Balcony stateroom on a Carnival ship (category codes 7S, 8P, 8S, 8T or 8V) includes priority spa appointments, access to the Thermal Suite for the duration of the cruise and discounts on spa treatments among other benefits.
The priority appointments only apply to reservations made on the first day though – once 6 pm hits on embarkation day, other guests will be able to start making their own bookings.
Other complimentary benefits include a scrub kit to use in the Thermal Suites, access to Pathway to Yoga or Pathway to Pilates fitness classes (two per guest) and a free body composition analysis. Guests also get spa-branded bathrobes and slippers in their rooms to use for the cruise.
These benefits only apply to the first two adult guests in a Cloud 9 Spa Balcony room though, so if you're sharing with more guests they won't get the same offers.
Here's a full list of the perks you get with a Cloud 9 Spa room:
Easy access to the spa
Unlimited use of Thermal Suites – Sauna, steam room and hydrotherapy pool
Complimentary scrub kit to use in Thermal Suites
Priority spa appointments for reservations made by 6 pm on embarkation day
Discounted spa treatments
Complimentary Pathway to Yoga or Pathway to Pilates fitness classes
Complimentary Body Composition Analysis
Elemis shampoo, shower gel and soap in room
Spa-branded bathrobes and slippers for use during the cruise
Relaxing decor in room
Cloud 9 Spa Balcony staterooms are available on these ships:
Excel Class – Mardi Gras
Vista Class – Carnival Panorama, Carnival Horizon, Carnival Vista
Dream Class – Carnival Breeze, Carnival Magic, Carnival Dream
Sunshine Class – Carnival Radiance, Carnival Sunrise, Carnival Sunshine
Family Harbor Balcony Rooms
What is a Family Harbor Balcony?
Family Harbor rooms on a Carnival ship are aimed at families and include a number of benefits including access to the Family Harbor Lounge. They have a nautical decor theme and are available with Cove Balconies (code FM) or Extended Aft-View Balconies (FO).
Family Harbor Balcony staterooms are only available on Vista-class ships – Carnival Vista, Carnival Horizon and Carnival Panorama. But, if you like the Family Harbor concept, some of the other ships instead have Family Harbor Interior rooms, Family Harbor Ocean View rooms or Family Harbor Suites.
Family Harbor rooms are great if you're travelling with younger children as you can take them for breakfast in the nearby Family Harbor lounge without facing the overwhelm of the busy buffet. You can grab snacks in the afternoon, cookies and milk before bed and soft-serve ice cream throughout the day.
With exclusive access to the Family Harbor Lounge, you'll get:
Breakfast in the morning and snacks throughout the day
A range of board games, video games and movies to enjoy
Family activities hosted by the youth staff
Kids eat free in most speciality restaurants
One free evening of Night Owls babysitting service
Havana Balcony Rooms
What is a Havana Balcony?
A Havana Balcony stateroom (categories HI, HL and HM) is a themed speciality room that offers exclusive access to the Havana Pool, along with direct access to the Havana bar. They're slightly more luxurious than a standard Balcony room.
The Havana Pool area has an exclusive swimming pool, two large hot tubs and a relaxation area with umbrellas, palm trees and comfy seating. As it's only for Havana guests, it can provide a welcome respite from the hustle and bustle of the main pool.
The Havana Bar is open to all guests – with Latin music and Cuban-inspired coffees and cocktails, it's a fun place to hang out.
Havana Balcony rooms are only on Carnival's Vista-class ships – Carnival Vista, Carnival Horizon and Carnival Panorama.
There are three types of Havana Balcony staterooms:
Havana Aft-View Extended Balcony – HI
Havana Premium Balcony – HL
Havana Premium Vista Balcony – HM
If you want a little more space, Havana Suites are also available – and those can also be enjoyed on Excel-class ships too as well as Vista-class. There are also Havana Interior rooms on Vista- and Excel-class ships.
Just so you're aware, you can't have young kids in a Havana room – they're for guests aged 12 or older only.
Carnival's Best & Worst Balcony Rooms
The best Balcony rooms on Carnival cruises are the themed staterooms – that's Cloud 9, Family Harbor and Havana.
If you love spa days, then Cloud 9 Balcony rooms are ideal as they come with unlimited access to the Thermal Suite and lots of perks. With soothing decor, they're perfect for a relaxing break.
If you're cruising with kids, then Family Harbor Balcony rooms are the best for you. Kids will love the fun decor and the exclusive Family Harbor Lounge is a great place to hang out with other families.
For couples, the Havana Balcony rooms are great as you'll be able to hang out at the exclusive Havana pool, far away from the crowds.
The worst Balcony rooms on Carnival ships are the Obstructed View Balcony rooms on Carnival Miracle and Carnival Spirit. Nobody wants to be stuck behind a lifeboat! The Cove Balcony rooms aren't loved by everyone either – as they can be a little shaded and the low deck position means you can't always use them in rough seas.
Of course, you must take into consideration the price of these staterooms as well. The best Balcony rooms will cost you much more than the cheapest categories. You'll want to make sure that there's enough left in the budget for a drink package or whatever else you'll need.
For a good balance of price and space, you can't go wrong with a standard category 8 Balcony. When it comes to these, 8A is the cheapest, while 8G is the most expensive due to its desirable mid-ship location.
Pros and Cons of Balcony Rooms
Now you know what to expect from all of the different Balcony rooms on Carnival cruise ships. But before you go ahead and pick one, let's just make sure that a Balcony room is in fact the best room for you.
After all, many people just default to a Balcony, without fully considering whether an Inside room, Ocean View room or a Suite might be better.
Here are the pros of choosing a Balcony room:
You can enjoy a much better view of the sea than in an Ocean View room
You can sit outdoors and enjoy sunrise or sunset, depending on your cabin
Open the Balcony door and you can have a fresh sea breeze through the cabin
You have more floor space in total than an Inside or Ocean View room
And the cons of a Balcony room:
They're more expensive, and you may not spend much time in your room
Some balconies are quite small, and don't have enough room for all guests (if you're in a 3 or 4 berth room)
Some of the less enclosed balconies aren't too private and may not be peaceful if you're near a noisy guest
Balconies can be dangerous for young children or those with additional needs
Should You Book A Balcony Room on a Carnival Cruise?
A Balcony cabin is not for everyone no matter which cruise line you're sailing with. One of the main arguments against choosing a Balcony room is that you may not spend that much time in your room – you'll be exploring the ship and making the most of all the facilities.
And that is definitely the case for a lot of people who choose to sail with Carnival. Carnival ships are some of the most feature-packed on the oceans and there are loads of things to see and do. You might pay the extra for a Balcony but never really get the chance to make the most of it.
On the other side though, they are a great place where you can unwind if you do have some spare time, and sitting with a book in your own little private outdoor space is quite lovely. However some of them are quite 'little' and you might feel a bit cramped, especially if your partner or kids want to join you.
If you want to save money and you think you might not make the most of a Balcony, then definitely consider an Ocean View stateroom. You'll still get a sea view, but those extra $ you've saved can go towards another excursion or a couple of speciality restaurant meals.
Read more: Carnival's Ocean View rooms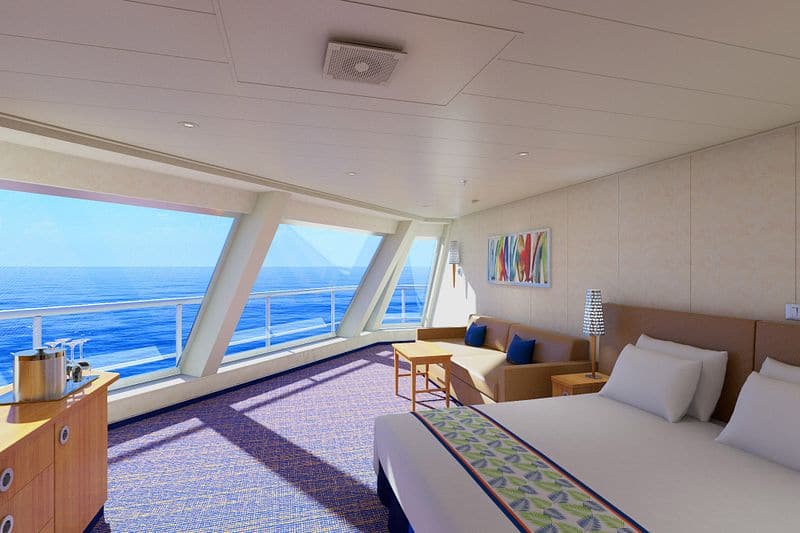 If having a Balcony is an absolute must, then think about how much space you'll want. A Suite could be a better choice, and you'll get some extra perks too. Be careful though, not all Suites have balconies, some have windows or a lanai patio area, so be sure to study the Carnival website to know exactly what you're getting.
Read more: Carnival Suite Perks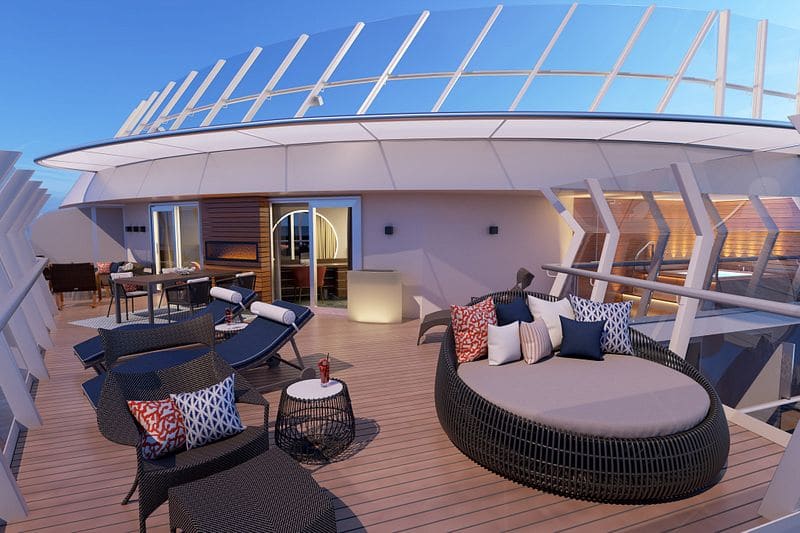 My Recommendation
I'm not here to tell you that you should or shouldn't book a Balcony room on a Carnival cruise, because I think it depends on what you want from your cruise, and your budget – and that's a personal thing.
But if you do want a Balcony, then I can give you some recommendations.
I think a Standard Balcony is a good choice if your budget isn't the biggest, but I would maybe consider avoiding a Junior Balcony – they are a little cramped, and really, if you're getting a Balcony room then you'll want the space to enjoy it properly.
If you don't plan on being in your room that much to care, then it's not worth getting a Balcony at all.
Premium and Extended Balconies are good choices too, but compare the prices with a Suite – it might not be a huge jump and you'll still get more room and some extra perks included too.
I think the themed Balcony rooms – Family Harbor and Havana – are some of the best, especially Family Harbor if you're sailing with kids. Having the extra games for the little ones, and that free evening of babysitting can really help the whole family enjoy a good time on their cruise.
Related Posts: