Booking a suite on any cruise ship isn't just about the extra space you get. You also tend to get a few extra perks for being a suite-class guest – ranging from those little touches that just make your cruise feel a tiny bit more special, to some serious benefits that justify the cost.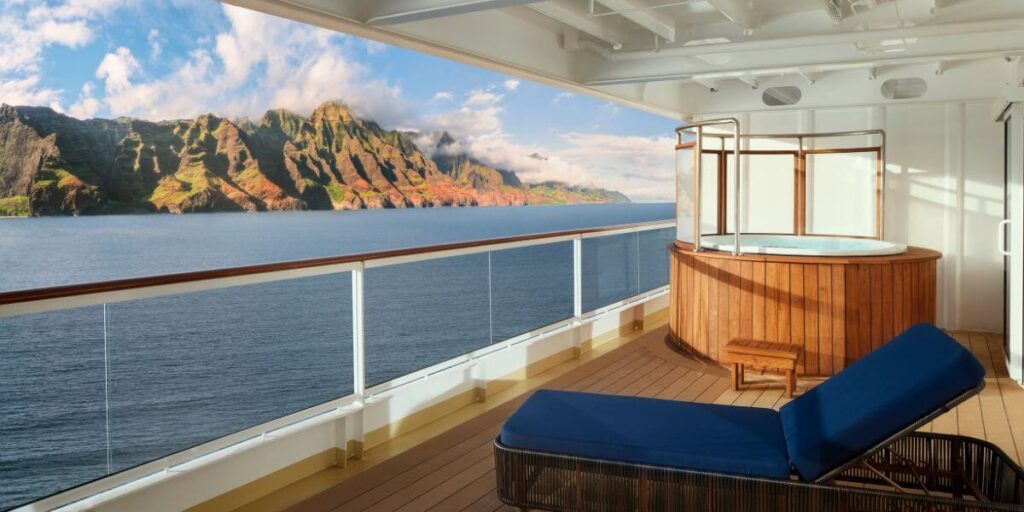 With Norwegian Cruise Line, there are a lot of different suites and a lot of different perks, depending on the suite that you've booked.
In this guide I'll take you through all the extras you can enjoy whether you book a standard suite or one of the speciality options that NCL offers.
Suggested read: Suite Vs Mini Suite Vs Balcony – What's The Difference?
To help you avoid these worst cabins on NCL, I've created a cabin checklist that you can get for free.
Just enter your email address below and you'll receive it in your inbox straight away.
What Are the Perks of a Suite on NCL?
When you book a suite or a penthouse on an NCL ship, you get a lot of extra benefits to make your cruise more enjoyable or relaxing. These are split into three main categories – 'Special Services', 'Delicious Extras' and 'Thoughtful Touches'. These are all offered for all suites, although some have slight variances.
There are then extra benefits if you book a Haven suite. And it's also worth explaining that Club Balcony Suites are not considered full suites – they are what used to be called Mini-Suites, and so they have some of the suite perks, but not all.
Let's break it down, starting with the perks you get for booking any suite or penthouse on any of the Norwegian Cruise Line ships.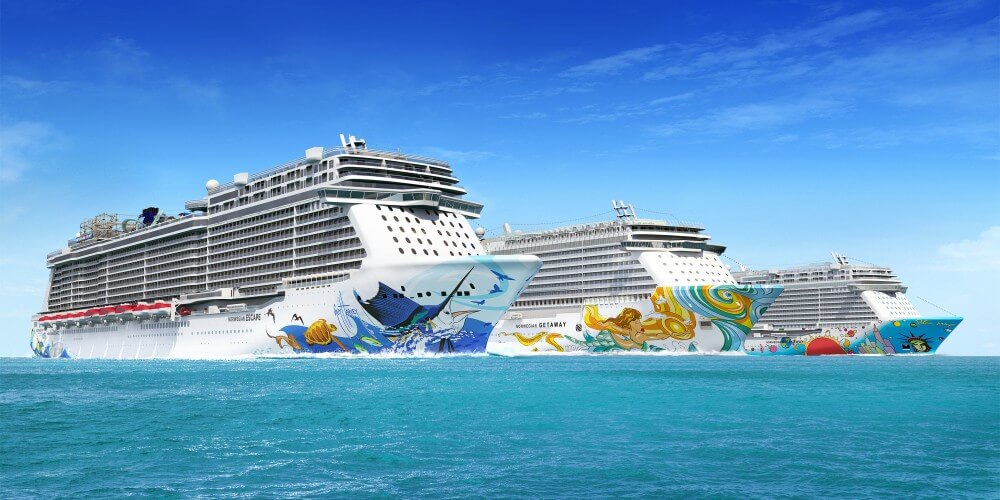 NCL Suite and Penthouse Perks
The benefits you enjoy when booking a suite (including a Penthouse) on an NCL ship are broken down into three main categories.
1. Special Services
The Special Services you receive include:
Priority embarkation when you cruise, with a personal escort onto the ship
Priority boarding with a personal escort at every port of call*
A distinctive keycard to show that you are a suite guest
Concierge Service to help you book dining, entertainment, shore excursions and more
Priority access to restaurant and entertainment reservations
The services of your own butler, 24 hours a day, including unpacking for you and pouring you Champagne*
2. Delicious Extras
Delicious Extras, as the name implies, refers to the extra touches you'll enjoy from a food and drink perspective:
Champagne, bottled water, fruit, sodas and a custom selection of liquor provided in your suite
A Nespresso coffee machine and Tea Forte tea bags provided for your use throughout the cruise
24-hour room service included*
Invitations to exclusive breakfast and lunch events with other suite guests*
A cocktail party with the ship's officers
The option to have speciality dining meals delivered to your room from any restaurant on the ship (though you still have to pay for the food)
Complimentary treats delivered to your door each night, such as chocolate-covered strawberries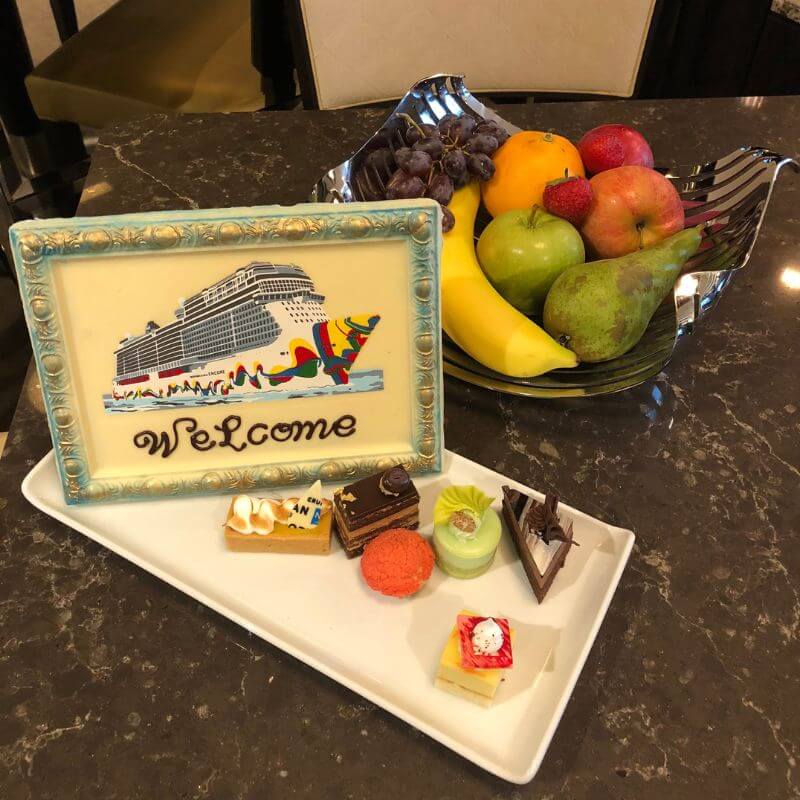 3. Thoughtful Touches
The little added extras that make your room a little more special include:
A special Bliss Collection by Norwegian mattress topper for an even more comfortable sleep
Luxury bed linens including a feather duvet and a pillow menu, so you can choose the pillow(s) that suits you best
Plush bathrobes and slippers to use during the cruise along with oversized bath towels
A selection of luxury bath products
All of these perks are provided to all guests in a suite on a Norwegian Cruise Line ship, regardless of the suite level.
There are some slight variations – for example, the custom selection of liquor provided will be one bottle for lower grades of suite, and more for higher grades. But generally, if you book any suite, you'll enjoy all of the above.
The only difference is Norwegian Joy, which is missing a few of the perks – I've marked those with an asterisk (*).
NEW DEALS JUST RELEASED!
Don't miss the latest NCL offers…
The Haven Perks
The Haven is a luxury area situated at the top of some of the ships, which is where you'll find the most luxurious of accommodations. It's not available on every NCL ship, but you will find it on the Prima, Breakaway Plus, Breakaway, Epic and Jewel Class ships, as well as the upcoming Prima Plus class, including:
Norwegian Aqua (Prima Plus)
Norwegian Viva (Prima)
Norwegian Prima (Prima)
Norwegian Encore (Breakaway Plus)
Norwegian Bliss (Breakaway Plus)
Norwegian Joy (Breakaway Plus)
Norwegian Escape (Breakaway Plus)
Norwegian Getaway (Breakaway)
Norwegian Breakaway (Breakaway)
Norwegian Epic (Epic)
Norwegian Gem (Jewel)
Norwegian Pearl (Jewel)
Norwegian Jade (Jewel)
Norwegian Jewel (Jewel)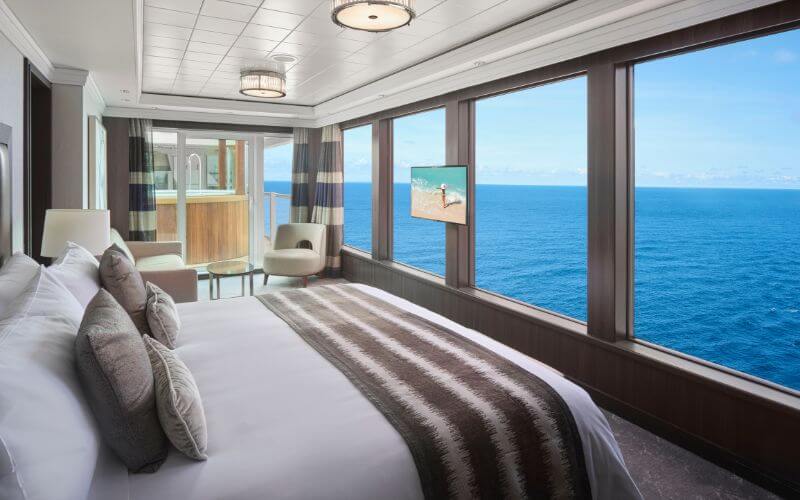 Suites in the Haven enjoy all of the same perks as suites and penthouses elsewhere in the fleet, but they also offer a number of extra benefits as well:
A courtyard attendant in the Haven Courtyard to offer you fresh fruit, drinks and cold towels
An upgraded platinum keycard
As well as this, guests in the Epic, Breakaway and Breakaway Plus Haven suites will also be given a mobile phone that they can use for the duration of their cruise – ideal for keeping in touch with other members of the travelling party without worrying about WiFi or roaming charges.
Haven guests also have access to three exclusive areas of the ship:
Haven Lounge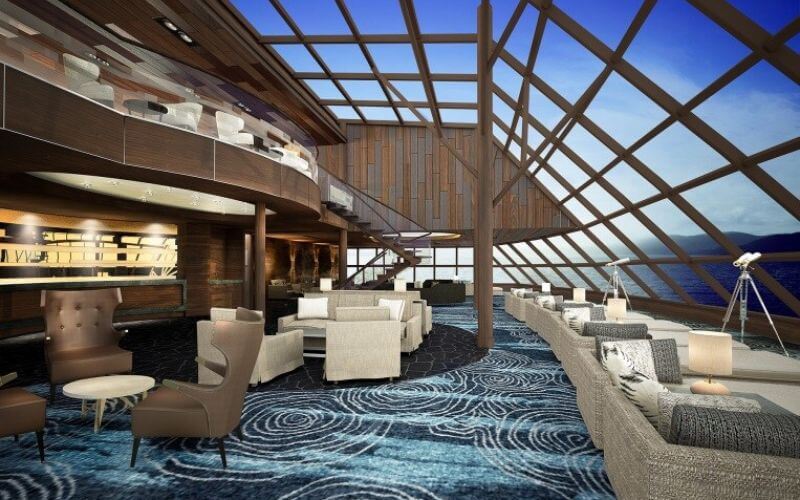 The Haven Lounge is an exclusive lounge area with luxurious seating and a fully stocked cocktail bar. It's the ideal place to relax alone or to meet up with other guests of the Haven suites when you want a quieter location to unwind.
The Haven Lounge is available on Breakaway and Breakaway Plus ships.
Haven Restaurant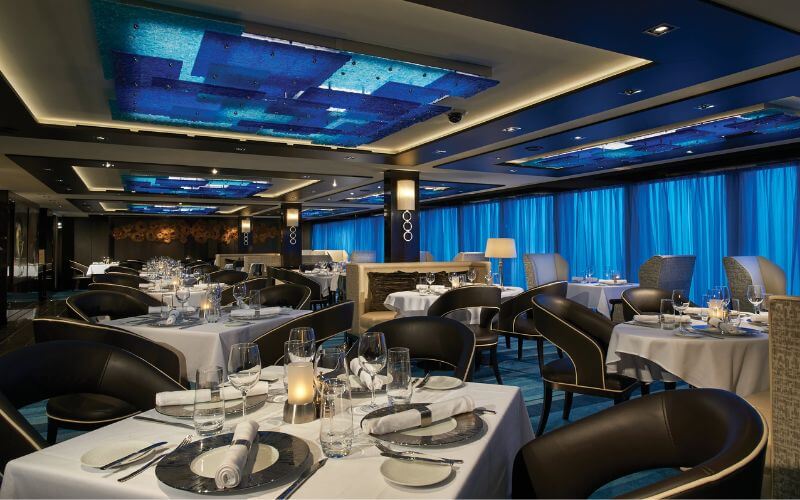 The Haven has its own private restaurant that has a varying menu, giving Haven guests more options alongside the regular Main Dining Room and speciality restaurants. Guests can choose to eat in the restaurant or have their butler bring their meal to the suite.
Here's an example of the Haven Restaurant menu from my cruise on Norwegian Encore.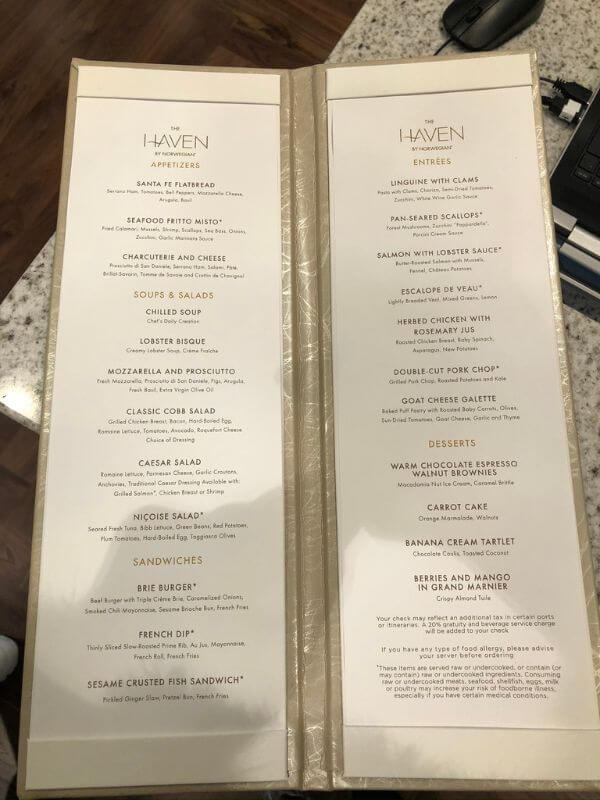 The Haven Restaurant is also found only on Prima, Breakaway and Breakaway Plus ships.
Haven Courtyard and Sundeck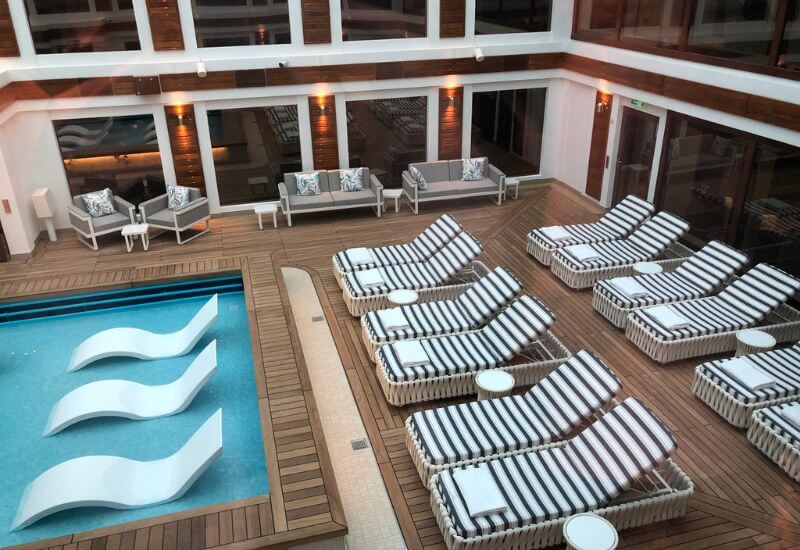 The Haven Courtyard is the exclusive sun deck area that only Haven guests can access. Here you can relax on a lounger or in the hot tub, while attendants ensure your drinks are topped up and you're provided with cool towels to relax in hotter areas.
The Haven Courtyard is available on all ships with a Haven area, although access to the Sun Deck is restricted to guests aged 16 or over only.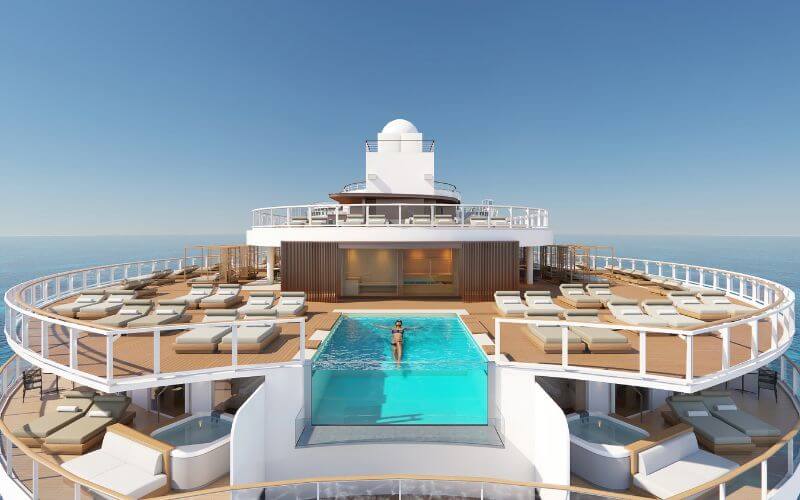 Spa Suite Perks
On the Breakaway and Breakaway Plus-class ships, you'll find Spa Suites within the Haven. Breakaway Plus ships also have Deluxe Spa Suites with even more space. These suites are extra luxurious and include their own hot tub next to the balcony, letting you relax in absolute comfort and enjoy an amazing view.
They also include complimentary access to the Thermal Spa Suites onboard during normal spa hours, so you can enjoy the sumptuous and rejuvenating facilities there alongside easy access to the Mandara Spa and Fitness Centre. If you want to fully reinvigorate your mind and body, these suites are some of the best choices.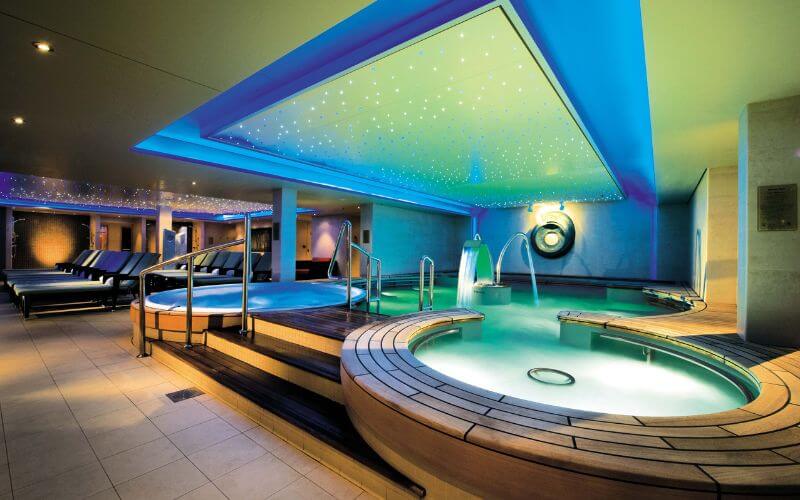 Club Balcony Perks
The Club Balcony Suites are what used to be called Mini Suites on Norwegian Cruise Line ships. These aren't full suites, but instead offer a middle ground between the suites and the balcony staterooms.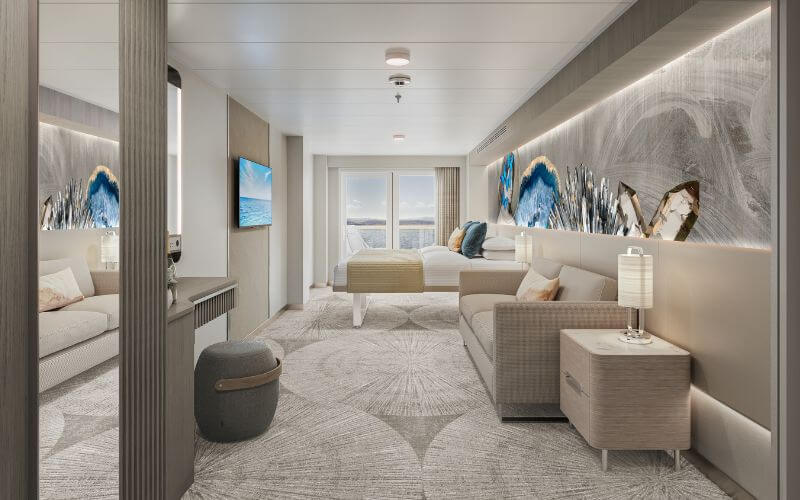 They're a little larger than a standard balcony stateroom, but not by much. The real benefit of choosing a Club Balcony Suite is the chance to enjoy some of the suite perks, without paying the full price of a suite on board.
NCL Club Balcony Suite benefits include:
The option to pre-book certain on-board entertainment and dining reservations up to 125 days before you set sail
Complimentary treats delivered to your stateroom twice per week
A complimentary bottle of sparkling wine on embarkation day
The choice of either one complimentary laundry service or one complimentary pressing service
The Bliss Collection by Norwegian mattress topper or memory-foam mattress, fine linens and choice of pillows
The biggest benefits are the more luxurious bedding, and the option to pre-book your reservations and make sure you get the dining venues and entertainment you want.
The sparkling wine, laundry and pressing services and the extra treats are a nice touch, but you can pay for these separately anyway and it would be cheaper than the upgrade from Balcony Stateroom to Club Balcony Suite.
Is It Worth Getting a Suite on an NCL Cruise?
There are two factors in making your decision on whether a suite on an NCL cruise is worth it – how much time do you plan to spend in your room, and how much will you make use of the NCL suite benefits that you get?
Norwegian Cruise Line ships are known for being packed with things to see and do, including a wealth of speciality dining restaurants and entertainment facilities. While the suites, especially those in the Haven, are fantastic accommodations that are beautifully appointed, if you aren't going to spend much time in them because you're off exploring the ship, you could argue they aren't worth the extra cost.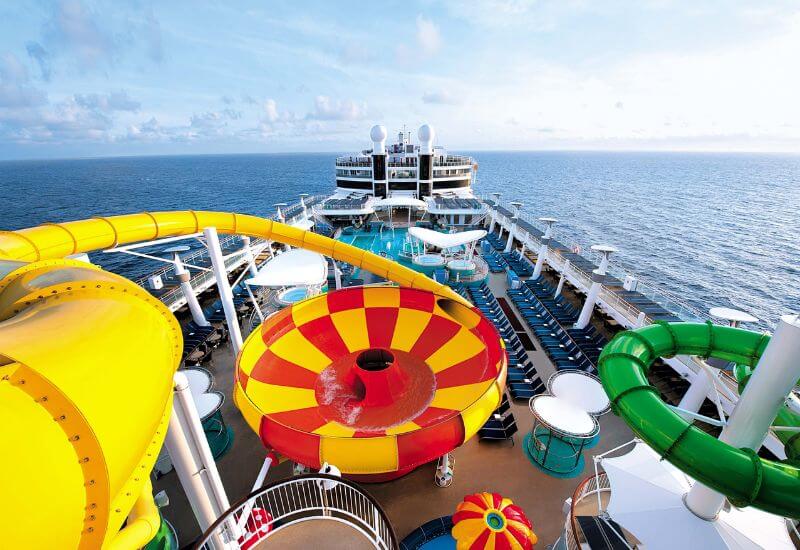 And it's important you check the perks you get for your room too – because if you don't think you'll use them all, then the extra cost for the suites likely doesn't justify the one or two perks you will use. Most of the perks are things you can pay extra for anyway.
But, if you do think you'll enjoy the perks being offered, you intend to spend some time on your cruise enjoying the space and furnishings provided by your suite, and you have the budget, then they are absolutely worth it. They are wonderfully comfortable and situated in fantastic locations on the ship, and the perks are useful.
If you've already booked your NCL cruise and want to upgrade to a suite, take a look at this guide next: How To Upgrade Your Cruise Cabin After Purchase.
And if you haven't, here's how to get the best deal on your suite…
NEW DEALS JUST RELEASED!
Don't miss the latest NCL offers…
Norwegian Cruise Line Suite FAQs
Are drinks included with a suite?
Your drinks aren't included when you book a suite with NCL, although you can pay for a drinks package separately. You will be provided with a selection of complimentary drinks on embarkation day in your suite, but for drinks at bars or in restaurants you will need to pay.
What does a butler do on an NCL cruise?
Butlers are available for many requests, and will typically offer to unpack and re-pack your luggage, bring you fresh pillows from the pillow menu, serve you food and drinks in your suite, and keep your ensuite bar topped up. They can also bring entertainment into your room such as DVDs and board games.
Are gratuities included with a suite?
Your gratuities are not included when you book a suite on an NCL ship. You can choose to pay gratuities as normal, or if you have made use of the butler's services you may wish to also tip them separately.
How much do the Thermal Spa Suites cost?
The Thermal Spa Suites usually cost around $50 for a day pass, although you can sometimes book a week-long pass for $200. If you book a Spa Suite in the Haven, you get complimentary access to the Thermal Spa Suites whenever they are open.
Do all suites have a balcony?
Most suites on an NCL cruise ship have a balcony, but there are a handful that don't. Some are larger than others, so check your particular stateroom if you want a spacious balcony.
Related Posts: