When you cruise, a lot of things on board are already included in the price, including your room, your food (in certain restaurants), and the live entertainment.
But there are also some things that cost extra – such as your drinks (unless you've booked an all-inclusive cruise, or one with a drinks package), speciality restaurants, purchases at the stores etc.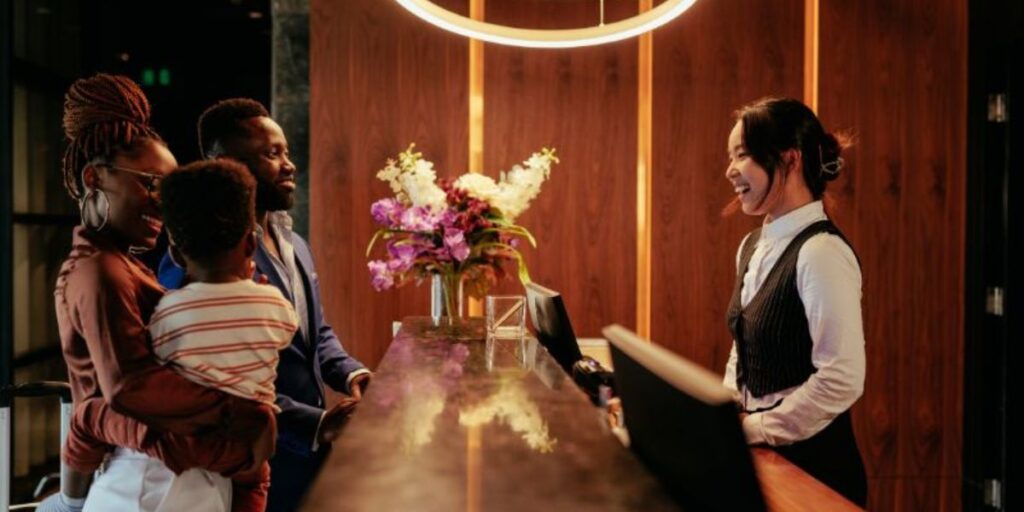 If you're a cruise novice, you might be wondering how you pay for everything? And that's what this guide will clear up.
How do you pay for on-board cruise purchases?
Everything you pay for onboard a cruise is added to a cruise account, usually using your cruise card. This card is your room key, but it also serves as your payment card during the ship. Everything is added to an account, which you then have to pay off on the last morning of your cruise.
However, to be able to do that, most cruise lines will ask you to either prepay an amount in cash to fund your spending, or you'll be asked to link a debit or credit card to your cruise account. And when you do, the cruise line may put a hold on your account until you've paid off the bill you rack up during your cruise.
The policy varies by cruise line – let's take a look at the major cruise lines and how their cruise accounts work:
Royal Caribbean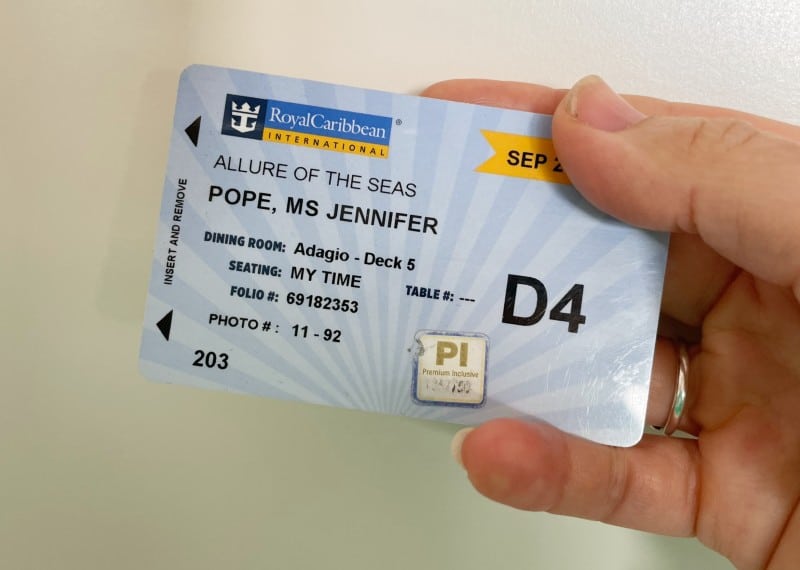 Royal Caribbean will ask you whether you want your SeaPass account to be linked to a debit or credit card, or if you want to use it as a cash account.
If you choose to use it with a card, you'll add the card when you check-in, and then daily holds will be placed on the card. The money will then automatically be taken from your card shortly after you disembark.
If you choose cash, you don't have to prepay, but you will be asked to settle your account on the ship before you disembark.
Read Royal Caribbean's policy here.
Carnival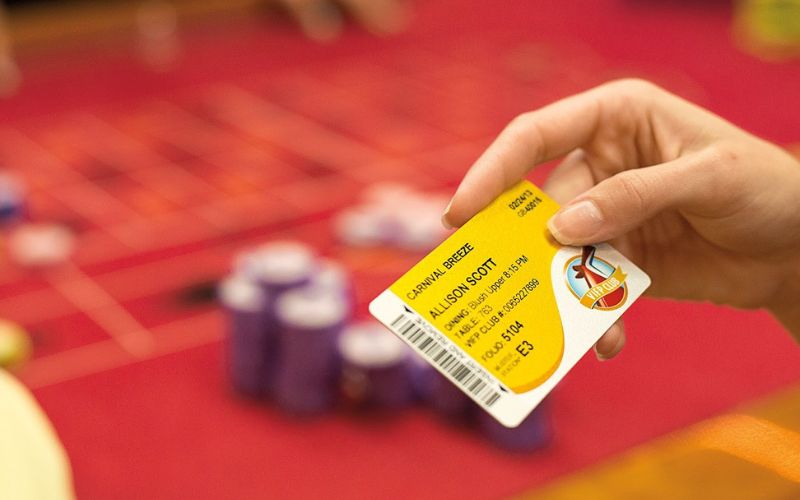 Carnival's Sail & Sign Onboard Account works in a similar way to Royal Caribbean's, but with a few differences. Again, you can choose whether you want the account to be linked to a card or to cash, but there's also the option of using traveller's cheques.
If you use a card, an initial hold will be placed on the card even before you've spent anything – $100 for cruises up to 6 nights, and $200 for longer cruises. Then as you spend on the ship, more holds will be added to your card.
The main difference with Carnival is that if you choose cash (or traveller's cheque) you need to prepay. You have to visit Guest Services on the first day of your cruise to add your money otherwise you can't use the account.
If you have any money left at the end of the cruise, it will be refunded to you as a cheque within 7 days, unless it is lower than $10 – in that case, it is donated to St. Jude's Children's Hospital, a charity the cruise line works with. You can also ask for your refund in cash at the Guest Services desk if you prefer.
Princess Cruises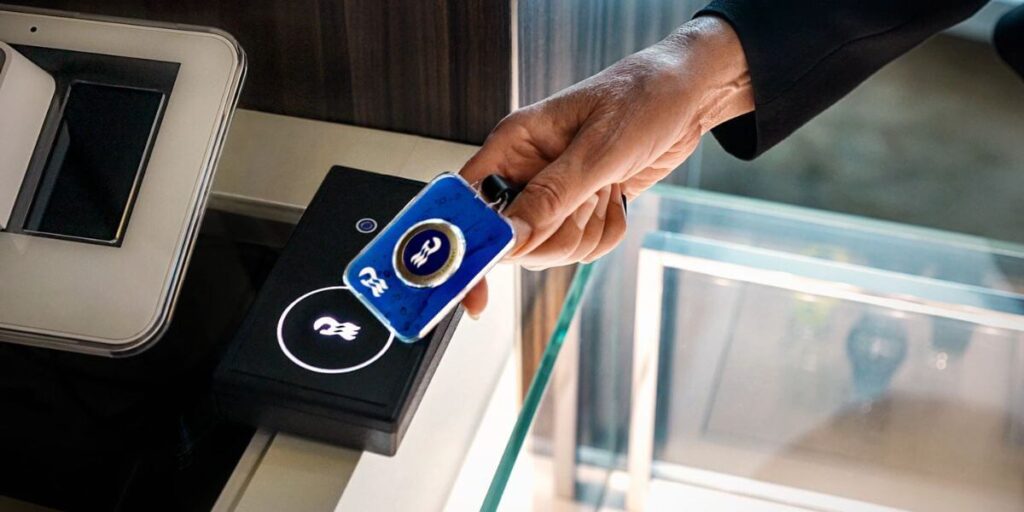 The Princess Cruises' onboard spend policy is very close to Carnival's – unsurprising really since they're part of the same cruise parent company.
You can choose to pay by card, cash or traveller's cheque, but for the latter two you will need to prepay. There is one key difference – you have to deposit a minimum of $300 at the start of your cruise if you want to use those options with Princess.
It's also worth noting that the policy doesn't mention charity donations for small amounts left in the account – that's specific to Carnival.
With Princess, you don't have to use a card. You instead get an Ocean Medallion, which you can wear in a lanyard or a bracelet, and that works in the same way for paying for items and opening your stateroom.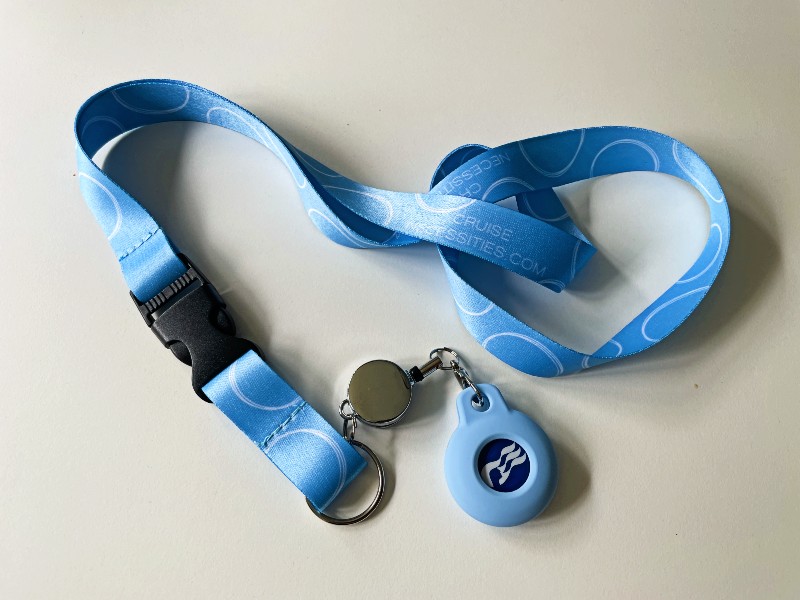 You can buy this lanyard with the medallion holder here.
P&O Cruises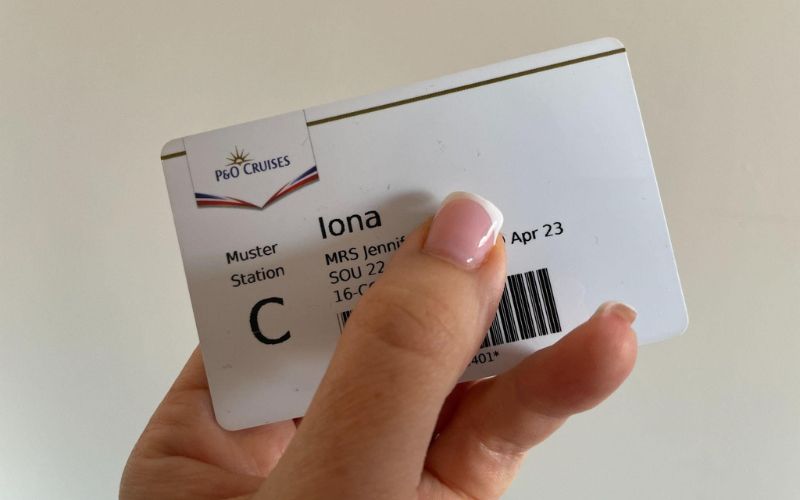 P&O Cruises has a different policy – with P&O you have to register a debit or credit card to your account, otherwise, you won't be allowed to board the ship.
However, you don't have to then use that card to pay for your account – if you prefer, you can visit Guest Services and use cash to clear the account on the last day.
But the card is a guarantee so that, if you don't pay it off yourself, it will be charged automatically.
At the start of your cruise, £50 is authorised as a hold on your account.
One thing that's important to note – if you book a long cruise with P&O Cruises (over 28 days) then your account is settled at the midpoint of the cruise, and then again at the end. And for world cruises, it is settled every two weeks.
MSC Cruises
MSC Cruises are a lot more laid back than other cruise lines when it comes to your onboard spend account – though that doesn't mean you can get away without paying.
It does mean that you can board the ship without registering a card, and you don't need to rush to Guest Services to prepay in cash.
In fact, you have until 11 pm on the second day of your cruise to register a card, or deposit cash. Until then you'll be able to spend a small amount until your cruise card is declined.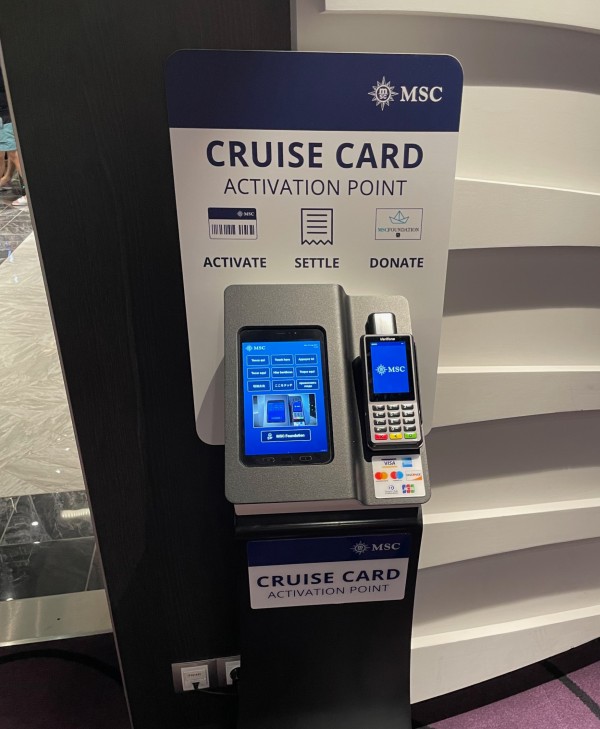 The cruise line has kiosks you can use to automatically register a debit or credit card too, making it even quicker than queuing for Guest Services. You'll need a PIN if using a debit card.
Disney Cruise Line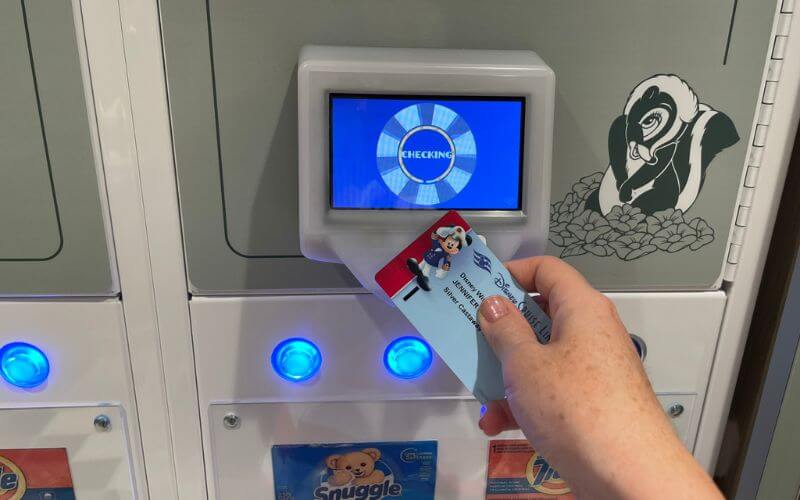 Disney Cruise Line has a similar policy to P&O Cruises – you have to pre-register a card before you can board the ship.
But then, once you have, you can choose how you want to clear your account – you can let the card be charged automatically, or you can visit Guest Services to pay it off in cash. You can also use traveller's cheques in US dollars, and you can even use Disney Dollars.
Can you use a debit card on a cruise?
You can't use a debit card on a ship to pay for items – everything has to be paid onto your onboard account. But you can use a debit card instead of a credit card to link to your onboard account – the money will be taken from your debit account at the end of the cruise.
All cruise line purchases on a ship are done using the account – it keeps things simple for the cruise line and helps them track what guests are spending money on. You can view your account at any time using the cruise line's app or by visiting Guest Services, while many also let you check your balance through the TV in your stateroom.
Credit and debit card holds on a cruise
This is a really important point for new cruisers – something I've mentioned above but that needs a little more explaining.
During your cruise, you won't always be charged for exactly how much you're spending on the ship. Instead, the cruise line will often charge hold amounts to cover your spending.
This is just to make sure that there's enough in your account to cover your bill when it's time to settle your account. The money isn't officially taken from you, but it's set aside by your bank or card provider.
If you don't have enough money in your bank account, your cruise card will stop working and you'll be required to head to the guest services desk to link a different bank card to your onboard account.
Then when your cruise bill is settled, these holds are released. However, they can take time for the holds to be released, sometimes up to 28 days. So you'll pay off your account, but you'll still have a reduced available balance on your card until those holds clear.
Cruise lines don't have the power to cancel a hold, but if you're concerned about the length of time a hold is on your account, you can try speaking to your card provider – they may be able to remove them for you once the cruise is done.
Do you need cash on a cruise ship?
Strictly speaking, you don't need cash on a cruise ship. All onboard purchases are made using your onboard account, and then cleared at the end of the cruise, which you can do with your card. Some people choose to take cash for tips, or to spend while visiting ports.
It's up to you whether you take cash with you. For your spending account most people use a debit or credit card, so cash isn't essential.
And when it comes to spending in port, you might want to take some local currency with you, but you can also get it on the ship if you want, to save any effort beforehand – though the exchange rates may be better if you get your cash before you sail.
When it comes to tips, cruise lines will now charge you gratuities as a set price. And while you can have those removed, if you'd prefer to take cash on to tip the crew, that's not a good idea because there are crew members behind the scenes who also rely on gratuities.
Read more: Can You Refuse To Pay Gratuities On A Cruise?
Some people like to take small amounts of cash onto a ship, for 'extra' tips to reward drinks servers or crew delivering room service. This isn't essential but it can sometimes help you to get (slightly) preferential service.
Read more: Where To Get $2 Bills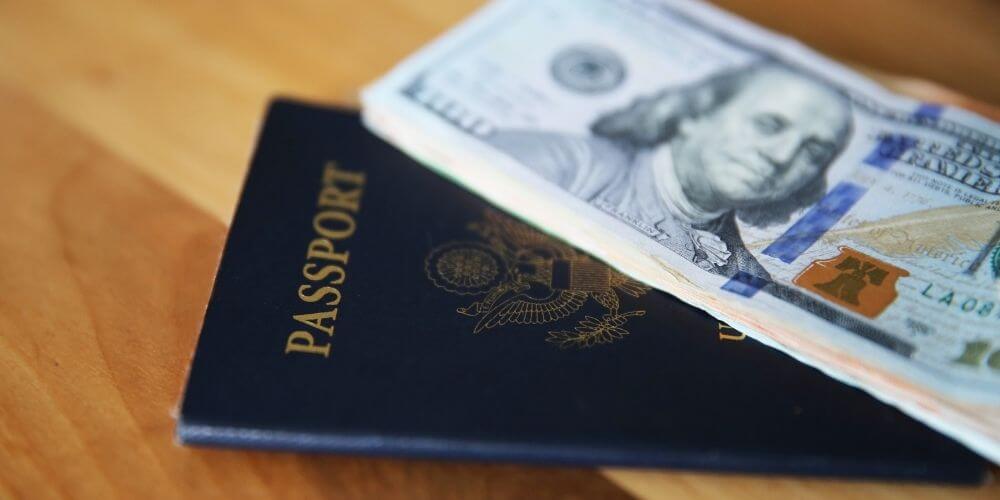 What currency should I take on a cruise?
The currency you take on your cruise depends on whether you're using the cash to clear your onboard account, and where you're sailing. For onboard accounts use the main currency for the cruise line (usually USD), otherwise try to take the currency for the ports you're visiting.
Most cruise lines use US dollars as the onboard currency, and while they may accept other currencies, it's easiest to take the right one with you.
P&O Cruises, Fred. Olsen Cruise Lines, Ambassador Cruise Line and Marella Cruises all use Pound Sterling, so take that with you if you want to use cash on those ships to clear your account.
Costa Cruises use Euros, and MSC Cruises will use Euros on Mediterranean cruises, but will typically accept US dollars.
For almost all other cruise lines, it's best to take USD. The only exception would be select ships sailing from Australia, where Australian dollars are used.
Do you pay per person or per room on a cruise?
Every person on a cruise has their own onboard account for spending. You can choose to register a different card per person, or just assign one card to the whole room. But to monitor your account, you will need to check each person's account and add up the total as you cruise.
Most of the time, people will link just one card to all party members in their cabin, but you don't have to – you can link different cards if you want to. Everyone has their own account, which is obviously really handy if you're cruising with friends instead of family.
Just be aware that kids can use their card to pay for things – so make sure they know not to take too many liberties if you give them some independence!
And don't worry about them buying things they legally can't – it'll be flagged if a child tries to buy an alcoholic drink and the crew will refuse to serve them. No need for ID checks at bars since the cruise card flags it automatically.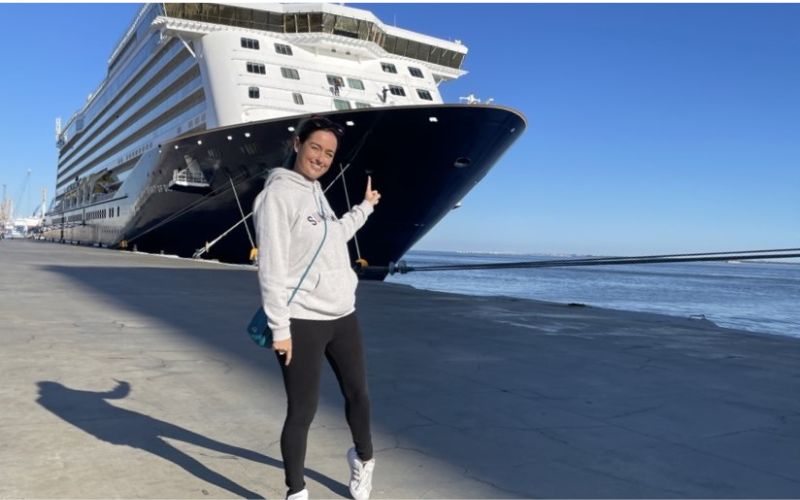 What is the best way to pay on a cruise ship?
Since everything on a cruise ship is charged to your account, the best way to pay ultimately depends on your own preference.
Some people prefer the convenience of paying with their card, since it means not having to take cash onboard. But remember that you may end up having holds on your account for up to 4 weeks after you've sailed, which can be frustrating.
And if you use cash to preload your account, you have to then go and wait in line to get a refund, or wait for a cheque to turn up at your door. So there are pros and cons to both approaches.
FAQs
Do you use cash or card on cruise?
When you're on a cruise, you'll use neither – you pay for everything using your room card, and then clear the account at the end of the sailing. You can choose whether to use a card or cash to pay that balance, and some cruise lines insist on having a card registered before you sail.
How much cash to bring on a cruise?
The amount of cash to bring on a cruise varies. If you've prepaid gratuities and are paying for purchases onboard, you'll only need cash for your port visits. Otherwise, check how much you think you'll spend on drinks and speciality dining before you sail.
Final word
It's important to keep tabs on how much you're spending on your cruise – because you're not using your debit or credit card, or cash, while you sail it can be easy to rack up quite the bill.
While paying with your cruise card is really convenient, it does make it simple to spend a lot too. So make sure you're checking your account regularly. It's a good idea to look at drinks packages and other offers you can take advantage of, so that you can pay as much off in advance as possible.
If you like to use a credit card for purchases and also like to cruise at least once per year, I would suggest that you look into the Carnival Mastercard. When you use it, you'll get points that you can use to buy perks for your cruise.
Related Posts: