No matter how carefully you fold that formal outfit for dinner, or even just your regular clothes, there's a chance that you'll have creases to deal with when you get into your cruise cabin and come to unpack.
Whether you're planning your first cruise or you're a regular cruiser, I've got some tips about ironing your clothes and keeping them crease free.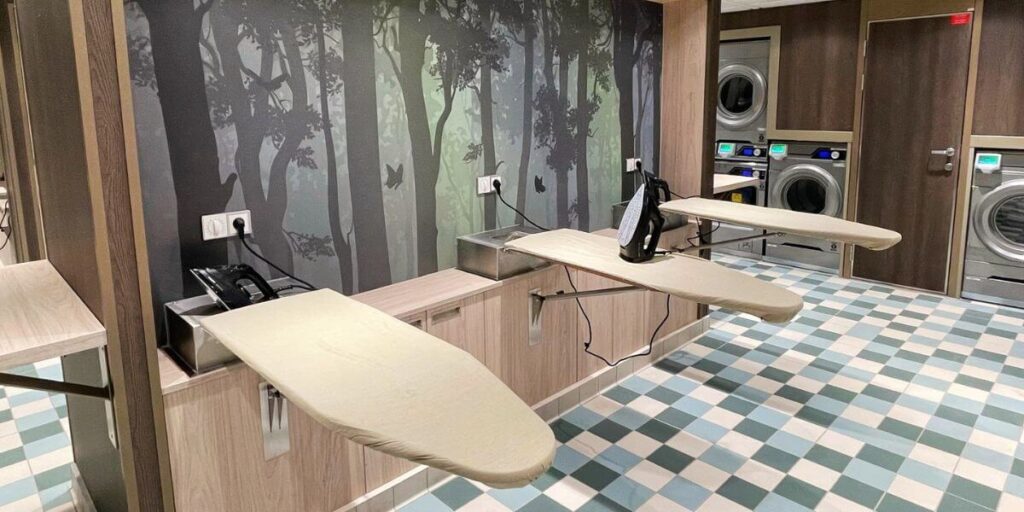 But before we get started, there's one crucial point you need to be aware of…
You Are Not Allowed To Bring An Iron On A Cruise!
While you might be tempted to pack a compact travel iron or a clothes steamer, it's important to know that these items are strictly prohibited on most cruise lines, regardless of their size. The same restriction typically applies to personal clothes dryers too.
But luckily there are a few other cruise-approved methods to keep your clothes looking good and wrinkle-free.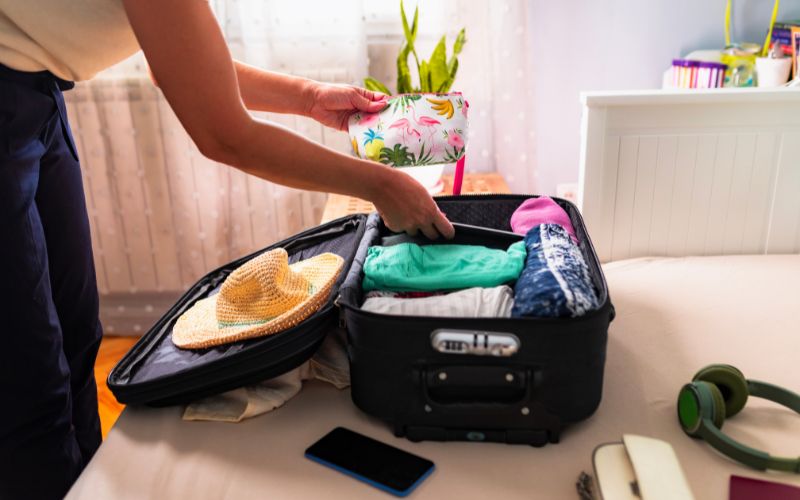 How To Deal With Wrinkled Clothes On A Cruise
I have five solutions to keep your clothes wrinkle-free, from self-service laundry rooms to some simple hacks you can do in your cabin. Let's go over each option.
1. Use The Self-Service Laundry Room
While in-cabin irons are not provided on cruise ships due to fire safety concerns, there are alternatives available. You can sometimes request an iron from the housekeeping staff or find one in the ship's dedicated laundry area. Additionally, the onboard laundry service is a convenient option for taking care of your garments.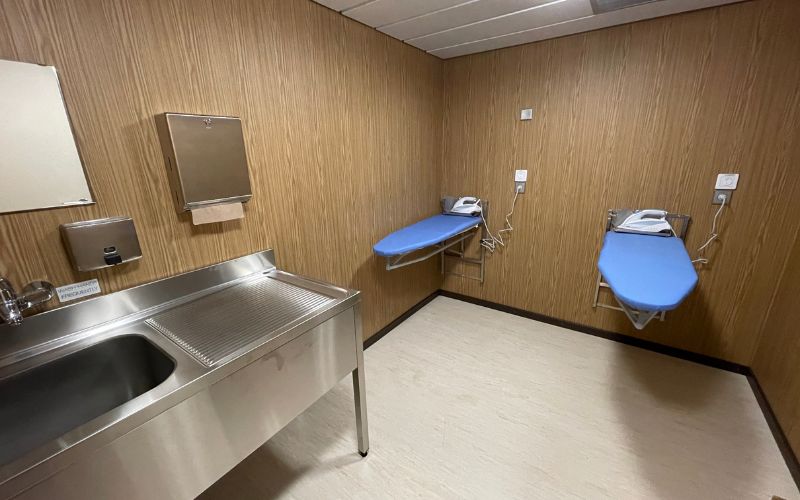 You can find more detailed information about using laundry services on a cruise ship in my Cruise Ship Laundry Guide.
Some cruise lines do offer self-service rooms with ironing equipment. This information could be beneficial when planning your trip, ensuring you are well-prepared and can travel with ease. So, below, I've compiled a table listing all the cruise lines and whether or not they offer this facility.
| Cruise Line | Self-service Rooms with Ironing Equipment Available |
| --- | --- |
| Azamara | Yes |
| Carnival | Yes, but only ironing rooms on Carnival Mardi Gras and Carnival Celebration |
| Celebrity Cruises | No |
| Costa Cruises | No |
| Cunard | Yes |
| Disney Cruise Line | Yes |
| Fred. Olsen Cruise Lines | Yes |
| Holland America Line | Yes, but only on Amsterdam and Maasdam ships |
| Marella Cruises | No, but allows guests to bring a travel iron on board |
| MSC Cruises | No |
| Norwegian Cruise Line | No, but you can request an iron and board from guest services |
| P&O Cruises | Yes |
| Princess Cruises | Yes |
| Royal Caribbean | No |
| Virgin Voyages | No |
2. Use A Flat Iron
For those of you who might be surprised, let me clarify: Yes, I'm referring to hair straighteners, also known as flat irons or curling irons.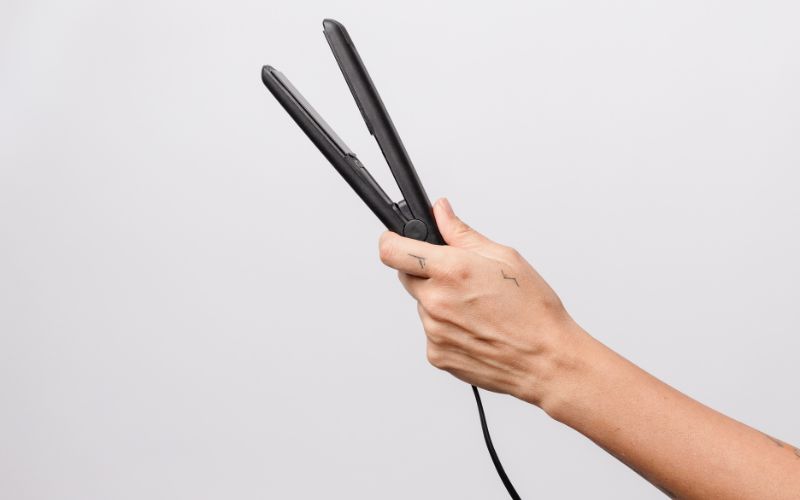 It's important to remember that a traditional iron is off-limits when packing for a cruise, but you can bring your hair straighteners or a curling iron. These can come in handy not just for your hair but also for getting the creases out of your clothes.
Straighteners can work wonders on small fabric wrinkles. For example, they can be great for straightening collars or smoothing down hems on shirts and dresses. Just check that they are clean and free from any hair product residue to avoid staining your clothes.
Of course, hair straighteners and curling irons won't replace a traditional iron's effectiveness. Still, while you're on a cruise and working with what's available, they become a versatile and surprisingly effective tool to remove creases from your clothes.
3. Use The Pressing Service
If you have more delicate items or simply don't fancy the chore of ironing during your cruise, a pressing service can be a convenient solution. This service, offered by most cruise lines, can handle various clothing items and fabrics, ensuring they look their best.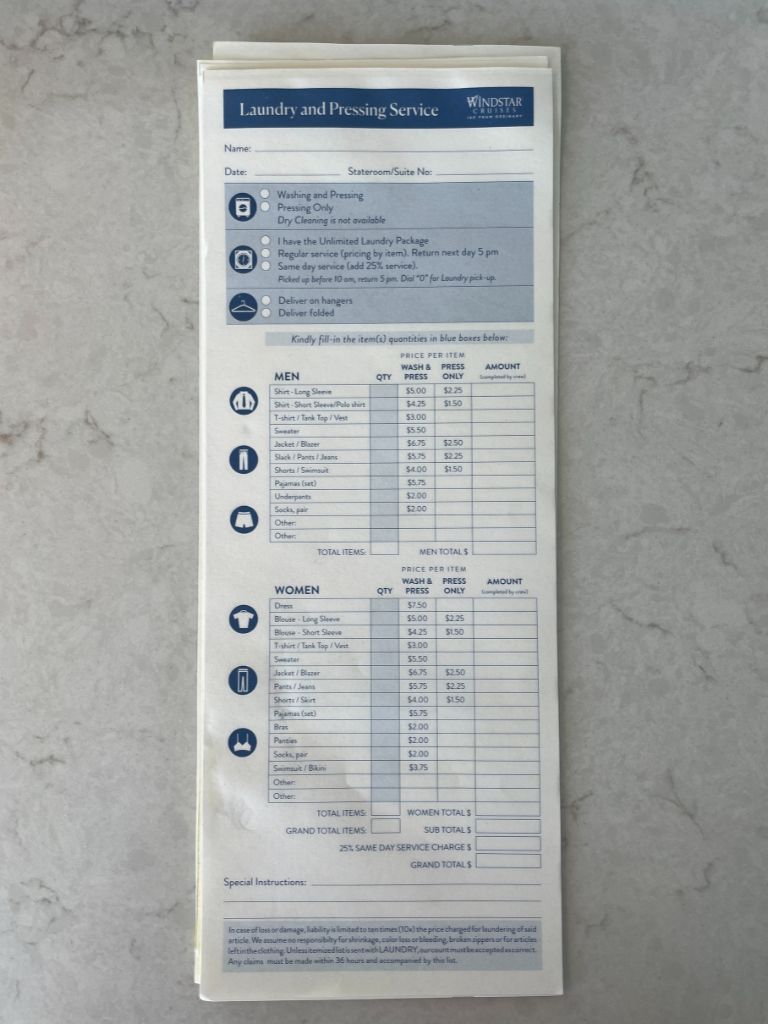 It's worth noting that fees for this service vary depending on the cruise line and type of garment. The table below provides an approximate cost per item for pressing across various cruise lines, giving you an idea of what you can expect to pay.
Remember that these figures are subject to change, and it's always best to check the latest information with your cruise line of choice.
| Cruise Line | Approx Cost per Item for Pressing Only |
| --- | --- |
| Azamara | $2 to $5 |
| Carnival | $1.25 to $6 |
| Celebrity Cruises | $4 to $14 |
| Costa Cruises | $1 to $9 |
| Cunard | $1.50 to $11 |
| Disney Cruise Line | $1.50 to $6.60 |
| Fred. Olsen Cruise Lines | £1 to £5 |
| Holland America Line | $2 to $6.50 |
| Marella Cruises | £1.20 to £3.60 |
| MSC Cruises | 50p to £7.50 |
| Norwegian Cruise Line | $2.95 to $6.95 |
| P&O Cruises | £1.65 to £8.80 |
| Princess Cruises | $2.20 to $9.20 |
| Royal Caribbean | $1.99 to $14.99 |
| Virgin Voyages | $4 |
| Windstar | $1.50 to $2.50 |
4. Use Crease Release Spray
Crease release sprays can be a quick and effective solution to wrinkled clothing while on a cruise. These sprays are easy to pack, convenient to use, and don't require an iron. One of the popular choices among travellers is wrinkle release spray.
To use a crease release spray, all you have to do is spray the product onto your wrinkled garment, smooth and stretch the fabric, and let it dry. The product helps to relax the fibres in the fabric, reducing the appearance of creases. This can be particularly useful for lightly wrinkled clothing and when you're rushing to get ready.
You can purchase it from various online retailers, including Amazon. Please always remember to follow the instructions on the product label to ensure the best results.
5. Hang Clothes In A Steamy Bathroom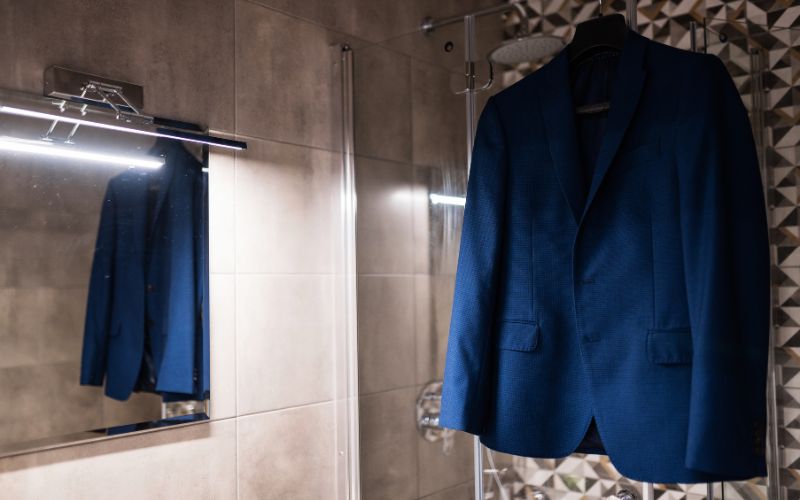 Another easy and effective method to remove wrinkles from your clothes while on a cruise is to hang them in a steamy bathroom. This age-old trick is quite popular among travellers and doesn't require any special equipment or products.
To use this method, simply hang your wrinkled garments in the bathroom while you take a hot shower. The shower's heat and steam will help relax the fibres in the fabric and smooth out the wrinkles.
To maximise the effectiveness of this method, make sure to close all doors and windows in the bathroom to keep the steam in. You're meant to do this anyway. You should also smooth out the garment with your hands after the shower.
Also, remember to hang your clothes away from the shower to prevent them from getting wet. This method is especially effective for lightweight and delicate fabrics that can easily be damaged by an iron.
So next time you're getting ready for a formal dinner or a special event on your cruise, consider using the steamy bathroom method to have your clothes looking their best.
More Tips To Avoid Wrinkled Clothes On A Cruise
With these ironing alternatives, you can always look your best on your cruise, even without access to an iron. However, you can take some additional steps to avoid wrinkled clothes altogether. Here are a few more tips to keep your clothes looking fresh and crease-free throughout your cruise:
Unpack Straight Away
As soon as you get to your cabin and your suitcases have been delivered, make sure to unpack your suitcases. Clothes left folded in luggage for long periods are more likely to develop deep creases and wrinkles.
You can minimise the risk of wrinkles forming by hanging your clothes in the wardrobe or laying them flat in drawers as soon as possible. Plus, it's always nice to get settled into your cabin, so you can start enjoying your cruise experience.
Choose Synthetic Fabrics
One simple trick to avoid creases and wrinkles in your clothes is to choose clothing made of synthetic fabrics. Materials like polyester, nylon, and elastane are less prone to creasing than natural fabrics like cotton or linen. Synthetic fabrics are often lightweight and easy to pack, making them a great choice for travel.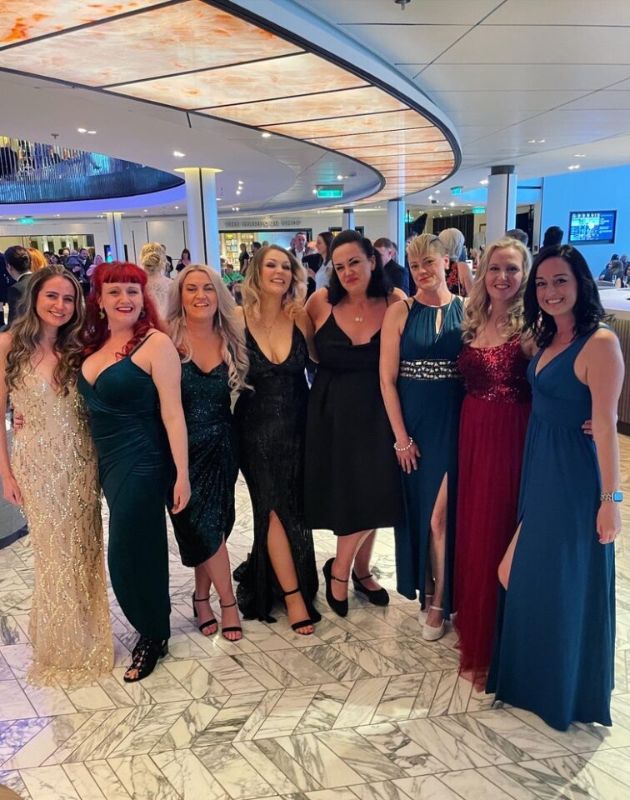 In fact, some of my favourite cruise dresses are made from synthetic fabrics. They not only look good, but also maintain their shape throughout the cruise without needing any ironing. You can take a look at some of these crease-resistant dresses on Amazon that I personally recommend for a cruise.
Don't Stress
Lastly, try not to stress over wrinkles or creases in your clothes. Remember, you're on a cruise to relax and enjoy yourself. It's all about having a good time and making lasting memories.
While we all want to look our best, a few wrinkles in your clothes won't detract from the great experiences you'll have on board.
Indeed, everyone is in the same boat, quite literally! The likelihood is that most fellow passengers are dealing with the same issue, and they are far more interested in enjoying the cruise than worrying about a few creases. So, take a deep breath, let it go, and focus on having the most enjoyable cruise possible.
Related Posts: