P&O Cruises' ship Britannia has eight different cabin types: single inside, single balcony, inside, larger inside, balcony (with obstructed view), balcony, superior deluxe balcony and suite.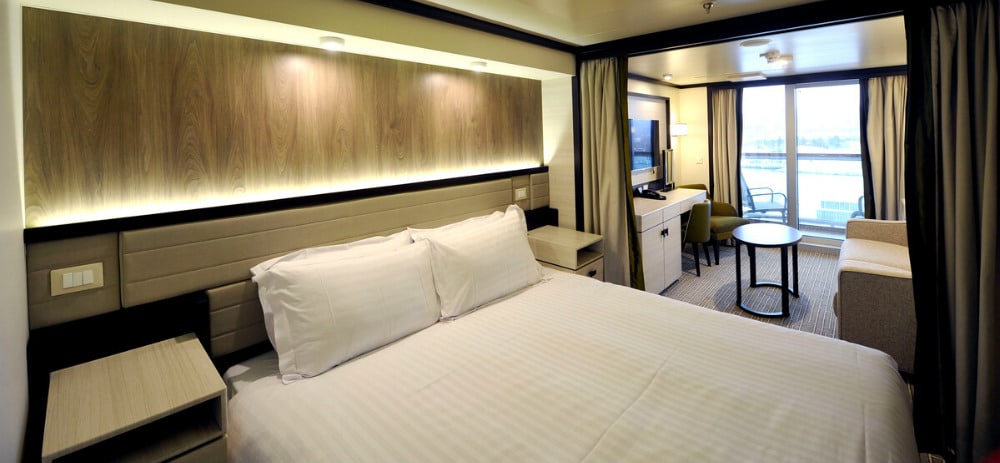 When booking a cruise on Britannia, you'll see that there are also many different 'cabin grades' available. But what do the P&O Britannia cabin grades actually mean? Why do some cost more than others? And which grade offers the best value for money? This article explains all…
What Are Cabin Grades?
P&O Cruises have given each cabin a two-letter code (e.g. HF), called a 'cabin grade'. The cabin grades group similar cabins together.
On Britannia, there are seven cabin types (e.g. balcony), and within each cabin type, there are between one and six cabin grades. The different cabin grades are shown in different colours on the Britannia deck plan.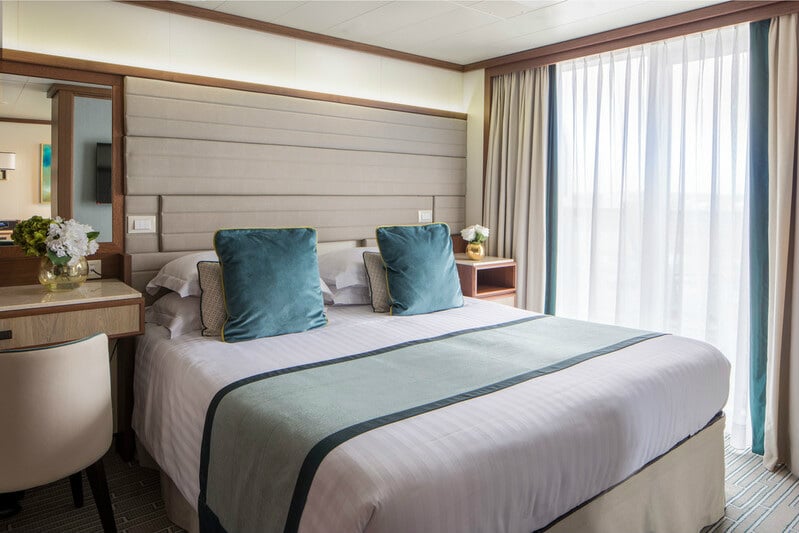 What Do The P&O Britannia Cabin Grades Mean?
To decode P&O Britannia cabin grades, you need to understand that the first letter refers to the type of cabin, and the second letter refers to the location of that cabin on the ship.
Table of P&O Britannia cabin grades:
| | |
| --- | --- |
| Cabin Type | 1st letter of grade |
| Suite | B |
| Superior Deluxe Balcony | D |
| Balcony | G or H |
| Balcony (Partially Obstructed View) | I or J |
| Larger Inside | O |
| Inside | P |
| Single Balcony | Q |
| Single Inside | S |
| | | |
| --- | --- | --- |
| Deck Position | Location | 2nd letter of grade |
| Mid | Midship | A |
| Mid | Mid Aft or Mid Forward | B |
| Upper or Lower | Midship | B |
| Upper or Lower | Mid Aft or Mid Forward | C |
| Mid | Aft | D |
| Upper or Lower | Aft | E |
| Mid | Forward | E |
| Upper or Lower | Forward | F |
The deck position refers to whether the cabin is on a high or low deck. The location refers to whether the cabin is at the front (forward), middle (midship) or back (aft) of the ship. These illustrated in this diagram (click to show).
NEW DEALS JUST RELEASED!
Don't miss the latest P&O Cruises offers…
The Best Cabins On Britannia
Regardless of whether you choose an inside cabin, balcony cabin or suite, the cabins with A as the second letter of the grade are in the most convenient location, at the heart of the ship, closest to all the amenities. Many people will be willing to pay more to be in a midship location.
If you'd like to know what to look out for to choose the best cabin, you can get my free cabin checklist. Just pop your email into the form below and I'll send it to you instantly.
I also have an article about the worst cabins on Britannia. This ship definitely has some dodgy ones! You can read it here: P&O Britannia cabins to avoid.
If you're looking for the best suites on Britannia, there's a brilliant post all about these over on CruisewithAmber.co.uk.
I also have a guide to P&O Cruises' suite perks, because you get much more than just extra space when you book a suite.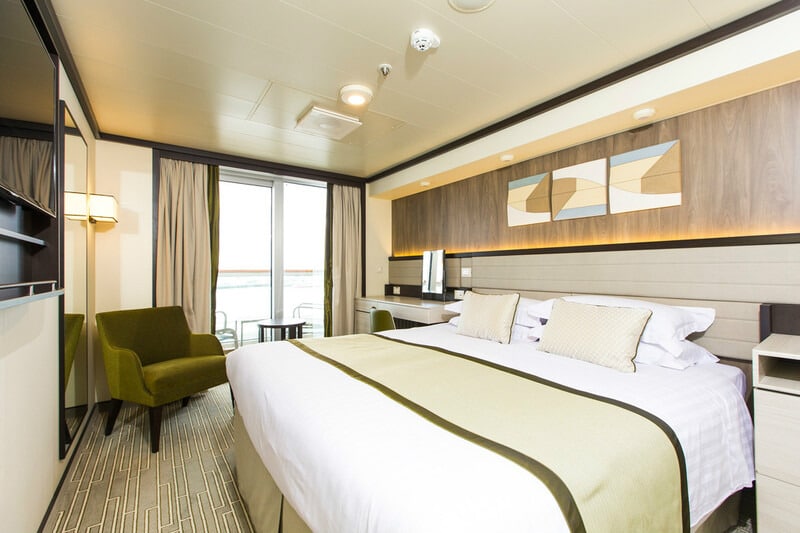 The Cheapest Cabins On Britannia
The cheapest cabins on P&O Cruises are PF grade cabins. On Britannia, PF grade cabins are inside cabins at the front of the ship, either on a high or low deck.
We stayed in the cheapest grade of cabin on Britannia. Our cabin was A121 which is a PF grade inside cabin right at the top and the front of the ship.
Click to read my review of the cheapest inside cabin on Britannia.
This cabin is the cheapest grade for two reasons:
Cabins on the highest decks at the front of the ship tend to be the worst locations for sufferers of seasickness as more movement can be felt here.
This location is furthest away from many facilities, including the kids' club and restaurants.
Did I moan about carrying a sleeping child the full length of the ship after they both fell asleep in the kids' club? Absolutely? Would I pay several hundred pounds more for a cabin in a more convenient location? No way!
Unless you have mobility issues, my personal opinion is that it's not worth paying more for a cabin in a certain location on the ship.
Everyone has different views on this, but for me personally, the cheapest cabin is usually the best one.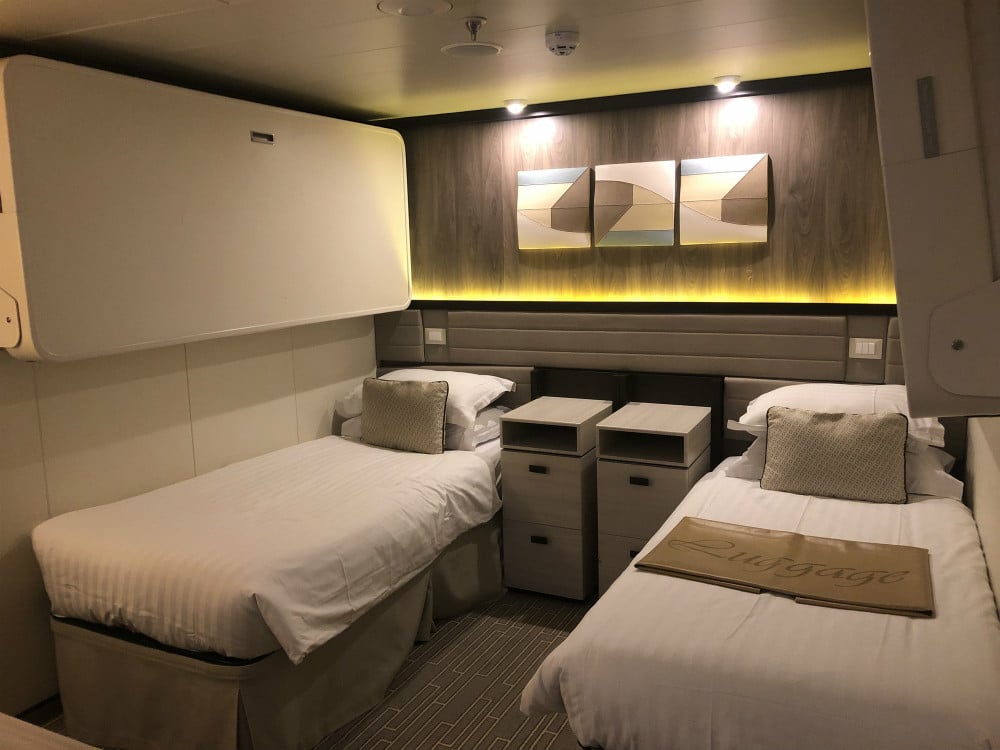 Read more: What is a Pullman bed on a cruise ship?
The Worst Cabins On Britannia
No matter whether you choose the cheapest inside cabin, or a luxury suite, there are some cabins on Britannia which you might want to avoid, These include noisy cabins, cabins near the smoking areas, and (believe it or not) cabins with beds that block the balcony doors!
If you want to make sure you avoid the noisy cabins on Britannia, or you want to steer clear of a blocked balcony, I've got a guide just for you.
Read more: P&O Britannia cabins to avoid
Select Fares, Saver Fares, And Early Saver Fares
P&O Cruises offer three different fare types:
Select Fare: You choose exactly which cabin number you want
Saver Fare: You choose the cabin type (e.g. inside/balcony/suite) and the cabin number is assigned to you
Early Saver Fare: The same as Saver, but with an early booking discount
If you book a cabin on a Saver Fare or Early Saver Fare, you can assume that your cabin is likely to be at the front or back of the ship, rather than midship. If you're fine with that, booking a Saver Fare or an Early Saver Fare will be the cheapest way to cruise.
That said, Select price fares do come with additional benefits such as the first pick of dining times and table sizes, the first priority for any available upgrades, free shuttle buses in port and more flexibility to change your booking. On cruises of seven nights or more, you also usually get a choice of free on-board spending money, free car parking in Southampton or return coach travel to Southampton.
You'll need to do the maths to work out if a Select Fare or Saver Fare offers the best value for money for your particular cruise.
NEW DEALS JUST RELEASED!
Don't miss the latest P&O Cruises offers…
Related Posts: