For some people, a cruise is an opportunity to escape from the grasp that the internet has over our daily lives. And for others, the idea of a week (or longer) without access to emails and social media is a complete nightmare scenario.
Those people needn't worry, because Royal Caribbean have some great WiFi packages to help you stay connected during your voyage, whether you want to just catch up on the latest news or stream your favourite movies from your stateroom.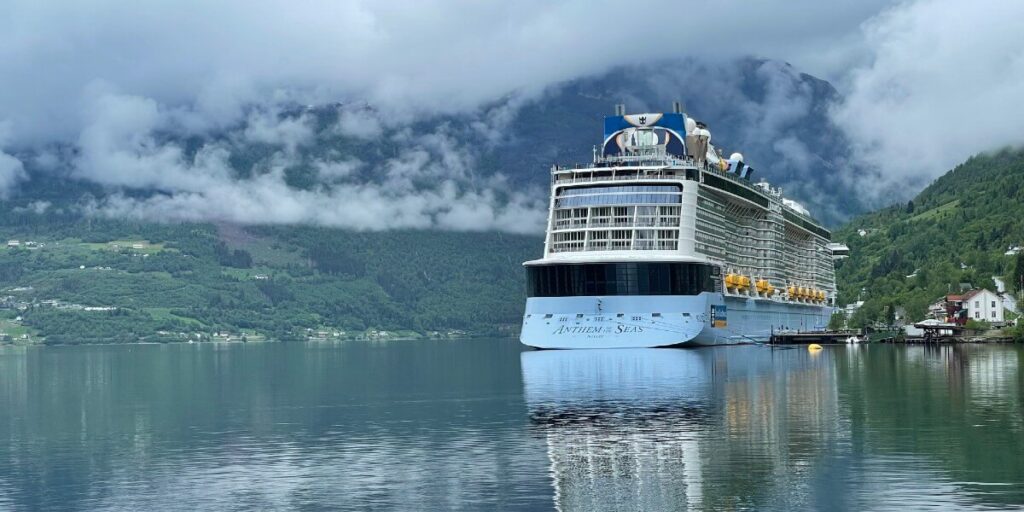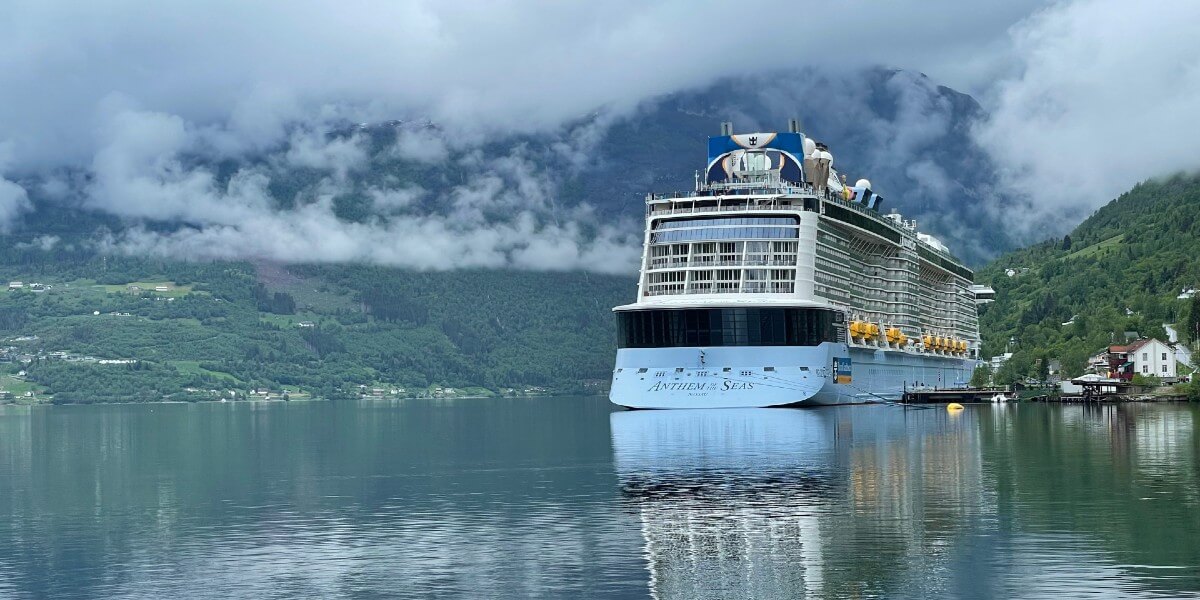 And it gets better, too – Royal Caribbean is one of the early adopters of Starlink, bringing satellite internet to the fleet for some of the fastest speeds.
Royal Caribbean WiFi Cost
The cost of Voom WiFi packages on a Royal Caribbean ship can vary depending on a number of factors. Expect to pay around $20 to $26 per day for the package.
The pricing's a little complicated, but first, let's look at the internet package on offer and what you get.
Voom Surf + Stream Voyage
The Voom Surf + Steam WiFi package is Royal Caribbean's internet package. It's a fast package that is designed to let you:
Video chat
Live stream on social media
Access streaming services to watch video content or stream music
There used to be two Royal Caribbean WiFi packages you could choose from, with a more basic 'Voom Surf' package on offer that was a bit cheaper.
However, since the introduction of Starlink, there is now just one Voom internet package for guests – the Voom Surf + Stream option. The Voom Surf package can't be booked.
Royal Caribbean WiFi Pricing Explained
Just like the price of Royal Caribbean drinks packages, the price of Royal Caribbean WiFi changes all the time. It varies depending on the ship, the sailing, and when you purchase it.
On average, the Voom Surf + Stream package costs $20 per day, but it can be a couple of dollars more or less than that. 
That's the price if you pay for your full cruise, and if you just want a 24-hour pass, you'll have to pay a lot more.
As a rough guide, you should expect to pay somewhere in the region of $33 for the Surf + Stream Package.
But then, it gets a little more confusing, because you can save money for additional devices. If you buy a family plan for five devices, you could save even more – bringing the average Royal Caribbean Voom cost down.
If you want the best deals, you're advised to pre-book your internet access before you sail. Discounts will vary depending on your sailing, so I can't tell you exactly what it'll cost, but booking in advance on the Royal Caribbean Cruise Planner will always be cheaper than buying it onboard the ship.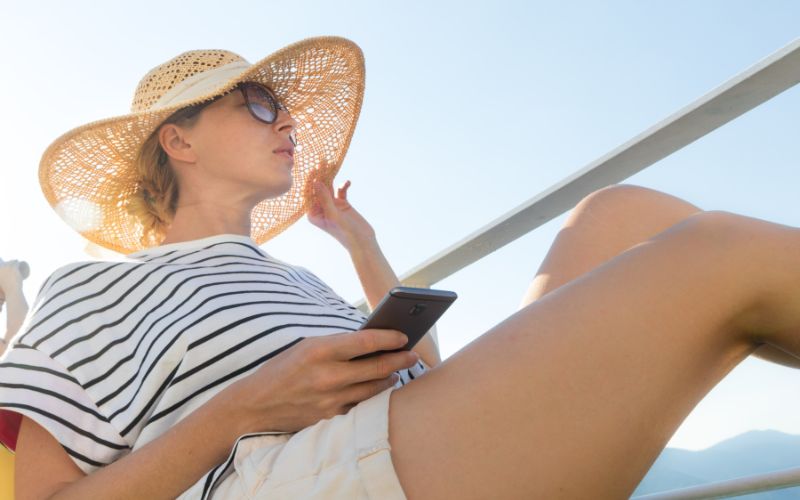 Do Royal Caribbean Cruise Ships Have Free WiFi?
Generally, Royal Caribbean cruise ships don't have free WiFi access – guests will have to pay for it. The only exception is guests that have booked a Star or Sky Royal Suite Class suite, where each guest gets one free Surf + Stream package.
You can get some free internet access if you're a loyal Royal Caribbean cruiser. Guests who reach the Diamond or Diamond Plus tiers of the Crown & Anchor Society get one or two free days of internet, respectively, while anyone who manages to reach the very-exclusive Pinnacle Club tier gets free unlimited access for one device throughout their cruise.
There are some ways you can enjoy free WiFi access during your voyage, including when you're in port, though. You can read more about those here: How to get free WiFi on a Royal Caribbean cruise.
Does The Royal Caribbean App Work Without WiFi?
You don't need an internet package for the Royal Caribbean app to work. It also won't use your own mobile data, so you won't have roaming charges. Just connect to the ship's WiFi to use the app for free.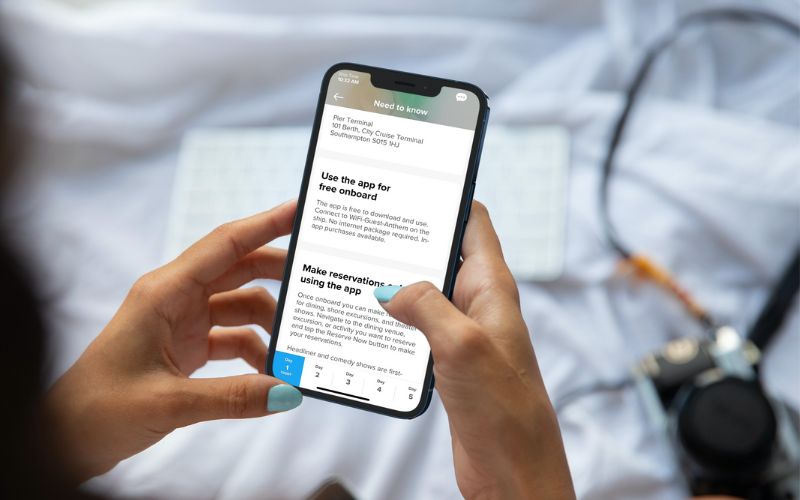 It's wise to download the app well in advance of your cruise. You can add all of your details to make checking in much quicker and easier and it also has lots of useful info so you can familiarise yourself with your ship before you embark.
The Royal Caribbean app is a really handy tool that has different features depending on your ship. You can use it to order food, make bookings for shows and shore excursions, and book your future cruise, among other things.
NEW DEALS JUST RELEASED!
Don't miss the latest Royal Caribbean offers…
Is Royal Caribbean WiFi Worth It?
It's really difficult to say whether Royal Caribbean's Voom WiFi packages are worth the cost. It's expensive, as is any cruise line's internet access, although now that Starlink has been introduced the speeds are usually reliable – depending on where you are in the world.
You'll also spend a lot of time in port on most cruises, where you will be able to either find free WiFi in most places or use your 4G or 5G connection on your phone. There may be roaming charges, but these could be less than the cost of the internet package.
Suggested read: How to Avoid Roaming Charges on a Cruise
If you're someone who just has to be connected at all times, then Voom is one of the faster cruise line internet services available and it is easy to set up.
It's worth it if you simply must have internet access, but if you can manage without it – and on a Royal Caribbean ship, you will be busy – then it may be better to save the money.
On my latest Royal Caribbean cruise, I didn't buy the WiFi package and I enjoyed having a digital detox during the sea days, then catching up once the ship docked at each port.
How To Connect to Royal Caribbean WiFi
Getting set up with a Voom package is easy. All you need to do is open your device's WiFi settings and connect to the network "royal-wifi".
Open up a browser, if it doesn't do it automatically, and it'll then take you through the steps you need to get connected.
If you've already pre-paid for your internet package, then when you enter your details it will recognise that you have a package waiting to connect. Otherwise, you'll have to choose which one you want and the cost will be added to your onboard account.
Usually, it's a really easy process, but sometimes gremlins can get into the system. If you do have any issues, just head to Guest Services and they'll be happy to help you get connected.
Royal Caribbean WiFi FAQs
Can you text on Royal Caribbean WiFi?
Normal SMS messaging doesn't use WiFi – it uses your mobile signal and you may get roaming charges if you try. If you want to use online texting apps like WhatsApp, iMessage or Facebook Messenger, then you can do this on your Royal Caribbean cruise with a Voom Surf + Stream WiFi package.
Does WiFi calling work on Royal Caribbean?
WiFi calling will work on a Royal Caribbean ship, as long as you've paid for a Surf + Stream package. Connection speeds can vary though, even though it is generally good.
Can you use WhatsApp on Royal Caribbean?
You can use WhatsApp on a Royal Caribbean cruise ship if you buy a Voom WiFi package. You can send voice notes and videos through WhatsApp too, the internet is fast enough to handle them.
Can you iMessage with Royal Caribbean Wi-Fi?
You are able to use iMessage with Royal Caribbean's Voom WiFi packages. With only the Voom Surf + Stream option now available, you'll have no trouble sending pics or videos through the service.
Can you FaceTime on a Royal Caribbean cruise?
You can FaceTime friends and family from your Royal Caribbean cruise if you've paid for a Voom Surf + Stream WiFi package. The connection quality may dip depending on where you are in the world, but it's usually pretty good.
Can you use Zoom on a Royal Caribbean Cruise?
You can use Zoom on a Royal Caribbean cruise but you'll need to pay for a WiFi package. Zoom and other video call apps only work on the Voom Surf + Stream WiFi package – if you haven't bought one, you can't connect.
Can you use Tik Tok on a Royal Caribbean cruise?
You can use TikTok on a Royal Caribbean cruise. It's fairly reliable with the faster Starlink internet, but it may suffer if you're in the middle of the ocean.
The Bottom Line
While Voom is advertised as the fastest internet at sea, it's also one of the most confusing, since prices aren't set in stone and can really vary. If the internet costs seem expensive, you might want to risk waiting until nearer to your sail date, but then they could go up even more.
The best advice is to only pay for it if you really need it. Otherwise, try to get by with your 4G or 5G signal when you're in port, or ask the crew for tips on where to find free WiFi access ashore. You'll save a lot of money, and all those cruise photos can just be uploaded when you get home instead of live as they happen.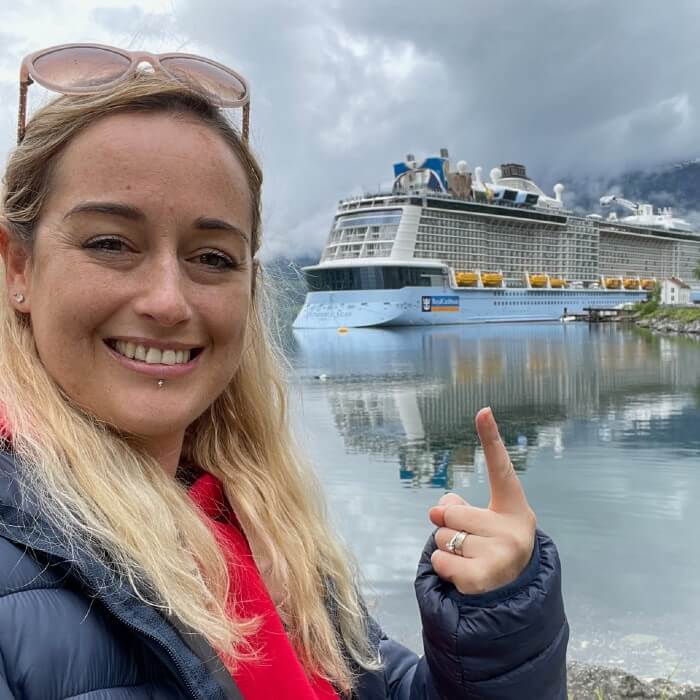 NEW DEALS JUST RELEASED!
Don't miss the latest Royal Caribbean offers…
Related Posts: