One of the best ways that you can save money on a cruise is by choosing an Inside or Interior room.
They're not the biggest, but if you're someone who doesn't plan on spending much time in your room, then does that matter?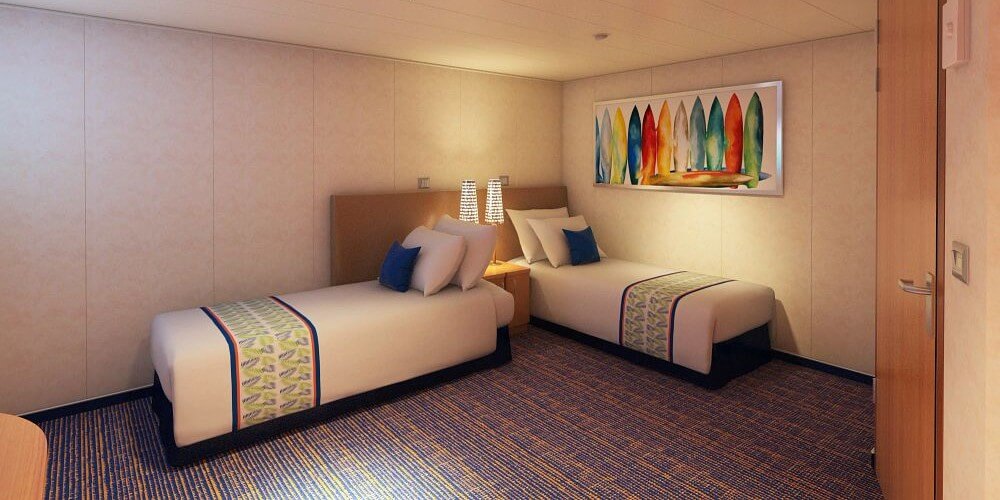 Carnivals' cruise ships have a lot of things that you can see and do on board, so there's a good chance you won't use your room for much more than sleeping and getting ready. The cruise line also offers some interesting choices for Interior staterooms and an interesting definition of what an interior really means…
If you want to know what I mean, then read on to learn everything you need to know about Carnival's Interior cabins.
What is an Interior Room on a Cruise?
An Interior stateroom on a cruise ship is one that is normally located on the inside of a ship away from the sides and does not have any windows. They're normally the cheapest and smallest rooms on board and can sleep anywhere from 2 to 5 guests, depending on the cruise line.
The reason I say that they normally are on the inside of the ship and they don't have windows is that Carnival does things a little differently…
Most of Carnival Cruise Line's Interior rooms do follow that rule, but they class some of their rooms that have an ocean view as being Interior, due to the limited view you actually get. More on that later!
How Big is an Interior Room on Carnival Cruise?
The size of an Interior stateroom on a Carnival cruise ship depends on which ship you're sailing on and which category of Interior cabin you choose, but you expect a room that's between 155 and 185 square feet.
The smaller Interior rooms don't leave you a lot of floor space with a twin or double bed in there, but they are some of the cheapest you can book on a modern cruise line.
How Many Beds Are in an Interior Room on Carnival?
Most Interior staterooms on Carnival cruise ships have two twin beds, which can be converted into a King-size bed on request. Some have one or two Pullman beds as well, to accommodate families – you can get a Carnival cruise interior room for 4. Upper/Lower rooms have a single twin bed and either a Pullman or a sofa bed.
Suggested read: What is a Pullman bed on a cruise ship?
Carnival is very much a family cruise line and so there are a lot of choices for Interior rooms if you want to have the kids in the same room as you. Pullman beds aren't the biggest and so won't be ideal for adults, though you may cope if you wanted to share a room with friends or teenage kids.
The 9 Different Types of Interior Rooms
When it comes to inside staterooms on Carnival cruise ships, there are lots of different types to choose from, each of which has a category code. While not every ship will have every category, there will still be lots of different accommodation types to consider.
| Stateroom Type | Category |
| --- | --- |
| Interior Upper/Lower | 1A |
| Porthole | PT |
| Interior | 4A, 4B, 4C, 4D, 4E, 4F, 4G, 4H, 4I |
| Interior with Picture Window (obstructed views) | 4J |
| Interior with Window (obstructed views) | 4K |
| Premium Interior | 4N, 4O |
| Cloud 9 Interior | 4S, 4T |
| Family Harbor Interior | FA |
| Havana Interior | HA |
Now, let's take a look at some of these Interior rooms in more detail…
Interior Upper/Lower Rooms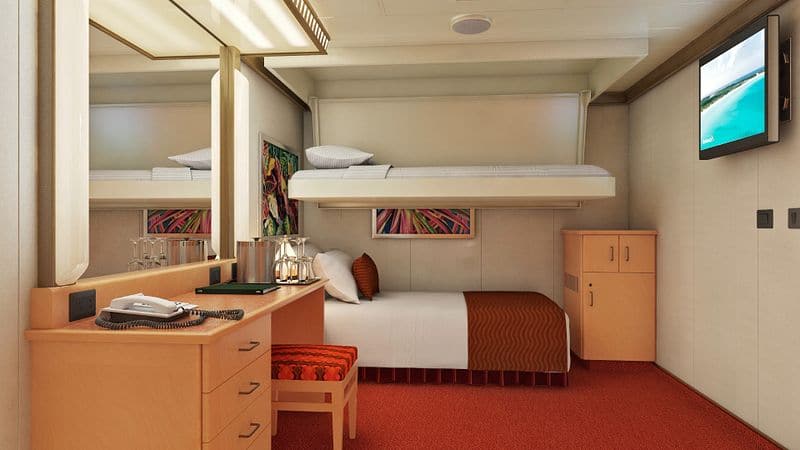 What is an Interior Upper/Lower Room?
An Interior Upper/Lower stateroom (category 1A) is one of the smallest rooms you can book at sea that isn't a single cabin. It has a single twin bed and then either a Pullman bed or a sofa bed for the second guest. They sleep a maximum of two guests only.
Upper/Lower rooms are interesting. Because you can't fit two in the same bed, they're not ideal for couples unless you don't mind sleeping separately. They're good for cruising with a friend, as long as one of you doesn't mind the smaller bed. If you're a single parent with one child then this room type could be absolutely perfect.
Carnival Cruise Line doesn't offer single rooms for solo travellers, but the Upper/Lower room is the nearest you'll get. When the extra bed isn't made up, it is essentially a single room.
Upper/Lower rooms are small, but again this is a Carnival ship – you might not care if you're spending all your time having fun. And the best thing about them is their low cost – you can get a really cheap cruise in one of these rooms – less than $350 per person for a week in the Caribbean.
Some Interior Upper/Lower rooms actually have small porthole windows. On most other cruise ships these would be classed as Ocean View, but Carnival classes any room with small portholes and Interior. So that's a nice little bonus.
The room shown below is an Interior Upper/Lower, but it has windows and it also has a sofa bed rather than a Pullman bed, so the name is quite misleading both in terms of the 'Interior' and the 'Upper'!
What's unusual about Interior Upper/Lower rooms is that while some have portholes and some don't, they all have the same category code of 1A. If you wanted to have a room with portholes you can request one, but it'll depend on availability and your ship.
Interior Upper/Lower rooms are available on all Carnival cruise ships except for the Excel-class ships (Mardi Gras, Carnival Celebration, and Carnival Jubilee) and the Spirit-class ships – Carnival Spirit, Carnival Miracle, Carnival Legend and Carnival Pride.
Porthole Rooms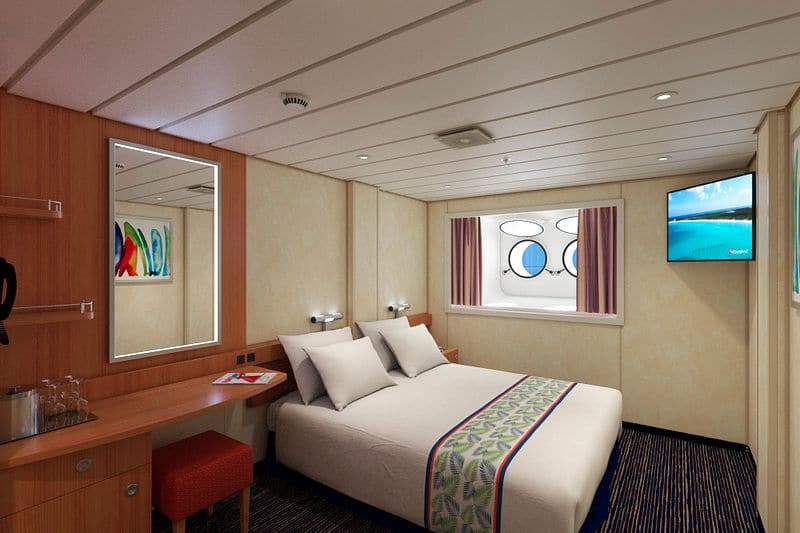 What is a Porthole Stateroom?
A Porthole stateroom (category code PT) on a Carnival cruise is still classed as an Interior room, despite the fact that you're getting a (limited) view of the ocean. These rooms have twin round windows that are small, but do allow some natural light into the room.
The view you get is pretty limited, especially as the portholes are quite thick – you don't get a good viewing angle. But it's something at least, and even though they're small you can at least peek out to see the ocean while you're sailing and see if it's sunny or raining.
Otherwise, the room is a fairly standard Interior layout and will have two twin beds that can be converted into a King, as well as some rooms having extra Pullmans or sofa beds for kids.
Porthole cabins are available on almost all Carnival ships – the exceptions are Spirit Class ships (Carnival Spirit, Carnival Miracle, Carnival Legend and Carnival Pride) and the newer Excel Class.
Obstructed View Rooms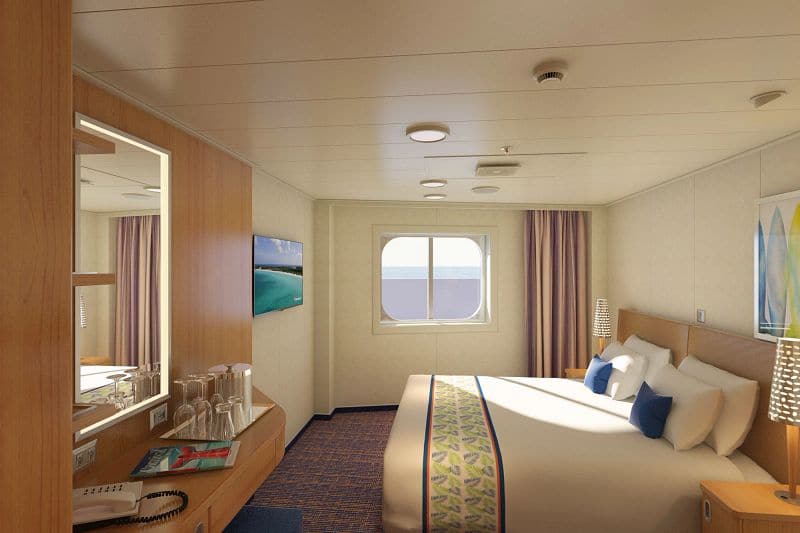 What is an Obstructed View on a Carnival Cruise?
An obstructed view room on a Carnival cruise is one that has something blocking the view from the window or balcony of the room. It may be the lifeboats, or in the case of Interior cabins with a window, it may be the walkway around the edge of the ship.
It feels strange talking about an Interior cabin with an obstructed view, but they do exist on Carnival ships. Most ships in the fleet have an option for an Interior with a Picture Window (obstructed view – category 4J), which is a half-size window that looks out onto the observation deck.
So you'll see the ship's railing, and maybe some passers-by. Make sure those curtains are closed when you're getting ready! These rooms are available on all ships except for Spirit Class ships and the Mardi Gras.
In fact, the Mardi Gras doesn't have any Interior rooms with an obstructed view at all. The Spirit Class ships (Carnival Spirit, Carnival Miracle, Carnival Legend and Carnival Pride) do, but these are called Interior with Window (obstructed view – category 4K) and they have floor-to-ceiling windows, so you get a lot more natural light, even with the obstruction.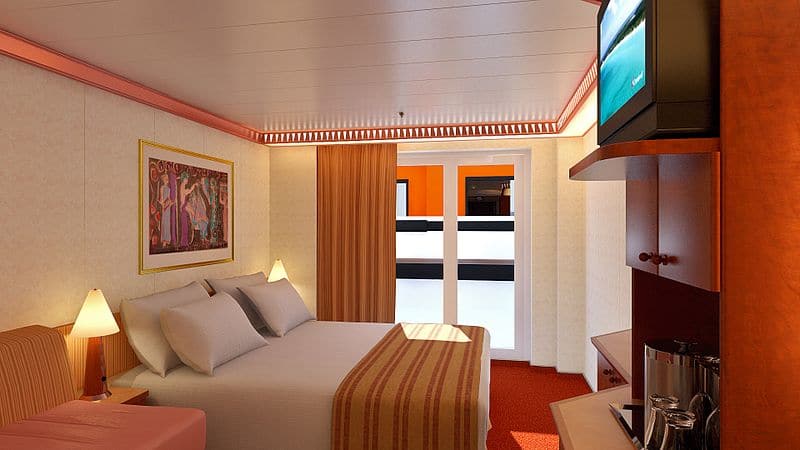 People love Carnival's 4K staterooms because the odd classification of Interior means that they're pretty cheap, but they do have huge windows that let in lots of natural light, even though there is no view due to the lifeboat outside.
Premium Interior Rooms
What's the Difference Between a Premium Interior and an Interior Room?
On Carnival cruises, a Premium Interior (code 4N or 4O) is essentially just a larger version of an Interior room. They're about the same size as a Balcony cabin, but without the Balcony attached. They're only available on Mardi Gras, and give you extra floor space compared to a regular Interior.
If you aren't too bothered about having a view but would like a little more room to move than in a smaller Interior, then a Premium Interior is a good middle ground. You'll still save money compared to a Balcony but you'll feel less cramped.
NEW DEALS JUST RELEASED!
See the latest Carnival cruise offers…
Cloud 9 Spa Interior Rooms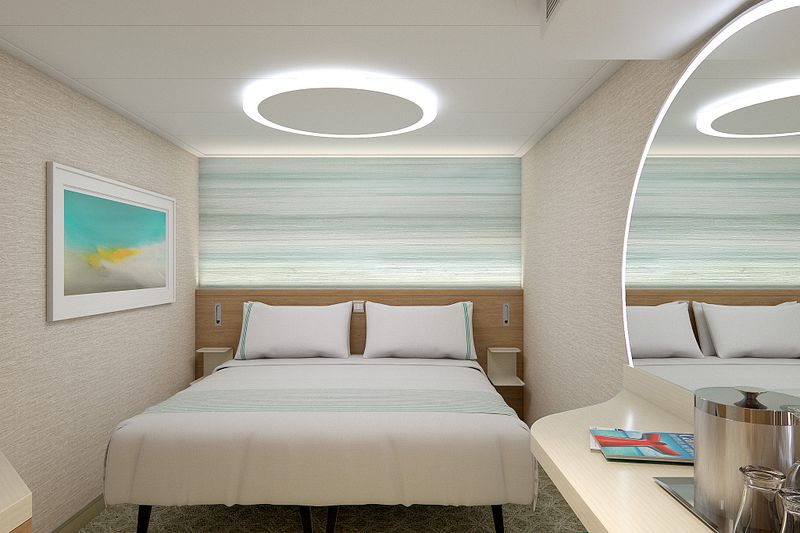 What does Cloud 9 Spa Interior Room include?
Guests who book a stay in a Cloud 9 Spa Interior room (category 4S or 4T) enjoy a number of spa-related perks, including priority bookings for the Cloud 9 Spa and access to the Thermal Suites throughout the cruise.
These perks only apply to the first two guests in a Cloud 9 Spa room though, so if you've booked a room with three adults then someone has to miss out. The Thermal Suites include dry heat chambers, steam chambers and a hydrotherapy pool, which you can use at any time during the cruise.
The priority bookings for the other Cloud 9 Spa services only apply on day one – you can book for any point during the cruise, but once 6 pm hits on embarkation day those slots open up to all guests.
You do get discounts though, as well as complimentary yoga or Pilates classes and some extra spa-branded bathrobes and slippers in your cabin, which are a nice touch. You can't keep them though!
Some Cloud 9 Spa Interior rooms do actually have a fairly large window. This doesn't look out over the ocean though, it overlooks a walkway, but if you want some natural light in your room then be sure to look out for these on the deckplans.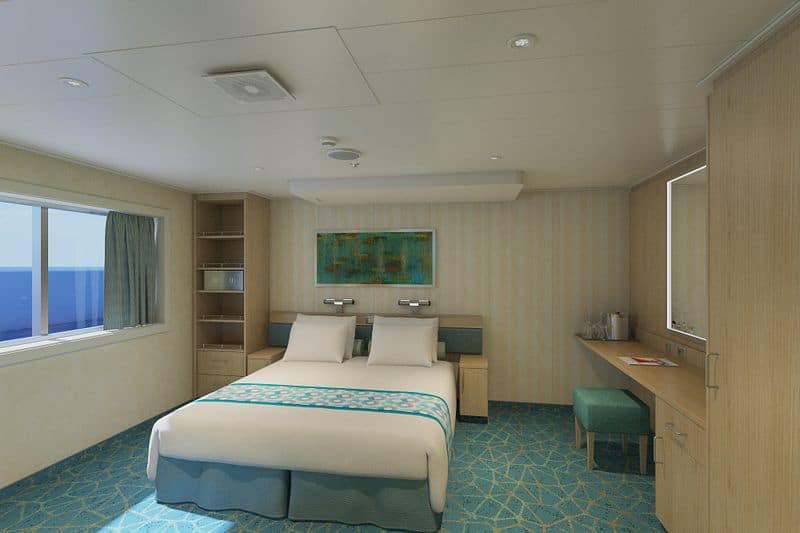 Here's a full list of the perks you get with a Cloud 9 Spa room:
Easy access to the spa
Unlimited use of Thermal Suites – Sauna, steam room and hydrotherapy pool
Complimentary scrub kit to use in Thermal Suites
Priority spa appointments for reservations made by 6 pm on embarkation day
Discounted spa treatments
Complimentary Pathway to Yoga or Pathway to Pilates fitness classes
Complimentary Body Composition Analysis
Elemis shampoo, shower gel and soap in room
Spa-branded bathrobes and slippers for use during the cruise
Relaxing decor in room
Cloud 9 Spa Interior rooms are available on Excel Class, Vista Class, Dream Class and Sunshine Class ships.
Family Harbor Interior Rooms
What is a Family Harbor Interior?
A Family Harbor Interior room (category code FA) is a fun stateroom for families that is decorated in classic American nautical style. It includes access to the Family Harbor lounge throughout your cruise, which includes a number of perks.
As well as being able to enjoy breakfast and daily snacks in the lounge, you'll also have access to board games, video games and family movies there too. As well as that, by booking a Family Harbor Interior cabin kids will eat free at most speciality restaurants on board.
And you also get one free evening of Night Owls babysitting at the kids club, which is great for when parents want a little bit of quiet time.
Here's the full list of Family Harbor perks:
Family Harbor Loung breakfast in the morning and snacks throughout the day
A range of board games, video games and movies to enjoy
Family activities hosted by the youth staff
Kids eat free in most speciality restaurants
One free evening of Night Owls babysitting service
Family Harbor Interior cabins can be booked on Mardi Gras, Carnival Celebration, Carnival Jubilee, Carnival Venezia, Carnival Vista, Carnival Horizon and Carnival Panorama.
Havana Interior Rooms
What is a Havana Interior?
A Havana Interior stateroom (category code HA) is decorated in a more luxurious Old Havana style and allows guests to access the exclusive Havana Pool area, where you can relax in peace. For that reason, only guests aged 12 and over can stay in a Havana cabin.
They're not really any more spacious than a standard Interior, so you're just getting a more premium version of the same room with access to that tranquil pool away from some of the noise of the family pools.
The Havana Pool area has an exclusive swimming pool, two large hot tubs and a relaxation area with umbrellas, palm trees and comfy seating. There's also the Havana Bar – this is open to all guests, not just those in Havana rooms. It has lively Latin music and Cuban-inspired coffees and cocktails, making it a really fun place to hang out.
Havana Interior cabins are available on Mardi Gras, Carnival Celebration, Carnival Jubilee, Carnival Venezia, Carnival Vista, Carnival Horizon and Carnival Panorama.
Pros and Cons of Interior Rooms
Now you know what to expect from all of the different inside rooms on Carnival cruise ships – including those that are labelled as Interior but actually have windows!
I love inside rooms and usually choose one myself. But, before you go ahead and pick one, let's just make sure that an Interior room is in fact the best room for you.
Here are the pros of booking an Interior cabin on a Carnival ship:
You'll save money, which you can use on on-board activities (or another cruise!)
They're great if you're sensitive to light and want a lie-in
They can feel quite cosy
Meanwhile the cons of an Interior cabin:
You won't get much floor space
If you do choose a Porthole or Window cabin, the view isn't great anyway
You might miss natural light if you choose a true Interior cabin
Should You Book An Interior Room on a Carnival Cruise?
There's no right or wrong answer on which is the best room on a Carnival cruise because it's all dependent on the individual. You might be someone who feels claustrophobic in an Interior room, and if that's the case then you definitely shouldn't book one! It's not worth making yourself feel uncomfortable just to save some money.
But, if you aren't going to feel cramped, or if you plan on barely spending any awake time in your cabin at all, then an Interior Room could be a really good option. They can be pretty cheap, depending on the itinerary and ship, and because they're a little cosier you might even sleep better.
However don't forget about the lack of natural light, which could be a dealbreaker. If you think that natural light is important in your bedroom then look out for Interior rooms with portholes or obstructed views, or consider paying a little more for an Ocean View stateroom.
Read more: Carnival Ocean View Staterooms Guide
If space is important to you, and you think you've got the budget to spare, then a Balcony could be a better option than a Carnival cruise interior room. They're the best choice if you are prone to feeling cramped because even just a small balcony in the fresh air can feel very open and relaxing.
Read more: Carnival Balcony Staterooms Guide
My Recommendation
The number one reason that people choose to book an Interior cabin on a cruise is to save money. And for that reason, I don't think there's such a thing as a 'bad' Interior cabin on a Carnival cruise.
Some of them are definitely more cramped than others, especially the Upper/Lower ones, but the cost savings could well make the difference to your overall cruise holiday.
I would say that a Porthole cabin isn't worth paying any extra for compared to a standard Interior. Yes, you do get a tiny bit of natural light, but the thickness of the walls means that the amount is limited, as is the view.
For me, if you've got the money then definitely look at the Family Harbor, Cloud 9 or Havana Interiors. The Family Harbor is one of the best Carnival cruise rooms – a great budget choice when cruising with kids, and the extra activities help to keep them entertained during quieter moments.
NEW DEALS JUST RELEASED!
See the latest Carnival cruise offers…
Related Posts: