When you sail with Carnival, you'll be given a Sail & Sign card. This is your room key, but it's also the card that you'll charge any onboard spends to, whether that's drinks at the bar, or paying for something in the onboard stores.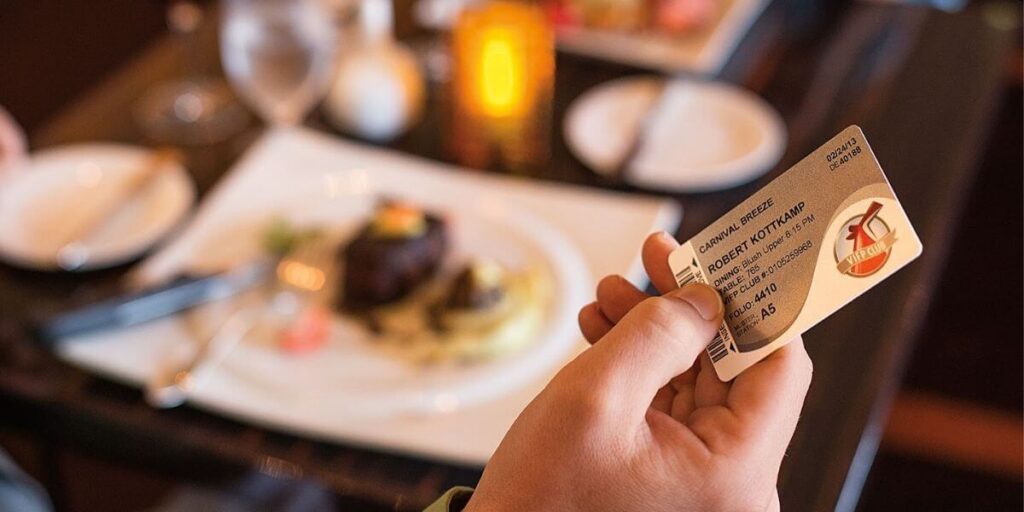 However, you might notice other people have different colored cards from you. And as you cruise with Carnival, your card color might change as well. This isn't random – let me explain what the different card colors represent.
What Do the Different Colored Carnival Cards Mean?
The different Carnival card colors represent what level of the VIFP program you have reached. This is the cruise line's loyalty program and indicates how much time you've spent cruising with Carnival and the benefits that you're entitled to receive.
There are multiple different Carnival color levels of the VIFP program, ranging from first-time cruisers to those who have been loyal to the cruise line for years. And while you don't need the Sail & Sign card to show off your status – you'll be able to claim the benefits without flashing the card – it's a nice status symbol to show off.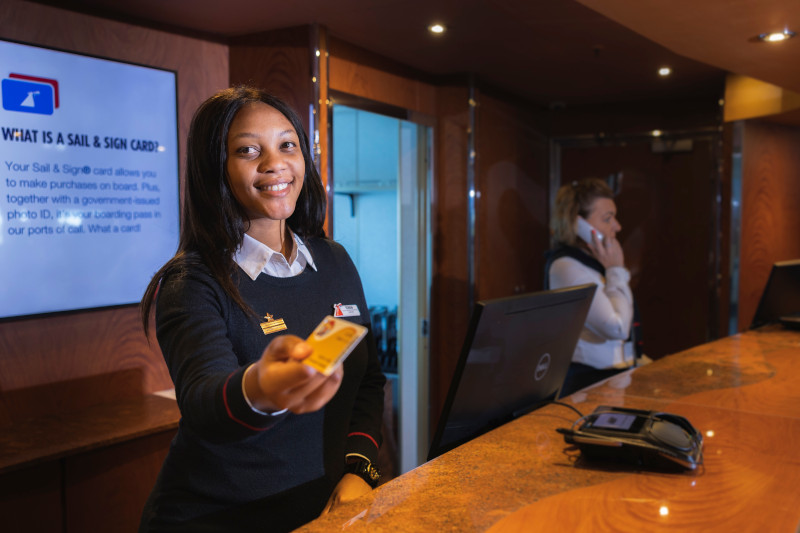 What Does VIFP Stand For?
VIFP stands for Very Important Fun Person – after all, Carnival is all about the fun when you're on a cruise. Everybody who sails with Carnival is considered a VIFP, even if it's your first time, although as you keep returning to the cruise line, you'll move up the ranks.
As you do, you'll unlock different perks. At lower levels, these aren't particularly special, but it's still nice to have your loyalty rewarded. As you move higher up the VIFP program, you'll start to get some really worthwhile benefits for your holiday.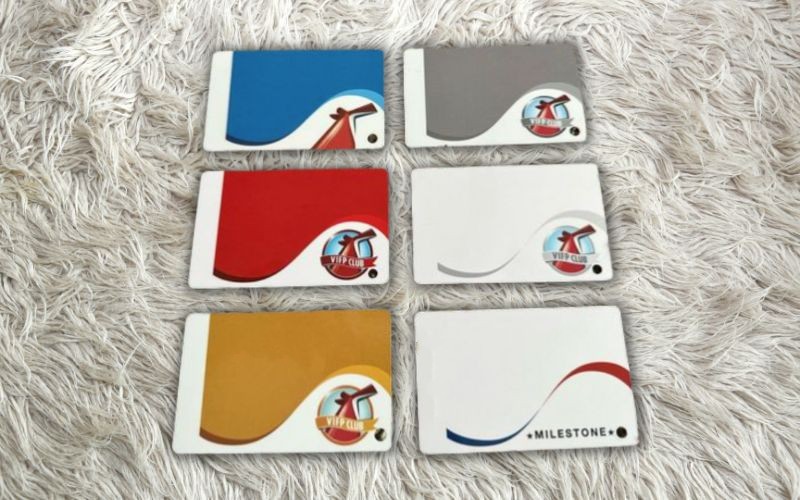 What Are the Different Levels of Carnival VIFP?
There are five different levels of the VIFP club, and five different Carnival Sail and Sign card colors. When you first sail with Carnival you will join on the Blue tier, before progressing to the Red tier for your second. From there you will progress through Gold, Platinum, and eventually, Diamond, based on the number of nights you've cruised.
Blue: First Cruise
Red: 2-24 VIFP Points
Gold: 25-74 VIFP Points
Platinum: 75-199 VIFP Points
Diamond: 200+ VIFP Points
Milestone: 25th, 50th, 75th and 100th cruise
What A Blue Card Means On A Carnival Cruise
Having a blue Sail and Sign card means that you're on your first cruise with Carnival. Every Carnival guest is automatically registered in the VIFP program, and you only get a blue card once – after that, you move up to red.
Your blue Sail & Sign card will, therefore, become something of a memento for you – an item to celebrate your first time with the cruise line.
Blue Level VIFP Benefits
Because every person who sails with Carnival is a Blue-level VIFP, the list of benefits is hardly exciting.
You'll get:
A members e-newsletter
Access to members-only offers
It's not really a list of perks to get excited about. The offers aren't too special. But it's the first step on your VIFP journey, and you've done nothing to earn them beyond booking a cruise.
NEW DEALS JUST RELEASED!
See the latest Carnival cruise offers…
What A Red Card Means On A Carnival Cruise
Being a red card holder with Carnival Cruises means you've reached the second stage of the VIFP program. You get the red Sail & Sign card on your second cruise, and you'll stay at this level until you have completed 24 nights on a Carnival cruise.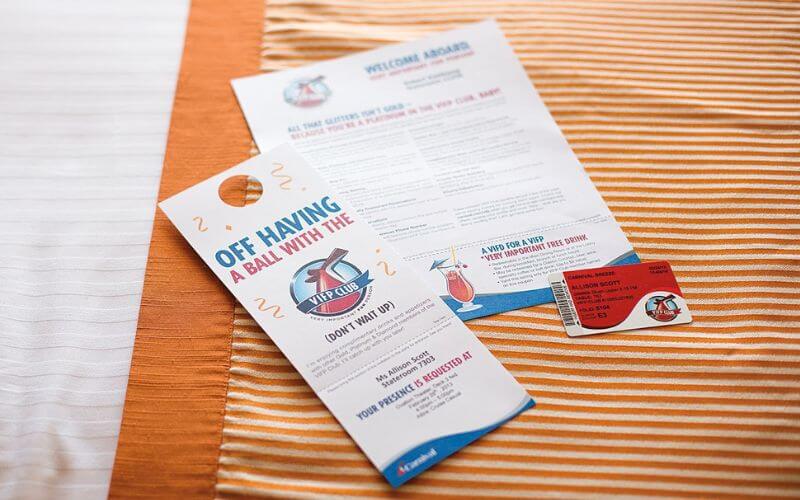 This is the first time that 'VIFP points' becomes important. You get one point for every night you spend on a Carnival ship, and you remain a Red level VIFP member until you've accumulated 25 points, at which point you'll move up to the next level.
It doesn't happen immediately, but on your next cruise. So if you are on a Red level cruise and you pass 25 nights mid-way through, you'll stay at the Red level until the end of that sailing.
Red Level VIFP Benefits
As well as the members' e-newsletter and the access to the members-only offer, being a Red level VIFP member only qualifies you for one extra benefit:
Complimentary 1.5-litre bottle of water
You can claim it at any bar or restaurant, or through room service. You get one bottle on every cruise.
That's it, a bottle of water? Yep, I'm afraid so. It seems that the vast majority of people get pretty much nothing when it comes to VIFP perks.
What A Gold Card Means On A Carnival Cruise
Once you have cruised with Carnival for 25 nights or more, you'll have accrued enough points to reach the Gold level of VIFP. This is the mid-level tier, and you'll stay here until you've cruised for 75 nights, at which point you'll move up.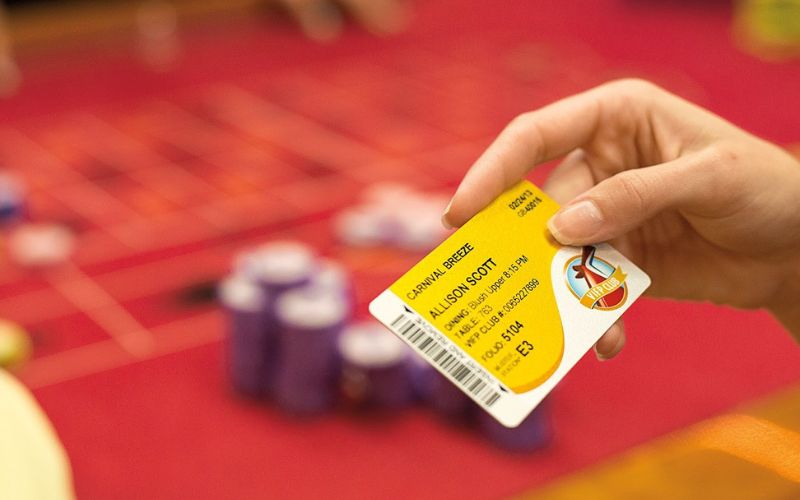 A lot of people will reach Gold and never progress further – after all, it's the equivalent of taking ten 7-night cruises, which for most people is quite a lot. I've certainly never had close to ten cruises with any particular cruise line.
But if you prefer longer cruises, or you start cruising with Carnival at a young age and shun other brands in favor of ships with whale tails, you may get past this level.
Gold Level VIFP Benefits
As a Gold-level VIFP you'll enjoy the same perks as those on the Blue and Red levels, along with:
An Appreciation Drink on cruises of 5 nights or more
A Gold VIFP pin badge on every cruise
You can get the drink from any bar on the ship on the last evening of your cruise from 5pm onwards, while the pin badge can be claimed at the Photo Gallery, but don't leave it too late – you can't claim it in the last two days of your cruise.
What A Platinum Card Means On A Carnival Cruise
If you cruise with Carnival for 75 nights or more, you will reach Platinum level in the VIFP program, and your Sail & Sign card will be platinum-colored. At this stage, you will unlock a long list of benefits, which improves when you pass 200 nights.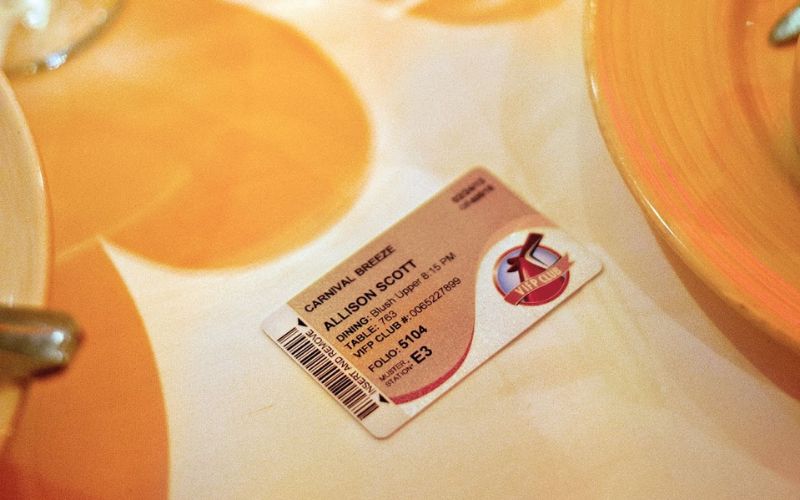 To put this into perspective, in order to reach Platinum you need to book 11 week-long cruises with Carnival, which is quite a lot for most people. But if you do that, then you are certainly revered as you unlock a long list of perks.
These include:
Priority check-in and boarding
Complimentary drinks and parties
Unique pins
Free gifts on every cruise
And a lot more. Platinum is where the VIFP program starts to feel like a loyalty program that's worth being involved in, as it should, considering the number of nights you need to sail with Carnival in order to qualify.
Read more: Carnival Cruise Platinum Perks
What A Diamond Card Means On A Carnival Cruise
Diamond is the very top level of the VIFP program – in order to reach this level, you must cruise with Carnival for 200 nights or more – if you choose 7-night sailings exclusively, this means taking 29 cruises.
There are a number of perks exclusive to this top tier, including unlimited laundry during your cruises, priority reservations at specialty restaurants, and a one-time complimentary meal. You also get a one-time free cabin upgrade or you can have a third and fourth guest sail with you for free.
Plus, a nice addition is that for every person who reaches Diamond status, Carnival makes a $100 donation to St Jude Children's Research Hospital.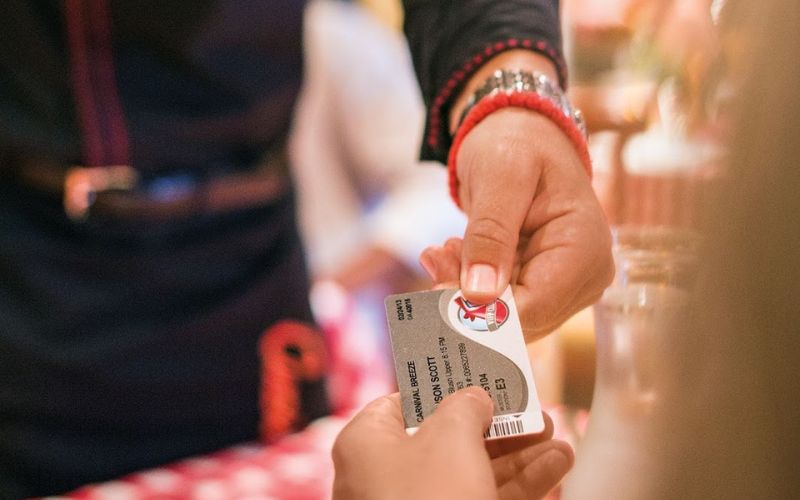 How To Sign Up For Carnival VIFP
You're signed up to the Carnival VIFP program automatically when you first sail with the cruise line. You'll be assigned a number which you can see when you log onto the Carnival website. Points are tracked automatically too – there's nothing you need to do.
You don't even need to sail on your first cruise to join the program. As soon as you register an account on the Carnival website, you're in!
Is VIFP Club free?
The VIFP Club is completely free to join – you won't be charged for being a member at any stage. It is just a loyalty program that rewards you for the number of nights you spend on a Carnival cruise ship.
So technically, it's not free to move through the different stages, since you have to pay for your cruises (unless you have a very generous family member paying for you). But the actual club doesn't have any costs associated with it.
How To Check Your Carnival VIFP Status
You can check your Carnival VIFP status at any time just by logging into your account on the Carnival website. Once logged onto the website, click on 'Your Name' to see your profile, and then 'My Cruises' to see your VIFP level.
If you don't have an account with Carnival, you can register at any time. If you've sailed with Carnival before, you'll be able to add booking details to bump you onto the second tier immediately.
How To Find Your Carnival VIFP Number
You can find your Carnival VIFP number on your online Carnival account. Log into the website, click on 'Your Name' and then 'My Cruises' and you'll see your VIFP number and your current status. If you can't find it, you can call Carnival and they can locate it from your booking history.
You may need to enter your VIFP number in future when booking a cruise if you want to claim the VIFP points, so it's worth keeping it noted. Usually it's automatic, especially if you book direct with Carnival.
To Conclude
Most cruise lines have a loyalty program, and Carnival likes to show theirs off with their Sail & Sign cards being different colors to match your status. It's fun for passengers who feel proud to be loyal.
The lower levels – Blue, Red and to some extent Gold – don't have perks that are super exciting. But once you reach Platinum, you'll unlock some great extras to make every cruise even more special.
NEW DEALS JUST RELEASED!
See the latest Carnival cruise offers…
Related Posts: