Loyalty programs are a good way for a cruise line to reward passengers who decide to keep cruising with the same line. After all, there are so many great cruise lines to choose from that it benefits them to try to keep you loyal.
Carnival's program is called VIFP, and like many other similar schemes, it has multiple tiers that you progress through as you cruise. You start with Blue for your first sailing and then move to Red, then Gold, then Platinum and ultimately Diamond – the best of the Carnival VIFP levels.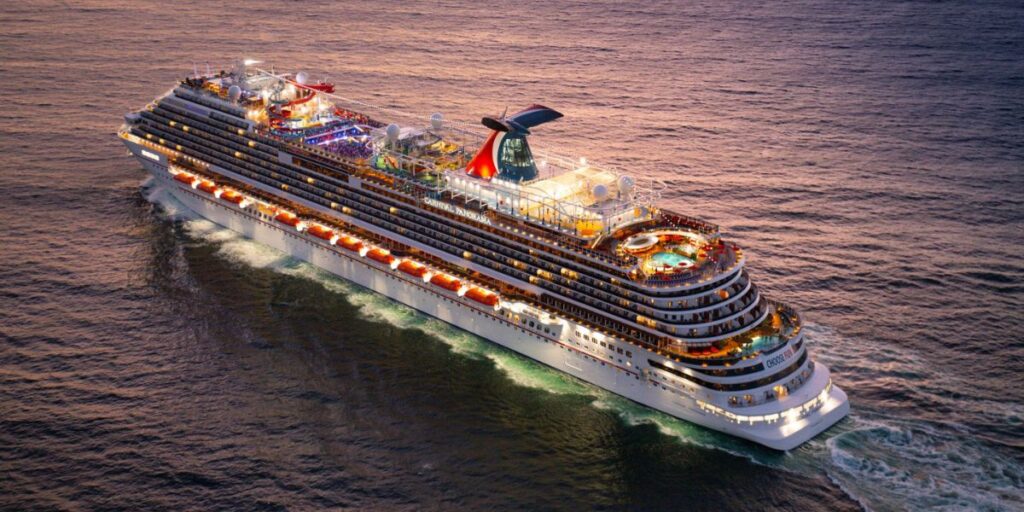 But Platinum is the one to pay particular attention to, because it's very achievable if you're a loyal Carnival customer, and it has a lot of benefits. Gold status doesn't get you a lot, so the step up to Platinum is really noticeable.
Let's dive into what you get when you reach Platinum VIFP status.
How Many Cruises To Be Platinum on Carnival?
To reach Carnival Platinum level, you need 75 points. You get one point for every night you spend on a Carnival ship, so it doesn't matter how many cruises you take, you just need to cruise for 75 nights.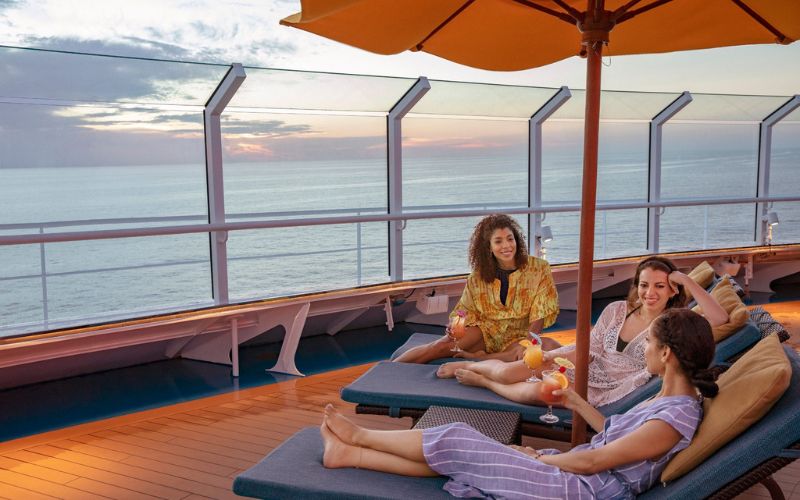 Since most Carnival cruises last 3-7 nights, the fastest way to get to Platinum is to take 11 cruises – 10 of them lasting a week and then the last one being at least 5 nights. If you're lucky enough to cruise twice a year, this means you'll get to Platinum status in your sixth year of cruising.
NEW DEALS JUST RELEASED!
See the latest Carnival cruise offers…
What Do Platinum Members Get on Carnival?
You get a lot of benefits when you're at Carnival cruise Platinum level. These include priority check-in, boarding and debarkation, priority spa reservations, special parties exclusively for Platinum and Diamond members, and free laundry services.
Here's a rundown of everything you get as a Platinum member:
1. Priority Check-in and Boarding
Being first on the ship is always a fun experience – you don't have to queue for a long time at port, and you're able to get straight to the fun. While being a Platinum guest doesn't guarantee you being the very first person on the ship, it does mean you can book early check-in and be on the ship sooner.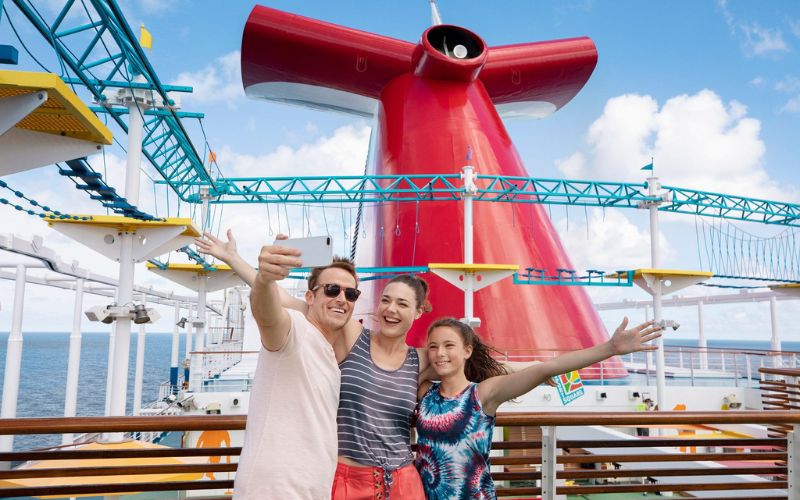 There have been some changes to this perk while Carnival adjusts to new health and safety protocols, which means you can't necessarily choose an early embarkation time but you do get 48 hours advance notice to book your Arrival Appointment for check-in.
Boarding times are based on the arrival appointments so if you make sure to grab one of the first, then you will still be one of the first people onto the ship.
2. Priority Debarkation
While it's always sad to leave a cruise ship, it still makes sense to be one of the first people off on the last day if you can be. You'll beat the rush, which means a smoother journey back through the port and potentially first dibs on taxis or getting to your car and out of the car park faster if you're parked at the port.
It's worth noting that this perk isn't always available. It depends on how many Platinum and Diamond guests are on-board – if there are too many then the service can't be offered.
3. Priority Access to Guest Services
If you've got any problems or queries that you need Guest Services to resolve, then you don't want to spend time queuing and wasting precious cruise fun time. So as a Platinum guest, there are two ways you get priority access to the Guest Services team.
Firstly, if you visit them in person there's a priority line for Platinum and Diamond guests. Any guests in this line will be seen before others in the standard line.
And if you don't want to visit in person, you get a priority phone number, so you don't have to wait in a holding queue on the phone with other non-Platinum guests.
4. Priority Reservations at Speciality Dining Restaurants
The speciality restaurants on a Carnival ship always prove to be popular. They offer unique dining opportunities and a more varied menu than you would enjoy if you ate purely in the Main Dining Room or the buffet.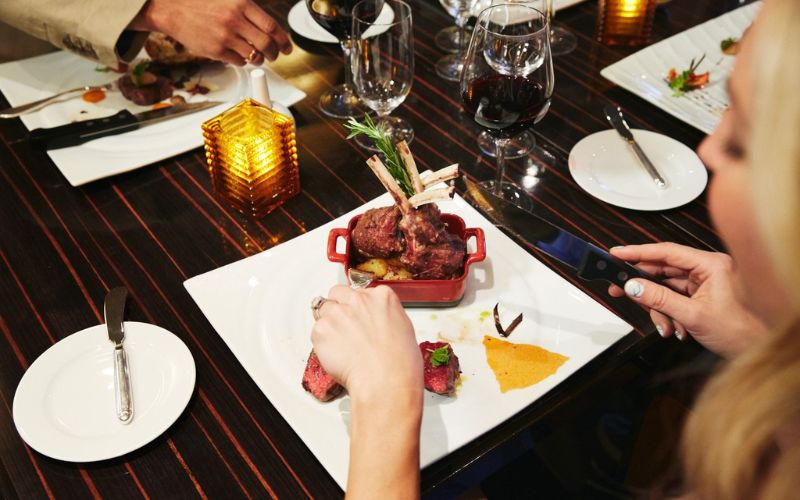 It's not super-common for speciality restaurants to be fully booked on a Carnival cruise, because a lot of people are perfectly happy with the free options. But as a Platinum member, you do still get priority reservations, which means you can choose the best nights and times to enjoy the restaurants that you want to visit.
5. Priority Spa Reservations
The onboard spa on a Carnival ship offers a wide range of treatments that are perfect for relaxing. Whether it's a specialist massage, a detox wrap, or even acupuncture, there are some great options to soothe away the stresses of modern life.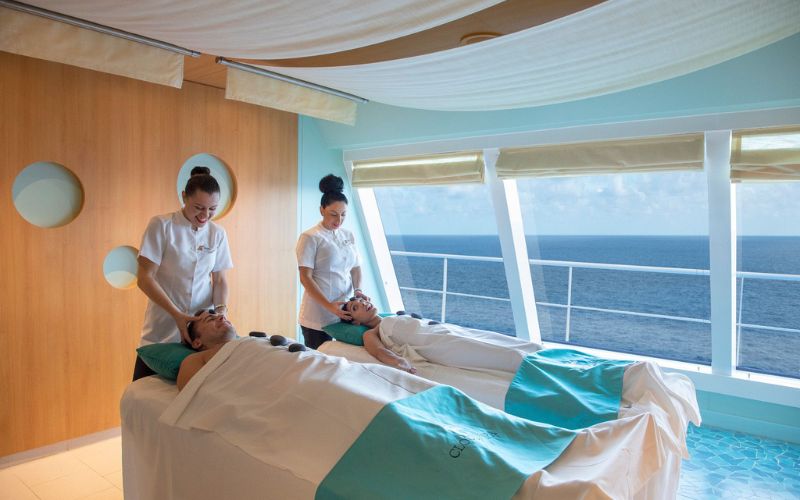 And similar to speciality dining, these don't tend to get fully booked out in most cases, but it is still beneficial to have first dibs on the best days and times for your treatments. A lot of people like to book early-morning treatments or those around two hours before dinner on a special night.
When you're a Platinum member, you get priority access to secure your treatments at the time that you want them.
6. Priority Water Shuttle Boarding
Heading to shore for an excursion or just a day of exploring independently? You won't be the only one – hundreds of people will be leaving the ship on a day at port. So on days where you need to use a water shuttle to get to shore, it's a nice benefit to have priority access so that you can beat the lines and have more time to explore.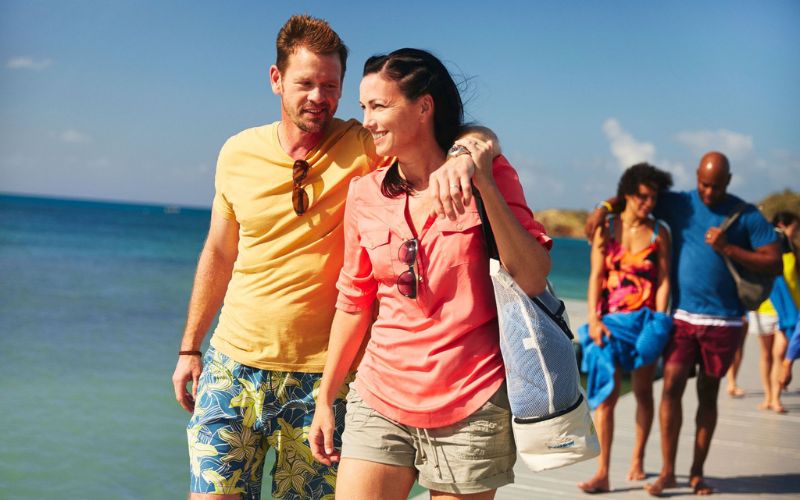 You only get priority traveling from ship to shore – on the return to the ship, you'll need to queue with everyone else. And it's not always available either – it varies by destination based on local guidance, and it can be withdrawn as a perk at short notice. So don't be too disappointed if you have to wait in line with everyone else.
7. Platinum and Diamond VIFP Party
On sailings lasting 5 days or more, all Platinum and Diamond guests are invited to a special VIFP party. This is a good chance to mingle with other loyal Carnival guests and swap stories of your favourite ships.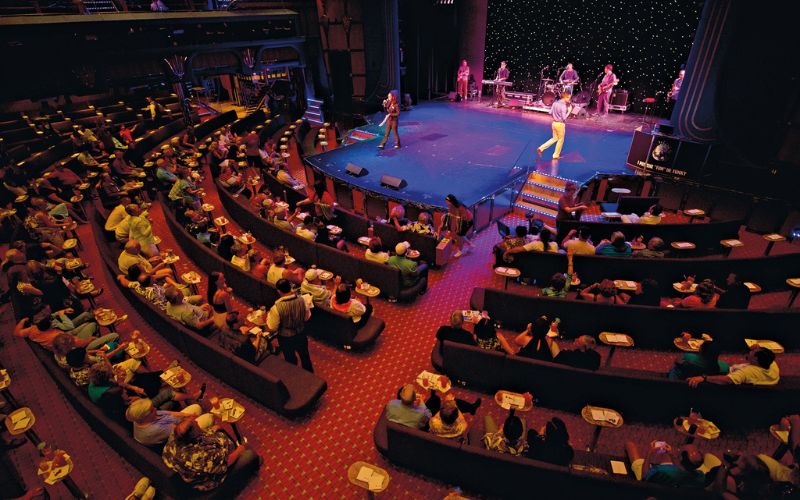 Oh, and the drinks are complimentary too. So even if you just want to go hang out with your own traveling party, it's still worth paying the party a visit just to get a few drinks free.
8. Complimentary Seaday Brunch Drink
On some Carnival ships during a day at sea, you have the option to skip breakfast and instead enjoy a special Seaday Brunch, with a mid-morning menu that includes favourite items like French Toast, various kinds of pasta, Eggs Benedict, special salads, fried chicken and more.
At these brunches, Platinum guests are entitled to a free drink of their choice. And if your ship doesn't have a Seaday Brunch, you won't miss out – you can claim the free drink of your choice at any breakfast or lunch during your cruise. Only one, though – not every day.
9. Complimentary Water
Bottled water can be expensive on a cruise ship but it's always good to have one in your stateroom. And if you're a Platinum guest, then you get a 1.5-litre bottle for free, which is a nice touch.
You just need to redeem it to pick up your bottle, which you can do at any bar or restaurant on the ship. You can also use room service to claim your free bottle as well.
10. Chocolate Delight Delivery
A smaller touch, but one that's definitely appreciated by any chocolate lover – Platinum guests are able to request the Chocolate Delight treat to be delivered to their room once for free during the cruise (normal value $12.50).
Chocolate Delight consists of four chocolate-dipped strawberries that have been rolled in red velvet cake crumbs. There are also two red velvet and chocolate ganache macaroons, and two chocolate truffles. It's a sumptuous treat, and it's just a phone call to room services away.
11. Casino and Arcade Perks
Platinum guests get a few extra benefits in the casino and arcade, ideal if you're into gaming.
For adults, you get buy-one-get-one-free entry on any blackjack or slots tournament where the tournaments are being held. Casino tournaments are currently paused while Carnival assesses the new health and safety guidelines from the CDC, and so for now this perk has been replaced with $25 of Casino FunPlay credit – this is credit that can just be used for fun games.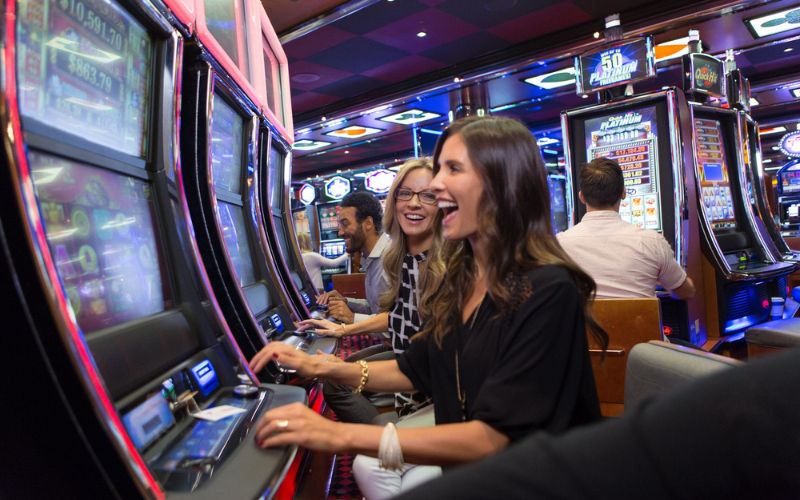 Guests under 18 aren't excluded – those who are lucky enough to have reached Platinum status before adulthood get $5 free to spend in the onboard arcade.
12. Carnival Logo Gift and Collectible Pin
It's always fun to bring home a special souvenir from your cruise, and as a Platinum guest, you get two!
The first is a Carnival logo gift. These can vary, but are usually small items that bear the Carnival logo. Past examples have included a travel planner with a pen, or even a night light. They tend to change the gift every few months, so unless you're sailing super-regularly, then you should always get something new.
The second gift is a collectible pin. These are unique to each sailing and are perfect whether you already have a pin collection or if you just want something to remember each cruise you take.
Both of these gifts can be claimed at the Photo Gallery on the cruise ship – just make sure you visit before the last two days of your cruise, as they stop offering them then.
13. Complimentary Wash & Fold Laundry
Once you reach Platinum, you're allowed to make use of the laundry services for free. You get two bags of laundry on 3-6 day cruises, 3 bags on cruises up to 12 days, and 5 bags of laundry for cruises lasting longer than 12 days.
That's plenty of free laundry already, although if you do make it to Diamond status, then you get unlimited free laundry too.
To Conclude
The perks you get with any cruise line's loyalty program are designed to be nice little extras just to make your cruise that touch more special. And Carnival's Platinum VIFP level is one of the better ones when you weigh up what you get versus how many nights you have to cruise to earn it.
There's a lot here that won't make or break your cruise but will just make you feel like a Very Important Fun Person during your cruise. And if you combine the Platinum rewards with Carnival's suite perks that you get when you book a suite for your accommodation, then you get a whole lot extra for your holiday.
If you have any questions about Carnival's loyalty perks or would like to make any suggestions, then I recommend that you contact Carnival's brand ambassador John Heald. He's incredibly helpful and I'm sure he'd love to hear from you.
NEW DEALS JUST RELEASED!
See the latest Carnival cruise offers…
Another useful thing to know is that once you reach Platinum on Carnival, if you ever cruise with MSC Cruises, you can claim Gold status with the MSC Status Match Program.
You don't have to wait until then to take advantage of the status matching, check out this MSC Cruises Status Match Chart for more information.
Related Posts: