There are a lot of reasons people look for cruises that are specifically for the over 50s.
In the last 20 years or so, a lot of mainstream cruise lines have become very family-oriented. You may not like the idea of spending a decent chunk of money to go on a cruise and be surrounded by kids running around and shouting.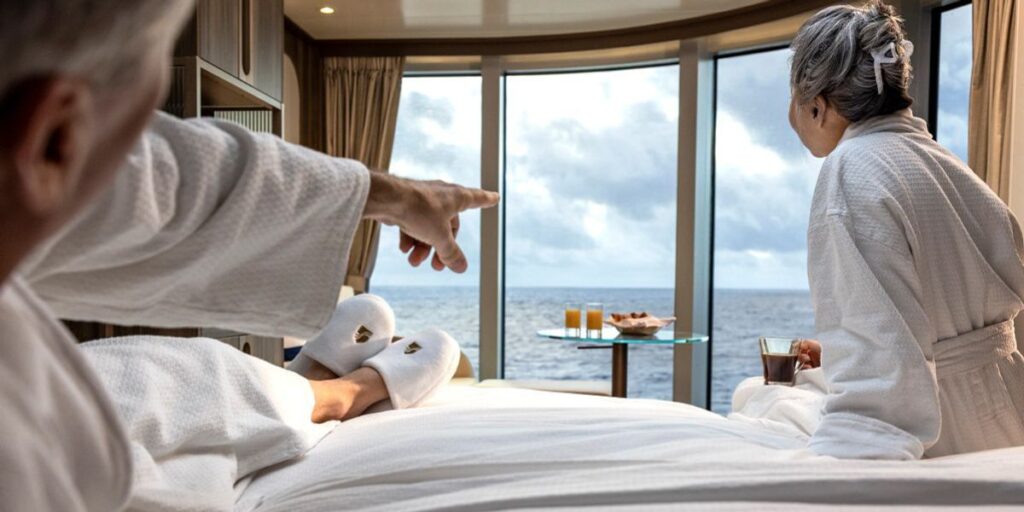 In this guide, I've picked out 14 of the best cruise lines for the over 50s, with a quick rundown on what they offer and why they're worth considering. This should help you decide which is the best cruise line to try for your next cruise…
Different types of over-50s cruise
Before I dive into the list of cruise lines, there's something important to clarify.
The idea of over-50s cruises is a little vague, because there are a lot of different groups within that age range, who will have different ideas of what they want from a cruise.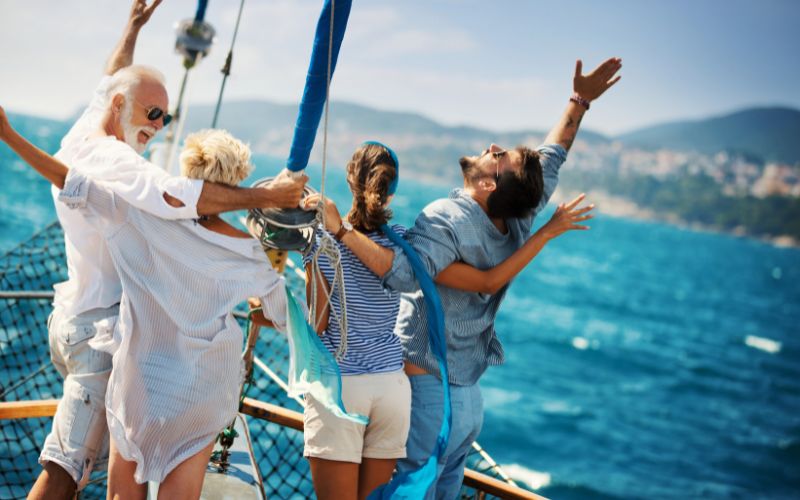 You might be looking for an active cruise with plenty of port visits and lots of exciting walking, and various gym classes on board.
If you're a little older or you have some mobility issues, you might instead think more of a cruise for the older generation – those who are quite a bit over 50 – where small ships offer comfort and lots of places to sit and unwind.
Your idea of the ideal over-50s cruise could be a truly luxury getaway, or an authentic throwback to traditional cruising. Or it could be that you specifically want a cruise for singles over 50, if you are alone and want to meet new friends.
My point is that cruise holidays for over 50s aren't all the same, and so in this guide, I won't just tell you what each cruise line offers, but I'll also make it clear what kind of cruiser they're suited to.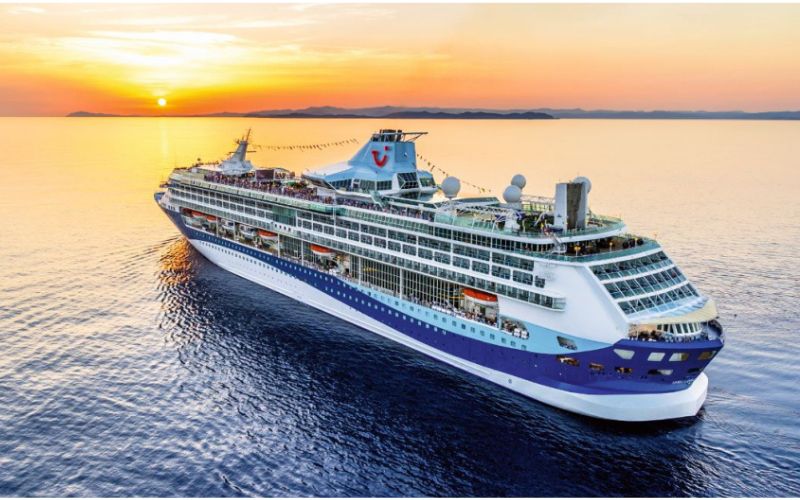 Marella Cruises offer some of the best value cruises for over 50s of all the cruise lines. There are a lot of cruises on this list that are considered to be 'all-inclusive', but Marella's fares are typically lower than those, despite the fact you're getting your drinks and tips included.
What's also great about Marella is that the cruise line is owned by the TUI Group, which also operates your flights. Rather than dealing with separate companies – and the potential stress of a delayed flight meaning you miss your ship – everything is really easy and seamless, as you're cared for by essentially the same company from the moment you get to the airport.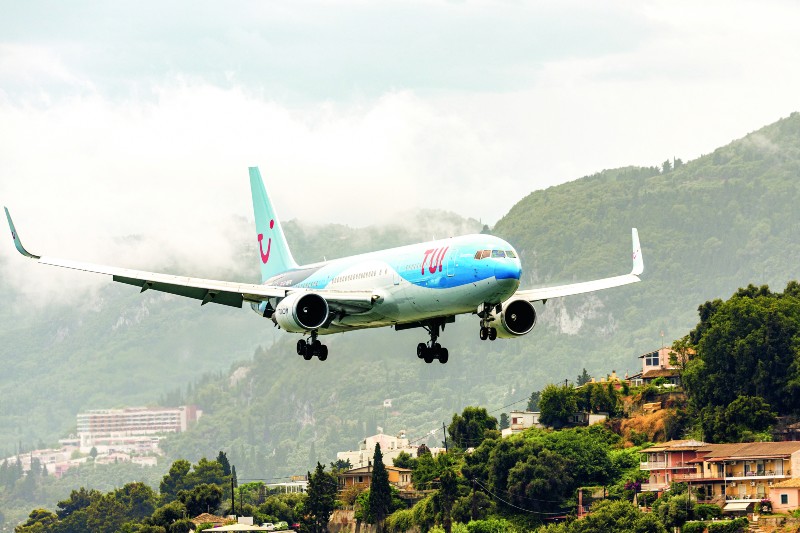 Plus, Marella Cruises are good for the over 50s who want to enjoy a British cruise, with their favourite drinks in the bar and of course tea and coffee facilities in their room – something you won't always get with other cruise lines.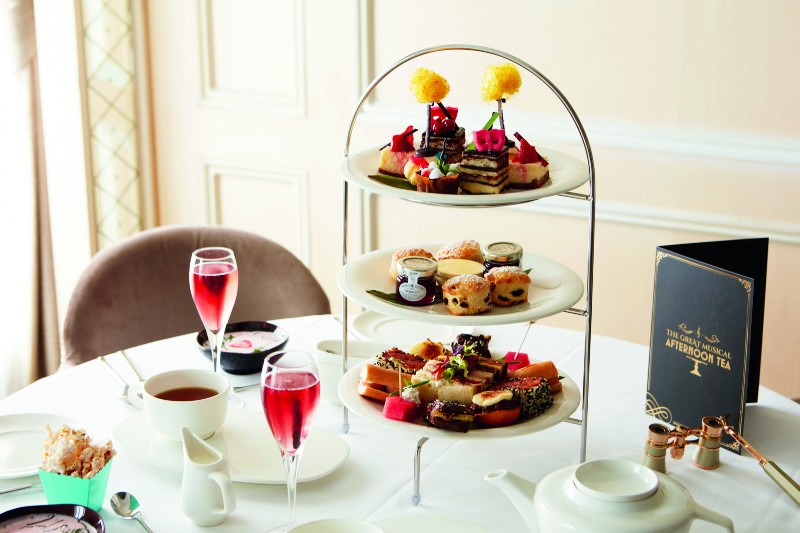 Tip – if you want to avoid families with kids altogether, choose a cruise on Marella Explorer 2. It's the only adults-only ship in the Marella fleet.
Read more: 13 Things To Love About Marella Cruises
NEW DEALS JUST RELEASED!
Don't miss the latest Marella Cruises offers…
2. Saga Cruises
🏆 Best Luxury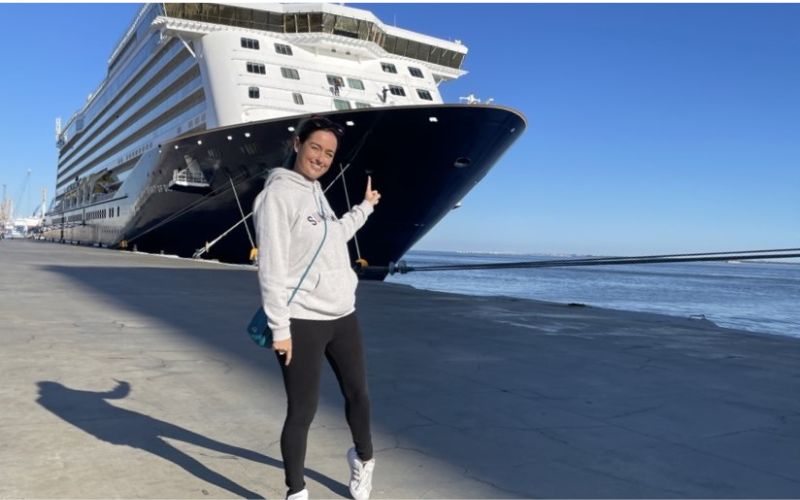 Saga is a holiday operator that specialises in both land holidays and cruises exclusively for the over-50s market. And when it comes to cruising, it makes everything really simple by offering an adults-only all-inclusive experience that is hard to rival.
Almost everything is included, including transfers from your home right to the port (Saga's cruises only sail from UK ports). So once you've booked, there's nothing you need to worry about at all – you'll be whisked directly to the ship where all of your food, drinks, excursions and more are covered as part of the fare.
Saga's holidays tend to be popular with a slightly older crowd, so expect to see more over 60s and over 70s on the ships. Another reason they're popular with mature travellers is the fact that they also include travel insurance tailored to an over 50s crowd, which for older cruise passengers can sometimes be hard to get at a reasonable price.
If you want to enjoy meeting other travellers exclusively over 50, where everything is taken care of for you, then Saga could be the way to go.
3. Regent Seven Seas
🏆 Best Ultra Luxury
Regent Seven Seas, to be blunt, is not suitable for everyone's budget. That's because it is without question one of the most luxurious cruise lines – and indeed luxurious travel companies – in the whole world, and so cruises don't come cheap.
But if you are looking for an ultra-luxury experience, you will be very impressed by what Regent Seven Seas has to offer. Expect exquisite service from one of the most attentive crews at sea, including your own personal butler. Quaff fine Champagnes and sumptuous meals (all covered by your fare), and jet to your port in style with Business Class flights included on certain suite categories.
A Regent Seven Seas cruise is ideal for the over 50s who wish to really spoil themselves – either for that true once-in-a-lifetime getaway, or for those with the budget to really treat themselves to the very finest that cruising has to offer – including some exceptional longer itineraries.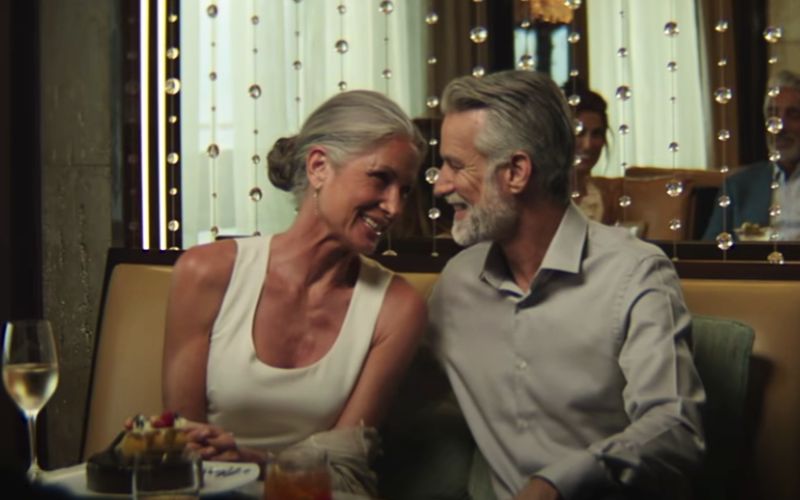 4. Cunard
Cunard stands almost alone as one of the few truly traditional cruise lines remaining. Her limited fleet of cruise ships are not antiquated, but instead, perfectly balance the line between the authentic cruising experience of old and the modern approach to providing luxury service and dining to guests.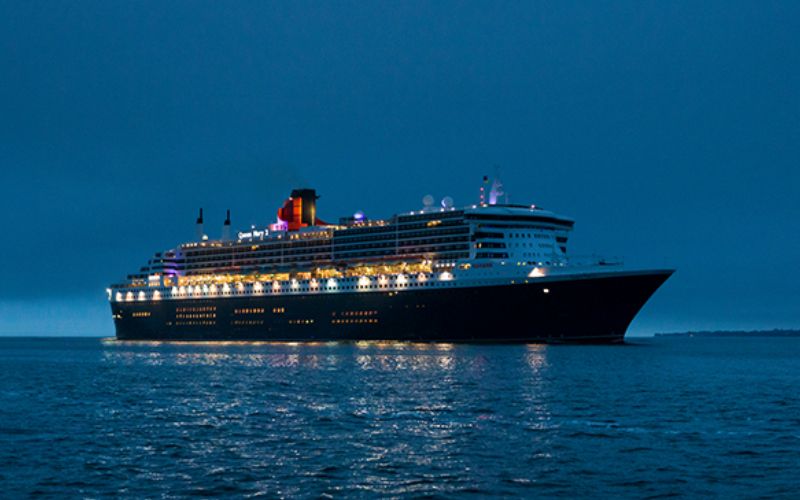 So what does that mean? It means regular formal nights that are properly observed by almost all guests on board. White glove service from the crew, who go above and beyond to cater to your needs.
Ships that aren't packed with facilities but instead offer culture and enrichment tied to your itinerary. And while not exclusively for guests over 50, most passengers who chose Cunard are in that age bracket.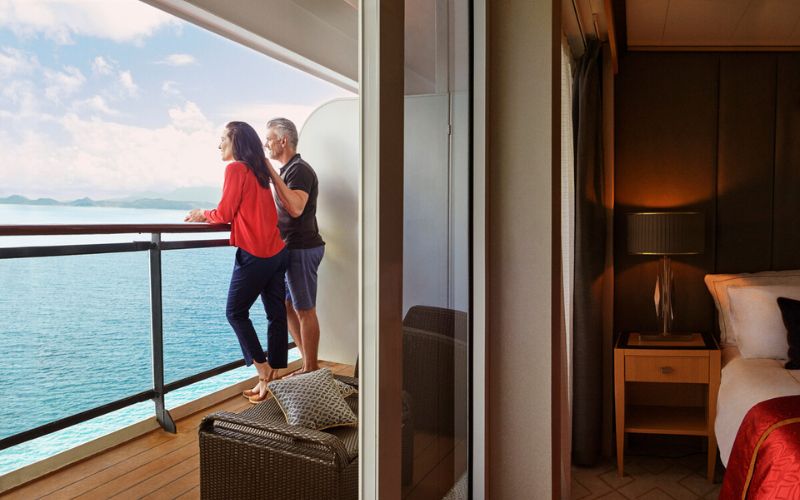 Cunard isn't the right cruise line for everyone – if you want more flexibility and a more casual atmosphere then you'll want to consider another option – but if you want your cruise to feel like an updated, authentic cruise of old, then you'll struggle to find something better.
Suggested read: Can You Wear Jeans On A Cunard Cruise?
5. Ambassador Cruise Line
Ambassador Cruise Line is very new to the market, having only started operating sailings in 2022. Using smaller ships purchased from existing cruise lines and renovated to a high standard, Ambassador is another line that is looking to tailor voyages to the over-50s market.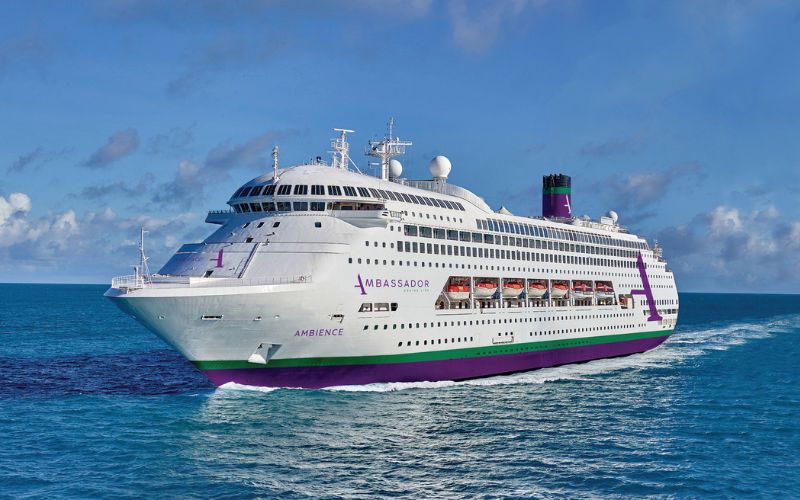 Indeed almost all cruises are for adults only – there are just a couple of itineraries per year designated as "multigenerational" where children are invited.
Otherwise, you will always be among other adults, including a lot of solo travellers thanks to the dedicated single cabins.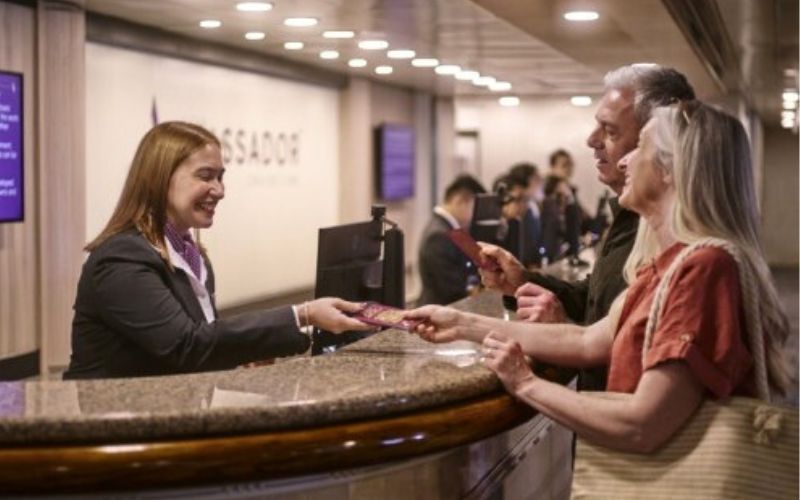 Consider Ambassador Cruise Line as being similar to Saga, but not taking the all-inclusive approach. Cruises are all from the UK, but your fare is more basic, allowing you to only add on the features you want from your cruise, potentially saving money.
If you're looking for a simple, contemporary cruise line sailing from the UK with newly updated ships then make sure you check out the sailings Ambassador has to offer.
6. Fred. Olsen Cruises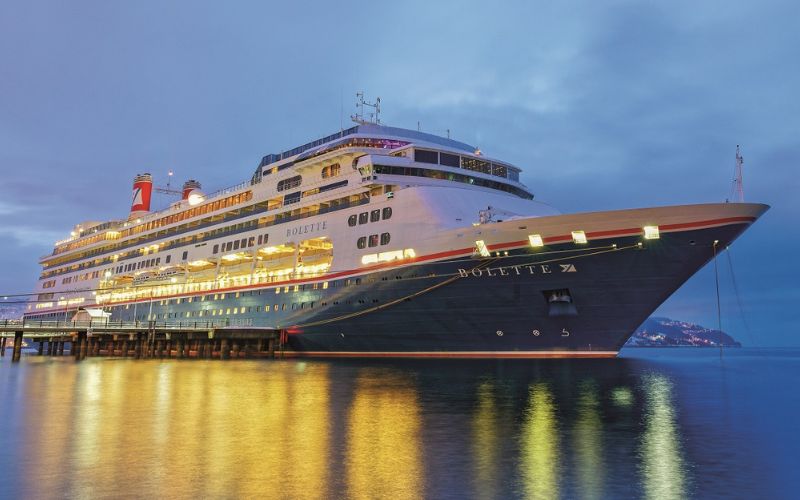 Fred. Olsen Cruises is long established as one of the great cruise lines for British travellers, especially those in the over 50s age bracket. This cruise line offers a wide range of sailings around the world, with many regional port departures from the UK helping to limit your initial travel time.
I'm 38 and when I took a Fred. Olsen cruise, quite a few of the other guests remarked that I looked 'quite young' to be cruising with Fred!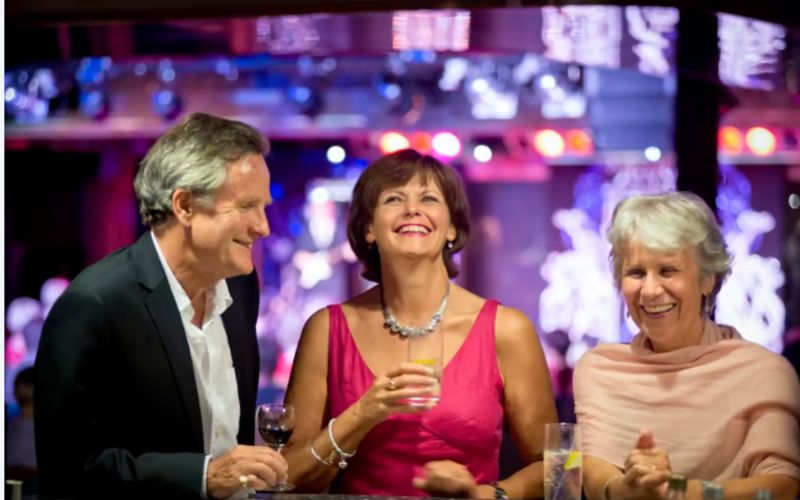 The fleet of ships includes some newer additions in recent years that have been tastefully refurbished to offer a high-quality cruising experience. The ships are stylish and have a classic cruise feel to them, but with a more relaxed atmosphere than you'd find on a cruise line like Cunard.
Most cruises are adults only but there are some itineraries that welcome families, so be aware of that when you book.
One of the best reasons to choose a Fred. Olsen cruise is if you want to experience the Northern Lights – there are many itineraries focussing on the Arctic regions during peak times to see the natural phenomena, catering to those over 50s who want to tick the lights off their bucket list.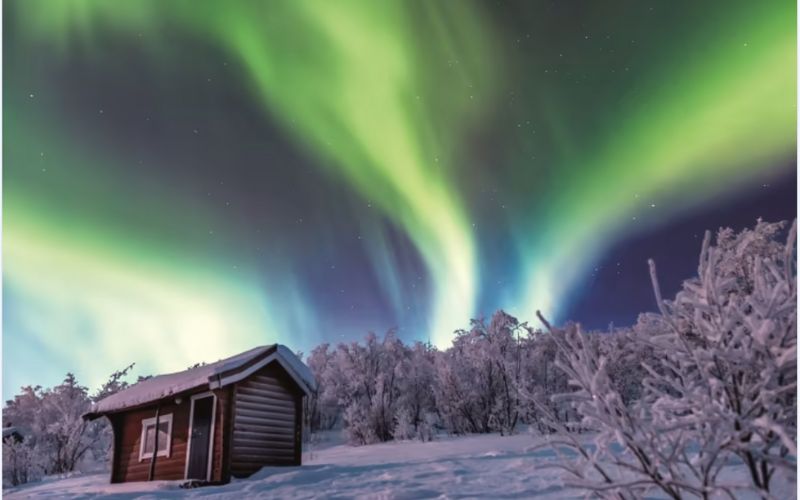 7. Azamara
Azamara is a premium luxury cruise line – not quite as luxury as a cruise line like Regent Seven Seas, but undoubtedly an elevated experience above many of the mainstream cruise lines.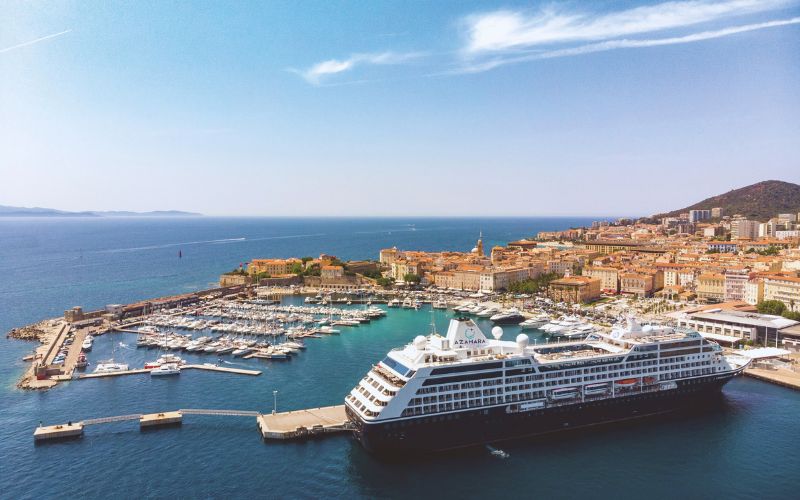 For anyone interested in sleek, modern ships, fine dining and premium service but with a relaxed atmosphere that doesn't feel too formal, Azamara is a good choice.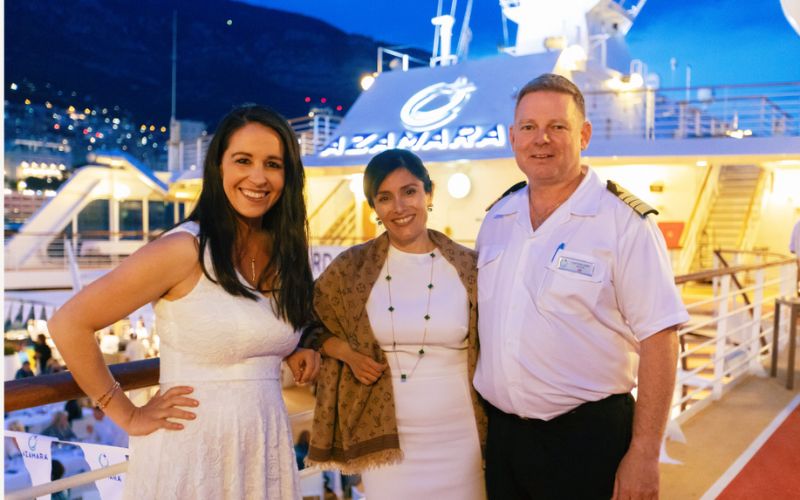 But the real difference with an Azamara cruise is in the itineraries – the cruise line plans sailings to spend more time in port, including late evening departures and more overnight stays.
If you're someone who wants to see more of the world – and sample the evening entertainment in cities that come to life at night – then you'll love Azamara.
8. Holland America Line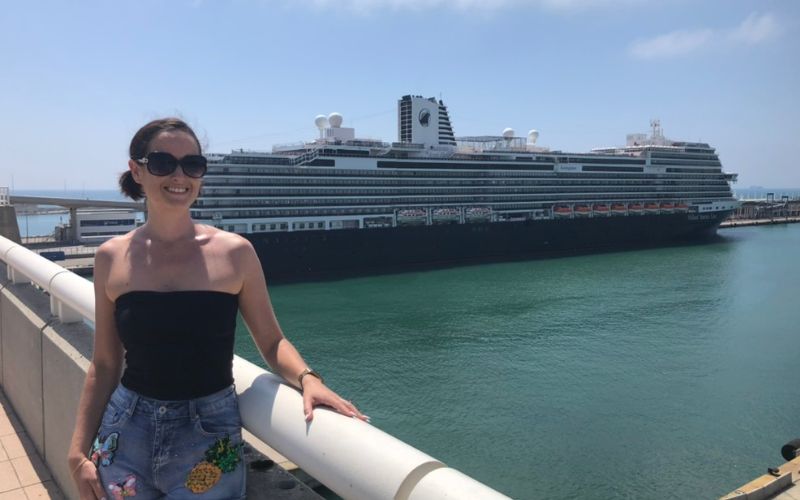 Holland America Line is a Dutch cruise company with a wonderful fleet of ships. In fact, people often book a Holland America cruise because of the ship itself – they are beautifully appointed, with incredible artworks, and the public spaces offer some fantastic places to unwind during the day and into the evening.
It's a more premium cruise line – not quite as luxury as Azamara but with an elevated dining experience and better service than you'd find on a family-focussed line.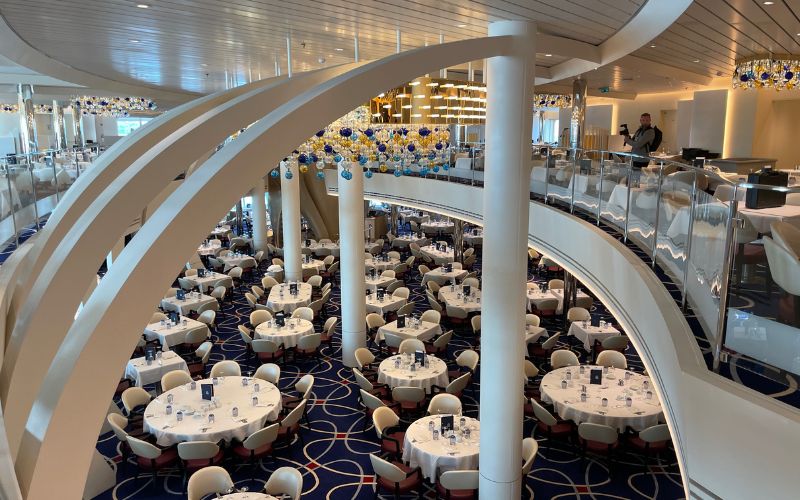 Holland America is another cruise line that has sailings all over the world too, including some of the best Alaska cruise itineraries and a lot of itineraries throughout Asia and Australasia. If you want to see the world by cruise ship, you'll be able to choose from some thrilling itineraries.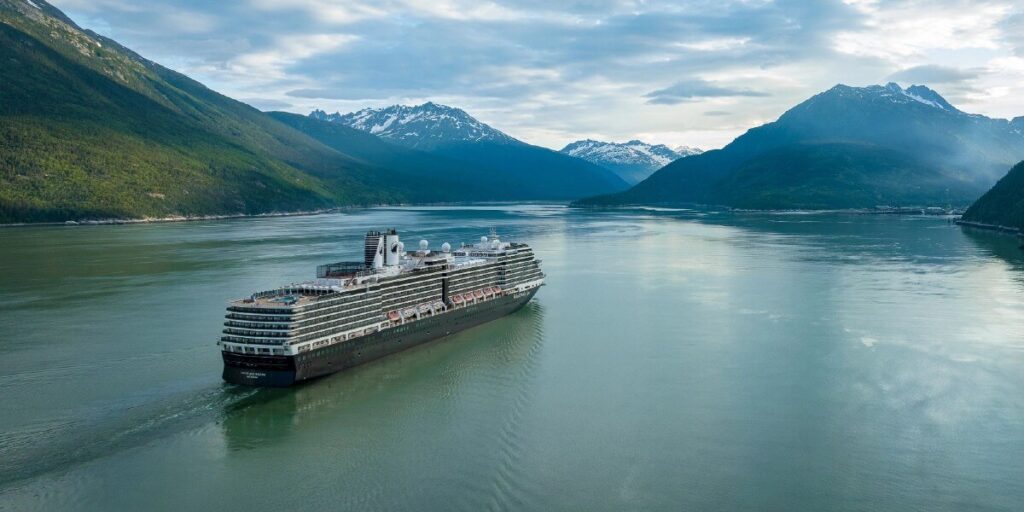 9. P&O Cruises
P&O Cruises is regarded as one of the best British cruise lines in the world. You get all the little touches you would want to make you feel comfortable as a Brit at sea, but with a really high level of service, varied dining in some exquisite restaurants, and all on a fleet of ships that are modern, beautifully appointed and very spacious.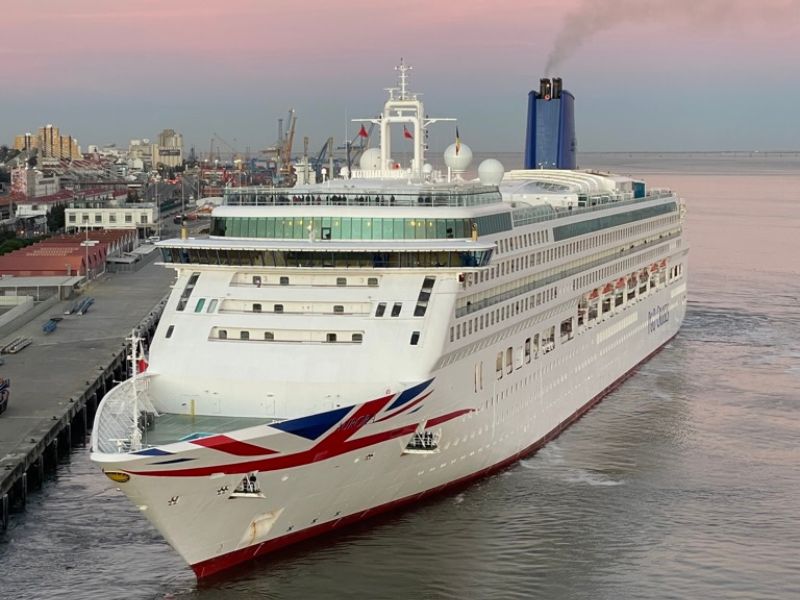 P&O Cruises is almost a British equivalent to Holland America in terms of atmosphere – if you choose the right ships. That's because P&O has a slightly wider audience, with some ships more tailored to families.
But there are adults-only ships in the fleet – namely Arcadia and Aurora.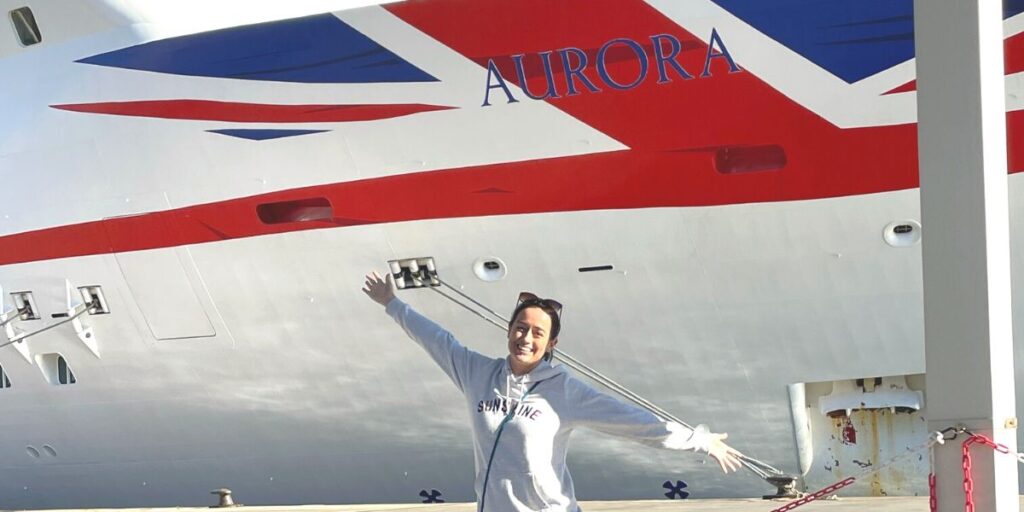 Choose a cruise with P&O if you want an upmarket cruise on a ship tailored to the British audience, including that essential kettle in your stylish cabin.
Read more: What's Included in a P&O Cruise?
10. Viking Ocean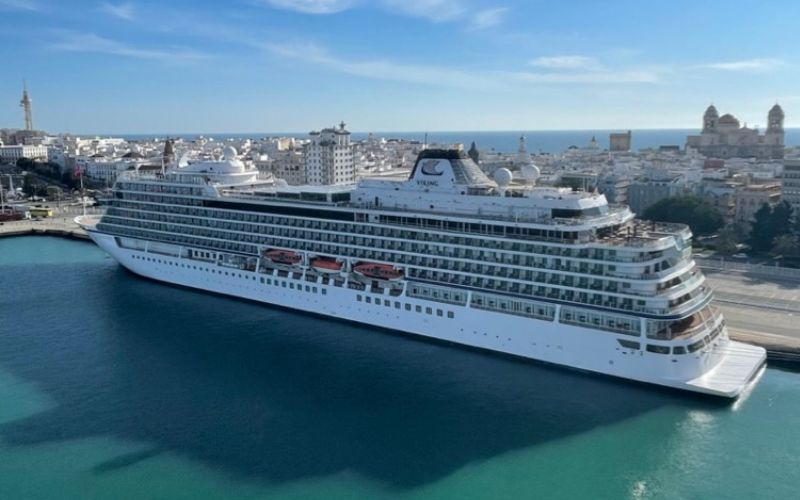 Viking Ocean Cruises is an off-shoot of Viking River Cruises, arguably the world's most successful river cruise line. And the ocean cruise arm of the business very much reflects what made the river cruise ships so successful – small, elegant vessels that are tasteful and contemporary, and a focus on the destination.
All Viking Ocean cruise ships are for adults only. Itineraries are very much focussed on helping guests to explore the world – the ships are a means to getting you to the most exciting ports you could visit.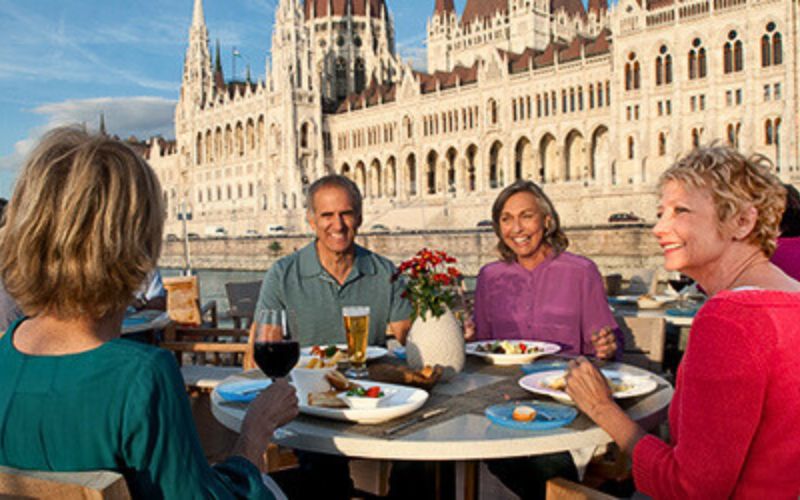 That doesn't mean they are basic and boring though, and indeed the fleet is the newest and one of the most stylish contemporary options on this list. However, the real attraction of a Viking cruise is the chance to see the world and to learn about it as you travel, with excellent enrichment programs including fascinating lectures.
11. Silversea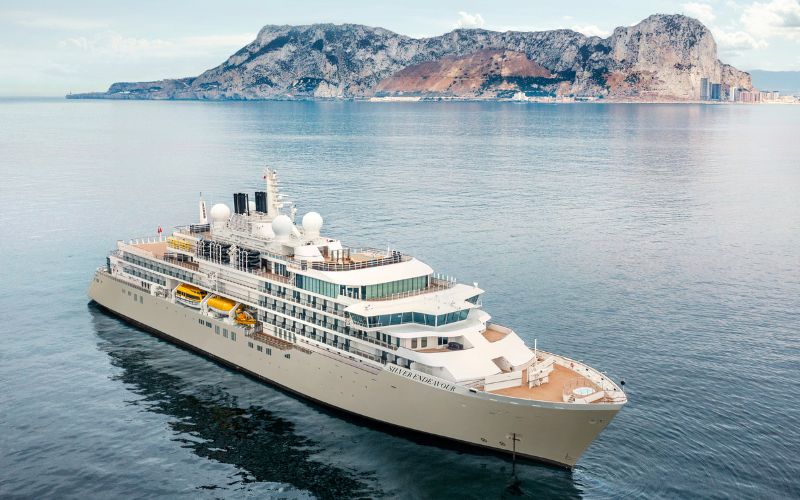 Silversea is considered to be a rival to Regent Seven Seas – the cruise line offers a similar standard of luxury cruising, with almost everything included in your fare and the personal services for a butler for everyone onboard.
And similar to Regent Seven Seas, it is best suited to either over 50s who have a significant budget to put towards their cruises, or the crowd who want that one truly opulent cruise – to live the high life, even if just for a week.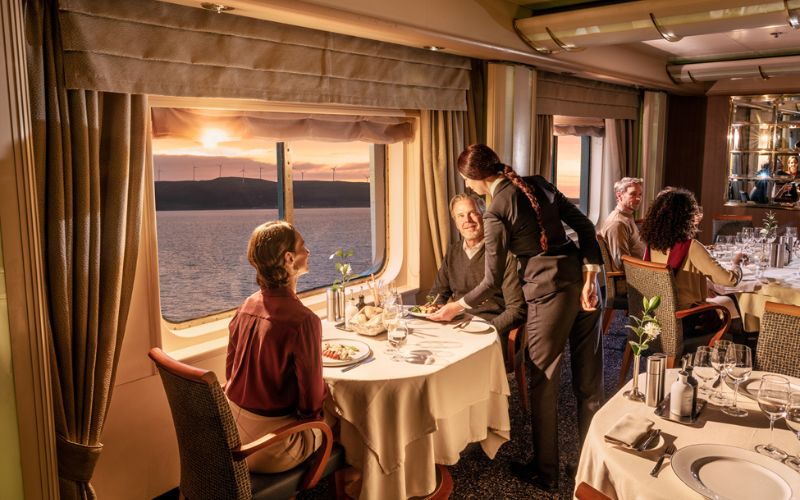 Because it's an ultra-luxury cruise line, it does have a more formal atmosphere than some others, with tradition important to guests.
But it's also important to point out that Silversea is one of the only ultra-luxury cruise lines to also offer expedition cruising – sailings that travel to those truly hard-to-reach ports where you can experience the wonders of the natural world, such as the Galapagos Islands and the Antarctic.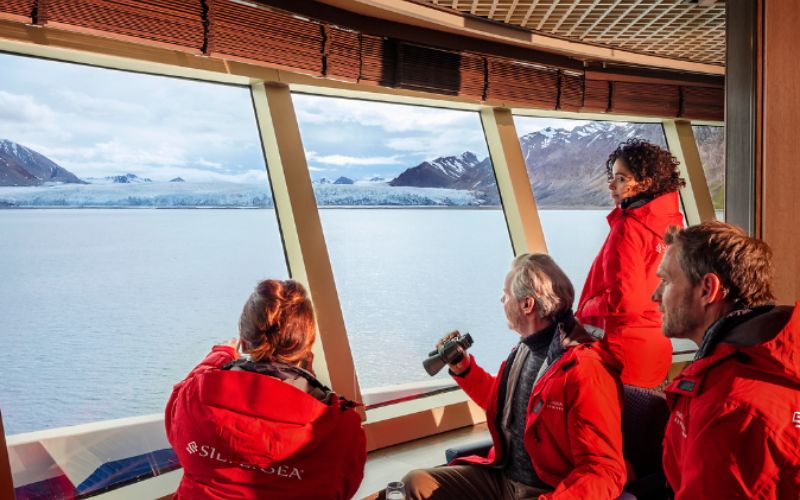 For the over 50s seeking true adventure, but from the exceptional comfort of a luxury ship, Silversea Expeditions itineraries are worth checking out.
12. Seabourn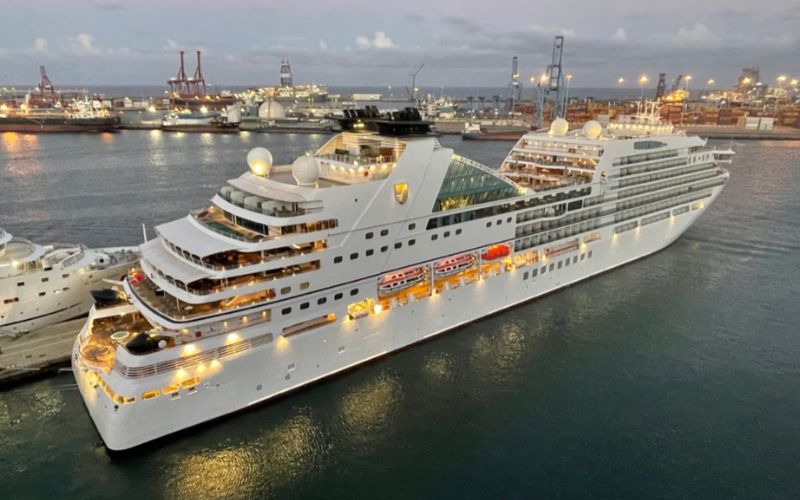 Seabourn is another option for any over 50s guests who wish to enjoy a taste of the luxury lifestyle. Seabourn's ships are similar in presentation to those sailing for Regent Seven Seas and Silversea, but with a slightly more relaxed atmosphere on board.
If you're interested in luxury cruising but you don't want to stress about etiquette then Seabourn is an interesting option. The ships aren't completely casual, and you'll still be expected to dress appropriately for formal nights, but the ambience is a little less traditional and a bit more modern onboard.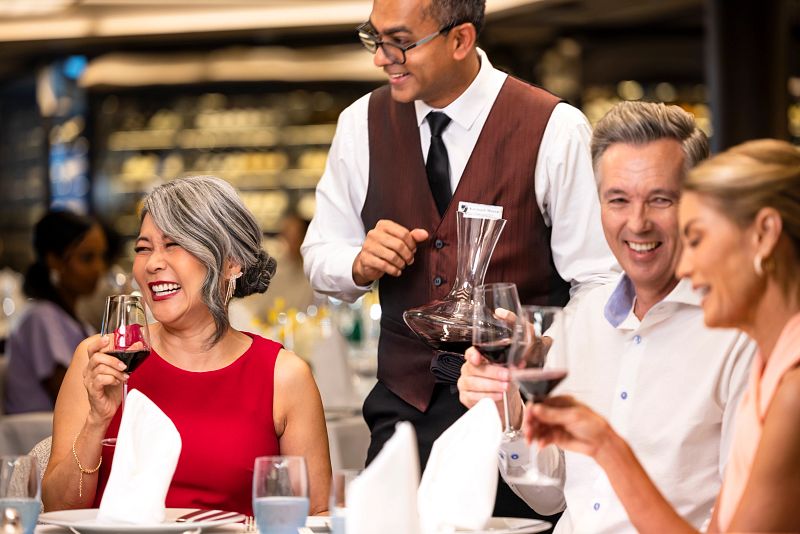 Your cruise is still more inclusive than many lines, with all your drinks and speciality dining covered, though unlike other ultra-luxury cruise lines you won't get flights and transfers included as standard and will need to make sure they're booked as part of your package.
13. Oceania Cruises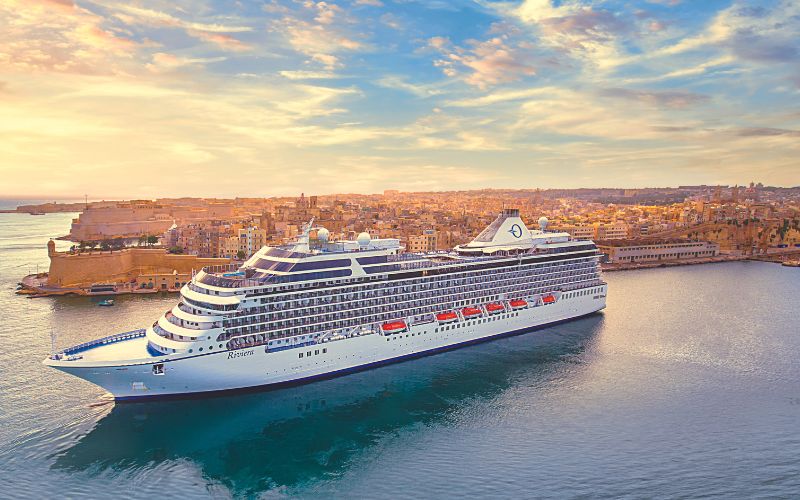 Oceania is a premium luxury cruise line that is often considered to bridge the gap between cruise lines such as Holland America and Azamara, with the more luxury cruises offered by Regent Seven Seas and Silversea.
This means you get to enjoy the sort of luxury experience that high-end ships have to offer, but without the super-high prices that they often charge. Indeed for many itineraries, you'll often pay around half of what you would on the most luxurious cruise lines on this list, but you'll still enjoy a really classy experience.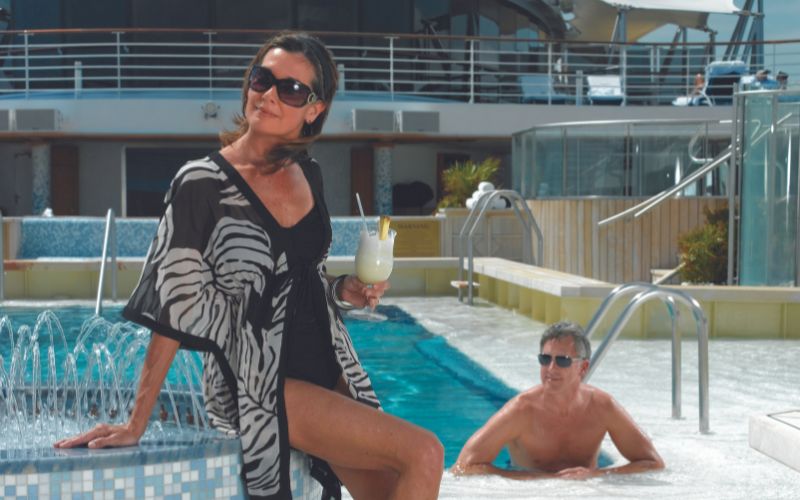 However what really makes Oceania unique is the food – this is a cruise line that is renowned for its exceptional dining, both in the main dining room and the wide range of speciality restaurants, all of which are included in the fare. Foodies love the variety and quality of food offered on all Oceania ships.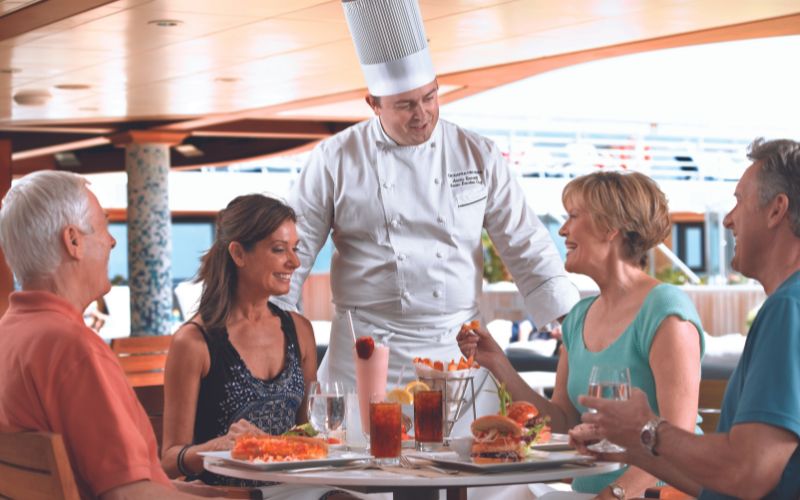 14. SeaDream Yacht Club
A lot of the cruise lines on this list operate exclusively small ships, great for the over 50s who want to avoid the big crowds and busy lines that some larger ocean ships are stuck with. If that sounds like you, then SeaDream Yacht Club could be just what you're looking for.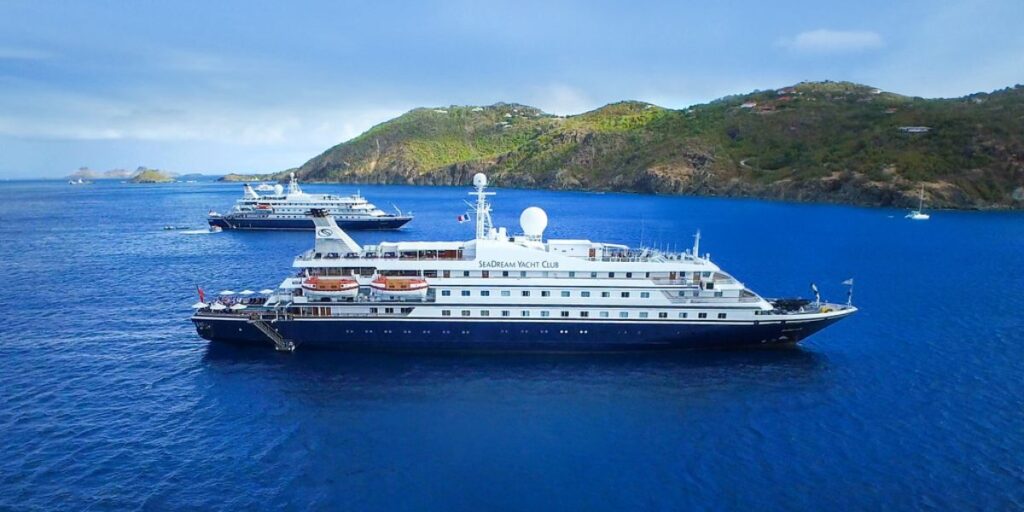 As the name suggests, these yacht-like cruise ships are small and have an intimate atmosphere, but that doesn't mean they're boring.
Indeed SeaDream is known for occasionally dropping anchor and unleashing the wide range of watersports equipment from the onboard marina, giving guests the chance to try kayaking, paddleboarding, banana boats and more.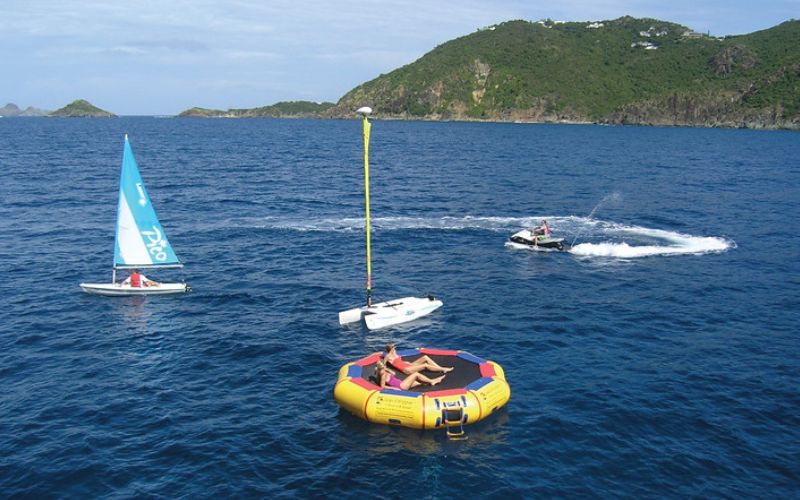 SeaDream's cruises are truly global, so this is also a good cruise line for anyone who wants to soak up the sun in tropical destinations. If you want to feel like you own a luxury yacht then a SeaDream cruise is often a great way to replicate the experience.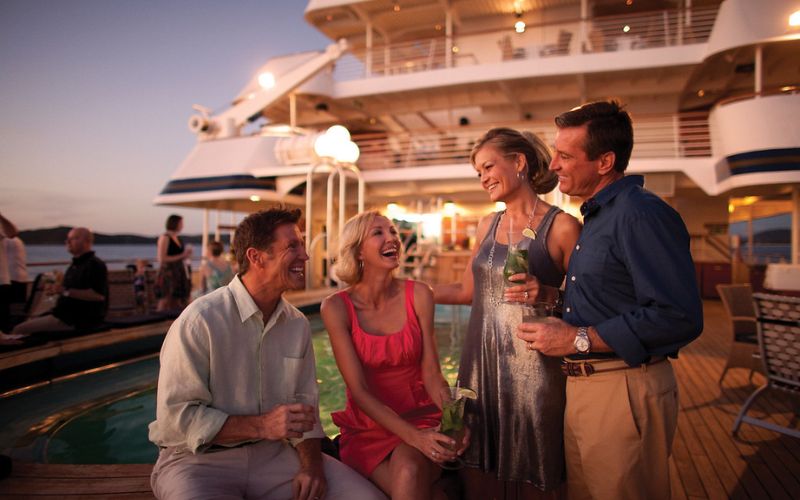 Final word
The sheer variety of cruise lines that are well-suited to over 50s means there's always a cruise line and ship that is perfect for you.
You don't just have to limit yourself to those aimed exclusively at over-50s either – as this list proves, there are a lot of cruise lines open to all adults, and some which have adults-only ships amongst a wider fleet, where you'll still have a fantastic experience.
Whether you're looking for fantastic value from Marella, ultra-luxury from Regent, or the fine dining of Oceania, you are certainly spoiled for choice. My recommendation? Try as many as you can afford!
Related Posts: