Not all cruise ships are gigantic mega ships that host thousands of guests at a time. Small-ship cruising offers a much more sedate and intimate experience.
There are several cruise lines that specialise in these luxurious experiences – one of the key players being SeaDream Yacht Club.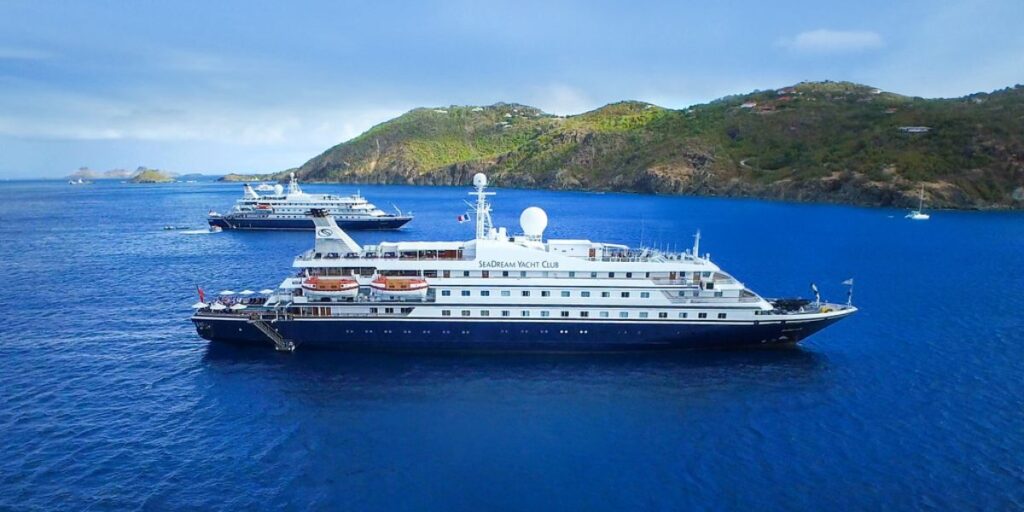 SeaDream has two twin yachts offering cruises around the world, reaching destinations that the larger ships simply can't get to. With a limited number of guests, there's a more personal level of service on board, and a lot more is included in your fare too.
In this guide, I'll tell you everything you need to know about taking a cruise with SeaDream.
Who owns SeaDream Yacht Club?
SeaDream Yacht Club is a private cruise line owned by Atle Brynestad, who founded the cruise line in 2001. Brynestad had previously formed Signet Cruise Line in 1986, which very quickly transitioned to become Seabourn.
SeaDream has remained under Brynestad's ownership since it was first formed, and unlike most major cruise lines it continues to be privately owned with no announced plans to go public. Smaller cruise lines often remain private as they are more manageable without the need for rapid funding to boost the fleet.
The company is headquartered in Oslo, Norway.
SeaDream Yacht Club Ships
There are just two ships in the SeaDream Yacht Club fleet – SeaDream I and SeaDream II. They are identical twins and so offer an almost identical experience on-board, with the only differences being in any food or cultural activities which will be related to the destination of the ship at that time.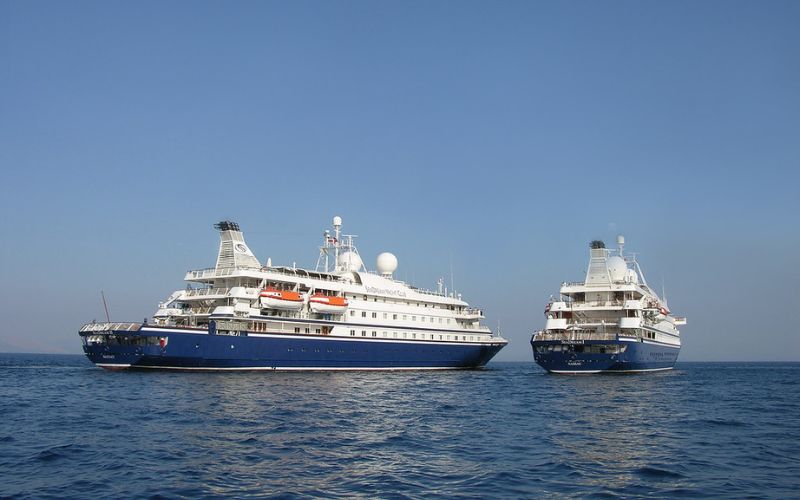 There were plans for a third ship to join the fleet in 2021, which would have been named SeaDream Innovation. It was planned to be twice the size of SeaDream I and SeaDream II. However, the ship was cancelled only a few months after it was first announced in 2019.
How big are SeaDream yachts?
Each SeaDream yacht is 355 feet long and has a gross tonnage of 4,253 GT. They are 47 feet wide at the beam with three passenger decks, and have a maximum guest capacity of 112 passengers and 95 crew.
Gross tonnage is the best measurement of the size of a cruise ship. Despite the name it has nothing to do with weight – it's a measurement of the internal volume of the ship – so it takes into account the length, width, height and number of decks.
As a comparison, the biggest cruise ship in the world is Icon of the Seas and she has a gross tonnage of 250,800 GT. This means that the SeaDream yachts are more than 58x smaller than Icon of the Seas in terms of the space on-board – quite the difference.
They aren't the smallest cruise ships in the world – nor are they even on the list of the smallest 7 – but they are certainly much smaller than many of the major ocean cruise ships you can book today.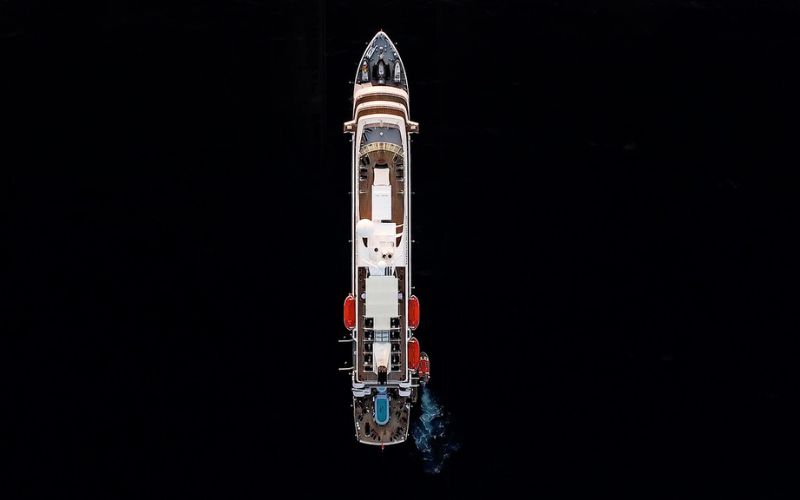 Does SeaDream have balconies?
None of the staterooms and suites on SeaDream I or SeaDream II have balconies, but they do all have an ocean view. The staterooms have a single large window, while the suites all have a window for both the living area and the bedroom.
There are three types of suite on each SeaDream ship.
The Owner's Suite is the largest, measuring 447 square feet. It has a master bathroom and a second guest bathroom, with a spacious living area. It is close to the pool on Deck 3.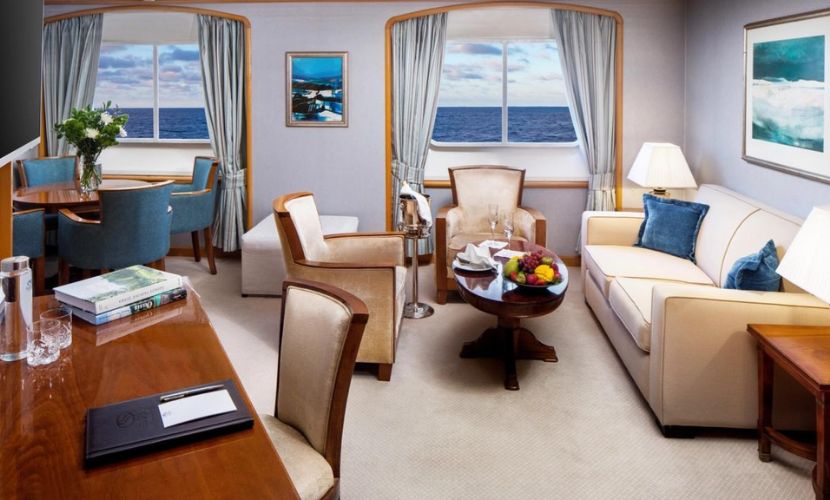 The Admiral's Suite is a little smaller at 375 square feet but it again has a master bathroom and a second guest bathroom. It is situated close to the library.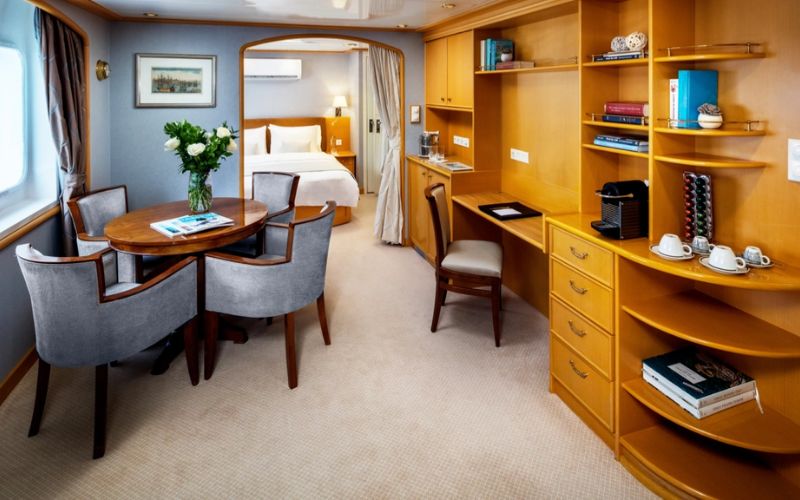 The Commodore Suite is actually a combination of two Yacht Club Staterooms, with the bed removed from one and converted into a living area. There are 8 possible Commodore Suites on each ship, depending on guest bookings, with a maximum floor space of 390 square feet.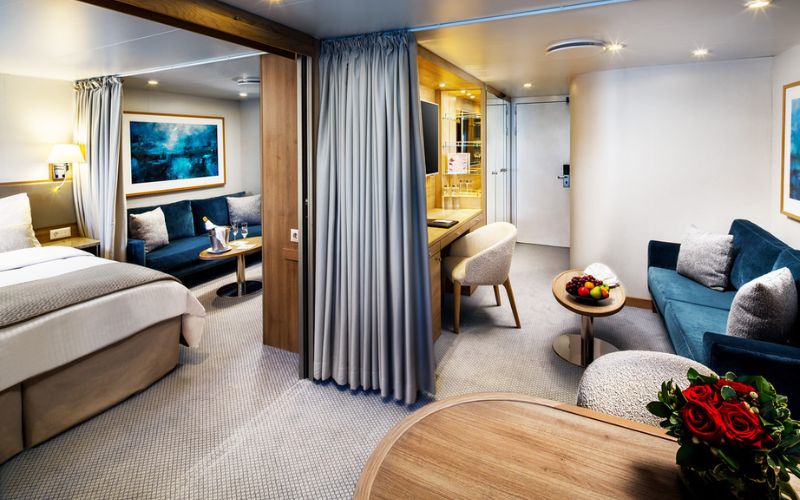 What is included on SeaDream cruises?
SeaDream cruises include a lot of services and extras that you would normally have to pay extra for. All of your food on the ship is included, along with a selection of drinks from an open bar (including paired wines for dinner). Complimentary shore excursions are also available.
SeaDream promises a "gastronomical experience" on both ships, with a fine-dining multi-course menu served every evening. Not a fan of the options? There's an ever-present a la carte menu you can also select from.
Other food options include breakfast, your welcome aboard hors d'oeuvres, lunch served topside, poolside sandwiches, cookies and pastries, and more. There's an open bar throughout the day that serves drinks to you anywhere on the ship, while the onboard sommelier carefully selects inclusive wines to pair with each dinner course.
Shore excursions, including guided tours, are included in your fare as well, as are your gratuities.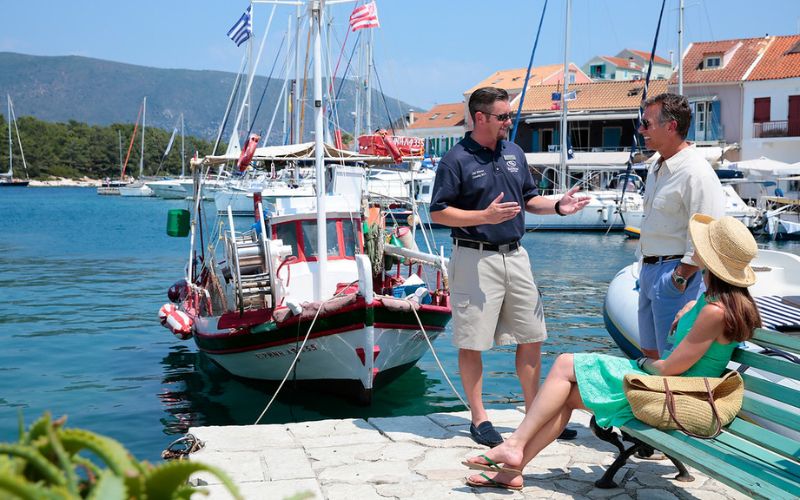 Are SeaDream cruises all-inclusive?
SeaDream cruises are not all-inclusive – there are some elements you will have to pay for. Premium drinks are charged at an additional cost, while the spa on-board is not included and must be paid for.
It would be fair to describe SeaDream's cruises as more-inclusive, and you could certainly enjoy a cruise with SeaDream without paying a penny extra on top of your cruise fare.
SeaDream Yacht Club Life On-Board
Life on a SeaDream cruise is designed to be extremely relaxing – this isn't about rushing between different activities on board, but enjoying life at a more sedate pace, whilst being treated like a VIP.
It has an upmarket feel, but don't expect an uptight atmosphere – this isn't posh, but it is luxury.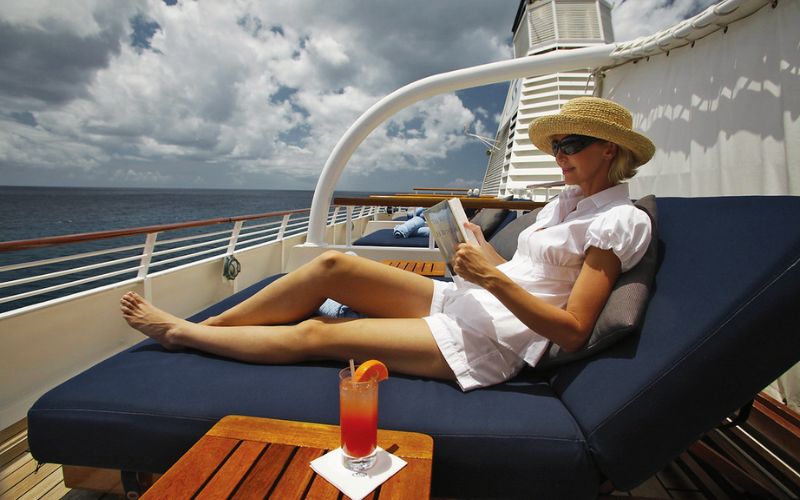 Things to do on a SeaDream cruise
Despite the small size of a SeaDream ship, there is still quite a lot you can do during your cruise when you aren't in port.
Each ship has a small pool where you can swim and sunbathe, while there are a number of Balinese Dream Beds which are the signature lounger beds of the cruise line – perfect for napping or soaking up the sun's rays.
Anyone feeling sporty can try the golf simulator on Deck 6, which has a range of clubs you can borrow and the chance to try 30 of the world's most renowned courses – virtually, of course.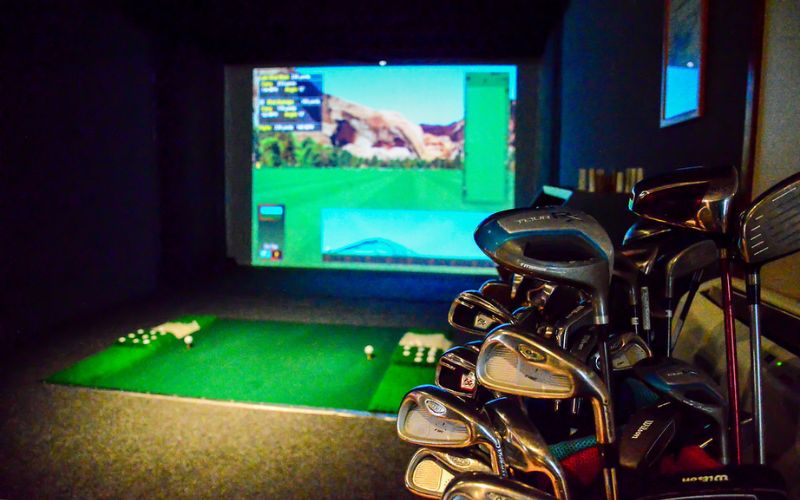 Or if you'd prefer something more relaxing, then the complimentary yoga sessions are a good option. Held on deck, they help you feel relaxed and rejuvenated. Plus there is the on-board spa and salon, and a gym if you want to keep fit.
At night, the pool deck hosts open-air movies and concert screenings, or you can head indoors to the casino. If you aren't feeling lucky then there's a piano bar for a quiet drink, or a library that has a selection of board games.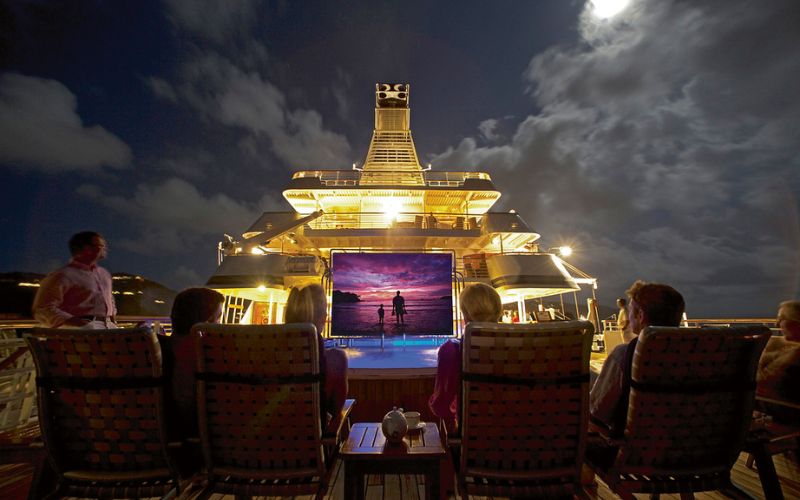 One of the best features of the SeaDream yachts is the marina platform.
On certain days your ship will temporarily halt in the waters to allow guests to enjoy a selection of watersport activities, including personal sailboats, catamarans, kayaks, wakeboards, waterskis, paddleboards, banana boats and a floating island with trampoline. Quite the list!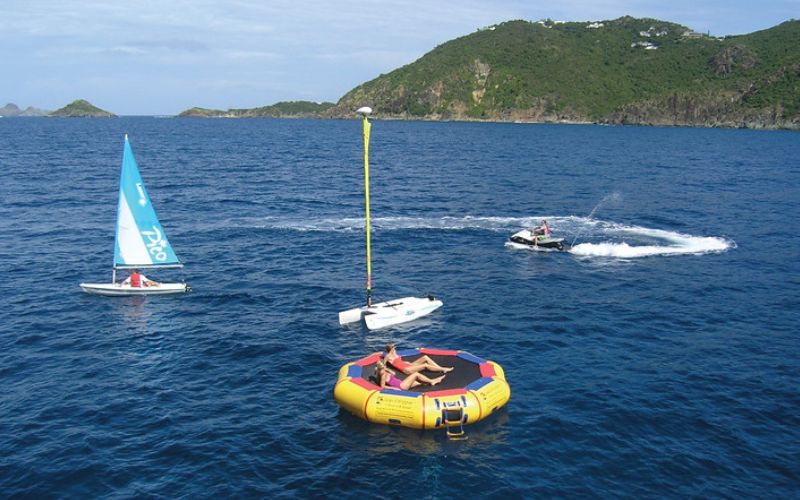 For a closer look at what life is like onboard a SeaDream yacht, take a look at this video which is a deck by deck walkthrough of the Sea Deam II…
SeaDream service
The service on SeaDream ships is exceptional. These aren't just called yachts for the sake of it – the service really will make you feel like this is your own personal yacht, even if you are sharing it with 100 or so other guests.
The crew-to-guest ratio of 1:1.2 is one of the best in the world of cruising. Again, going back to the comparison with Icon of the Seas, which hosts up to 7,600 guests and has a crew of 2,350 for a crew-to-guest ratio of 1:3.2 and you can see how stark the difference is.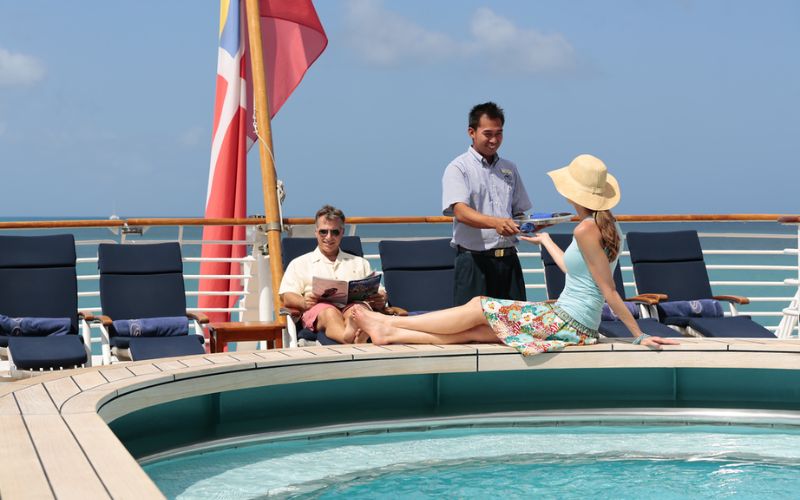 What do you wear on a SeaDream cruise?
SeaDream does not have a formal dress code. Instead, consider it as "yacht casual". By day, that includes shorts, t-shirts and activewear. By night, it generally means polo or collared shirts and trousers, casual dresses, or fashionable tops with slacks or capris.
There are only a few requests, and that is that guests refrain from wearing denim, shorts, t-shirts, tattered clothing or bathing suits to dinner or around the public areas of the ship in the evening. But ties are never generally worn, and most people don't bother with a jacket either.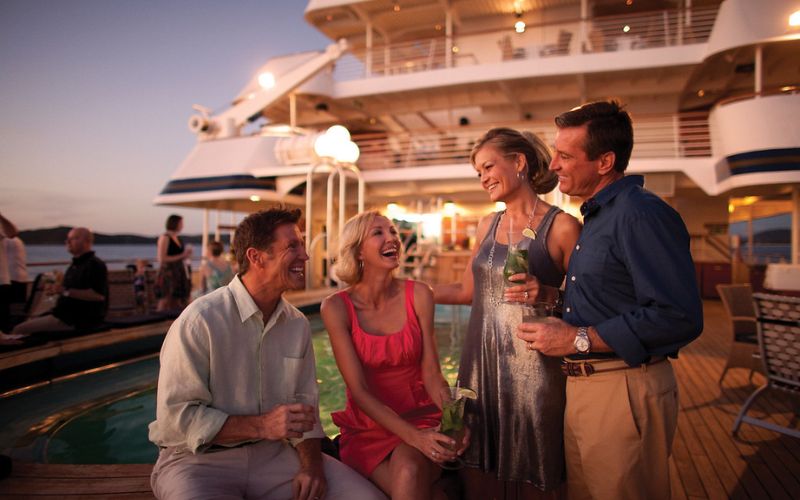 SeaDream Yacht Club Destinations
While SeaDream ships can offer varying destinations, both ships primarily spend their summer in the Mediterranean and the winter in the Caribbean.
Caribbean cruises are ideal for enjoying the yachting lifestyle. You'll sail between small islands, enjoying the beautiful weather from the top deck with a host of exciting activities, including plenty of marina days. As well as the more popular destinations in the region, such as Bridgetown and Gustavia, you'll also get to experience smaller ports that big cruise ships can't get to, including Low Bay in Barbuda, or South Friar's Bay on St Kitts.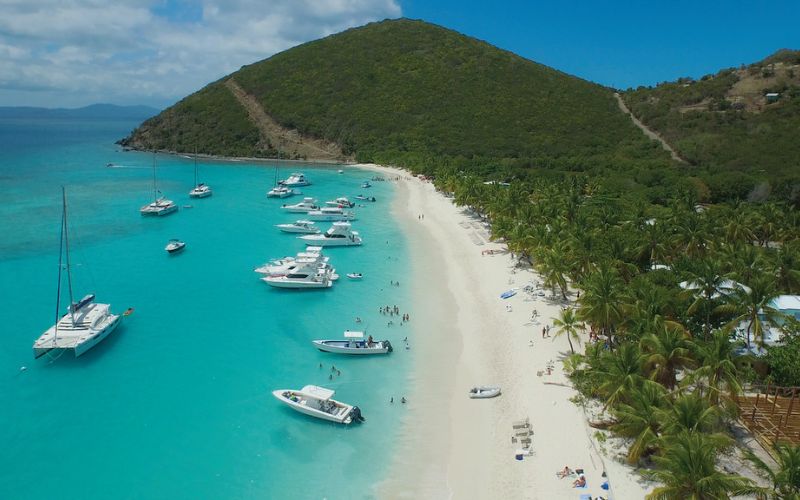 Mediterranean cruises are similar – guests will benefit from the small ship sizes as they explore some of the more visited Med destinations alongside smaller ports not normally accessible to cruise ships. So alongside major ports like Barcelona and St Tropez, your itinerary may call at smaller Greek Islands, or picturesque coastal Italian towns like Chioggia, just south of Venice.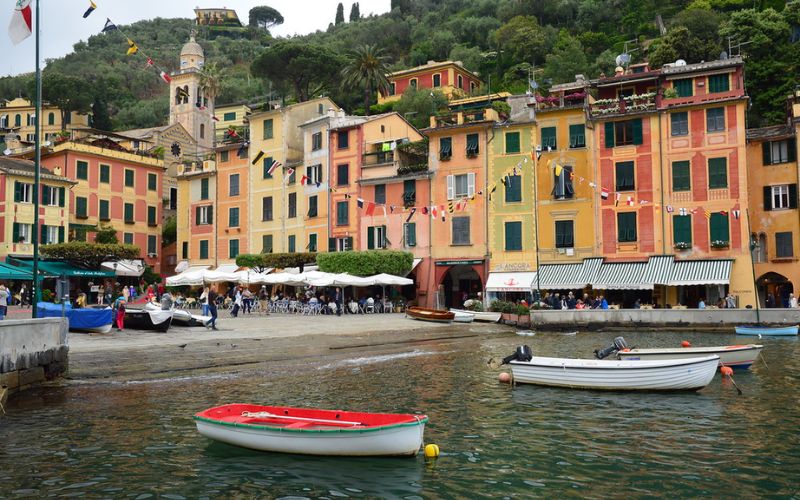 Of course, because the ships sail in both the Caribbean and the Mediterranean, that also means you have the opportunity to enjoy a transatlantic cruise. The shared experiences on board your ship are ramped up during these, giving guests the chance to really get to know each other and bond over relaxing, luxurious activities as you sail from Europe to the Caribbean or in the opposite direction.
Finally, there are also a select few itineraries that are designated as wine cruises. These special sailings focus on visits to local vineyards, with tours (and tasting sessions!) helping you to understand more about the wines you drink and the work that goes into them. Then during dinner, enjoy the same wines you've just seen being made, paired with fine dining menus.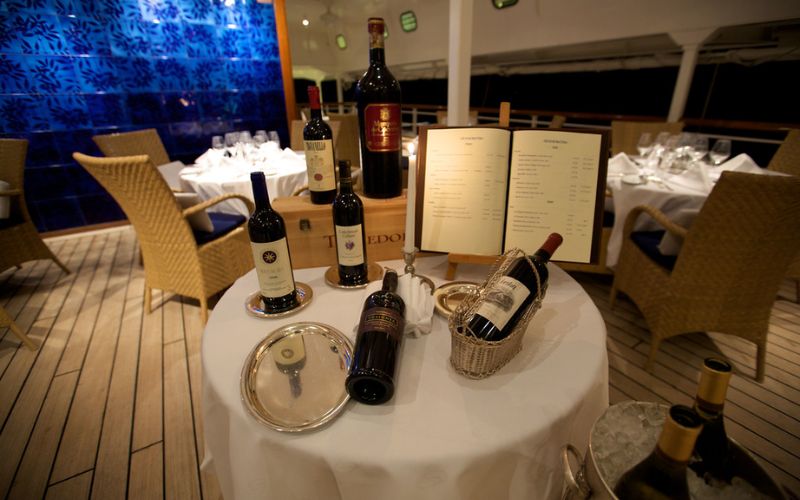 How much does a SeaDream Yacht Club cruise cost?
SeaDream yacht cruises are not cheap, but considering how much is included that doesn't mean they are unreasonably expensive either. Depending on the time of year, a cruise will typically cost from £3,000 ($3,600) to £5,000 ($6,100) per person for 7 nights.
Those prices are not inclusive of your port fees, which may add an additional £250-350 ($300-430) to your per-person rate.
And those rates are for a standard stateroom – if you want a suite, they tend to cost a lot more, typically around 270% more. So for a stateroom costing £5,500 per person per week, expect the Owner's Suite to cost around £14,000 per person.
Whether those prices are worth it depends on your own personal budget and the type of experience you want on board. Mass cruise lines would typically be much cheaper, but wouldn't include the same amount of drinks or shore excursions and would ask you to pay extra.
Still, a SeaDream cruise will typically cost more than an equivalent cruise on a cruise line like Royal Caribbean or P&O even when you've paid extra for a drinks package and excursions. But remember that you're paying for the premium experience, the peace and quiet, and the ultra-attentive service.
If you enjoy fine dining, prefer a tranquil ship and appreciate being treated like a truly special guest, then SeaDream's higher fares are probably justified for you.
Final thoughts
SeaDream Yacht Cruises is a cruise line unlike any other. They are a world apart from the massive cruise ships that host thousands of passengers, but they're also quite dissimilar to other luxury small-ship sailings, thanks to the yacht-casual atmosphere on board.
This isn't ultra-luxury, although you'll be treated as if it was. SeaDream is all about relaxation, fun and exploration with fine food and drink and quality entertainment, but without any real formality. If you want to feel like you own a yacht, then SeaDream's cruises can make that happen.
NEW DEALS JUST RELEASED!
Don't miss the latest SeaDream offers…