The advertised prices for cruises on MSC Virtuosa refer to the cheapest inside cabins on the ship. But many people wonder, should they upgrade to an ocean view or balcony cabin?
Is it worth the money for a Fantastica cabin, or is the standard Bella inside cabin good enough for a couple or a family?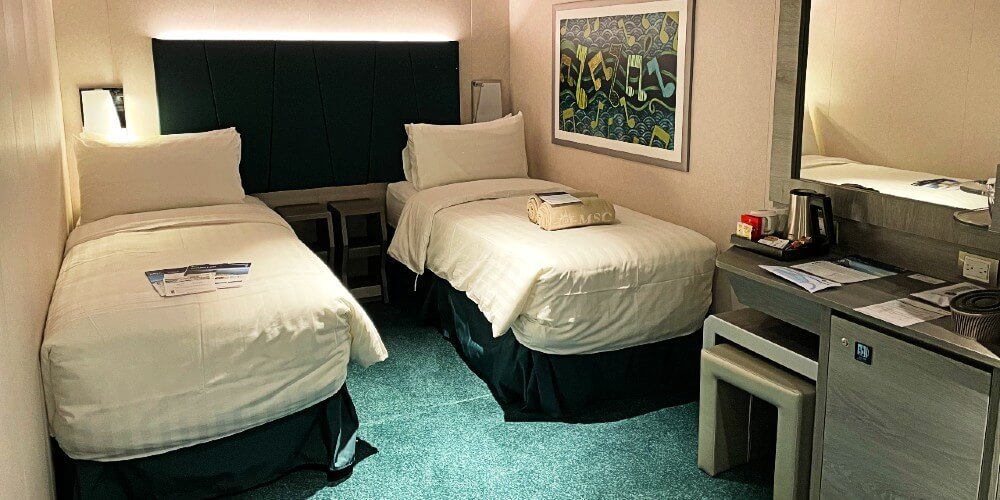 I stayed in the cheapest cabin on MSC Virtuosa – a two-berth Bella inside cabin on Deck 12. This guide also includes some photos and information about the family inside cabins that sleep four.
Read on for everything you need to know about inside cabins on this MSC Cruises ship so that you can decide if this is the best cabin type for you.
You may also be interested in my full MSC Virtuosa cruise review which includes information about the food, drinks, activities and entertainment on this ship.
MSC Virtuosa Inside Cabin with Two Beds
When we first entered our cabin on MSC Virtuosa I was pleasantly surprised by how much space there was. There was lots of floor space and the decor was very modern and tasteful.
The beds were very comfortable with high-quality bedding, fluffy duvets and thick pillows.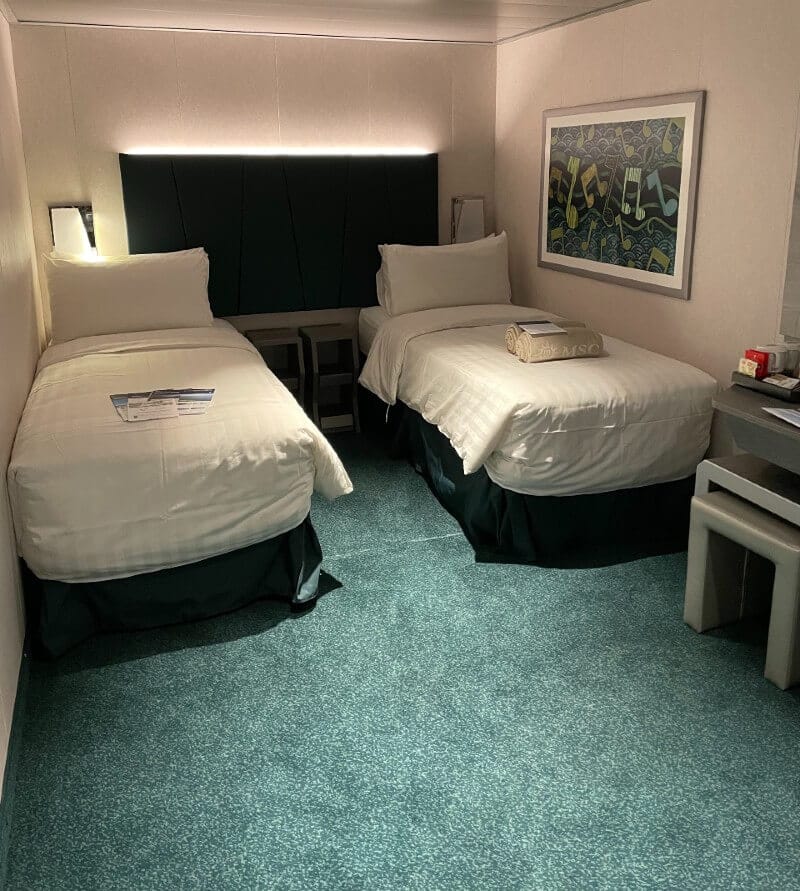 As I was cruising with my mum, we opted for twin beds. The beds convert into a queen-size bed for those who would rather share. To change the bed configuration you'd just need to give your stateroom attendant a call and they will be happy to do it.
There was plenty of room under the beds to store suitcases as well as some extra bedding.
MSC Virtuosa Inside Cabin with Four Beds
I was interested to see how an inside cabin with four beds looked. Caroline Morgan who runs the Facebook group MSC Cruises for Families and the Cruises for Families blog has kindly shared the below photo which shows an inside cabin with Pullman beds that come down from the ceiling.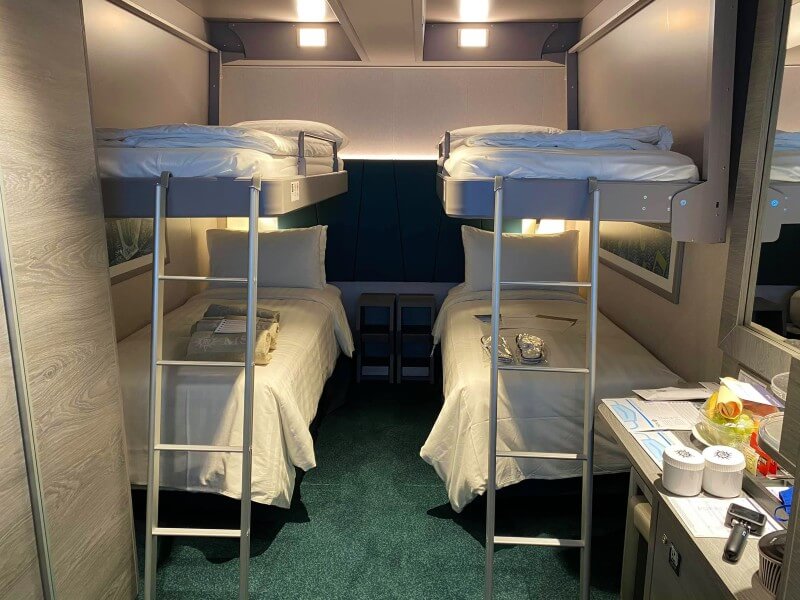 With a four-berth cabin, you may opt to have the lower beds as twin beds or a double. Having twin beds makes it a little easier to get in and out of bed as with a double bed at the bottom there's not much room to manoeuvre around the ladders.
As you can see, the guard rails on the top bunks are quite small and there's no requirement as to the age of children who may use the top bunks. Some other cruise lines do not allow kids under five or six to use the top bunks and they also have much larger guard rails.
If you're worried about your wriggly child falling from the top bunk, you could request some extra pillows to make a barrier. Alternatively, an adult could sleep in the top and the child in the bottom, perhaps with pillows on the floor to cushion a fall.
Dressing Table
Each cabin has a lovely dressing table with a mirror. Beneath is a stool and another small table.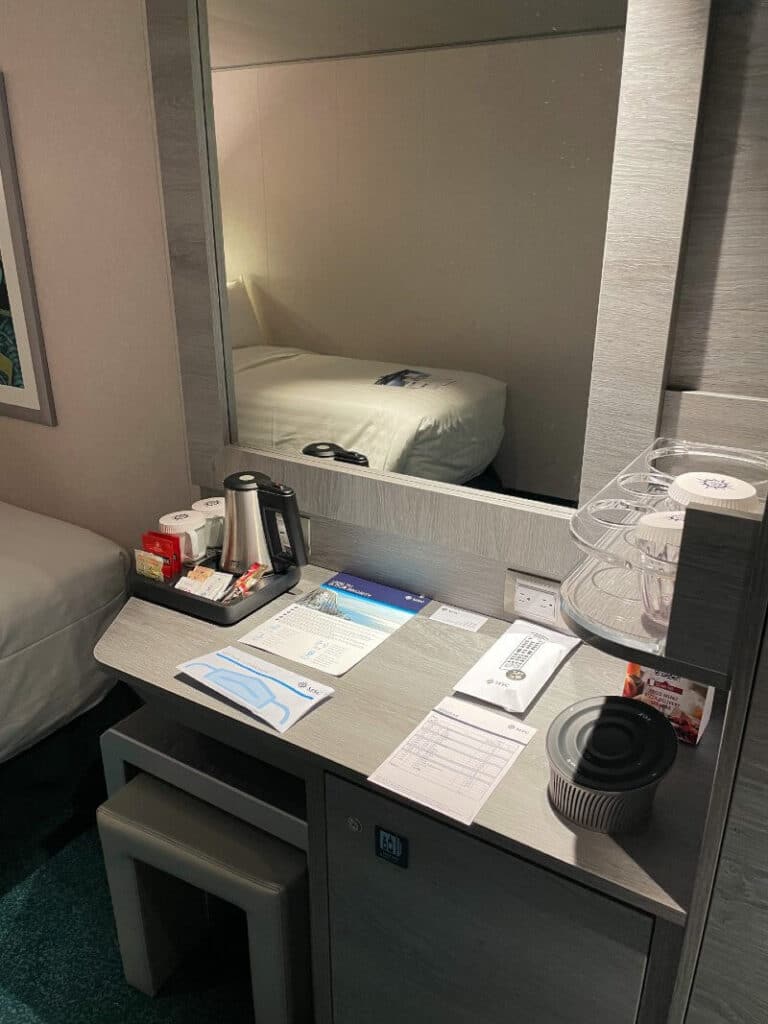 On the table, you'll find "Zoe", MSC Cruises' interactive smart speaker. I couldn't get ours to work and I believe that others have had problems too. But if yours also doesn't work, you're not missing out on much, as I found from watching this amusing video:
Since I originally wrote this review, Zoe hasn't improved, and I think MSC has stopped talking about it as a feature.
As we were cruising from the UK, our cabin came equipped with a kettle, tea and coffee.
The MSC Virtuosa plug sockets include two US plug sockets, two European plug sockets and four USB sockets in each inside cabin.
Mini Bar
Each cabin on MSC Virtuosa comes with a minibar. be aware that if you have the Premium drinks package then the minibar is NOT included. However, if you upgrade your drink package to the Premium Plus package, you can help yourself to drinks from the minibar for free.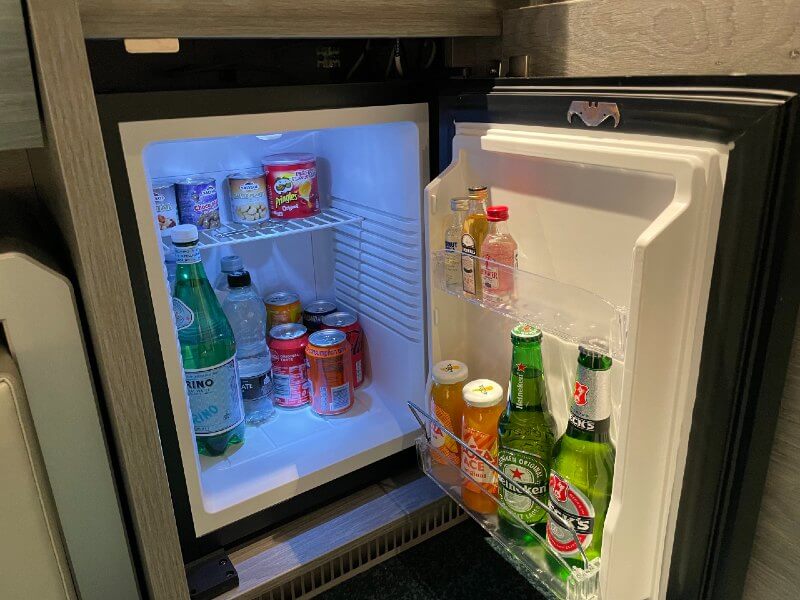 You can request for your cabin steward to empty the minibar for you. That way, you can use it to store cans of soft drinks or bottles of water that you can get for free from any bar with your drink package.
Wardrobe
I thought that the wardrobe space in our inside cabin was plenty for two people for up to a week. You may want to request some extra hangers and perhaps bring an over the door organiser for some extra storage.
As you'll see from Caroline's photo below, in the four-bed cabin you get an extra wardrobe!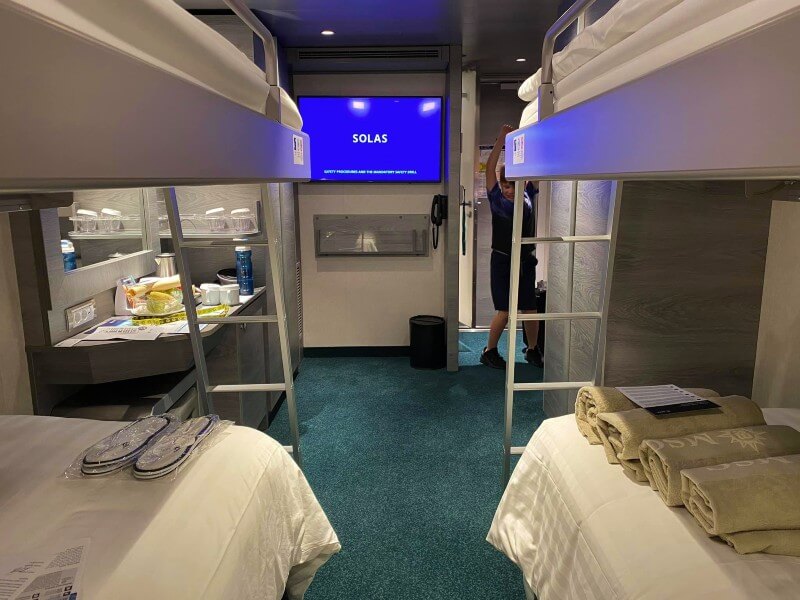 If you're cruising for more than seven nights with only two people, you may wish to book a four-bed cabin so that you have the extra storage. The Pullman beds are hidden in the ceiling so they shouldn't get in your way.
NEW DEALS JUST RELEASED!
Don't miss the latest MSC Cruises offers…
Television
I was amazed by the size of the television in our cabin. It had lots of channels but we found the signal to be quite patchy so we didn't watch it much.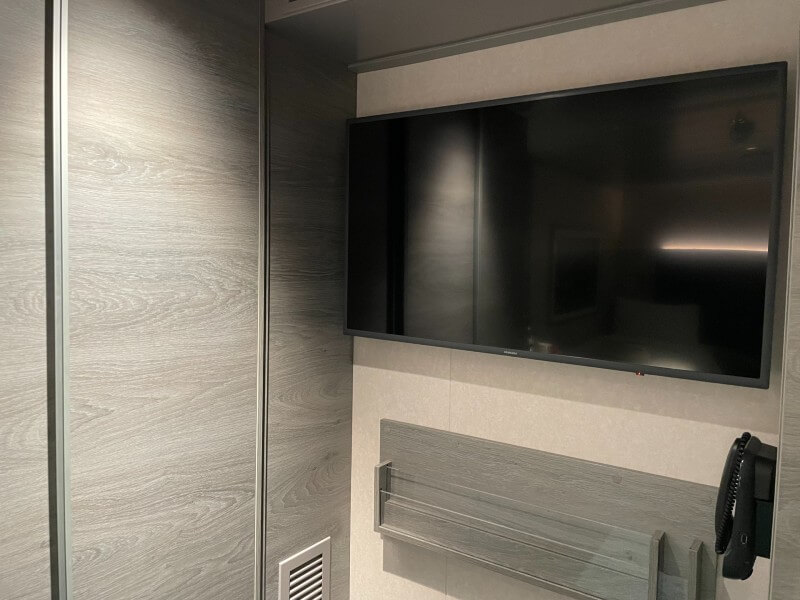 Bathroom
The bathrooms in MSC Virtuosa inside cabins are very spacious and well-designed.
Lots of fluffy white towels are provided and there is a decent amount of storage space as well as a washing line in the shower.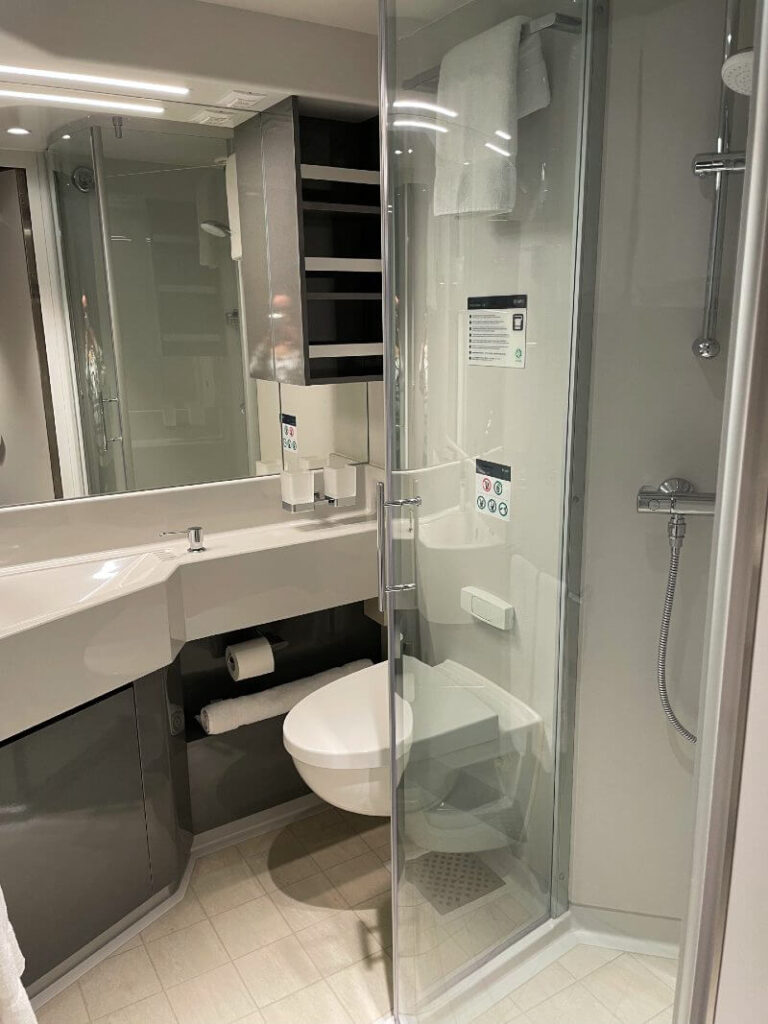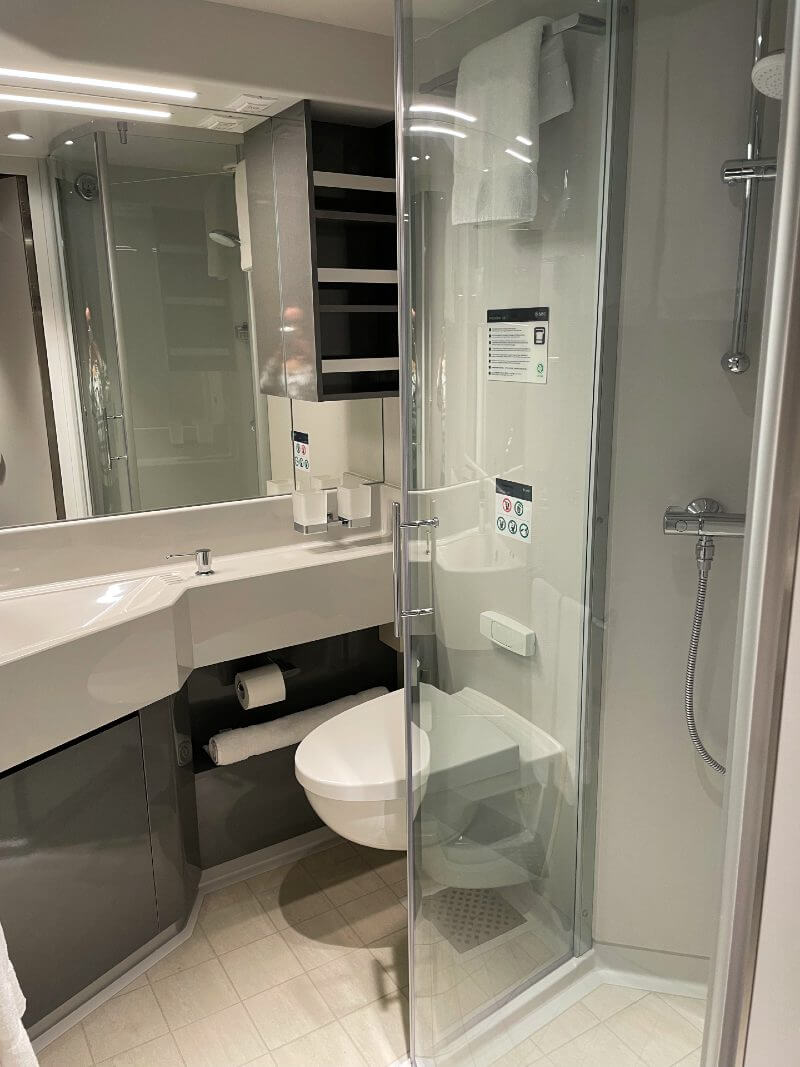 In the bathroom you'll find a shaver plug as well as the best magnifying mirror I've ever seen – it will probably make you want to take a closer look at your eyebrows!
Shampoo, shower gel and hand soap are provided. It's not bad, but ladies will probably want to bring their own shampoo and conditioner.
Bella Vs Fantastica Inside Cabins
MSC Cruises offer three 'experiences' – Bella, Fantastica and Aurea. Bella is the cheapest option.
The main difference you get if you upgrade to a Fantastica inside cabin is that your cabin will be in a more convenient mid-ship location. Bella cabins tend to be on higher decks towards the front or back of the ship, which is not ideal if you suffer from seasickness as you will feel the movement of the ship more here.
You do also get a few more perks with Fantastica and Aurea, which you can read about here: MSC Bella Vs Fantastica Vs Aurea – Which to choose?
The Verdict
On the whole, I was very pleased with our inside cabin on MSC Virtuosa. It was perfect for our needs with just two people. The beds were very comfortable and there was plenty of space.
I usually always go for the cheapest cabin, but on our next cruise on MSC Virtuosa as a family of four, we booked a balcony cabin instead. I did enjoy the extra space and the views!
Suggested read: Why I (almost) always choose an inside cabin for a family cruise
NEW DEALS JUST RELEASED!
Don't miss the latest MSC Cruises offers…
To help you avoid these worst MSC Virtuosa cabins, I've created a cabin checklist that you can get for free. Just enter your email address below and you'll receive it in your inbox straight away
Related posts: