If you've never taken a cruise before, the whole culture around tipping can be a little confusing. Especially if you're from the UK where tipping regularly is not a part of our culture.
There are two different types of tips on a cruise ship – that which you're expected to pay, which are referred to as the gratuities, and then extra tips that you may want to give to the people helping you to enjoy your cruise.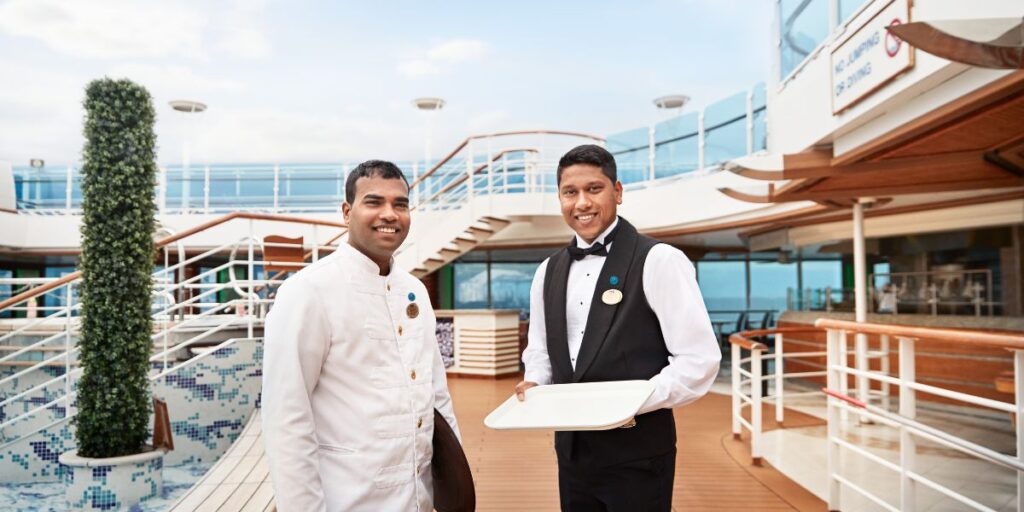 If you're a novice with tipping, don't worry. I've spent hours browsing the best cruise forums to find out what other experienced cruisers tip above and beyond the standard gratuities.
I've collected a ton of data that will help you to compare yourself to others and find a level that feels right for you. Because at the end of the day, it's totally up to you how much extra to tip, and whether to tip at all.
So, let's take a look at how much to tip cruise staff, as a guide.
About Cruise Gratuities
Cruise gratuities are the tips that you are expected to pay during your cruise. They apply to all guests and are divided up between different members of the crew, including housekeeping, your room attendant, and those that work behind the scenes that you otherwise wouldn't see, and therefore wouldn't have the chance to tip.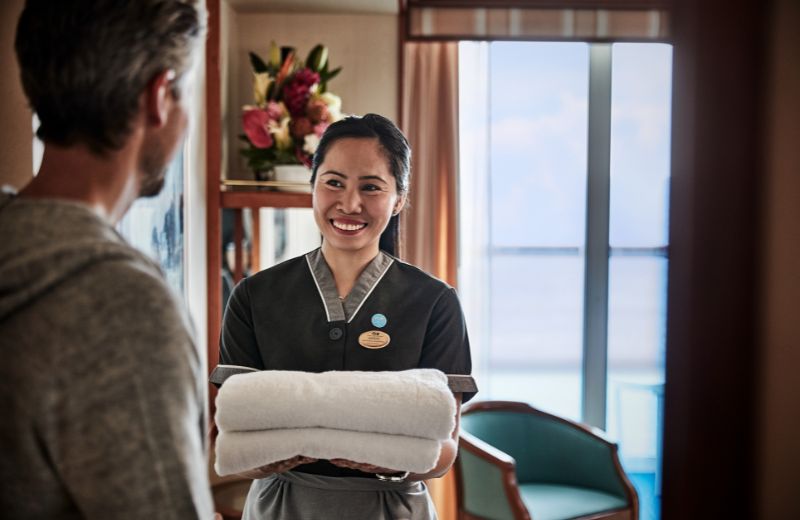 Note that I say you are 'expected' to pay these. They'll be added to your cruise account automatically, and you'll need to pay them to clear your account, although on most cruise lines you can ask for them to be removed.
But you should be aware that for many cruise lines, including Royal Caribbean, NCL and Carnival, the crewmembers rely on the tips that passengers are expected to pay. People only tend to remove them if they've had terrible service, and even on those rare occasions, most passengers still pay them.
Sometimes, your gratuities are already included in your fare. That's the case with:
MSC Cruises (when booked in the UK)
P&O Cruises
Virgin Voyages
Marella Cruises
Celestyal Cruises
Regent Seven Seas Cruises
Silversea
Many other cruise lines let you prepay your gratuities, too. It's still a separate charge, but this means you can get it paid for upfront, and then you don't have to worry about it later.
These include:
MSC Cruises (when booked in the US)
Disney Cruise Line
Royal Caribbean
Princess Cruises
NCL
Holland America Line
Carnival
There may be some times when you're asked to pay them upfront. One example is Royal Caribbean's MyTime Dining plan – if you want the flexibility to eat dinner at a time that suits you, you have to prepay your gratuities.
Otherwise, you'll have the gratuities added to your account, and you'll be expected to pay them off at the end, along with any other charges that you've accrued during your cruise.
As a rough guide, most cruise lines tend to charge around $15 per person per day for gratuities. It may be slightly more or slightly less. If you book a suite, expect the cost to be closer to $20 per person per day.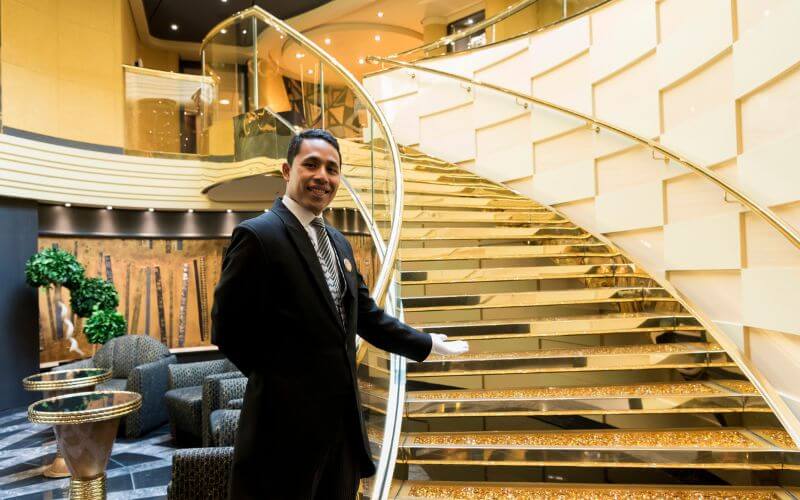 Drinks Gratuities
While your normal gratuities cover most staff on the ship, there may be times when you are asked to pay additional gratuities.
One of these is when you order a drinks package, which usually gives you unlimited drinks during the cruise.
While you'll see an advertised price for your drinks package, some cruise lines – including Royal Caribbean and Princess Cruises – will add on a fixed gratuity fee when you pay, which is usually 18%.
Sometimes, a gratuity is added on to every drink, whether you have a package or not. This really depends on the cruise line and which country your ship departs from. The rules vary a lot, so you'll need to check the terms and conditions of your booking to be sure.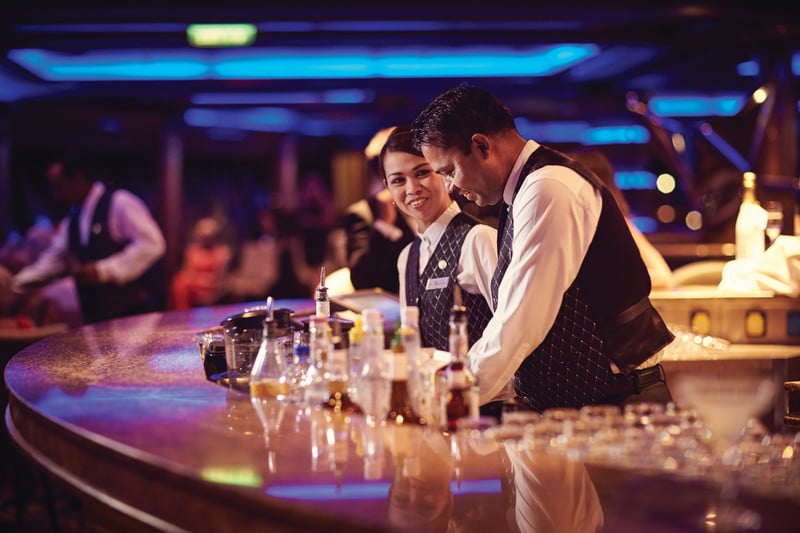 Spa Gratuities
It's similar with spa treatments. You'll see an advertised price for your spa treatment, but many cruise lines will add on an additional gratuity to the price you pay – somewhere between 15% and 20%.
With your regular gratuities, and these additional gratuities for drinks packages and spa treatments, you aren't expected to tip any extra.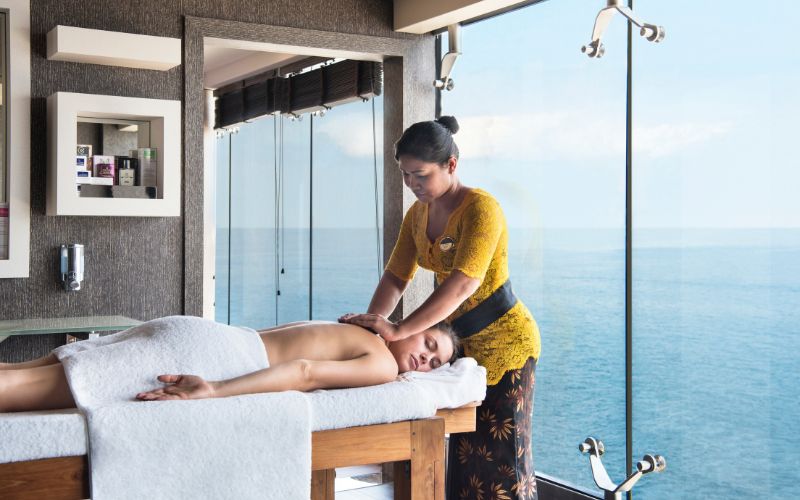 Indeed, some cruise lines are very clear that tipping is not expected – especially P&O Cruises, since it's a British cruise line where tipping culture is not the norm.
Some even discourage it. MSC's official line from their UK website is: "MSC Cruises does not recommend tipping individual members of staff."
But on most cruise lines, many passengers do – especially American passengers where tipping is part of the culture. And so if you want to do the same, let's take a look at average tipping amounts for different crew members…
How Much Extra Should You Tip on a Cruise?
There is no set amount for how much to tip on a cruise, and once you have paid your gratuities, there's no need to tip more if you don't want to. Average extra tips vary, with most cruisers averaging $1-2 for drinks or room service, and $10-20 per day for cabin stewards.
It's up to you if you decide to tip extra, but your automatic gratuity charge covers all the essentials. Anything extra is just to say thank you to crewmembers for looking after you, or a way to get a slight 'edge' in the service they provide.
They can't go too far above and beyond but if you tip well then crewmembers might be able to offer a few small touches to make your cruise more special, such as serving you quicker at the bar or spending a little more time to create you a special towel animal in your room.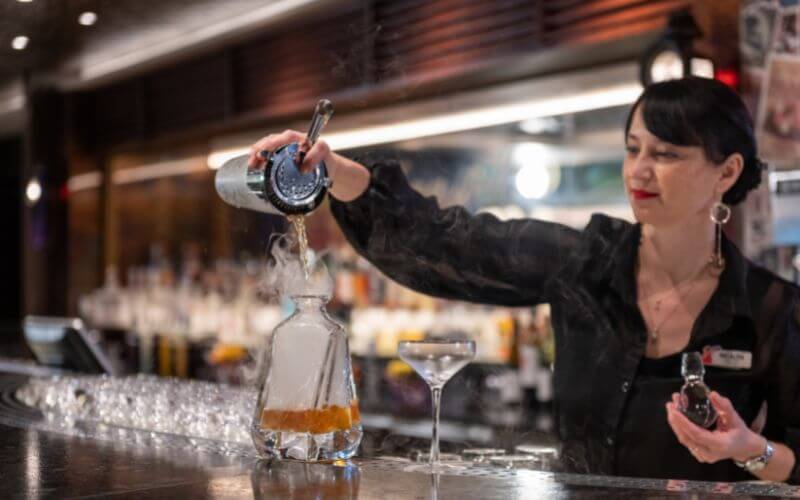 How Much to Tip Your Room Steward
The typical amounts tipped to room stewards varies between around $2 and $20 per day, although it will depend on the length of the cruise. Many people prefer to tip extra at the start of their cruise, to ensure they get the best service for the duration of their sailing.
One of the lower amounts I've seen, for those who want to tip extra, is $20 extra at the start of the cruise and then maybe a little more each night. CruisingNewb on the Royal Caribbean Blog forum suggests this was plenty to ensure proactive service.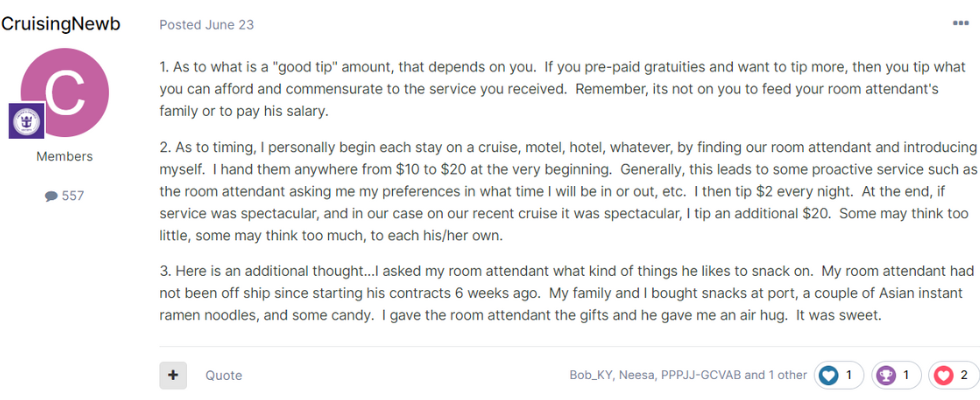 Many people tip cabin attendants $10 per day, or $50 to 100 as a lump sum either at the start or end of the cruise.
Of course, some people choose not to tip any extra, and are still happy with the service they receive.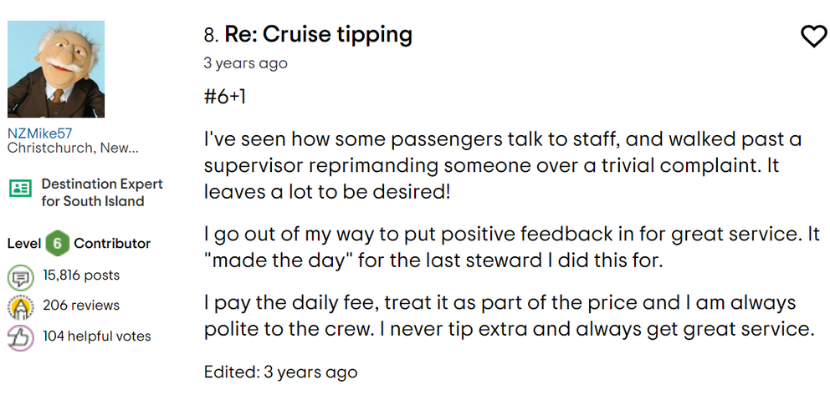 How Much to Tip Your Waiter
Main Dining Room waiting staff tend to be covered in daily gratuities, but for people who like to tip extra, an average is usually $100 per week. Some people prefer to tip on a per-meal basis, and tend to weight the tips more for dinner – $20 per dinner, $10 for lunch and $5 for breakfast.
Depending on your cruise line and your choice of dining plan, you might get the same waiter every night. You'll then really notice just how good their service is – they will usually remember you and your preferences, and be able to make dinner feel like a really special occasion each night. That may be something you want to reward.

Source: Royal Caribbean blog
But then, there are plenty of others who view the Main Dining Room staff as already having been tipped as part of the gratuities, and, therefore, won't tip any more than they need to.

Nowadays, more and more cruises offer flexible dining, so you will have a different team of waiters every night. When this is the case, people are less likely to tip waiters in cash as they probably won't see them again during the cruise.
How Much to Tip Your Bartender
Many cruise passengers will tip their bartender on a per-drink basis, usually $1-2 per drink ordered. Some passengers prefer to tip their bartender a larger one-off amount if they intend to stay at a bar for a little while – up to $20 is seen as normal.
Some cruise ships like Disney and Royal Caribbean will give you a receipt to sign for every drink. Here, you have the option to write on an additional tip amount, which will be charged to your onboard account. This way, you can use any onboard credit that you have accrued to pay for tips.
Alternatively, you can tip in cash with $1 or $2 bills if you prefer. Of course, pounds sterling, Euros or any other currency will also be welcomed by crew members as they often travel the world and can always change it ashore if needed. Just try not to tip with coins.
Some passengers believe that tipping bartenders extra is a nice thank-you for the busy staff who may be making you complex cocktails. Others see tipping as a way of ensuring they get served first, where possible – hence tipping a $20 bill upfront.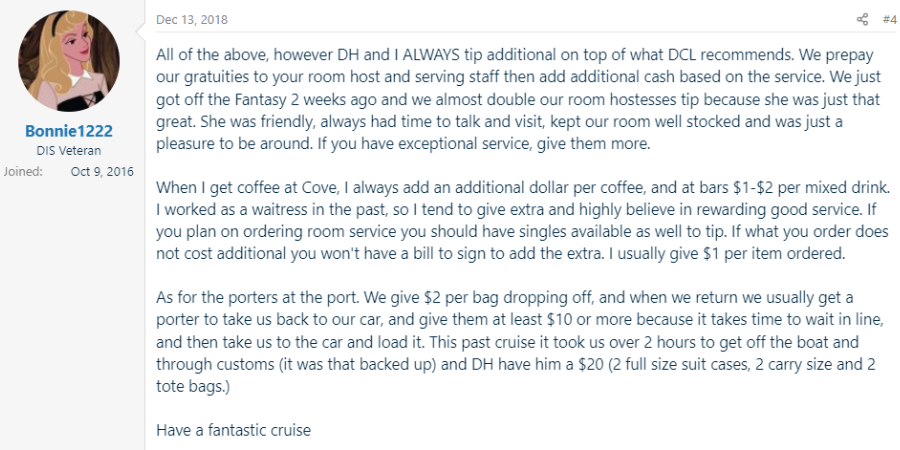 If you've paid for a drinks package, you'll already likely have paid an additional gratuity, and so many people don't then like to tip again.
Source: Tripadvisor
How Much to Tip a Cruise Butler
Passengers tend to tip cruise butlers more than other crewmembers because they tend to offer more services and are more hands-on in making your cruise special. $200 to 300 per cruise is average, although some may prefer to tip more.
Butlers tend to be offered on luxury cruise lines, and many of those – including Regent Seven Seas and Silversea – have tips already included, which are designed to cover the butler. But that doesn't stop people from tipping extra.
Butlers are also used in suites on some other cruise lines, including Celebrity Cruises and P&O Cruises. Royal Caribbean has 'Royal Genies' instead of butlers, and there is specific advice given that they are not included in typical cruise gratuities, so any tipping needs to be offered separately.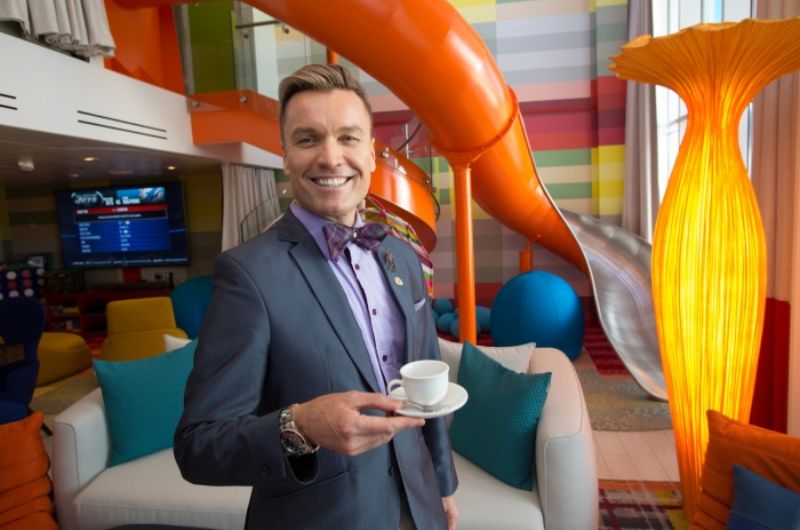 Read more: How much to tip a Royal Genie
How Much to Tip for Room Service
Most people tend to tip $1-2 per item ordered from the room service menu, or a $5 total for a meal or a larger order. Many people only order small items for room service, and so don't tend to tip large sums because the cost of what they are ordering is already low.
Again though, this is a personal decision and can vary. You might feel that room service is more effort for the crew, since they aren't just pouring you a drink at a bar where they're working, but they're delivering it all the way to your stateroom.
Or you might take the view that you've paid your daily gratuities, and this service is included as part of that.
Source: Cruise Critic
How Much to Tip Your Porter at the Cruise Terminal
Most people offer a small tip to the baggage handlers at the cruise terminal, to ensure their bags are looked after as they are taken onto the ship. It normally varies between $2 and $5 per bag, although a total tip of $10 for a family's luggage would be sufficient.
Again, there's no need to tip your porter, but bear in mind how much luggage they are carrying onto the ship. It's a nice way to thank them for not having to drag your suitcases around with you all day.
Source: Disboards
How Much to Tip on Cruise Excursions
When on a cruise excursion, it's normal to tip the guide to thank them for their efforts in showing you around – this can vary from $5 per person up to $30 per person for longer tours. If your excursion has a coach or taxi, a tip of $1 per person is more in line with the average.
Tipping your guide or driver won't tend to get you better service, and so it's normally done at the end of the day more as a thank-you.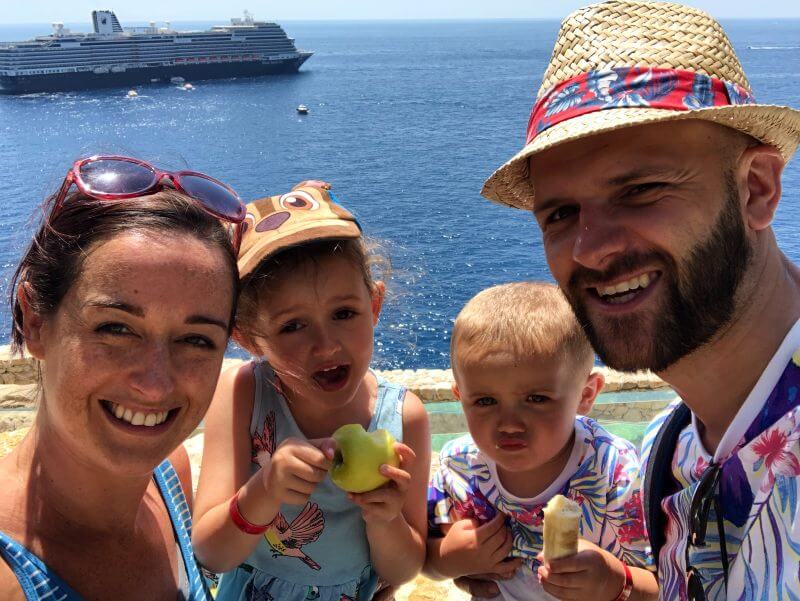 What Currency To Use for Tips
Most people tend to tip in the same currency used on the ship, but generally, it doesn't matter. You can tip in your own currency if you prefer – crew tend to be grateful for all their tips, and they can bank them all regardless.
The only difference would be on an excursion, where it's best to either tip in the local currency, or in US dollars, which are accepted more widely.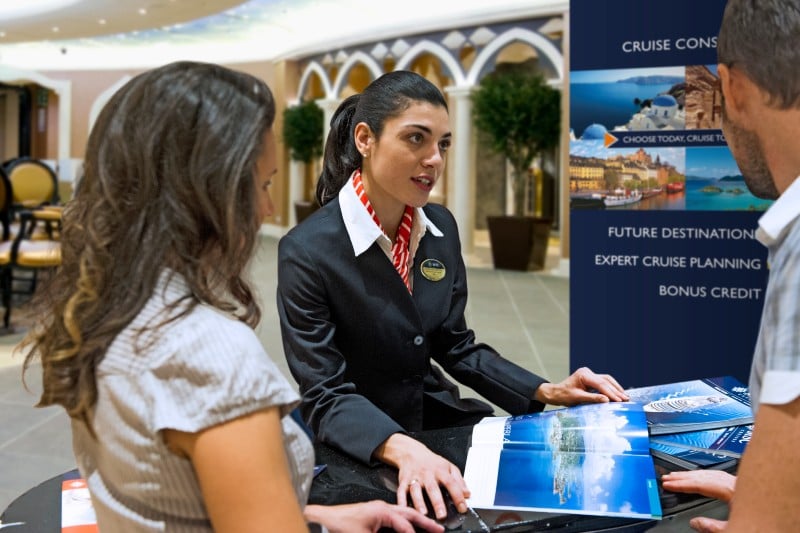 The Bottom Line
If you're travelling from the UK, you'll know that tipping isn't always something that we're used to. And you might feel awkward tipping on a cruise when you've already paid your gratuities. That's absolutely fine – there is no obligation at all, and you'll still get great service.
But you might feel equally awkward travelling on a cruise where you know that tipping a little extra is the done thing, and so you might want to take some extra money with you for tips. Don't tip more than you're comfortable doing though – you don't want to stress yourself out budgeting for tips when you have covered the gratuities already.
Related Posts