Royal Genies are pretty special – they look after suite guests in the Royal Caribbean Star Class and undertake a lot of tasks to make your whole cruise feel special.
This can include escorting you on-board and directly to your suite – no waiting around in queues – to booking your excursions and on-board experiences, bringing you snacks and drinks, and helping you to cut in line for certain facilities that may otherwise be difficult to book.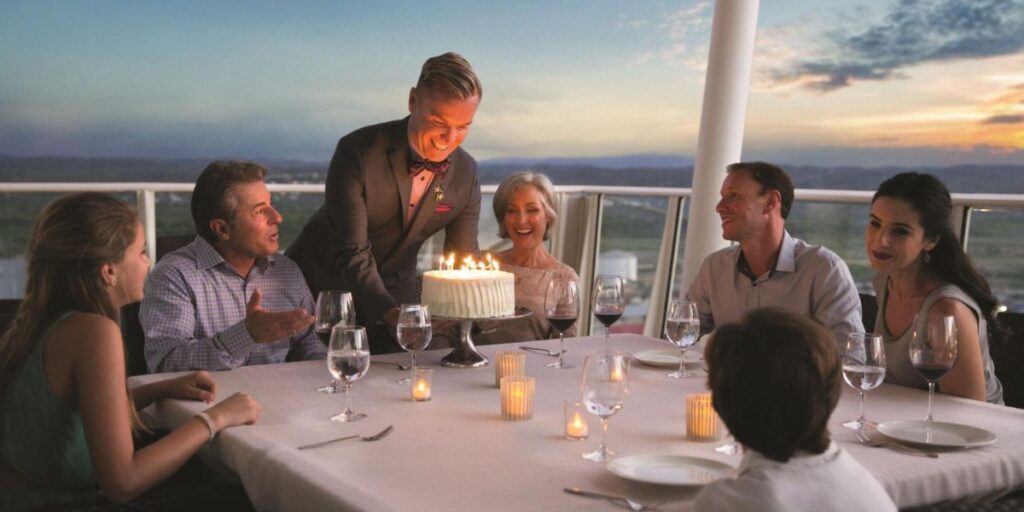 That just scratches the surface of how special a Royal Genie can make your cruise, so you'll definitely want to thank them. But a Royal Genie isn't included in the normal gratuities you pay – so if you want to tip them, you'll have to do so separately.
How much should you tip though? I've taken a look through cruise forums and discussions and I can shed some light on the expected tip amounts.
How Much Do People Tip a Royal Genie?
How much people tip a Royal Genie on their Royal Caribbean cruise tends to vary, although many American guests tend to fall at around the $75-$100 per day. There are a number of factors that people use to decide how much to tip their Genie.
Firstly, it's important to be clear that tipping a Royal Genie is completely at your discretion – you are not officially expected to, nor is there an official recommended tip amount.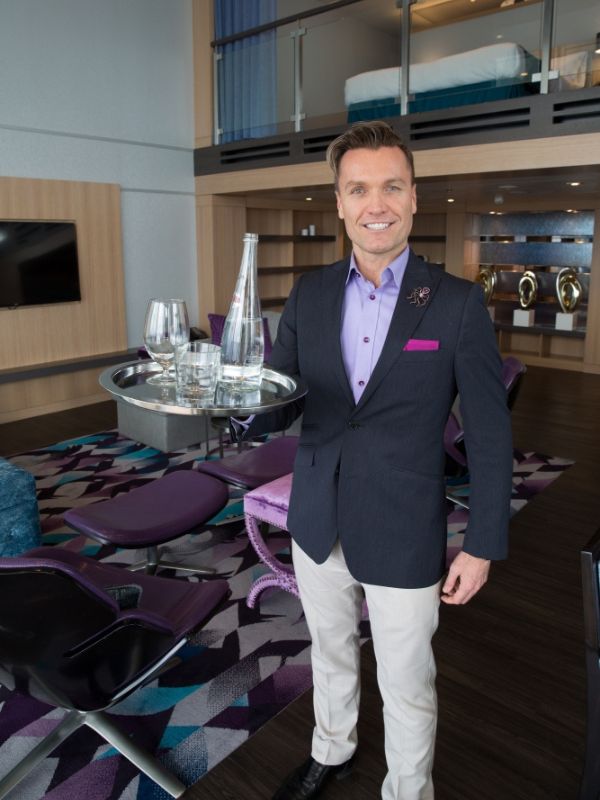 Guests who book a Star Class suite on Royal Caribbean have their tips covered already as part of their cruise fare, but those tips only apply to the cabin attendants, the dining staff and the other crew members working behind the scenes – the Royal Genies don't share in this tip pool.
So if you want your Royal Genie to be recognised for their service, then you'll need to pay extra.
While it is at your own discretion, every post I've seen on the topic of Royal Genie tipping in cruise forums says that people leave some form of tip for their Royal Genie. That includes the people who barely use the service, if at all.
That's because whether you choose to use the Royal Genie or not, they are made available for you. Their time is taken up entirely by ensuring they can offer you (and the other suites they look after) any services you need, so it's not like if you don't use them then they can go make themselves useful elsewhere to earn more tips.
So I've scoured Facebook groups and popular cruise forums to find out how much people tend to pay their Royal Genie as a tip. And the only thing that's consistent is that there are a lot of arguments about what the right amount should be.
Here's a graph of how much people have tipped their Royal Genie for a seven-night cruise…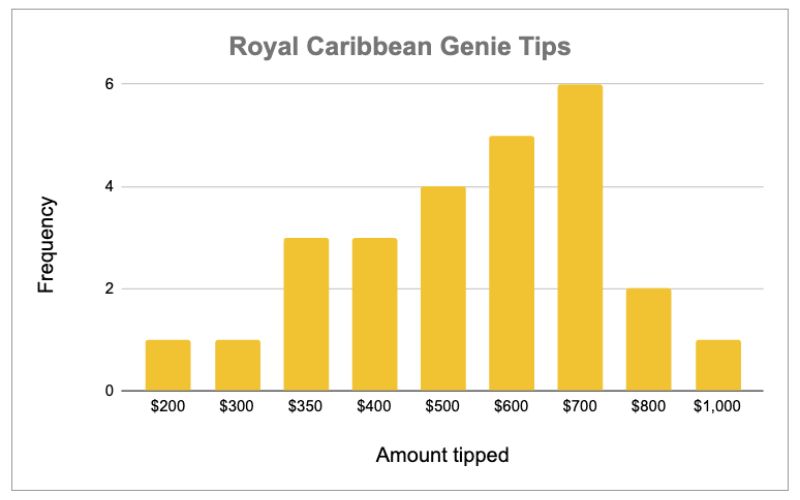 As you can see, most people claim to have tipped between $500 and $700. However, as this is a public forum, it may be the case that some people who only tipped a small amount or did not tip at all, chose not to leave a comment.
Now, let's take a look at some of the factors that influence how much to tip a Genie:
Tipping Culture
One of the most commonly mentioned things on forums is tipping culture, and how the US varies greatly with other countries around the world.
American guests are used to the idea of tipping, and so are more comfortable leaving larger tips for Royal Genies than maybe some other guests would be.
As one poster in the UK Cruise Critic forum put it:
"Guys, this American attitude of tipping is just so ridiculous. Don't get me wrong, if I pay USD 10K-20K plus or even much more for a week of vacation which includes the services of a Genie it's the damn responsibility of the company, RCL in this case, to ensure that the employees are getting the deserved salary."
It seems that most people agree that the Royal Genie should be tipped, but the question of how much can vary depending on where the guests are from.
A lot of the people suggesting tips of around $100 per day are based in the US, whereas I've seen European and Australian guests suggesting more conservative amounts, a couple of hundred dollars for the entire sailing.
How Much They Used the Genie
A lot of people specifically say that they base their tips on how much they've used the Royal Genie. If they've not asked them to do much, they will give a smaller amount.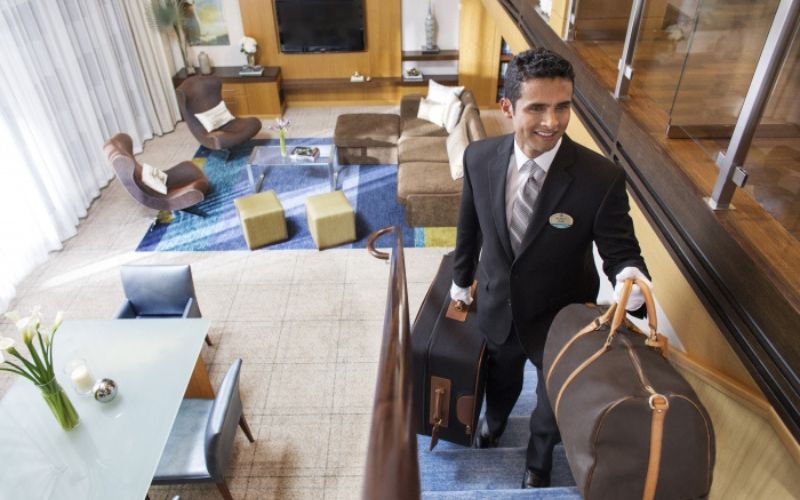 As someone said on Royal Caribbean Blog:
"My husband and I had a Royal Genie on the Allure of the Seas last year and we tipped $500.00 for the week. We are pretty low key and didn't use him all that much."
The people that tend to use the Royal Genie to organise parties in their suite are the ones that tend to lean more into tipping higher amounts, which makes sense. Suite parties are pretty hard to coordinate – there's a lot of food to bring in, decorations to potentially add and the drinks services too.
And if you take a look at some of the posts on Cruise Critic, people are saying that it depends on their ship too – where they want to use facilities like iFly or the bumper cars, they'll tip more for the reservations, otherwise, on Oasis-class ships they may not use the Genie as much and so would tip less.
How Much Does a Royal Genie Make?
While the figure is not officially published, it's believed that a Royal Genie on Royal Caribbean earns around $2,500 per month before tips. Their contracts tend to last for five months, with a month's break, giving Genies an annual salary of $25,000 if they work two contracts.
Remember that this is a cruise line salary, which means there are certain expenses the Royal Genies don't have to worry about – namely accommodation and food. They're included for free and so the $25,000 will stretch a lot further than it would if it was a salary on land.
A Royal Genie will typically look after three suites during each cruise, so if we assume a weekly gratuity of $600 per suite based on the averages, then that's an extra $1,800 per week that the Royal Genie is making.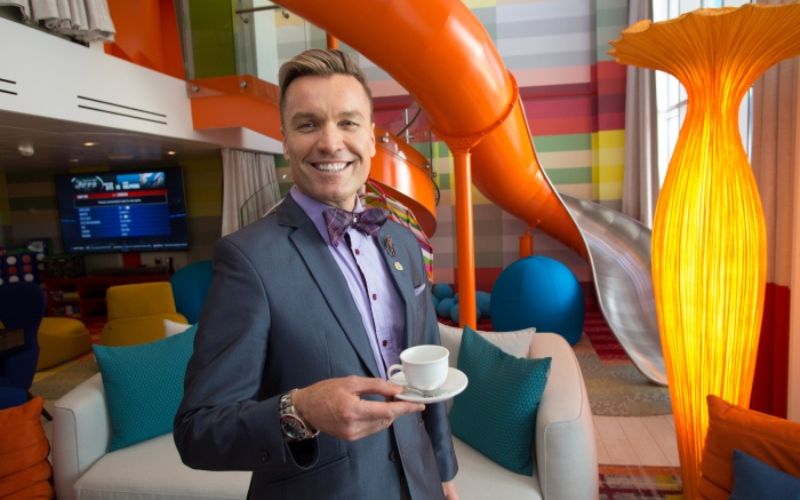 If the Genie works for 42 weeks in a year, that's an extra $75,600 they'll make each year, for a total annual Royal Genie salary of $100,600. Split between the 10 months, that's $10,060 per month that they'll make.
Of course, that's completely dependent on them hitting the average tips – some people may pay less. But what's clear is that without the tips their income would be massively reduced.
In fact, these statistics show that almost 80% of a Royal Genie's income comes from tips.
The Bottom Line
Tipping is absolutely at your own discretion, but remember that even if you don't ask your Royal Caribbean Genie to do too much for you, they'll be helping to make your stay more special through the priority embarkation and disembarkation, and making sure to provide small treats throughout your cruise.
Royal Genies won't get a share of the gratuities that are included as part of your fare, so it's definitely worth leaving them something as a thank you. If you can't afford $75-100 per day then that's OK, as you shouldn't leave your cruise with financial worries.
But if you're planning on booking a Star Class suite, it's definitely a good idea to set aside a small budget for tipping your Royal Genie service.
Let me know how much you've tipped your Royal Genie in the comments.
NEW DEALS JUST RELEASED!
Don't miss the latest Royal Caribbean offers…
Related Posts: