If you're looking to cruise with Cunard, it's wise to know about the onboard gratuities – also known as tips – before you set sail.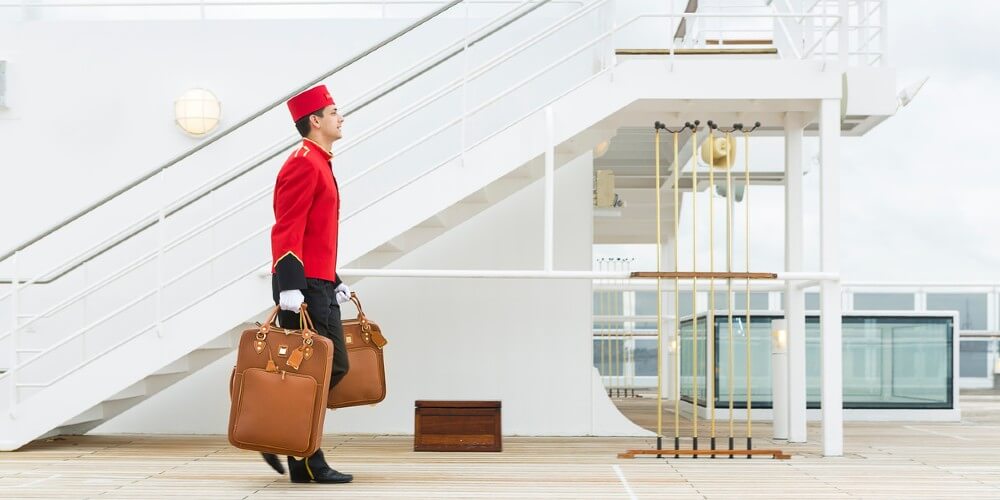 Cunard charges gratuities at a daily rate which is automatically added to each passenger's account throughout the sailing, plus an extra charge for each drink or spa service purchased.
It isn't always easy to find information about how much Cunard gratuities are, so read on if you wish to avoid a surprise bill at the end of your cruise!
What are the gratuities on a Cunard cruise?
Gratuities (also known as tips) are service charges that are added to your onboard account when sailing with Cunard. When guests pay gratuities, it enables the service staff, including waiters and stateroom stewards, to be rewarded for the work they do, in addition to their wage.
Gratuities are the same price for all three of Cunard's ships – Queen Mary 2, Queen Victoria and Queen Elizabeth. However, there is a difference in price depending on your accommodation category. This is outlined in more detail below.
There are two types of gratuities on Cunard cruises:
Gratuities for hotel and dining services – Calculated daily
Gratuities for drinks and spa services – Calculated per purchase
It's worth noting that casino staff do not receive any automatic gratuities, as not all passengers use their services. The tips are shared amongst the hotel, restaurant, bar and salon staff, including those who work behind the scenes.
Every dollar of the gratuity charges goes directly to the crew in these areas and there is no administrative fee.
Gratuities are typically paid off at the end of your cruise, the night before you disembark. You can check your onboard spend using the Cunard free wifi to into your account.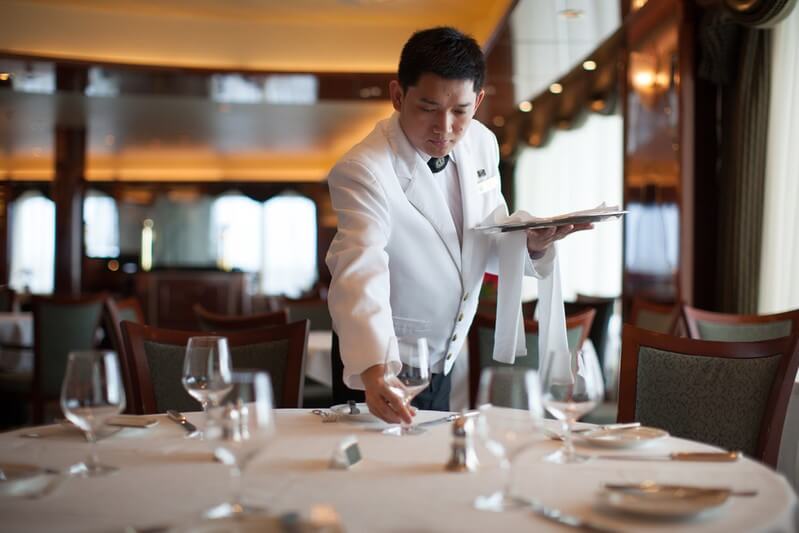 How much are the gratuities on Cunard?
In 2023, Cunard's daily gratuities are $14.50 per person, per night for guests staying in Britannia Staterooms and $16.50 per person, per night for guests staying in Grill Suites. The charge is the same for adults and children.
On Cunard cruise ships, all bar, wine and salon services have an additional 15% charge for each purchase made too. This is in addition to the daily gratuities.
If you buy a Cunard drinks package, you don't have to pay the 15% gratuity – it's included in the price of the package.
The gratuities on Cunard are pretty reasonable, and as fellow travel blogger Karen said in her review of Cunard's Queen Elizabeth, the gratuities are "the lowest in the industry".
Are gratuities compulsory on a Cunard cruise?
On a Cunard cruise, the gratuities added to each drink and spa service are compulsory. The daily gratuities for hotel and dining services are recommended but can be removed. You can also tip above and beyond the recommended amounts if you wish.
Cunard gratuities for bar, wine and spa services are added to your onboard account automatically along with each purchase. The hotel and dining service charge will appear on your onboard account as a daily charge.
Can I get my gratuities taken off on a Cunard cruise?
On a Cunard cruise, you can opt to remove or adjust the daily gratuities (hotel and dining service charge). This can be done at the Guest Services desk once you're on board the ship.
While some people like to remove daily gratuities and instead tip cash to certain crew members, this isn't recommended. As well as waiters and staterooms stewards, there are many crew members who offer support behind the scenes, working in the kitchens, laundry rooms and other areas.
If you remove gratuities from your onboard account, the people who work hard that you may never see will lose out financially.
If you have had a bad experience with the service on your cruise and wish to remove the gratuities, you should speak to the staff at Guest Services, who will be able to remove them from your account.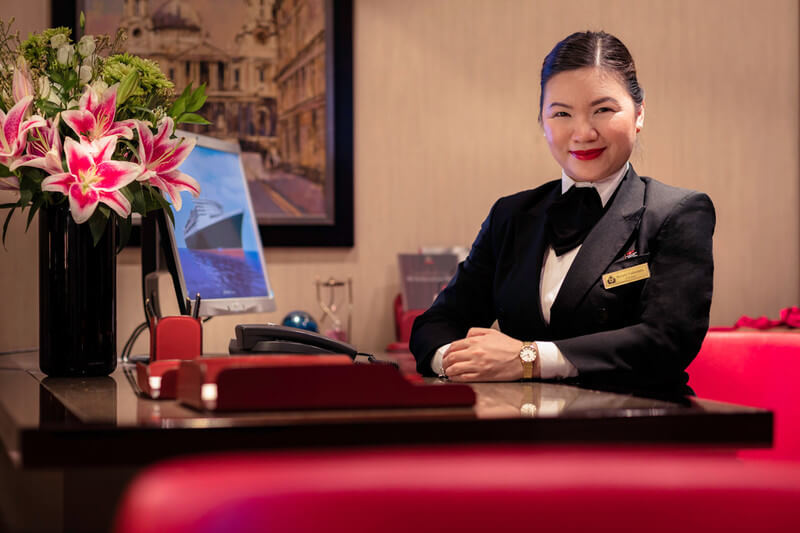 Can I prepay gratuities on Cunard?
You cannot prepay for your Cunard gratuities before your cruise. However, you can pre-purchase onboard spending money, which can be used against your hotel and dining service charges, as well as bar, wine and salon service charges.
Should I tip extra on a Cunard cruise?
Whether to tip extra on top of the standard gratuities on your Cunard cruise is entirely down to personal preference. If you feel there is a member of the crew who has gone above and beyond what is expected to make your time on board memorable, you are welcome to reward them individually for doing so.
Each Cunard stateroom has its own steward assigned to it – usually, you will see them making up rooms up and down the ship throughout your sailing. The same steward will make up your stateroom and will likely introduce themselves on your first day of embarkation.
Many people tip their cabin stewards personally, leaving money in an envelope for them in their room on the morning of disembarkation or tipping them personally on their last day. The guest services desk will supply envelopes to those who ask for them.
Other members of staff you will see around the ship on a regular basis include your dining team. When visiting the main dining room, in particular, you will notice the same faces seating and serving you. Many people will also be assigned an area or specific table throughout the cruise so you will see familiar faces as the cruise continues.
These are also members of staff who people like to personally tip, due to them being seen regularly and shown to make their cruise experience special.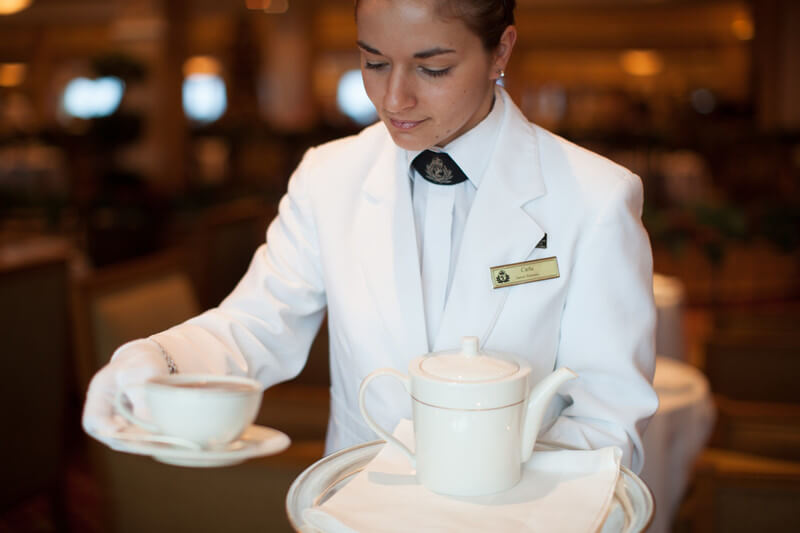 Cunard cruises with free gratuities
For those sailing on Cunard world cruises, promotions are sometimes available, which include complimentary hotel and dining service charges. Look out for these, as they can save you a lot of money.
In some promotions, Cunard offers free on-board spending money. You can use this free spending money to pay for some or all of the gratuities incurred on your cruise, depending on the amount of free credit and the gratuity charge.
NEW DEALS JUST RELEASED!
Don't miss the latest Cunard offers…
Final thoughts
People often have differing opinions towards paying gratuities. While paying tips comes naturally to Americans, Brits and Australians aren't used to paying a lot for tips. And the daily gratuities on a cruise can certainly add up to a hefty sum.
Some cruisers like to tip on their own terms and will remove all gratuities to award individual members of staff. Others remove them to save on costs as soon as they step aboard. However, most people will be glad to pay the daily gratuity charge to ensure that every member of staff is rewarded fairly for their hard work.
It's important to know which you prefer, so you can factor in the cost before you set sail and know where your onboard account will end up at the end of your sailing.
Related posts: