If you are new to cruising, you may have a lot of questions about your luggage you need answering. Shall I carry my luggage on the ship myself? If not, will it arrive safely at my cabin?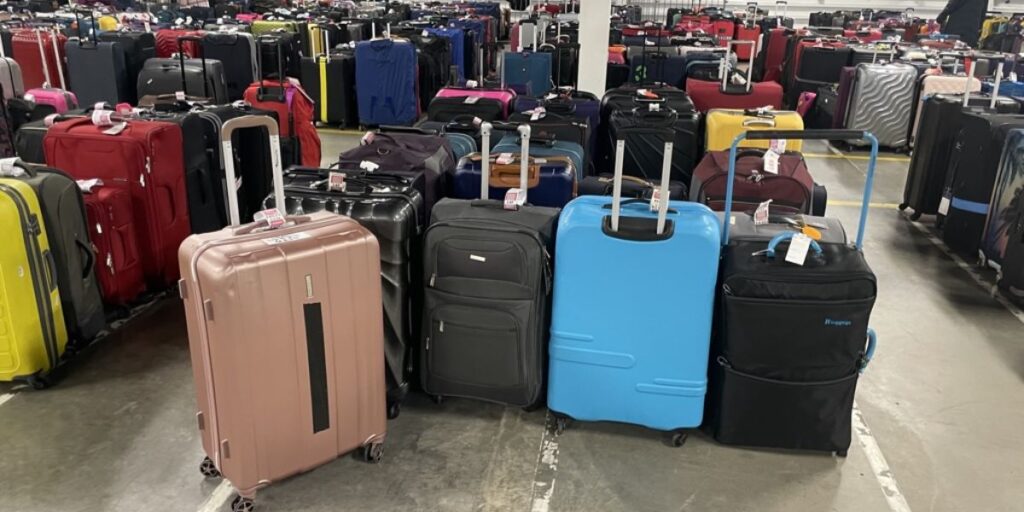 So I have put together all the info you need, from what happens to your luggage to the pros and cons of carrying your own luggage.
What happens to your luggage on a cruise
If you're checking in your luggage on a cruise, you might wonder what happens to it and where it goes. Below I have listed each step to help you understand what happens to your suitcases.
When you arrive at the cruise terminal, there will be a lot of activity. Find a curbside porter and make sure your luggage is appropriately labelled, if not, they will help you with this. Hand over your luggage, and they will take it from here.
The porters may load your luggage onto trolleys, or it may be lined up with a pile of other bags in the sorting area.
Next, it goes through a security check. All bags are X-rayed to check for any items that may be prohibited on the ship, similar to those at an airport.
The crew sort the luggage into groups by checking the labels to see what deck your stateroom is on if you're at the front, middle or back of the ship and your cabin number. All ships have service lifts, so the bags are sent up there, where there will be staff on all levels sorting through the luggage to get it to your cabin asap.
Lastly, the crew members deliver the bags to your cabin. On most ships, it is usually left outside your door unless you have any special arrangements to have it delivered inside.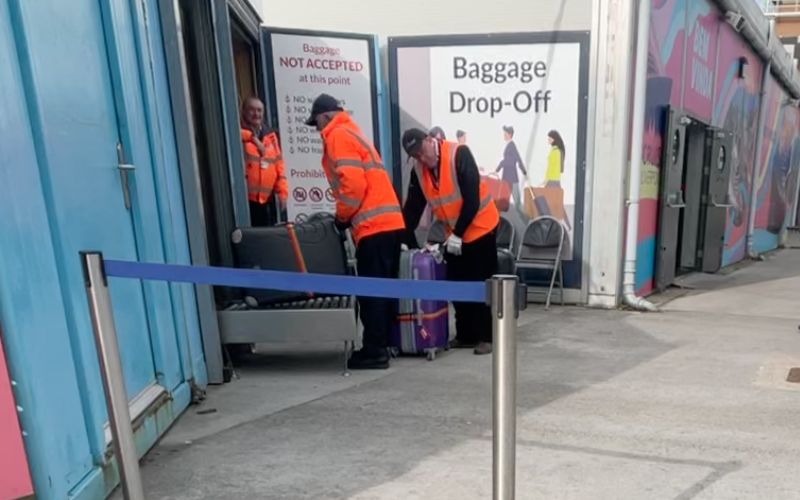 Can you carry your own luggage onto a cruise ship?
Most cruise lines allow passengers to carry their own bags onto the cruise ship, providing it fits through the X-ray scanners, which are located just after check-in. This means you do not have to wait for your bag to be delivered, and you have access to all of your belongings straight away.
Remember, you won't be able to access your stateroom until there's an announcement. Many people like to change into swimwear to start their holiday right away.
Can you carry your own luggage off a cruise ship?
At the end of your cruise, you can carry your own bags off the ship. This means you don't have to wait for a time slot and have the flexibility to leave the ship at a time better suited to you. However, no one can leave the ship until there is customs and immigration clearance or staff in place.
Alternatively, you can have your luggage taken off for you and collect it from the cruise terminal. For this option, you will have to put your case outside your room before you go to bed on the last night of your cruise.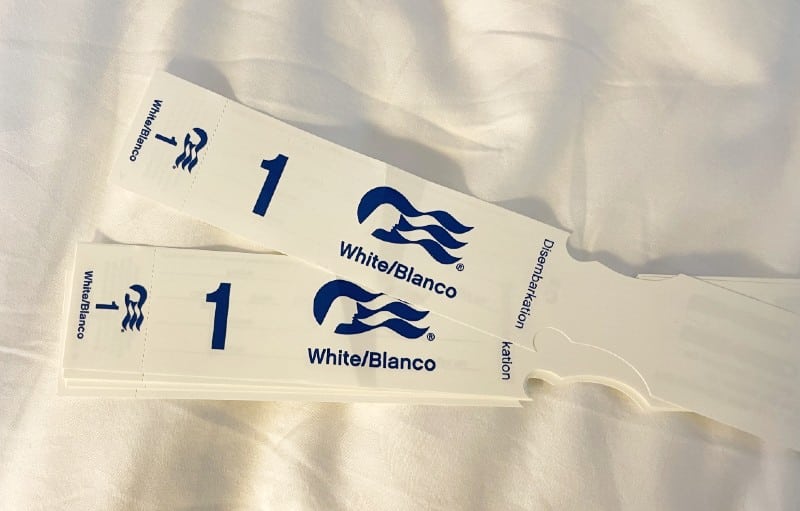 Pros and Cons of Carrying Your Own Luggage
Weighing up on whether to carry your own luggage on and off a cruise ship involves considering a number of things. To help you decide, I've used my own and others' experiences to come to some conclusions. This should help you determine the option that best suits your personal needs.
Pros of Carrying Your Own Luggage
The first advantage is that you don't have to wait for your bags to be delivered to your stateroom. This means you have access to all of your belongings.
However, it's worth noting that this does not always mean you can find your stateroom straight away and unpack. You may have to wait a few hours until it's ready, depending on the time you board the ship and when the cabins have been cleaned.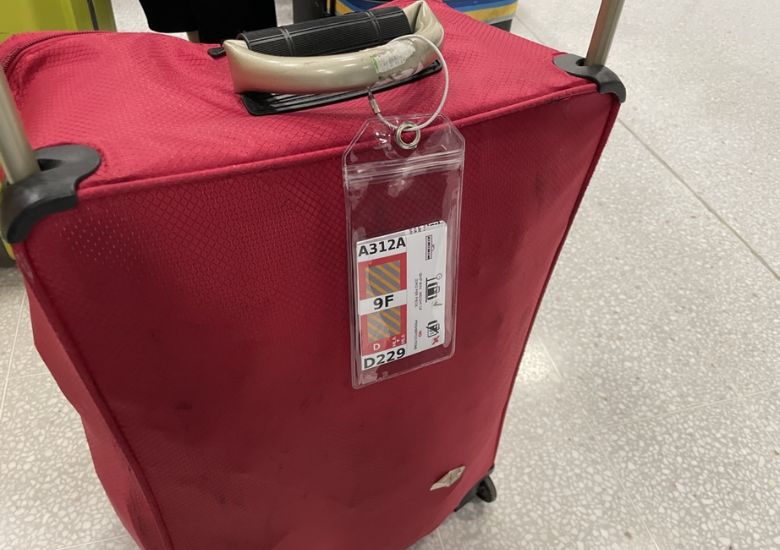 At the end of your cruise, you may want to carry your bags off the ship if you need to catch a flight or continue your holiday elsewhere. This ensures you have your bags, and there will be no worries about finding and collecting your bags in the arrivals hall. Being faced with piles of suitcases can be daunting. You won't have that problem.
Many cruise lines offer "self-disembarkation" or "express disembarkation" to get off early. This gives you the flexibility to leave the ship as soon as the ship has clearance. Whereas, if you have a time slot to leave the ship, there might be lots of sitting around.
It's not unusual for the buffet restaurant to be very busy on disembarkation day, with everyone lingering over their breakfast. Hand baggage is tucked under tables, with people taking turns to guard it whilst you peruse the buffet one last time.
Cons of Carrying Your Own Luggage
Firstly, as stated earlier, your luggage must fit through the security X-ray machines in the cruise terminal. If it doesn't, you'll need to hand it over to the porters for embarkation, regardless of your initial intention. These are the same x-ray machines used for hand luggage, which you will become familiar with when you reboard your ship at ports.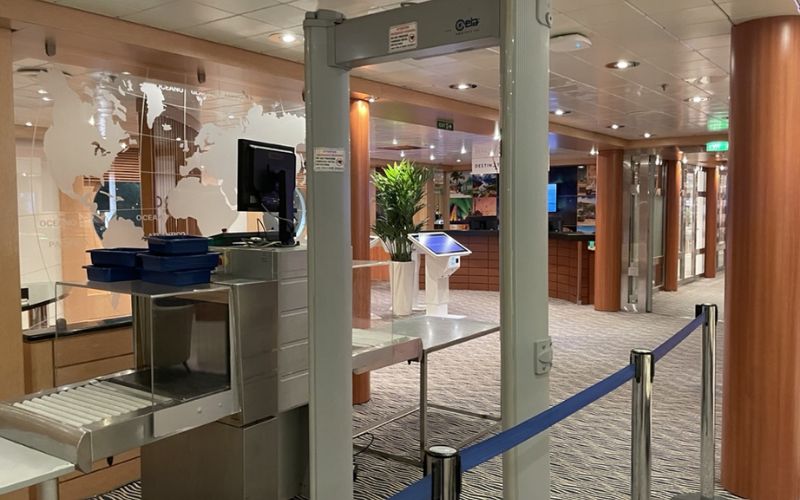 Embarkation and disembarkation days can be quite busy and crowded. If you carry your own luggage, this means you have to find your way through busy areas, which can be quite exhausting. Pulling large suitcases up the gangway is not always easy.
If you have any mobility issues, large and heavy luggage, or prefer assistance, you may find it easier to let the porters look after your bags. It might be useful to speak with guest services before disembarkation day to make sure you have help on the day.
Porter services are not always complimentary, as it depends on the country and port. Either way, it's expected to tip the porters a few dollars, pounds or euros per bag. It could add an extra expense if you have a lot of luggage. However, this could also be worth the extra cost if you don't want to have the hassle of carrying everything yourself.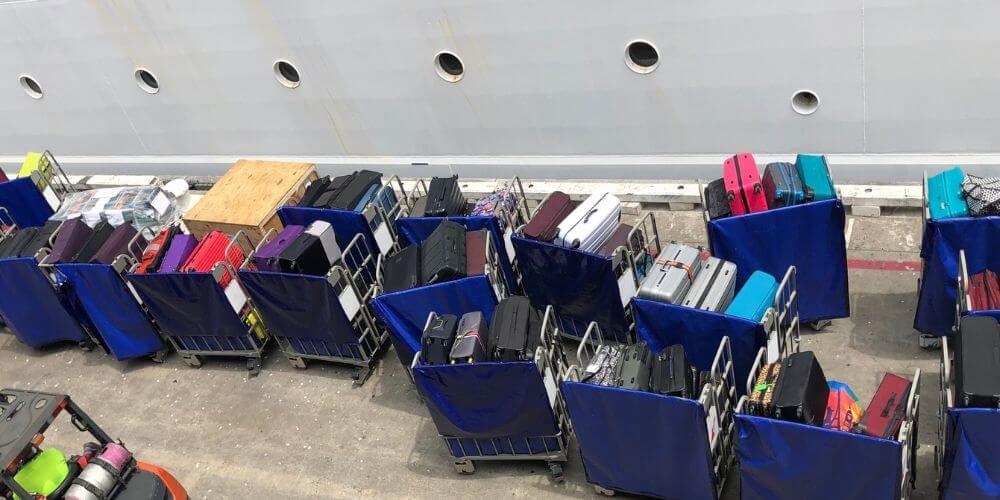 Here's what I do…
I always hand over my luggage as soon as I arrive at the cruise terminal. I can't wait to get rid of my big, heavy suitcase and I walk onto the ship with a small bag, carrying as little as possible.
Suggested read: The Best Carry-On Bags For A Cruise
When we went on a two-week cruise from the UK (cold) to the Canary Islands (hot) as a family of four, we had SIX suitcases. We had to pack for all weather and had Christmas presents in there too.
There would have been no way we could carry three cases per adult. But, as soon as we stepped off the coach in Southampton, a porter was there to take the cases, so we didn't have to touch them.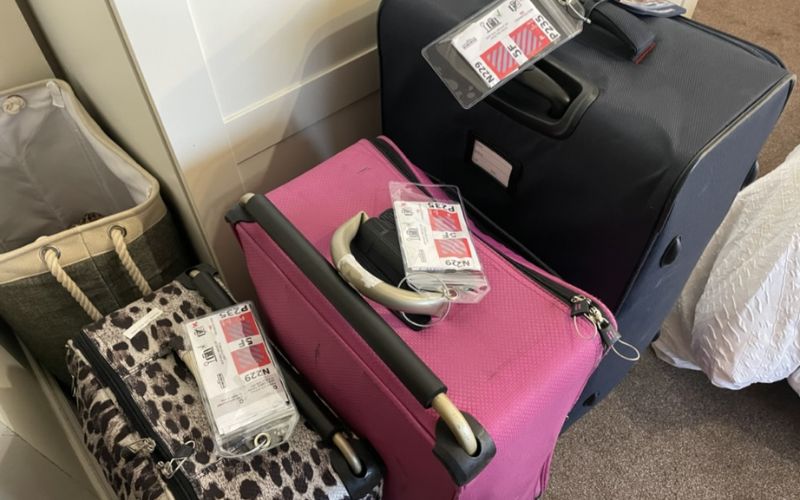 When I disembark the ship, it's another story…
If we have a lot of bags or we're getting the cruise line's own coach, then we will put our suitcases outside our rooms when we go to bed on the last night and collect our bags from the cruise terminal after disembarkation.
But, if we don't have the kids with us, we can easily pull our own suitcases. So in that case, we would keep our suitcases and do the 'self disembarkation option.
You can leave your case if your room while you go for an early breakfast. Then when it's time to disembark, just grab it and walk off the ship. Easy!
Related Posts: