In 2021 I went on my first Disney cruise. Along with my husband and kids, we spent three nights on board the Disney Magic, cruising from Liverpool, UK.
Did this cruise live up to our high hopes and expectations? Read on to find out!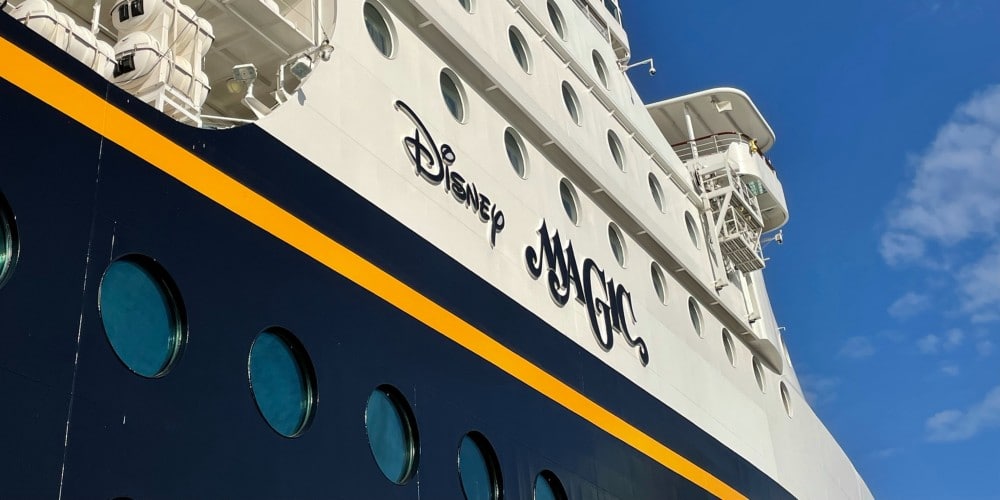 In this Disney cruise review, I'll show you the highlights of the cruise and details of some of the temporary restrictions that were in place – which hopefully you never need to worry about again! I'll also include some useful tips to help you make the most of your Disney Magic at Sea cruise.
This ship has some wonderful surprises that I really don't want to spoil for anyone who has a cruise booked. So I promise to be careful not to give too much away! If you don't mind spoilers, you'll find lots of vlogs on YouTube where guests have shared the whole experience.
And if you haven't booked a Disney cruise yet but are considering it, then perhaps this review will tempt you to make the leap. If you do, I promise you won't regret it!
Embarkation
Obviously, as it was 2021, there were still a lot of extra safety measures in place because of COVID-19. Those won't impact you now, but I've still included the information in this review, in case you want to know how Disney handled it.
Disney Magic was the first Disney cruise ship to resume cruising since the global pause. As a result of requirements both by the cruise line and the UK government, there were a few extra steps to take before we could board.
Firstly, all adults had to be fully vaccinated and children had to have a PCR test a few days before the cruise. We also packed lots of face coverings as these are to be worn by adults (and kids aged 11 and over) when walking around indoors.
Once we arrived in Liverpool, we all took a lateral flow test and waited for a nerve-wracking 30 minutes until the results were emailed to us. Anyone who failed the test was given a full refund, but of course, nobody wants to be turned away.
As we had already submitted all of our passport details, photos and information, there wasn't much else that we needed to do before boarding. Once we were given the all-clear, we hopped on the coach for the short ride to join the ship.
As we boarded the Disney Magic, we were shown straight to the D Lounge where we were shown how to use Disney's app. The app is really important as it's where you'll find the schedule of daily events and all of the menus. I really appreciated the one-on-one help to make sure it was all working properly and the Disney team are all super friendly and helpful.
Tip: Don't worry if you can't book activities on the app before your cruise as more times become available once you get on board.
Next, we went through to the atrium where it was announced 'Welcome to the Fielding family' and we saw Mickey and Minnie waving from the main staircase! Our cruise had finally begun!
Accommodation
We boarded the ship at 1pm and were advised that our stateroom would be ready by 4pm.
As Disney Cruise Line allows each guest to bring six bottles of beer or two bottles of wine on board, we had a rucksack full of beers that we were planning to drop off outside the room. However, the whole corridor was roped off so we had to hang on to them for a few hours.
It's great that Disney Cruise Line allows you to bring your own drinks, but you should be aware that these must be in your carry-on luggage so you'll have to carry them around with you for the first afternoon. Bear that in mind when deciding whether to bring your own drinks or not.
We stayed in room 6067 – a standard inside stateroom. I was very impressed with the room, which was one of the largest inside staterooms I've ever seen on a cruise ship!
Usually, when we cruise as a family of four in an inside cabin, we have Pullman beds that come down from the ceiling above the main bed. However, our cabin on board Disney Magic had a separate sofa which was transformed into bunk beds by our stateroom attendant each evening.
The kids believed that the sofa turned into a bed by magic. On the first night, they had plain bedding. But on the second night, the bedding was switched to Moana-themed for my daughter and Marvel-themed for my son, which the kids were even more impressed with!
The Queen-size bed was probably the most comfortable bed I've ever had the pleasure of sleeping in, and I love that there was also a curtain across to divide the room.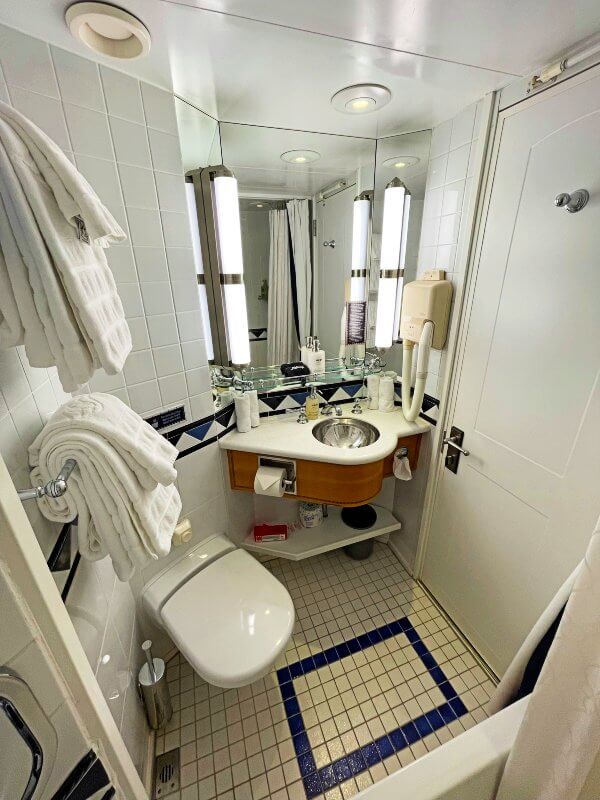 Our room featured a bath which was just perfect for the kids. On most cruise ships, bathtubs are only found in suites, so it was really great to have a bathtub in an inside cabin.
Most rooms on Disney cruise ships have a split bathroom – with a bath and sink in one room and a toilet and a second sink in another. As ours was a Standard room, rather than Deluxe, we didn't get to experience that, but it's something that Disney cruise fans often rave about. I can certainly see how it would make things easier when everyone is trying to get ready at the same time.
Tip: The hairdryer in the bathroom is so old that it has its own fax number. However, you'll find a much better hairdryer in a drawer in the living area so use that instead.
Food
We found the food on the Disney Magic to be absolutely incredible! Everything was presented beautifully and tasted fantastic. What's more, each of the restaurants had a fun atmosphere and the kids were kept entertained with crayons, puzzles and even some magic tricks by our wonderful waiter, Oliver.
Disney Cruise Line has a rotational dining system which means that we ate in a different allocated restaurant each night. Our servers also switched venues with us, so we had the same waiters looking after us for every meal. This gave us the opportunity to really get to know them and they formed a lovely bond with the kids.
I am vegan and the rest of my family are vegetarian, which gives us a slightly different perspective on the dining experience than most other guests. I've written a full separate guide on Disney vegan dining, so be sure to check that out.
Animator's Palate
On the first night of our cruise, we dined in the Animator's Palate restaurant. I don't want to ruin any surprises for anyone who's yet to cruise with Disney, but this restaurant uses some incredible technology to create an experience that's sure to wow the whole family. We were very impressed!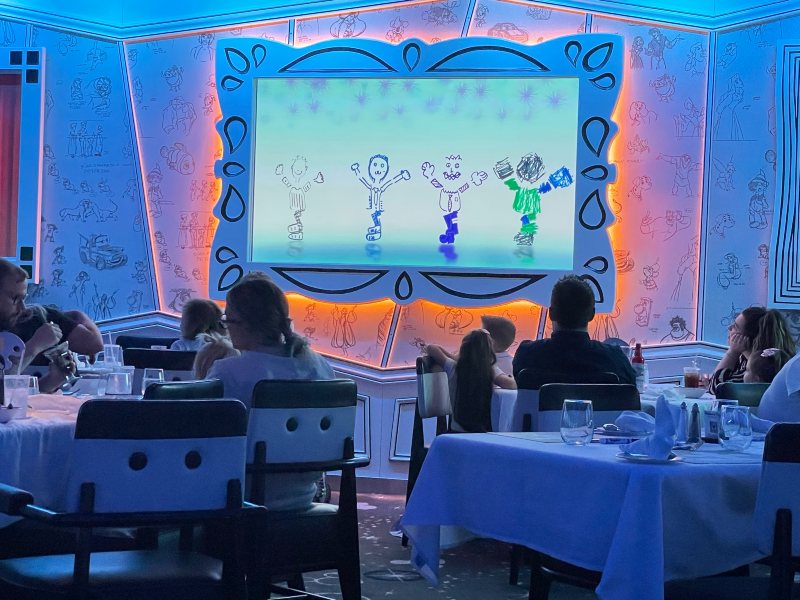 Our first Disney cruise dining experience showed me that Disney really does think of everything. From the kids' drinks having a spill-proof lid to the Mickey Mouse-shaped ketchup, we loved every little detail.
Rapunzel's Royal Table
On night two we dined at Rapunzel's Royal Table. Inspired by the Disney movie Tangled, this stunning themed restaurant has a sky made of lanterns. Kids can also use their menu to create their own lanterns.
The highlight of this dining experience was the live show which happened in parts so that you can enjoy it while eating.
As we had a booking at the adults-only speciality restaurant Palo 7.30pm, we brought the kids to Rapunzel's at our allocated time of 6.10pm so that they could eat and we could all enjoy the show before heading to the kids club for the evening.
Not eating in Rapunzel's was tricky as everything was so tempting, but we were determined to save space for our meal at Palo. The freshly-baked pretzel bread was the most delicious bread I've ever eaten, but I did manage to save space for our meal later.
Lumiere's
On the final night of our cruise, we dined at Lumiere's. We also ate breakfast and lunch here and every meal blew us away!
This Beauty and the Beast-themed restaurant is just so elegant and has lovely sea views through the large porthole windows.
At lunch and breakfast, we enjoyed classic American food like Mickey-shaped waffles, omelettes and fresh fruit. For lunch, we dined on burgers, fries and pasta. At dinner, the menu is French-themed with a tempting array of delicious dishes on offer.
Palo
We were kindly invited to eat dinner in Disney Magic's speciality dining venue – Palo. This is an adults-only restaurant, so we dropped the children off in the kids' club before we arrived.
Palo offers Italian cuisine in elegant surroundings with the best views over the ship's wake. I lost count of how many courses of food arrived, but each one was incredible.
One thing that surprised me about our Palo experience is that we were the only guests in the restaurant! I believe that this was because we were on a three-night cruise and there were three main restaurants – so perhaps people didn't want to miss one of the others.
Palo offers a brunch which is very popular. However, if you don't manage to secure a spot here, I'd definitely recommend dining at Palo one evening. Just as we did, you can still experience the other dining rooms without eating, or perhaps just have a drink and a starter.
Tip: If you need to skip dinner in one of the dining rooms to allow time to experience Palo, skip Lumiere's. This doesn't have a show and you can eat lunch there instead for the same experience.
Cabanas
As well as the dining rooms, Disney Magic has a buffet restaurant called Cabanas.
Eating at the buffet with dietary requirements on a Disney Cruise was quite different to other cruises I've been on. As I asked whether a particular was suitable, rather than being given a simple yes or no, I was invited to meet with the head chef. He offered to make up a vegan-friendly version of any of the dishes that could be made vegan, including creamy pasta and buttered vegetables.
I thought that this was a lovely touch. There were some fantastic salads that I was able to tuck into straight away while I waited for the rest of my food to arrive.
Drinks
Disney cruises include many non-alcoholic drinks free of charge, although I found that it wasn't always obvious which drinks were free and which weren't.
On a Disney cruise, you can get free non-alcoholic drinks in these locations:
The dining rooms with meals
The buffet restaurant
The beverage station by the pool
The Vibe teens lounge
When you order a drink at any other bar you'll have to pay for it, with the exception of tap water which is always free of charge.
It's also important to know that not all non-alcoholic drinks are free. There's an extra charge for smoothies, speciality coffees (e.g. cappuccino) and bottled water. Alcoholic drinks always have a charge too.
For increased hygiene, Disney does not currently offer menus and you are instead encouraged to view menus via the Navigator app. The app doesn't list all of the drinks, so if there's something that you would like, just ask the bartender or waiter.
The dinner menus feature recommended speciality drinks and cocktails. These don't have prices on the menu but do have an extra cost. My cocktail was delicious and I felt it was worth the splurge.
I found that it can be tricky to keep track of what you're spending on drinks on a Disney cruise as it's not always possible to know how much drinks cost before you order them. However, the price is shown on the ticket that you sign after you receive your drink, or at the end of your meal. You can also ask your waiter or bartender before you order.
As Disney is a high-end cruise line, I get the impression that most guests aren't too concerned by drinks prices. However, as a budget cruiser, this is something that I do like to know. My guide to Disney's drinks packages has a section on drinks prices on the ships.
Activities & Entertainment
There's so much to enjoy on a Disney cruise, that even on a cruise with no ports to visit you will never have time to be bored. Each day there's an action-packed schedule of activities to choose from.
Meeting Characters
Meeting characters (or as my four-year-old calls them, 'customers') is one of the highlights of any Disney cruise. All meet-and-greets are socially distanced, so there are no hugs or high fives at the moment, but still lots of opportunities to chat to the pretty Disney Princesses from six feet away.
The main place to see characters is in the atrium where there's almost always someone waving from a balcony or standing on the staircase for photos. Characters also appear in the kids club. at set times in the movie theatre and they also make surprise appearances during family activity sessions.
Another good place where you may be lucky enough to bump into your favourites is the promenade deck on Deck 4. Here you can chill out on sunloungers and admire the sea views, or take a walk all the way around the edge of the ship.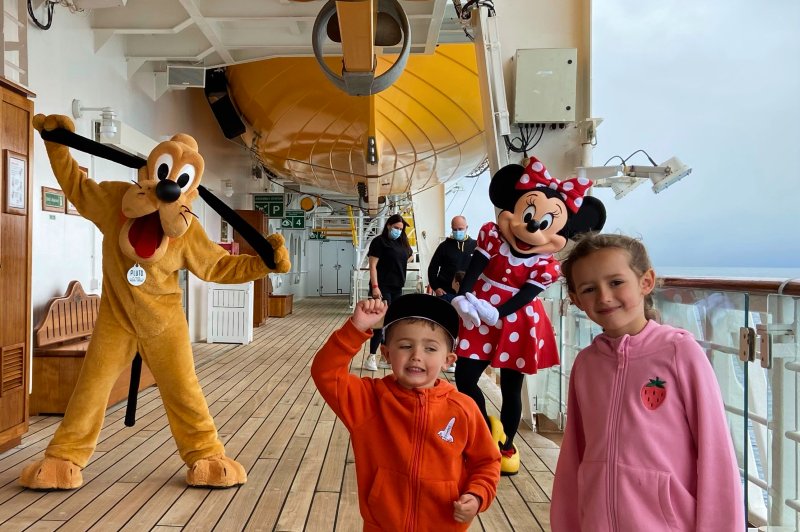 Kids' Clubs
Disney Cruise Line's kids' clubs – The Oceaneer Club and The Oceaneer Lab- are a lot of fun and my children were always eager to go there at their allocated time.
There's some choice in the activities available for kids, as my arty daughter always came back with a handful of crafts that she'd made whereas my active son said that he preferred to spend his time going down the Slinky Dog slide 'a thousand times'.
Whereas most cruise lines group the children by age, Disney lets all kids aged 3 to 12 play together, which means that siblings don't need to be split up.
Disney's kids' club has some open house sessions where everyone is welcome to take a look around. This is great for any children who are nervous about going somewhere new without their parents. It also provides a good opportunity for curious adults to have a look inside.
Pools and Slides
The Disney Magic has two slides – the yellow Twist 'N' Spout slide and the red AquaDunk Slide. We all loved the yellow slide – it was the highlight of my son's cruise. The kids were too small for the red slide but my husband and I went down it without them – it was truly terrifying!
You'll find more information about the slides and the requirements for them in my guide to Disney cruise waterslides.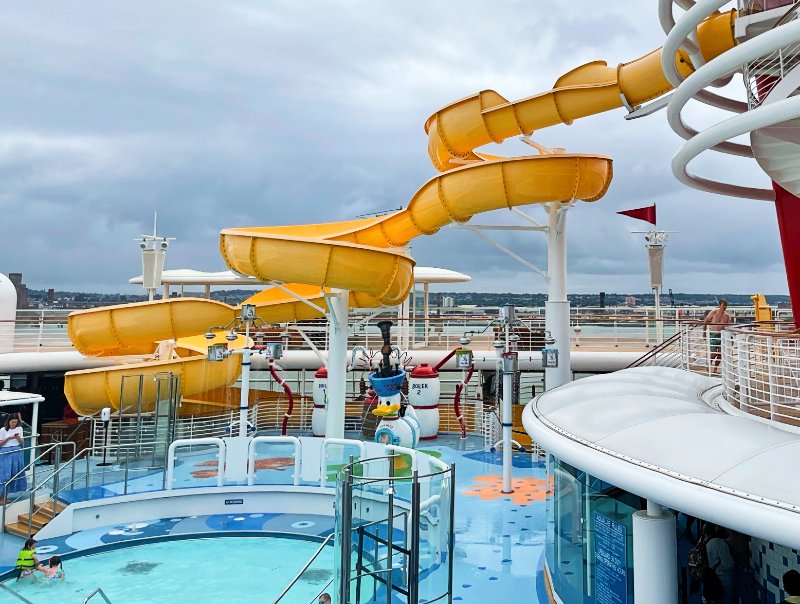 Tip: You don't need to pack arm bands as flotation vests are provided.
At the time of this review, we did have to queue to use some of the pools, but those restrictions are all gone now.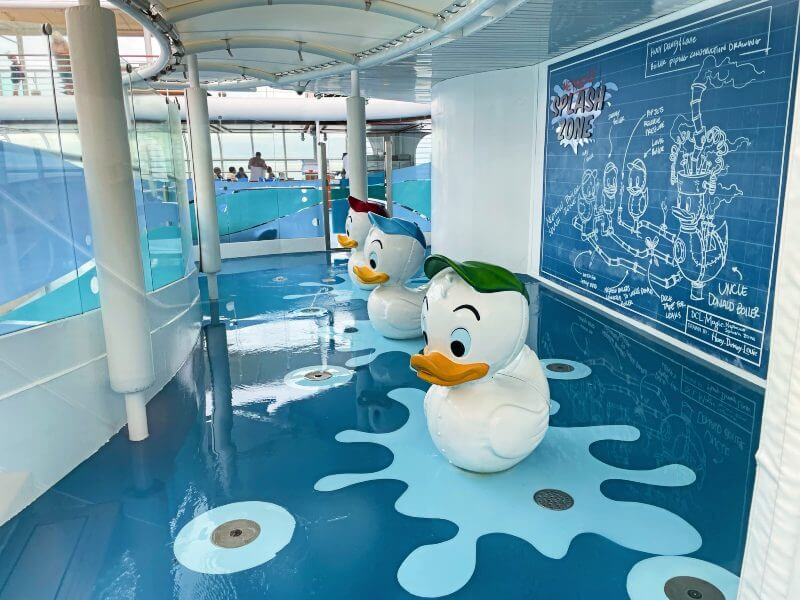 One afternoon when our kids were in the kids club, we spent some time in the Quiet Cove adults-only pool. This is a lovely, relaxing area with padded loungers and no need to queue for the pool.
As only one group was allowed in the hot tubs at a time, these always seemed to be full so we didn't get to try those, but the pool was lovely and warm.
Shows
We saw the Disney Dreams show and I can honestly say that it was the best show I've ever seen! This award-winning Broadway-style musical features songs and characters from popular Disney movies including Peter Pan, Pinocchio, Cinderella and Aladdin.
Tip: Sit near the front to enjoy the special effects
Family Activities
The daily schedule had lots of activities that families can enjoy together, including Disney trivia, crafts and drawing classes.
I love that the Navigator app allows you to 'favourite' the activities that you plan to attend. This then adds them to your schedule so that you can see where you need to be and at what time. The app even gives you a notification a few minutes before each event is due to start so that you have time to get there.
Would I Recommend Disney Cruise Line?
I would absolutely recommend Disney Cruise Line, and not just to families with children either. Couples, groups of friends and solo travellers can all enjoy the magic of Disney at sea – a Disney cruise has something for everyone.
The reason why we've never cruised with Disney before now is that Disney cruises are generally more expensive than other cruises and we like to squeeze as many cruises as we can from our budget. You can see exactly how the prices compare here: How much is a Disney cruise compared to other cruises?
NEW DEALS JUST RELEASED!
Don't miss the latest Disney Cruise Line offers…
The cost is something that a lot of Disney Magic reviews mention, but then most people seem happy to pay the extra for that little bit of Disney sparkle.
Being able to take a short Disney cruise from a regional UK port was a new option for 2021. Prior to this, the only option has been week-long cruises from Dover which were sadly out of our price range. Those short itineraries have continued to be made available, though availability can be limited.
After having visited Disneyland Paris and Walt Disney World in Florida before, a Disney Cruise is certainly comparable in terms of the immersive Disney experience and the outstanding levels of service and attention to detail.
I've also been privileged to interview a lovely lady named Barbara who had been on 89 Disney Cruises! If you'd like to hear the perspective of a regular Disney cruiser in addition to my thoughts as a newbie, then you can take a look at that interview here.
NEW DEALS JUST RELEASED!
Don't miss the latest Disney Cruise Line offers…
Related posts: