As a vegan, I found dining on a Disney cruise ship to be very different from any other cruise I've experienced.
I won't say that it's better or worse, just that things work differently on a Disney ship. You may like this, you may not. But, if you're planning to take a Disney cruise and you're vegan, there are some things to know before you go that will make your experience 10x better.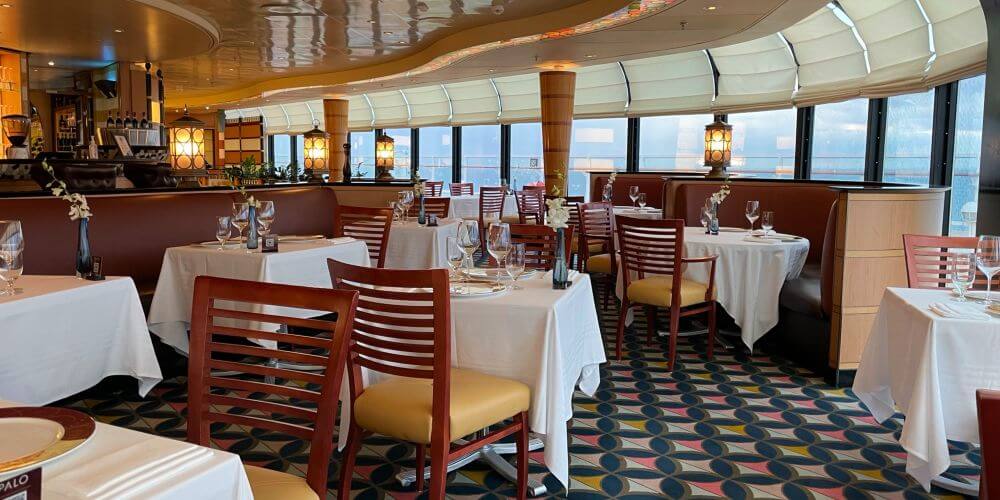 You can read more about my cruise on the Disney Magic here and on the Disney Wish here. Otherwise, read on for the things you need to know when taking a Disney cruise as a vegan, vegetarian or plant-based person.
Knowing these things in advance will make sure that you have a great dining experience. As long as you plan ahead, you're sure to enjoy vegan friendly cruises with Disney.
Do Disney Cruises Have Vegan Menus?
Disney Cruise Ships do not offer vegan menus. However, there is usually one vegan starter and main in each menu, and these are labelled as plant-based.
Despite the lack of menus, vegans certainly won't go hungry on a Disney cruise. The helpful team will always be able to offer you something. And if you don't like the single option that's on offer, they will make you something else.
Currently, all Disney Cruise Line food and drink menus are available to view via Disney's Navigator app, but only during your cruise. You can also request a disposable paper menu in each venue and you'll also find a menu outside the door of each restaurant on the ship.
Disney Cruise Menus
Each of the five Disney cruise ships has different restaurants on board, and the menu is different in each restaurant.
Here is an example of some of the menus from my most recent cruise, so that you can take a look at the vegan offerings in the restaurants on the Disney Wish.
1923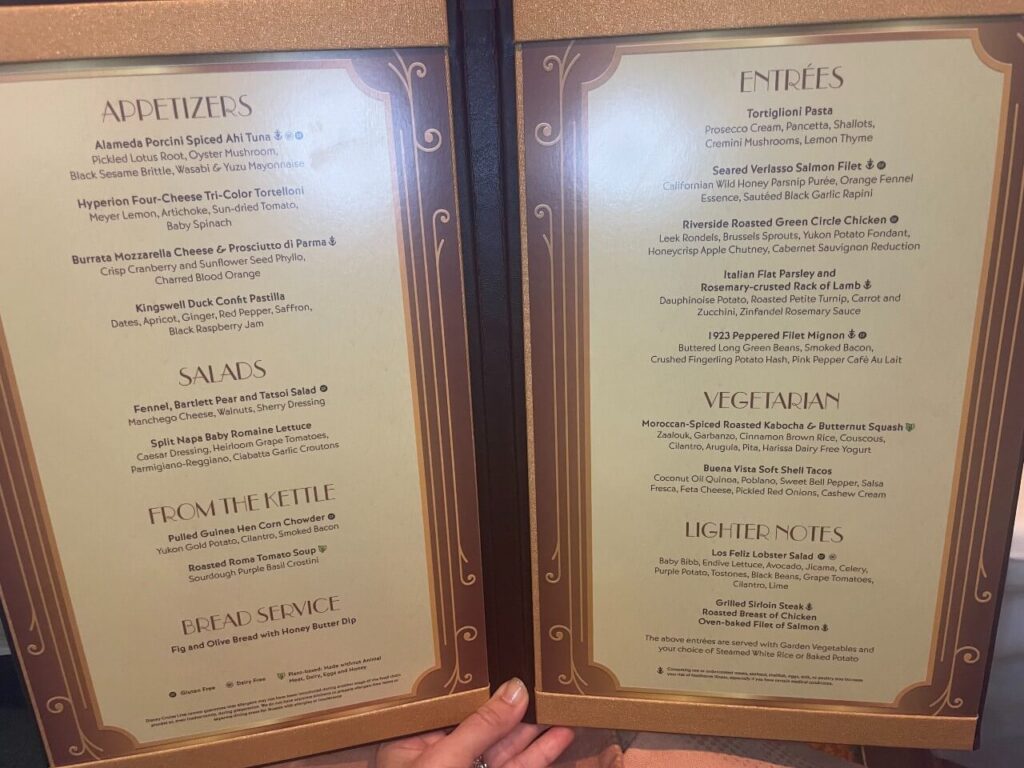 Worlds of Marvel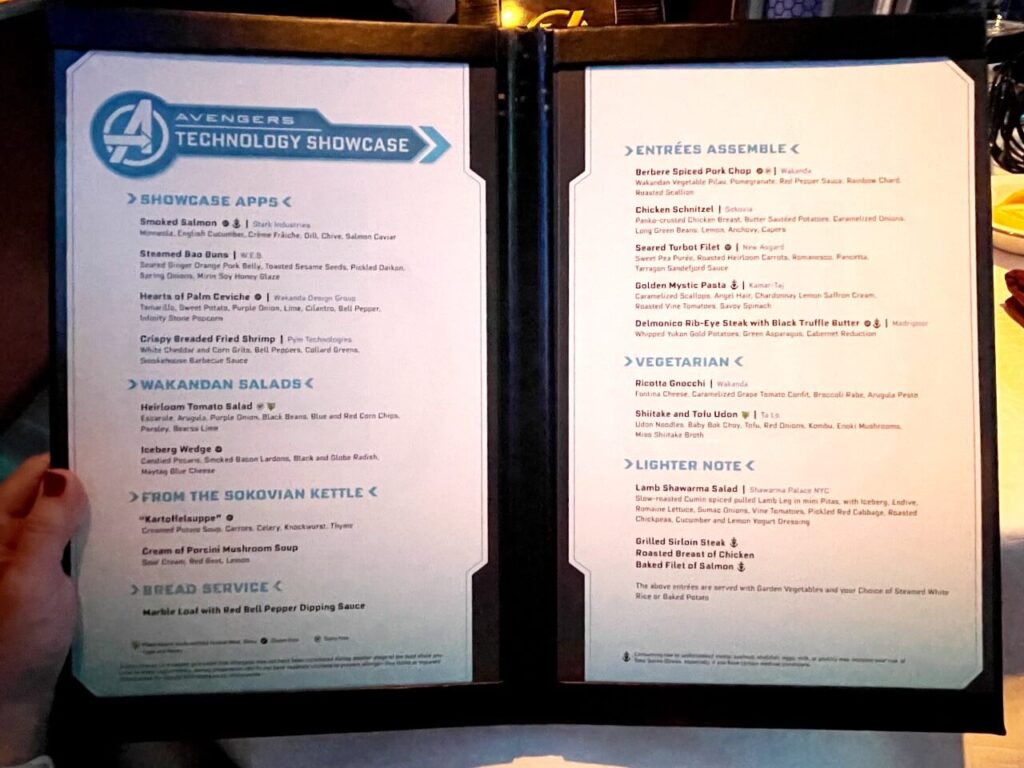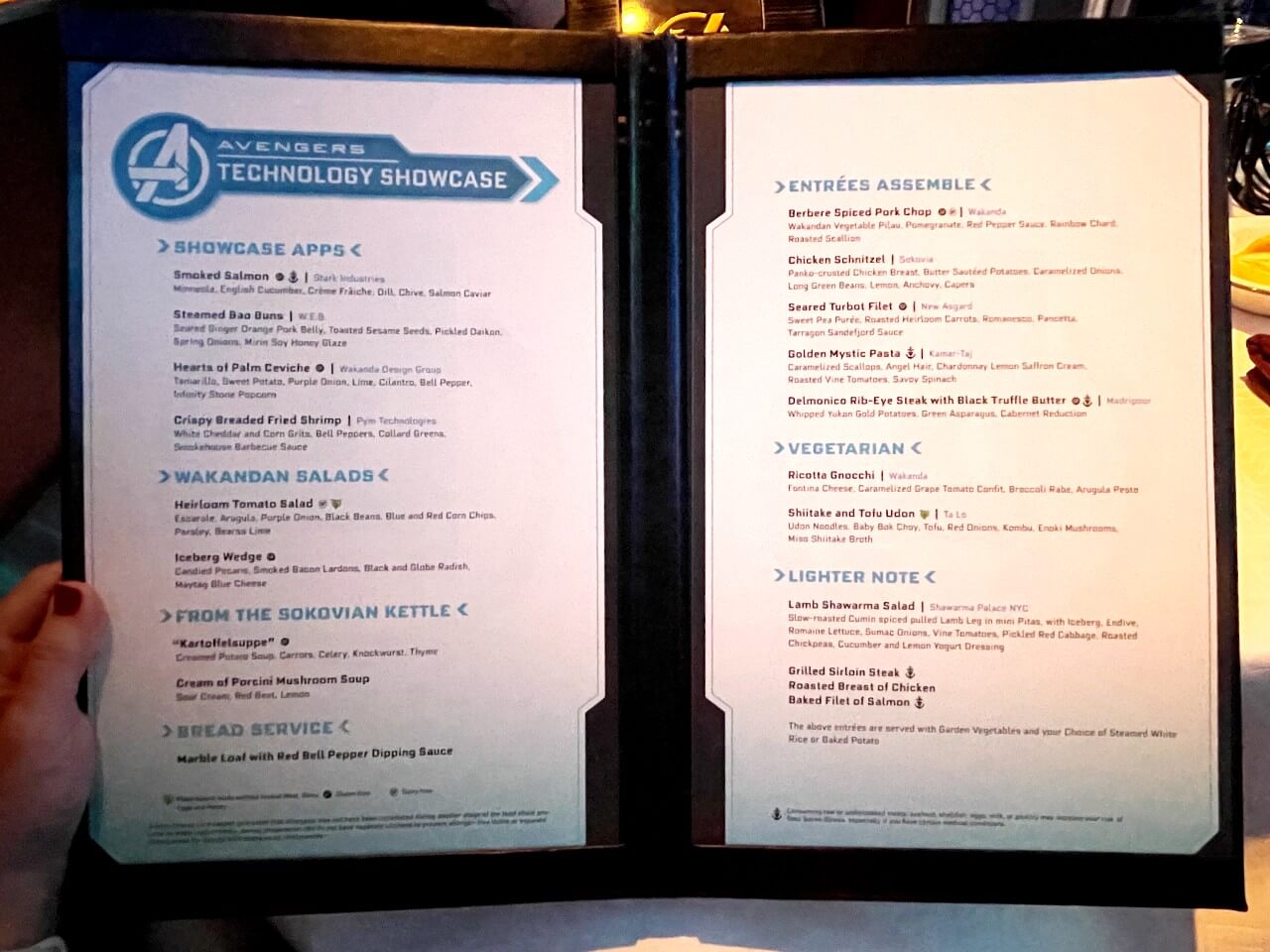 Arendelle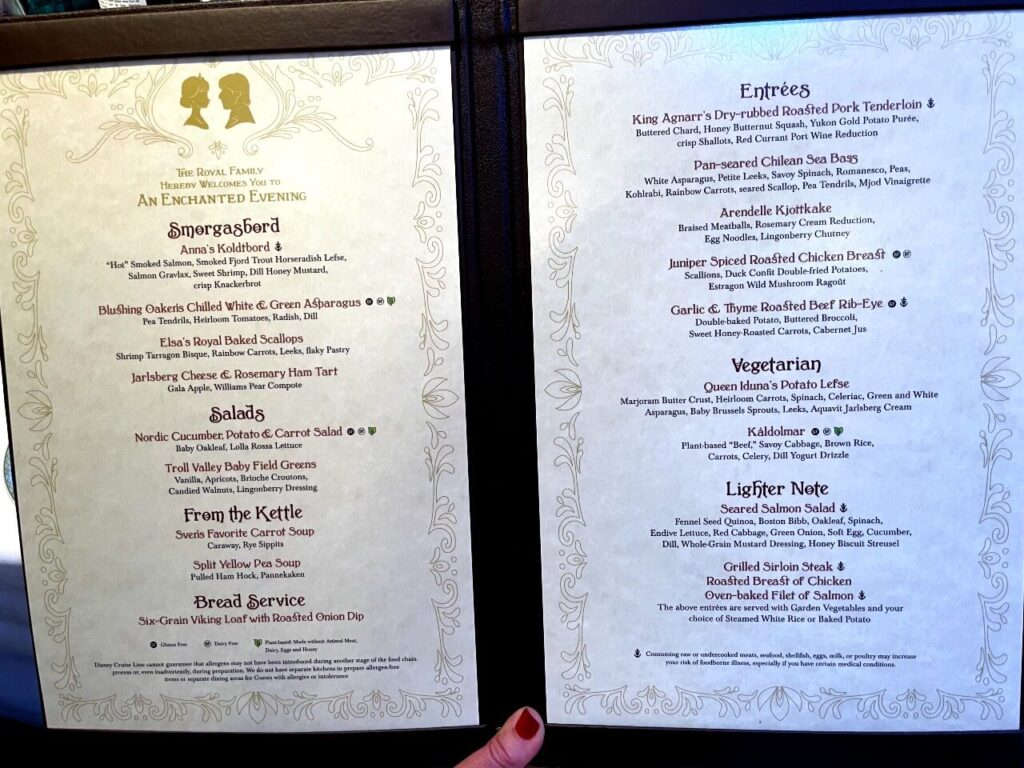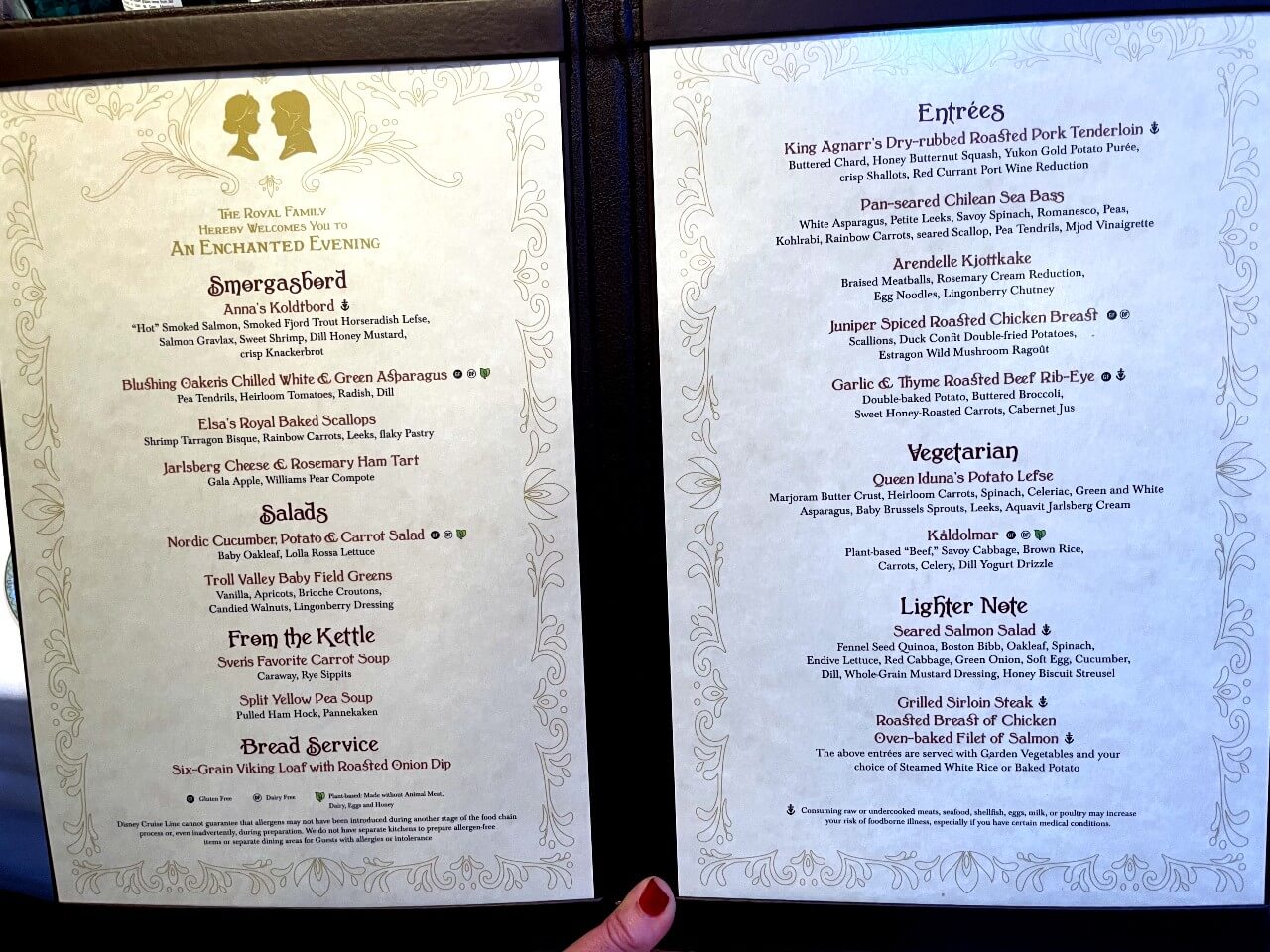 Breakfast Menu
The photo below shows the breakfast menu, which was identical on board the Wish and the Magic.
As you can see, nothing is labelled as vegan. Most of the things that are suitable for vegetarians are not labelled as vegetarian either. However, there are a whole host of secret vegan menu items that you can request, if you know to ask! Read on for more about those…
Are Disney Cruises Vegan-Friendly?
Despite the lack of vegan menus and inconsistent labelling, Disney cruises are very vegan-friendly. Chefs are happy to adjust almost any of the dishes on the standard menu to make them suitable for vegans.
Sometimes, I barely looked at the menu, as before I had a chance to, our waiter was there chatting about what the chef would like to make specially for me.
As you have the same waiter looking after you, they will remember your dietary requirements after the first night. However, at the very beginning, it can be tricky.
Not Every Crew Member Is Trained About Vegan Diets
When I first sat down in the 1923 restaurant, I advised the waiter that I was vegan. He brought me a special 'allergy menu' which was similar to the main menu, but it didn't have any vegan options on it. In fact, the whole vegetarian section was missing.
I explained that I didn't have an allergy but that I didn't eat meat, fish, dairy or eggs. He then gave me the regular menu, but brought me gluten-free bread, instead of the regular bread that my vegan friend on another table was told was fine to eat.
At lunch, I ordered the Impossible burger from the poolside cafe. I asked if any other side dishes were vegan and was told that they all were – potato salad, coleslaw, and mac and cheese. Even when I questioned this, the server was adamant that they were. They weren't though, although they did appear to be vegetarian.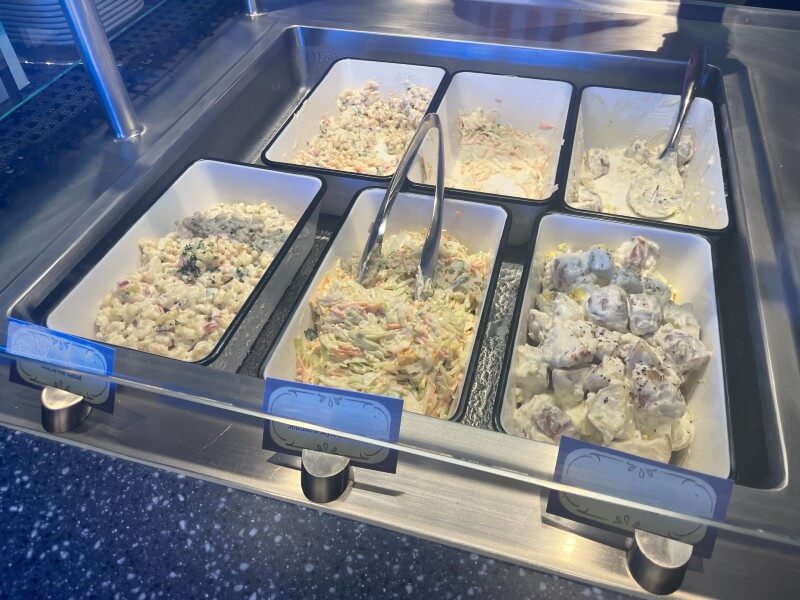 I do feel that this problem could be easily solved if Disney Cruise Line opted to label foods as vegan and vegetarian, rather than relying on the knowledge of each crew member.
In the buffet, it's impossible to wander around choosing what you'd like to eat. If you ask whether something is vegan, the servers don't know, so they send you to the manager, who asks what you would like to eat.
I had this pasta freshly made for me, and while I did really appreciate the effort and it's delicious, I do sometimes like to have a few different things on my plate.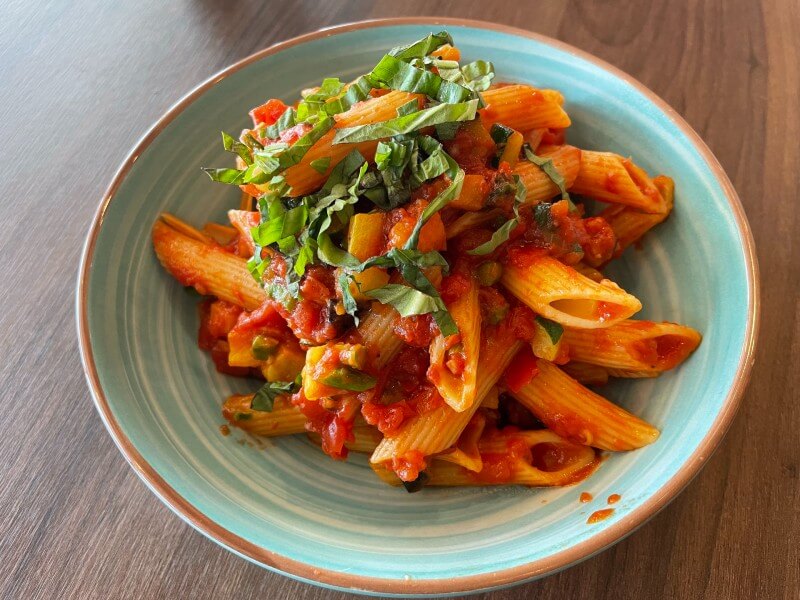 When I have the kids to sort out, I'd rather just grab a few things for myself rather than have to speak to find the right person, ask for something special and then wait for it to be made.
How To Eat Vegan on a Disney Cruise
If you plan to eat a plant-based, dairy-free or vegan diet on a Disney cruise, there are four things that you must do…
1. Tell Disney Cruise Line About Your Dietary Requirements When You Book The Cruise
When you book your cruise, you must inform Disney Cruise Line of any special dietary needs or food allergies.
You'll be prompted to do this when you book online. If you book over the phone or with a travel agent, don't forget to mention that you're vegan.
If you've already booked your cruise and haven't told Disney that you're vegan, you should do it as soon as possible. Ideally, you should give at least four weeks notice, but late is always better than never.
2. Tell Your Server That You Are Vegan
The first time you sit down to eat, you should let your server know that you're vegan. While they will have a record of this on your booking, telling them straight away means that you can skip the bit where they recommend various steaks and things that you're not interested in.
It also gives them a prompt to help you with the menu and to check what else might be available for you.
3. Order Off-Menu
On a Disney cruise, the menu labelling can be very hit and miss. It's rare to find anything labelled as vegan, even though some of the items may actually be free of animal-derived ingredients.
You can ask your server which items on the menu are suitable for vegans. They will advise you and may suggest some things that can easily be adjusted e.g. cooked in oil instead of butter.
Don't be afraid to ask for things that aren't on the menu. If you fancy a bowl of pasta, for example, they will almost certainly be able to make that for you. Disney Cruise Line has amazing service and they make you feel like nothing is too much trouble for the waiters and chefs.
Some secret options you can ask for include avocado on toast at breakfast, vegan omelette (these are incredible), vegan sausage, vegan chicken-style tenders and vegan Mickey waffles.
4. Pre-Order Your Food For The Next Day
The great thing about Disney cruises is that you eat in all of the restaurants on rotation, and your servers will move with you. Because you have the same waiter every day, it's easy to order your food for the next night at the end of your meal.
If you plan to eat in the main restaurants at breakfast or lunch, you can also pre-order either the day before or the meal before.
The advantage of pre-ordering your vegan food is that you'll get a wider choice of options. You'll also have less of a wait, as some things like vegan sausages can take a while to cook.
If your cruise calls as Disney's private island, Castaway Cay, then you should definitely pre-order your food for on the island in the dining room the night before.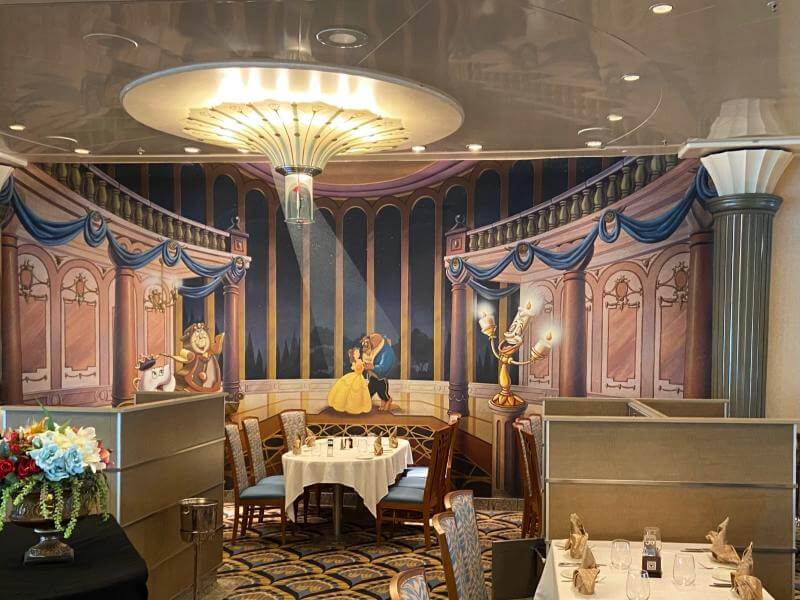 Disney Cruise Vegan Food Photos
On my Disney cruises, I ate in all of the main dining rooms, the buffet, the poolside snack bars, and the speciality dining restaurants. Here are some photos of my food to help you to know what to expect…
Animator's Palate
On the first night of our cruise, we dined in Animator's Palate. This colourful restaurant can be found on the Disney Wonder, Disney Dream and Disney Fantasy as well as the Disney Magic.
While we studied the menu, we tucked into freshly baked bread with vegan butter.
For starters, I ordered the arugula leaves with red beets, orange segments and marinated white beans with mustard dressing. It was delicious and a lovely healthy start to the meal.
(Disney Cruise Line's menus are all in American English, but for us Brits, arugula is rocket and beets is beetroot!)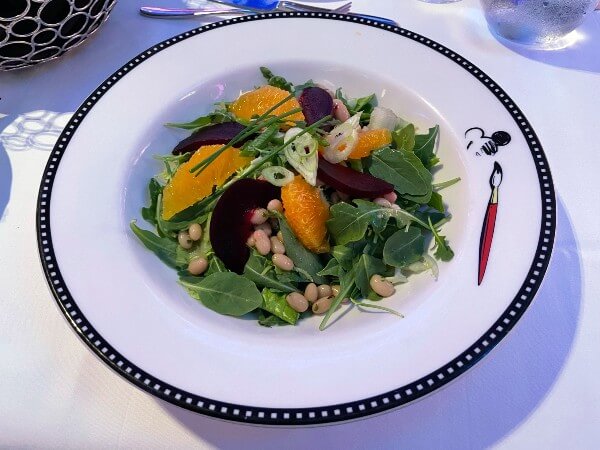 For the main, I again ordered off the standard menu. The vegan-friendly option was black bean chipotle cakes over corn kernels and brown rice topped with tomato and cilantro salsa.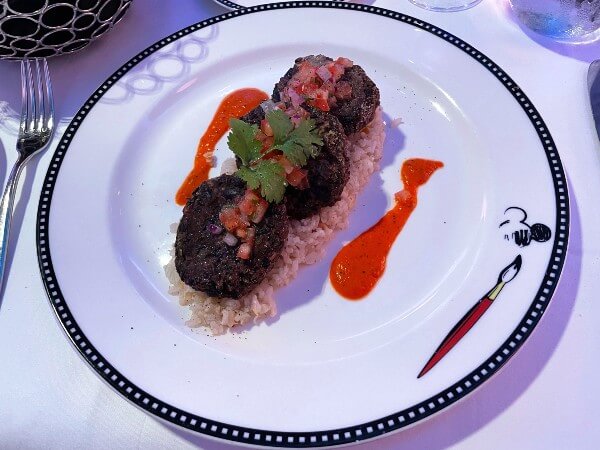 None of the desserts on the menu were suitable for vegans so the waiter cheerfully offered to bring me a surprise. It was a poached pear with raspberry sorbet.
I had never tried a poached pear before and it's not something I would ever think to order. It wasn't to my liking, but the sorbet was absolutely delicious.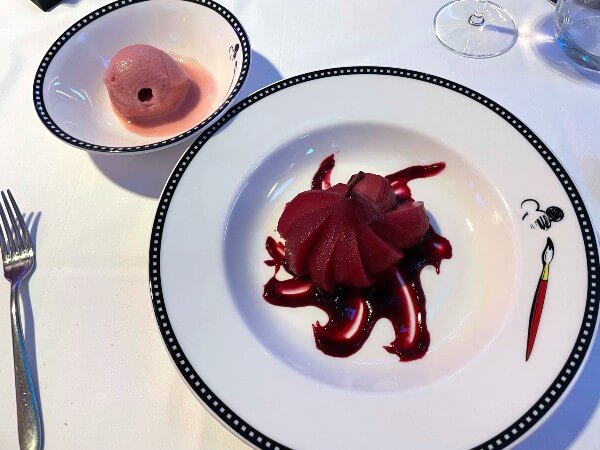 After dinner, I enjoyed a lovely coffee with almond milk.
Rapunzel's Royal Table
For breakfast, we ate at Rapunzel's Royal Table. This themed restaurant on the Disney Magic offers the same menu as the other main restaurant that was open for breakfast – Lumiere's. Alternatively, you can eat breakfast at the buffet restaurant, Cabanas.
Disney Cruise Line's breakfast menu was a little odd as only a couple of items (fruit and crepes) were marked as vegetarian, even though most of the other items like pancakes, waffles, cereals and yoghurts appeared to be vegetarian too. The fruit was also marked as 'dairy-free', but nothing else was.
It didn't matter, because our waiter suggested a whole host of vegan options including egg-free omelettes, vegan sausage, mushrooms and avocado, none of which were on the menu!
I said yes to everything.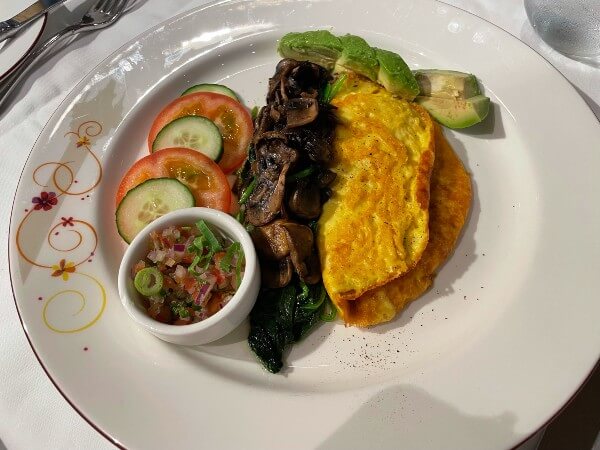 The vegan omelette was incredible! It looked so realistic that I had to check that it was definitely vegan. I asked what it was made of and was told 'it's a secret'.
My vegan sausages arrived a couple of minutes later. To be honest, I'd forgotten that I'd ordered them as I was so impressed by the omelette!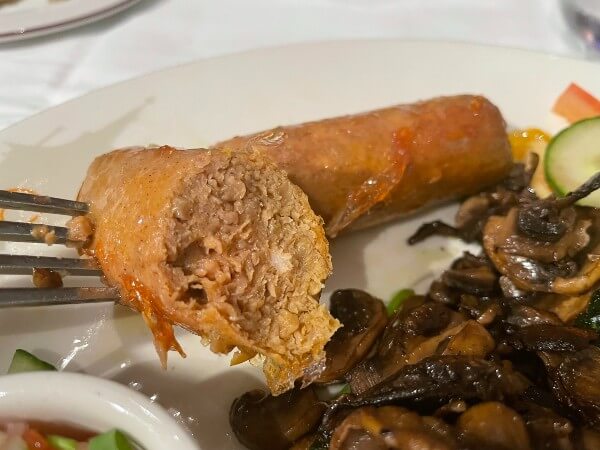 Accompanying my breakfast, I enjoyed a delicious vegan cappuccino made with almond milk.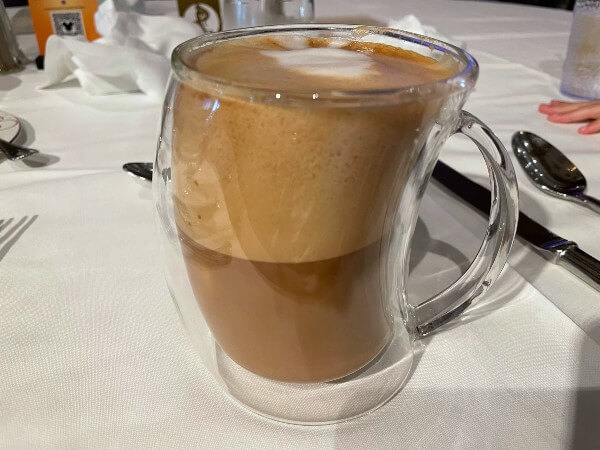 We didn't eat dinner at Rapunzel's Royal Table because we had a booking at the speciality restaurant, Palo, that evening (more on that later in this review). However, we did attend Rapunzel's to watch the show and so that the kids could eat there before we dropped them off at the kid's club.
It was tricky not to eat at Rapunzels, but there's no way that I could avoid the bread. The pretzel bread was probably the best bread I've ever had. You have to try it!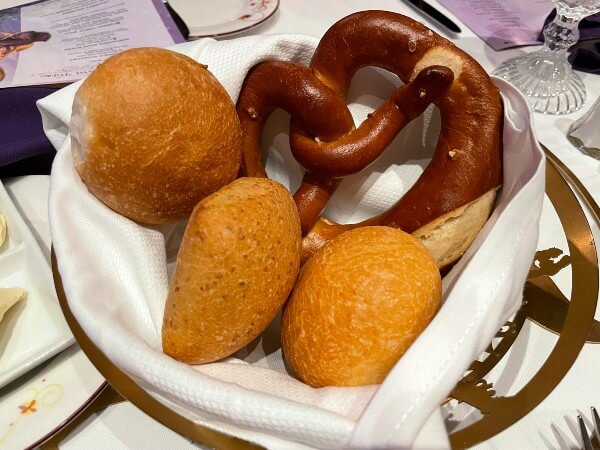 I took a good look at the menu at Rapunzel's Royal Table and spotted a couple of things that appeared to be vegan-friendly or that they could easily be adjusted to be so.
For starters, there was a salad with cucumber, potato and carrot topped with baby oakleaf and Lolla Rosa.
One of the mains was marked as both vegetarian and dairy-free. That was a chilli-spiced tofu ramen with soy-vegetable stock, strands of rice noodles, shiitake mushrooms, baby bok choi, red onion, red bell pepper and cilantro.
Lumiere's
On the final day of our cruise, we ate lunch and dinner at Disney's Beauty and the Beast-themed restaurant, Lumiere's. Our waiter had encouraged us to pre-order our lunch the night before, and he strongly recommended a pasta dish.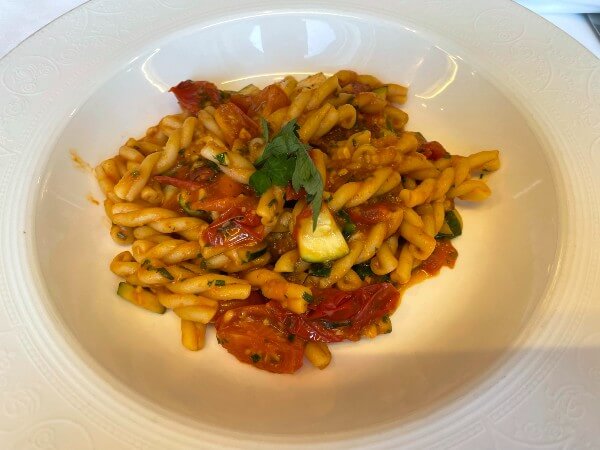 When we arrived and looked at the menu, we were shocked to discover that it also featured an Impossible Cheeseburger! This was labelled as 'Does not contain Animal Meat, Dairy, Eggs or Honey'. The first time I'd seen a vegan or plant-based label on anything on the Disney Magic, although there was better labelling on my subsequent cruise on the Disney Wish.
The pasta was on its way, but our waiter said not to worry, he would bring both! I was a little worried that we didn't have long to eat as we had a matinee performance of the show booked, but he assured us that he would make sure that we had enough time. The food arrived really quickly, so we didn't have to rush.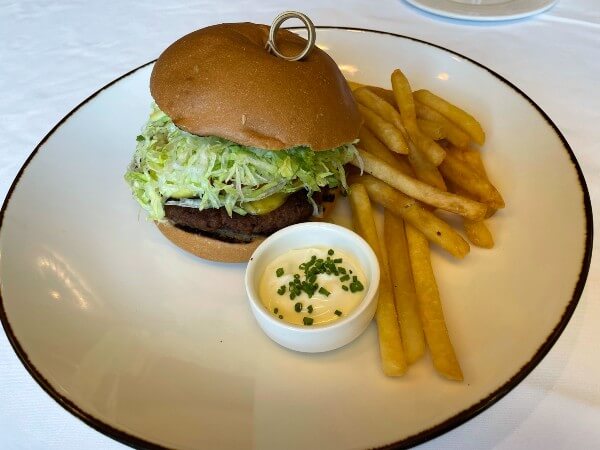 The Impossible burger tasted amazing, and I loved the vegan roasted garlic aioli.
I know that some strict vegans avoid Impossible burgers as this new meat alternative had to be tested on animals to be approved by the FDA. They also taste a lot like meat. But, if you can accept both of those, then this is something that you'll definitely want to look out for on the lunch menu in Disney Cruise Line's main dining rooms.
We returned to Lumiere's that evening for another fantastic dinner…
Our waiter suggested a tomato soup that was nowhere to be seen on the menu. It was delicious with the warm French country bread that was on offer.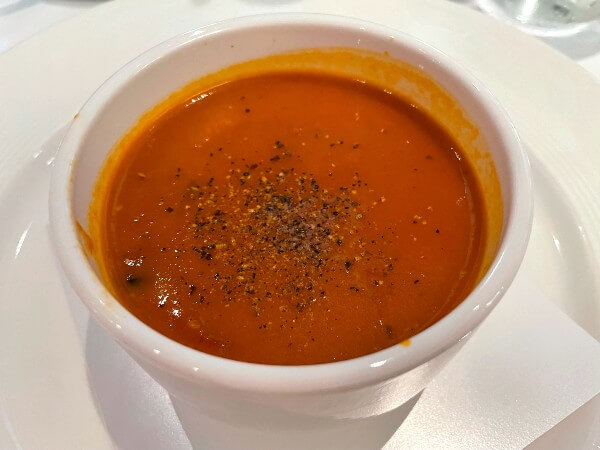 For main, I ordered the grilled marinated tofu with roasted zucchini, eggplant, red peppers, Israeli couscous and lime-cilantro drop. This was in the vegetarian section of the menu and was accidentally vegan. It tasted as good as it looked.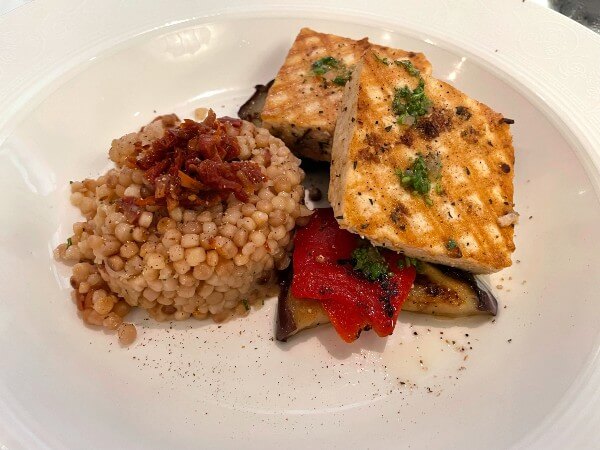 For dessert, I again opted for the 'vegan surprise'. The raspberry sorbet appeared again, which I didn't mind at all as it tasted so good. This time I also got some kind of dark chocolate and raspberry pudding which was incredible. This wasn't on the menu, but I'm sure it would have been very popular if it were!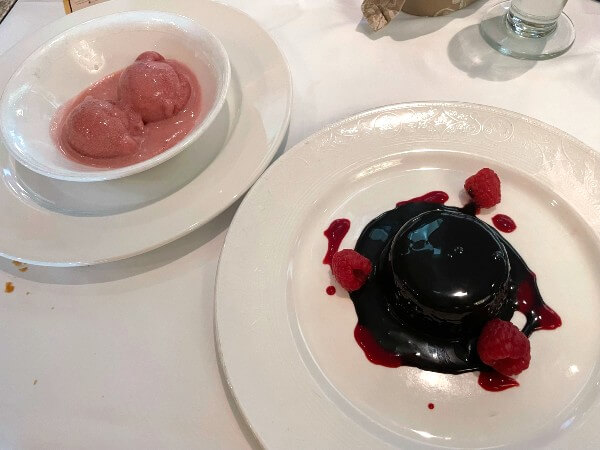 Eating Vegan at Cabanas (Disney Cruise Line's Buffet)
We only ate at Cabana's once on our Disney cruise. It was okay, but not as good for vegans as most other cruise ship buffets that I'd experienced.
Firstly, there's not a whole lot of choice. The buffet is much smaller than you'll get with other cruise lines. I expect that this is because Disney's main dining rooms are so good that a lot of people tend to skip the buffet for anything other than snacks.
Nothing was labelled as vegan-friendly in Cabanas, so I asked the server behind the counter whether some pasta was suitable for vegans. I expected a simple 'yes' or 'no', but instead, the lady said that she would fetch the head chef!
The chef came out of the kitchen and talked me through everything on the buffet. The only vegan items were French fries and salad, as even the vegetables were cooked in butter. However, he kindly offered to make me a fresh vegan version of anything that was there. I opted for some orzo pasta and he made up a batch without cream that was delivered to my table ten minutes later.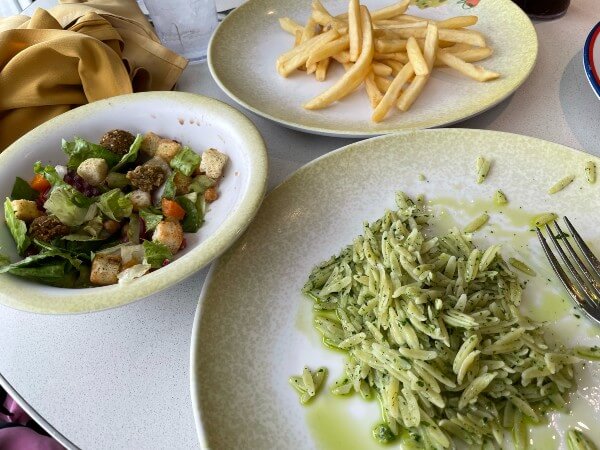 I'll be honest with you – I wasn't hugely impressed by Cabanas. However, it would be unfair of me to judge it off only one meal.
I usually like cruise ship buffets because they're quick and have lots of choices. Cabanas was, unfortunately, neither of these things for me. If you have to wait for food to be cooked specially for you, the rest of your party could have finished before you start.
If you're dining with kids at Cabanas, you can order your food, help the kids get theirs, then yours should be ready and you'll all finish together. That could work.
Eating Vegan at Palo (Disney Cruise Line's Speciality Restaurant)
Although I paid for this cruise myself, Disney Cruise Line very kindly offered us a complimentary meal at Palo. I was a little hesitant to try this adults-only Italian restaurant as I'd checked out the menu and nothing appeared to be vegan at all. I'd also searched for Palo vegan reviews online and not found anything reassuring.
However, we decided to go along for dinner and I'm so glad that I did!
If you're vegan, you can ignore Disney Cruise Line's Palo menu completely and trust that the chef will conjure up some amazing vegan dishes just for you. The vegan food at Palo is incredible.
Here's what I ate…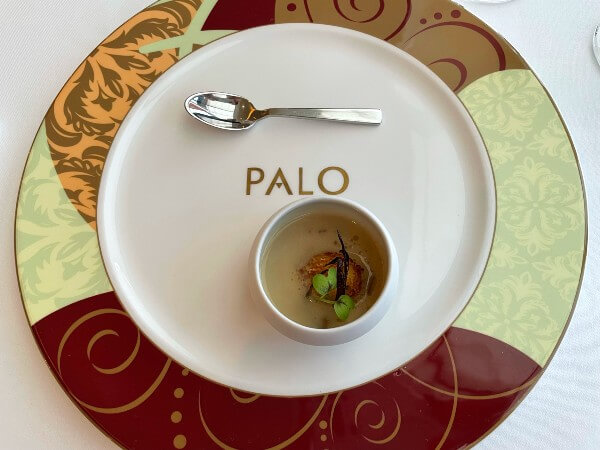 Eating Vegan at Disney Cruise Line's Outdoor Venues
The Disney Magic has a couple of poolside casual eateries. The Duck-In Diner serves classic American fast food like burgers and hot dogs, while Pinocchio's Pizzeria is the place to go for pizza slices fresh from the oven.
At The Duck-In Diner, the vegan offering was different each day and was advertised very clearly with a sign…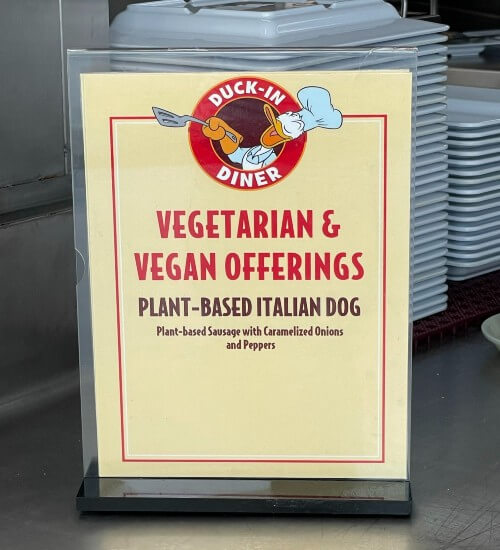 I tried the plant-based chili dog and it was great, as were the fries. It seemed to be missing the vegan cheese, but I didn't mind enough to go back for it.
The vegan hot dogs are made fresh to order so they take around ten minutes to cook. I didn't have to stand around waiting for it, though. I was advised to sit down and they would deliver it to my table when it was ready.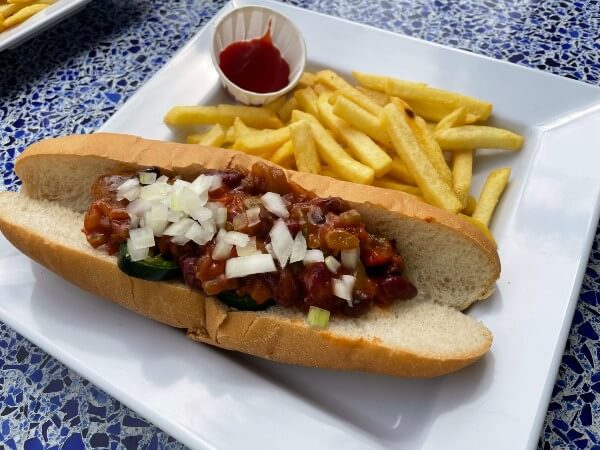 We didn't get time to try the pizza, but I enquired and was told that vegan pizza could be made to order, which was great to know!
By the pool, you can also get lots of fresh fruit like melon and grapes, as well as a good selection of salad items.
On the Disney Wish, the poolside vegan options were even better with lots of items on the main menu including Impossible burgers, vegan hot dogs, vegan pizzas with plant-based pepperoni and vegan tacos and burritos!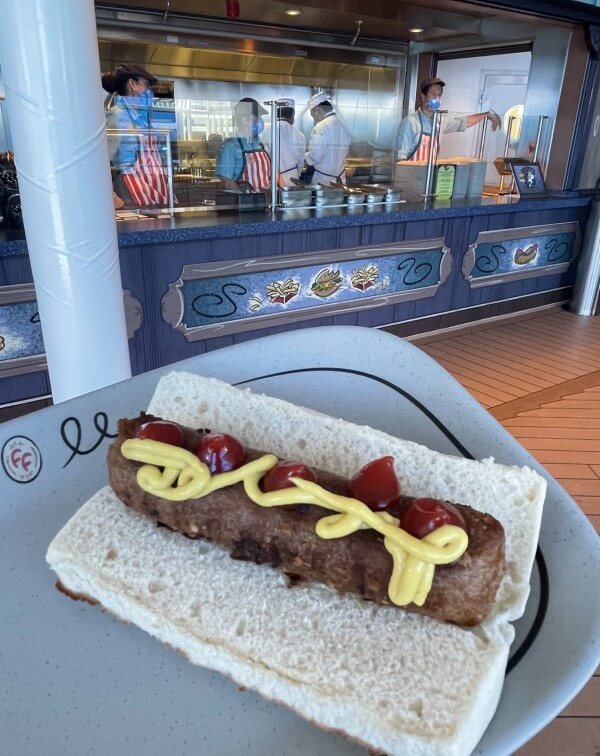 Disney Cruise Vegan Room Service
Room service is free of charge on Disney cruises, although it's nice to tip the person who delivers it a couple of dollars.
We didn't order room service, but I had a look at the Disney cruise room service menu on the app. Nothing was labelled as vegan, but I took note of the items that appeared to be. You should definitely check before you order though as they may well suggest some more things when you call to place your order!
Disney Cruise Line Room Service Vegan Options:
Mixed Garden Salad
Fresh Fruit Bowl
Salted Peanuts (additional cost)
Salted Cashews (additional cost)
Vegan Dining for Kids on Disney Cruises
My kids are both vegetarian and very fussy eaters. While my daughter would like to be vegan, I won't allow her to be until she adds more variety to her already-limited diet.
As long as your kids are happy to eat the kind of food that adults eat, including vegetables, salads and sauces, they will have no problems eating vegan on a Disney cruise.
Breakfast
Disney cruise ships have some great vegan breakfast options for kids. The fresh fruit comes in the shape of a boat! There should be no problems swapping the strawberry yoghurt for a dairy-free alternative.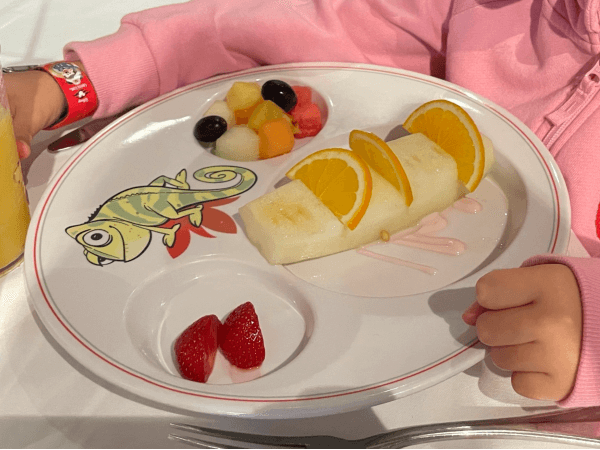 Disney's famous Mickey waffles are also available as a vegan option, along with a vegan sausage and whatever other sides you care to ask for.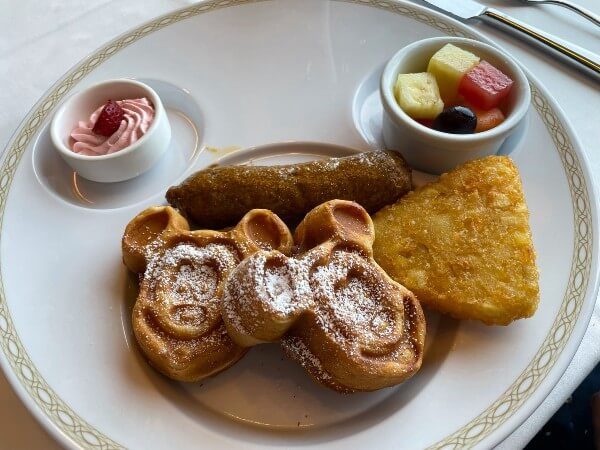 Lunch and Dinner
On the Disney cruise kids' menus, there was always pasta, pizza, vegetables, salad, fries and mashed potatoes as well as the meat options.
I would imagine that it would be very easy for the chef to make vegan tomato pasta and vegan mashed potatoes for kids to go with the already vegan-friendly items like fries, bread and salad.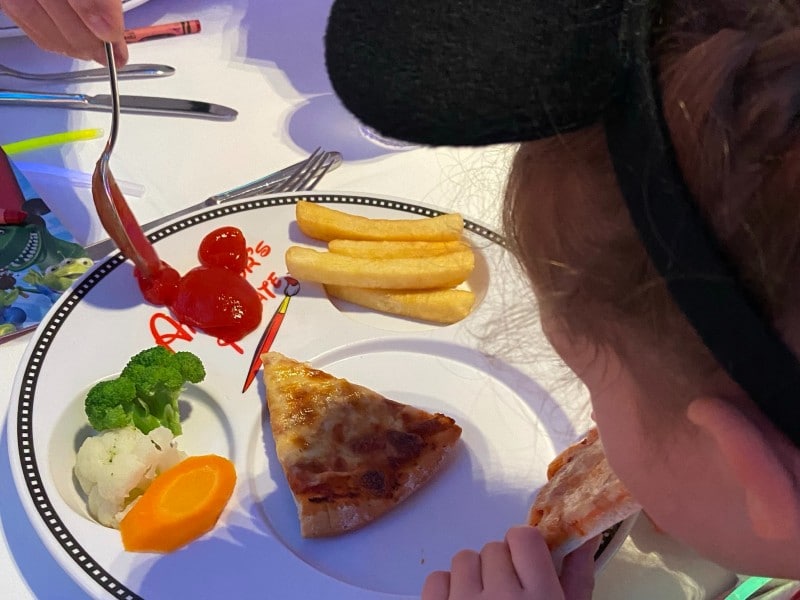 The Disney Cruise Line chefs will basically make anything that your child asks for, within reason. When my son couldn't decide between pizza and pasta, the waiter straight away offered to bring both.
When he was asked what vegetables he would like with it, he said 'apple'. The waiter just smiled, but sure enough, there was a sliced apple on the side!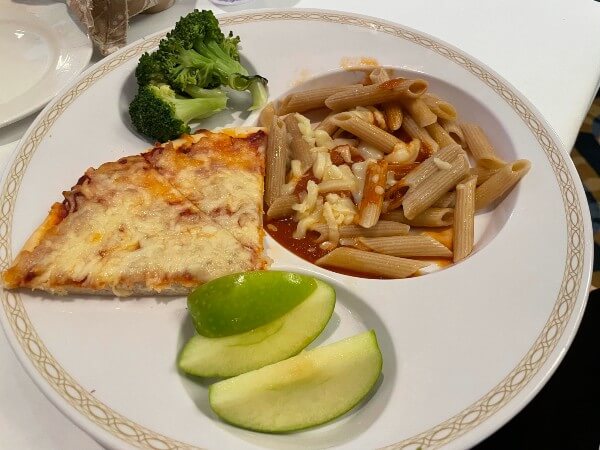 Disney Cruise Vegan Food FAQs
Here are answers to some of the commonly-asked questions about vegan food on Disney cruises. If you'd like to know anything else, please ask in the comments section below.
Do Disney cruises have dairy-free milk?
On Disney cruises, vegans and those who avoid cows' milk can request almond milk or soya milk. You can even get a cappuccino made with plant-based milk.
Do Disney cruises have vegan butter?
On Disney cruises, vegan butter or margarine is available on request. Alternatively, you can request balsamic oil and vinegar to dip your bread roll into.
Do Disney cruises offer meat alternatives?
Disney cruises offer a variety of meat alternatives including Impossible Burgers, Beyond Sausage, plant-based chilli dogs and egg-free omelettes.
NEW DEALS JUST RELEASED!
Don't miss the latest Disney Cruise Line offers…
To Conclude
I really enjoyed the food on my Disney cruises, but I'm glad that I did my research before I went. The key to eating well as a vegan on a Disney cruise is to communicate your needs and wishes with the crew on board.
In my experience, Disney Cruise Line will go above and beyond to make sure that you're happy and well-catered for, whatever your dietary requirements may be. And however fussy your kids are! So a vegan Disney cruise is certainly possible, and enjoyable.
Related posts: