When I opened the email from Disney Cruise Line to see an invite to the inaugural sailing of their new ship, Disney Wish, I almost fainted.
It just didn't feel real at all until the morning I set off on the 36-hour journey from my home in England to Florida!
Now, without further ado, let me tell you all about this ship in my Disney Wish cruise review
First Experiences
Disney Wish is Disney Cruise Line's fifth ship and the first one to launch in over a decade. You can read some more facts about the Disney Wish here, but this review is all about my own personal opinions and experiences.
First of all, embarking on the Disney Wish was effortless.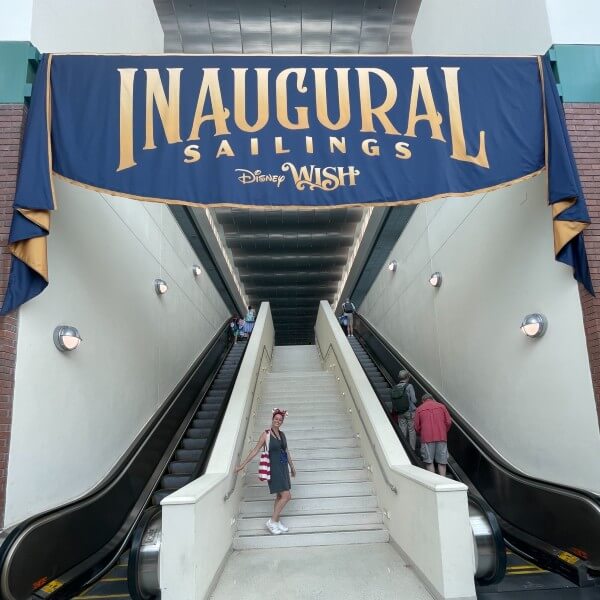 Americans are well-known for their uber-friendly customer service, and we were whisked through Port Canaveral with smiles and greetings. As we stepped on board the ship, 'Welcome Jenni and Katie' bellowed through the public address system as my friend and I entered the Grand Hall.
The Magic Begins…
As we arrived, each child was handed a special wishing wand as the adults all marvelled at the huge atrium with its starry ceiling, grand spiral staircase, and gold statue of Cinderella.
Cinderella herself and Prince Charming welcomed us from the balcony before The Fairy Godmother appeared on stage to explain how the wishing wands power the chandelier in the Grand Hall.
After the group made a wish, and the incredible chandelier lit up, we were free to explore the ship.
Our Stateroom
We headed up to see our room – a Deluxe Family Oceanview Stateroom with Verandah. It was the biggest room I'd ever stayed in, with masses of floor space, split bathrooms with a toilet and sink in one and a shower and sink in the other, endless storage and a large balcony.
I absolutely loved the pretty decor and the bed was possibly the comfiest bed I'd ever slept in.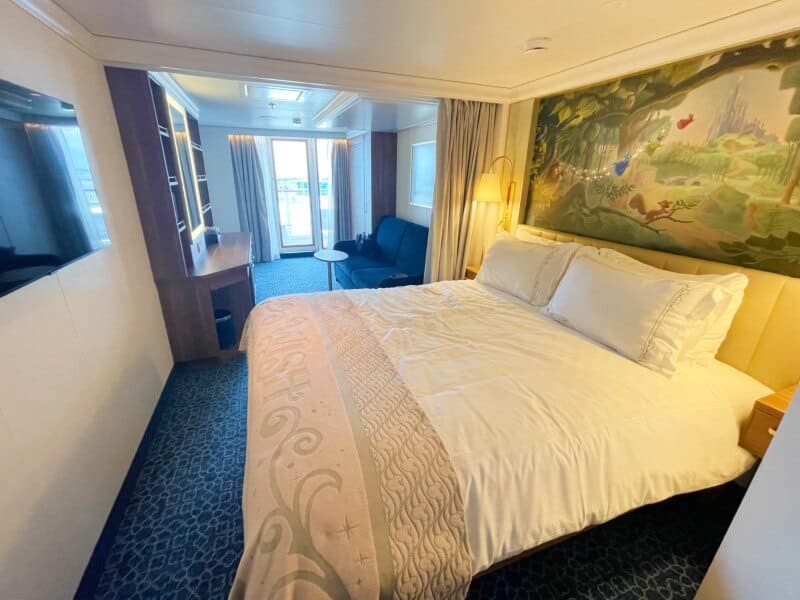 Plenty of Space for Larger Families
Our friendly stateroom attendant appeared and showed us how the sofa converts into a bed. Another bed appeared from within the ceiling and a fifth bed pulled down from the wall.
Anyone with three kids will know the pain of paying for two rooms on most cruise ships, but Disney has lots of these family rooms that sleep five (hooray!), as well as the option of interconnecting doors, which our room also had.
Read more: Disney Staterooms & Suites for Big Families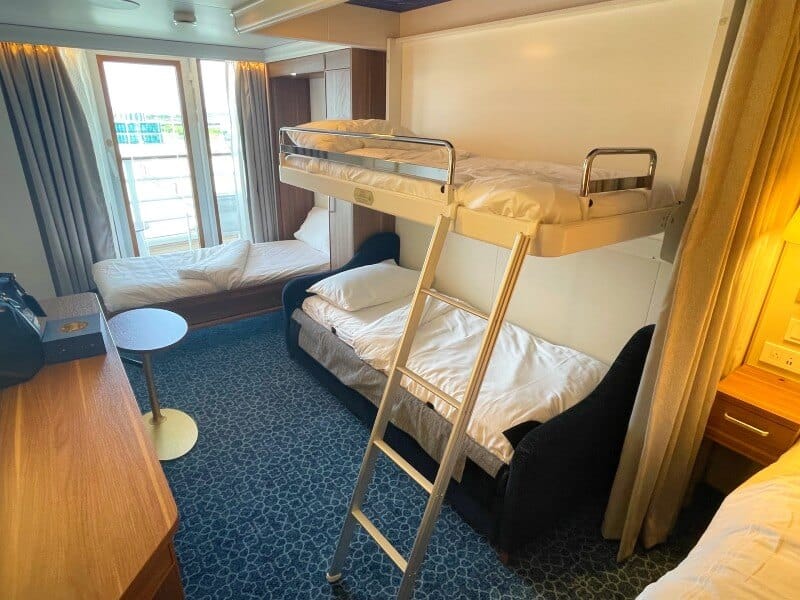 There's also a curtain that divides the room into two. I know that some families with teenagers usually get two rooms on a cruise to ensure everyone has enough space. I'm sure that wouldn't be necessary on the Disney Wish with one of these large family rooms.
Accommodation For All
I had the opportunity to tour several more staterooms and suites on the Disney Wish, including the famous Tower Suite that's located inside the funnel.
The Tower Suite
Yep, you heard that right. This two-storey suite sleeps eight guests in four bedrooms and has four and a half bathrooms.
There's no balcony, since the room is inside the funnel, but there are floor-to-ceiling windows that let in a lot of natural light.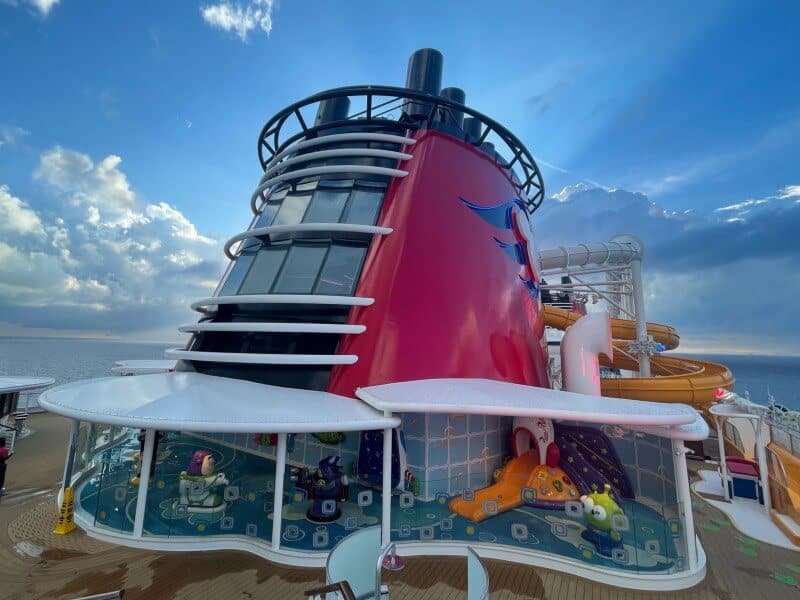 Although it was absolutely incredible and I felt so lucky to be allowed to look around, the funnel suite wasn't my favourite suite on board. I actually preferred the 2-Story Royal Suite…
The Royal Suite
Disney Wish's Royal Suite sleeps six with two bedrooms, three bathrooms and my favourite part – a huge whirlpool tub on the balcony!
Another highlight of this suite is the beautiful bathroom. It has a whole wall of windows so you can admire the ocean from the bathtub. If another vessel comes into view, you can use a remote control to instantly frost the glass and keep your privacy.
Of course, most people won't be staying in these top suites on the Disney Wish. But it was great to see what options were available for those families who want the best of the best. This ship caters for them perfectly.
Concierge Rooms
As well as the suites, the Disney Wish features Concierge Staterooms. Many of these are similar to the regular cabins, but they come with a long list of Disney concierge perks such as access to VIP areas, your own butler and free gifts throughout your cruise.
Balcony Rooms
70% of the rooms on the Disney Wish have a balcony (or a Verandah, as it's known), and the balcony rooms on this ship are truly stunning. The decor is timelessly elegant with muted pastel shades and each room has beautiful artwork on the walls.
Of course, Disney also takes care of the practicalities with more charging points than I could count (US, European, USB and the modern USB-C), a mini-fridge that opens from the top (clever) and lights that come on when you open the closet.
And of course, there were towel animals aplenty, which I LOVED!
Oceanview Rooms
I did also take a look at an outside room with a window, and I loved that too. This Oceanview Stateroom was really spacious, with a huge round window in the seating area.
I'm becoming a real fan of outside cabins with large windows, so I think this would be the one that I'll choose next time.
(This ship is firmly on my list for a family cruise!)
The Pool Deck
The first place I like to head to on a cruise ship is the pool deck. Grabbing that first drink with the fun music playing always gives me a sense of euphoria.
On the Disney Wish, this was magnified, not just by the Florida sunshine, but by the incredible design and atmosphere of the top deck.
There's a huge slide that goes all the way around the deck and through the iconic funnel. And a tiered design with six swimming pools.
Swimming Pools Aplenty
I always find that swimming with kids who can't swim well is tricky on a cruise. Most ships have one central pool, and if you're not lucky enough to bag a lounger on the front row, you can't really sunbathe and watch them at the same time.
Disney has solved this by having multiple smaller pools. Not only does this allow more parents to watch from the comfort of a sunbed, but the pools each have different depths.
So younger kids can play in shallow water, while the older ones spend their time swimming underwater in the deep pool.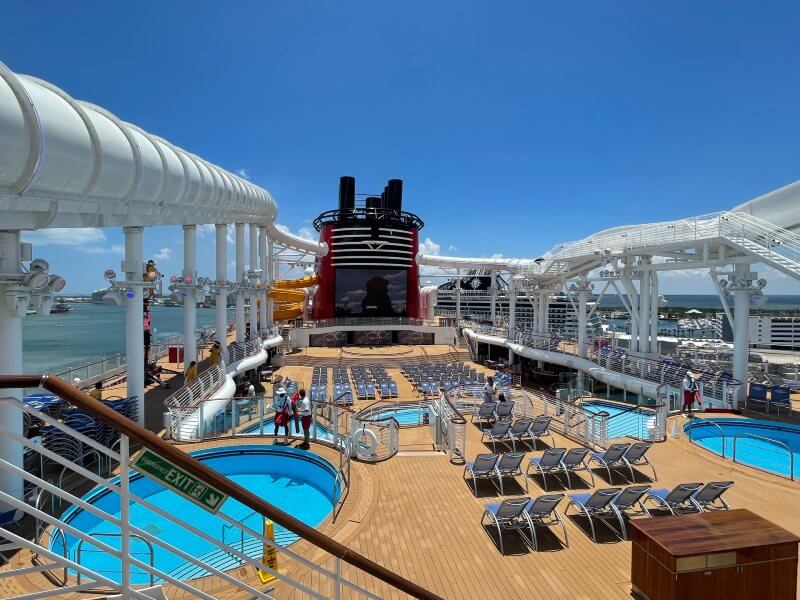 Splash Areas to Cool Off
There's also another family pool at the very front of the ship, as well as a Toy Story-themed splash area with small slides and water jets. This is for kids under six and is the perfect place for babies and toddlers in swimming nappies (diapers) to cool off.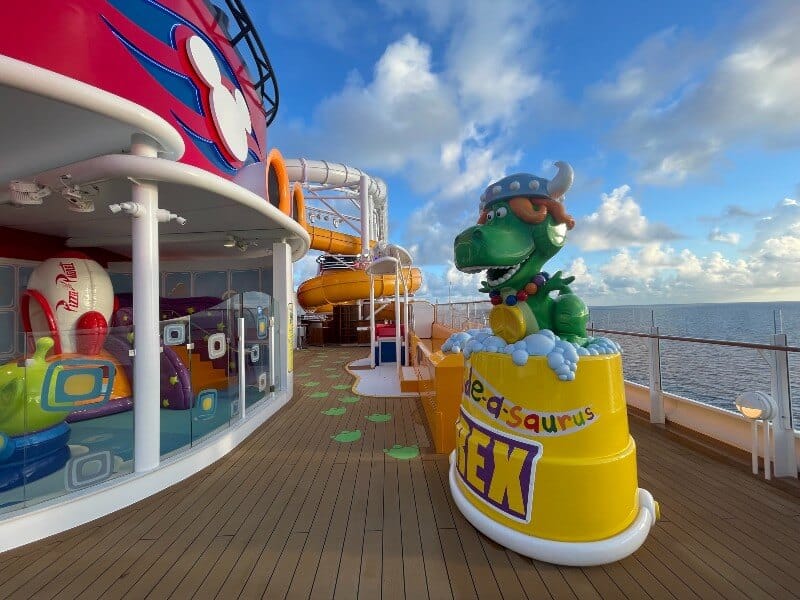 There's a cool waterfall called Trixie's falls and the main attraction of this area – The Slide-a-saurus Rex. This is very similar to the beloved yellow slides that you'll find on the other Disney ships.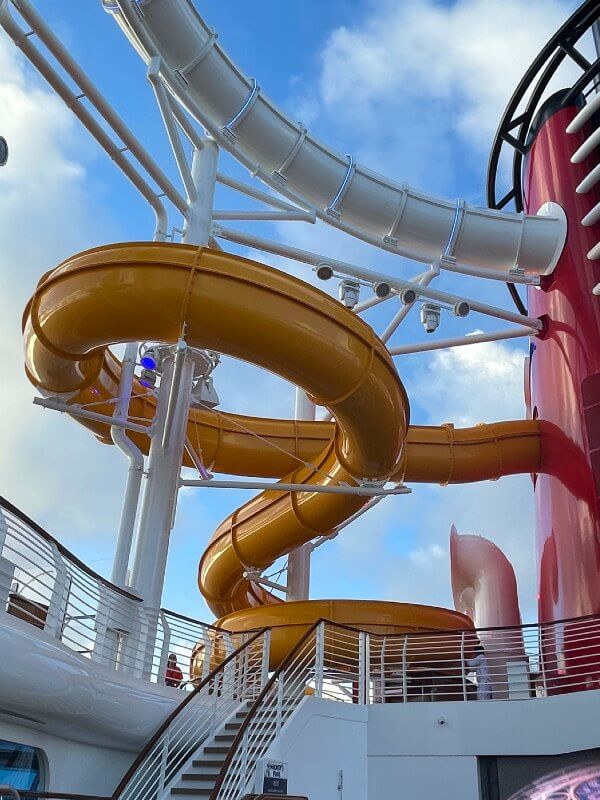 My son said that the yellow slide was his favourite part of our cruise on the Disney Magic, so I'm happy that this is also featured on the Wish!
Again, there's lots of tiered seating in this area, so parents can relax without having to walk around chasing kids. As a mum of a seven-year-old and a five-year-old, this is priceless!
The AquaMouse
The main attraction on the pool deck of the Disney Wish is, of course, the AquaMouse! More than just a waterslide, this is Disney's first attraction at sea.
This high-speed water coaster is full of surprises with twists and turns and spectacular views as the inflatable raft takes you over the edge of the ship.
While it's thrilling for adults, it's also suitable for kids as small as 42 inches, so my kids are big enough to ride, including my youngest. He would LOVE it, I'm sure!
An Absence of Whirlpools
The only thing that I felt was missing from the pool deck was whirlpools or hot tubs. On our recent cruise on P&O Cruises' Iona, we thoroughly enjoyed the 16 hot tubs and I think we tried every one!
I suppose I can see why Disney Cruise Line has omitted these on the Wish. With an itinerary that only includes the Bahamas, hot tubs really wouldn't be fitting for the weather.
And although kids often frequent whirlpools on cruise ships, they're not meant to if you read the sign (which I'm sure very few people ever do).
There is one whirlpool though, in the adults-only area, which brings me on to…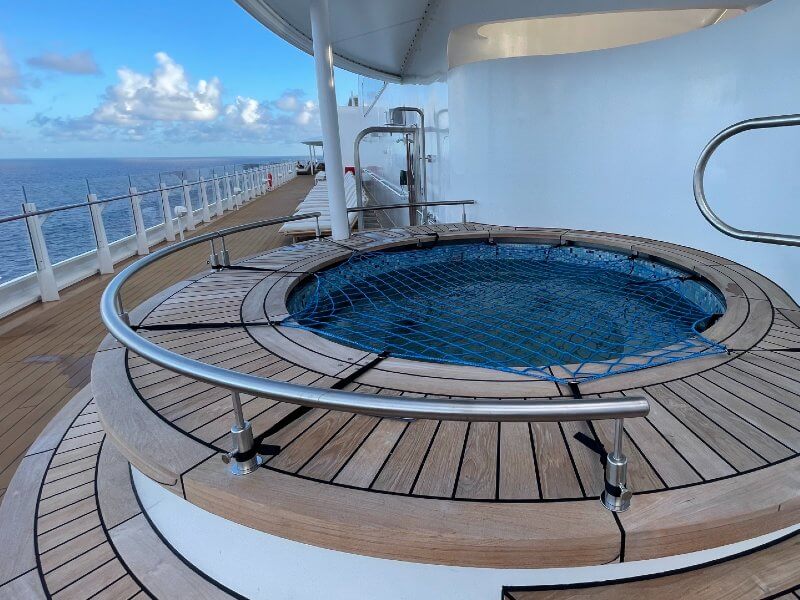 Adult Areas
Disney Cruises aren't just for families, as I first found out when I interviewed a lady who had been on 89 Disney cruises without kids a few years ago.
They're also a popular choice with adult Disney enthusiasts and honeymooners like my friend Marcus who has reviewed this ship from an adult-only perspective here.
Quiet Cove
In prime position at the aft of the Disney Wish is the Quiet Cove – a place that I took full advantage of given that my kids were absent from this trip.
The Quiet Cove is a real luxury experience with padded loungers, comfy round daybeds and the best views over the ocean. The crew members are so attentive that you never need to get up to go to the bar and they even come round bringing ice-cold flannels. The luxury!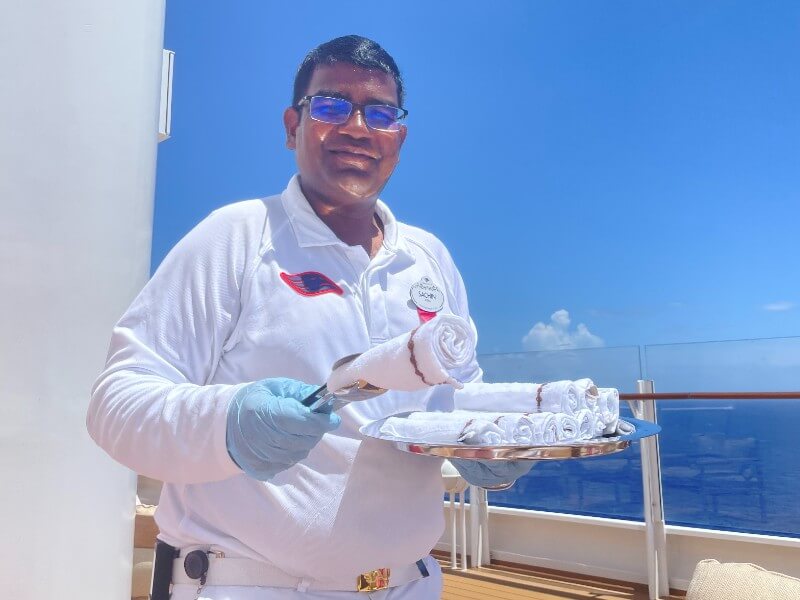 As we floated in the infinity pool and sipped iced water infused with lemon, I remembered that many of the things that cost extra on other cruises are included as standard with Disney. It's a really special experience.
Senses Spa
We were lucky enough to be invited to spend time in the Senses Spa. I was blown away by the size of the spa on the Disney Wish and the facilities.
Inside, there are lots of heated beds and swinging chairs to relax in. I spent time moving between the sauna, steam room, ice room and the different rain showers.
As if all that wasn't enough, the outside area of the spa was absolutely huge. It has two large hot tubs (that are actually pretty hot) as well as lots of relaxing daybeds.
As much as I wanted to take a little snooze in absolute comfort, I resisted as I didn't want to miss a moment on board this incredible ship.
There are also lots of spa treatments available should you want to indulge yourself. And there's a separate hair salon, beauty salon and barber shop for guests to enjoy.
Enough Bars for a Crawl
While other Disney cruise ships have a single area where all of the adults' bars are together, on the Disney Wish, they're dotted around the ship.
The Star Wars Hyperspace Lounge was my favourite. I'm not a Star Wars fan, but I could still appreciate the special effects where the whole bar felt as if it were blasting into hyperspace every few minutes.
Nightingale's bar has a piano with live music and a menu of the most incredible cocktails. The Nightingale cocktail is the one to go for – it comes in a glass shaped like a little bird!
The Bayou is another lovely spot to enjoy a quiet drink. The ceiling is adorned with flowers. There's also an elegant bar called The Rose where you can enjoy a drink before dining in one of the speciality restaurants (more on those later).
Finally, there's the Keg and Compass. I'll admit that this traditional pub has an odd selection of drinks on the menu. There were lots of beers, but none that I'd heard of, and a selection of mead (unusual) as well as a selection of wines by the glass. I opted for a sangria made with fruit beer, ale and rose. Because why not?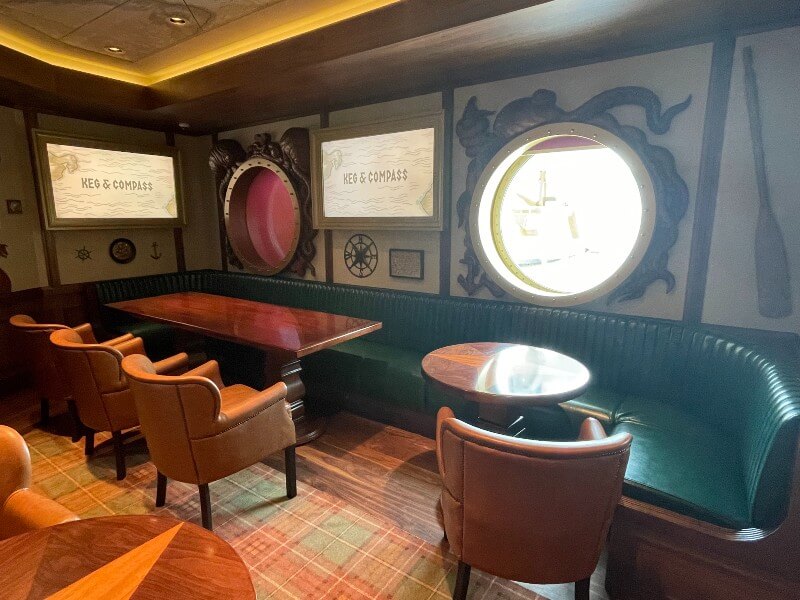 Youth Areas
While you're enjoying the zen of the Quiet Cove, or enjoying a fancy cocktail in one of the bars, your kids can be having the time of their lives sheltered from the sun inside Disney's Oceaneers Club.
If you've ever felt guilty about sending your kids to the club on a ship, or had to persuade them to try it, you should know that these issues do not apply to the kids' club on the Disney Wish!
The entrance is via a slide, and once they're inside, it's non-stop fun for children (unless they choose to relax and play educational games on one of the iPads, which is also an option for anyone feeling shy or tired).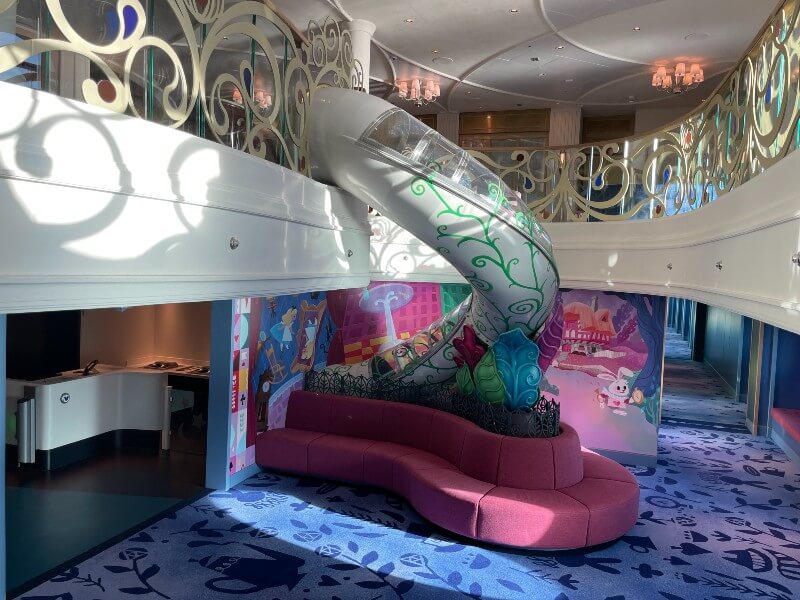 Disney's Oceaneer Club
The first thing that I love about Disney's Oceaneer Club is that siblings can play together. In a break from the norm of splitting kids into three or four age groups, all ages from 3 to 12 are grouped together.
But, before you panic at the thought of your pre-schooler getting trampled by tweens, there are five separate areas within the club and kids are free to move between them.
The Different Areas
The youngest kids will love the colourful Mickey and Minnie Captain's Deck – a nautical playground with things to climb on and buttons to push.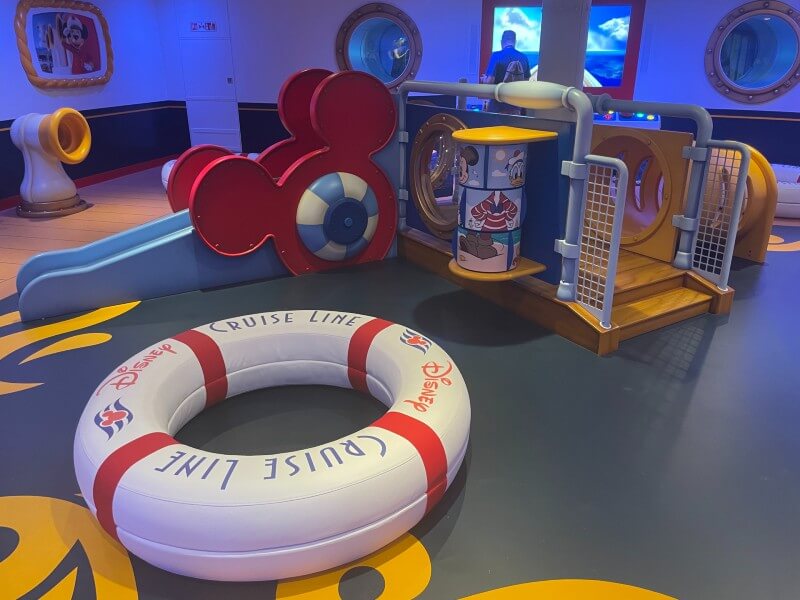 For those who love Disney Princesses, Fairytale Hall features an art studio and library with lots of fairytale-themed organised activities.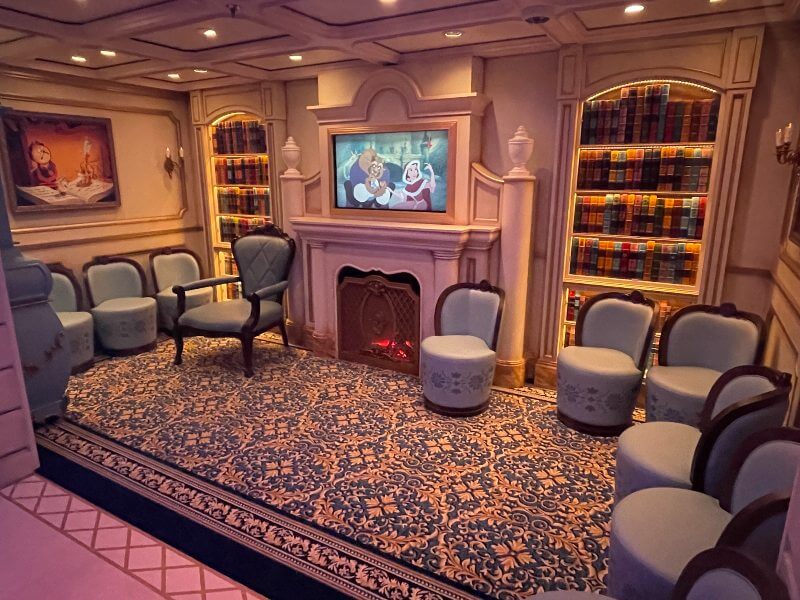 Budding scientists and engineers will want to head straight to the Walt Disney Imagineering Lab where they can take part in experiments and projects that will help them discover the secrets of the Disney Imagineers who design the parks.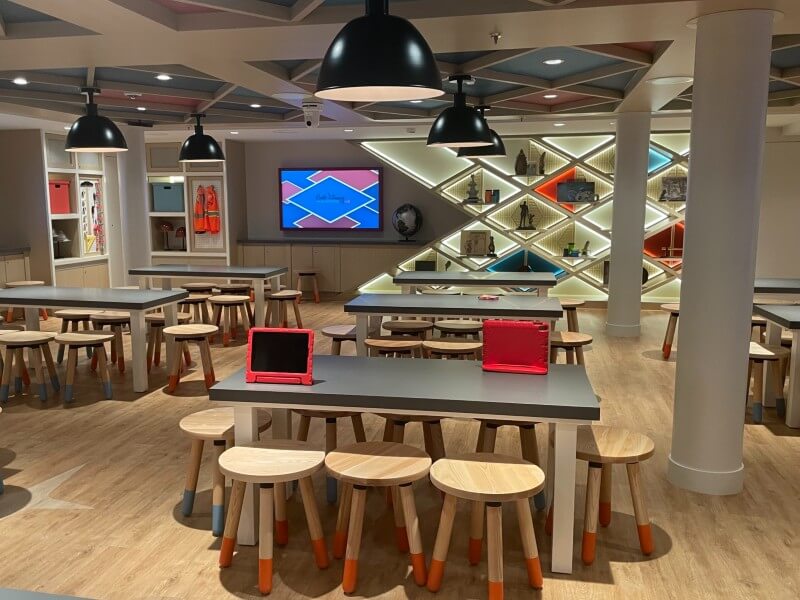 And whether kids like Star Wars or not, they won't want to miss Star Wars: Cargo Bay. This fascinating room is full of buttons, dials and alien creatures in cages. Using augmented reality, kids are given a series of missions to complete.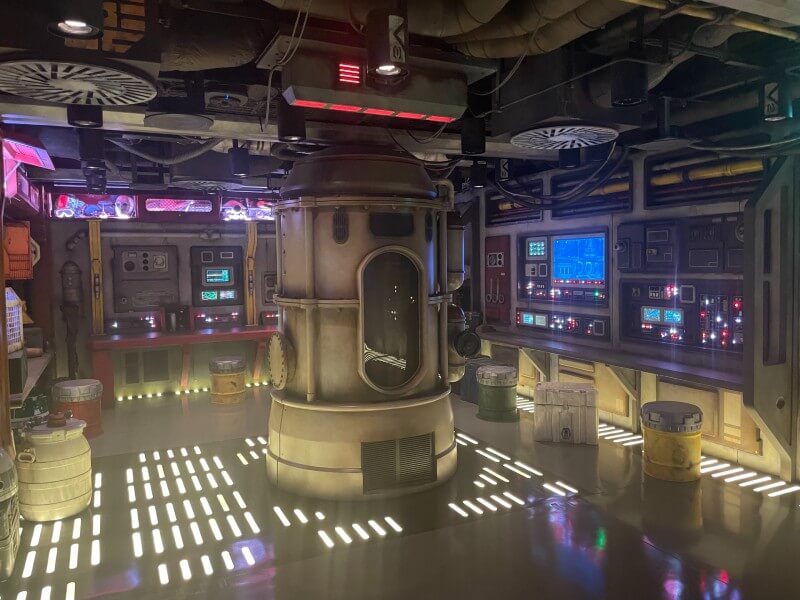 This area was my favourite. Another thing that I love about Disney's Oceaneer Club is that it's not just for kids. At certain times, parents can come along too so the whole family can experience the fun.
Edge
Tweens aged 11 to 14 can check themselves into Edge – a cool hangout with board games, video games and organised fun like quizzes, karaoke, dance-offs and scavenger hunts.
There's even a secret elevator that only works with their cruise cards and no one else's. And they can help themselves to cans of soda from the fridge or coffees from the machine.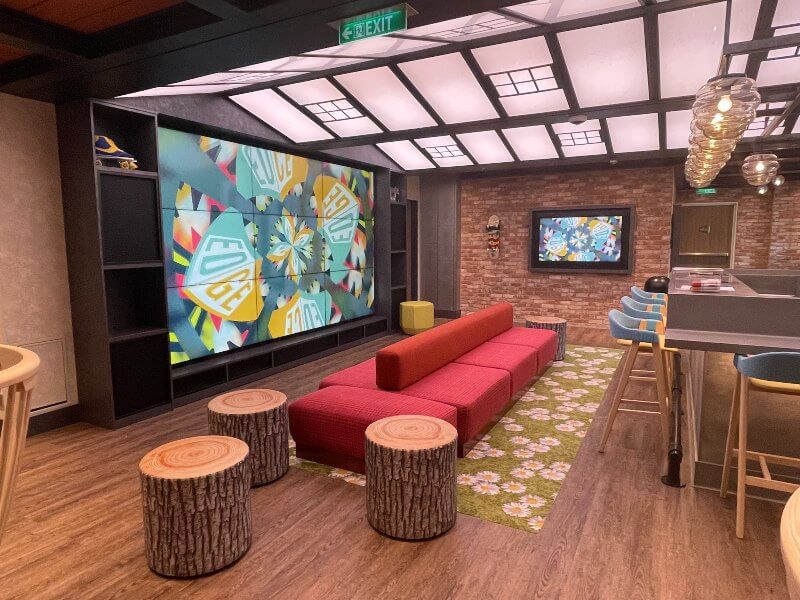 If you don't like the idea of your pre-teen being able to check out and wander this mega ship unsupervised (because not all kids mature at the same time), then 11 and 12 years olds also have the option to attend Disney's Oceaneer Club, where they must be signed in and out.
Vibe
Disney Wish's club for 14- to 17-year-olds is called Vibe. This uber-trendy space has a bar where teens can order mocktails and loads of games consoles as well as table football and other traditional games.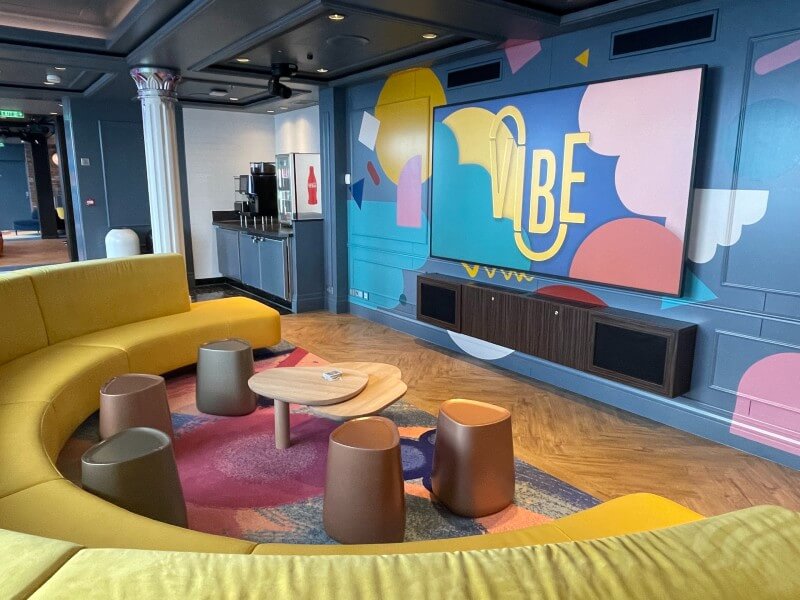 There's also an area called The Hideaway where 18-20-year-olds who may be cruising with their parents can meet up and hang out with people their own age.
Dining
One of my favourite things about sailing with Disney Cruise Line is the food, as well as the friendly service that comes with it.
The crew on the Disney Wish really go above and beyond in every way. From the incredible themed restaurants to the varied menus to the impeccable service, a Disney cruise is the perfect choice for foodies.
One of the things that I love most about Disney cruises is the rotational dining. This means that rather than having a single main dining room, you can dine in a different restaurant each night. Your waiters will come with you so you're served by the same people and get to know them really well.
Here's what I thought of each of the Disney Wish restaurants…
1923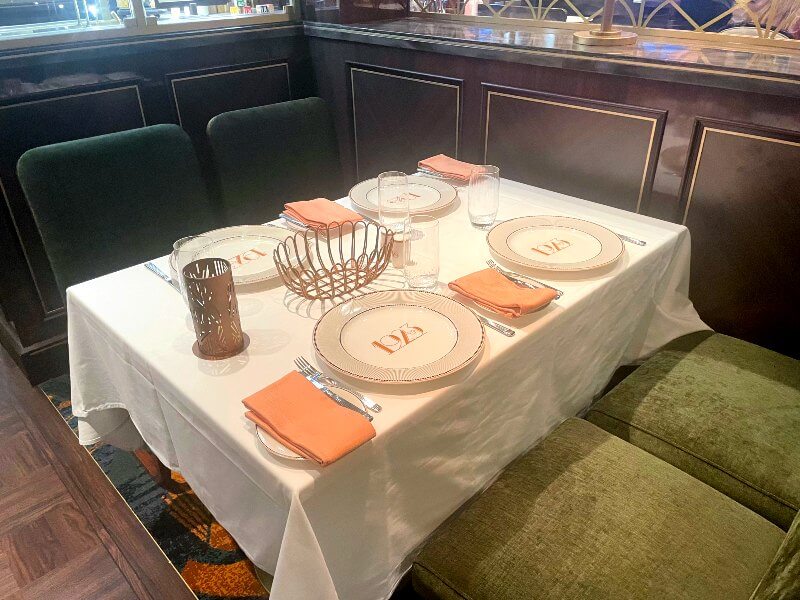 On the first night, we ate in a restaurant called 1923. This 1920s-themed restaurant is inspired by the heritage of The Walt Disney Company and is named after the year the company was founded.
This elegant restaurant is a great option for a date night while your children are in the kids' club (you could take them to eat in the buffet before you go). But, if you do want to bring children with you, they'll be absolutely welcomed.
The kids' menu takes the form of a 'Junior Artist Workbook' with drawing instructions, trivia and a crossword to keep little ones entertained while waiting for food.
Worlds of Marvel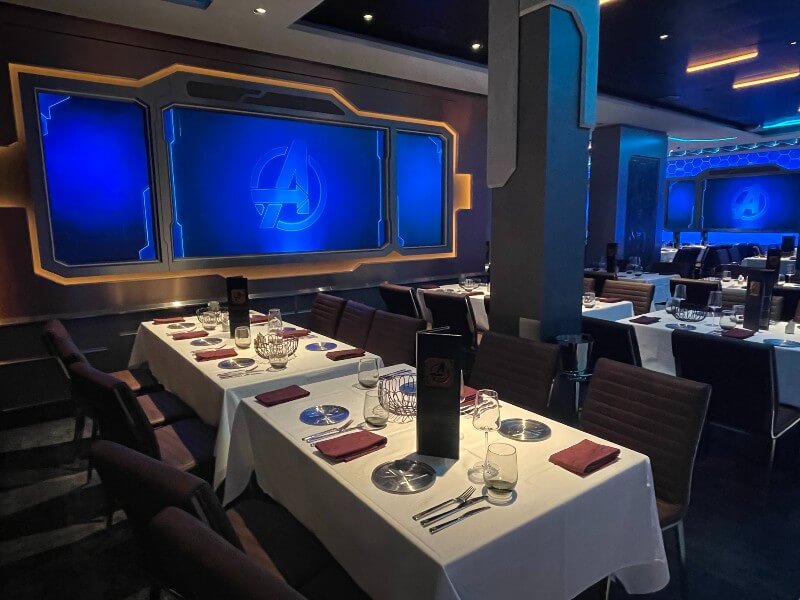 On the second night, we enjoyed dinner in the Worlds of Marvel restaurant. I'm not a Marvel fan personally, but even without any real knowledge of the characters, I thoroughly enjoyed the show that was based on Ant-Man.
I won't spoil any of the surprises, you'll have to experience this for yourself, but there were plenty and the food was excellent.
Arendelle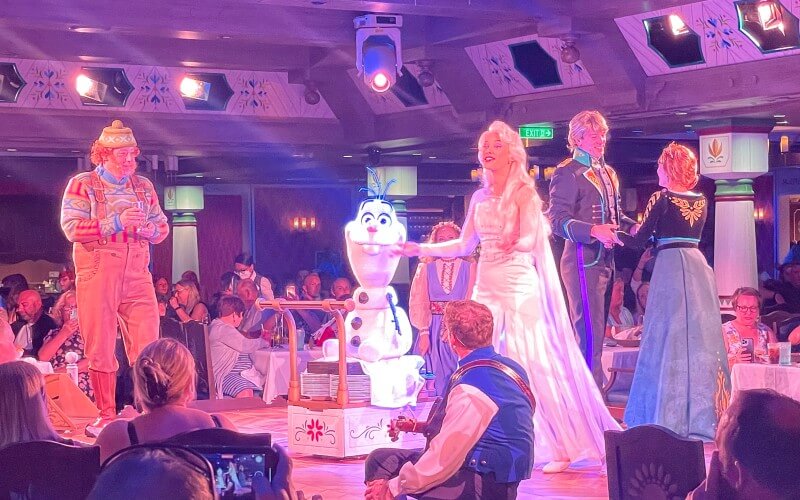 On the final night of the cruise, we dined in Arendelle – the Frozen-themed restaurant on the Disney Wish. The evening was Ana and Kristoff's engagement party and the happy couple took time to chat to each and every guest.
The live music from Elsa and friends was great and we even got to meet Olaf!
Marceline Market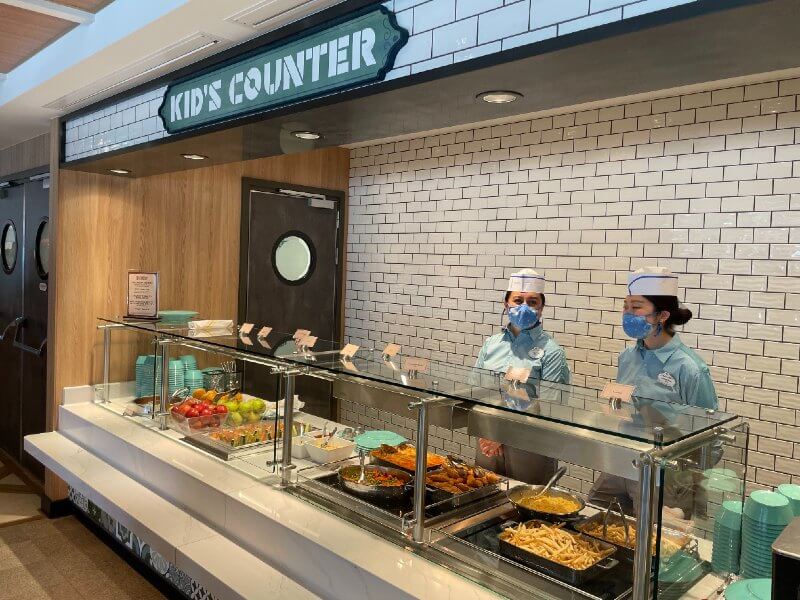 Marceline Market is Disney's buffet-style restaurant that's open around the clock serving up pretty much anything you could want. It has a great kids' section and all of the food was absolutely delicious, as was everything we ate on the ship!
With cruise ship buffets, I love when things are labelled for people with dietary requirements and unfortunately Disney Cruise Line doesn't do this. However, when I asked about the vegan options I was taken straight to the manager who was happy to help.
He asked what I'd like to eat and the chefs were happy to cook up pretty much anything that I wanted. I enjoyed the most delicious fresh pasta for lunch and was treated to avocado on toast for breakfast.
Mickey & Friends Festival of Foods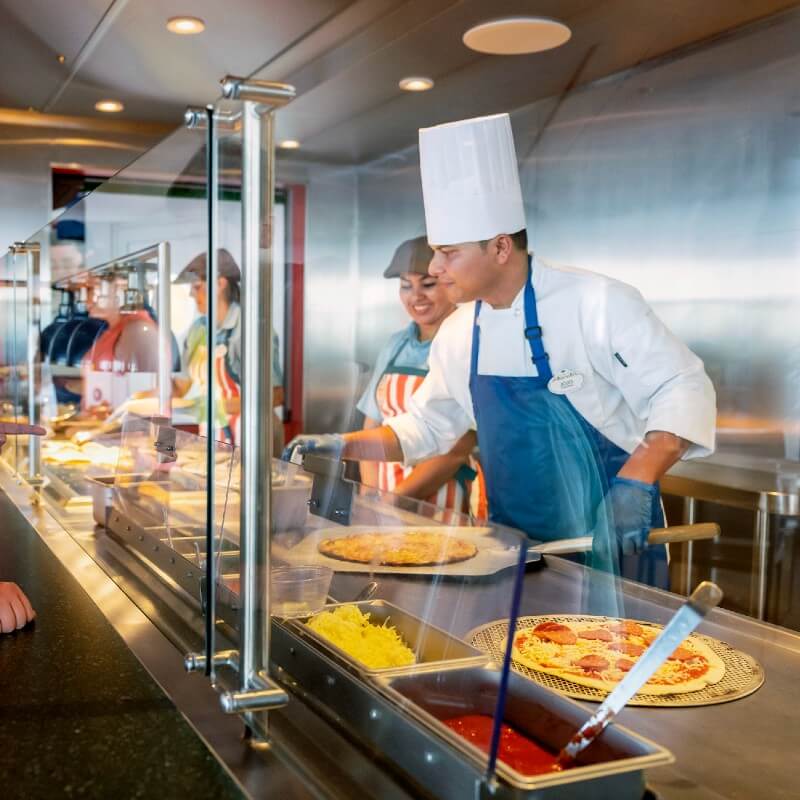 On the pool deck of the Disney Wish, you'll find a selection of fast food outlets that are ideal for lunch or a snack. These include Mickey's Mickey's Smokestack Barbecue, Donald's Mexican Cantina, Daisy's Pizza Pies, Goofy's Grill, and Sweet Minnie's Ice Cream.
So whether you want burgers, hot dogs, salad, fries, pizza, tacos, burritos, barbecue meat, mac and cheese or anything else, you're covered. And if each member of your family wants something different, that's easy too.
I loved the vegan options here and was spoiled for choice with Impossible burgers, plant-based hot dogs, vegan pepperoni pizza and vegetable tacos and burritos!
Speciality Dining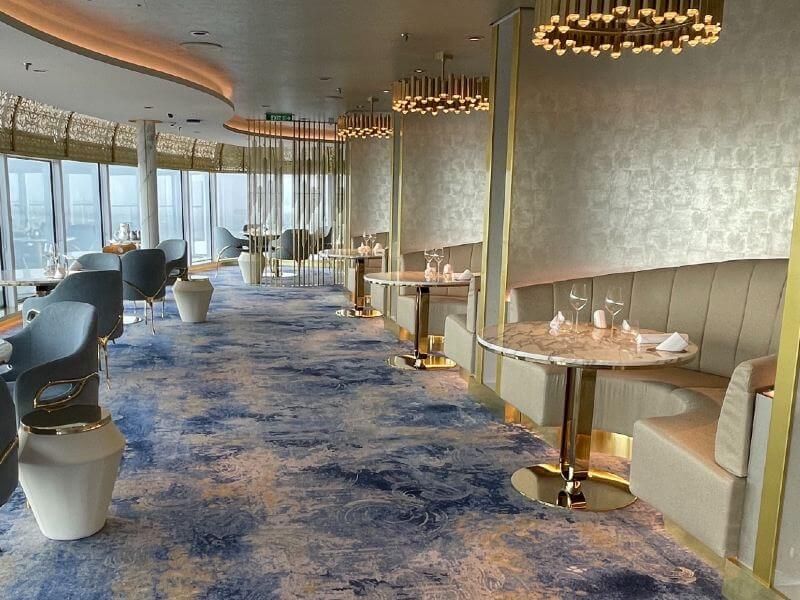 The Disney Wish has two adults-only speciality restaurants. There's the ever-popular Palo that you may be familiar with from the other Disney ships, as well as a new Beauty And The Beast-inspired restaurant called Enchante.
I didn't have time to try them, but they looked absolutely stunning and I heard that the food was exquisite.
Drinks
On the Disney Wish you can enjoy included soft drinks at meals and from self-service machines by the pool. Alcoholic drinks and drinks served in bars are chargeable. Disney is one of the few cruise lines that doesn't do all-inclusive drinks packages, but you can get wine and beer packages on a Disney cruise.
Each of the bars and restaurants had different drinks menus, which was great. I enjoyed some fantastic cocktails, with the best options being in Nightingales. The bartenders always seemed happy to make up cocktails as well, if there's nothing that you fancy on the menu.
Things to Do
Our daily schedule on the Disney Wish was jam-packed with activities. We had to make some tough decisions as there was just so much going on and it just wasn't possible to attend everything.
Whatever time of day it is, you can look at the schedule and choose from one of the organised activities that are happening. Here are a few examples.
Character Meet and Greets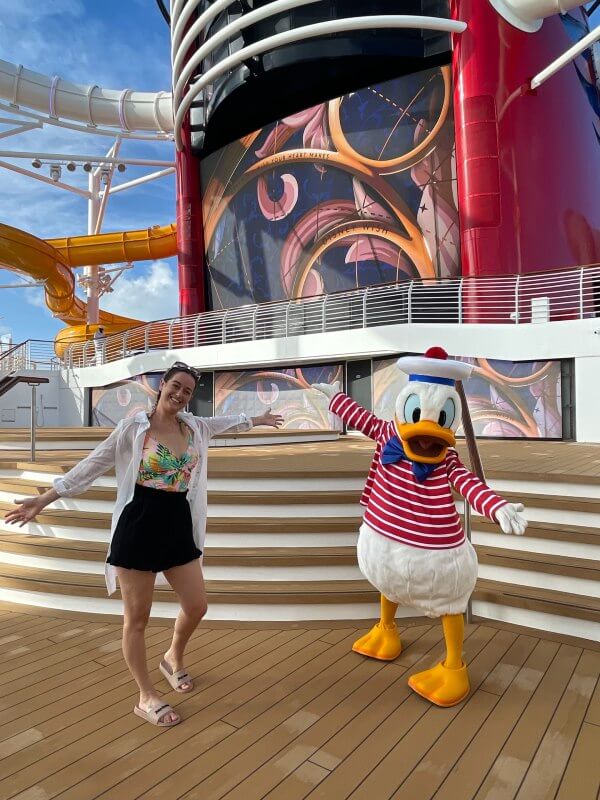 The Disney Cruise Line app shows you where the characters will be and when so that you can go and meet them. There are always professional photographers around should you want your photo taken, but the Disney team are always happy to take a snap with your mobile phone or camera if you prefer.
Hero Zone
The Hero Zone is a huge space that's used for various things including sports, games and fun challenges at different times of the day. One example is the huge Incredibles-themed inflatable obstacle course that the whole family can enjoy together.
Game Shows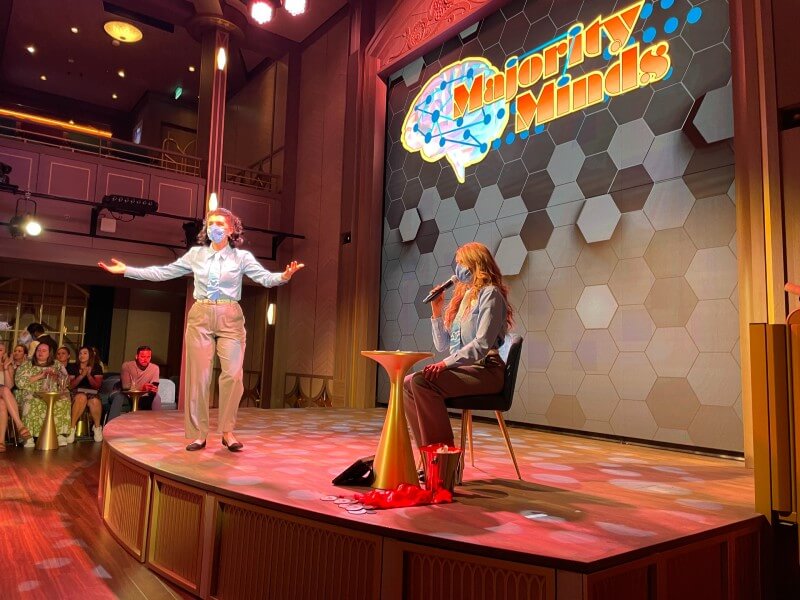 The entertainment on the Disney Wish was really fun and I loved the interactive gameshow such as Majority Minds, where we all had to guess what the most common answers to funny questions would be. The presenters were hilarious!
Pirate Night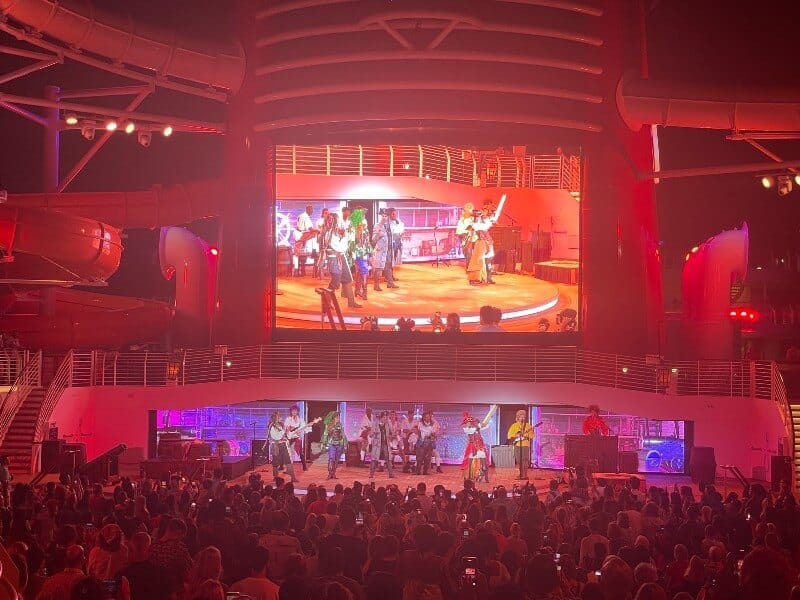 Everyone loves a pirate-themed night and the Pirate's Rocking Parlay Party gave everyone a chance to dress up. The atmosphere on the top deck was electric as everyone danced the night away and enjoyed a spectacular firework show.
Silent Disco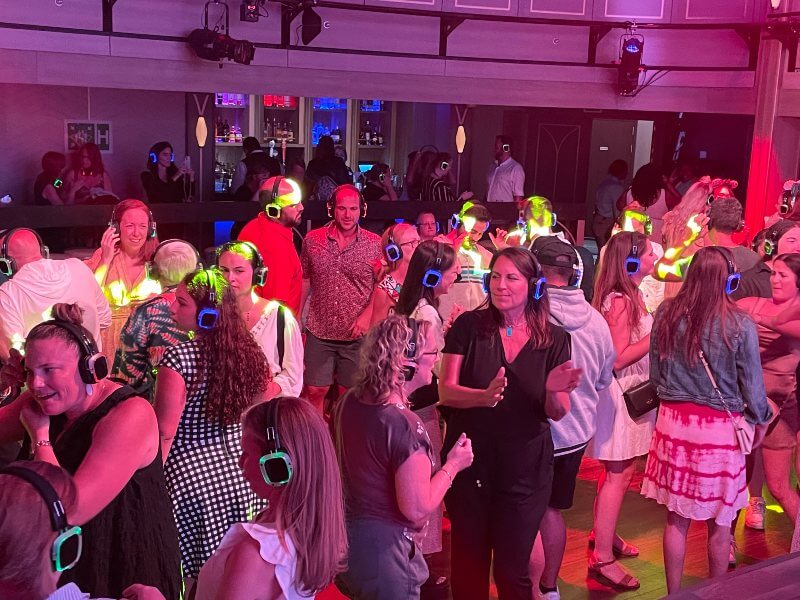 I love a silent disco! With three different tracks to choose from, this was a really fun way to end the evening.
My Verdict
I have a new favourite ship. Hand on heart, the Disney Wish is the best ship that I've ever had the pleasure to experience. Yes, this ship has overtaken Royal Caribbean's Oasis-class ships as my personal favourite.
From the food to the service to the activities to the decor, this ship is simply incredible and I would recommend it to families and couples alike.
Yes, Disney cruises are expensive, there's no denying that. And I'll always be a budget cruiser at heart. But, if you want to experience a once-in-a-lifetime cruise that you'll never forget, then the Disney Wish simply cannot be beaten. If you don't believe me, just look around for more Disney cruise reviews – they are overwhelmingly positive.
Of course, not everyone agrees that Disney Wish is the best ship in the fleet – check out my guide to the Disney cruise ships ranked from best to worst, based on guest reviews, to see what I mean.
NEW DEALS JUST RELEASED!
Don't miss the latest Disney Cruise Line offers…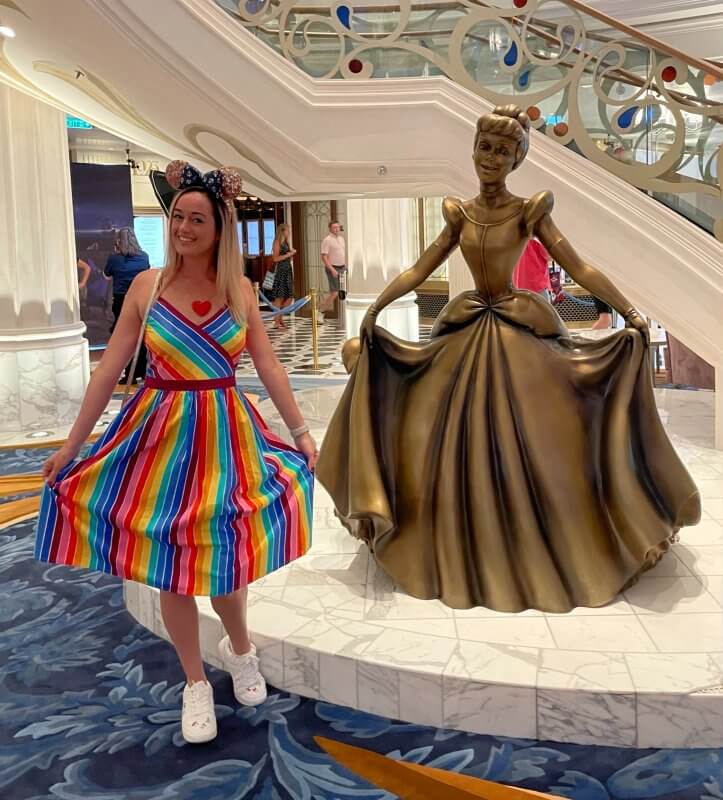 I have lots of Disney Wish content on Instagram, so if you don't already, please consider following me @cruisemummy to see videos and more photos from this ship.
I also have a post with details about Castaway Cay, Disney Cruise Line's private islands in the Bahamas that we visited on this cruise. You can read more about that here.
Related Posts: