Formal night on a cruise is a great opportunity to dress up in your finest clothes and enjoy a Gala dinner and a trip to the theatre before dancing the night away.
But knowing what to wear to a formal night on a cruise can be tricky. Do you need to wear a floor-length evening gown? Or a cocktail dress? Can you wear a smart suit?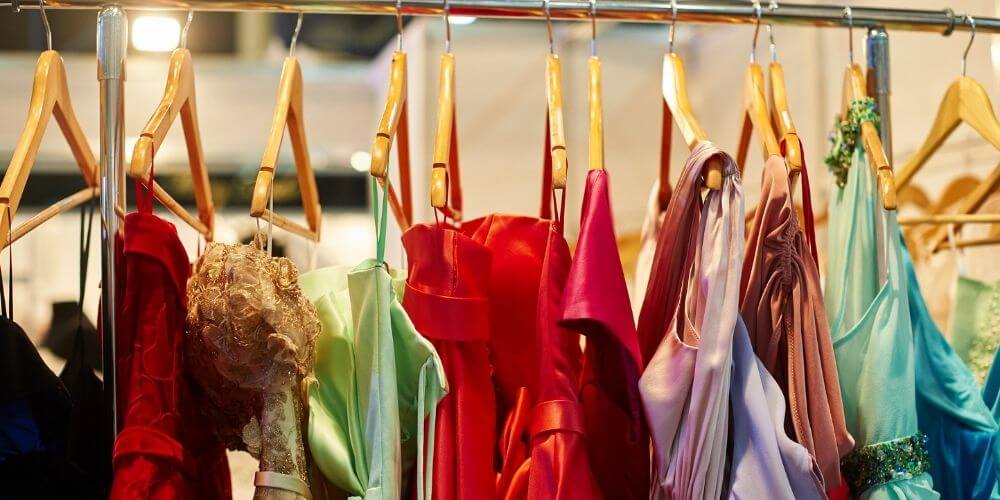 Below are some photos of the types of evening wear that people usually wear on a cruise ship. I've also answered the most-asked questions about formal nights on a cruise and what to wear in the evenings…
What do you wear on formal night on a cruise?
On formal nights on cruise ships, ladies wear evening gowns or cocktail dresses and men wear suits or tuxedos. Evening dresses can be long or short, but look out for crease-free fabrics and dresses that are comfortable to eat a large meal in.
Here are some examples of what ladies wear to formal night on a cruise…
This beautiful floor-length evening gown is perfect to wear on a cruise. It's made from crease-resistant chiffon with delicate lace and gemstone detailing.
The empire cut and ruched detailing make this dress a flattering option for ladies of every shape, from petite size 8s to plus-size 30s. With a choice of 16 different colours, there's one to suit every skin tone.
---
If you don't like long dresses, a cocktail dress can be a good option for a cruise formal evening and this A-Line off-the-shoulder gown would be ideal.
Made from a stretchy and crease-free material, this dress is sure to survive being packed in a suitcase without wrinkling. The high waist and flared style mean that you don't need to worry about over-indulging on cruise food, you'll still be comfortable.
---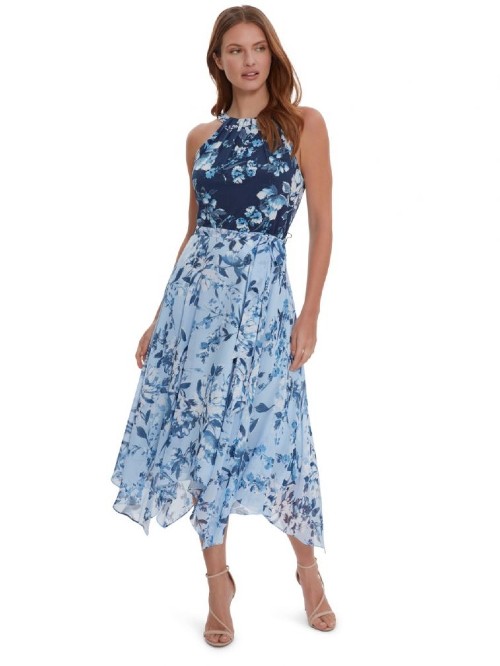 With colours to match the ocean, this blue floral dress would look lovely on a cruise in the evening. Cruise formal wear doesn't always have to be dark and glitzy, especially if you're crusing on a more casual ship where dressing up is optional.
Chiffon is one of the best fabrics for cruise formal dresses as it's lightweight, doesn't take up much space in your luggage and doesn't crease. This dress would suit ladies of all ages and is available in sizes 8 to 20.
---
You're sure to feel like a mermaid in this sparkly fishtail evening dress. Perfect for Christmas and New Year cruises, this is the perfect dress to stand out from the crowd.
The dress is fully lined, with a padded bust area that makes bra-wearing optional. It's available in two colours and sizes from 8 to 26.
---
This stunning long evening gown is covered with intricate sequin detailing. It would make the perfect formal night dress for women of all ages, suiting everybody from teenagers up to 50 plus, 60 plus and beyond.
This dress is made from crease-free fabric with a simple hemline that's easy to trim for those who are shorter than average height. It has a built-in bra, although you could also wear your own without the straps showing. The dress comes in a choice of two colours.
---
Short at the front and long at the back, this cruise evening dress has beautiful diamante and faux pearl detailing at the waist. It comes in a choice of seven beautiful colours.
The gown is made from tulle, so it will never look creased on your cruise. The straps are adjustable and the high waisted design will be flattering for everyone, whether you're a UK size 8 or a size 30.
---
Evening gowns don't need to be revealing and this elegant formal dress is perfect for those who like to keep the upper arms covered. It's available in sizes 8 to 30 with a choice of 12 colours.
The sequin detailing is simply beautiful, making this dress a great choice for the formal night on your cruise.
---
Sometimes on a cruise it can get a little cold in the evenings due to the air conditioning. If this is a concern for you, a dress wth a sparkly jacket like that one can be the ideal way to keep warm. Some ladies opt for a shawl or pashmina.
This beautiful chiffon dress and jacket combination is available in three colours and sizes 8 to 22.
---
Simple yet elegant, this off-the-shoulder evening gown is light and floaty, making it ideal for a summer evening. The empire waist is flattering for ladies of all shapes and sizes and the fabric is chiffon, so it won't crease in your suitcase.
This gorgeous dress comes in a choice of 14 colours and you can choose your size from UK 8 to 30. The back has hidden elastic to the dress will always be comfortable and is sure to fit you well.
---
This 1920s style flapper dress is decorated with thousands of beads and sequins with a fancy fringe trim.
With a cocktail dress like this, you would be sure to fit in on even the most formal of cruise ships. It won't crease, but it is delicate, so be sure to handwash it.
---
Lace dresses always look good at formal night on a cruise and this floral knee-length bodycon dress is no exception.
You won't have any issues with this dress creasing, thanks to the stretchy lace fabric and you'll also find it easy to wear a bra without it showing. There are five jewel tones to choose from, sized to fit ladies from 6 to 18.
---
Do you have to dress up every night on a cruise?
You don't have to dress up every night on a cruise. Usually, each evening will be designated as either casual or formal and most people choose to wear the attire that suits the dress code for that night.
Do all cruises have a formal night?
Most cruises have at least one formal night, but not all do. On short cruises of five nights or less, there may be no formal night. Some cruise lines have very relaxed attitudes to formal nights, and you'll find that many people opt to wear casual clothes on these nights.
Cruise lines where you don't have to dress up at all include:
Carnival
Disney Cruise Line
Marella Cruises
MSC Cruises
Norwegian Cruise Line
Royal Caribbean
Windstar
Do you have to dress up for formal night on a cruise?
You don't have to dress up for formal night on a cruise if you don't want to. On relaxed cruises like NCL and Royal Caribbean, over half of the guests won't dress up. On cruises with a strict dress code, like Cunard, if you don't dress up you won't be allowed into any venue except the buffet restaurant.
Why do cruise ships have formal nights?
Most cruise ships have formal nights because guests enjoy dressing up, enjoying fine dining and having professional photos taken. Most cruise ships are elegantly styled and it's nice to dress up in a glamorous way to match your surroundings and have a fun evening.
What is the most formal cruise line?
The most formal cruise line in Cunard. On Cunard cruises, most guests wear suits and cocktail dresses every night, with a strict black-tie dress code on Gala Evenings. Luxury cruise lines such as Silversea, Crystal Cruises and Seabourn also tend to be very formal.
What are some other names for formal night?
Depending on the cruise line, the formal night might be known by another name. On your cruise schedule, you may see it called Captain's Night, Gala Evening, Black Tie Night or Elegant Night. These names all mean the same as formal night.
What night is the formal night on a cruise?
More often than not, the formal night on a cruise will be on a sea day so that guests have time to get ready. The first and last nights of a cruise are rarely designated as formal nights. On seven-night cruises, you may have two formal nights and on longer cruises, you may have four or more.
Can you wear high heels on a cruise ship?
You can wear high heels on a cruise ship and many ladies choose to do so on formal nights. If the sea is rough, you may feel the movement of the ship which can make walking in high heels difficult, especially after a few drinks.
If you're not great at walking in high heels and are worried about falling over when the ship rocks, I suggest packing a pair of sparkly flat sandals or low heeled wedges.
I'm not good at walking in high heels, so on a cruise, I like to wear shoes like these. They go with everything and will never make my feet hurt, even when carrying sleepy kids from one end of the ship to the other at the end of the evening!
Related posts: