If you have a cruise lined up, you may be wondering where to get the luggage tags, how to attach them securely and when to put them on. With so many things to consider, it's understandable if you're feeling overwhelmed.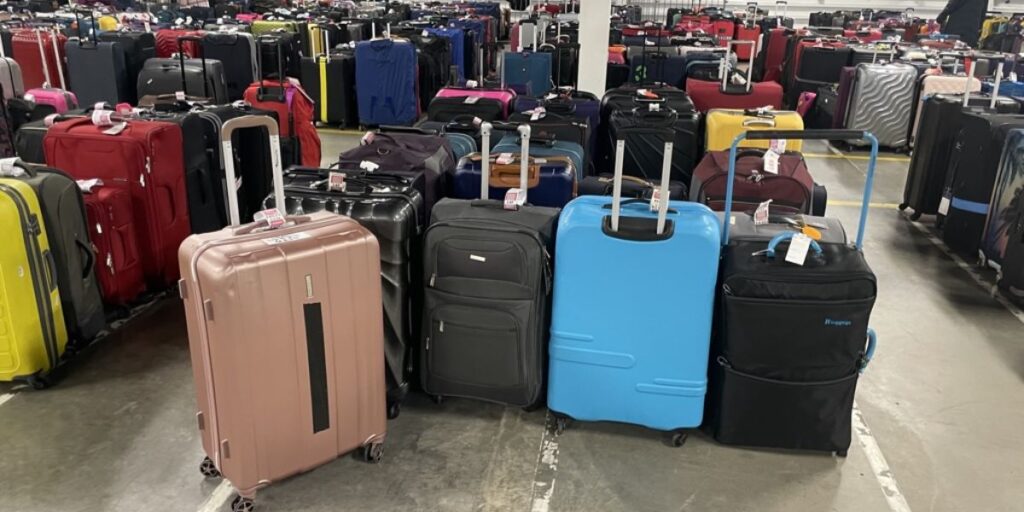 I get lots of questions about this small but crucial aspect of cruising. I'm answering everything here in one place, so you have all the info you need on cruise luggage tags to help you before your next cruise.
What are cruise luggage tags for?
Cruise luggage tags are essential in guiding porters and crew members, helping them deliver your luggage to the right spot on the ship. After you leave your bags with the porter at the port and proceed through security, the cruise line relies on these tags to correctly distribute your luggage.
Basically, if you don't put the tags on your bags, they might not make it to your cabin!
What kind of information is included on a cruise luggage tag?
Your luggage tag will display essential details such as your name, the ship's name, stateroom number, sail date, and reservation number. They even specify your cabin's position on the ship, such as AFT (the back of the ship), FWD (the front of the ship), or MID (the middle of the ship).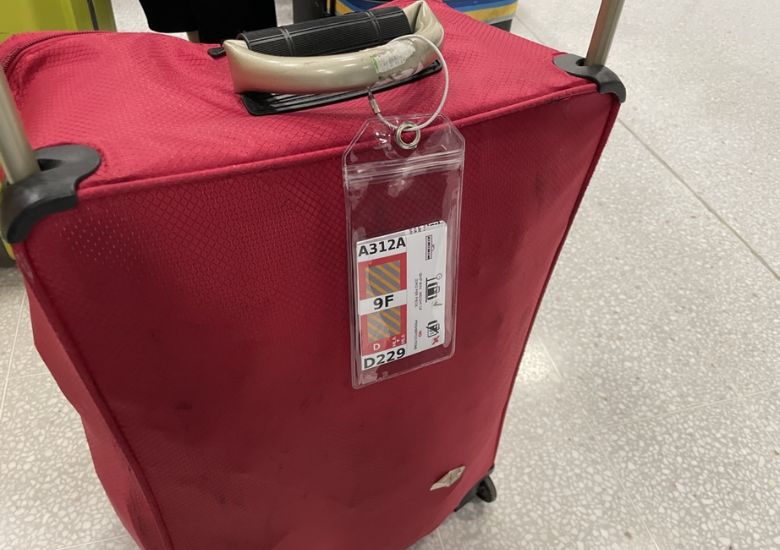 Where do I get cruise luggage tags?
There are a few methods of obtaining your luggage tags:
The cruise line posts them to you
Print at home
Get them at check-in
Some cruise lines will send them to you through the post. However, in most cases, printing your luggage tags at home is the best method, as it allows you to prepare before arriving at the port, which means a quicker check-in process. If you don't have a printer, you may have to visit a local printing service or ask a friend.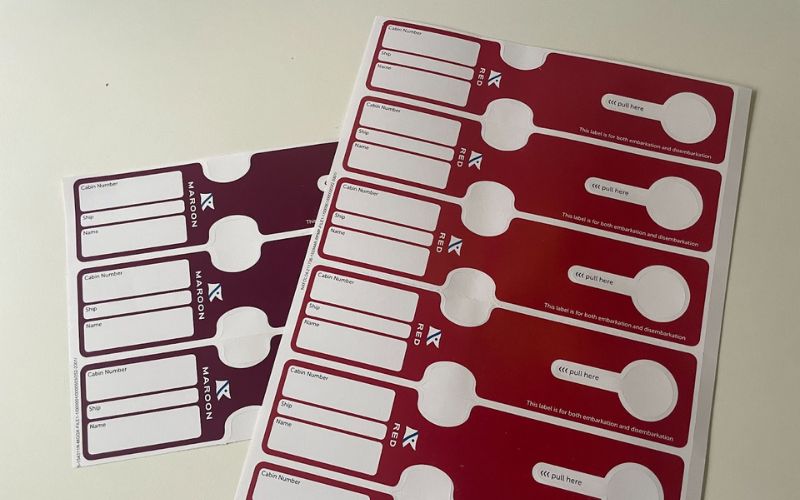 Although at the cruise terminal, the curbside porters often have a bundle of luggage tags. You will need to show them your booking details, add any details required on the tags, and hand over your bags to be taken on from here.
How to print luggage tags for a cruise
When booking a cruise, you will receive e-documents either in an email or on an online account which you have to log in to. There should be a section with text such as "print cruise luggage tags." Click on this, and a PDF will download. From here, you can print the cruise luggage tags at home.
Do cruise luggage tags have to be printed in colour?
If you're printing your cruise luggage tags, ideally, they should be printed in colour. The labels are colour-coded for some cruise lines, so it will be more difficult for the cruise line to deliver your luggage to your cabin.
However, for some cruise lines such as NCL, Carnival and Princess, it is ok to print off in black and white.
How to fold and put on the cruise luggage tags
Once the luggage tags are printed, it's essential to put them on correctly, as they need to be visible and secure. You'll need to fold them, seal the ends together and then add your details before attaching them to the bags.
Fold the tag: Instructions for how to fold the luggage tags will be on each tag document. Start folding from the top where it indicates "Fold Here". You should now have a long, narrow strip with your cruise information visible on one side.
Seal the ends: Some people like to tape over the folded tag to make it more durable and water-resistant.
Fill in your details: Often, there is a space to write your name on the tag. My tip would also be to add a mobile phone number in case of any problems.
Attach the tags to your bag: You can attach the tags by looping them through your suitcase handle and stapling them along the sides, or by using a luggage tag holder.
I always use luggage tag holders because they make it virtually impossible for your tags to get ripped off. If you're flying or it rains, then cruise luggage tags come off very easily.
These are the luggage tag holders I use…
Different cruise lines have different sizes and shapes of tags. I chose these tag holders because they're universal, so I can use them for every cruise. The last thing I want is to have to buy a bunch of different holders and figure out which one to use for each cruise!
What if my luggage tags get lost or damaged during transit?
If luggage tags get lost or damaged, this may mean they may not be delivered to your stateroom. If this does happen, check with the guest services desk on the ship. Misplaced luggage often ends up there, and you can reclaim it by identifying it and providing your details.
Unfortunately, this does happen occasionally, so there are a few things you can do so it gets to you as soon as possible:
If your bag has an outside pocket, write your details clearly on a piece of paper and slide them in there. A crew member may check this pocket, which might help identify your bag quickly.
Make your bag look different. This will ensure you can easily identify it quickly. You could add a ribbon or a unique luggage strap.
Pack a carry-on bag with essential items you'll need for your cruise's first day.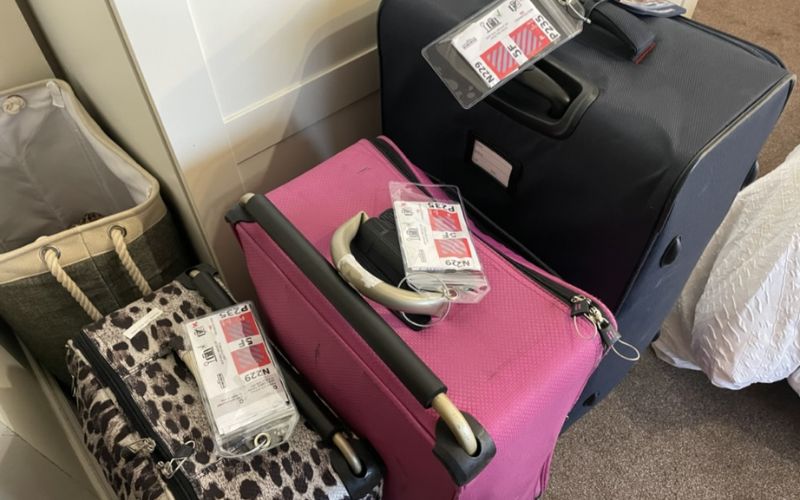 What's the best way to secure luggage tags to ensure they don't get ripped off?
To avoid the luggage tags getting ripped off, you can strengthen them by using thicker paper or card, or use clear tape to seal it better. You can add a backup second tag if you're concerned. But the best way has to invest in some luggage tag holders. They're pretty cheap and will save you any unnecessary worry or stress.
There are a few things you can do to secure your tags:
Print your tags onto a thicker paper or card, making it less likely to tear.
Use plenty of staples. Bring a mini stapler with you, especially if you're staying in a hotel before your cruise.
Seal the ends with clear sticky tape. Bring a small roll of this with you too.
Attach a second tag as a backup. It could be placed on another handle or part of the luggage.
Cruise Ship Luggage Tag Holders
Luggage tag holders aren't essential, but I think it makes the process easier. Using them removes the hassle of stapling and taping without worrying about ruined or lost cruise luggage tags.
Cruise luggage tag holders are very durable and reusable for any other holidays you may have booked. They are generally made of plastic material with a braided steel loop to securely fasten the tag to your luggage.
Are cruise luggage tags all the same size?
Cruise luggage tags are not all the same size; they can vary between cruise lines. This is important to remember when purchasing holders for your luggage tags, as you will need to ensure they are appropriately sized for the specific cruise line's tags.
For example, Carnival and Princess Cruises generally have wide tags, whereas NCL usually has smaller tags. So make sure you buy the right ones for your cruise line – I recommend these universal luggage tag holders as they fit all cruise lines.
Where to buy cruise ship luggage tag holders
No matter which cruise line you are using, there are plastic luggage tag holders available on Amazon designed to fit various cruise line tags.
Do you need luggage tags for carry-on bags on a cruise?
Typically you do not need luggage tags on your carry-on bags for a cruise, as you will have these with you, or once you find your stateroom, you can leave them in there.
However, it can still be a good idea to tag them. If you accidentally misplace them, it will be easier for the crew to return them to you.
Suggested read: The Best Carry-On Bags For A Cruise
Should you put cruise luggage tags on before or after a flight?
If you have a flight and cruise package, the labels should be put on after the flight. If you attach them before the flight, unless your cruise line tells you otherwise. That's because they might get damaged, ripped off or confuse any baggage handling staff.
You should only put a luggage tag on before your flight if you are instructed to by a tour company. For example, once you hand over your bags to the airline on some flight and cruise packages, you won't see them again until they get delivered to your cruise stateroom.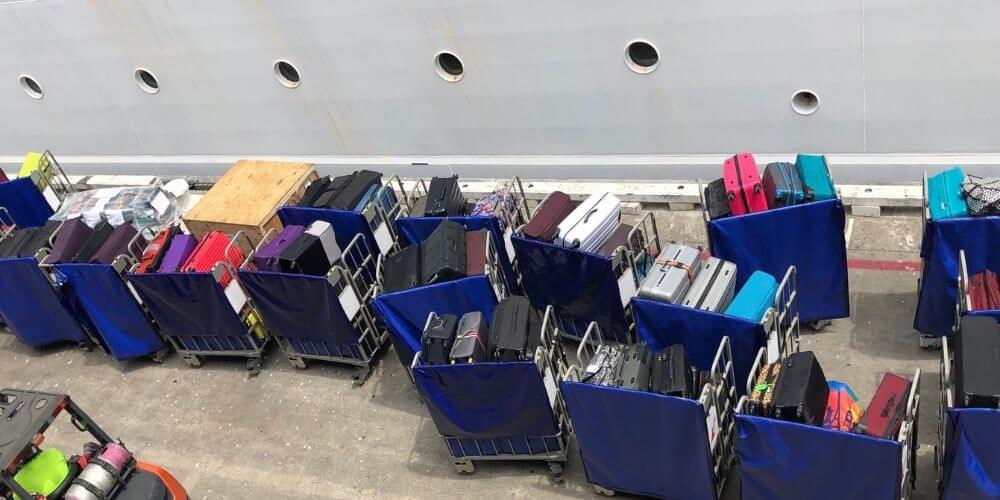 Got any more questions about cruise luggage tags? Ask away in the comments section below…
Related Posts: