When you get on a cruise ship around lunchtime, your luggage may not arrive at your stateroom until the evening. So a carry-on bag is essential as you'll want to pack your swimsuit, sunglasses, sunscreen, medication, travel documents and a whole load of other things that you need on that first day.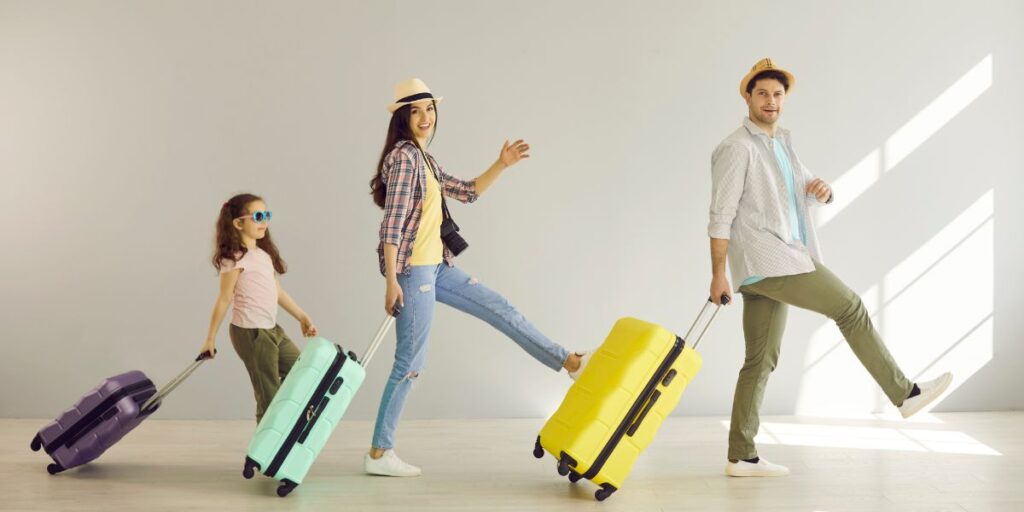 You need something lightweight, sturdy, and easy to keep with you. So in this guide, lets look at some of the best carry-on bags you can buy for a cruise.
The Best Carry-On Bags For Your Cruise

I own this Level 8 luggage set. At 20 inches high, the smallest piece is perfect to use as a carry-on bag. You can buy it as a set or on its own here.
I love that this bag comes with a built-in lock so you can be sure your belongings are safe. With four wheels, its easy to wheel along and never falls over, even on uneven surfaces.
The polycarbonate shell feels really sturdy and has a nice diamond texture that's designed to reduce scratches.
Pros
Durable polycarbonate shell
Divided interior to keep everything organised
The spinner wheels are really quiet
Choice of 5 colours
Cons
Not the cheapest option
No front pocket so you have to open the whole thing
Read my full Level8 luggage review for more info.
The Mares Cruise Captain Rolling Bag is a top-notch choice for your cruise carry-on needs, thanks to its perfect balance of functionality and portability.
The Mares Cruise Captain Rolling Bag is a simple but effective carry-on bag. Its dimensions (8 x 16.2 x 22.7 inches) make it an optimal choice for a carry-on luggage while leaving sufficient room for all your essentials, including your swimming costume if you want to get straight into those pools.
The bag has a wide wheel placement, allowing for excellent manoeuvrability and stability on any terrain. Navigating through the cruise terminal becomes a breeze, and the smooth bearings will make sure you don't attract attention for being that person with the loud bag. Moreover, the strong and durable materials used to make this bag ensure that it will withstand the test of time and countless trips.
One of the only real downsides is that the bag's not going to win you any style points – it's not ugly, but it's not exactly fashionable either – it's more sporty in design, and available in just black with a white accent.
It can also be a little heavier than some other bags once full, though because it has wheels you don't have to lift it too much.
The Mares Cruise Captain Rolling Bag is a fantastic option for anyone looking for reliable carry-on luggage that offers maximum space and comfort.
Pros
Wide wheel placement for stability
Ideal dimensions for carry-on luggage
Durable materials and excellent build quality
Cons
Limited colour options
Slightly heavier compared to some alternatives
This stylish and spacious Bluboon Women Ladies Canvas Weekender Bag is the perfect carry-on companion for your cruise vacation, keeping you organized and chic.
This Bluboon Weekender Bag is a great choice if you want your carry-on bag to scream style. But it's not just attractive, it's a quality, functional bag too, offering all the space you'll need for your carry-on essentials.
It's made from canvas and PU leather, which means it's long-lasting and comfortable. It has lots of compartments and pockets too, so keeping everything organised is a cinch. No need to spend ages digging through to find your passport or snacks.
And the ingenious feature of the bag is the slip-over sleeve designed to attach to a larger suitcase. You can just slip it over the handle, and then roll your case all the way from your car to the terminal. It's only once you've checked your main luggage that you'll need to carry this bag using the shoulder strap.
A few things to be aware of – because the bag is made from fake leather and canvas, it might smell a bit funky when new – so give it an air-out if you need to. It's also not designed for really heavy-duty use, so avoid stuffing it with anything too heavy. If you do, you could tear the bag or break the strap clasp.
Overall it's a great choice, as long as you're not using it every other week and wearing it out. As a casual-use, stylish bag it's definitely worthy of consideration.
Pros
Spacious design for ample storage of essentials
Durable canvas and PU leather construction
Slip-over sleeve for easy attachment to rolling luggage
Cons
May have an initial smell upon arrival
Not designed for heavy-duty use
Strap clasp could be stronger
This stylish and durable carry-on bag from DELSEY Paris is a great choice for your next cruise holiday.
The DELSEY Paris Cruise 3.0 is a carry-on bag that does it all. It's hard-wearing, easy to manoeuvre, and it looks great too. It also has a nifty trick up its sleeve…
The bag has its own USB port, and a pouch where you can store a power bank. So you can easily keep your smartphone charged while you're travelling to the terminal, or as you're on the ship waiting for your cabin, without having to carry the powerbank in your pocket or have it out on the table.
The only downside to this feature is that you'll need to buy the powerbank separately.
As for the bag itself, it's made from a tough polycarbonate material that is lightweight but will stand up to knocks and bumps, and the wheels are decent quality too. You'll be wheeling this around the terminal with ease.
The interior of the bag is expandable, if you need extra space, and the lining can be removed too, and put through the laundry in your washing machine. So it'll always be fresh for your next trip.
And finally, it's stylish too, with an attractive platinum colour. The only other negative to mention is that some users have said that the zipper does wear down over time, and becomes harder to use.
Generally though, this carry-on bag is the ideal blend of fashion and function, with that handy tech feature for phone charging thrown in as a nice bonus.
Pros
Lightweight and impact-resistant polycarbonate construction
Expandable interior with removable, machine-washable lining
Built-in USB port and power bank sleeve for on-the-go charging
Cons
Power bank not included
Potential zipper issues with repeated locking
Discover the perfect carry-on companion for your cruise with this stylish and multi-functional Gonex Canvas Duffel Weekender Bag.
The Gonex Canvas Duffel Weekender Bag shares a lot of similarities with the Bluboon Weekender Bag above, including a similar design.
You'll immediately be impressed by the durable water-repellent canvas, the refined stripe pattern, and the high-quality faux leather accents. The golden clasps and comfortable padded handle add an extra touch of class to this carry-on bag, making it an attractive choice for your cruise adventure.
Functionality is at the forefront of the Gonex Weekender Bag's design. The adjustable and detachable shoulder strap allows for versatile carrying options, while the bottom rivets offer enhanced protection for your belongings. It again has the back sleeve that enables you to slide the bag over the handle of your suitcase or luggage for hassle-free transport.
With 42L of capacity, this bag provides plenty of space for all your essentials. The multitude of pockets and compartments mean that your belongings are kept organised and easily accessible. It even has a dedicated shoe compartment, although how many shoes you'll need before you can access your cruise cabin is questionable. Despite its generous size, the bag remains manageable and convenient to carry.
The downsides of the bag are that, because it's a carry bag only, the shoulder strap may get uncomfortable once you've checked your main suitcase, and you need to be careful with the rivets on the bottom. They're solid enough that they may damage some surfaces.
The Gonex Canvas Duffel Weekender Bag is generally a good choice though – spacious, stylish and with enough compartments to make it really easy to keep everything to hand until you get access to your cabin and can properly unpack.
Pros
Premium material with eye-catching design
Adjustable shoulder strap and suitcase handle sleeve
Multiple pockets and a separate shoe compartment
Cons
Shoulder strap may be uncomfortable for long periods of carrying
Bottom rivets may scratch some surfaces
Choose this carry-on if you're looking for a durable and scratch-resistant option packed with features for your cruise.
Pros
Lightweight and sturdy construction
Expands for extra packing room
TSA lock and highly manoeuvrable spinner wheels
Cons
Lacks external pockets
May be difficult to push when heavily packed
Smaller capacity than expected
The Samsonite Omni PC Hardside Carry-On is made using an injection-moulded polycarbonate material, perfect for a cruise where luggage space might be tight. It can withstand impacts and stays looking in good nick, even after numerous trips.
You'll find the 360-degree spinner wheels make navigating the busy airport or ship terminal an easy task, and the built-in TSA lock reassures you of your belongings' safety. The storage space inside isn't the biggest, but it is expandable if you do have a lot of items you want to keep with you for the first few hours of your travel.
However, this carry-on does have a few drawbacks. Due to its hard shell, there are no external pockets, which may be a slight inconvenience when trying to access essentials quickly. Additionally, it can become difficult to manoeuvre when packed to its full capacity – it may be small but it's a bit of a bulky one if packed to the brim.
Overall, the Samsonite Omni PC Hardside Carry-On is a reliable and durable choice for a cruise vacation. With its lightweight construction and secure features, it'll keep everything inside safe while you travel – but make sure your essentials are easy to grab.
Buying Guide
When looking for the best carry-on bag for a cruise, there are several features you should consider to make sure it's the most comfortable and suitable choice.
Material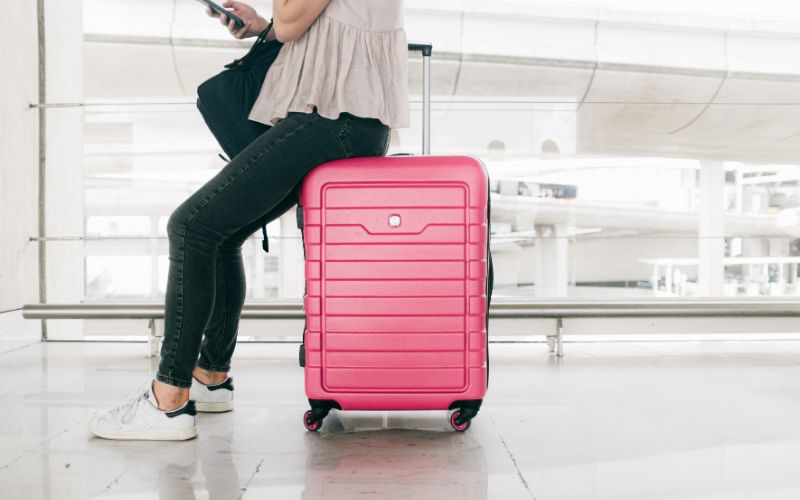 Durability is essential for your carry-on bag, because you want it to last. That's true whether you're going to use it once every year, or for multiple cruises – you need to make sure it's tough enough to hold everything you want to take with you.
Also look for water-resistant materials. This will let you take your carry on to the pools with you while you wait for your cabin to open up, without the risk of splashes soaking your luggage inside.
Wheels or No Wheels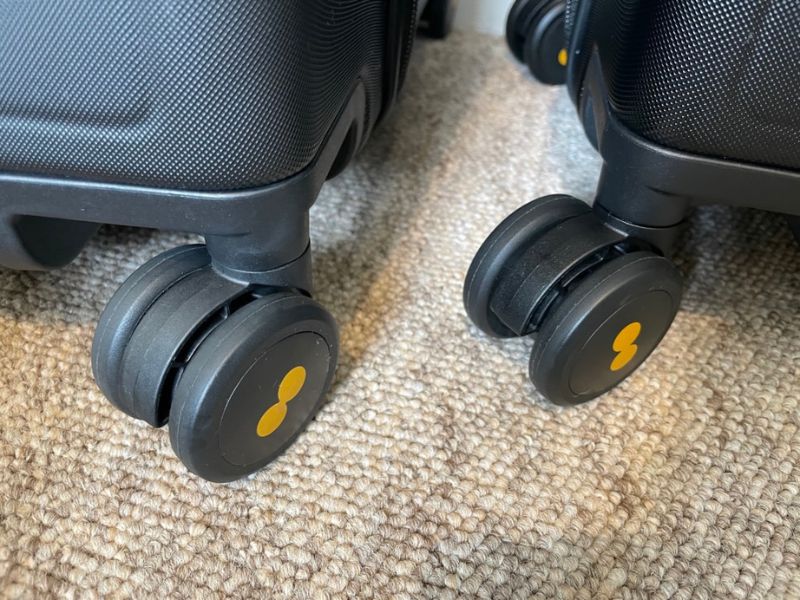 Choosing between a wheeled and non-wheeled bag depends on your preference and how you'll be using the bag. Wheels make it easier to move the bag around, especially during embarkation and disembarkation.
On the other hand, non-wheeled bags such as backpacks or duffels can be more versatile, and might double-up as a good bag to take ashore at the ports you visit when you only need to carry a few things. It's important to consider the weight of the bag too, as a heavier bag can be difficult to lift and carry without wheels.
Think about how you'll be using the bag on the ship too – if you do just intend to sit at a bar or by the pool for a few hours until your cabin's open, a wheeled bag may not be needed.
Compartments and Organisation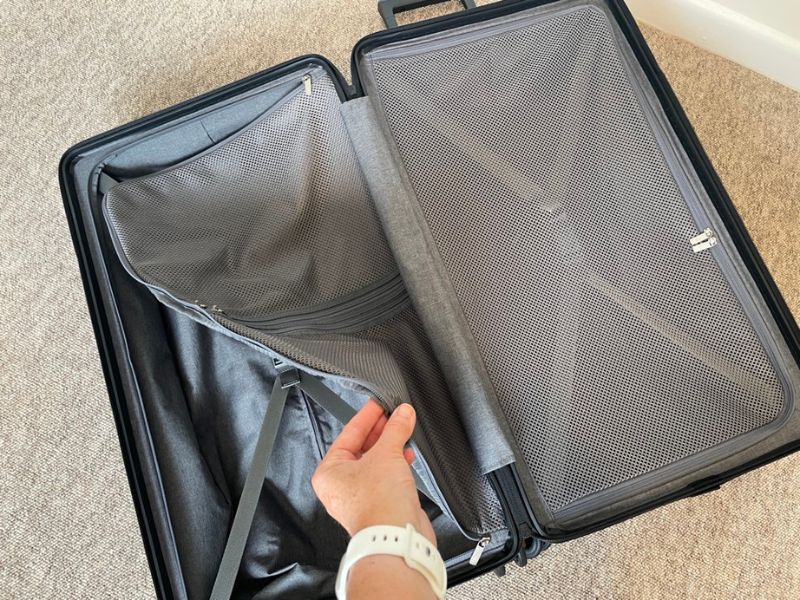 Having multiple compartments in your carry-on bag will help you to keep your belongings organised and easy to find.
Look for bags featuring separate compartments or pockets for items such as toiletries, electronics, and documents. This will make it easier to find items quickly and efficiently, ensuring a smooth and stress-free cruise experience, particularly during check-in.
Size and Weight Restrictions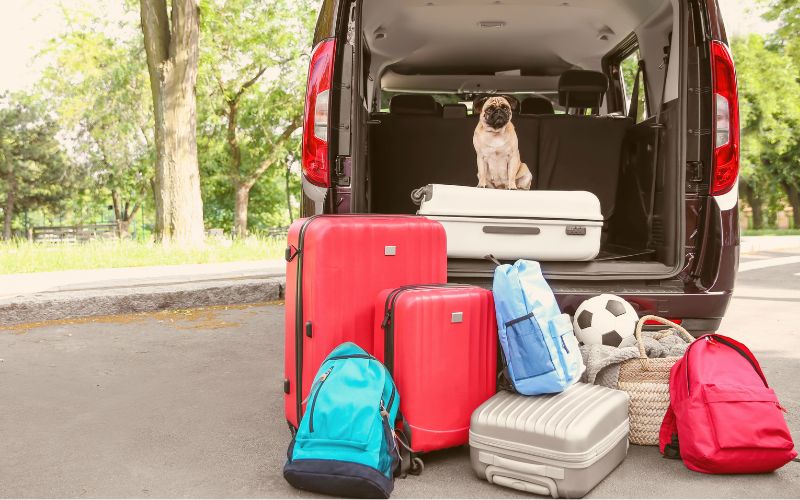 Cruise lines may have specific size and weight restrictions for carry-on luggage. It's crucial to check these limitations before buying a bag to avoid any problems during your journey. Measure the dimensions and weigh your bag once packed to ensure it complies with the restrictions.
Security Features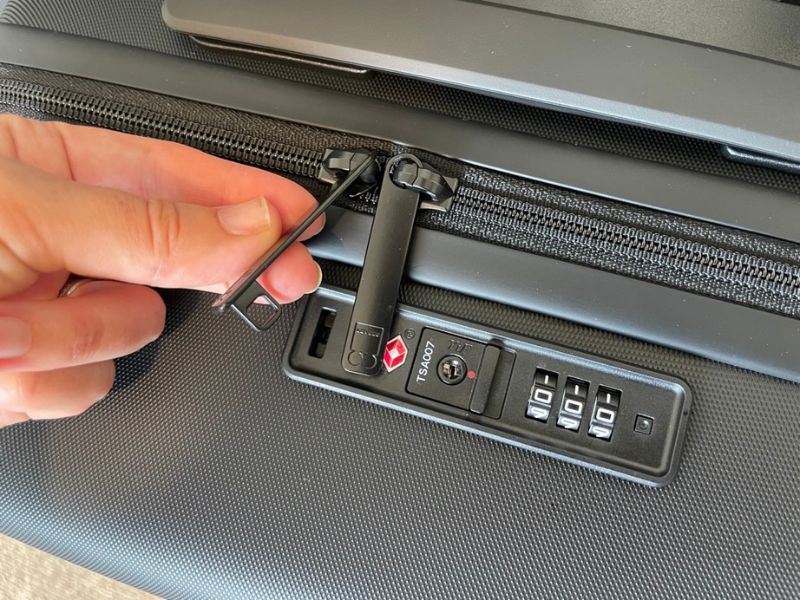 When travelling, it's essential to keep your belongings secure. Look for carry-on bags that have lockable zippers, hidden pockets, or compartments for valuable items. These features will allow you to have peace of mind knowing your belongings are safe while you enjoy your cruise.
Just because you'll likely have your carry-on bag with you at all times, doesn't mean you should ignore security features.
Frequently Asked Questions
Weight limit on carry-ons?
Weight limits for carry-on bags can differ from cruise to cruise. Most cruise lines impose a limit between 20 to 25 kg; however, they are often more lenient than airlines. It's essential to check with your cruise company before packing your bag, as exceeding the weight limit might force you to check the luggage.
What size for cruise carry-on?
When choosing a carry-on bag for your cruise, it's essential to consider the size restrictions set by your cruise line. Generally, a bag measuring around 22 inches x 14 inches x 9 inches should work well. However, it's always best to check with your specific cruise for their regulations and guidelines.
Do cruises search bags?
Yes, cruises do search bags for security purposes and to ensure passengers comply with their policies. Both carry-on and checked luggage are subject to inspection before boarding. Security officers may check bags at random or when deemed necessary. It's important to pack your bags only with allowed items to avoid any delays or confiscation of belongings.
Carry-on or checked luggage?
The choice between carry-on or checked luggage depends on your personal preferences and needs. Carry-on bags give you the advantage of keeping your belongings close at hand and avoiding potential mishaps or delays that can occur with checked luggage. However, if you have a lot of gear or clothing to bring, it might be more convenient to check a larger bag. 
You'll need some form of carry-on with you in most cases, because once you board the ship it'll be a few hours until your cabin is ready. Make sure you've got everything you need for those few hours.
And bear in mind that any cruise lines letting you bring water onto the ship, or bring your own alcohol onto the ship, ask you to do so in your carry-on bags only.
Related Topics