Cruises used to be seen as something more for the older crowd, but the last 20 years have really changed how it's seen, and now there are some great cruises for families but also some amazing party cruises.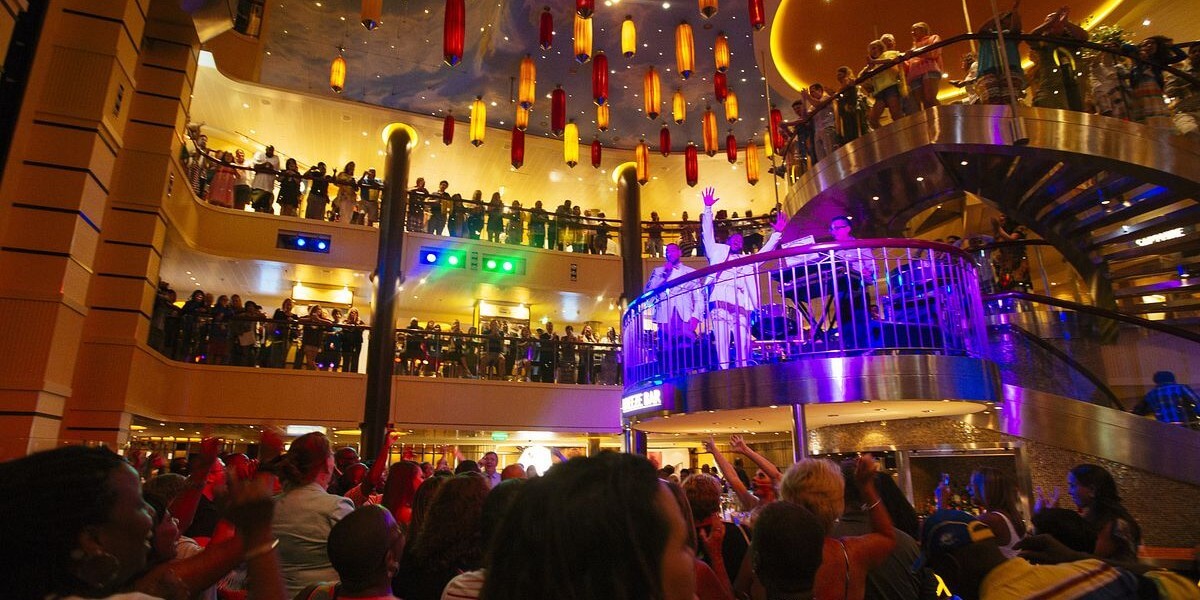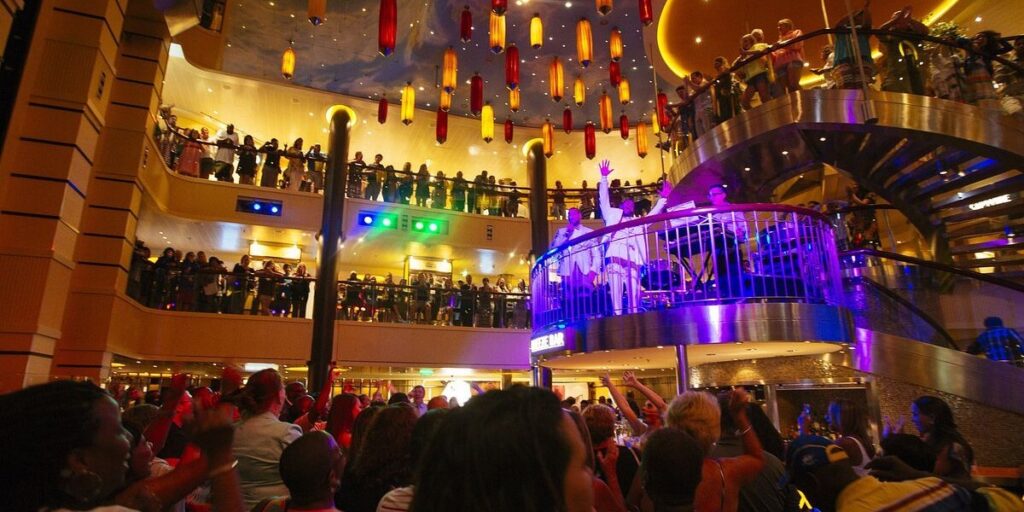 Party cruises are generally shorter breaks that last two to four nights at most. They offer the perfect getaway when you just need to let your hair down and escape from everyday life. Party cruises are usually pretty cheap too, provided you live near the ports where they embark from.
So, let's take a look at the best party cruises for adults including some themed cruises and some cruise lines that just offer a great party all year round, with some amazing bars and venues for you to check out.
1. Temptation Cruise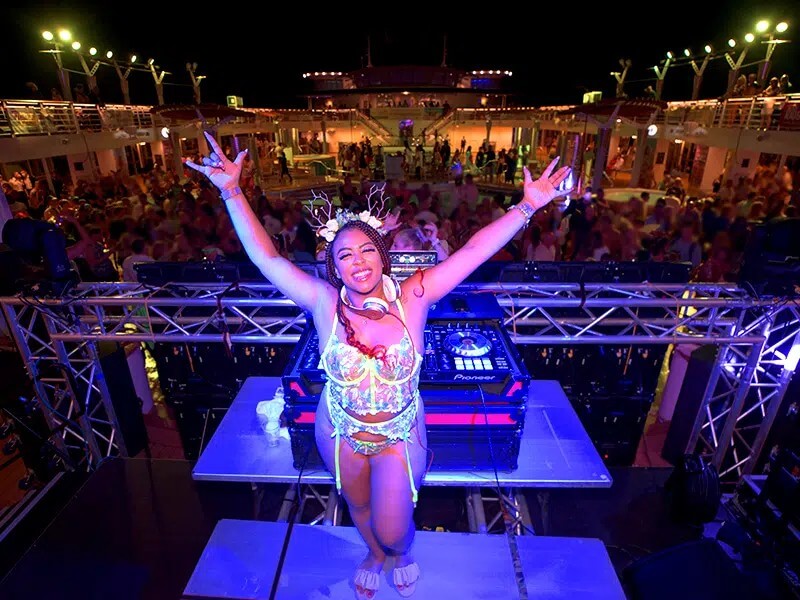 This special chartered cruise has been organised by Temptation Cruises – a company that specialises in cruises for adults. They're some of the best party cruises for single people who really want to party and don't mind things getting a little crazy after hours.
Taking place on Celebrity Summit, expect the same high-quality accommodation and food that you'd normally get from a Celebrity cruise, as well as extras such as pool parties, topless-optional areas and, new for this February 2023 cruise, a completely clothing-optional area of the ship.
There's even a couples-only R-Rated Red Room which is perfect for anyone who's into the pineapple lifestyle to get it on.
Expect various themed nights on this 6-day cruise from Miami, with renowned DJs playing live sets too. For your fare, you can choose from four dining venues, while room service and a Classic Beverage Package are also included, which gives you select alcoholic drinks including cocktails and spirits, as well as soft drinks.
The ship will sail from Miami to George Town, Grand Cayman, before returning to Key West and then back to Miami. There are two sea days on this itinerary.
You can see a little of what to expect from a Temptation Cruise in this video…
Date: 11th February 2023
Nights: 5
Prices from: $1,550
Find out more about the Temptation Cruise
2. Electric Sunsets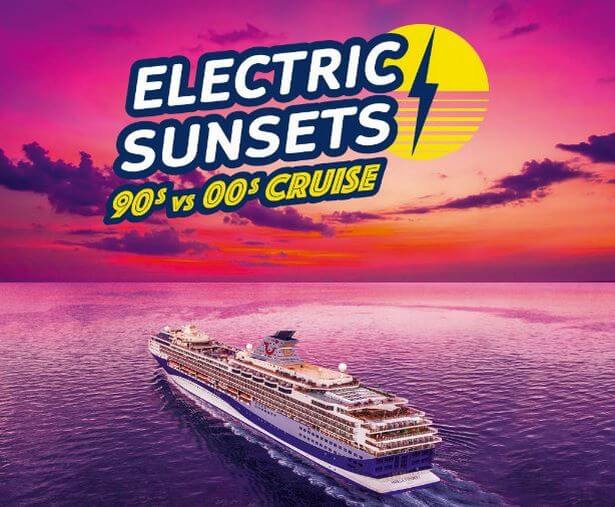 While a lot of party cruises are designed for American passengers, sailing from one of the popular US ports, this themed cruise is very much a European classic. The latest Electric Sunsets cruise sailed in May 2022 so keep an eye out for the next one here.
This is definitely not a cruise for the very young adults based on the acts chosen to perform – this is more aimed at your 30- to 40-year-olds who love a serious nostalgia kick. The latest Electric Sunsets cruise featured classic acts such as Atomic Kitten, Vengaboys, a Vernon Kay DJ set, DJ SASH and Artful Dodger, as well as drag act Gals Aloud.
Taking place on Marella's ship Marella Discovery 2, sold through Tui, the cruise sailed from Palma in Majorca to Valencia and Barcelona before returning to Palma. As well as dancing the night away to one of the amazing acts from the 90s and 00s, guests could enjoy a range of bars and pubs including Bar Eleven and the Squid & Anchor.
The ship is a little older, but if you're looking for a party cruise closer to the UK and the Med then these itineraries are a great option for a short break. Plus, tickets include all-inclusive drinks, making them great value!
To see more of what this cruise is like, check out this video from Emma Cruises…
Take a look at some other themed cruises here.
3. Virgin Voyages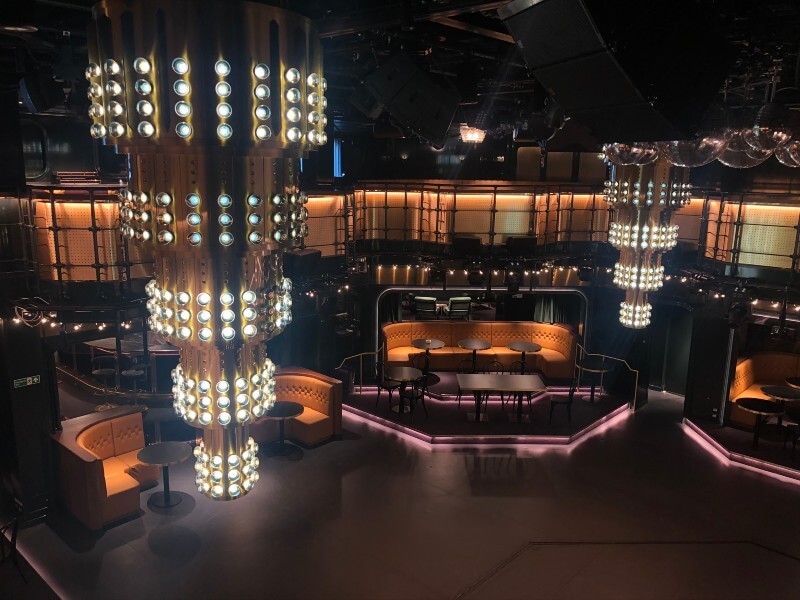 When you're looking for a party cruise, the last thing you want is to risk accidentally booking one that's packed with families with young children. This is what makes Virgin Voyages such a good choice – the ships are 100% adults-only.
And not only that – they are absolutely packed with amazing entertainment to keep you partying the whole night away. You'll likely spend a lot of your time in The Manor – the two-story nightclub that begins the night with thrilling shows before making way to a full night of outstanding music.
But you also won't want to miss Scarlet Night. Here the entire ship comes to life in new and exciting ways, with a host of different experiences that culminates in an epic pool party and runs late into the night in various venues. Don't forget to pack something red to wear for the night.
Virgin Voyages don't offer unlimited drink packages, but you can load up a pre-paid bar tab to cover your booze fund.
And when the partying is all done for the night, there are plenty of peaceful spots to recharge those batteries ahead of the next night, as well as some excellent dining venues so you can refuel.
4. Carnival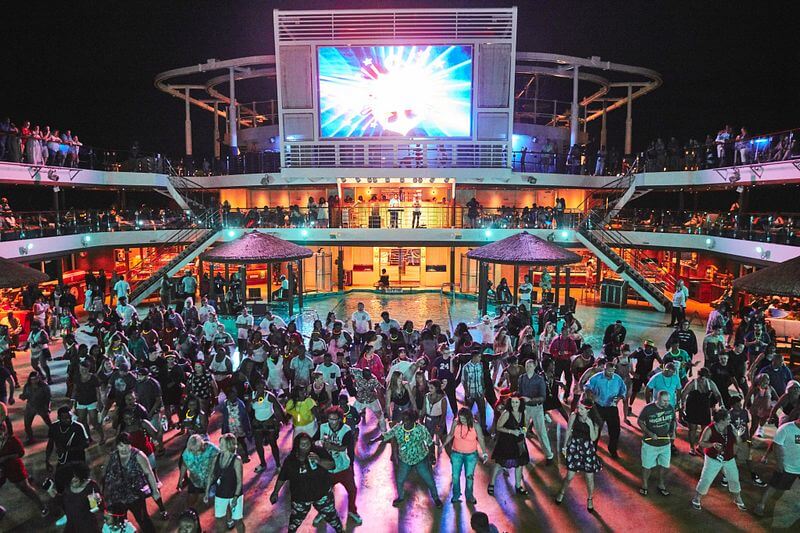 While it's true that a cruise with kids on board can sometimes kill the party vibe a touch, Carnival likes to prove itself to be the exception to that rule. Carnival is a really popular cruise line for all ages, and they do make for a fantastic party cruise option.
Part of the reason for that is their range of short, cheap weekend breaks (although you'll need to live close to the port to really feel like you're getting good value). If you're looking for something that's low-cost for Spring Break then they're some of the best party cruises for college students since you don't have to break the bank to afford them.
The ship hosts various different party nights depending on your itinerary, including the Mega Deck Party, 80s Night and the White Hot Night Party, all of which have an amazing atmosphere.
Carnival's drink package is limited to 15 drinks per day, so if you start early enough in the day, you could run out of booze before the end of the night.
They're also great for stag and hen (or bachelor and bachelorette) parties since you get all the fun of the partying at night, with some great daytime activities including mixology competitions, the at-sea roller coaster Bolt, loads of sports and dining options and more, depending on which ship you choose.
5. Royal Caribbean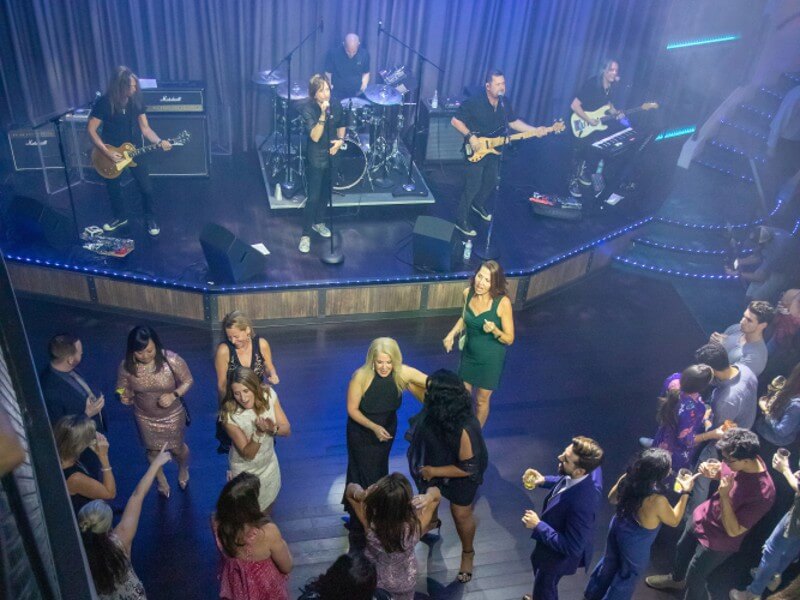 Similar to Carnival, Royal Caribbean is a cruise line that sometimes gets painted as being only for families but in reality, it offers some fantastic party cruise options. If you're looking for the best party cruises for young adults then these huge ships have a lot to offer.
Depending on your ship, there are countless different bars and lounges where you can party at night, along with different special events that last until the late hours. Deck parties are common, and are definitely tailored more at the adult crowd rather than the younger kids and families.
A lot of the 2-night cruises also head to Royal Caribbean's own private island CocoCay in the Bahamas, so you can combine a party cruise with a tropical escape – dance late into the night, then soak up the sun as you recover on a quiet white-sand beach.
And one of the best things about Royal Caribbean for party cruises is the sheer choice of embarkation ports for short cruises. A lot of cruise lines limit your 2-night and 3-night cruises to departures from Florida, but with Royal Caribbean, you can sail from Texas or California, or even enjoy a Cyprus cruise departing from Israel if you live in Europe and want something a little closer.
If you choose Royal Caribbean, be sure to buy the unlimited drinks package, otherwise, you'll be paying over $10 for each drink.
6. Norwegian Cruise Line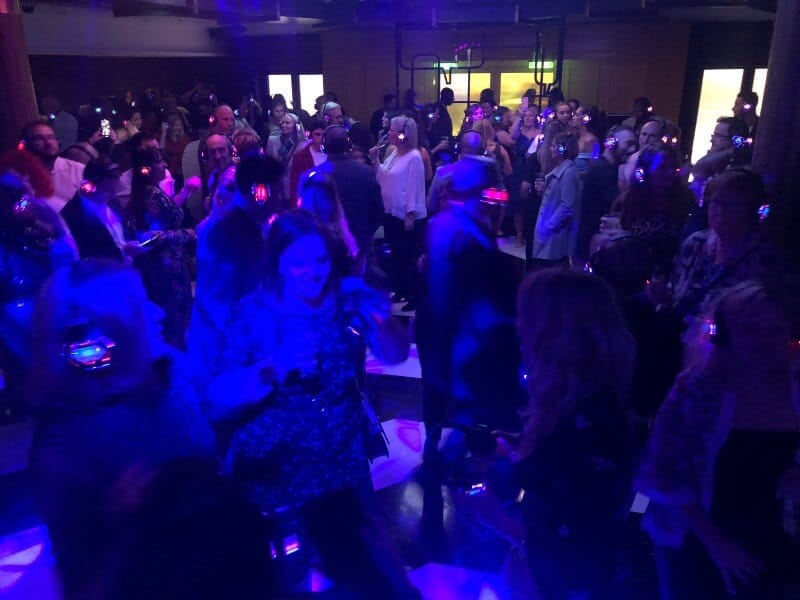 One of the best reasons to choose a cruise with Norwegian Cruise Line is the sheer variety of bars that you can enjoy late into the night.
It's not that they have more than other cruise lines – although they are definitely in the conversation – but nowhere else can you hop from an actual ice bar, to a Margaritaville at Sea lounge, before hitting a dedicated whiskey bar, and then onto a light-stick fueled adults-only nightclub.
The signature night is the White Hot Party, where guests are encouraged to wear white as they enjoy the latest music from popular DJs. Other themed nights include 70s Night, 80s Night and a Latin Night too, if you want to try something a little different.
Norwegian Cruise Line is another that offers greater variety for its 2-night and 3-night cruises, including departures from New York, Boston, Miami, Tampa and Orlando in the US, along with Lisbon, Barcelona and Granada in Europe if you want a short break party cruise on the east side of the Atlantic.
Many NCL cruises come with a drink package included in the deal, which is good, because the drinks are pretty expensive otherwise.
And NCL is another cruise line that offers plenty for you to enjoy during the day as well while you recover, including a huge choice of dining options and pools to help you rest up before your next late-night bash.
7. Celebrity Cruises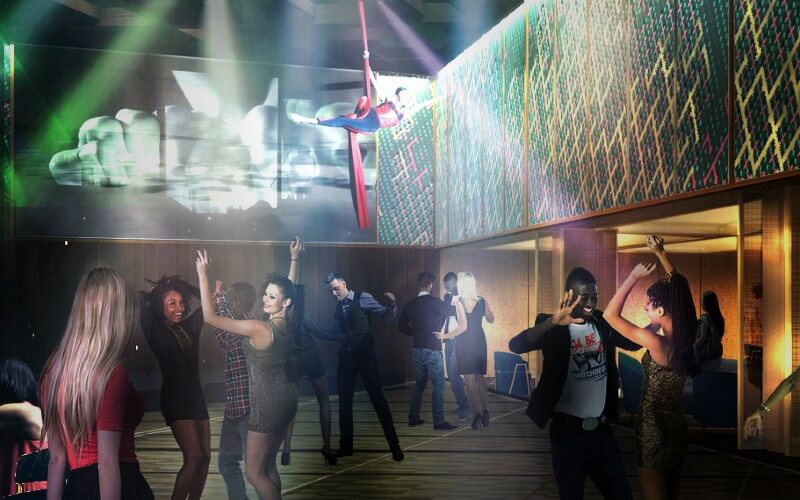 Celebrity Cruises' ships are considered to be slightly more premium and, during the day, tend to have an air of tranquillity about them. There are still plenty of interesting things to see and do, but the day on a Celebrity cruise is more about a luxury cocktail sat on the real grass lawn than it is about waterslides and ziplines.
But by night, Celebrity ships really come to life with a huge selection of themed nights and party events. These range from classic dance parties, to extravagant specialities including Wonder at Eden, the ever-changing experience that goes from a deep chill vibe one night to a full-blown gala the next.
Rock nights, 60s nights, Latin nights and Motown events ensure that there's always something new and exciting to try, or hit the dancefloor and vibe to the ultimate extrasensory playlist in an epic silent disco. Drinks are included as standard, too.
And every June, Celebrity ships host the largest Pride party at sea, making them a great option for party cruises for LGBTQ+ guests. The cruise line can even perform same-sex weddings, so if you want a party cruise to celebrate your nuptials then why not do it all on a Celebrity sailing?
My Recommendation
When you're ready to blow off some steam, booking a short break party cruise is ideal. Sometimes they're quite low priced, and you get all your food included, with drinks packages available.
Depending on the type of party cruise you want, you'll be able to choose the best option from this list, whether that's something just for the adults or a ship where you can have just as much fun in the daytime as in the evening.
And if you're looking for a party cruise in the hopes of having a little bit of naughty fun, definitely check out my guide to the best cruises for singles looking to hook up.
Related Posts: