Cabins with French balconies are common on river cruise ships. Yet people who are used to sailing on ocean cruise ships may get a surprise when they see that the French balconies of river cruise ships are something quite different!
This post explains exactly what is a French balcony and helps you to decide whether you should book one or not.
What is a French balcony?
A French balcony is a balcony that you cannot step out onto. It has floor to ceiling sliding doors that open to a railing, but no space for furniture. Also known as a Juliet balcony, a French balcony offers fresh air and the feel of a veranda, but with no outside space.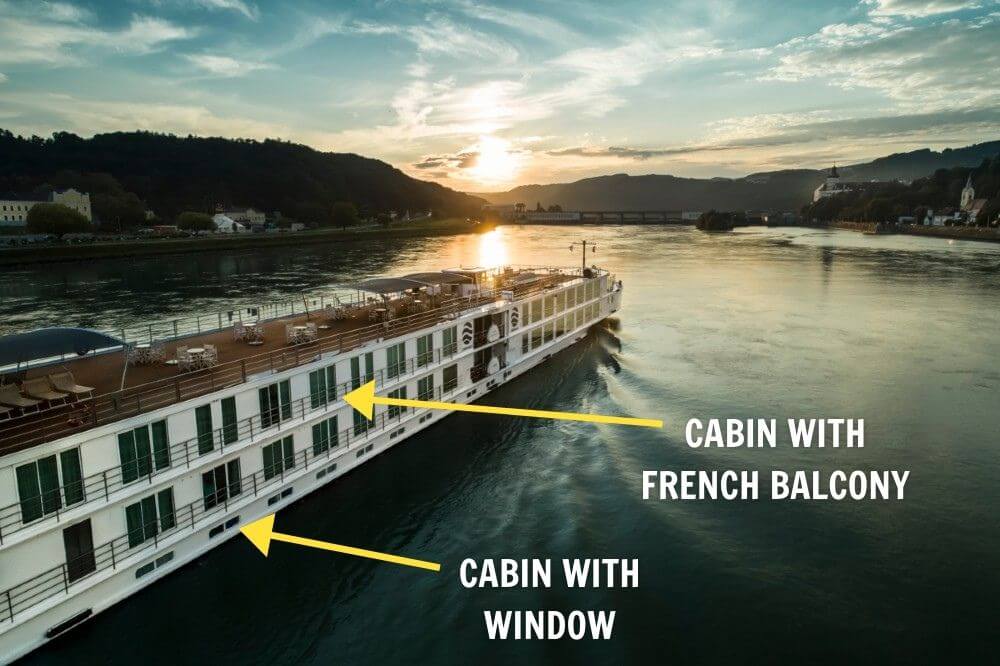 Other names for a French balcony
When you book a river cruise, cabins with French balconies may be described with other words in the brochure or on the website. The exact names used vary depending on the cruise line.
Some other names for French balcony include:
Juliet balcony
Open-air balcony
Panorama balcony
False balcony
Balconette
French balcony Vs Juliet balcony
A French balcony and a Juliet balcony mean exactly the same thing. Both terms refer to floor to ceiling doors which slide or open inwards to reveal a railing that you can lean out of.
The name 'Juliet' (sometimes spelt as Juliette) comes from the Shakespeare play 'Romeo and Juliet'. Shakespear's writing doesn't actually mention a balcony, but that Juliet looked out of her bedroom window. However, performances frequently feature French balconies, so the nickname caught on.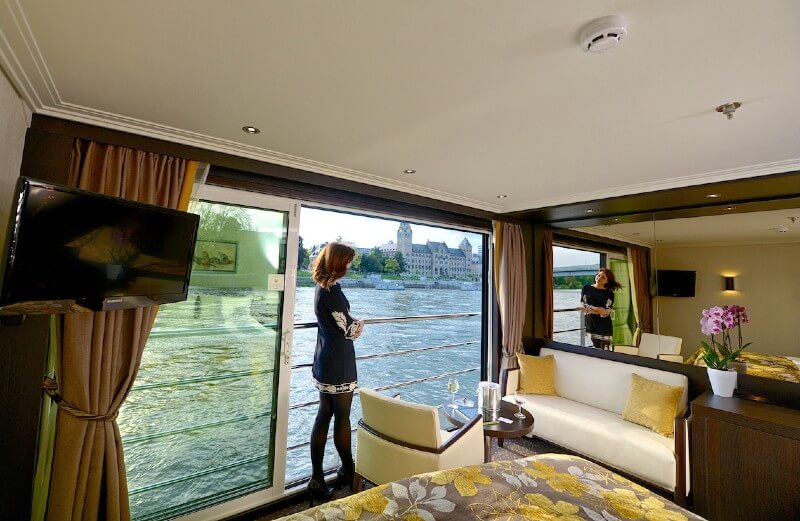 Why do river cruise ships have French balconies?
River cruise ships are fairly small, especially when compared to ocean cruise ships, as they have to be narrow enough to fit through locks. Having a French balcony saves space, meaning that you can enjoy a larger cabin.
On the waterways of Europe, it's often not warm enough to sit out on your balcony. A French balcony offers the advantages of great views and fresh air without wasting space on cruises where it's simply too cold to sit out.
Do river cruise ships have walk-out balconies?
Most river cruise ships don't offer true balconies that you can step out on to, but some do. On a river cruise ship, a true balcony is known as a veranda, which is sometimes spelt as 'verandah'.
There may be up to four cabin types on a river cruise ship:
Window – If your cabin is below the waterline, this may be a small window up near the ceiling
French balcony – Floor to ceiling sliding doors and a railing
Veranda – A true balcony that you can step out on to
Suite – Larger rooms, sometimes with a separate bedroom and living area
Unlike ocean cruise ships, you won't find any inside cabins on a river cruise ship. This is because river cruise ships are narrow enough for everyone to get at least a window.
If you opt for a cabin with a window, be sure to check the size of it. Some cabins have standard windows, but others have very small windows that you may even have to stand on a chair to be able to see out of! Cabins that are below the waterline with a high-up window are sometimes affectionately known as 'aquarium class'.
What is the difference between a French balcony and a veranda?
The main difference between a French balcony and a veranda on a river cruise ship is that you can step out onto a veranda but only lean out of a French balcony.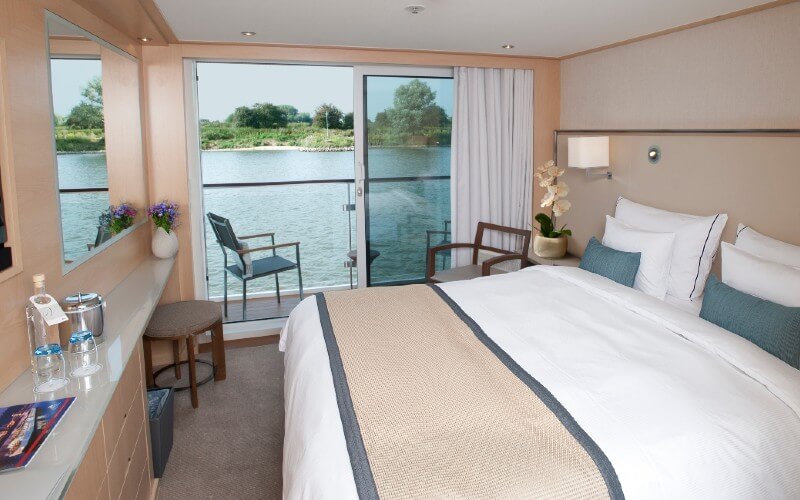 Verandas often have a small table and two chairs. However, many French balcony cabins have a table and chairs by the balcony, so that it gives a similar feeling to sitting outside and the view is just as good.
Suggested read: What is a Veranda on a Cruise Ship?
Some AmaWaterways ships actually have twin balconies, with a French balcony and a veranda within one cabin!
Different types of French balconies
Not all French balconies are the same. Some have standard sized patio doors which slide across to open half of the space. Others have panoramic floor to ceiling glass that covers one wall of the cabin.
Dropdown French balconies don't have sliding doors. Instead, the top half of the window can be lowered. These are the best kind of French balconies as the open section can be as wide as the cabin for the best views.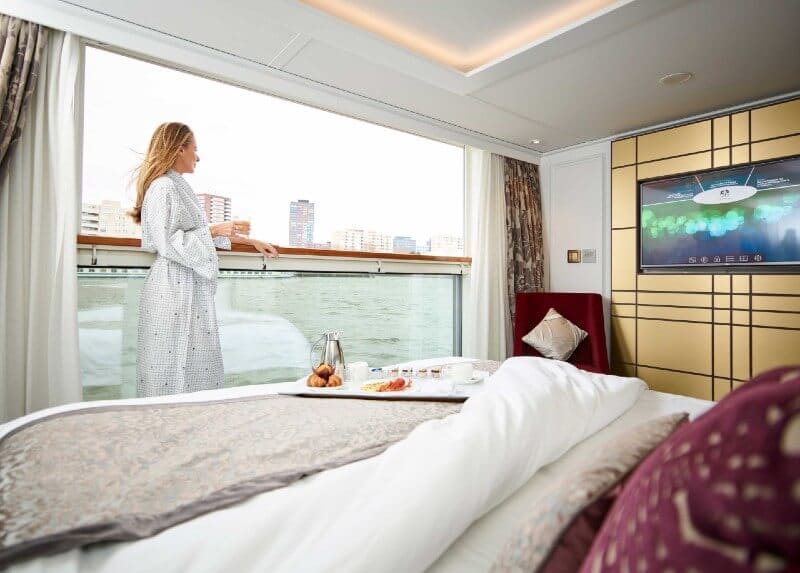 Do you need a balcony on a river cruise?
Given that most river cruise boat balconies are French balconies, you may be wondering if a balcony is worth it on a river cruise.
Whether to opt for a balcony or save money by booking a cabin with a window is a matter of personal preference. Think about how much time you are going to spend in your cabin when deciding if the upgrade to a French balcony or a veranda is worth it.
If you're trying to decide between a French balcony and a window, I would say that the most important thing to consider is the size of the window, and whether you can actually see out of it, rather than the details of the French balcony.
To help you decide, here are some pros and cons of having a French balcony
Advantages of a French balcony
Fresh air – You can open up the balcony to let air into the cabin, unlike a window which probably won't open
Admire the view from bed – Opening your curtains and admiring the view with a cup of tea before you get out of bed is very enjoyable
See the scenery from the warmth of your cabin– On winter cruises it can be very cold up on the top deck, so you may prefer to watch it from your room
Disadvantages of a French balcony
Missing half of the view – When you look out of your balcony you can only see one side of the river, but if you go up to the sun deck you can see a lot more
The cost – It will cost several hundred Euros more to upgrade, which you might want to spend on other things
Little privacy – Balconies lose their appeal when your ship docks. It might dock right next to another ship or next to a bank where people walk past
French balconies on Viking river cruises
French balcony cabins on Viking ships have floor to ceiling sliding glass doors. Depending on the ship, they may be between 122 and 150 square feet in size and may be smaller or larger than standard staterooms which have half-height picture windows.
The following table shows the sizes of Viking French balcony staterooms compared to standard window staterooms and those with verandas.
| River | Standard cabin | Cabin wih french balcony | Cabin with veranda |
| --- | --- | --- | --- |
| Rhine | 135 sq ft | 150 sq ft | 205 sq ft |
| Danube | 135 sq ft | 150 sq ft | 205 sq ft |
| Main | 135 sq ft | 150 sq ft | 205 sq ft |
| Elbe | 135 sq ft | 150 sq ft | 205 sq ft |
| Douro | 155 sq ft | 150 sq ft | 185 sq ft |
| Elbe | 140 sq ft | 122 sq ft | 180 sq ft |
| Seine | 150 sq ft | 135 sq ft | 205 sq ft |
| Volga | 142-160 sq ft | n/a | 225-240 sq ft |
Many ships also have suites which will be larger and may have both French balconies and verandas.
Viking ships sailing exotic itineraries such as in Asia, Egypt and the Mississippi usually do not have the option of a French balcony.
To conclude
Step out balconies are rare on river cruise ships, with French balconies being much more common. These offer many of the advantages of a true balcony, whilst saving valuable space on board.
Whether to opt for a stateroom with a window, a French balcony or a verandah is a matter of personal preference. Whichever you choose, you'll only ever see one side of the river. For the best views, you'll want to head up to the sun deck where you can enjoy 360-degree views of the surrounding scenery.
Related posts: