There's no single standard for naming cruise ship cabin grades, which can sometimes make things a little confusing. With Insides, Interiors, Mini-Suites, Suites and so on, small differences can sometimes just be down to naming conventions, and sometimes they're a whole different class.
It's the same with a veranda stateroom. In this guide, we'll clear up exactly what that means, so that you know what you're getting when you book your next cruise.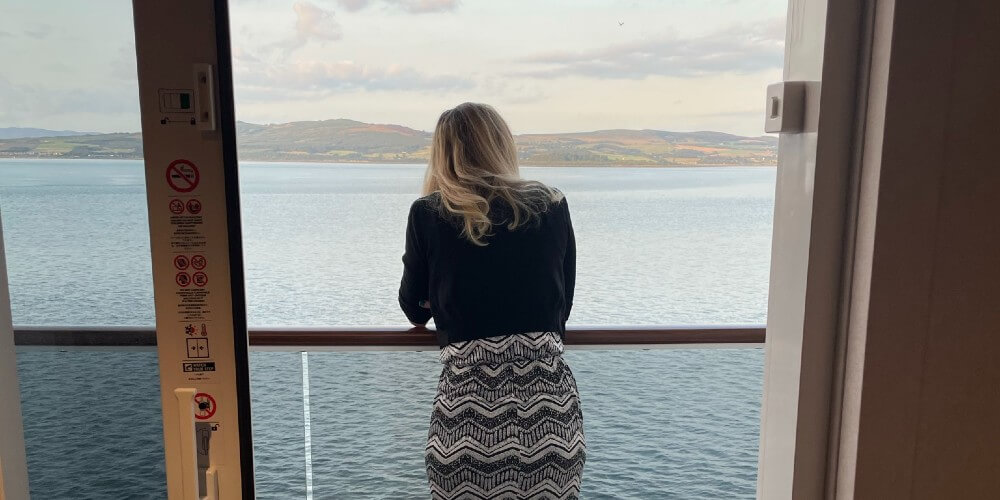 What Is a Veranda on a Cruise Ship?
A veranda is a balcony. On an ocean cruise ship, there's no difference between a veranda and a balcony – it just comes down to which cruise line you're sailing with as to what they're called.
That's not the same on a river cruise ship though – very few of those have an actual veranda, with most preferring a French balcony (where sliding doors open directly to a rail, with no space to actually walk out). That's because river cruise ships need to be kept narrow to fit through locks.
A veranda is a space where you can unwind in your own private outdoor area, enjoy the view and the fresh air. For most veranda staterooms, the actual veranda will be quite small – with enough space for maybe two chairs and a small table – but suites can have much larger outdoor spaces, including some at the aft of the ship that may wrap around the ship.
It's worth noting that some ships have a veranda that you can only use when the ship is in port. These will be at the front of the ship, where the winds are strong when the ship is in motion.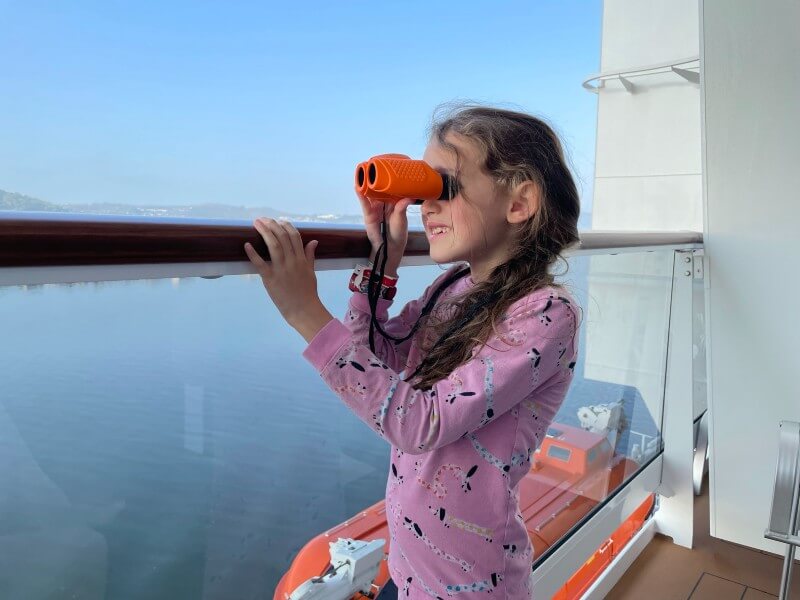 Cruise Ship Veranda Vs Balcony
On an ocean cruise ship, there's no difference between a veranda or a balcony. It's purely a naming decision. British cruise lines tend to prefer 'Balcony' while American ships mix it up a little, with some using 'Balcony' and others using 'Veranda'.
It's not even consistent by owner – the Royal Caribbean Group uses 'Balcony' for Royal Caribbean International and 'Veranda' for its Celebrity Cruises brand.
Even among the luxury cruise brands, they tend to use the terms interchangeably at times, so there's no simple definition between who uses which word.
Some cruise lines add an "h" to the end for a 'verandah' stateroom – specifically Disney Cruise Line and Holland America Line. Which is a little odd because 'verandah' is seen as the more historically British spelling, and neither cruise line is formed or based in the UK.
But if you wondering what is a verandah on a cruise ship, it's exactly the same thing.
Is a Veranda Worth It on a Cruise?
A veranda is worth it on a cruise if you really enjoy quiet time watching the view. It depends on your own preferences – some people prefer to save money and head to a public deck when they want to relax outdoors.
A good way to save money is to choose an obstructed view veranda room. The view from these is obstructed by the lifeboats hanging on the ship. If you plan carefully, you can get a cheaper veranda stateroom with an obstructed view that's between two lifeboats, so that your view is only partially blocked.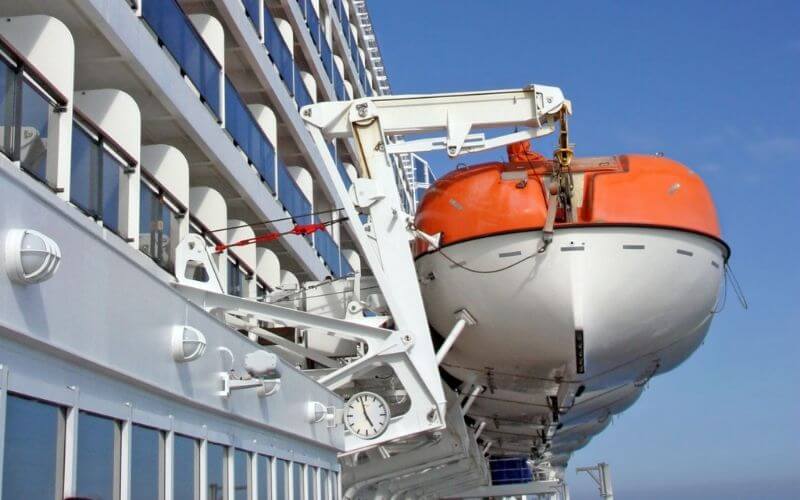 Ultimately it's your decision. It is nice to wake up, wander to your balcony in your dressing gown and soak up the early morning sun. But you could save hundreds by opting for an inside or ocean view cabin instead, which could be put towards excursions or even another cruise.
Suggested read: Why I (Almost) Always Choose an Inside Cabin
Which Cruise Lines Use The Word Veranda?
Here's a list of which ocean cruise lines use the word 'Veranda':
Celebrity Cruises
Disney Cruise Line – styled as 'Verandah'
Holland America Line – styled as 'Verandah'
Oceania Cruises
Seabourn – some suites are 'Veranda Suites'
Silversea – some suites are 'Veranda Suites'
Virgin Voyages are a bit more unique. Instead of using the term 'balcony' or 'veranda', they opt for 'terrace'.
Look At These Cool Veranda Rooms…
Now that we've cleared up exactly what a veranda is on a cruise ship, here's a little information on some of the most interesting veranda rooms that are a little different from the norm…
Celebrity Cruises Infinite Veranda
The Celebrity Cruises Infinite Veranda works both as a balcony space and as a way of extending the room. It's actually a fully-enclosed space with floor-to-ceiling windows, but at the push of a button, the top window slides down to convert the space into a veranda.
Instead of the usual half-sliding door to access the veranda, these balconies come with folding doors, so you can completely open up the space. With the doors open and the window shut, you're essentially just making the stateroom larger. But open that window and close the doors and you've got a private veranda space where you can enjoy the view in peace.
Celebrity Cruises Sunset Veranda
Celebrity's more standard take on a balcony, these are a traditional outdoor space with sliding doors from your stateroom. If possible, try to get a Sunset Veranda room at the aft of the ship – they're often much larger and they have amazing views over the wake as you sail, plus they're well sheltered from the wind.
They're named for the idea of enjoying your own private sunset in your stateroom, but remember that it'll depend on whether your stateroom is west-facing. If not, you might need to wake up a little earlier to enjoy the sunrise instead.
Celebrity Cruises Family Veranda
One of the biggest staterooms with a Veranda you can choose on a cruise ship (without opting for a Suite), these are really large rooms with equally large balconies. Often, you're not allowed to book one of these rooms unless you're travelling with at least four guests.
The actual veranda for these rooms is often bigger than the whole interior or ocean view stateroom – there's plenty of space for your whole group to unwind.
Disney Cruise Line Deluxe Oceanview Stateroom with Verandah
Unlike other cruise lines that refer to a room with a balcony as either a 'Balcony' or 'Veranda(h)' cabin or stateroom, with Disney it's known as an 'Oceanview Stateroom with a Verandah'. It's almost as if the verandah is an added extra on an Oceanview room.
It's just the quirky way that Disney names them, though – these rooms do have a proper balcony space with sliding doors to access it. Expect a fairly standard verandah with space for two chairs and a small table – nothing more, really.
There are accessible options for both the Deluxe Oceanview and Deluxe Family Oceanview staterooms for any guests using a wheelchair or mobility scooter.
Disney Cruise Line Deluxe Family Oceanview Stateroom with Verandah
Family Oceanview Staterooms on a Disney Cruise Line ship are similar to their standard Oceanview Staterooms with Verandahs, but a bit more spacious. On average, a Family Oceanview room will have 299 sq ft of space (including the verandah), compared to 249 in the smaller standard Oceanviews.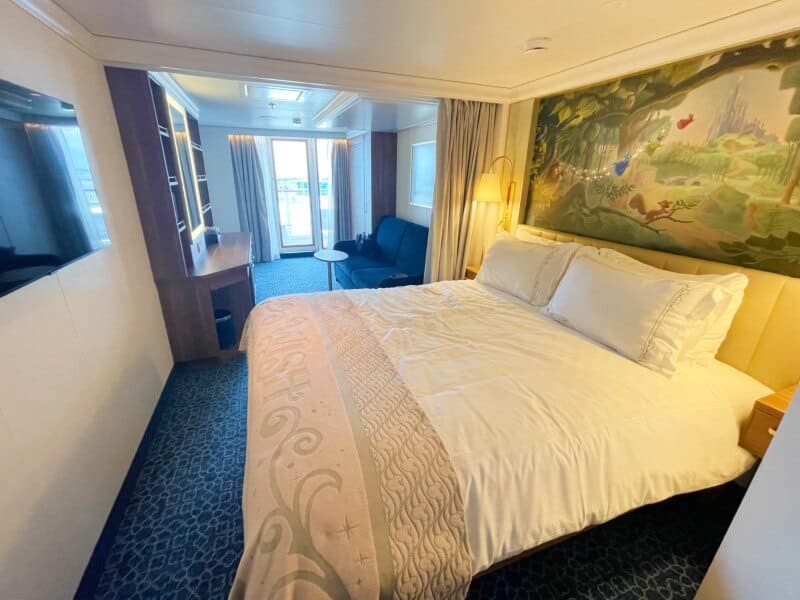 The name's a little misleading since a standard Deluxe Oceanview Stateroom with Verandah can sleep a family of up to 4, but a Family Oceanview can sleep up to 5 guests, although some are limited to 4.
On families, it's worth noting that some connecting verandah rooms on Disney's ships – and with some other cruise lines – the verandah itself is also connecting, with a partition that can be removed.
So, if you're booking connecting rooms for a larger group, you can enjoy one more spacious verandah instead of two separate ones.
Disney Cruise Line White Wall Verandah
Some of the Oceanview and Family Oceanview Staterooms on a Disney Cruise Line ship have a whitewall verandah. The difference with these is that, instead of a plexiglass barrier for your verandah, you have a solid white wall.
This means that, if you're sat down in your chair on your verandah you won't be able to enjoy the view – the wall is too high, and as it's solid white, you can't see through it. You need to stand up to look out instead. The benefit is that these rooms are generally much cheaper.
So, if you don't plan to spend long hours sitting enjoying the view but like the idea of standing to see out and get some fresh air, you can save some money.
Disney Cruise Line Navigator's Verandah
If you want to enjoy total privacy on your cruise then the third type of verandah offered by Disney – the Navigator Verandah – might be ideal. They're almost completely enclosed, with solid walls on both sides and a ceiling above you.
It's still classed as a verandah because you have a large porthole opening with a wooden railing, and it is open-air, but it feels more like a large window without any glass. They've got a really cool design though, with a lot of exposed woodwork and some comfy built-in seats, as well as fun navigator tools like a compass that the kids can enjoy playing with.
The Bottom Line
There's no real difference between a veranda(h) and a balcony, it's just down to the naming decisions of the cruise line. The majority of cruise lines stick to the term balcony, but there are still plenty that call it a veranda too.
As for whether a veranda is worth it – that's entirely up to you. Waking up to a lovely private view of the ocean is special, but it's not necessarily for everyone, and you may prefer to spend your pennies on other parts of a cruise.
If you're cruising with young kids, then be sure to check out this guide before you decide… Are Cruise Ship Balconies Safe for Toddlers?
NEW DEALS JUST RELEASED!
Don't miss these hot cruise offers…
Related Posts: