Wondering what happens when someone jumps off a cruise ship? Well, you'll be glad to know that, fortunately, this isn't very common!
It's almost impossible to simply 'fall' from a cruise ship as the railings are quite high. Most of the time, people who go overboard either intentionally jumped or were doing something irresponsible, like climbing over a balcony.
So what happens when someone jumps off a cruise ship? Let's find out…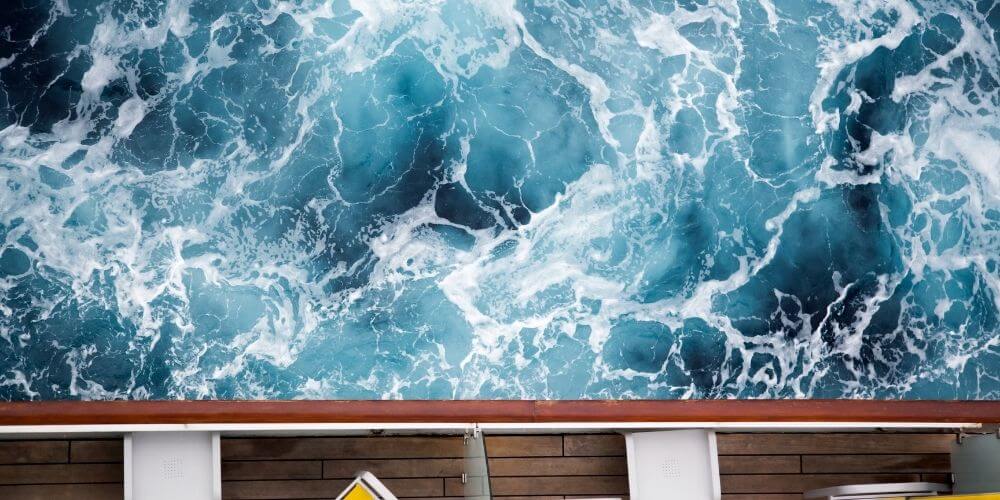 What Happens If You Jump Off a Cruise Ship on Purpose?
If a passenger jumps off of a cruise ship, the ship will stop as soon as it's alerted and make a turn to begin searching for them in the water. This can take several hours and often requires the help of passengers looking from their balconies as well as nearby cruise ships and vessels.
The crew will plot their location at the time of the fall and navigate back to the place it's believed that the passenger has gone overboard.
Cruise ships are fitted with CCTV cameras which can help, but these aren't continually monitored. Specialist sensors are also becoming more popular. Many cruise ships are fitted with V-MOB sensors which will automatically alert the crew at the bridge of any 'man overboard' incident.
If you see someone jump or fall overboard, you should immediately throw a life ring toward them. Even if they cannot reach it, it will help to mark the spot where they fell.
In the video below, Emma Cruises explains in detail the procedure that happens when someone goes overboard. She includes her own first-hand experience of the procedure when someone went overboard on her Norwegian Cruise Line sailing.
Why People Jump From Cruise Ships
An average of 25 people each year jump from cruise ships, for multiple reasons. These could include:
Committing suicide
Foolish pranks
Alcohol and/or drug-related incidents
Climbing on balconies or railings
An attempt to rescue someone who has fallen
In 2019, 26 people fell overboard out of 29 million passengers who cruised that year. This gives you a 1 in 1.4 million chance of ever falling overboard when cruising. Those who do fall, are usually intentionally jumping or are falling as a result of reckless behaviour.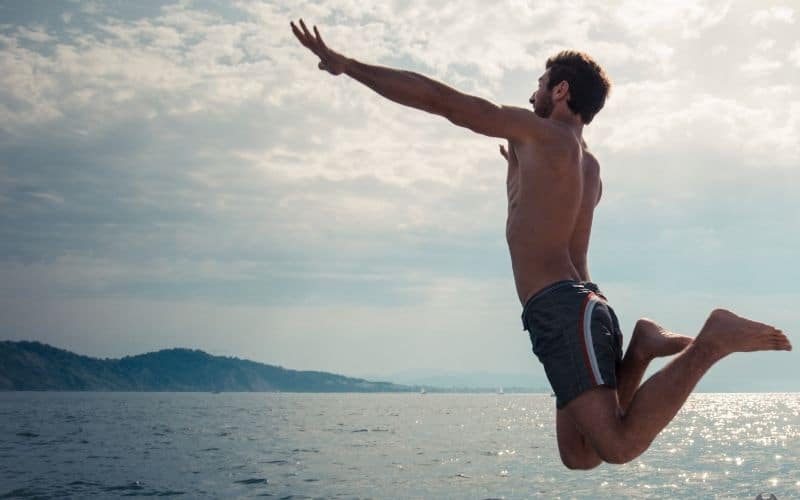 The Most Recent Ship Jumping Incident
The most recent incident of someone going overboard may not have been a jumping one. In June 2023, a woman went overboard from Royal Caribbean's Mariner of the Seas, reportedly after climbing a railing to sit on it for a photo.
Thankfully, because it was daytime and there were people who witnessed the incident, the ship was able to turn around and locate her. She was rescued from the water by the ship's pilot boat, and brought back onboard.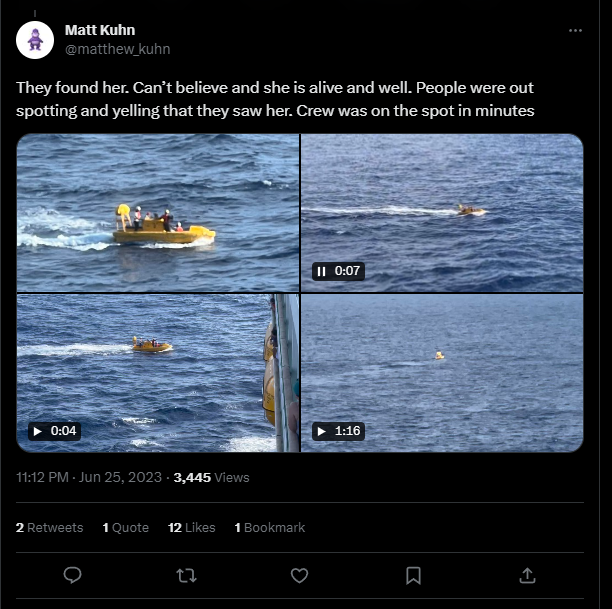 Can You Survive Jumping From a Cruise Ship?
The survival rate after jumping off a cruise ship is around 25%. Many things can influence this rate including the speed of the ship, the location, the time of day and the season.
A case of someone surviving their ordeal is taken from 2015 when a 22-year-old man fell overboard off the coast of Mexico. He was rescued by a Disney cruise ship after passengers spotted him in the water.
The man had been in the water for about five hours after falling from Royal Caribbean's Oasis of the Seas early in the morning. After the rescue, the man was taken to a local hospital and was in good condition before flying back to the U.S.
Despite these stories, those who survive are incredibly lucky to have been rescued and made it to shore unscathed. Commenting on the impact falls from a cruise ship can have on a person, Cozumel Port Captain Alfonso Rodríguez said: "Most people that experience that kind of fall break their neck. It's like hitting concrete."
Sea survival expert, Mike Tipton, a professor from the University of Portsmouth and co-author of Essentials of Sea Survival, calculates most cruise ship falls sadly result in death.
He advises that, if you survive the initial fall, "the best thing you can do in the first few minutes of immersion is try to rest, relax, float," he says, suggesting that restricting movement and conserving energy is the best strategy to increase your survival odds.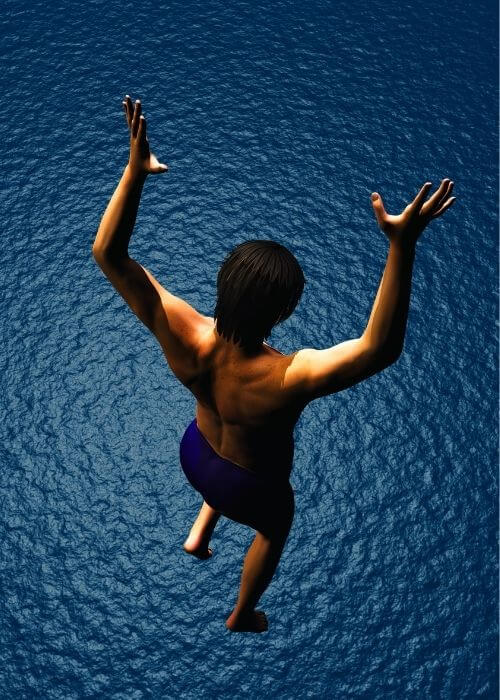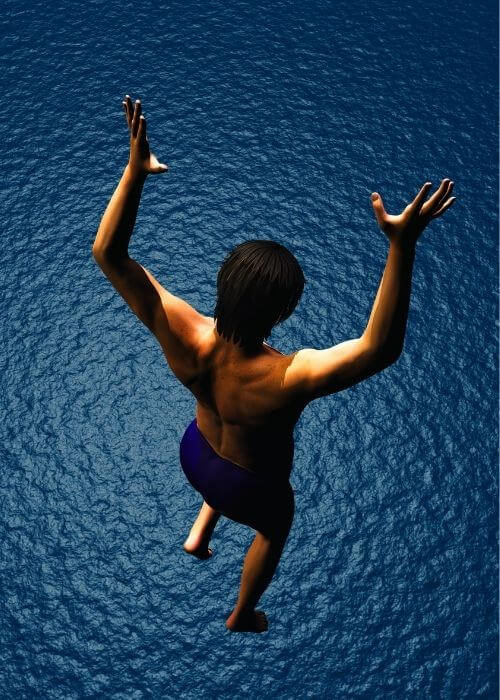 Factors Affecting the Survival Rate of Jumping From a Cruise Ship
Survival rates of jumping from a cruise ship can be impacted by a number of things:
Whether the passenger was injured upon impact
Which deck the passenger fell from
The location of the ship
The speed of the ship
The time of day
The temperature of the water
The height of the waves
The time it takes to raise the alarm
Whether the passenger can swim
Whether the passenger is intoxicated
If a person jumps off the top deck of a cruise ship into freezing cold and rough seas in the dead of night, the chance of them being found is very slim. But for someone jumping off a lower deck into warm, flat water with witnesses, the chance of being rescued is much higher.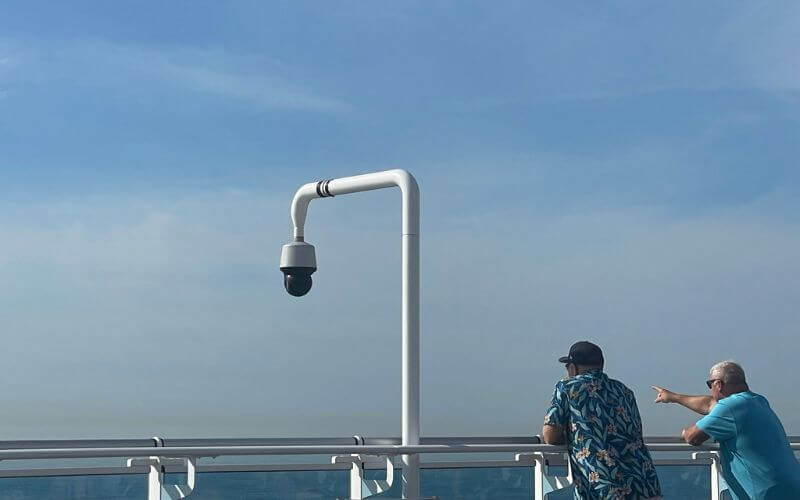 It can take a cruise ship a long time to slow down, sometimes up to a mile in distance. During this time the passenger can suffer terrible consequences, that's if they have even survived the fall in the first place.
A person who has jumped from a cruise ship could hit something during the fall, or the impact of the water itself could result in a quick death. There's also a risk of getting pulled under the ship into its propellors, hypothermia due to the shock of cold water and drowning due to large waves.
Suggested read: How Cold Was The Water When The Titanic Sank?
The height of the ship itself can be a factor in the cause of death. Icon of the Seas, the largest cruise ship in the world, measures a staggering 20 decks high. Jumping from extreme heights has an incredible impact, with enormous forces putting stress on your body including torn muscles, ruptured eardrums and even death on impact.
If no one is around when the passenger goes overboard, then the disappearance may not be noticed or reported for several hours. Normal procedures allow for ships to track their location once notified so they can return to the spot where the passenger fell. However, if hours have passed since, there's no way to tell where this location could be. The sooner the crew are told, the better the chances are of someone being found.
Going overboard at night also has its issues as visibility is limited and the temperatures at sea drop. While flares and spotlights can be used in these circumstances, it's often more difficult to locate someone in the water in the dark.
The seasons and weather such as rough seas, thunderstorms, rain, and fog, also hinder the chances of locating missing passengers.
So, will you die if you fall off a cruise ship, or jump off cruise ship balconies intentionally? There's a high risk – which is why you need to be sensible.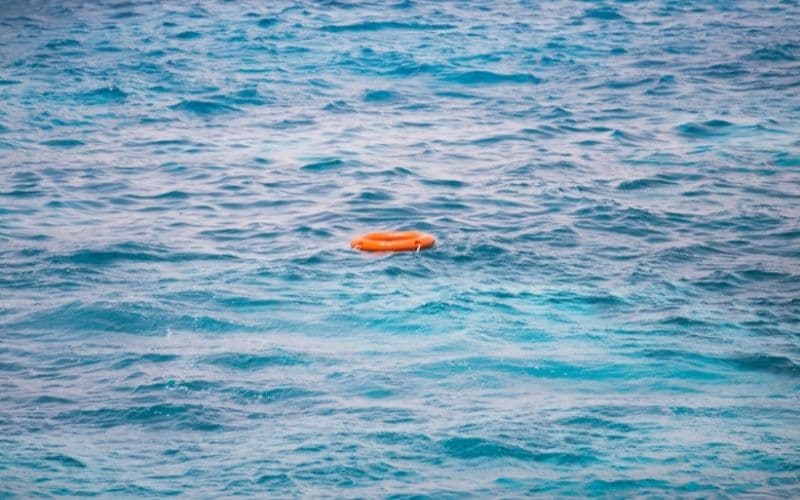 Is Jumping Off a Cruise Ship Illegal?
While there are no laws as such to make it illegal to jump from a cruise ship, those who survive often face legal action for their reckless behaviour and, depending on the circumstances, may be banned from cruising ever again.
Chris Gray Faust, senior editor at CruiseCritic.com is quoted in a CNTraveler article as emphasising "cruise lines want passengers to be safe, and they focus a great deal on helping to ensure that."
He goes on to say that "it's worth keeping in mind that the incidence of passengers falling overboard is incredibly low […] Travellers should always be sure to stay alert, be cautious, and follow safety precautions, as they would on any vacation – whether at sea or on land."
The Guy Who Jumped Off a Cruise Ship for Instagram Fame
A few years ago, there were a lot of 'man jumps off cruise ship' headlines as 27-year-old Nick Naydev jumped 100 feet from Symphony of the Seas into shark-infested waters while the ship was docked in Nassau, Bahamas.
You can see the jump, and Nick's comments on his stunt, in this video…
Speaking in 2019, Nick recalls, "I remember hitting the water, the impact was pretty big cause it was pretty high up and it impacted my tailbone and my neck pretty hard. Luckily it wasn't anything serious. The previous night we were drinking quite a bit, so I was still feeling the effects of the alcohol […] I hope I don't inspire anybody to do this because it is very dangerous, and I hope they don't think this is a joke."
As a result of the incident, Nick and his fellow passengers were banned from cruising with Royal Caribbean for life and the cruise line contacted local authorities to remove the group from the ship immediately after the incident.
The Bottom Line
A small number of people do jump from cruise ships each year. But, in the cases where this happens, procedures and policies are in place to try to retrieve the passenger who went overboard. Sadly, these rescue missions fail more often than they succeed.
Jumping off a cruise ship is always a bad idea. If you do survive the fall, you're likely to face serious injuries, legal consequences and a lifetime ban from cruising.
Related Posts: