Cruising from the UK is a popular option for British travellers since it cuts down on the hassle of having to get a flight before you set sail. Southampton's by far the largest cruise port in the UK, and there are a number of ways you could get there.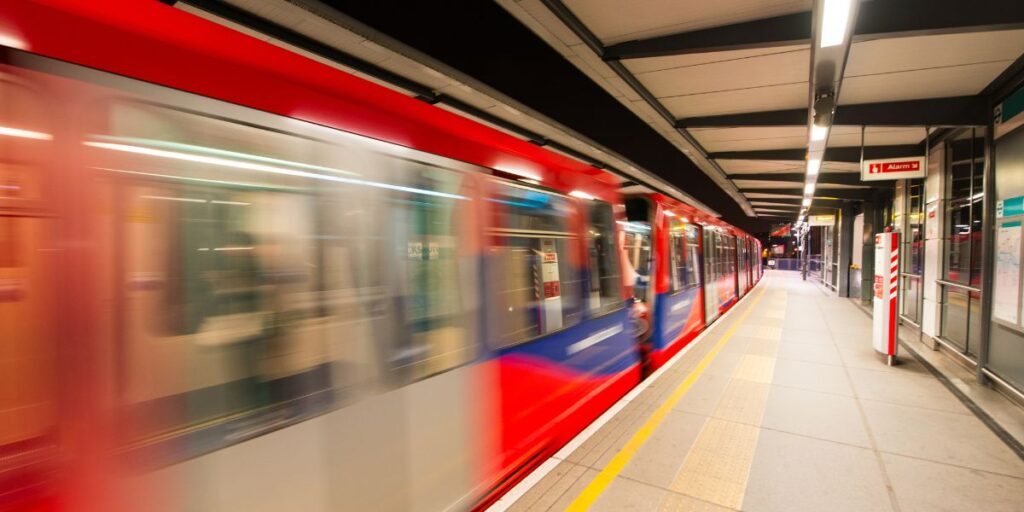 One of the quickest options, other than flying, if you don't want to drive yourself is to get the train. But is it one of the best options?
Let's take a look at how you get to the Southampton Cruise Terminal by train, and you can then decide.
The Nearest Train Station to Southampton Cruise Terminal
The closest train station to Southampton Cruise Terminal is Southampton Central, the main train station for the city. There are other train stations but they're on the outskirts, further from the port, so the central station is your best bet.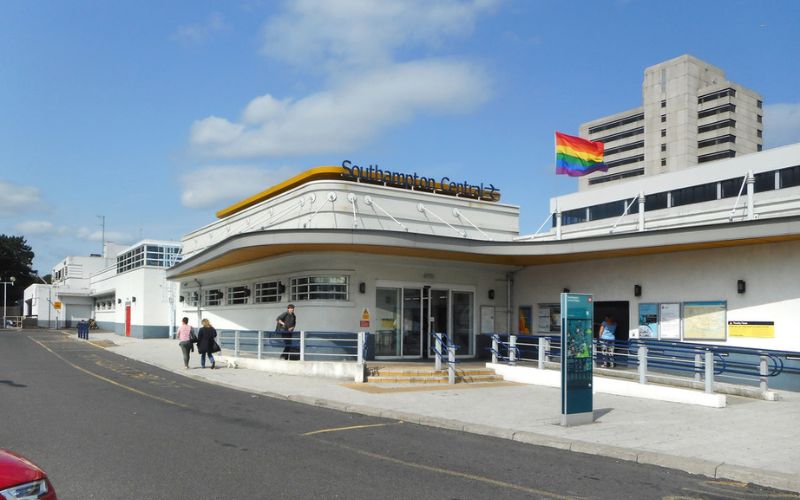 This makes things easier since there are more trains travelling to Southampton Central than there are to the other smaller stations around the city.
Train Routes To Southampton
The downside for a lot of people is that, because of where Southampton is, you're going to need to change at London in order to get there.
If you're carrying a lot of luggage, this can be pretty inconvenient – especially if you're train comes into London Euston or Kings Cross and then you need to take the tube across London to Victoria or Waterloo for your next train!
The train from London to Southampton cruise terminal departs from either Waterloo or Victoria – always aim for Waterloo as the journey is much, much faster (1 hour 15 mins, compared to 2 hours 30 mins). It often makes more sense to transfer from Victoria to Waterloo for the time you'll save – it's only 13 minutes on the Tube between them.
Avoid London if You Can
If you live in the North East or South East of England, North Wales or Scotland, then you are going to have to change trains somewhere – likely in London.
However, there are some irregular services from many other parts of the country, including Cardiff and Manchester, that avoid London.
The Manchester service calls at some other major stations too on the way, avoiding London completely – so if you live in the Midlands or Oxfordshire, you can jump on a direct train. But these services are pretty rare, and might not be at convenient times for your cruise.
Obviously, if you already live on the south coast you won't need to go via London – there are plenty of trains from Bournemouth, Weymouth and Portsmouth going straight to Southampton.
How Far Is Southampton Train Station From the Cruise Terminal?
It's 1 to 2 miles from Southampton Central train station to Southampton cruise port and the various cruise terminals – there are five different terminals. There are paths you can walk along that cut some of these distances in half if you don't mind dragging your luggage.
City Cruise Terminal – 0.6 miles on foot, 1.1 miles by road
Horizon Cruise Terminal – 0.5 miles on foot, 1.0 miles by road
Mayflower Cruise Terminal – 1.0 miles on foot, 1.6 miles by road
Ocean Cruise Terminal – 1.3 miles on foot, 1.6 miles by road
QEII Cruise Terminal – 2.0 miles on foot, 2.2 miles by road
I've walked from Horizon Cruise Terminal to the train station with a suitcase, and it was fine. You can even take some shortcuts across car parks, so the route is slightly shorter than Google Maps shows.
Southampton is not a huge city, and the train station is closer to the southern side so it's not too far from the port at all.
The problem is that, because Southampton itself is so far from many other cities in the UK, it's difficult to get there on time to board a cruise unless you grab a very early train. Getting from the train station to the port isn't the issue, it's getting to the train station early enough.
How To Get From Southampton Train Station To The Cruise Terminal
There are a few different options for getting from Southampton Central to the Cruise Terminal, and your decision will be impacted based on which terminal you're sailing from too.
Walking
Estimated time: 10 to 40 minutes
Estimated cost: Free
It's hard to say whether walking from the train station to the port is a good idea because it massively makes a difference depending on your cruise terminal.
To get to either City Cruise Terminal or Horizon Cruise Terminal, you're looking at a walk of around half a mile, which should take you somewhere between 12 and 16 minutes on average. And for the last few minutes of those, you'll have sight of your cruise ship – now that will spur you on!
But if you're sailing from one of the other cruise terminals, your walk is much longer – at least 20 minutes, and up to 40 minutes if you're sailing from the QEII Terminal. And that's without accounting for the slower walk of dragging luggage with you.
In fact, if you've got some big suitcases, even the shorter distances might feel like too much. It's your personal preference, but if you're not someone who likes the idea of walking with all your bags in tow then you might prefer something a little less strenuous.
Taxi or Uber
Estimated time: 6 to 16 minutes
Estimated cost: £6 to £10
The easiest way to get to the cruise terminal from Southampton Central is to take a taxi, and because of the short distances involved, the costs aren't too high. Ubers are usually always available too, although you may pay more at busy times.
If you pre-book a taxi then it'll likely cost you around £6. You tend to pay a slight premium for taxis from the station's taxi rank, but it's still not a huge amount. There are normally plenty available.
I'd say if you aren't on a tight budget, this is the best option for getting to the cruise terminal if you want to be comfortable. It's the fastest, and you won't have to wait around for long at all.
Bus
Estimated time: 16 to 20 minutes
Estimated cost: £2
There are bus services available that can take you from Southampton Central to the cruise terminal. There are buses operated by both Quayconnect and Bluestar, but the better options are the Quayconnect ones, specifically the U1C service, which takes you to Telephone House.
From here, it's still around a 9-minute walk to the Ocean Cruise Terminal, and slightly further to the QEII terminal, but it is cheap and it is much faster than walking.
The buses to get to the nearer terminals aren't as common and there might be a wait. A taxi isn't much more expensive, so I'd still suggest that would be the better option.
Other Ways To Get To Southampton Cruise Terminal
It's true that getting the train to Southampton is one of the fastest ways of travelling from a major city, but it's far from perfect.
For most people in the UK, you aren't going to be able to get a direct train. You'll need to change in London, and likely need to transfer across London to get to the right station.
Plus, trains are hardly reliable. If you're relying on trains because they're quick, you need to be prepared for what happens if there are cancellations – what's your alternative route, and have you left enough time to get there if you are held up?
Finally, despite rail being quick, it's still some distance from much of the UK, and so getting to Southampton in time for your embarkation can be a challenge. You might still need to get a hotel the night before anyway, and if that's the case then is there really any benefit to the train?
Instead, a coach might be a better option. Coaches are much cheaper than trains, generally, and there are a lot of major cities up and down the UK where you can get a direct coach to Southampton. Some may still need a change, but it's normally one change at most. I find it's often the best way to get from London to Southampton cruise terminal, or indeed from any UK city.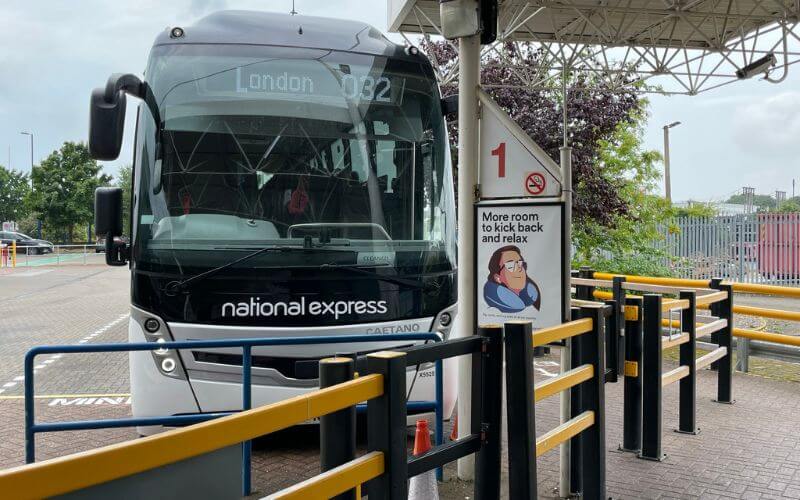 Plus you can get overnight coaches. If you're able to sleep on the coach, this is great – hop on, fall asleep, and wake up close to the city centre.
Coaches will still drop you at Southampton Central – it's both a rail and coach hub – but you'll normally have paid much less to get there.
Read more: Coach Travel to Southampton Cruise Terminal
It's not for everyone, but it's my preferred option when travelling from the north. I've travelled from Manchester to Southampton by coach for as little as £10, while the same journey by train would have cost me over £100!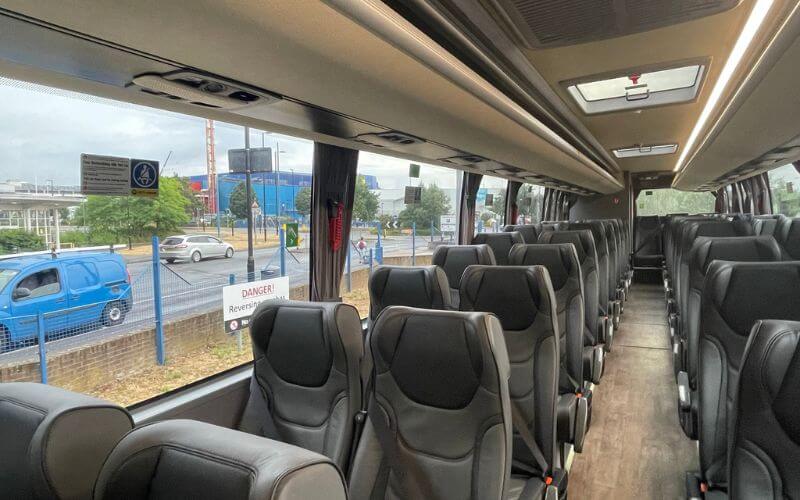 Alternatively, if you live near a major airport, you could fly. This is the fastest option, but it is also likely to be the most expensive. Plus, you'll then have much further to travel once you have made it to the airport – a taxi will cost at least £20 if pre-booked.
Finally, there's always the option to drive yourself. There are motorways taking your right into Southampton, so the drive isn't particularly difficult, although depending on where you live it could be a long one.
I've driven to Southampton and while it was okay on the way there, on the way home I had driven for an hour and found myself only 2 miles north of the cruise port thanks to the traffic!
If you do decide to drive, you'll need to think about parking for the length of your cruise. For that, I have a Southampton Cruise Parking Guide for you.
Related Posts: