While Dover is primarily a ferry port, there are also a considerable number of cruise ships departing from Dover each year with cruise lines such as Carnival, Disney, Fred. Olsen, Hurtigruten, Saga, Seabourn and Tradewind Voyages.
When you book a cruise from Dover, it's a good idea to arrange your car parking as soon as possible.
While parking at Dover Cruise Terminal is the easiest option, you'll certainly pay for the convenience. If your cruise is for more than a couple of nights, your car parking will soon get expensive.
In this guide to Dover cruise parking, I'll show you all of the parking options for your cruise, including off-site parking with free shuttle buses and hotels that let you leave your car when you stay for one night.
I hope that this guide will make it easy for you to decide where to park for your next cruise from Dover.
Please note: This guide relates specifically to parking for a cruise. If you're looking for parking to take a ferry from Dover, you'll find some info on that here.
Where Do Cruise Ships Dock in Dover?
Cruise ships dock at one of three cruise terminals in the Port of Dover:
Terminal 1 – Departures on small and medium ships
Terminal 2 – Departures on larger ships
Terminal 3 – Visits on small ships only
Dover Cruise Port Address: Dover Cruise Terminal, Lord Warden Square, Dover CT17 9DQ
Dover's three cruise terminals are located within the Western Docks – about a mile west of Dover town centre.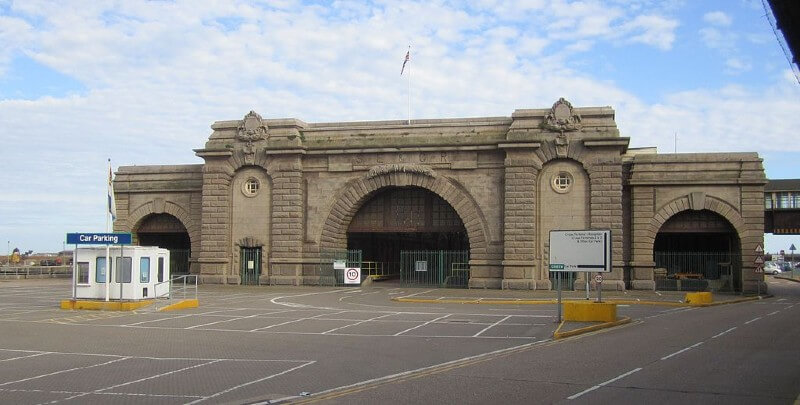 Although you can cruise from Dover, the ferry port is much busier than the cruise port. FDS and P&O ferries from Dover to Calais depart from the Eastern Docks which is about two miles away from Dover's cruise terminals.
Where to Park for a Cruise From Dover
When it comes to parking your car in Dover for a cruise, you have three options:
Read on to find out more about these options and the prices, so that you can decide which is the best for you.
1. Parking at Dover Cruise Terminal
Dover Cruise Terminal has over 1,000 secure undercover parking spaces. This is the most convenient place to park for your cruise from Dover as you can walk straight to the ship.
Parking at Dover Cruise Port is arranged by Cruise & Passenger Services (CPS). You can book your parking on the CPS website or by calling 0345 071 3939.
If you have booked a cruise that includes complimentary car parking at Dover Cruise Terminal, you'll still need to book a space. When you receive your parking voucher, you can enter the code on the CPS website to claim your free parking.
How Much Does It Cost to Park at Dover Cruise Terminal?
Car parking at Dover Cruise Terminal costs £12.10 per day. You can expect to pay £84.70 to park your car for a seven-night cruise.
Parking at Dover cruise terminal is pretty expensive, particularly if you're cruising for more than a few days. However, there are some much cheaper options that you may also wish to consider…
2. Off-Site Dover Cruise Parking
Parking your car at a specialist off-site cruise car park will sometimes cost less than half of what parking at the port costs. You'll definitely save by parking near Dover port, instead of right at the terminal.
There are two secure car parks that are recommended. These include a free shuttle bus from the car park to your cruise ship. The ride takes 5-10 minutes each way.
If you need any help with your luggage, staff will be happy to assist. That makes these options great for anyone with small children or mobility difficulties.
Option One: Dover Port Parking Ltd.
Address: Port House, South Military Road, Western Heights, Dover, CT17 9UE
For a cheaper option than parking at the cruise terminal, Dover Port Parking Ltd comes highly recommended by many cruisers.
Here you can drop off your car, leave your keys and take the included shuttle bus to the cruise terminal. When you get back, just call and they will come to collect you. The bus ride takes around six minutes.
Price: Around £5.75 per day
Features:
Free shuttle bus
Great security with 24-hour CCTV, lights and electric gates
4 electric car charging points
Option Two: Relyon Cruise Parking
Address: Relyon Cruise Parking, Poulton Close, Dover, CT17 0HL
Another great-value option for Dover cruise parking is Relyon Cruise Parking. Located on the outskirts of Dover, this option is slightly cheaper than the option above, but it's also a few minutes further away.
Relyon Cruise Parking comes with a free door shuttle service which takes about ten minutes each way.
Price: Around £8 per day
Features:
Free shuttle bus
24-hour security patrols and CCTV
As well as car parks which are purpose-built for cruise passengers, there are other places in Dover where you can park your car for as little as £2 per day.
These cheap parking spaces can be found at hotel and supermarket car parks, retail parks and private driveways to rent.
While £2 per day sounds great, you'll also have to factor in the cost of a taxi to the cruise port. Plus, you'll need to be able to carry your own luggage. If you're okay with that, these are the best value car parks for cruises from Dover.
There are two websites that I use to see all of the car parking spaces for a cruise. These are JustPark.com and YourParkingSpace.co.uk. I like to check both of them to find the best deals.
3. Dover Hotels with Cruise Parking
If you need to drive for more than a couple of hours to reach Dover, it's a good idea to head down the night before. That way you can avoid stressing over the morning traffic and wake up fresh ready to start your cruise in the most relaxed way.
The table below shows the main Dover hotels with cruise parking. These hotels all allow you to leave your car at the hotel while you are on your cruise.
| Hotel Name | Stars | Transfer | Time to Port | Price |
| --- | --- | --- | --- | --- |
| Holiday Inn Dover (formerly Ramada) | ⭐⭐⭐⭐ | Included | 10 mins | Check price |
| The White Cliffs | ⭐⭐⭐ | Extra | 10 mins | Check price |
| Best Western Dover Marina Hotel & Spa | ⭐⭐⭐⭐ | Extra | 5 mins | Check price |
The Best Place to Park Your Car in Dover for a Cruise
The best place to park your car in Dover for a cruise depends on your priorities. If you want to park your car right by the ship and aren't concerned about the cost, then parking at Dover Cruise Terminal is the easiest option.
If you don't mind spending an extra five or ten minutes to take a shuttle bus, there are two off-site cruise car parks that can offer parking for less than half of the price of parking at Dover port. These are Dover Port Parking Ltd and Relyon Cruise Parking.
And if you're travelling from further afield then you might be best booking a hotel option. Then you just need a transfer, with the hotel's car park serving as your Dover cruise terminal parking.
Related posts: