If you're taking a cruise from Southampton, you may wish to explore the city for a few hours either before you embark or after you bid farewell to your ship.
But finding places to leave your luggage isn't always easy, that's why I've created this list of the best places to store baggage for the day in Southampton.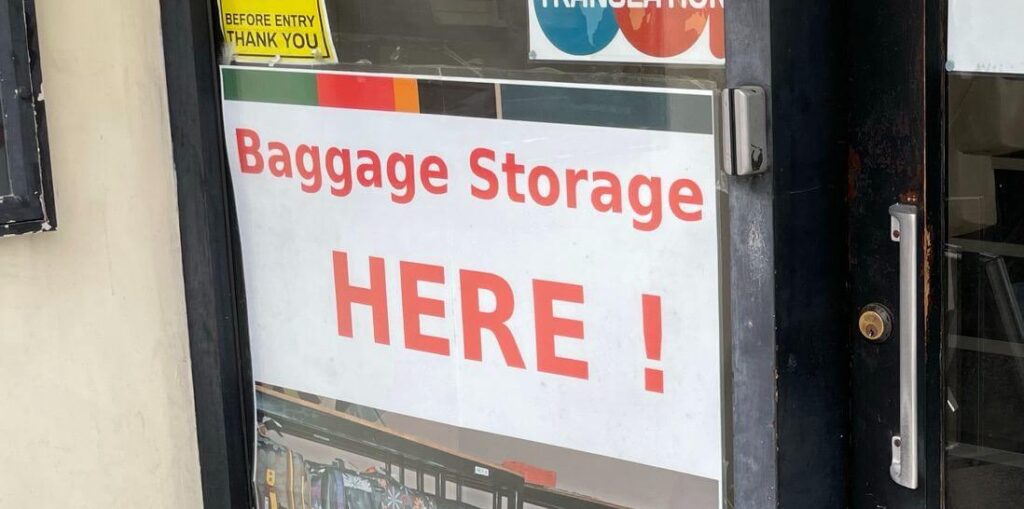 At the end of my most recent cruise, we had to disembark MSC Virtuosa in Southampton at 9 am, but our flight back to Manchester wasn't until the evening. We wanted to explore Southampton without our suitcases, so I looked on Google to find somewhere to leave luggage in Southampton.
I really struggled to find a good answer to this simple question. So, I decided to do some research, walk around the city taking photos of the best luggage storage options, and write this guide to help others having the same problem.
Is there a place to store luggage in Southampton?
There are several places where you can store luggage in Southampton city centre. Cruise port staff often aren't aware of it, but there are several shops and hotels that will store your suitcases securely for a few hours.
If you plan to store your luggage, it's always a good idea to call ahead. Luggage storage facilities only have so much space, and it would be annoying to arrive with your cases and find that it's full, or that the opening hours have changed.
The best places to store luggage in Southampton
Here's my list of places to leave bags and suitcases in Southampton…
1. Robin's Nest Emporium
Robin's Nest is a wonderful vintage shop that's located in the former Natwest Bank on the High Street in Southampton. Being an old bank building, it has lots of secure storage down in the vaults beneath.
Robin's Nest is located right in the city centre of Southampton, about half a mile from City Cruise Terminal and Ocean Cruise Terminal. It takes about ten minutes to walk.
If your ship docks at the Queen Elizabeth II Terminal or the Mayflower Cruise Terminal, it would be about a half-hour walk, so you may wish to take a taxi to the city centre.
Once you've dropped off your luggage, you'll be in the ideal place to enjoy Southampton's sightseeing, shopping and eating options.
Address: 129 High Street, Southampton SO14 2BR
Telephone: 07812 717628
Opening Times: Mon to Sat – 10am to 5pm, Sun – 10am to 4pm
Rates: £5 for large suitcase, £3 for flight bag or small rucksack
After you've dropped off your luggage at Robin's Nest, be sure to have a look around the shop too as it has a lovely selection of vintage cruise memorabilia at the back of the shop.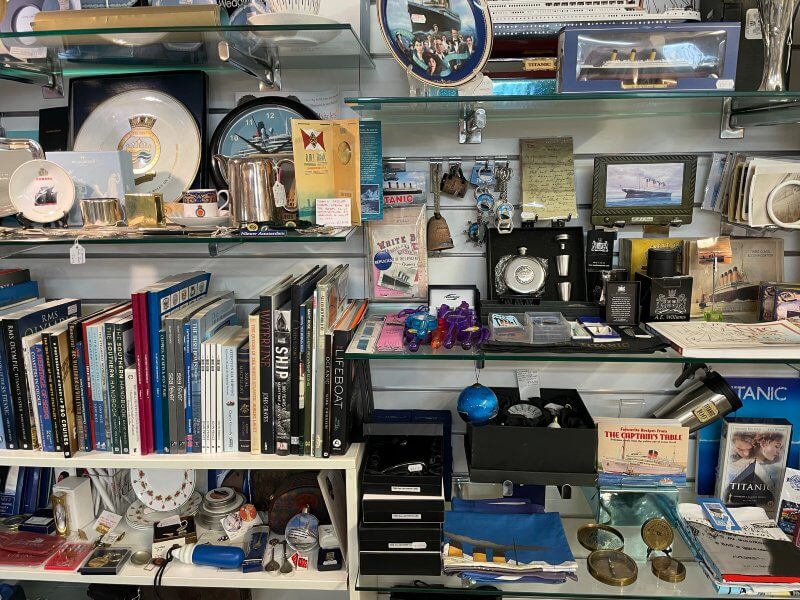 2. Mail Boxes Etc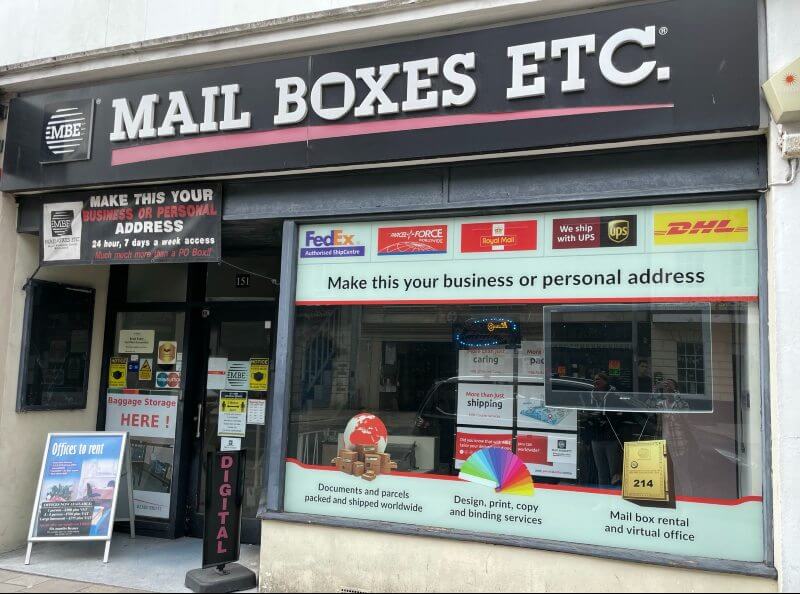 Another good place to leave suitcases for the day is the Southampton branch of the courier service ad printing shop, Mail Boxes Etc.
This luggage storage facility is also located on the High Street, so you can walk from the ship and can start sightseeing immediately after dropping off your bags.
Mail Boxes Etc is open for longer hours than Robin's Nest during the week, but it's open for only half a day on Saturdays and is closed on Sundays. If you want to leave your luggage for more than four hours, you'll be charged double.
Address: 151 High Street, Southampton SO14 2BR
Telephone: 023 8033 5777
Opening Times: Mon to Fri – 9am to 5.45pm, Sat – 10am to 2pm, Sun – Closed
Rates: £5 for 4 hours, £10 for the full day
3. Oceans
Before the cruise industry shutdown in 2020, a shop called Oceans in Southampton was the most popular place for cruise passengers to leave luggage.
When I visited in May 2021, the shop was closed. It had two notices in the window – one to say that it would be re-opening with a new look, and another to say that you can leave luggage at the Robin's Nest, which is a one-minute walk away.
Address: 160 High Street, Southampton SO14 2BT
Telephone: 023 8033 1395
Opening Times: Closed until further notice
4. Holiday Inn Southampton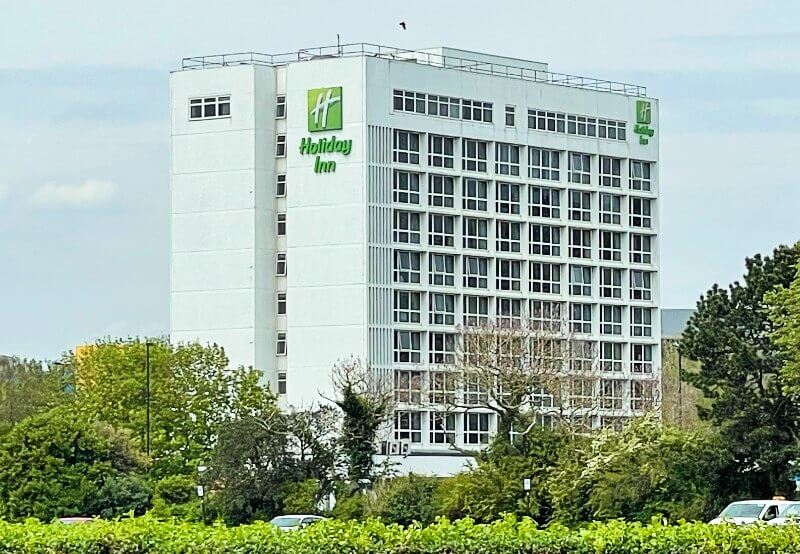 When we walked out of Southampton's City Cruise Terminal with our suitcases, the first hotel that we came across was the Holiday Inn. I headed inside to ask if they could mind my luggage, even though I wasn't staying at the hotel.
The lady behind the front desk kindly said yes! When I returned a few hours later, she didn't ask for any payment, so I tipped her £5 per bag as a thank-you.
She explained that they can't store luggage for everyone, but as she had the space available, she was happy to.
Sometimes in life, I find that if you don't ask, you don't get. So, if you pass any hotels on your way, it may be worth asking if they can store luggage as you never know! And if you pass the Holiday Inn, it's worth asking if they have space.
Address: Herbert Walker Avenue, Southampton SO15 1AG
Telephone: 023 8017 9600
Opening Times: 24 hours
Rates: Free (tips appreciated)
5. Southampton Airport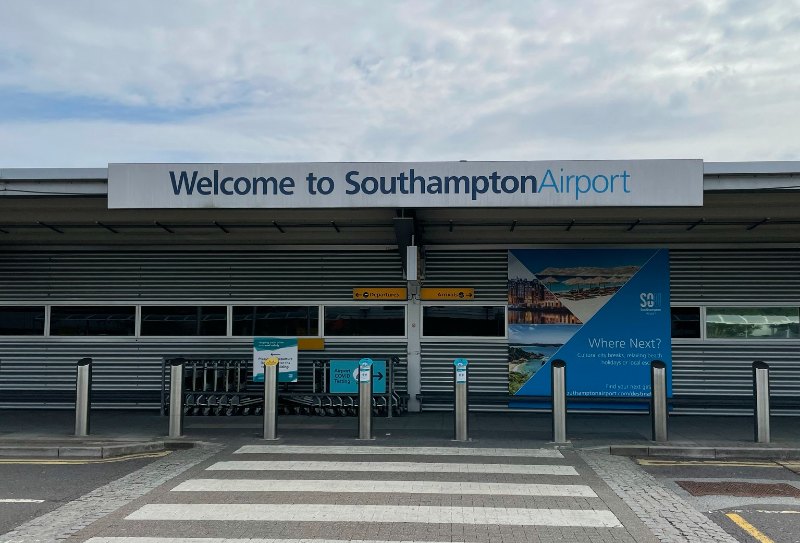 There is a left luggage service at Southampton Airport which costs £10 per bag, per day.
Southampton Airport is about four miles from the city centre, so this isn't the most convenient place to store luggage after a cruise if you want to spend the day in Southampton.
However, if you plan to take a trip to Eastleigh, Winchester or the New Forest National Park, this could be an option to consider.
Address: Southampton SO18 2NL
Telephone: 0344 481 7777
Opening Times: 24 hours
Rates: £10 per bag
Are there lockers at Southampton train station?
There are no lockers at Southampton train station. It isn't possible to leave bags at the station at all. You can instead leave luggage at a number of shops on Southampton High Street for a small fee.
Can you leave luggage at Southampton Cruise Port?
There are no luggage storage facilities at Southampton Cruise Terminal. Staff at the terminal may not be able to advise you of nearby places to leave bags either.
To conclude
Those flying to Southampton typically find that once they disembark their cruise ship after breakfast that they have a few hours to kill before heading to the airport.
There are lots of places where you can store luggage for the day in Southampton, leaving you hands-free while you explore the city or do some shopping in the West Quay shopping centre.
Whichever option you choose, it's wise to call ahead to make sure that storage is available, particularly during busy periods.
Related posts: