If you're taking a cruise from Southampton, you may wish to explore the city for a few hours either before you embark or after you bid farewell to your ship.
But finding places to leave your luggage isn't always easy, that's why I've created this list of the best places to store baggage for the day in Southampton.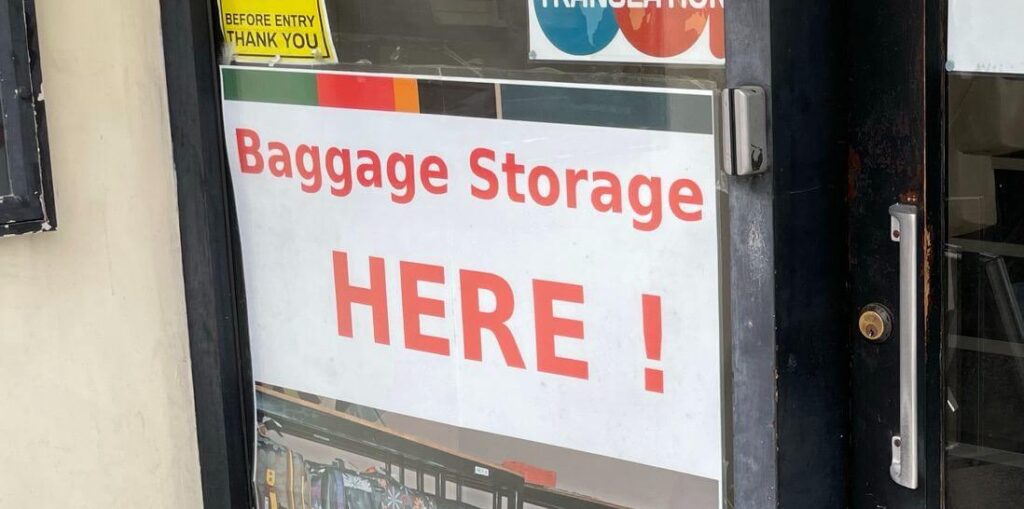 I discovered a need for left luggage in Southampton when we had to disembark a cruise at 9 am, but our flight back to Manchester wasn't until the evening. We wanted to explore Southampton without our suitcases, so I looked on Google to find somewhere to leave our luggage in Southampton.
I really struggled to find a good answer to this simple question. So, I decided to do some research, walk around the city taking photos of the best luggage storage options, and write this guide to help others having the same problem.
Since then, many of these places have closed and new ones have opened. But as I visit Southampton frequently, I've been able to keep this guide updated with the latest info for you.
Is there a place to store luggage in Southampton?
There are several places where you can store luggage in Southampton city centre. Cruise port staff often aren't aware of it, but there are several shops and hotels that will store your suitcases securely for a few hours.
If you plan to store your luggage, it's always a good idea to call ahead. Luggage storage facilities only have so much space, and it would be annoying to arrive with your cases and find that it's full, or that the opening hours have changed.
The Best Places to Store Luggage in Southampton
Here's my list of places to leave bags and suitcases in Southampton…
1. Premier Inn City Centre
🏆 Open Late
The best place to leave your luggage in Southampton is at the Premier Inn. It's situated in the centre of Southampton and costs £4.95 per bag, per day.
The service is available from 7 am to 11 pm so this is a great option if you need to drop off or collect your bags early in the morning or late in the evening.
The Premier Inn is a great choice even if you aren't staying there because it's close to both the train and bus stations, and you can pre-book online so you're guaranteed to be able to leave your bags with no hassle.
Address: Southampton SO14 0AB
Telephone: 0333 321 9006
Opening Times: 7 days a week, 7 am to 11 pm
Rates: £4.95 per bag
2. Maynards News and Food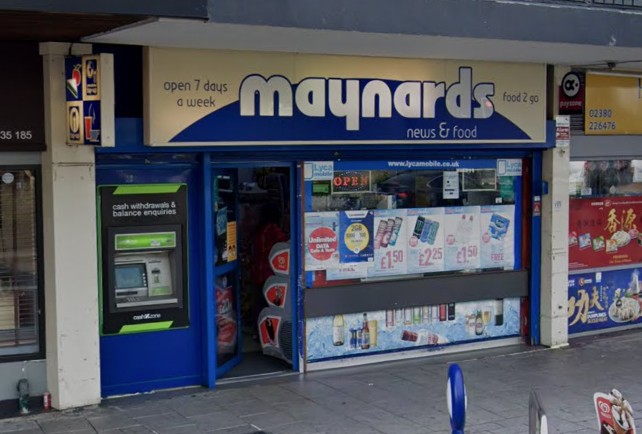 If you're getting the coach or train into Southampton then Maynards News and Food could be the perfect place to leave your luggage. It's around a 6-minute walk from the main stations, and you can book online too to reserve your place.
You'll need to though – the one downside of Maynards is they don't have a lot of spaces. So reserve your spot with plenty of notice if you want to store your bags here. And they're shut on Mondays and Sundays too.
Address: Southampton SO14 7FJ
Telephone: 023 8063 4974
Opening Times: Tues to Fri – 7 am to 9 pm, Sat – 10 am to 6 pm, Sun to Mon – Closed
Rates: £4.95 per bag
3. G's Store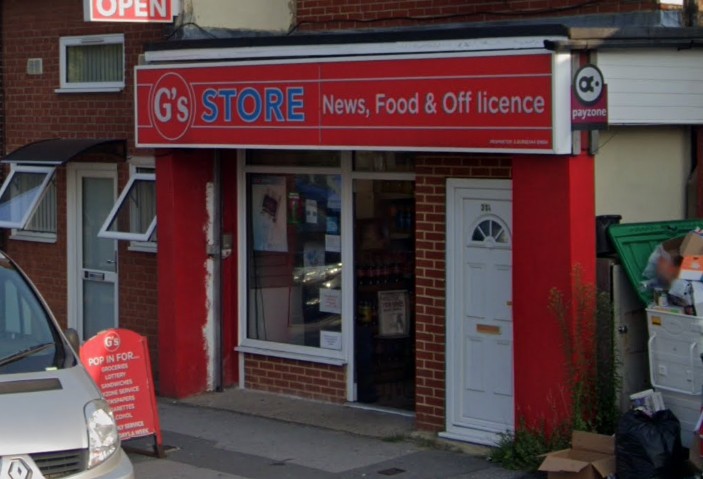 G's Store is a convenience store that's around a mile from the cruise terminals and a similar distance from the train and bus stations.
It might not be the most convenient location but it's not too far from the city centre, certainly within walking distance, and the prices are cheap again at £4.95 per bag.
There's a good amount of space for up to 40 bags too so if other places are booked up, this could be a good option to try
Address: Southampton SO14 5GL
Telephone: 023 8033 6888
Opening Times: Mon to Fri – 7 am to 9 pm, sat 9 am to 9 pm, Sun – Closed
Rates: £4.95 per bag
4. Sea Life Play Centre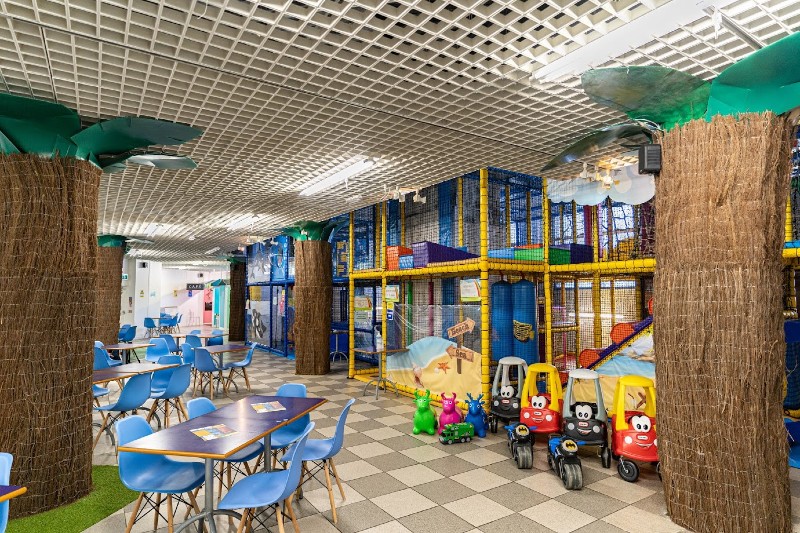 If you have young kids and it's a rainy day, then the Sea Life Play Centre is the perfect place to drop off your suitcases and let the little ones burn off some steam.
It's located within the Marlands Shopping Centre, so after they've had their fun, you can enjoy a little retail therapy too. Of course, you don't need to use the play centre to leave your luggage there, making this a really handy option for anyone visiting the shopping centre.
Address: First Floor, Marlands Shopping Centre, Southampton, SO14 7SJ
Telephone: 023 8023 6818
Opening Times: Mon to Sat – 10 am to 5 pm, Sun – 10 am to 4 pm
Rates: £4.99
5. Biltong & Bangers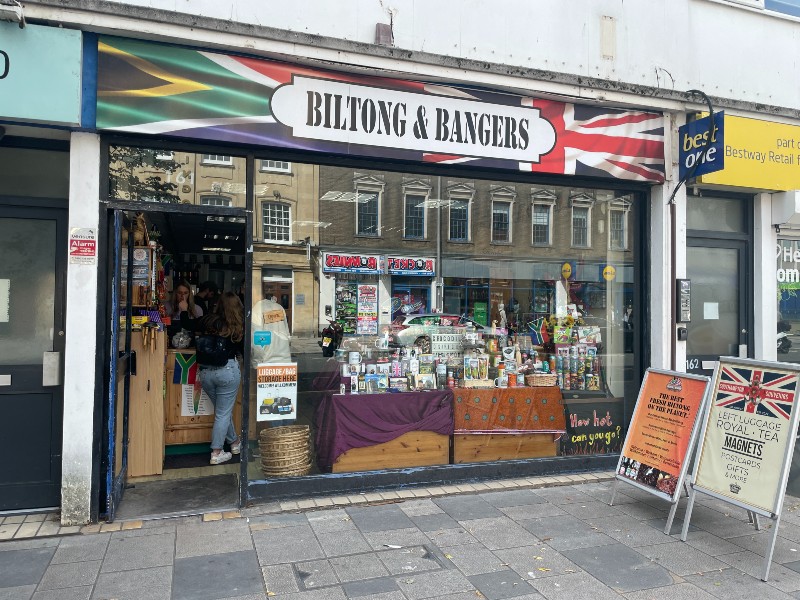 New for 2022, Biltong and Bangers is a food and gift shop with a focus on South African products like beers, biltong and biscuits. It's located in a super convenient spot on the High Street, right next door to where Oceans used to be before it moved.
There's a sign outside saying that you can leave your luggage. Unfortunately, though, you can't book online, so you'd have to just turn up and hope that they have space for your bags.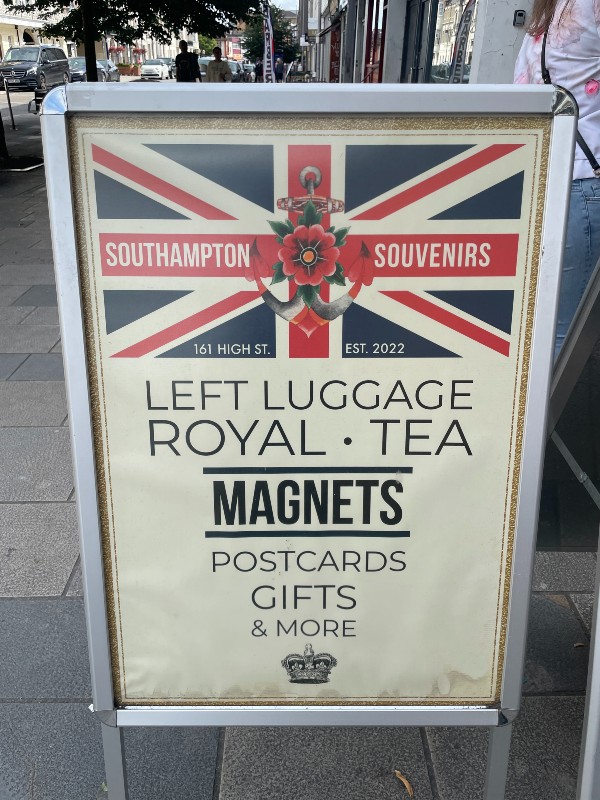 Address: 161 High Street, Southampton SO14 2BT
Telephone: 02381 789 946
Opening Times: Mon: 9-5:30pm, Tues: 9-5:30pm, Wed: 9-5:30pm, Thu: 9-6pm, Fri: 9-6pm, Sat: 9:30-5:30pm, Sun: 10-4pm
6. Mail Boxes Etc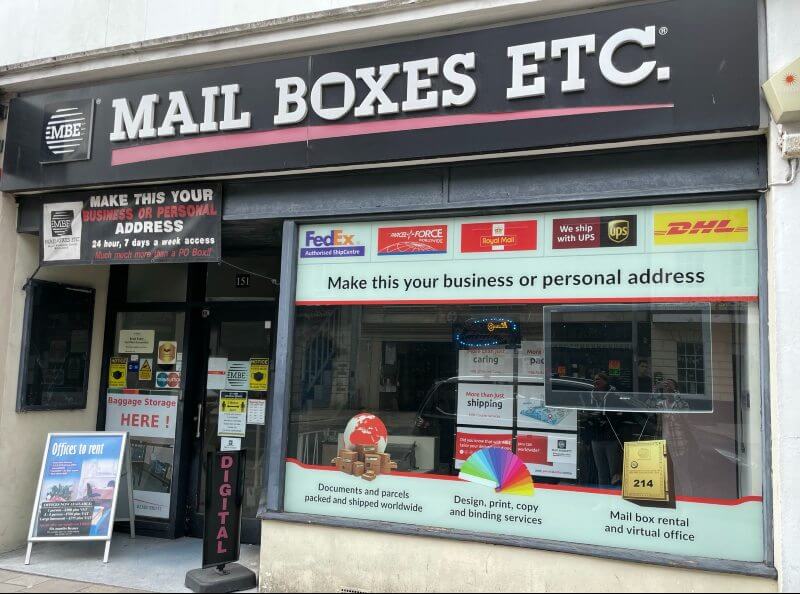 Another good place to leave suitcases for the day is the Southampton branch of the courier service and printing shop, Mail Boxes Etc.
This luggage storage facility is also located on the High Street, so you can walk from the ship and can start sightseeing immediately after dropping off your bags.
Mail Boxes Etc is open for until 5.45 pm during the week, but it's open for only half a day on Saturdays and is closed on Sundays. If you want to leave your luggage for more than four hours, you'll be charged double.
You also can't book in advance.
Address: 151 High Street, Southampton SO14 2BR
Telephone: 023 8033 5777
Opening Times: Mon to Fri – 9 am to 5.45 pm, Sat – 10 am to 2 pm, Sun – Closed
Rates: £5 for 4 hours, £10 for the full day
7. Holiday Inn Southampton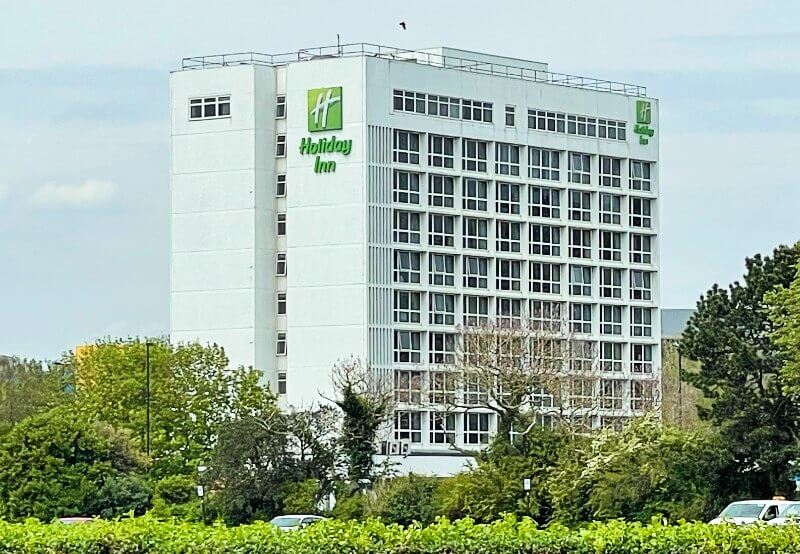 When we walked out of Southampton's City Cruise Terminal with our suitcases, the first hotel that we came across was the Holiday Inn. I headed inside to ask if they could mind my luggage, even though I wasn't staying at the hotel.
The lady behind the front desk kindly said yes! When I returned a few hours later, she didn't ask for any payment, so I tipped her £5 per bag as a thank-you.
She explained that they can't store luggage for everyone, but as she had the space available, she was happy to.
Sometimes in life, I find that if you don't ask, you don't get. So, if you pass any hotels on your way, it may be worth asking if they can store luggage as you never know! And if you pass the Holiday Inn, it's worth asking if they have space.
Address: Herbert Walker Avenue, Southampton SO15 1AG
Telephone: 023 8017 9600
Opening Times: 24 hours
Rates: Free (tips appreciated)
8. Southampton Airport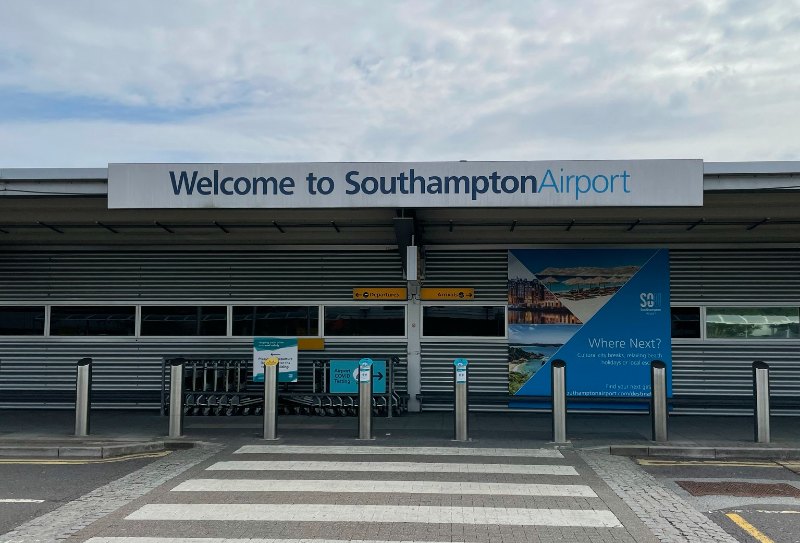 There is a left luggage service at Southampton Airport which costs £10 per bag, per day.
Southampton Airport is about four miles from the city centre, so this isn't the most convenient place to store luggage after a cruise if you want to spend the day in Southampton.
However, if you plan to take a trip to Eastleigh, Winchester or the New Forest National Park, this could be an option to consider.
Address: Southampton SO18 2NL
Telephone: 0344 481 7777
Opening Times: 24 hours
Rates: £10 per bag
9. CitySpareSpace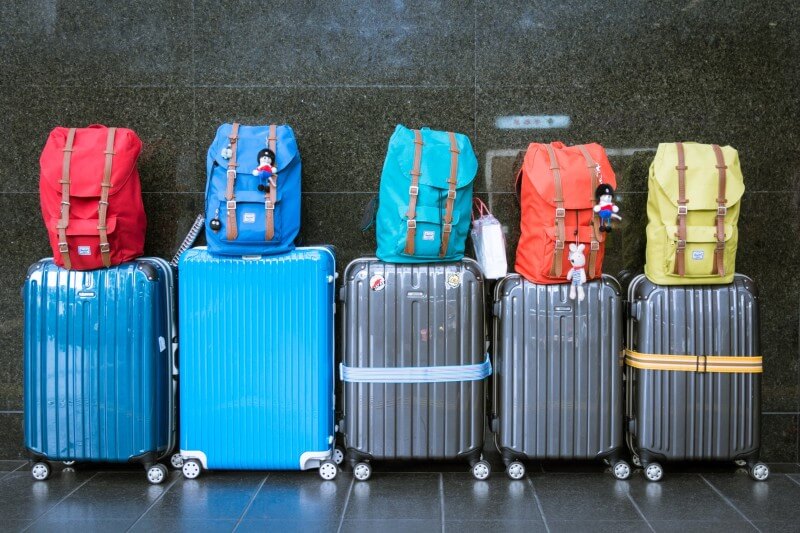 Another option that you can use to book your luggage storage in advance rather than turning up and hoping that there's space, is CitySpareSpace.
The company partners with trusted local businesses to provide you with convenient Southampton luggage storage. Starting from £6 per bag, you can explore the city hands-free. It's the same price for the whole day for small bags and no extra charge for large bags.
Thousands of travellers book luggage storage online with CitySpareSpace's partners which are located all over the UK, including Southampton city centre. The company provide dedicated customer service, and every booking is backed by a reimbursement guarantee. They vet every individual partner to ensure the utmost security and quality.
With this option, you must book online as in-store payments won't be accepted. Book on CitySpareSpace.com to confirm your reservation.
These places used to offer luggage storage in Southampton but they are now closed…
To keep this list as comprehensive as possible, I'm including here places that used to offer luggage storage in Southampton but do not currently, as of my last visit in August 2023.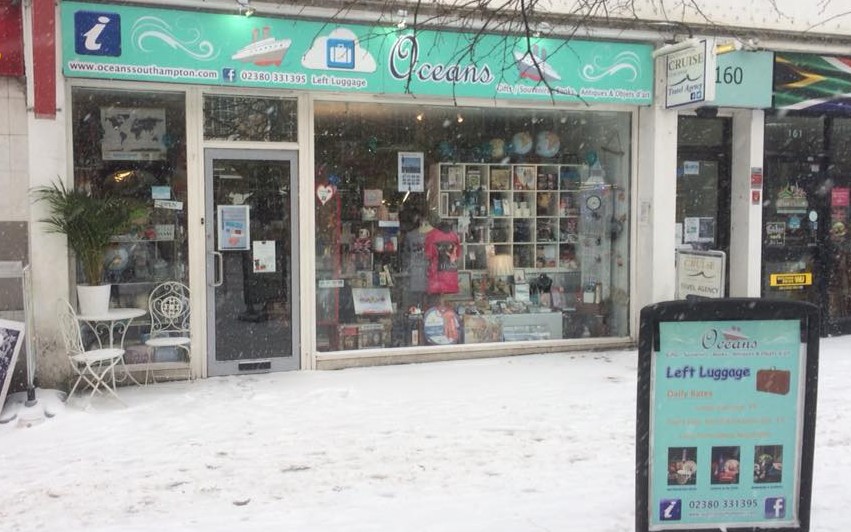 Oceans in Southampton used to be the most popular place for cruise passengers to leave luggage and it was one that a lot of people recommend. This is because it was located right in the centre of Southampton, within walking distance of each of the cruise ports.
The business moved to Robins Nest in January 2022, but it has since closed completely.
Address: 160 High Street / Robins Nest, 129 High Street, Southampton SO14 2BT
Robin's Nest Emporium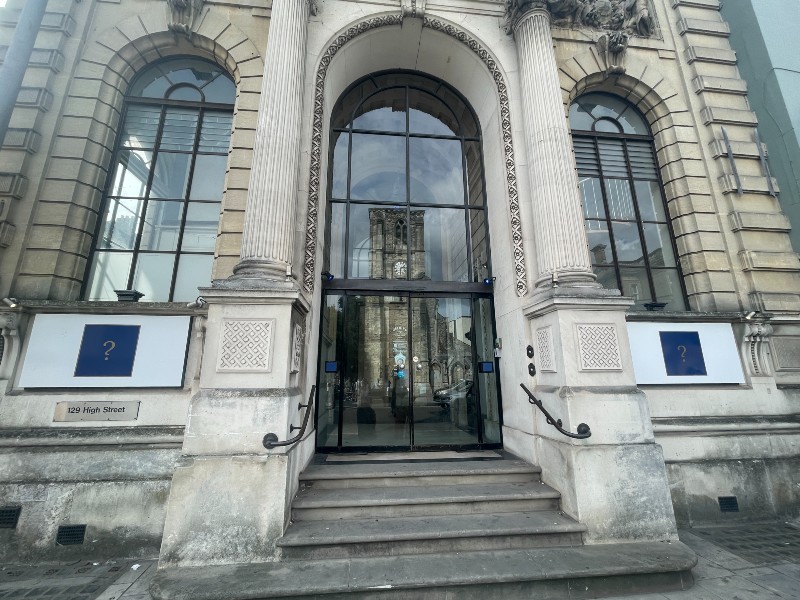 Robin's Nest was a wonderful vintage shop that's located in the former Natwest Bank on the High Street in Southampton. Being an old bank building, it has lots of secure storage down in the vaults beneath.
After I dropped off my luggage at Robin's Nest, I used to love looking around the shop too as it had a lovely selection of vintage cruise memorabilia at the back. It's a real shame this place has closed.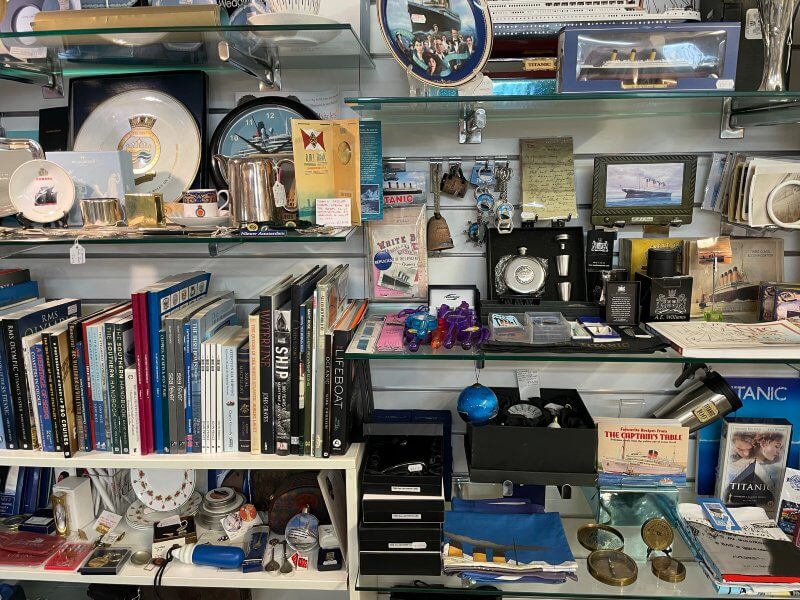 FAQs about storing luggage in Southampton
Are there lockers at Southampton train station?
There are no lockers at Southampton train station. It isn't possible to leave bags at the station at all. You can instead leave luggage at a number of shops on Southampton High Street for a small fee.
Can you leave luggage at Southampton Cruise Port?
There are no luggage storage facilities at Southampton Cruise Terminal. Staff at the terminal may not be able to advise you of nearby places to leave bags either.
Can you drop off luggage early at Southampton cruise terminal
Once the cruise terminal opens for the first guests to check in, you can drop off your luggage. So even if your check-in time isn't until later, you can leave your bags as soon as the check-in opens for those with earlier check-in times than yours.
To conclude
Those flying to Southampton typically find that once they disembark their cruise ship after breakfast that they have a few hours to kill before heading to the airport.
There are lots of places where you can store luggage for the day in Southampton, leaving you hands-free while you explore the city or do some shopping in the WestQuay shopping centre.
Whichever option you choose, it's wise to call ahead to make sure that storage is available, particularly during busy periods.
Related posts: