Southampton has five cruise terminals and tens of car parks to choose from. If you've heard of ABParking and are wondering whether this is a good option, then read on…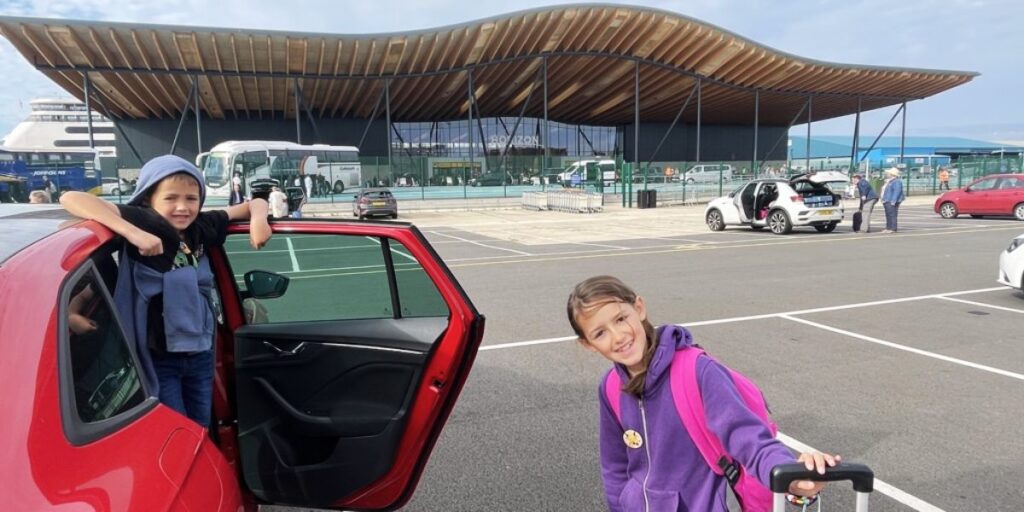 I used this car park on my most recent cruise, and in the guide, I'll share everything you need to know, as well as my honest opinions to help you decide whether it's the best Southampton car park for your cruise.
What is ABParking?
ABParking is the official cruise car parking provider for the port of Southampton. Some people call it AB Parking, some call it ABP Parking, but it's all the same. The car parks are owned by Associated British Ports. This is a huge company that owns 21 ports in the UK, not just the car parks.
AB Parking is available at the Horizon and City cruise terminals in Southampton. 
You can only use AB Parking with certain cruise lines:
Azamara
Celebrity Cruises
Disney Cruise LIne
Fred. Olsen
MSC Cruises
Norwegian Cruise Line
Royal Caribbean
Saga Cruises
Silversea
If you're cruising with another cruise line, such as Cunard, Princess Cruises or P&O Cruises, then head over to my Southampton Cruise Parking Guide and see which is the best option for you.
My experience with AB Parking
We cruised on Fred. Olsen's Bolette from the Horizon cruise terminal. The AB car park was well-signposted and easy to find.
When we arrived, we saw that there were lots of marshalls who were very friendly. We showed them our ticket and they directed us to the next available parking space.
It was great to be able to see the cruise terminal from the car – it was so close!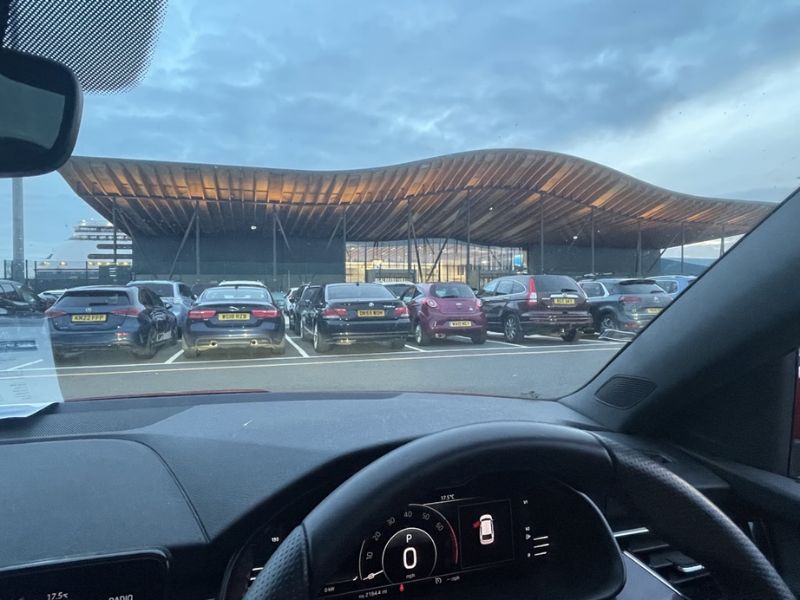 If you don't want to mess about with shuttle buses, taxis or trying to find your way from your car to the terminal, then this is a great option.
(I believe that some Disney cruises do have a shuttle to the terminal, but in most cases, you can park right outside.)
As soon as we got out of the car, a porter was waiting with a trolley for us. When they saw that we had a lot of bags a second person arrived straight away with an extra trolley.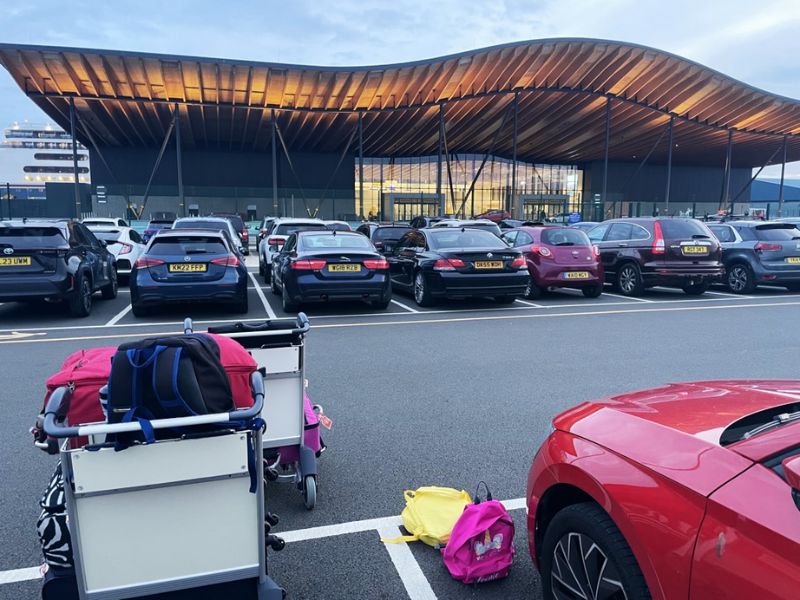 The porters were really nice and offered to push our trolleys to the terminal, but we said that we could manage.
If you have any kind of mobility issues or disabilities or are travelling with a baby and all of the extra stuff that they need, then this service is excellent as you really don't need to touch your bags from the boot of your car until they're inside your cabin!
You should note that if you're cruising with MSC Cruises, there will not be porters available. There are trolleys, but you'll have to load and push them yourself. I suppose this is one of the many reasons why MSC Cruises is so cheap!
If you feel that you might struggle with this, an option is to pull up outside the main entrance to the terminal, unload the luggage there and then park your car.
The walk from the car to the terminal only took two minutes. We basically just had to walk along this big zebra crossing and then we were there.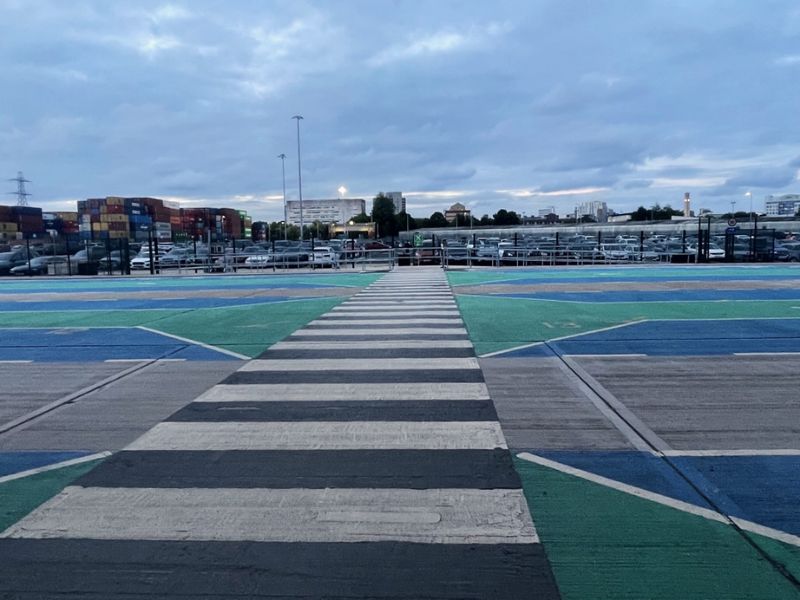 When we arrived outside the terminal, another porter checked that we had the right luggage tags on our bags.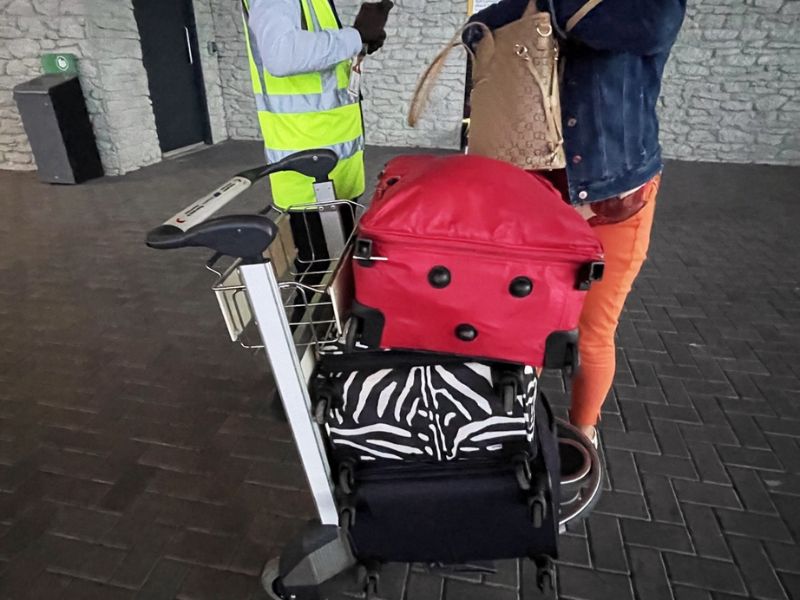 We took our carry-on bags off the trolley and handed the trolley over to him. He took it over to this hole in the wall and the next time we saw our bags was inside our cabin.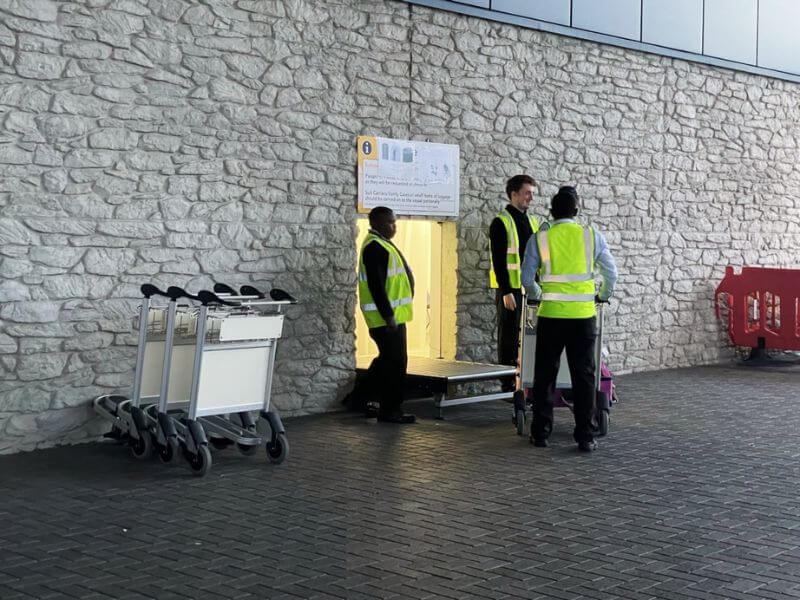 The Pros and Cons of AB Parking
Pros
Easy to find
Friendly marshalls and porters
Close to the ship
Easy to book online
Safe and secure
Cons
More expensive than other options
Honestly, I loved everything about my AB Parking experience. The only possible downside is that it's more expensive than some other options. But then you get what you pay for, so I think that's okay. For many people, it's worth it.
AB Parking does sometimes offer discount codes though. To get the latest promo code, you can visit their website and sign up for their emails. They will then update you with the latest special offers.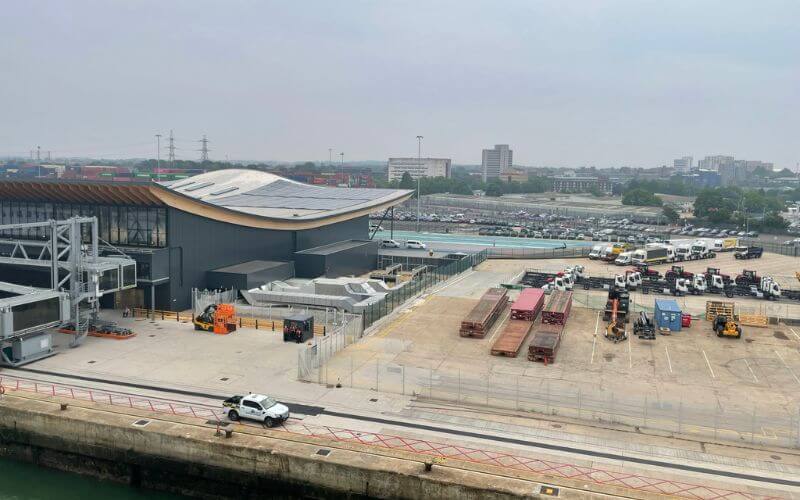 Things To Know About AB Parking
How to book
You can book your parking either on the AB Parking website, or by telephone. While it is sometimes possible to turn up on the day and park, the spaces fill up for most cruises, so you're likely to be disappointed.
The parking is super secure
AB car parks are owned by the cruise port and are only used by cruise passengers. Outside of arrival and departure times, the gates are locked and security personnel are on site 24 hours per day. The car parks have a police-approved Park Mark Safer Parking Award.
Blue Badge parking is available
AB Parking has dedicated Blue Badge car parks at the City and Horizon cruise terminals in Southampton. There are a limited number of spaces available so I recommend that you book this as far in advance as you can.
You can park larger vehicles
If you have a motorhome, caravan or other large vehicle that doesn't fit in a standard space, you can use AB car parks. But you must call or email in advance and there will be an extra charge.
My Recommendation
If you want the safest, most convenient and fastest option, then AB Parking is a great choice. Our parking experience was flawless and I will definitely use this car park again.
If, however, you want the cheapest parking possible, then this isn't for you. Instead, I recommend that you check out my Southampton cruise parking guide. There are some unofficial car parks that are a taxi-ride away from the port and aren't quite as secure, but they are cheaper.
Related Posts: