If you're planning to take a cruise (or even a ferry) from Newcastle's Port of Tyne, then it's a good idea to plan your car parking in advance.
Parking at the Port of Tyne is easy, but it can be quite expensive. However, I do have some options to save you some money.
In this guide, I'll show you all of the options for parking near Newcastle Cruise Terminal, so you can decide which is the best for you.
Where do cruise ships dock in Newcastle UK?
In Newcastle, cruise ships dock at the International Passenger Terminal in North Shields. This is located 9 miles from Newcastle City Centre, on the north bank of the River Tyne.
Newcastle cruise port address: International Passenger Terminal, Coble Dene, North Shields, Tyne & Wear NE29 6EE
Here's a map…
As well as handling cruise ships such as Fred. Olsen's Bolette and Ambassador Cruise Line's Ambition, the International Passenger Terminal also handles ferry passengers heading from Newcastle to Amsterdam with DFDS.
Now, let's take a look at the three options you have for Newcastle port parking for a cruise…
1. Parking at Newcastle Port
The most convenient place to park your car when you cruise from Newcastle is the Port of Tyne car park. This is located just a few minutes walk from the terminal.
Car parking at the Port of Tyne costs £12 per day.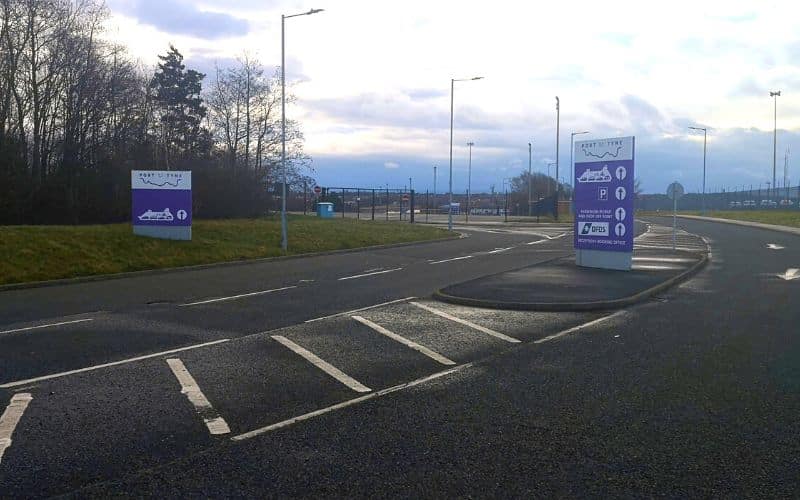 You cannot reserve or pre-pay for parking at the Port of Tyne. You must pay by credit or debit card or in cash when you return. There are pay stations inside the terminal and at the car park entrance.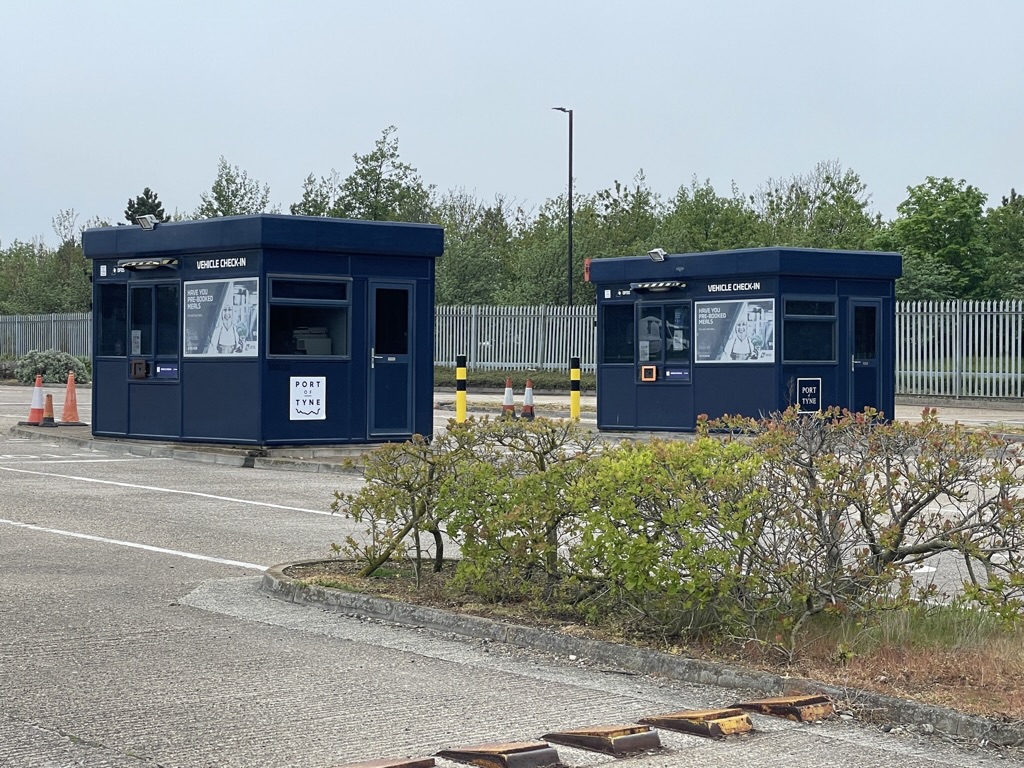 You'll want to make sure that you keep your ticket safe during your cruise, as lost tickets are charged at £15 per day.
Cruise lines such as Fred. Olsen and Marella can sometimes arrange parking at the Port of Tyne at a discounted rate. It may be worth asking your cruise line (or travel agent if you used one) whether they can arrange parking for you.
2. Cheaper car parking options
Car parks near the Port of Tyne
If you don't want to shell out £168 to park your car for a 14-night cruise, then you'll be pleased to know that there are some cheaper car parks near Newcastle Port.
Using websites such as JustPark.com and YourParkingSpace.co.uk to look up the nearest car parks to the port, I was able to find secure parking within one mile for £21 for 14 nights. That's a saving of £147!
Even on shorter cruises, there are some good savings to be made.
How to use parking booking websites
Select 'Hourly' parking
Enter 'Port of Tyne International Passenger Terminal' into the search box
Enter your dates and times
Hit 'Search'
You can filter your search results to show only parking spaces that have features such as CCTV, electric vehicle charging and disabled access.
Some of the cheapest options are to park on private driveways for hire, although you'll find lots of secure car parks on these websites too.
Remember that depending on where you park, you may need to factor in the cost of a taxi or Uber to get to the port.
As these two websites feature different car parks, I always like to check both to find the best deal.
Parking at Newcastle Airport
Many cruisers like to park at Newcastle International Airport because the car parking at the official airport car park is extremely secure with barriers, CCTV and 24-hour staff patrols. It's also surprisingly cheap, especially when you book it through a site such as HolidayExtras.com.
Using this site, I found parking at Newcastle Airport for 14 nights for only £86. That's a saving of £82 compared to parking at the cruise port.
The airport is 14 miles from the cruise port so you'll need to factor in the cost of a taxi, Uber or Metro ride.
Fares from Newcastle Airport to Newcastle Cruise Port (each way)
Taxi – £40
Uber – £25
Metro – £3.25
The nearest Metro station to Newcastle Cruise Terminal is Percy Main. This is 1.2 miles away so it would take around 25 minutes to walk to the port.
Free parking on residential streets
Locals have reported that there is lots of free parking on the residential streets around Meadow Well metro station. This is about a mile, or a 20-minute walk, from Newcastle cruise port.
While it's not illegal to park your car on a residential street for long periods of time, you may wish to think twice about doing this, particularly if you're worried about your car being damaged while you're away. You may also wish to check that this is covered by your car insurance.
3. Hotels with parking new Newcastle Port
If you plan on driving for more than a couple of hours to Newcastle then it's a good idea to stay in a hotel the night before your cruise. This will enable you to wake up fresh, ready to start your holiday, without worrying about tackling the rush-hour traffic around Newcastle.
A hotel and cruise parking deal can actually work out much cheaper than parking at the port, meaning that your hotel stay is essentially free!
The nearest and best hotel near the Port of Tyne is the Premier Inn North Shields.
Depending on your dates, you can get a double room for less than £50, with free parking.
Some hotels offer a shuttle service to take you to the cruise terminal, but even if you have to pay for a taxi, this can still be a good deal.
If you're considered this option, I recommend that you check out my full guide to The Best Hotels Near Newcastle Cruise Port With Parking.
Parking Recommendation for Cruises from Newcastle
Which is the best parking in Newcastle for your cruise depends on what your priorities are.
If the price isn't of concern and you just want the easiest option, then the on-site Newcastle cruise terminal parking costs £12 per day.
While the cheapest option would be to park on the road for free, this probably isn't a great idea. So use JustPark.com and YourParkingSpace.co.uk to find the cheapest secure parking spaces nearby.
If you'd like to stay in a hotel before your cruise, Premier Inn North Shields is the nearest as it's within walking distance from the port. On-site parking is free, but you'll want to call the hotel to check that it's available throughout your cruise and to get a quote.
---
How to get to Newcastle Cruise Terminal
Here are the driving directions to reach Newcastle Cruise port…
FROM THE SOUTH
Head north along the A1(M) and onto the A194(M)
Continue under the A184 onto the A194.
At the junction with the A19, turn left towards the Tyne Tunnel
At the next roundabout take the first exit into the Tyne Tunnel. There is a charge of £1.70 per car
When you exit the tunnel, keep right and pass through either of the two toll booths furthest to your right. Keep right onto the roundabout for the A187
Take the first exit at the roundabout and the third exit at the next roundabout
Continue ahead at the next roundabout and take the second exit at the next roundabout onto Coble Dene
Continue ahead at the roundabout and take the third exit at the next roundabout
The International Passenger Terminal is situated at the end of this road
FROM THE NORTH
Exit the A1 southbound at junction 80. At the end of the slip road turn left onto the A19
Remain on the A19 over three roundabouts. Then, leave the A19 following signs for Royal Quays. At the end of the slip road take the first exit onto the A193
At the next roundabout take the third exit and continue on to the next roundabout, taking the first exit onto the A187
Continue ahead at the next roundabout and take the second exit at the next roundabout onto Coble Dene
Continue ahead at the roundabout and take the third exit at the next roundabout
The International Passenger Terminal is situated at the end of this road
Related Posts: