Liverpool Cruise Terminal is conveniently located at Liverpool Docks, close to Liverpool city centre.
Despite the central location, it's possible (and not too expensive) to park within walking distance of Liverpool cruise port.
That said, there may be times when it's better to park a little further away and take a shuttle bus.
Alternatively, if you wish to enjoy a night in Liverpool before your cruise, you may wish to search for hotels near Liverpool cruise terminal that have cruise and parking deals.
In this guide to Liverpool cruise parking, I'll go over all of the options, so that you can decide which is the best car park to choose for your cruise from Liverpool.
Where do the cruise ships dock in Liverpool?
Liverpool Cruise Terminal is located on Prince's Dock in the River Mersey. The cruise terminal is almost adjacent to the Liver Building, which you'll recognise from the Liver bird statues that sit on the top.
The cruise terminal is the small building with the white roof, in the bottom left of the photo above. Yes, it's really small and feels a bit like a marquee.
Liverpool cruise port address: Liverpool Cruise Terminal, Gate, 2 Princes Parade, Liverpool L3 1DL
Where to check in at Liverpool cruise port
The small size of Liverpool Cruise Terminal means that it is usually only smaller cruise ships that depart from Liverpool with check-in at the terminal.
On the rare occasions that larger ships depart from Liverpool, check-in is processed at a different building nearby, such as the Liverpool M&S Bank Arena. So you'll want to pay close attention to your cruise documents to see exactly where you need to go.
If you check in at the arena, there will be a complimentary coach ride to the ship.
The Best Cruise Parking in Liverpool
When it comes to choosing where to park in Liverpool for a cruise, you have three main options:
Park nearby and walk to the port
Park further away and take a shuttle bus or taxi to the port
Stay at a nearby hotel and leave your car there
Which is the best will depend on your budget, how long your cruise is and your mobility requirements.
1. Parking Near Liverpool Cruise Terminal
Parking near your cruise ship in Liverpool means that you can walk from your car, straight to the bag drop area.
Liverpool Cruise Terminal doesn't have an official long-stay car park. However, you can find car parks near by that allow you to leave your car for several days or weeks.
To do this, you'll need to use the Your Parking Space website.
I've used this to book Liverpool cruise parking several times and it's always cost me less than £10 per day to park within a few minute's walk of the port.
I have used different car parks each time as there are several in the area, but all have been easy to find and secure.
How to find the nearest car parks with Your Parking Space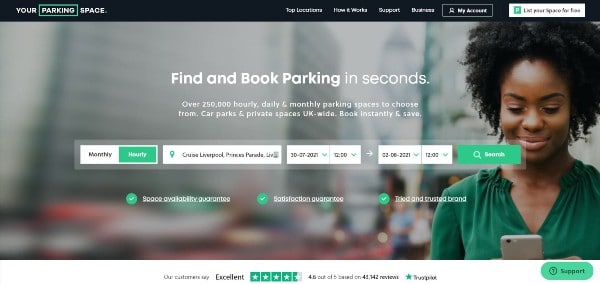 2. Do a search
Select 'Hourly'
Enter 'Cruise Liverpool'
Select your dates and times
Hit 'Search'.
3. Use the map to find the nearest car parks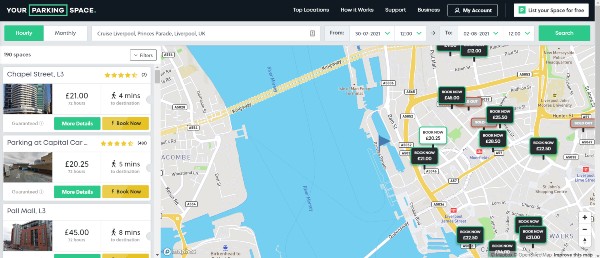 4. Take a closer look
The blue flag is your destination
Zoom in and out
Check prices
Check the description and reviews
5. Choose and book your parking
Enter your vehicle registration and payment info
Your booking details and entry instructions will be sent via email and text message
Tip for choosing a car park:
Your Parking Space shows all kinds of pre-bookable car parking facilities, including secure car parks, on-street parking and parking space hire on private driveways. Secure car parks are generally the best choice.
Find more car parking with Just Park
If you don't have any luck with Your Parking Space, then you should also check out Just Park.
This website is very similar and works in exactly the same way, but often has different car parking spaces.
To find the cheapest and nearest car parking to Liverpool Cruise Terminal, it's a good idea to check both sites.
I sometimes find that the same car park is listed on both sites, but is cheaper on one of them.
2. Liverpool Park and Ride Companies
Sometimes, the cheapest option can be to park your car a mile or two from the cruise port, and take a shuttle bus or taxi.
Car Park and Shuttle Bus – CPS
You can currently only book your parking with Cruise & Passenger Services (CPS) if you're cruising with Fred. Olsen Cruise Lines.
The official car parking partner for these cruise lines, CPS has a secure car park which is located a ten-minute bus ride from the cruise terminal.
CPS asks drivers to drop off passengers and luggage at the baggage drop area at Liverpool Cruise Terminal before proceeding to the car park. After parking your vehicle, you will then take a shuttle bus back to the cruise terminal.
Disabled drivers can opt for valet parking at no extra cost. If you have a blue badge, you can simply drive to the cruise terminal and a member of staff will drive your car to the car park for you.
You can pre-book CPS parking here. It usually costs more than the nearby car parks and you'll need to allow time for the shuttle bus, but this is a good option for anyone who has a car parking voucher as part of their cruise booking.
Car Park and Taxi – King Park
Many cruisers recommend King Park as a cheap option for parking in Liverpool. This short- and long-stay car park costs just £20 for two to five days and £25 for seven days.
The car park has CCTV and good lighting in the evening. An Uber from King Park to Liverpool Cruise Terminal costs about £9 and a taxi will cost a little more.
It's not possible to pre-book parking at King Park. however, the car park is very large and is rarely full to capacity.
3. Liverpool Hotels With Cruise Parking
There are several hotels in Liverpool that offer parking for cruise passengers.
If you intend on driving for more than a couple of hours to reach Liverpool, it can be a good idea to drive the night before and enjoy a hotel stay before your cruise. When pre-arranged, you can leave your car in the hotel car park for the duration of your cruise.
There are currently no 'Stay, Park and Cruise' deals advertised. However, it's worth contacting the hotels as they will be able to advise whether they have parking available for your dates.
Hotels with parking near Liverpool cruise port:
Crowne Plaza – 0.1 miles from Liverpool Cruise Terminal
Liverpool Mariott – 0.8 miles from Liverpool Cruise Terminal
Hampton by Hilton – 0.9 miles from Liverpool Cruise Terminal
Where is the best place to park in Liverpool for a cruise?
The best place to park in Liverpool for a cruise is the Capital Car Park as this is just a five-minute walk from Liverpool Cruise Terminal.
For week-long cruises, it can be cheaper to park a little further away and take a taxi or shuttle bus. Alternatively, you may be able to secure a Liverpool hotel and cruise parking deal by calling hotels directly to enquire.
Related posts:
More cruise parking guides: