If you've booked a cruise from London International Cruise Terminal at Tilbury, then you'll need to book your car parking in advance.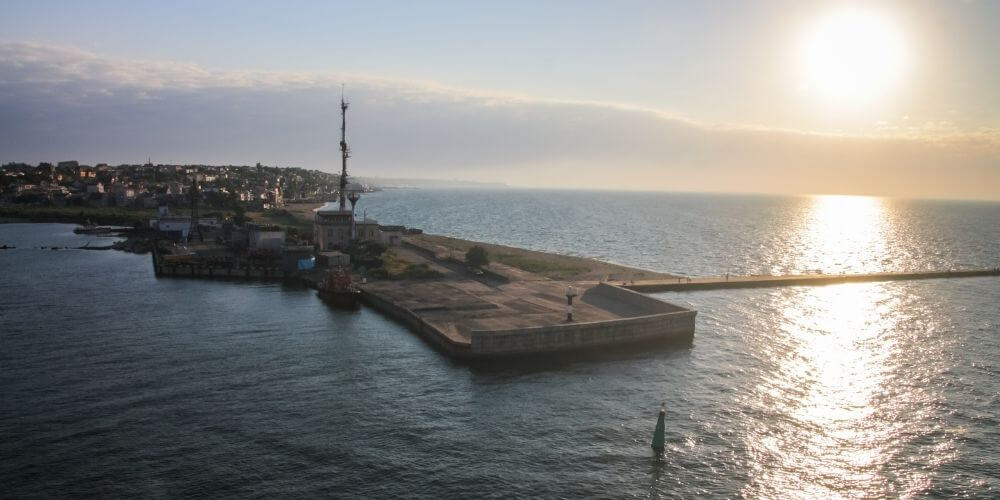 Parking at Tilbury's cruise terminal is easy, but it can be expensive. In this guide, I'll show you how to book car parking at Tilbury Docks, as well as where to find cheaper parking options nearby.
I'll also show you a list of the best hotels with parking near Tilbury. These are a great option for anyone planning to drive for more than a couple of hours before their cruise.
Where Do the Cruise Ships Dock in Tilbury?
Cruise ships sailing from Tilbury will dock at the London Cruise Terminal. This is located within Tilbury Docks on the north bank of the River Thames in Essex.
Tilbury Cruise Terminal Address: London International Cruise Terminal, Tilbury, Essex, RM18 7NG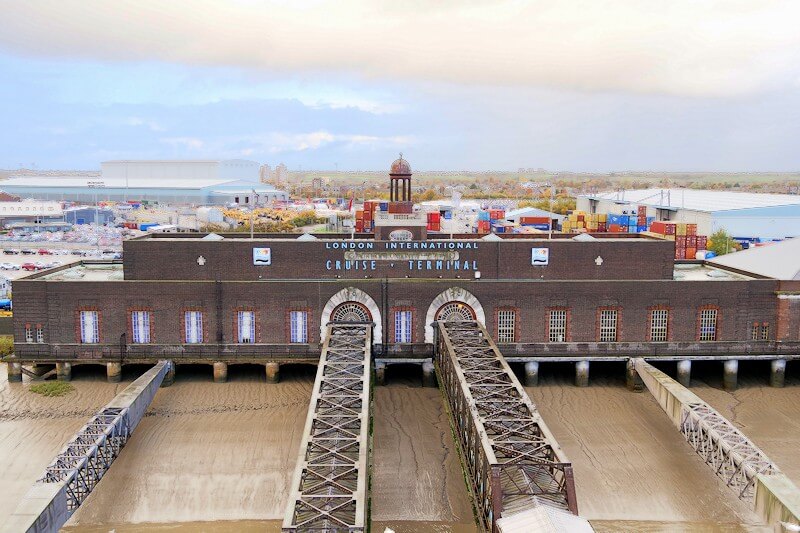 1. Parking at Tilbury Cruise Terminal
The most convenient parking option when cruising from London Tilbury is to park at Tilbury Cruise Terminal.
Parking at Tilbury Cruise Terminal is so easy because you can park your car right by the ship. The car park is large enough to accommodate most cruise passengers, but pre-booking is recommended.
Cost of Parking at Tilbury Cruise Terminal
Parking at Tilbury Port costs £11 per night when booked at least three days in advance. After this, the price will increase.
Larger vehicles such as motorhomes or minibuses will be charged £22 per night.
How to Book Parking at Tilbury Docks
There are two ways to book parking at Tilbury Docks:
Telephone your cruise line and ask if they can book parking for you
Book online via the Cruise & Passenger Services website
Parking at Tilbury Docks isn't available for passengers of every cruise ship. To be allowed to park at the port, your cruise line must have a relationship with Cruise & Passenger Services (CPS), the company which manages the official car park.
Sometimes, this relationship isn't set up until a few months before the cruise departs. You can see if port parking is available for your cruise by visiting the CPS website and seeing if your ship appears under 'Book Parking'.
2. Cheaper Car Parking Near Tilbury Docks
If you're not able to park at Tilbury Cruise Terminal or would like to explore cheaper options, there is some convenient car parking in Tilbury which you can book for as little as £2 per day.
As Tilbury Docks is an industrial zone of several square miles, you may need to take a taxi, Uber or ferry from your parking space to the ship. But, this can still work out cheaper than parking at the port, particularly for longer cruises.
To find cheap parking near Tilbury cruise port, I like to use a website called Your Parking Space. This lists lots of private car parks and even has driveways to rent.
How to Find Car Parking With Your Parking Space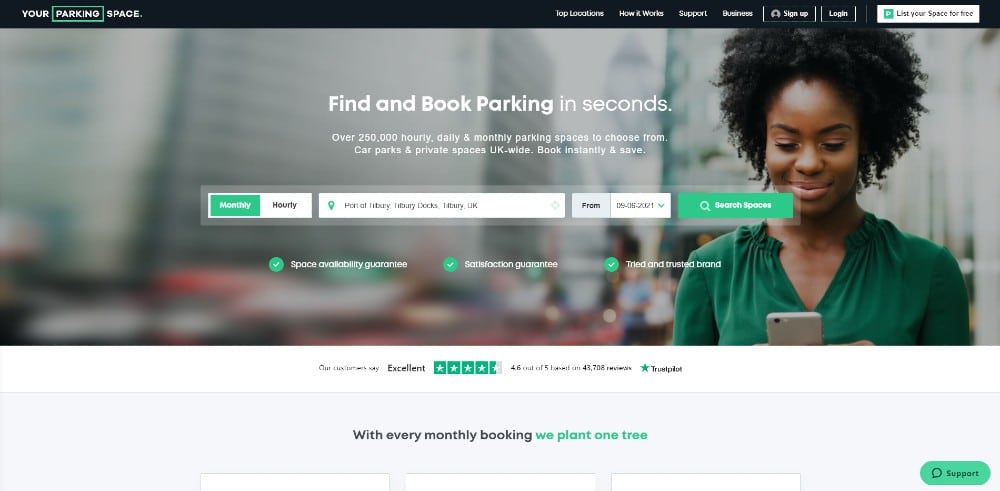 2. Do a search
Select 'Hourly'
Enter 'Port of Tilbury'
Select your dates and times
Hit 'Search'
3. Use the map to find the nearest parking spaces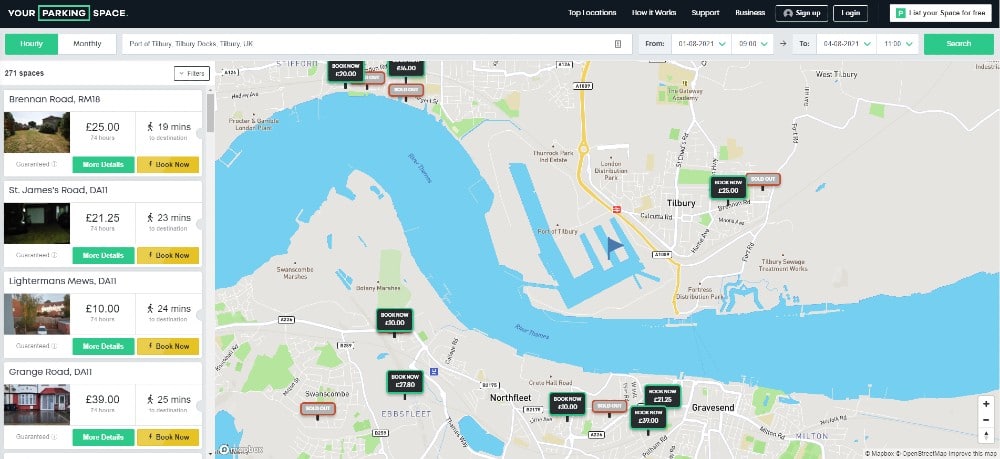 4. Take a closer look
The blue flag is Tilbury Docks, but the Cruise Terminal is closer to where it says 'Fortress Distribution Park'
Zoom in and out
Check prices
Check the description and reviews
5. Choose and book your parking
Enter your vehicle registration and payment info
Your booking details and entry instructions will be sent via email and text message
You'll probably need to take a taxi or Uber from your parking space to the cruise terminal, so be sure to factor in that cost.
An option may be to park in Gravesend and take the ferry across the river to Tilbury. The ferry runs every half an hour and the crossing takes 5 to 10 minutes. Tickets can be purchased on the ferry and cost £4 for adults and £2 for children.
Find More Car Parking With Just Park
Just Park is a website that is very similar to Your Parking Space. It works in exactly the same way, but often has different car parking spaces.
To find the cheapest and nearest car parking to Tilbury Cruise Terminal, it's a good idea to check both Just Park and Your Parking Space.
3. Hotels With Parking Near Tilbury Docks
Driving to Tilbury the night before your cruise is a good idea as you can arrive in plenty of time and not worry about rushing through the traffic on the morning of your cruise.
There are several hotels near Tilbury that offer parking for cruise passengers. These have been recommended by other cruisers in popular cruise forums.
There are currently no 'Stay, Park and Cruise' deals advertised. However, I'd certainly advise that you contact the hotels to check the availability of parking on your dates.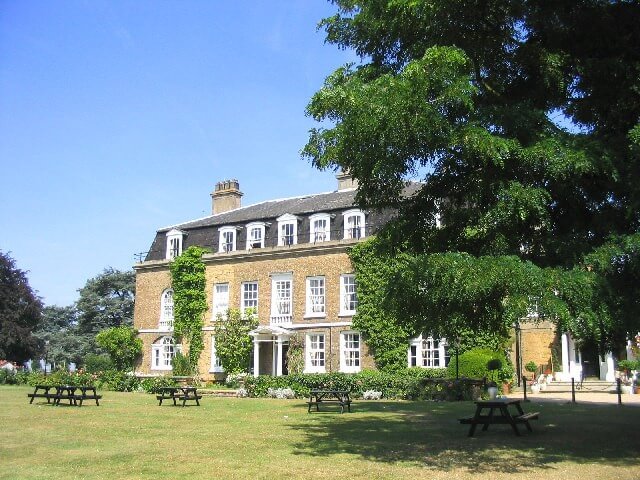 List of Hotels With Parking Near Tilbury Cruise Port:
Depending on the length of your cruise, you may find that a hotel and parking deal works out cheaper than parking alone.
Where is the Best Place to Park in Tilbury for a Cruise?
The best place to park in Tilbury for a cruise is at Tilbury Cruise Terminal. However, this option isn't available for all cruises and it is quite expensive.
For cruises of a week or more, it's a good idea to look for cheaper parking options and take a taxi or take the ferry across the River Thames from Gravesend.
Take a look at Your Parking Space and Just Park to find the best parking spaces and car parks in Tilbury.
How to Get to Tilbury Cruise Terminal
Driving directions to Tilbury Cruise Terminal:
Head for M25 Junction 30, and follow A13(E) towards Tilbury
Follow the A13 for 3 miles, before taking the slip road for A1089 towards Tilbury & Docks
Continue on this road for 4 miles, going straight on at the roundabout towards Tilbury Docks and Tilbury Fort
Past the station, at the signposted junction, turn right into the cruise terminal
Parking and drop off locations are signposted
Final Thoughts
There's no single right answer on the best option Tilbury Docks parking. It depends on whether you want to (and are able to) book right at the terminal, or if you'd rather park further away and get a taxi or Uber to bring you to and from the port.
With the Tilbury Docks cruise terminal being quite industrial, it can be hard to get a taxi quickly after your cruise, since lots of people will be ordering them but they have to travel a short distance to reach you.
But if you want to keep your Tilbury parking cost down, then choosing a further-afield option or one of the Tilbury hotels with cruise parking might be a better choice.
Related posts: