Most of the drinks that you can enjoy on a cruise need to be paid for as an extra, unless you're on an all-inclusive cruise or you've booked a drinks package. Princess Cruises is no different – if you don't have a drink package, you'll need to make sure you've got some money set aside for your drinks during your sailing.
There are a selection of drinks available for free on each Princess Cruises ship, so if you are on a tighter budget, you won't go thirsty.
Let's take a look at which drinks you can get for no charge when sailing with Princess.
What Drinks Are Free on Princess Cruises?
There are seven drinks you can enjoy for free on a Princess cruise – tap water, lemonade, iced tea, hot tea, brewed coffee, hot chocolate, milk and fruit juice. Some of these drinks are only available at specific locations on the ship too, and may incur a charge elsewhere.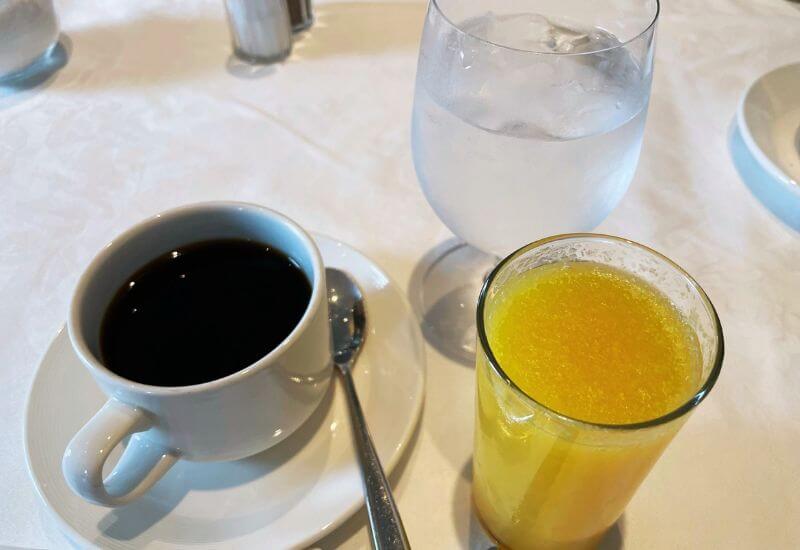 Compared to other cruise lines, Princess Cruises offers slightly less than the average number of free drinks, especially with the limitations on where you can get those drinks. It's not a huge difference – Royal Caribbean offers 9 free drinks, for example – but you may still get a little frustrated if you don't want to spend extra.
That's why a lot of people will prefer a Princess drinks packag. Yes, you have to pay extra, but once you've paid for it up-front, you're done and you can enjoy the drinks you want without thinking about the extra cost.
And Princess has a lot of different drinks package options you can choose from. They aren't just for people who drink alcohol – there are non-alcoholic packages, dedicated soda packages, and even specialist coffee packages.
Read more: Princess Cruises Drinks Packages
My drinks package calculator is a handy tool that will help you work out whether it's worthwhile, based on the cost of the package, the typical Princess Cruises drinks prices, and how much you think you'll want to drink on your cruise.
List of Free Drinks on Princess Cruises
1. Water
Water is one of the few drinks that is available freely on Princess Cruises in most locations around the ship. Specifically tap water though – bottled water is available but it isn't free, so you'll need to pay if you prefer a specific brand.
You can get tap water in any of the restaurants on your Princess ship, either as a glass or as a jug with ice.
You can also get a glass of water at any bar on the ship, while there will be water machines available in the buffet restaurant where you can help yourself too.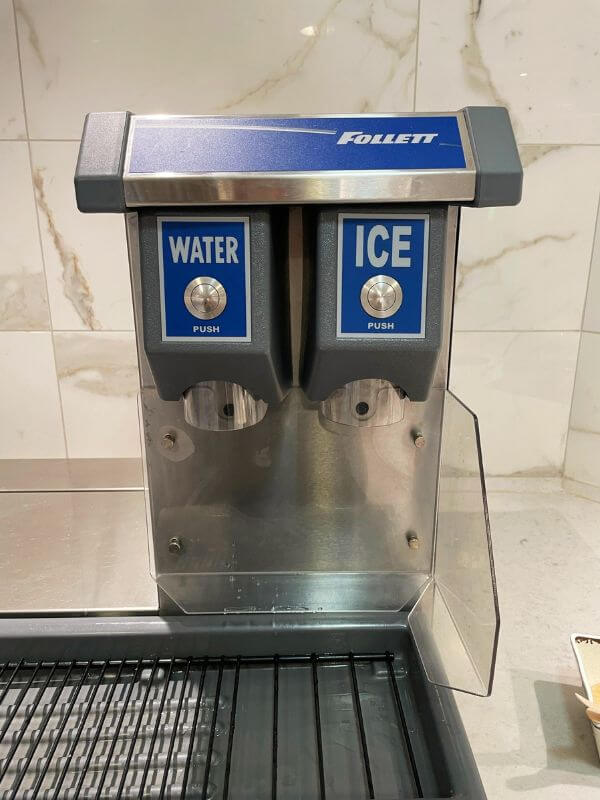 In The Sanctuary and the Spa, you'll find a selection of iced water dispensers with water that's flavoured with fresh cucumber or orange slices.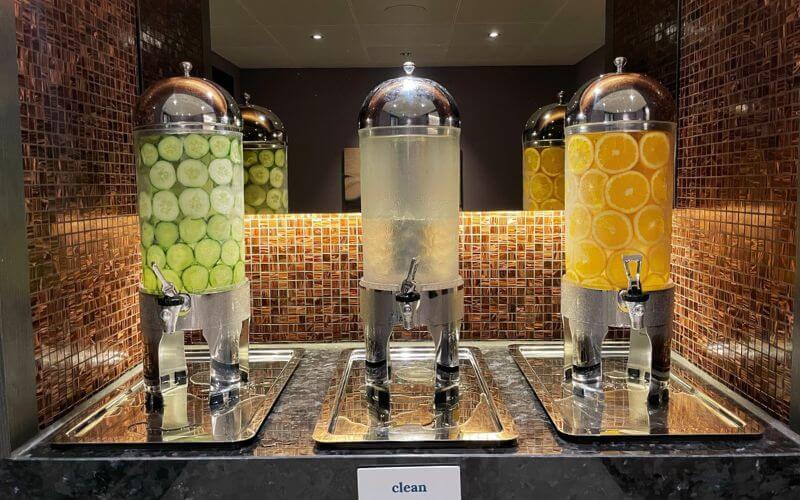 The tap water in your room is safe to drink too, so you'll always have something to drink in the middle of the night. Tap water is heavily filtered and treated on a cruise ship to make sure it's safe and suitable for drinking. You can request an ice bucket from your room steward too, if you want to cool it down (the tap water might not be the coldest).
Some people even say that the tap water on a cruise ship is better tasting than that at home. Obviously, home tap water varies all over the world and even within countries, so this might not be true for you, but it's very clean and can be refreshing on those warmer days.
2. Lemonade
Lemonade is a cruising staple – many cruise lines offer it as a free option, and Princess Cruises is no different. On some ships (but not all) you can get lemonade free from the Horizon Court buffet restaurant during lunch and dinner, so between 11.30 am and 11 pm.
This is American-style lemonade, which means it isn't carbonated. It's sweet but with a definite sour kick to it – it feels more authentic than some of the lemonades you might be used to if you normally drink a lemonade soda.
If you're determined to cruise on a budget, but you don't want to just drink water, it's easy enough to pop into the buffet and grab a glass of lemonade when you need a drink, rather than paying for a soft drink at the bar.
3. Fruit Juice
While lemonade is offered for lunch and dinner in the Horizon Court, you won't normally be able to get it for breakfast. Instead, fresh fruit juice is available that you can help yourself to.
You'll find jugs of orange juice by the tea and coffee…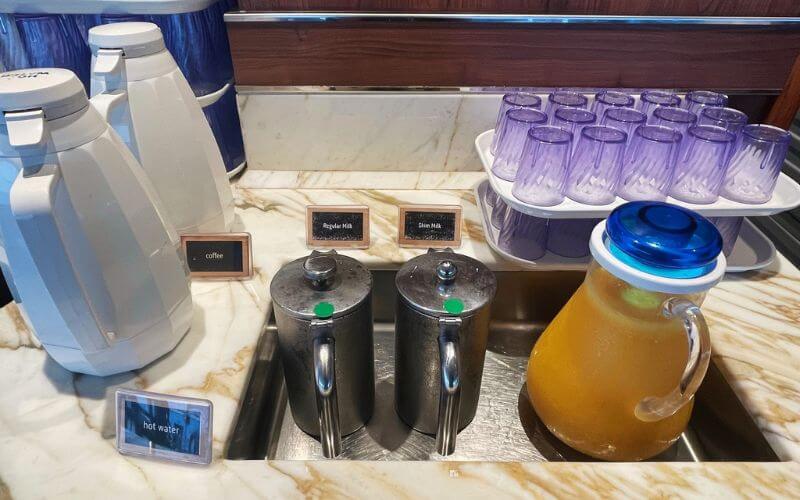 But, if you prefer something a little more exotic, head over to the food section and along with the fruit and smoothies you may find freshly squeezed juices of the day, like watermelon juice.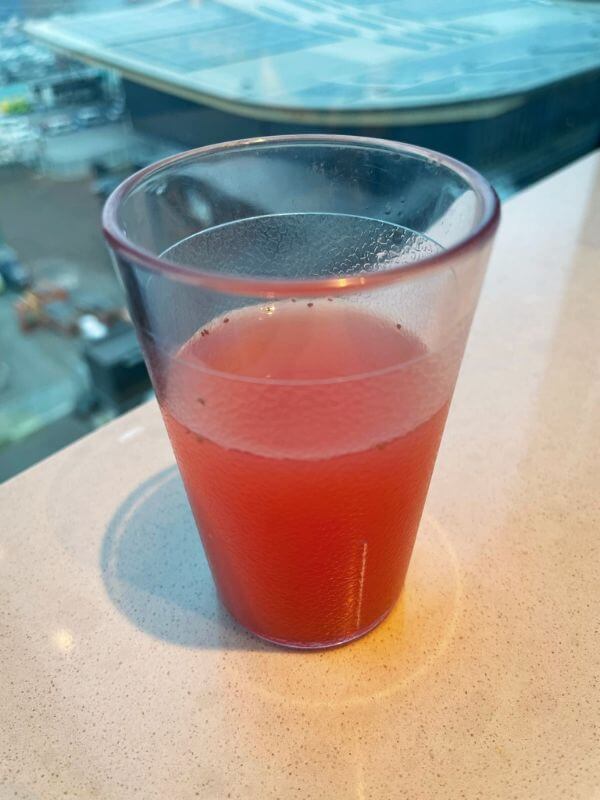 Fruit juices are also included if you'd prefer to have your breakfast in the Main Dining Room. Your waiter will bring your chosen juice to your table.
Breakfast in the dining rooms is a lot more laid back and slower, so if you're just looking for a quick drink and snack before embarking on an excursion, the buffet is the better choice.
4. Iced Tea
You'll be able to ask for unsweetened iced tea on a Princess Cruise in the Main Dining Room, while it's also available for you to enjoy in the Horizon Court.
It's only free in these locations though – if you order it from a bar or from the International Cafe in the atrium of the ship, you will have to pay for it. If you're craving iced tea then try to grab one when they're available freely.
5. Hot Tea
If you like your tea to be a little more British or Asian in style, then hot tea is also available during breakfast in the Main Dining Room, and throughout the day in the Horizon Court buffet. Varieties include English Breakfast tea, Earl Grey and Herbal Tea.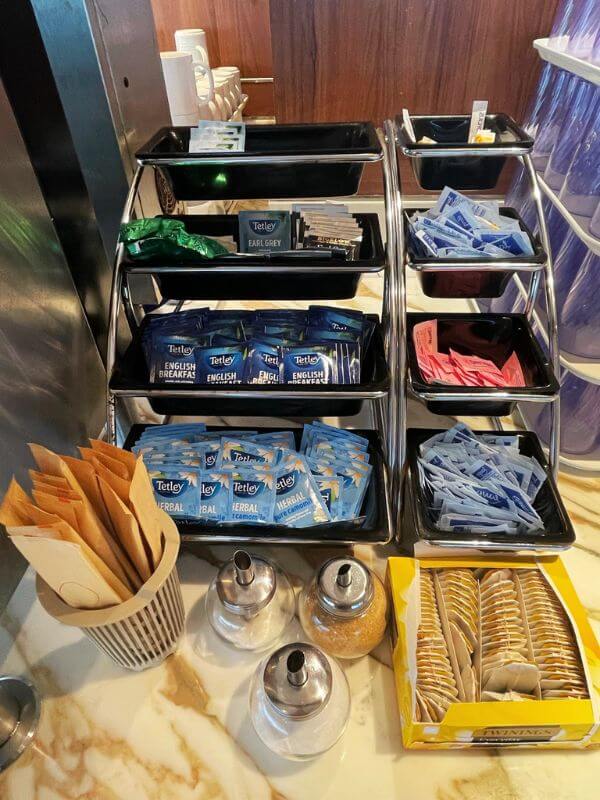 On most Princess Cruises, you won't have a kettle in your stateroom – although sometimes on sailings out of the UK and in Asia they will be provided. Usually, you'll need to head to the Mainin Dining Room or buffet restaurant if you want your tea fix.
Again, ordering hot tea from other locations around the ship, including the International Cafe, will incur an extra charge.
6. Brewed Coffee
Brewed coffee is the same as hot tea on a Princess ship – you'll be able to enjoy it in the Main Dining Room and in the Horizon Court buffet restaurant without paying any extra. Some ships even have self-service coffee machines by some of the pools.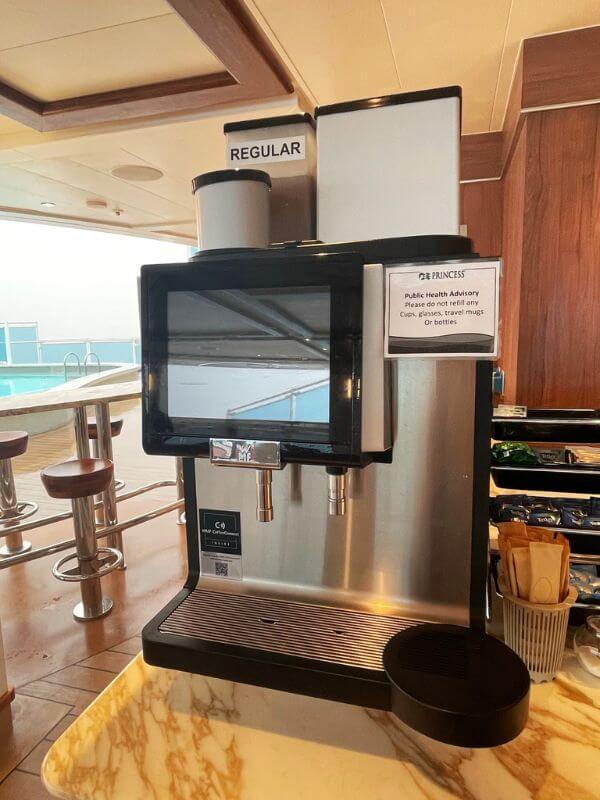 But it is only standard coffee – any speciality coffees will incur an extra charge, and regular brewed coffee also needs to be paid for at the International Cafe.
There is a special drinks package just for coffee lovers – the Grounds Coffee Package includes 15 speciality beverages that you can order at various bars around the ship.
Princess Cruises knows how much us Brits love a cup of tea first thing in the morning or before bed. So, if your cruise departs from the UK you can expect to find a kettle in your room with tea and coffee.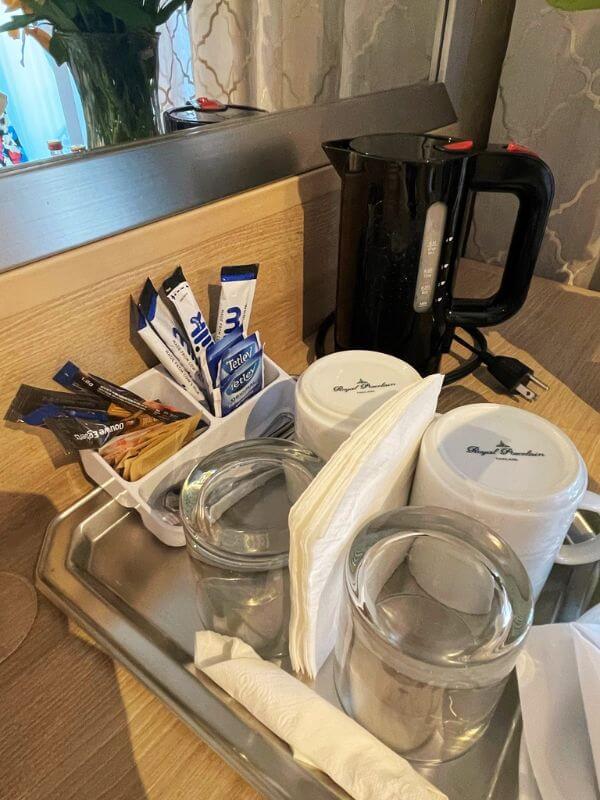 7. Milk
Wherever you can get tea and coffee you can also find milk. And that means that if you'd like to enjoy a glass of the white stuff, you can do so free of charge. You can pour yourself a glass of regular or skim milk in the buffet, or request a glass of milk in the main dining room.
If you're plant-based, vegan, lactose intolerant or have a dairy allergy, you'll be pleased to know that you can also request soya or almond milk. If you'd like this in your room to use in your tea and coffee, just call room service and they will bring you a jug of dairy-free milk free of charge.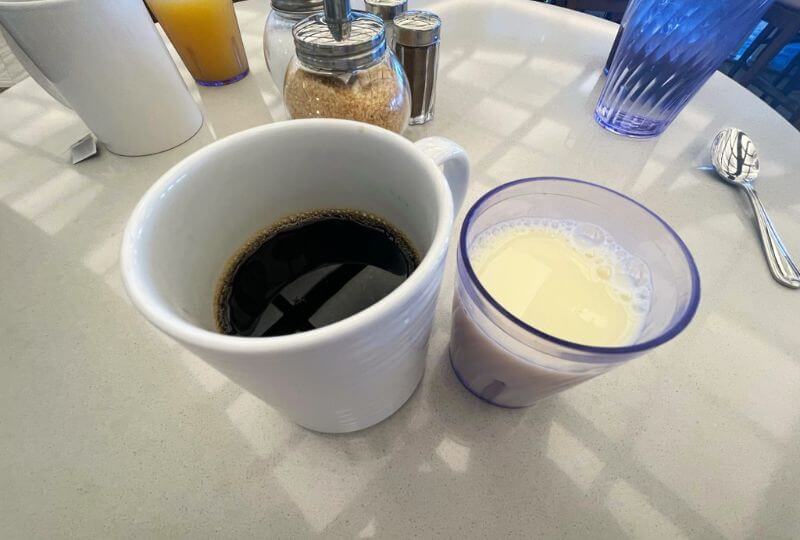 8. Hot Chocolate
Some of the coffee machines that you'll find in the buffet area also make hot chocolate. So if this is your drink or choice or you want to treat the kids, then be sure to check the machine to see if there's a button for hot chocolate, as depending on the ship, some have it.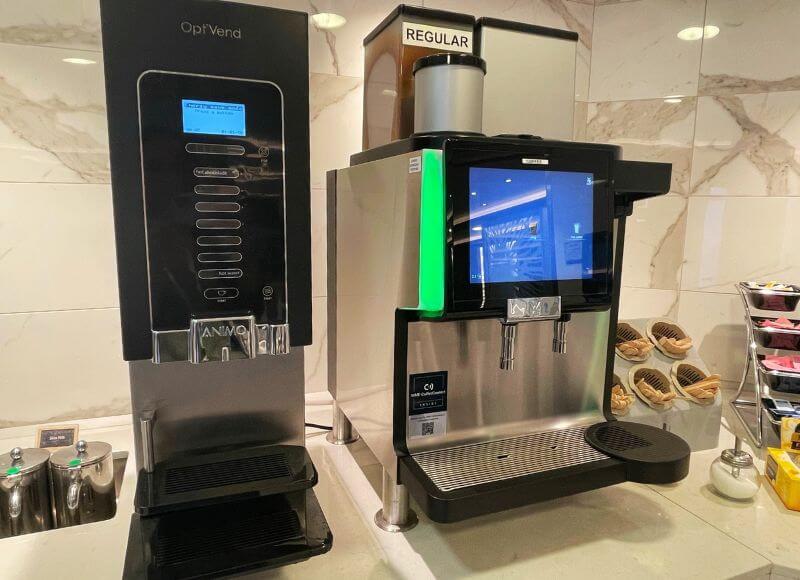 Other Free Drinks
There are some other free drinks you can enjoy on a Princess cruise, but they aren't available completely freely for all guests.
Free Fizz At Art Auctions
If you attend one of the art auctions on a Princess sailing, you'll normally be given a free glass of sparkling wine as you arrive. Guests who've had a drink are more likely to spend more on art, so it's a small price for Princess to offer when they are looking for guests to treat themselves to a new painting.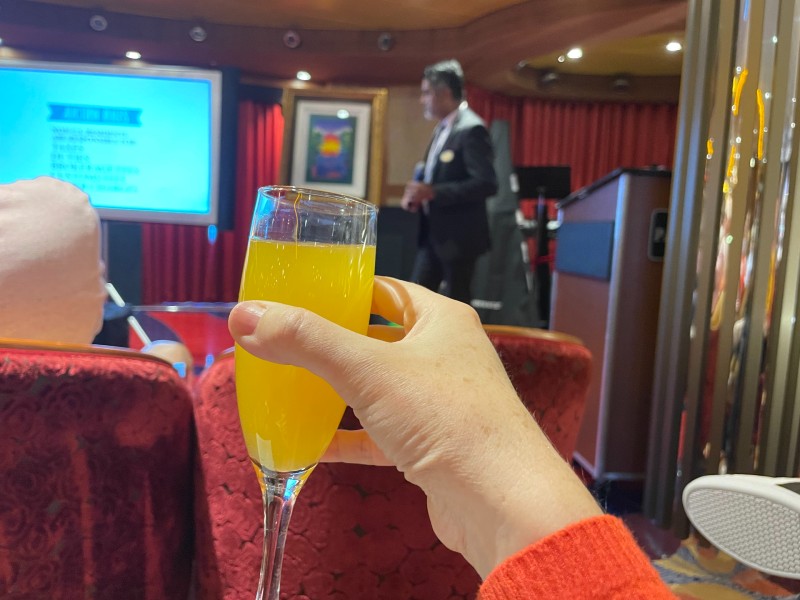 Suite/Club Class Guests
There is a selection of free drinks available to guests if they book a Mini Suite or above on a Princess sailing.
Mini Suite guests will be welcomed on-board with a glass of sparkling wine, which is upgraded to Champagne for guests in a Club Class Mini Suite or a full Suite.
Club Class guests and above will also enjoy a complimentary half-bottle of white and half-bottle of red wine in their room for their arrival. These are only to be consumed in your room though – you can't take them to the dining rooms.
And if you book a full Suite, you'll arrive to a fully-stocked minibar which is yours to enjoy freely – for that first round. Once you've consumed your free minibar drinks, you'll be expected to pay for any further drinks.
But you do also get free bottled water delivered to your room daily, which is a nice additional perk of being a suite guest. Plus you can head to the speciality dining restaurants for breakfast, which includes mimosas.
Read more: Princess Cruises Suite Perks
Events
Select special events may be available where you can enjoy a free drink with Princess Cruises, although many of these vary.
They can also depend on your stateroom, or your Captain's Circle membership (the Princess Cruises loyalty program). Guests in a Suite, or who are at the Elite level of the Captain's Circle, may get exclusive invites to parties or a special wine-tasting event (where you don't have to spit out your free drink!)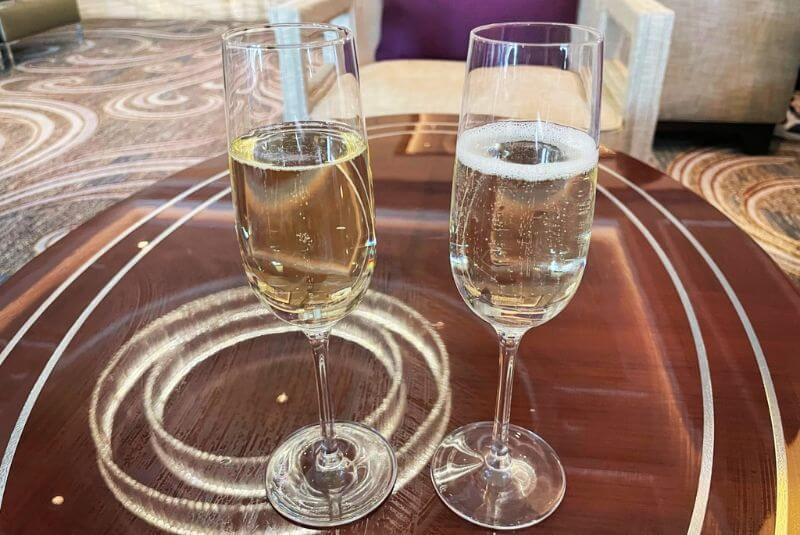 Look out for events hosted by the Effy jewellery store on the ship too, as special occasions there may include a free glass of fizz when you arrive. It's bad form to turn up, have the drink and then leave immediately though.
Bring Your Own
While it's not 'free' to bring your own drinks on-board a cruise, since you have to have bought them in advance, it can be a cheaper way to enjoy a drink.
Guests with Princess are allowed to bring an unlimited amount of soft drinks and water, provided it is in sealed commercial cans, bottles or cartons.
You can't bring flasks on board since the cruise line will argue they could contain additional alcohol beyond the permitted levels. And sneaking alcohol on board a cruise ship is a bad idea. Your luggage will be scanned, and it will be searched.
You're welcome to bring one bottle of wine or Champagne onto the ship with you per person, as long as it's no bigger than 750ml. It's only to be consumed in your stateroom, unless you pay a $15 corkage fee – then you can drink it anywhere, including the bars and the restaurants. You can also bring extra bottles but then the corkage fee is mandatory.
So you could bring a few bottles of alcohol, or a lot of cans of your favourite soft drink, in your suitcase. But obviously, that'll impact how much else you're able to pack and bring with you, so bear that in mind.
Is it worth sacrificing a couple of outfits so you can save on the cost of a couple of drinks at the bar?
The Bottom Line
The selection of free drinks from Princess Cruises isn't exactly extensive, but it's enough that you could get by if you really didn't want to spend extra on a cruise. Especially if you also brought some extra drinks with you to enjoy in your stateroom.
But if you're someone who gets thirsty often, and who has a particular drink that you prefer – or if you just want to relax with a cocktail or a beer – then definitely check out the Princess drinks packages that are included in the Princess Premier and Princess Plus fares, as they might offer much better value than paying for each drink individually.
NEW DEALS JUST RELEASED!
See the latest Princess Cruises offers…
Related Posts: