Princess Cruises and Carnival Cruise Line are both very popular, although they're quite different from each other. If you're wondering which to choose for your next sailing, or simply interested to know how they compare, read on to find out what similarities and differences they have.
Both Princess Cruises and Carnival are owned by the Carnival Corporation. However, there are some stark contrasts between the two cruise lines and they tend to target different crowds.
Cruises with Princess have a sophisticated, British feel and are popular with Brits and Americans alike, while Carnival cruises are aimed mainly at young American couples, families and groups of friends.
Comparing Princess Cruises and Carnival
Ships
Princess Cruises has 15 ships in the fleet, with a further two waiting to join, which are under construction or in planning. Carnival has 26 cruise ships in the fleet, with an additional one planned for the future.
Princess Cruises' Ships
Princess Cruises has four classes of ships:
Sphere Class – The newest ships, accommodating 4,300 guests
Royal Class – Six large ships accommodating 3,560 to 3,660 guests
Grand Class – Eight mid-sized ships accommodating 2,600 to 3,140 guests
Coral Class – The oldest two ships, each catering for 2,000 to 2,220 guests
The oldest Princess Cruises ship is Grand Princess, which was launched in 1998. The newest is Discovery Princess, which joined the fleet in January 2022.
Suggested read: Princess Cruises Ships by Age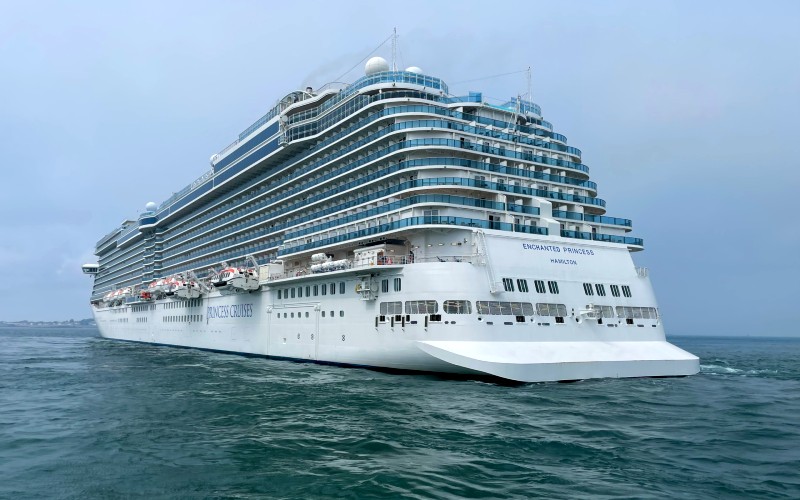 NEW DEALS JUST RELEASED!
See the latest Princess Cruises offers…
Carnival's Ships
Carnival has eight classes of cruise ships. The oldest, Carnival Ecstasy, was launched in 1991, while the newest is Carnival Jubilee, which was launched in 2023.
The classes include the Fantasy Class, which is the oldest, through to the Excel Class, which is the newest and largest. Guest capacity ranges from 2,606 to 6,500 passengers.
Suggested read: Carnival Cruise Ships by Size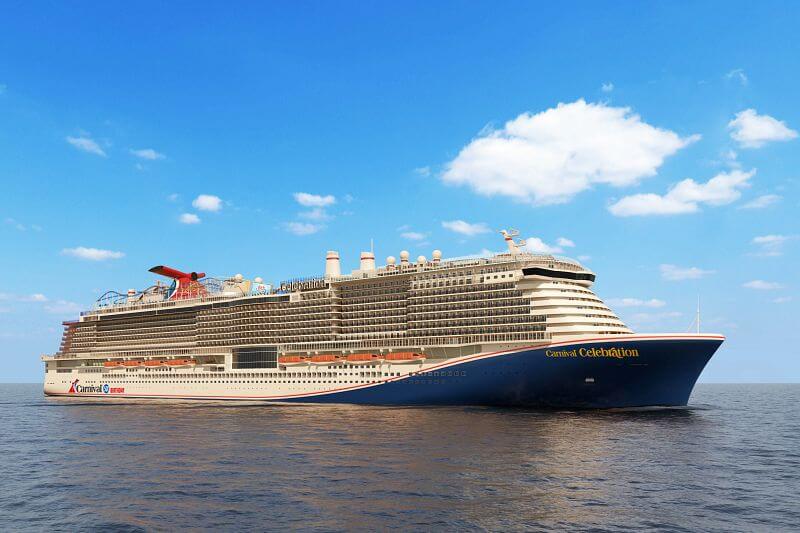 Which To Choose?
Both Princess and Carnival offer a large choice of ships ranging from mid-size ships from the 1990s to large, modern vessels. However, if you love really big ships, then Carnival's largest cruise ships are the way to go.
Destinations
Both Carnival and Princess Cruises visit destinations across the globe year-round. The most popular places to visit include the Bahamas, the Caribbean, Australasia and Europe
The following table shows how many cruise itineraries are available in each destination:
| | Carnival | Princess |
| --- | --- | --- |
| Alaska | 19 | 23 |
| Asia | 1 | 20 |
| Australia & New Zealand | 36 | 96 |
| Bahamas | 133 | 0 |
| Bermuda | 7 | 0 |
| Canada & New England | 1 | 19 |
| Caribbean | 254 | 54 |
| Europe | 24 | 147 |
| Hawaii | 9 | 8 |
| Mexico | 40 | 7 |
| Panama Canal | 24 | 22 |
| South America & Antarctica | 0 | 19 |
| South Pacific | 24 | 37 |
| Transatlantic | 9 | 37 |
| Transpacific | 5 | 0 |
| World | 0 | 46 |
NEW DEALS JUST RELEASED!
Don't miss these hot cruise offers…
Princess Cruises' Destinations
Princess cruises depart from 30 ports of call around the world, with the most popular being Fort Lauderdale in Florida, Southampton in the UK, Sydney in Australia and Yokohama near Tokyo.
The cruise line has a popular roster of itineraries in Australia with seven embarkation ports just for this destination, ahead of Europe (six) and just behind North America with 12.
Carnival Cruise Destinations
Carnival cruises depart from 21 ports, the most popular of which are those based in the United States. These include Fort Lauderdale, Miami and Port Canaveral, plus Galveston in Texas.
Popular destinations to travel to on a Carnival cruise include the Caribbean, where the highest concentration of sailings are, as well as the Bahamas, the South Pacific and Europe.
Which to Choose?
If you're looking to cruise from the UK, you'll find plenty of options with Princess Cruises departing from Southampton between March and November, whereas Carnival only has a handful of cruises departing from Dover, England.
Likewise, if you wish to cruise to exotic destinations such as Asia or the Pacific Coast, then Princess Cruises would be the cruise line to choose as these itineraries aren't offered by Carnival.
But, if cruises from Florida to Mexico, Bermuda or the Caribbean are your bag, then Carnival has the best choice of itineraries.
Both Princess Cruises and Carnival Cruise line offer cruises to their shared private island – Princess Cays. But cruisers should know that while the Princess Cruises drink package works on the island, the Carnival drink package doesn't!
Carnival Cruise Line also has visits to a second private island in the Bahamas called Half Moon Cay. This is shared with Holland America Line.
Food
The food experience on both cruise lines is very different. For a more classic fine dining experience, you might find you prefer Princess, while Carnival is more casual with home-style favourites such as ribs and burgers.
Princess Cruises' Food
Princess offers a sophisticated dining experience with an emphasis on authenticity and dishes made with local influences.
There are some casual dining venues, including the World Fresh Marketplace and International Café, as well as pizzerias, hot dog grills and coffee shops. However, the best cuisine will be enjoyed in the main dining venues and speciality restaurants such as Kai Sushi, Bistro Sur La Mer and the Crown Grill.
There are also experiential food encounters such as the Chef's Table, which offers the opportunity to dine with the Executive Chefs and the Chocolate Journeys program, whereby you can sample the most exquisite chocolate works of art.
It's widely believed that Princess Cruises offers 'the best pizza at sea'.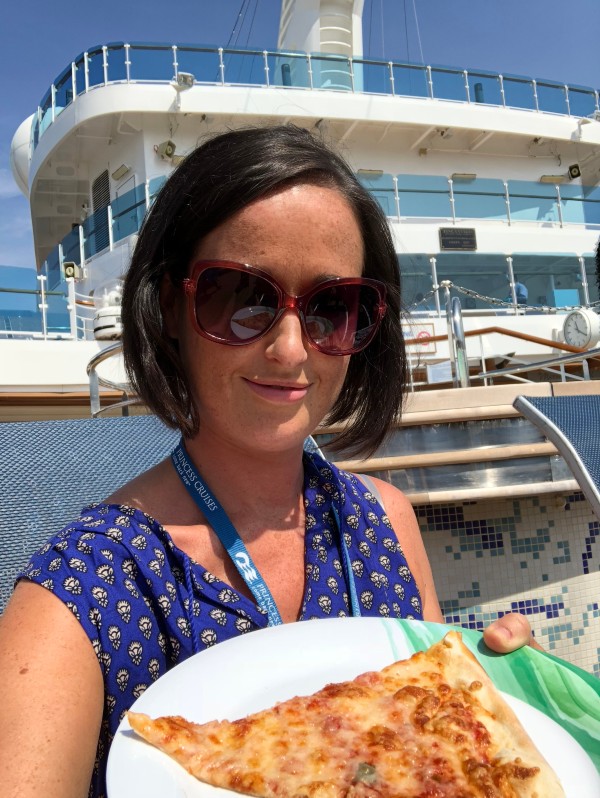 Carnival Food
Carnival Cruise Line's food is catered very much to an American market with dining venues including burger joints, chicken shacks and steakhouses.
Venues include pizza parlours open 24 hours, soft-serve ice cream at Swirls, grab-and-go burger places, Mexican cantinas, street food and the Lido Marketplace. You'll also find celebrity-endorsed foodie venues on board selected ships. Guy Fieri has several restaurants, including Guy's Pig & Anchor Bar-B-Que, while Shaquille O'Neal is the face of the Big Chicken restaurant.
For something more formal, there are several speciality venues which are an additional cost. These include Emeril's Bistro 1396 and Bonsai Teppanyaki.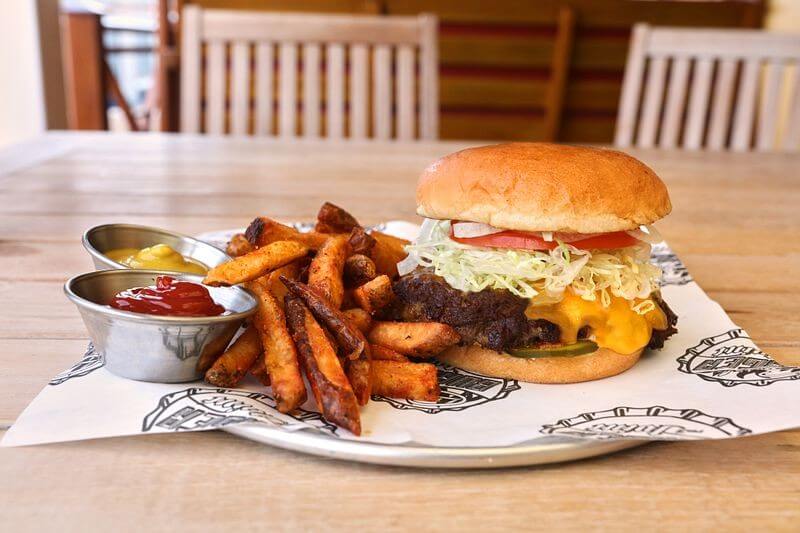 Which to Choose?
If you love fine dining in glamorous restaurants then it's clear that you'll be much more suited to Princess Cruises than Carnival. However, if you prefer to dress casually and devour endless burgers, hot dogs and fried chicken, then a Carnival cruise will be perfect for you.
Activities and Entertainment
Princess Cruises promises a wealth of activities to suit all interests aboard its fleet of ships, while Carnival caters more to family-fun and American-style experiences.
Carnival calls its ships 'fun ships' as there's something going on at all times to keep guests entertained. Princess Cruises instead is more relaxed, though still offers plenty to do.
Things To Do on a Princess Cruise
Princess offers a wide range of daily activities including dance lessons, wine-tasting seminars, art auctions, world-class gaming in the casinos, shopping in the boutiques and taking a dip in the pools and hot tubs. There are also Movies under the Stars for outdoor cinema screenings, comedians and magic shows.
Entertainment is just as varied with performances from around the globe in state-of-the-art theatres. The cruise line also has its own version of The Voice, dubbed the 'Voice of the Ocean' where onboard guests can compete just like on the show!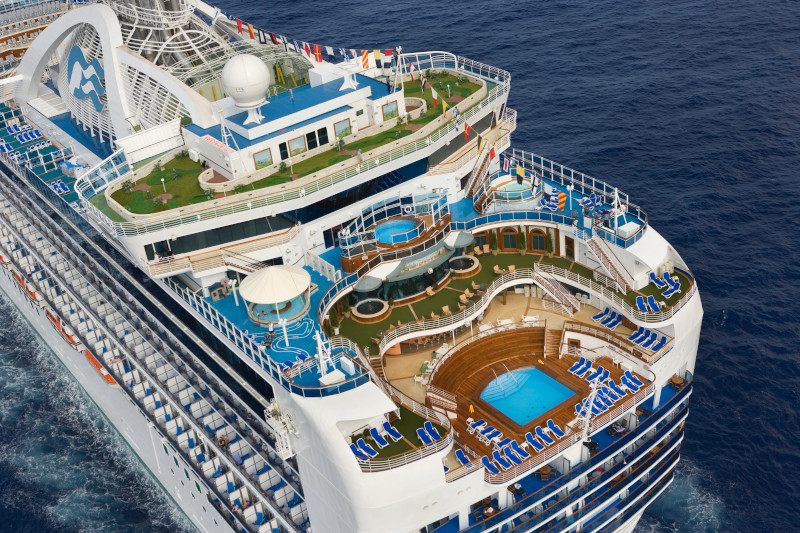 Things To Do on a Carnival Cruise
A Carnival cruise brings plenty of fun from the start. Mini-golf, water parks and regular poolside competitions aren't out of the ordinary daily. This continues well into the night as game shows, casinos, karaoke and live music brings exciting late-night activities.
There are a few adrenaline-rushing activities too including the SkyRide, which is like riding a bike but on a track high above the ocean, the Bolt rollercoaster, and lots of incredible waterslides.
Which to Choose?
Young adults or those celebrating holidays like Spring Break will certainly prefer a Carnival cruise as there is literally non-stop fun. Older adults will definitely enjoy the sophisticated tranquillity of a Princess cruise.
For younger couples, it really depends on whether you like the loud, non-stop action of a Carnival cruise or prefer something a little more relaxing.
Kids Facilities
There's something for children on both Carnival and Princess Cruises, depending on what experiences your kids are into.
Princess Cruises For Kids
Princess Cruises has some great educational offerings with their partnership with Discovery and Animal Planet. Families can enjoy shore excursions that cater to enriching experiences as well as the chance to meet local animals and take part in themed activities with experts.
In the kids' clubs, children are grouped by age, with rooms for 6 months to 2 years, 3 to 7 years, 8 to 12 years, 13 to 17 years and 18 to 20 years. These are all hosted by specially trained staff and bring opportunities for kids to meet new friends and enjoy memorable experiences while sailing.
There are dining events exclusively for children. Here, they can sit with their new-found friends, supervised by Princess' youth staff. There are also pizza parties and ice cream parties on numerous occasions during each cruise.
Carnival Cruises For Kids
There's plenty for the kids to enjoy on a Carnival cruise from waterslides, mini-golf and live entertainment as well as all-day youth activities.
Carnival's kids' clubs have three programmes available: Camp Ocean for those aged 2-11, Circle 'C' for those 12-14 years and then Club O2 for 15-17 years.
The cruise line's WaterWorks on-board water park is great for all ages and includes racing slides and interactive splash zones. There are also video arcades for a bit of competitive fun and a Build-a-Bear workshop!
Carnival has a partnership with Dr Seuss, with the Dr Seuss at Sea programme. This includes the Seuss-a-palooza Story Time for the youngsters, the Seuss-a-palooza Parade where beloved characters march through the ship, as well as gatherings for arts and crafts and a special breakfast of Green Eggs and Ham.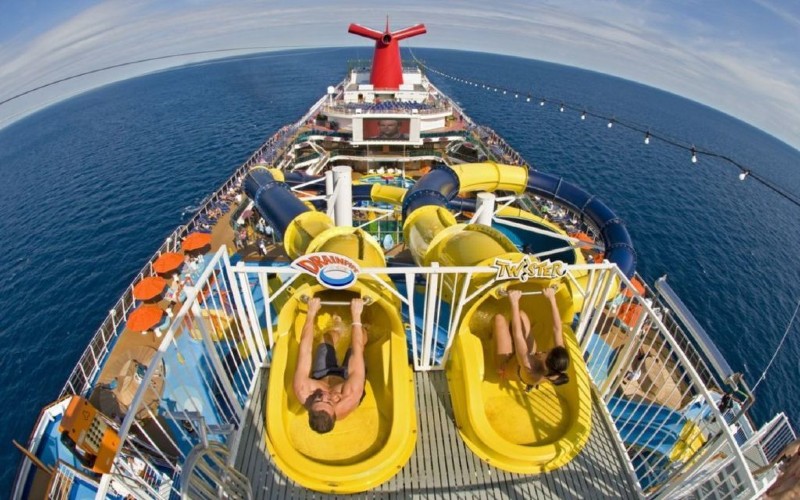 Which to Choose?
There's no denying that Carnival cruises are fantastic for kids. They're sure to never be bored with non-stop fun and action. But obviously, that's not for everyone.
If you have younger kids who can't yet join in with all of the activities, or quiet teenagers who prefer chill-out time to non-stop partying, then a Princess cruise would also be a good option to consider.
Price
The price points for both Carnival and Princess Cruises are very similar, though this depends on where you want to travel and when.
The Price of Princess Cruises
The average 7-night Caribbean cruise with Princess in a Balcony stateroom costs $1,153 per person. On top of that, you'll need to budget $112 per person for gratuities and an extra $525 per person if you want a drink package for a total cost of around $1,780 each.
However, you should definitely consider Princess Cruises' special Princess Plus or Princess Premier Fare'. For an extra $60 per person, per day, you'll get a free drinks package, unlimited wifi and pre-paid gratuities all rolled into one to make your cruise all-inclusive.
You can read more about drinks on Princess Cruises with my Princess Cruises Drink Packages guide, and I also have photos of the Princess Cruises drinks menus so you can take a look at the drinks prices.
NEW DEALS JUST RELEASED!
See the latest Princess Cruises offers…
The Price of Carnival Cruises
The average 7-night Caribbean cruise with Carnival in a Balcony room costs $963 per person. This doesn't include any additional extras, which would need to be added in separately, including $112 for gratuities and $420 for the drinks package. So the average total cost would be around $1,485 per person.
To work out whether the Carnival drink package is worth it, take a look at my Carnival drink package guide.
And if you're wondering about WiFi, here's how much Carnival WiFi costs.
Which to Choose?
Carnival cruises usually come in slightly cheaper than Princess cruises. If you're on a budget and live in the US, you'll find some really cheap deals on short cruises departing from Florida.
The Verdict
It's clear there are some major differences when comparing Princess Vs Carnival. Which is better depends very much on what experiences you're looking for on your next cruise.
Princess Cruises is a sophisticated cruise line with exquisite food, high levels of service, and plenty for all the family to enjoy. Meanwhile, Carnival is catered to family fun with an American feel and itineraries highly concentrated in the Caribbean.
If you're looking for something for the kids, Carnival is a great option to keep everyone happy. If you're seeking something a little more grown-up in elegant surroundings, Princess is ideal.
Have you cruised with both cruise lines? Please join the chat in the comments to let us know which you preferred and why.
Related Posts: