Whether you're trying to work out if a Princess Cruises drinks package is worth the cost, or you're just budgeting for how much money you'll need for your cruise, knowing the drinks prices on your Princess cruise is definitely useful.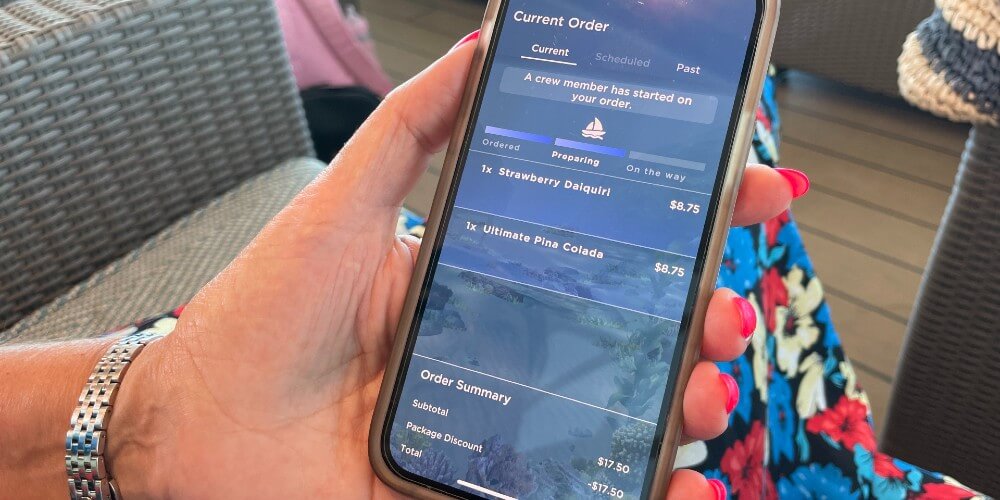 You want to be able to enjoy your holiday without thinking about the cost of each drink you order, and it's also good to know if your favourite drinks are served on the ship. If not, you can work out which new drinks you want to try during your cruise.
Here's a look at the different drinks available on a Princess cruise, and their prices.
This is the latest Princess Cruises drink menu from the Pool Bar, which gives you a good idea of the latest Princess drinks prices: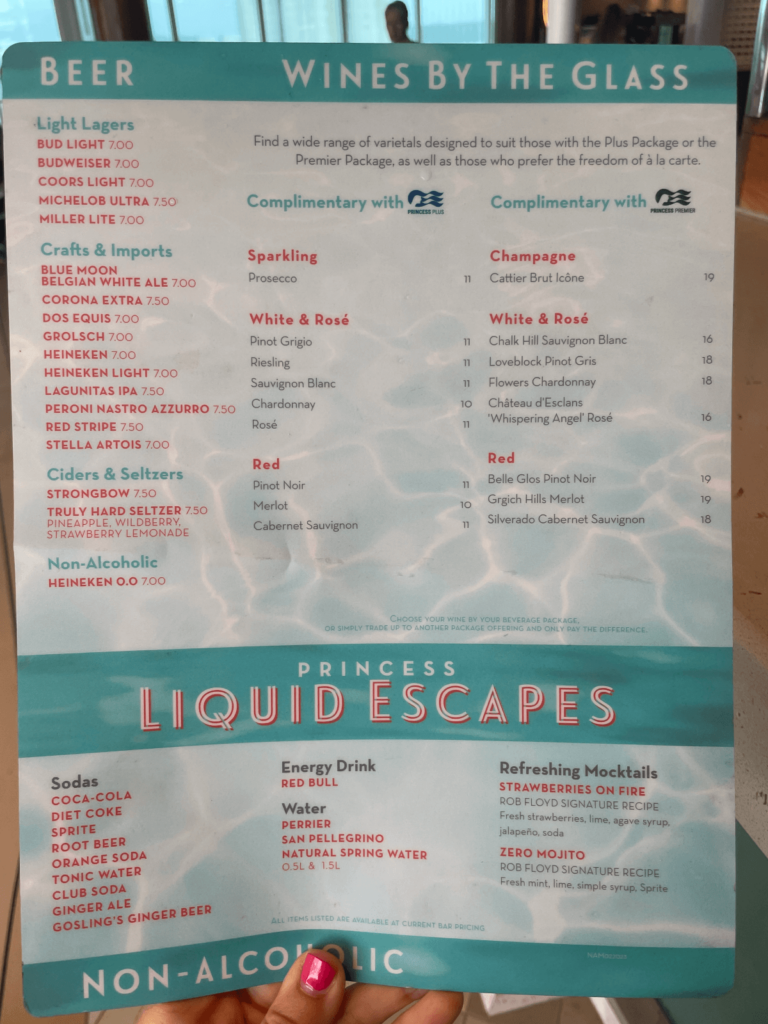 The rest of the menus below are from my prior Princess cruise, so the prices are a little out of date, but they've only increased slightly – they'll still give you a good idea of the typical price to expect, and whether Princess drink packages are a good option for you.
Princess Cruises Beer Menu
Enjoy a cold, refreshing beer from the list of options served on a Princess cruise. Most of the beers served are lagers, including primarily American brands such as Budweiser, Coors and Miller. But there are a couple of ales available too, along with perennial Irish favourite Guinness.
Princess Cruises Cocktail Menu
There are a huge number of cocktails served on a typical Princess cruise – you'll certainly need more than one cruise to be able to try them all. From Martinis to Cosmopolitans and Manhattans to Margaritas, you'll love the range of options to sip while sitting by the poolside.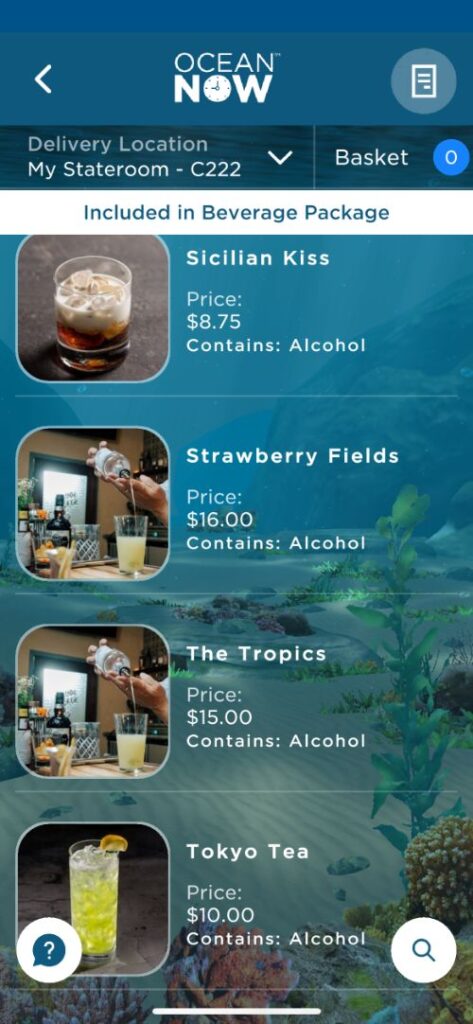 Princess Cruises Whiskey Menu
Princess Cruises offer a varied selection of whiskeys and bourbons, including long-aged classics and more common brands such as Jim Beam and Jack Daniels. A mix of American and Scottish tipples dominate the menu, ideal for a nightcap.
Princess Cruises Cognac Menu
Take your pick from popular Hennessey and Remy Martin cognacs for a drink that is rich in flavour and sophistication. Whether relaxing in a bar at the end of the night, or preparing for a theatre show, these fine brandies will certainly fit the mood.
Princess Cruises Gin Menu
Take your pick from these crisp gin options, great whether you're looking for a classic G&T or you've got a more exotic drink combination in mind.
Princess Cruises Spirits & Liqueurs Menu
There are many other spirits and liqueurs available on your Princess cruise, so whether you want a shot of sambuca to liven up your night, or a Baileys to help you unwind, you won't be missing out while at sea.
Princess Cruises Rum Menu
There are some fantastic rum options on a Princess cruise drinks menu. Whether you've sampled rums as part of a Caribbean shore excursion and want to carry on enjoying the flavours into the evening, or you want to just sample the drink of the seas, this mix of dark and light rums will have something to suit.
Princess Cruises Tequila Menu
If, as the song says, Tequila makes you happy then take your pick from the popular Don Julio, Low Vecinos Espadin and Patron brands during your Princess cruise.
Princess Cruises Vodka Menu
Whether you prefer your vodka neat or with a hint of fruity flavour, this selection of spirits include some of the world's most popular vodka brands.
Princess Cruises Wine, Sparkling Wine and Champagne Menu
There's an extensive menu of wines available for your Princess cruise. You can order by the bottle or by the glass, including a number of reds, whites, sparkling wines, Prosecco options and Champagne when you're in the mood to celebrate. Ideal for dinner, or just as a drink in your stateroom before the night gets going.
Princess Cruises Juices & Non-Alcoholic Cocktails Menu
Enjoy these non-alcoholic cocktails and juices when you want something fun and flavourful without the hangover spoiling your cruise the morning after. Or select one of these juices as the ideal mixer for your alcoholic spirit of choice.
Princess Cruises Sodas Menu
There are a selection of soda options available on your Princess cruise, including Coca-Cola branded drinks as both a can or from the fountains. Great for kids or for those who don't like a drink, these also make a great partner for some of the spirits listed above. And if you need a pick-me-up, Red Bull is available for a boost of sugary energy.
Princess Cruises Coffee Menu
From Italian classics to unique flavours, there are some wonderful coffees that you can try as part of your Princess cruise. If you need a shot of Espresso to perk you up in the morning, that's an option (including doubles), or why not try something different like a Butter Pecan or Honey Lavender latte?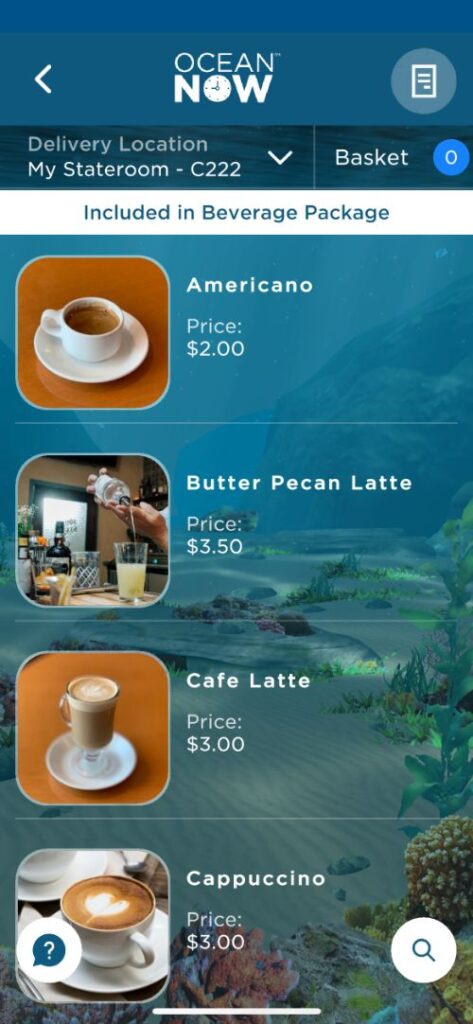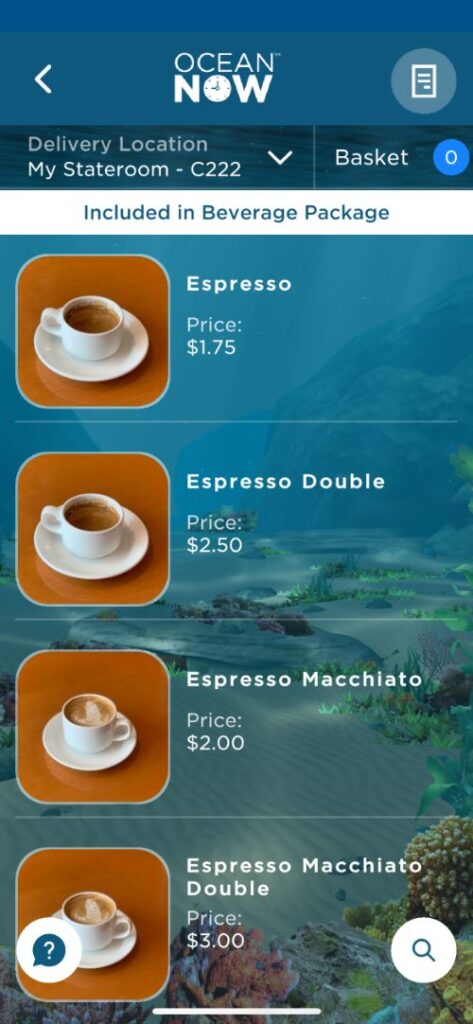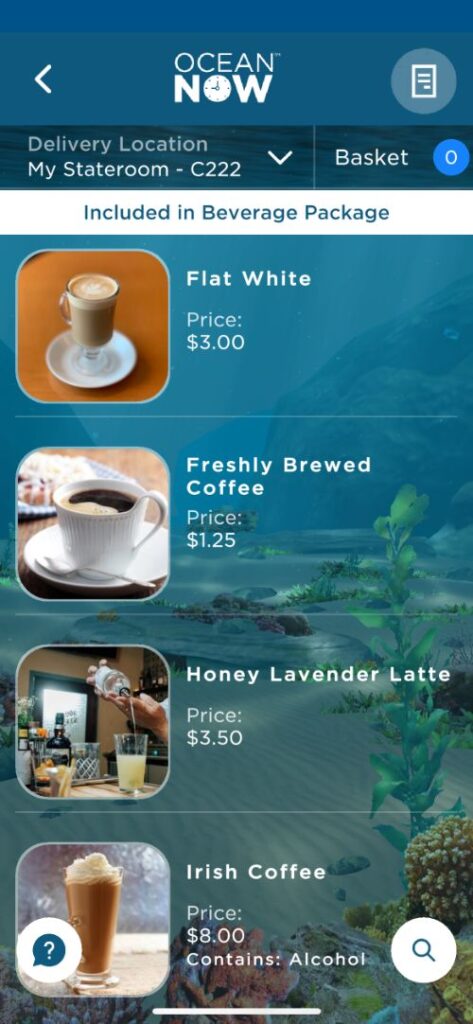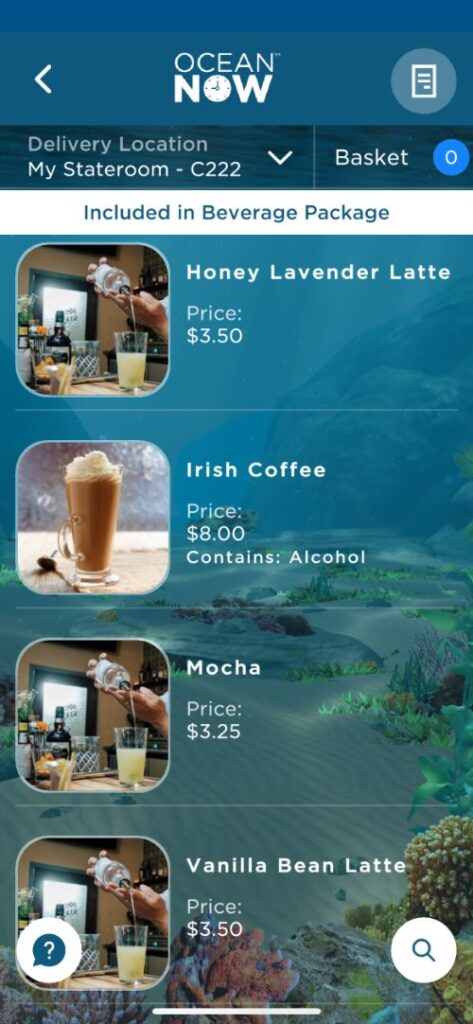 Princess Cruises Tea & Hot Chocolate Menu
When you want a drink that's a little more soothing, take your pick from a classic hot chocolate or one of the range of teas served on a Princess cruise, including fruit teas, breakfast teas and chamomile.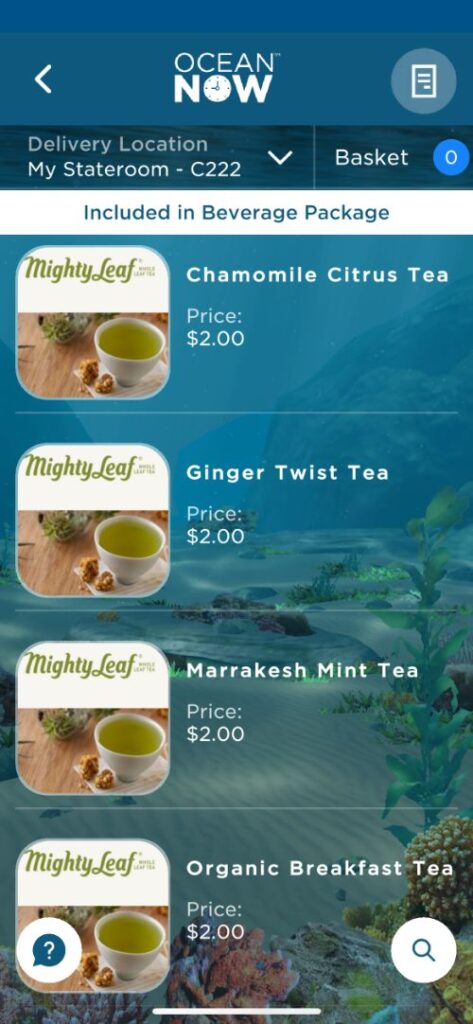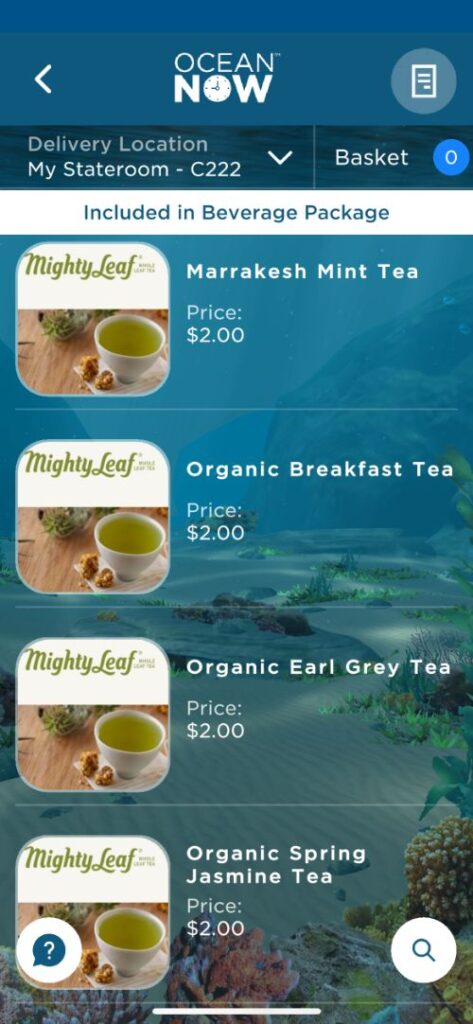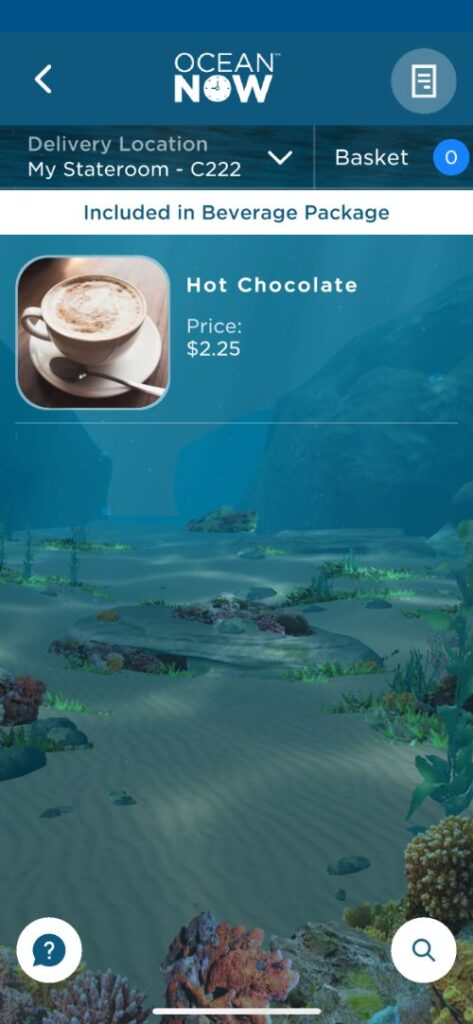 Princess Cruises 'Other' Room Service Menu
On your room service menu, there are a number of other products you can order, as well as services such as laundry collections or turndown services. Everything here is complimentary, so just use your room service menu to order what you need.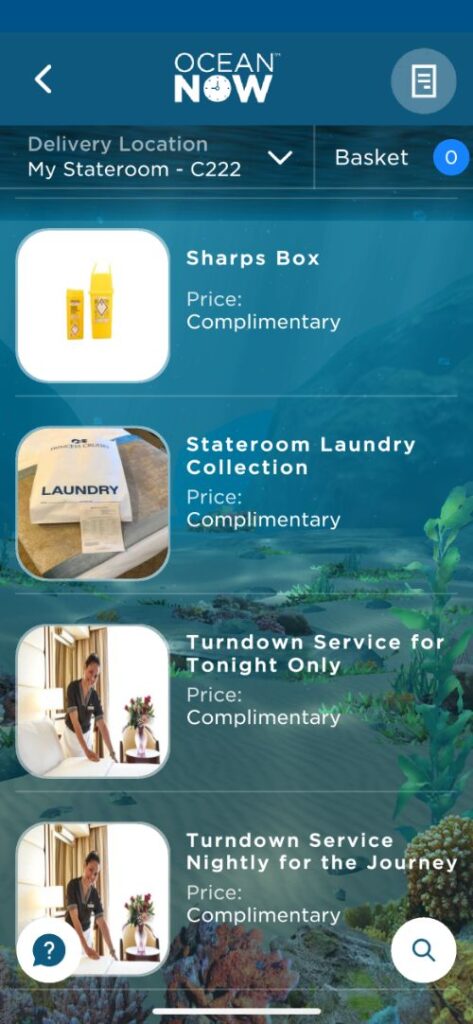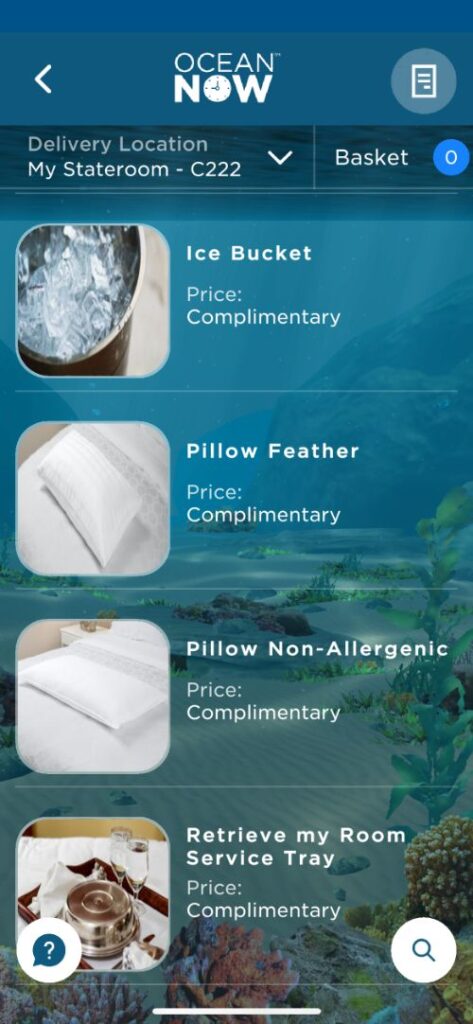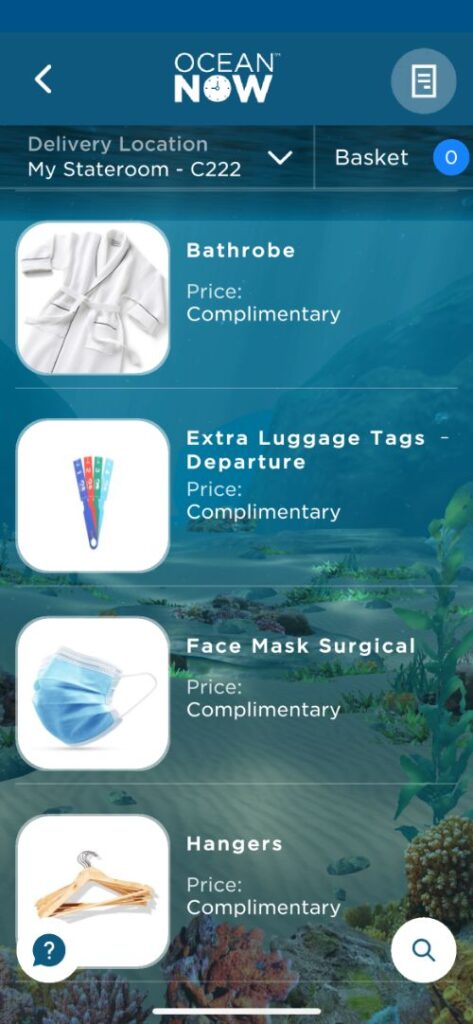 Final Word
The drinks menu on a Princess cruise is pretty extensive, with a selection of the most popular brands from around the world.
Find your favourites and make a note of the prices – this'll help you decide whether you want to pay for a beverage package, whether you would be better off with the Princess Premier or Princess Plus package, or if you'll be better suited paying for each drink individually.
And remember that as well as what's on the drink menus, Princess Cruises offers a selection of free drinks like tea, coffee, water and juice that you can get from the main dining room or buffet, amongst other locations.
NEW DEALS JUST RELEASED!
See the latest Princess Cruises offers…
Related Posts: