While cruises are generally some of the most relaxing holidays you can enjoy – the sense of adventure, the calm sea views, the fantastic service and food – they aren't always the ideal environment for every guest.
If you're in recovery from an alcohol-related illness and want to stay sober, taking a cruise can make things tricky for you.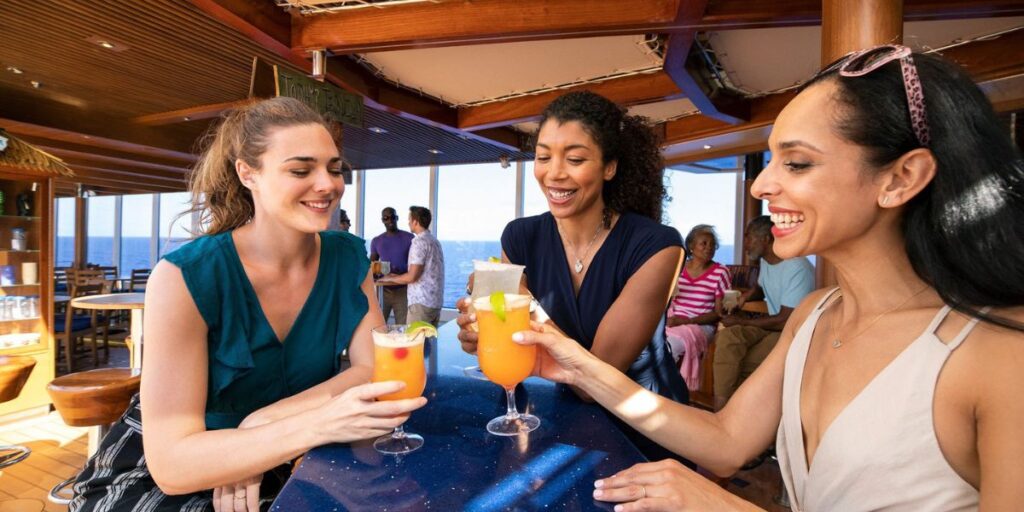 Alcohol is widely available on most cruises, and sometimes is even included in your cruise fare, so it can be hard to resist any temptation. But that doesn't mean anyone participating in AA or other related programs has to avoid cruising altogether.
You just need to make sure you find a sober cruise. And as my husband is also alcohol-free, and I've cruised alcohol-free while pregnant, we can help you with that.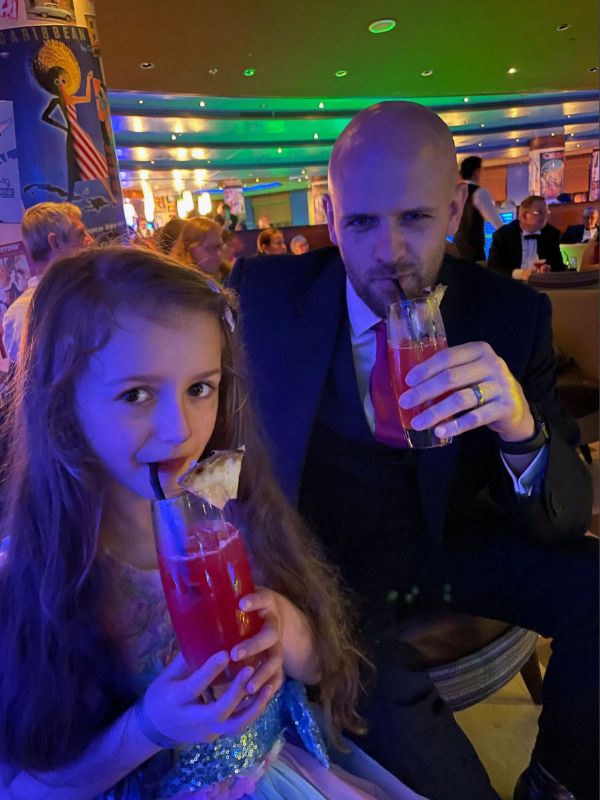 Are there sober cruises?
Sober cruises do exist although they don't typically have entire cruises where no alcohol is served. Instead, they are itineraries planned where groups of sober passengers can travel together and support each other, avoiding the alcohol sold on board.
As well as specially organised sober cruises, there are regular cruises where you may be able to attend AA meetings, sometimes referred to as "Friends of Bill W" meetings or FOB meetings too. Anyone looking to stay sober on a cruise can use these groups as a support network.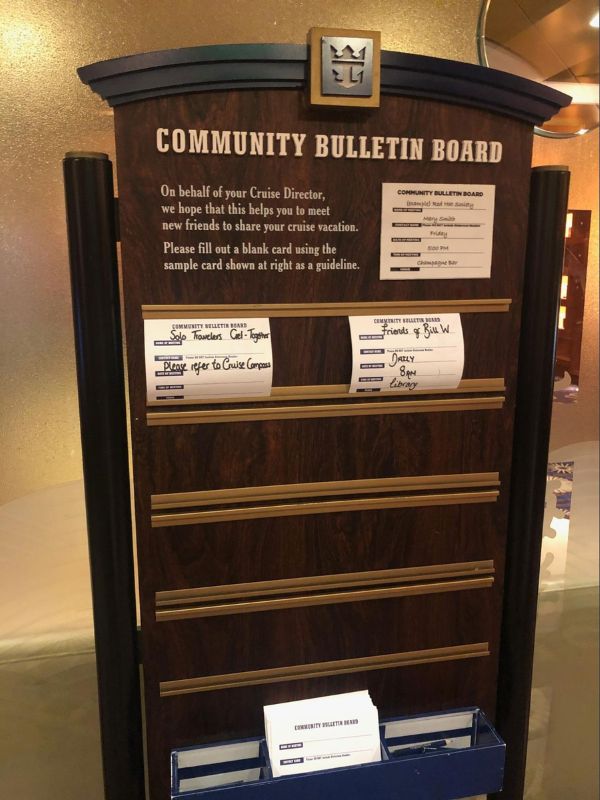 If you want to stay sober on a cruise and you're worried about the temptation of alcohol, it's best to book through a dedicated travel agent that organises these cruises.
That way, you'll either be able to travel with a larger group of sober passengers, meaning you know there won't be as much of a 'drinking party' atmosphere on the ship. And you can get tailored support to ensure you have plenty of sober activities to look forward to.
If that's not an option – the dates don't work for you, or your preferred cruise is sold out already – then you can look at a regular cruise and use forums and social media to find sober groups who will be travelling.
While you might have the option to drink alcohol on those cruises, you can help to remove that temptation by connecting with a support group.
What to expect on a sober cruise
If you're someone who doesn't drink, that certainly does not stop you from enjoying an amazing cruise holiday, especially if you choose a sober cruise.
I won't lie, there are bars everywhere on a cruise ship, and there are often special offers on cocktails of the day posted on your daily updates. So if you're someone trying to enjoy a sober cruise but you don't travel on an organised event, or with a support group, it can be a challenge.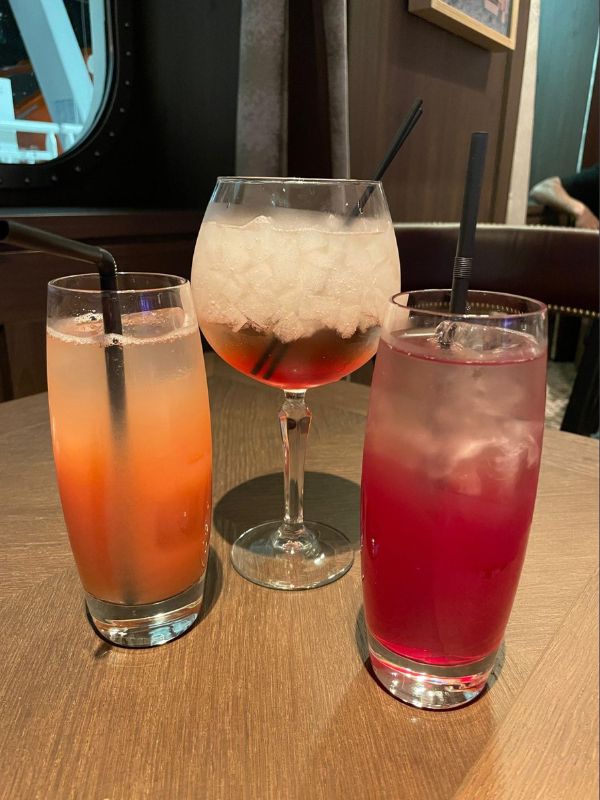 And yet, there is so much to do on a cruise ship that isn't alcohol themed that you can definitely keep yourself entertained without a drink.
Cruise ships are becoming more and more packed with things to do on board. It's not like classical ships where sunbathing with a cocktail was all you had to do between meals on a sea day.
Instead, here's a snapshot of just SOME of the activities you could enjoy on a cruise that don't involve alcohol:
Riding waterslides
Playing mini-golf
Rock-climbing walls
Riding go-karts
A roller-coaster around the ship
Escape rooms
Interactive, Augmented Reality (AR) activities
Movies on a big screen on the open deck
Live theatre shows
Skydiving simulators
Spa treatments, wellness activities and gym workouts
In fact, for many of these activities, you have to be alcohol-free to take part. Cruise lines will turn away anyone who's intoxicated. was actually turned away from the high ropes course on Arvia because I had drunk half a pint of lager.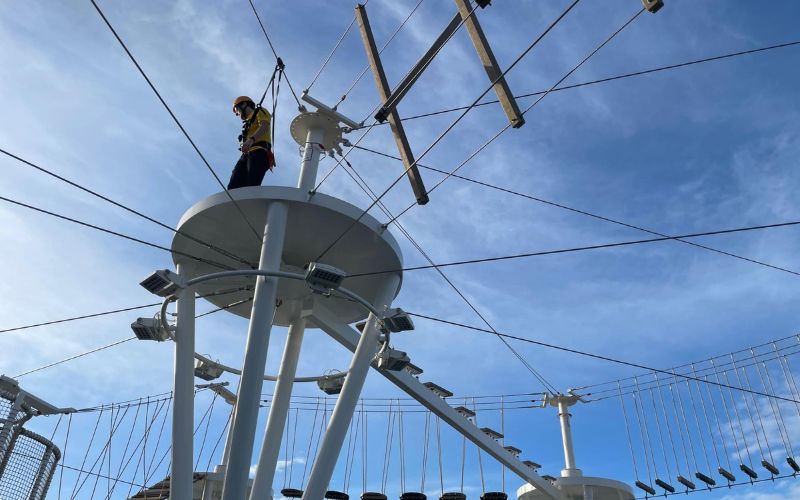 The very latest ships are full-on floating entertainment resorts and you can find enough to keep you busy, without drinking alcohol, even if you didn't step ashore for the entire time.
But when you do head into your ports of call to explore, you'll find even more to do, including sightseeing tours around Mediterranean cities, exciting water sports in the Caribbean, hikes around some incredible natural scenery in Northern Europe or Alaska, and so on.
Despite the fact that cruise ships do have a bit of an alcohol culture to them on regular sailings, cruises are still some of the best options for a sober holiday because you have more entertainment options on hand, and your scenery (and choice of activities) changes with each new port you visit.
Finally, cruises do host meetings to help anyone who wants to stay sober on a cruise. They're just a little more subtle about it – look out for those "Friends of BIll W" meetings.
Non-alcoholic beverages aplenty
Teetotalers are spoilt for choice when it comes to non-alcoholic drinks. Gone are the days when you'd feel lucky to get your hands on a Becks Blue!
Nowadays, most cruise ship bars have a choice of at least three mocktails on the menu as well as several different bottles of zero-proof beers. Many also have alcohol-free wine, cider and gin on the menu.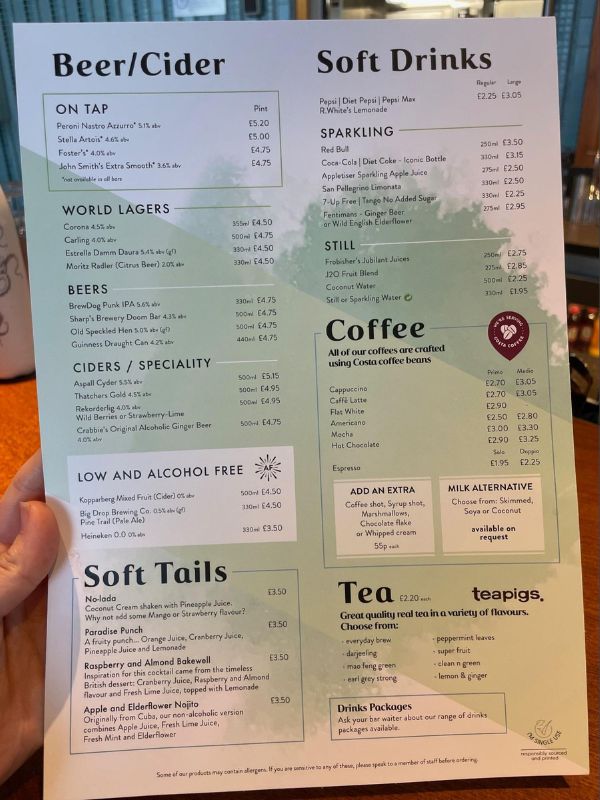 And just because you don't drink alcohol, it doesn't mean that you can't enjoy a drink package. Most cruise lines also offer non-alcoholic drinks packages so you can fill up on mocktails, smoothies, fruit juices, soft drinks, teas, coffees and bottled water.
Where to find sober cruises
You can find sober cruises online – there are a number of organisations that arrange sailings. Here are some of the more popular providers of sober cruise itineraries:
Sober Celebrations
Sober Celebrations is a US-based travel company specialising in organising group trips for sober vacationers. They offer regular cruise holidays, including an annual cruise break around Halloween.
For 2023 and 2024, Sober Celebrations has arranged cruises with Royal Caribbean and Viking Ocean Cruises. There's also a Christmas river cruise on the Danube River with AMA Waterways.
Find out more at sobercelebrations.com
One Day At A Time Cruises
One Day At A Time Cruises is run by two American travel agents who want to help guests find a great cruise where they can be sober.
Rather than arranging group sober cruises, they are more aimed at providing tailored itineraries to guests who want to enjoy travel without the alcohol, including cruise holidays.
Find out more at onedayatatimecruises.com
Travel Sober
Travel Sober organises multiple sober cruise holidays every year across a variety of destinations. They are aimed at people who just want to relax without alcohol, or those who are on a more intensive sober recovery journey.
Cruises in 2023 are available with NCL, Princess Cruises, Celebrity Cruises and AMA Waterways, including destinations all over the world – they even have an Antarctica cruise planned for 2024.
Find out more at travelsober.com
Sober Vacations
Sober Vacations is an organisation that doesn't exclusively deal with cruises, but they do offer some of the more exotic itineraries for sober guests where you can thrill in the destination, ideal for distracting yourself from any boozy atmosphere onboard.
Upcoming trips include a river cruise on the Mekong river in Asia, while past trips have included Alaskan ocean cruises and European river cruises.
Find out more at sobervacations.com
Fellow-Ship
Fellow-Ship is specifically aimed at those in recovery from alcohol, helping to create a fun-packed cruise where you can focus more on wellness and health whilst enjoying a variety of activities.
Their next cruise is a Southern Caribbean cruise on Royal Caribbean's Voyager of the Seas.
Find out more at fellow-ship.org
The Bottom Line
While it is true that alcohol is freely available on cruise holidays, that doesn't rule out this type of getaway if you are someone who is recovering from alcohol addiction or you are just someone who isn't fond of drinking and wants to enjoy a relaxed atmosphere.
It's best to book a cruise with a sober cruise group, but if you can't, the best advice I have is to avoid cruise lines with more of a party atmosphere – Carnival and Virgin Voyages being two of the most prominent for that sort of lifestyle.
And make sure you check forums and social media groups to find other sober passengers on your sailing, so you can find support if you need it.
Related Posts: