Ever noticed how some cruise ship deck plans start at Deck 2, 3, 4 or even higher? Have you wondered what happened to Deck 1?
When I booked a cruise and was assigned a cabin on deck 1, I did some research to work out what to expect.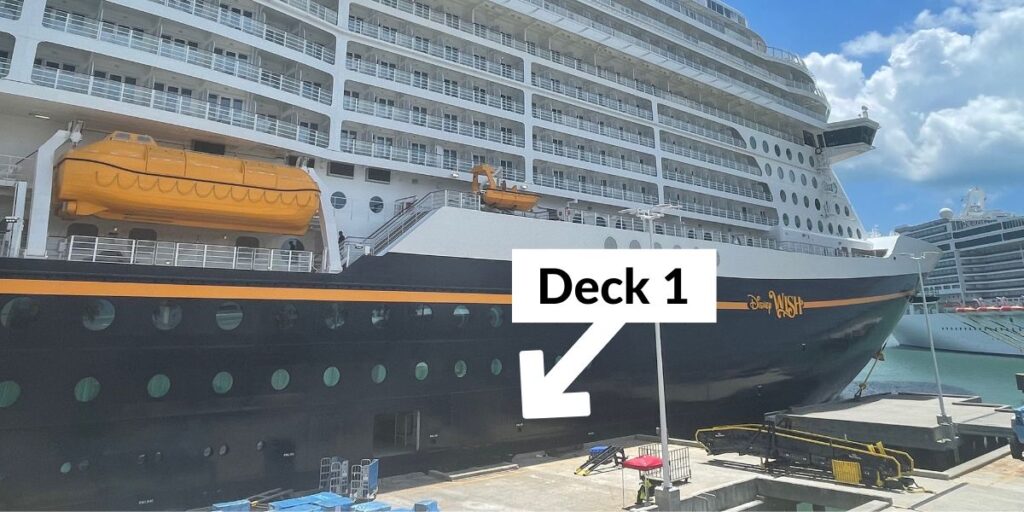 In this guide, I'll tell you everything you need to know about Deck 1.
Where is Deck 1 on a cruise ship?
Deck 1 on a cruise ship is normally the lowest deck. On some ships, it's the lowest deck that guests can access. But on others, it's the lowest for the crew. So passenger decks may start from Deck 2, 3, 4 or even as high as Deck 5.
Some cruise lines do begin their public deck plans at Deck 1 – in those cases, they may have a Deck 0 or other names for the decks that guests can't see.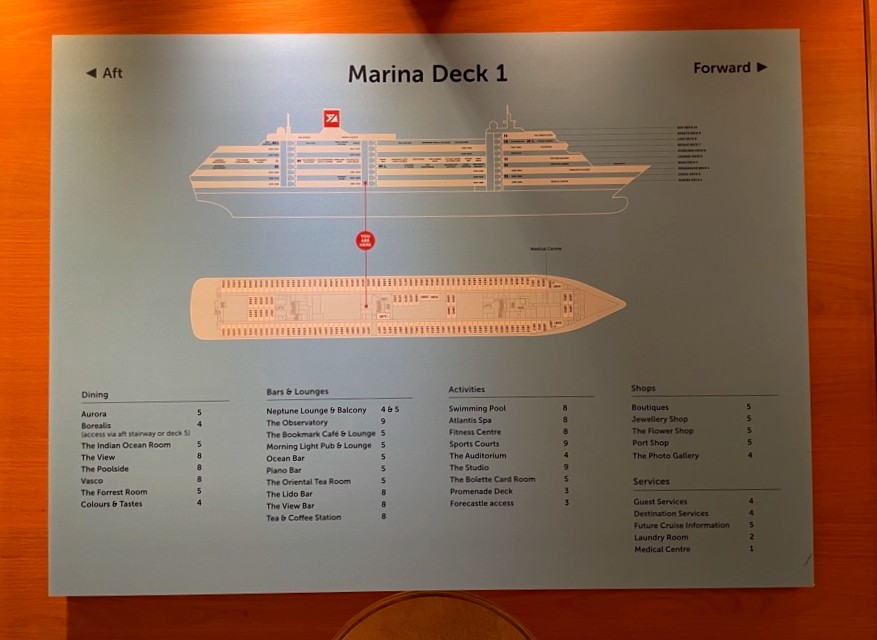 It's worth noting as well, that often guests will be able to access just a small part of the lower decks. It could be a handful of cabins, or it may be that the lowest accessible deck is where the medical facilities are located, and cabins may start on the floor above.

Is Deck 1 on a cruise ship underwater?
On some cruise ships, Deck 1 would be underneath the water. On others, where Deck 1 is the lowest-accessible passenger deck but there are crew decks below that, Deck 1 could be above the waterline. It varies for each ship depending on the draft and the number of decks needed for the crew.
If your cruise ship has deck plans that begin with Deck 3 or higher, there's a good chance that Deck 1 is below the waterline.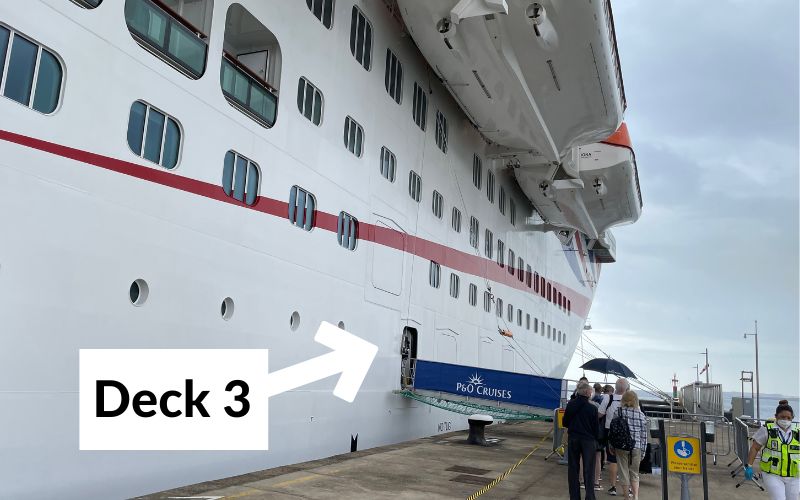 Generally, cruise lines like to keep guests above water, although that doesn't mean the underwater decks are empty.
Instead, this is where all of the crew's cabins are located, along with other facilities necessary for the running of the ship – such as the laundry, and sometimes the kitchens.
Where there are staterooms below the waterline on Deck 1, they will be Inside cabins only. You can't have an underwater view unfortunately – you wouldn't see anything due to the murky, fast-moving waters and it wouldn't be as safe as a steel hull.
Read more: Underwater Cruise Ship Rooms
However, when I stayed on Deck 1, my cabin certainly wasn't underwater and it even had a nice big window!
Here's a photo of my room on Deck 1 of Borealis…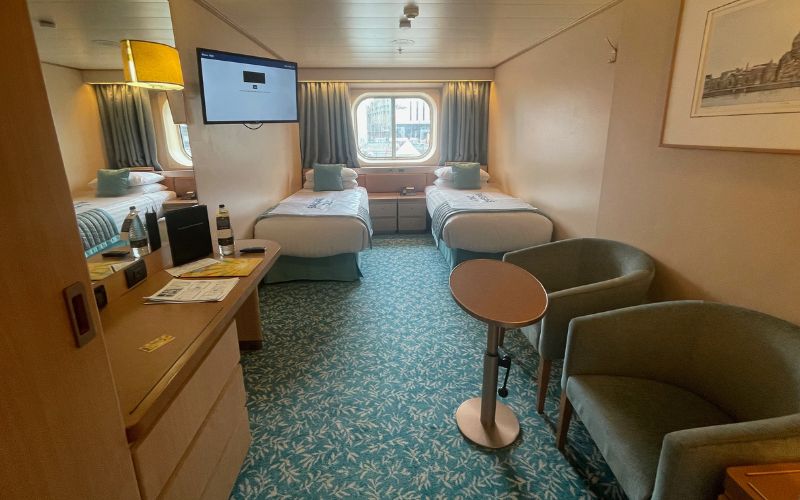 And here's the view from my Deck 1 window…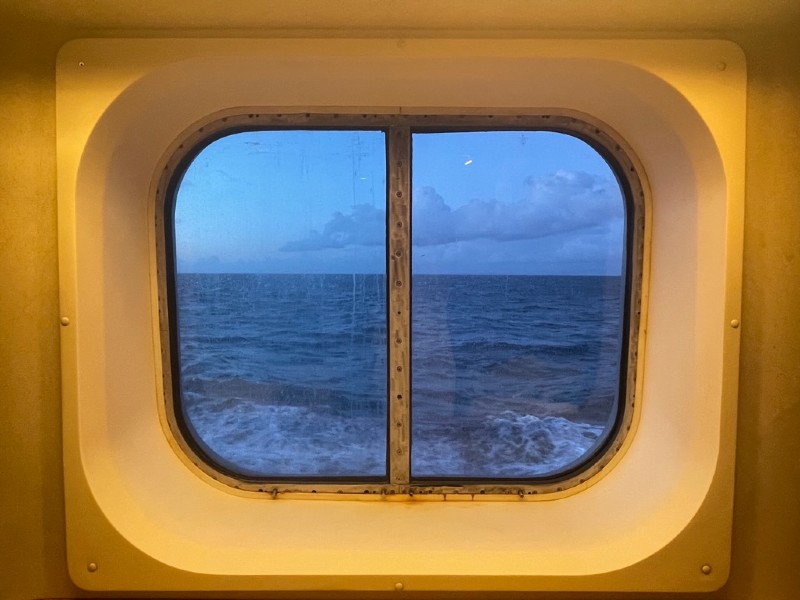 What is below Deck 1 on a cruise ship?
Depending on the cruise ship, below Deck 1 you will likely find facilities such as crew accommodation, laundry facilities for stateroom bedding, kitchens, access tunnels to help the crew navigate the ship quickly, and the ship's engines.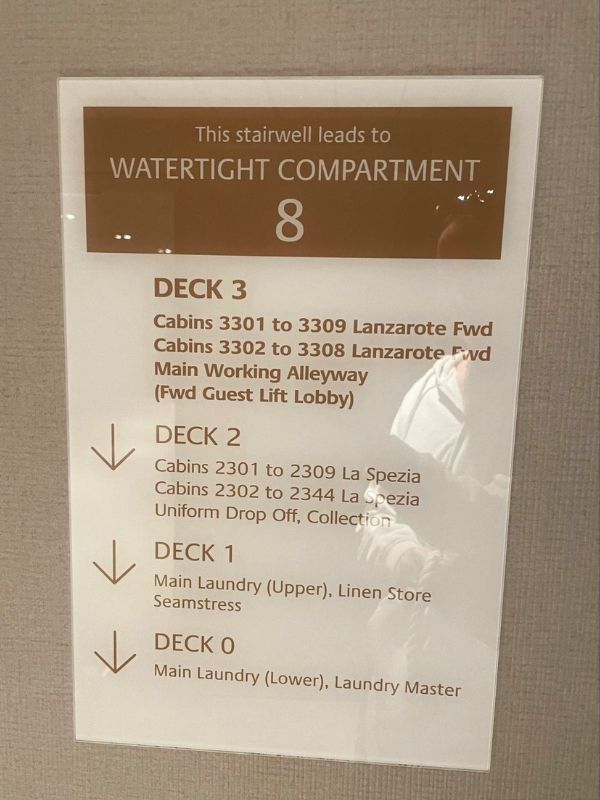 There is a lot that goes into the successful running of a cruise ship – far more than what you see when you're wandering around.
The below-deck areas are where a lot of the magic happens, whether that's cooking thousands of meals and transferring them quickly to the dining rooms, or cleaning all that bedding, or just bringing aboard the supplies and storing them securely.
The crew obviously need somewhere to sleep, and most of them will get the rooms below the waterline. They aren't very desirable – while the quality is OK, they don't tend to be spacious and they obviously don't get much sunlight.
However, cruise ship crew spend so much of their time working that their time in their accommodation is brief.
Finally, the engines are usually situated near the bottom of the ship, along with other necessary mechanisms such as water treatment facilities.
Read more: Where Are The Engines Located On A Cruise Ship?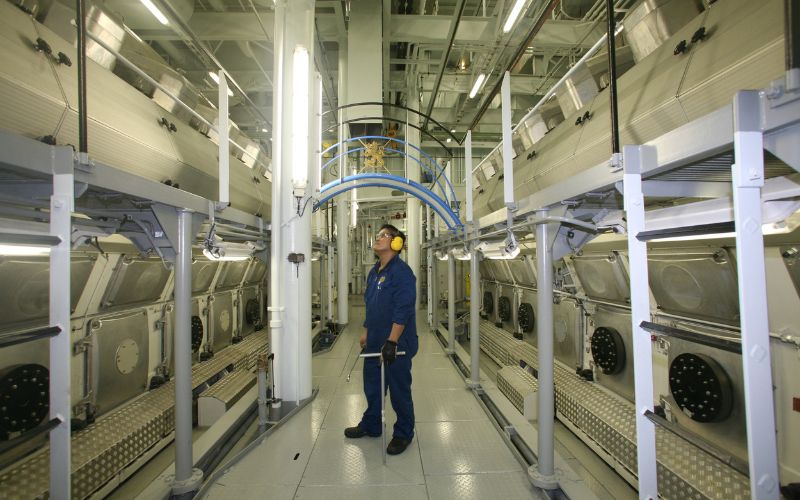 Is Deck 1 on a cruise ship bad?
Deck 1 is probably one of the least desirable locations on a cruise ship, although it does have some advantages. It will likely be one of the cheapest locations on a ship, and it tends to be less busy when you want to catch the elevators to other decks. It's also good for anyone who suffers from seasickness.
With any cruise ship, the location of your stateroom will have an impact on how much you pay. It's not just about the type of cabin you book, but whether it is in a prime location or not.
Deck 1, or whatever the lowest deck is on a cruise ship that has staterooms, is not a prime location.
If it is below the waterline, you are limited to Inside staterooms only. And if it's above the waterline, you will still at best have an ocean view only, and the view won't be great when you're so low down.
However, that could be to your advantage. If you're the kind of person who doesn't plan on spending much time in their stateroom, and you'd rather be staying up late to soak up the atmosphere or jumping out of bed early for breakfast and a lounge by the pool, you might not care about the location of your room.
And if you can save money by choosing a cabin on Deck 1, then all the better.
Plus, there usually aren't too many cabins on the lowest deck, which can make it a bit quicker to grab an elevator. Yes, you may need to wait for them to reach you, but there is rarely a queue.
Finally, anyone suffering from seasickness may enjoy a cabin on Deck 1 more than others. The lower you are in the ship, the less you will feel the motion as it sways.
Suggested read: Is Deck 2 on a Cruise Ship OK?
Is Deck 1 on a cruise ship noisy?
Deck 1 on a cruise ship can be noisy. It varies by cruise ship, but if you are low down in the ship you may hear the ship's engines, and feel the vibrations. This can be constant, and may disturb you if you are a light sleeper.
But it isn't just the engine noise that you might have to contend with. Again, if you are closer to the parts of the ship used by the crew to get around the ship then you may hear a lot of noise, especially early in the morning when they wake up to start their shift.
Remember, the crew need to be ready to serve the early risers on the ship, and so they will be the first ones to be awake and moving around.
Whether the rooms on Deck 1 are 'too' noisy is subjective, because each ship is different. Plus, everyone is sensitive to noise in different ways.
I wouldn't recommend booking a stateroom on the lowest decks if you like a good sleep but the slightest noises can disturb you.
Which cruise ships have Deck 1?
To be clear, all cruise ships will likely have a Deck 1 – it's just whether or not that Deck is open to passengers or if it is a 'hidden' deck for crew use only.
The cruise ships that have a Deck 1 included in their deck plans or ship maps include:
Carnival
Cunard
Disney Cruise Line
Fred. Olsen Cruise Lines
Holland America Line
P&O Cruises
With other ships, it can vary, usually depending on the size. The biggest ships will have the biggest engines and the need for more crew accommodations, although some smaller ships may also use extra decks to store all of the supplies needed to ensure guests have the best cruise.
Here's a look at all the major cruise lines, and which deck number they typically start with for their deck plans:
| | |
| --- | --- |
| Cruise Line | Lowest Passenger Deck |
| Azamara | Deck 4 |
| Carnival | Deck 1 or Deck 4 |
| Celebrity | Deck 2 |
| Cunard | Deck 1 or Deck 2 |
| Disney Cruise Line | Deck 1 |
| Fred. Olsen | Deck 1 or Deck 3 |
| Holland America Line | Deck 1* |
| MSC | Deck 4 |
| NCL | Deck 4 |
| Oceania | Deck 4 |
| P&O | Varies between 1 and 5 |
| Princess | Deck 4 |
| Regent Seven Seas | Deck 5 |
| Royal Caribbean | Deck 2 or Deck 3 |
| Scenic Ocean Cruises | Deck 3 |
| Seabourn | Deck 2 |
| Silversea | Deck 3 |
| Virgin Voyages | Deck 4 |
*Holland America doesn't number its decks, but instead gives them names. However, the cabins on the lowest deck all begin with the digit "1" so we can assume they think of it internally as Deck 1.
What deck level is best on a cruise ship?
There's no single answer for the best deck on a cruise ship. For most people it's a mid-level deck, usually decks 6 to 8. You should aim to have staterooms directly above and below you – that helps to minimise the noise.
Being in the middle of the ship also means you're closer to every amenity onboard.
However, as I mentioned above, this might not be great if you suffer from seasickness. If you do, you'll want to get a room on the lowest deck possible.

Read more: The Best Deck on a Cruise Ship (to Avoid Seasickness and Noise)
Final word
Deck 1 is not the best location for most people – it is generally better to get a cabin higher up the ship if you can, away from the engine noise and with a much better view.
But it isn't a 'bad' location, and it has its advantages. If you need a cheap room just to get changed in between activities, or you want to minimise any sickness feelings, it's worth considering.
On my next cruise, I have a cabin on deck 1. It's an Ocean View room with a picture window and I'm looking forward to seeing it!
Related Posts: