Going on a cruise is pretty exciting and there are lots to look forward to. But one thing that a lot of people worry about is the thought that they might get seasick or have to miss ports due to rough seas and bad weather.
This is an understandable concern and it is worth knowing that cruise ships generally try to avoid very rough seas (good for avoiding seasickness) but this can lead to changes to your itinerary (bad if you miss somewhere you really want to visit).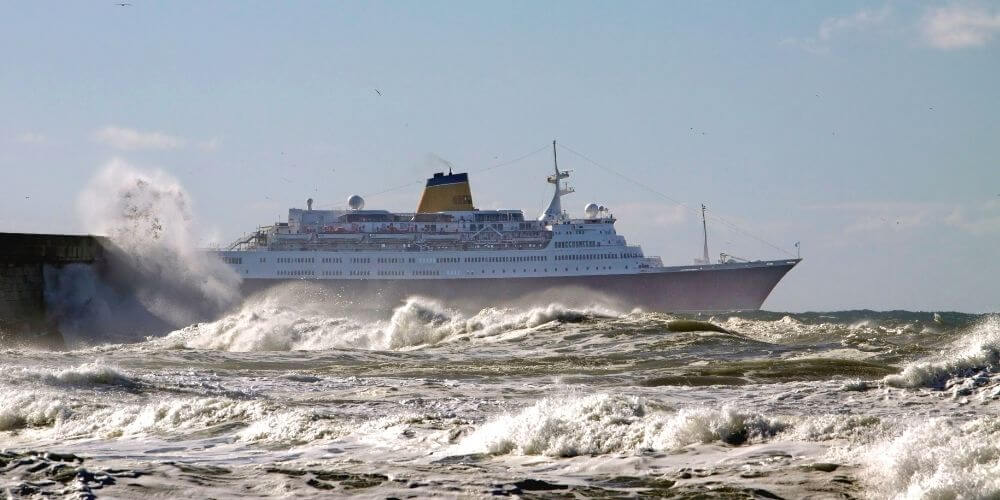 Sometimes, you might not be able to board your ship due to bad weather, and this could lead to the start of your cruise being delayed.
Despite these precautions, cruise ships can cope pretty well, even when sailing across the roughest ocean in the world. There are plenty of cruise ships sailing in the Caribbean throughout the hurricane season whilst most Antarctica cruises will have to traverse the famously choppy Drake Passage.
Some people love being on rough seas and deliberately choose cruises that are likely to be choppy, others might want to minimise the chance of getting seasick.
Either way, this list of the roughest seas on earth will give you an idea of places where you are more likely to have a rocky cruise.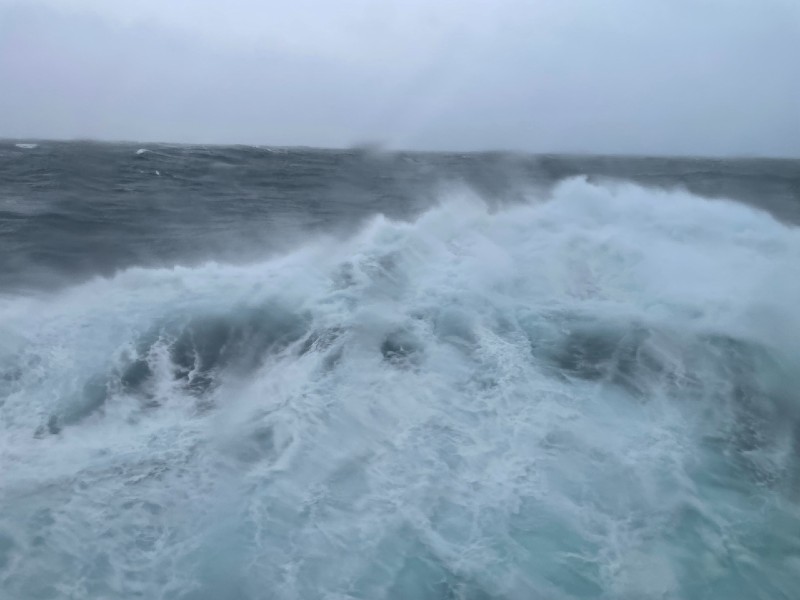 What's Considered Rough Seas For A Cruise Ship?
When waves reach a height of over eight feet (2.4m), the sea is considered to be 'rough'. If waves are over 13 feet (4m) then the sea is classified as 'very rough'. This is based upon the Douglas sea scale, a system for measuring the height of waves.
Here's a chart showing the Douglas Sea Scale…
| Degree | Height (ft) | Description |
| --- | --- | --- |
| 0 | no waves | Calm (Glassy) |
| 1 | 0.00–0.33 | Calm (rippled) |
| 2 | 0.33–1.64 | Smooth |
| 3 | 1.6–4.1 | Slight |
| 4 | 4.1–8.2 | Moderate |
| 5 | 8.2–13.1 | Rough |
| 6 | 13.1–19.7 | Very rough |
| 7 | 19.7–29.5 | High |
| 8 | 29.5–45.9 | Very high |
| 9 | 45.9+ | Phenomenal |
If you are on a cruise ship that is sailing on very rough seas you might find that the outer decks are closed for safety reasons and it's possible that the ship will be required to navigate out of the storm. This could potentially result in a change of itinerary and you may not call in at all of the ports that you had hoped to visit.
The World's Roughest Seas & Oceans
Now, let's take a look at the roughest seas for cruise ships…
1. The Drake Passage
If you plan of taking a cruise to Antarctica you will need to be prepared for rough seas in the Drake Passage. This is the body of water between Cape Horn and the South Shetland Islands and is the shortest crossing between Antarctica and the rest of the world. The Drake Passage connects the Atlantic and Pacific oceans.
This is one of the roughest seas in the world. There are no large landmasses in the area so there is a large, unimpeded flow of current that carries a huge volume of water through the passage. Combine this with high wind speeds and you get conditions that mean very few passengers will escape without experiencing rough seas in this area.
This is true no matter what time of year you visit. It's all part of the experience of an expedition cruise though, and there's a good chance that you can enjoy iceberg spotting whilst riding the waves.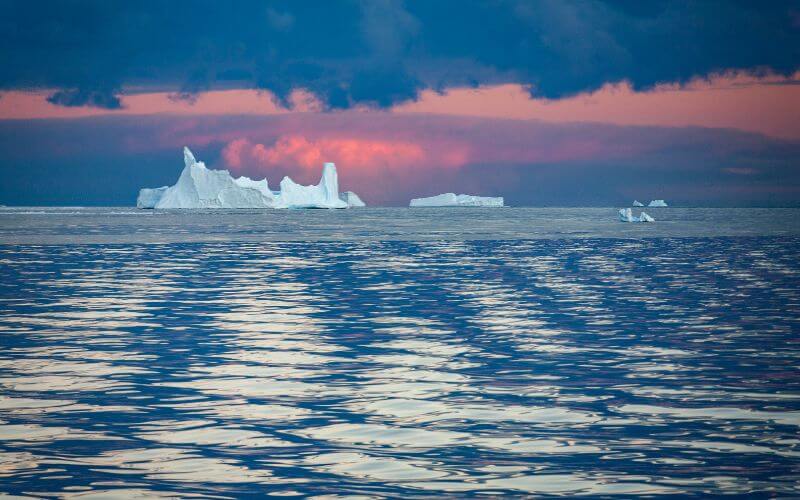 2. The Bay of Biscay
The Bay of Biscay is off the west coast of France and the north of Spain can also be rough. This is an area that experiences the fiercest Atlantic weather and the combination of powerful winds and a shallow sea bed can produce large waves.
You can increase your chance of experiencing calmer seas if you travel in the summertime, whilst if you travel in late spring you could experience the phenomenon of June Gloom – a large fog triangle that can fill the southern part of the bay.
When I cruised through the Bay of Biscay in February the sea was very rough indeed. We were in one of the lowest cabins on Deck 4 of Iona and the waves were crashing against the window. Meanwhile, the whole ship was creaking, the outer decks were closed off and any aerial or acrobatic shows were cancelled.
You can see what the sea was like from this video that I posted on Instagram…
3. The Mediterranean
The Mediterranean can be surprisingly rough for such a seemingly sheltered sea. It tends to be roughest in autumn and winter when the winds are strongest and there is a higher chance of storms. Rough seas can happen at any time though and spring and summer cruise passengers might experience some rough seas.
Western Mediterranean cruises that usually depart from Barcelona or Rome could also be affected by a "medicane" (a portmanteau of Mediterranean hurricane). This is a tropical storm that usually hits the region about once a year, most commonly in the autumn.
his can also affect the Ionian Sea during January and February, affecting cruises out of Venice or Istanbul.
4. The Caribbean
The beautiful warm seas of the Caribbean can get pretty stormy during hurricane season. The season lasts from June until the end of November, but the peak time for hurricanes and tropical storms is between August and September. So this is probably the time to avoid if you don't fancy big waves and the chance of itineraries being diverted.
All Caribbean islands are at risk from hurricanes, but they most commonly make landfall in the Bahamas and the British Virgin Islands.
Some parts of the Caribbean are more prone to rough seas than others. Generally, where one water body runs into another there is a greater chance of rough seas, so aside from the effects of tropical storms, the sea is most likely to be rough where the Caribbean meets the Atlantic Ocean.
I've experienced some particularly rough cruises in September in the Caribbean, including one that was cancelled altogether due to the weather.
Read more: How Hurricanes Can Affect Cruises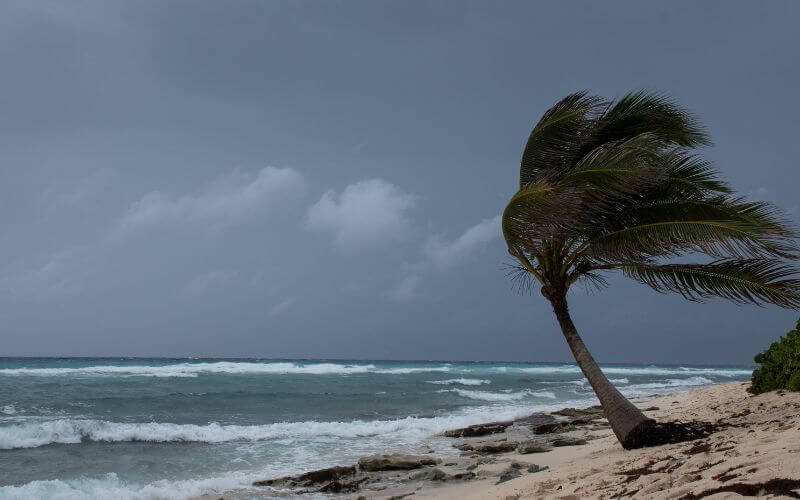 5. The South China Sea
The South China Sea is an area in the northwest Pacific Ocean that can be affected by storms at any time of year that can cause rough or very rough seas.
The biggest waves are caused by tropical typhoons and cyclones which are a risk during a tropical storm season that lasts between July and November. The peak time for storms is late August and early September.
The main departure port in this area is Singapore, although you may also leave from Hong Kong, Shanghai, Beijing or Bangkok. You are most likely to encounter typhoons when cruising between China and places like Vietnam, Cambodia or the Philippines. It can definitely cause a bumpy and unpleasant ride and there is a chance of missed ports.
6. The Gulf of Alaska
If you are heading on a cruise around Alaska you will be pleased to hear that most of the cruise will be spent on the beautiful calm waters of the Inside Passage, where a string of islands will provide shelter and a high chance of smooth sailing.
But, if you are heading for ports at Seward, Whittier or Anchorage, you will have to cross the Gulf of Alaska. This is a much rougher area where strong surface currents and cold arctic air meet to generate powerful storms that affect British Columbia and the western U.S.
Storms can happen at any time but the worst time is between October and February.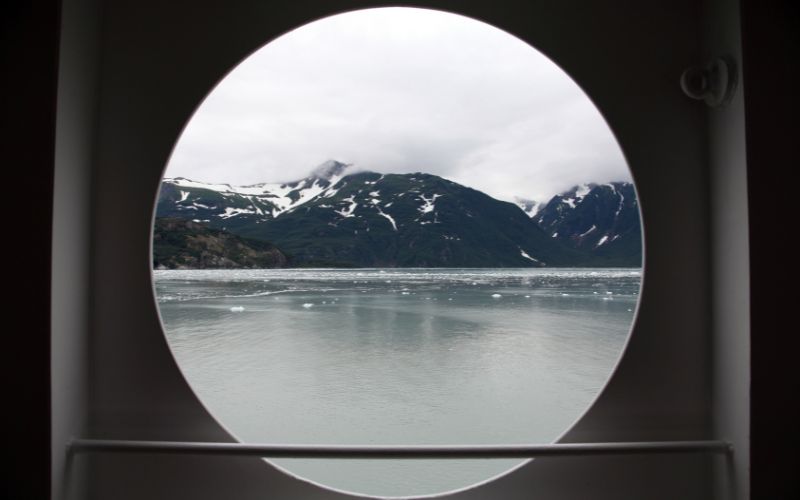 7. The Atlantic Ocean
Ocean crossings are always likely to encounter rough seas since there is no nearby landmass to provide shelter from wind or currents.
If you take the classic transatlantic cruise between Southampton and New York, you can expect to encounter large waves at any time of year. However, the winter months are the most intense and there's a good chance that you will hit very rough seas between November and February.
8. The Pacific Ocean
The Pacific Ocean is even larger and less sheltered than the Atlantic, so you can expect rough seas if you are crossing between North America and Hawaii or Asia.
You will probably encounter large waves at any time of year but the stormiest seas tend to be between February and April.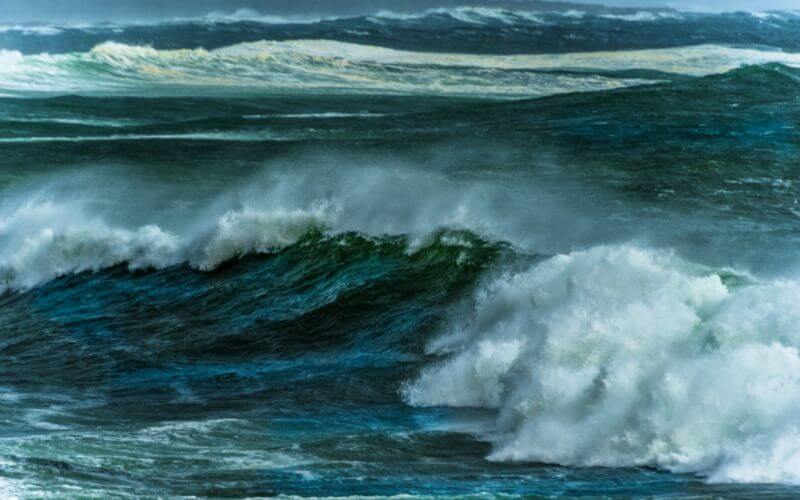 Rough Seas FAQs
Do you have any questions about cruising when the sea is rough? I've answered some of the things I get asked most often below…
Are cruise ships safe in rough seas?
Cruise ships are safe in rough seas and they routinely travel through waves up to 15 feet with no issues. Cruise ships have stabilizers to minimize the amount of rocking felt onboard the ship. The captain will order passengers to stay indoors if they deem it to be necessary.
Despite the size of the ship and the stabilisers in places, you will still feel the motion of the waves if they are big. It is a good idea to stay seated if it gets too wavey and you might want to take some medication to ease your stomach.
The captain will keep you informed of how long the rough seas are likely to last for and they will let you know if there's a need to navigate around the storm.
In extreme weather conditions, cruise ships like the Anthem of the Seas have successfully navigated through 30-foot (9-metre) waves with no major issues or injuries to passengers or crew.
What time of year are seas the roughest?
Different seas will be at their roughest at different times of the year so it is worth researching the area you plan to visit. In general, the more northerly seas are roughest in the winter months whilst tropical areas experience the most storms between June and the end of November.
If you are heading to Antarctica and the Southern Ocean, you should expect to encounter rough seas whatever time of year you travel.
Are seas rough in the Caribbean?
The Caribbean is known for smooth sailing but it can be rough in certain conditions. The Atlantic hurricane season from June to November is the time when you are most likely to experience rough seas in the Caribbean, especially in areas where it meets the Atlantic Ocean.
Despite this, all of the big cruise lines will have multiple ships sailing to the Caribbean throughout the hurricane season. They might well adjust their routes to avoid the very worst storms, so your itinerary is more likely to be affected if you travel at this time of year.
Related Posts: