A cruise can be a great way to travel during pregnancy. But, if you're planning to take a cruise while pregnant, there are certain things that you'll need to be aware of.
I took a Caribbean cruise when I was 12 weeks pregnant and I'm sad to admit that I made a couple of mistakes because I wasn't aware of all the rules and recommendations. So I wrote this guide to help others who might fall into the same trap.
Here's a picture of me and my bump with the Norwegian Breakaway. I probably shouldn't have done that high ropes course, in retrospect.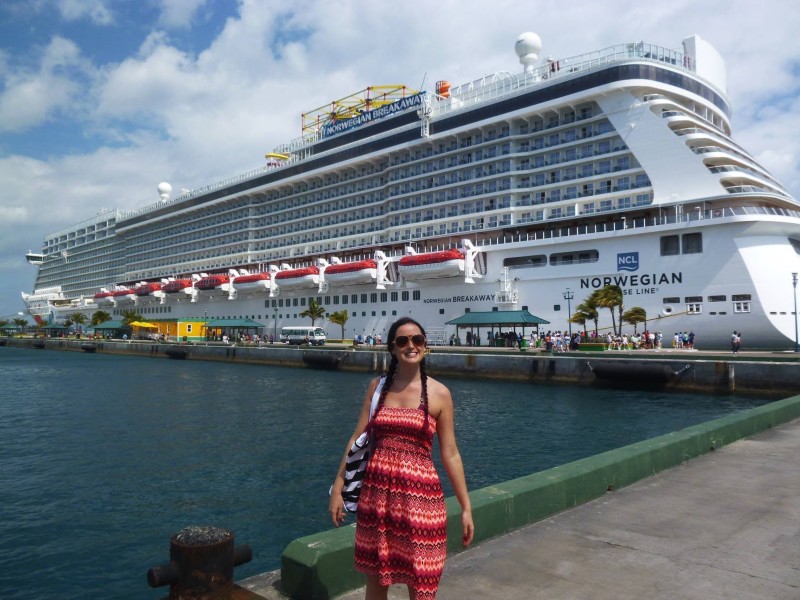 But, I've done my research since then, so read on for everything you need to know about cruising while pregnant.
While you're here, if coming up with a baby name is on your list still, take a look at my list of ocean-themed names for babies for some inspiration.
Can you go on a cruise while pregnant?
You can go on a cruise provided that you are well enough to travel and have not entered the third trimester of your pregnancy (24 weeks). To be allowed to travel, you must be less than 24 weeks pregnant on the last day of your cruise.
Is it safe to go on a cruise while pregnant?
If you are having a normal, healthy pregnancy then it is perfectly safe to go on a cruise. However, if you have any pregnancy complications, medical conditions, previous premature births or are expecting multiple babies, your doctor may advise you not to cruise.
If you're in any doubt about whether cruising during pregnancy is safe, you should contact your doctor for advice.
Do you have to tell the cruise line you are pregnant?
Most cruise lines require that you bring a doctor's letter which states your estimated due date and that you are fit to travel. However, you're unlikely to be asked to show the letter unless your bump is obvious.
You should always tell your travel insurance company that you're pregnant to make sure that your pregnancy is covered. If you don't, you may invalidate your travel insurance policy.
Hiding pregnancy on a cruise
Sneaking on a cruise pregnant is a really bad idea. Please don't do it! If you go into early labour, you may be stuck at sea with none of the facilities that a premature baby needs to keep them alive.
Even if you can make it ashore in time to deliver your baby, you may find yourself trapped in another country for months until your baby is well enough to come home. You could face huge medical bills that aren't covered by your travel insurance. It's just not worth the risk.
The baby that was born on a cruise ship
In 2015, a baby was born on a Royal Caribbean cruise ship, four months early and weighing just 1lb 8oz. Medical staff managed to keep him alive until the ship reached port.
Doctors initially told the mother that the baby was dead, but later discovered that he was, in fact, alive. The ship reached Puerto Rico 12 hours later, where the baby was rushed to the hospital, before being flown to Miami a few days later.
The baby spent the next four months in the hospital before being allowed home. The birth certificate said, 'place of birth – at sea'.
Can you cancel a cruise if you fall pregnant?
It's common to book a cruise many months (or even years) in advance. If you fall pregnant in between booking your cruise and sailing, you may find that you're unable to cruise because you'll be too far along in your pregnancy, or you'll have a newborn baby.
If this happens, you should contact your cruise line (or travel agent) to let them know.
In most cases, your cruise line will allow you to move your cruise to another date or will issue you with a voucher for a Future Cruise Credit.
It's unlikely that you'll be able to get a full refund for your cruise, but you may be able to claim on your travel insurance, as long as you were not aware of the pregnancy when you booked the cruise.
Tips for Cruising During Pregnancy
1. Choose your destination carefully
During your pregnancy, you should avoid visiting any countries where there is a risk of zika virus, malaria or any developing countries where the food or water may not be safe.
2. Check your travel insurance
You'll need to let your insurer know that you're pregnant, and ensure that you have adequate cover to cruise while pregnant.
3. Pack acupressure wristbands
Pregnancy can make seasickness worse. So even if you don't usually get seasick, you may do when you're pregnant.
You won't be able to take any seasickness medication while you're pregnant. The best drug-free ways of dealing with seasickness are to buy acupressure wristbands on Amazon or to eat ginger biscuits and green apples.
4. Use plenty of sunscreen
Pregnancy can cause your skin to become extra sensitive and you can burn more easily in the sun. As cruise ships are often windy, you can get burnt even if the weather doesn't feel particularly warm. So, always use sunscreen with a high SPF and reapply it regularly.
5. Check which activities are suitable
Some of the activities that you'll find on a cruise ship, such as water slides, zip-lining and ice skating are not suitable for pregnant women. Each activity will have a board outside listing the restrictions, so be sure to read it before you join the line.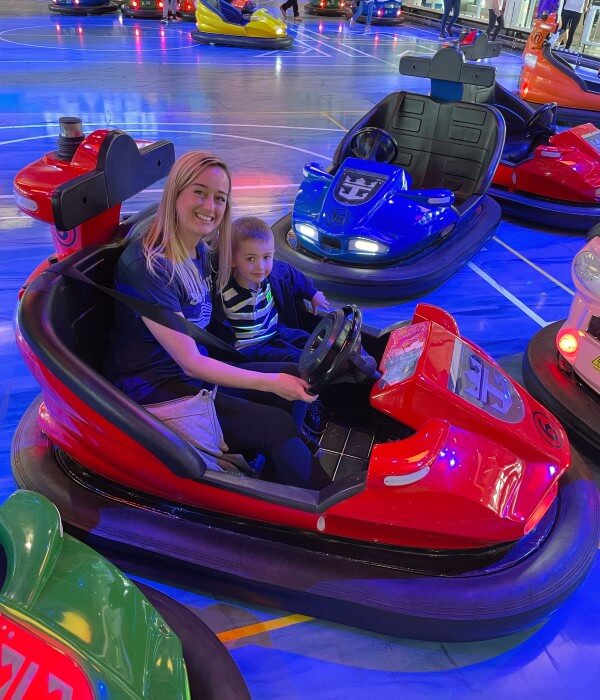 6. Get the right drinks package
Usually, if you have a drinks package on a cruise, then both passengers in the cabin have to get the same one. However, if your partner wants the alcoholic drinks package and you're pregnant, you should be allowed to get the non-alcoholic version for yourself. You might need to call the cruise line, rather than buying it online.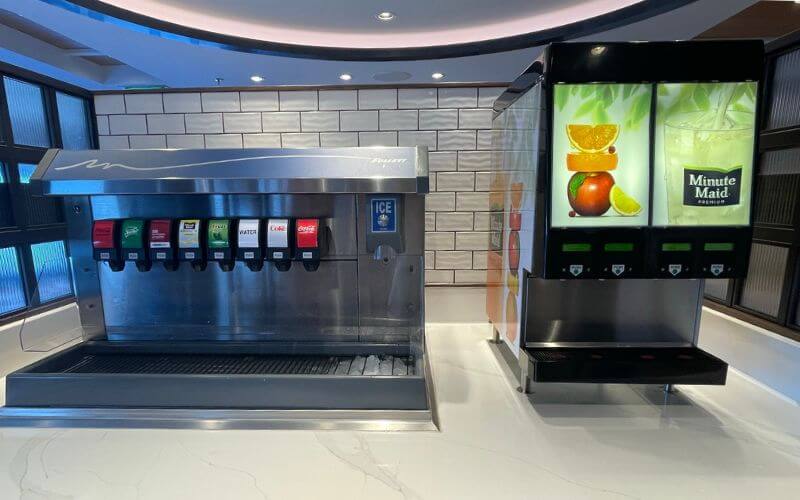 7. Pack comfortable clothes
A combination of heat and over-indulgence can lead to your clothes and shoes becoming tight fairly quickly on a cruise. Pack elasticated trousers and floaty dresses to ensure that you're comfortable. Balancing in high heels can be tricky during rough seas, so you may wish to stick to flat, comfy sandals.
Read more: What Shoes To Pack For A Cruise
8. Plan your excursions carefully
Cruising during pregnancy can be exhausting, particularly if you're sightseeing every day. If you do want to explore ashore on excursions, city tours by coach might be better than walking tours, hikes or anything too energetic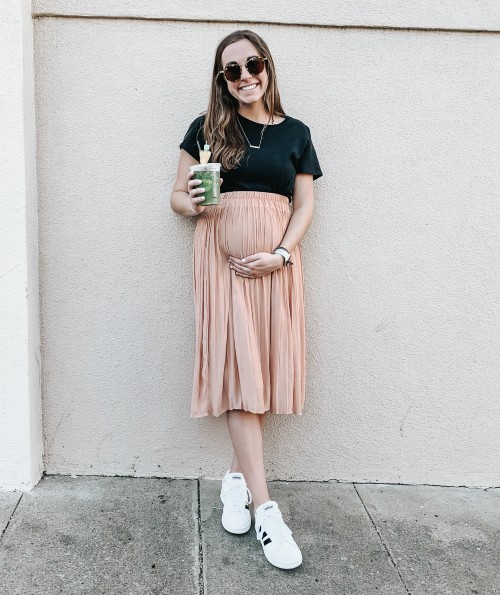 9. Make time to nap
There are lots of lovely places to take a nap on a cruise ship. So if you're feeling tired, find a cosy day bed, send your older kids to the kids' club and enjoy some much-needed rest and relaxation.
Cruise Lines' Pregnancy Policies
Below, you will find links to the pregnancy policy for each cruise line…
To conclude
Cruising while pregnant can be very enjoyable. I took a Caribbean cruise from New York during my pregnancy because I knew that once we had kids, we'd be unlikely to be able to take that kind of trip.
As long as you know what the recommendations are and listen to your body, you'll have a great time on your cruise.
Related posts: