River cruises have a reputation for being expensive. But before you write them off as being out of your price range, you might be interested to know how much river cruises actually cost, and what you get for your money.
Just like ocean cruises, there's a whole spectrum of river cruises out there – from budget-friendly to ultra-luxury.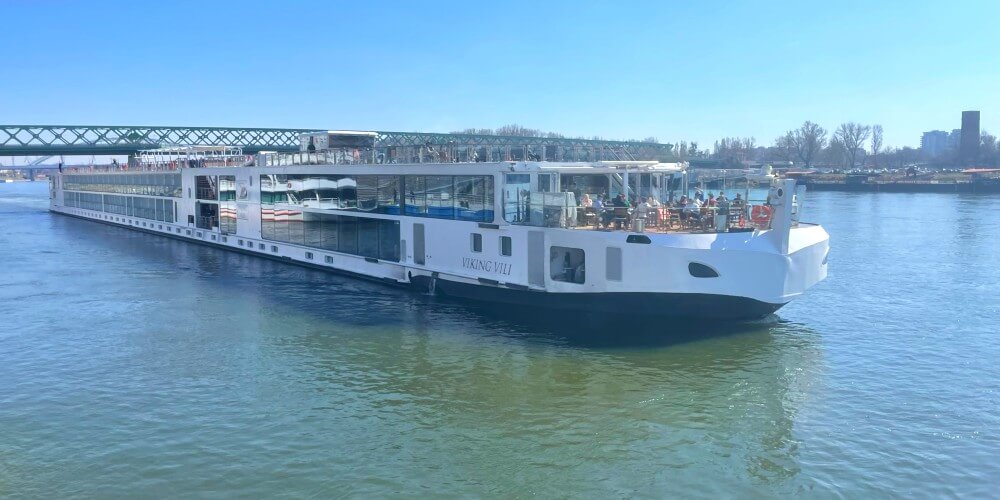 In this guide, I'll show you how much the average river cruise costs, how this compares to an ocean cruise. We'll also consider what's included and what you'll need to budget extra for.
What is the Average Cost of a River Cruise?
The prices of river cruises range from £70 ($90) per night for a European river cruise in a basic cabin with a cruise line like A-Rosa or CroisiEurope to over £1,000 ($1,300) per night for an exotic cruise in one of the top suites of an ultra-luxury cruise ship from the likes of Scenic or Tauck.
On average, you can expect a river cruise to cost you around £150 to £300 ($200 to $400) per person, per night. That works out at around £2,800 ($3,700) for a seven-night cruise for two people.
NEW DEALS JUST RELEASED!
Don't miss the latest river cruise offers…
If you pay towards the lower end of the scale, you should expect to pay extra for things like flights, excursions and drinks, whereas with luxury river cruises these are all included. The most luxurious all-inclusive river cruise lines include absolutely everything in the cruise fare, whereas the budget ones tend to add things on later.
The price of a river cruise depends on many factors, such as:
Ship
Duration
Destination
Time of year
Cabin type
Number of people in the cabin
Whether drinks are included
Whether gratuities are included
Whether flights and transfers are included
Whether excursions are included
Whether taxes and port charges are included
Discount
What's Included in a River Cruise?
One of the most important things that you should consider when looking at the cost of a river cruise is what's included. A cruise that seems expensive can actually work out to be very reasonable if it includes flights, transfers, drinks, gratuities, and excursions.
On the other hand, you may think that you've found a cheap deal, but the price could double once you add on all of the essential extras.
Here's what's included in a river cruise…
| | |
| --- | --- |
| Meals and snacks | Always |
| Entertainment | Always |
| Drinks with meals | Almost always |
| Drinks outside of mealtimes | Sometimes |
| Shore excursions | Often |
| Wifi | Almost always |
| Flights | Rarely |
| Airport transfers | Almost always |
| Gratuities | Sometimes |
| Minibar | Sometimes |
| Spa facilities | Sometimes |
| Bike hire | Often |
Suggested read: 27 Most Thoughtful Little Touches on River Cruise Ships
Are River Cruises More Expensive than Ocean Cruises?
While the price of river cruises appears to be higher than the price of ocean cruises at first glance, the ticket price usually includes more. The average river cruise costing £1400 will include a lot more amenities than an average ocean cruise that costs £875.
Almost all river cruises include wine and beer with meals, wifi and airport transfers as standards. It's rare that you'll find these things included with an ocean cruise.
Just like river cruises, ocean cruises vary hugely in price. If you have upwards of £1,000 per person, per day to spend, you'll find some great options with both. However, if you're a budget traveller who looks to spend under £100 per person, per day, you'll come across many more ocean cruises than river cruises in your price range.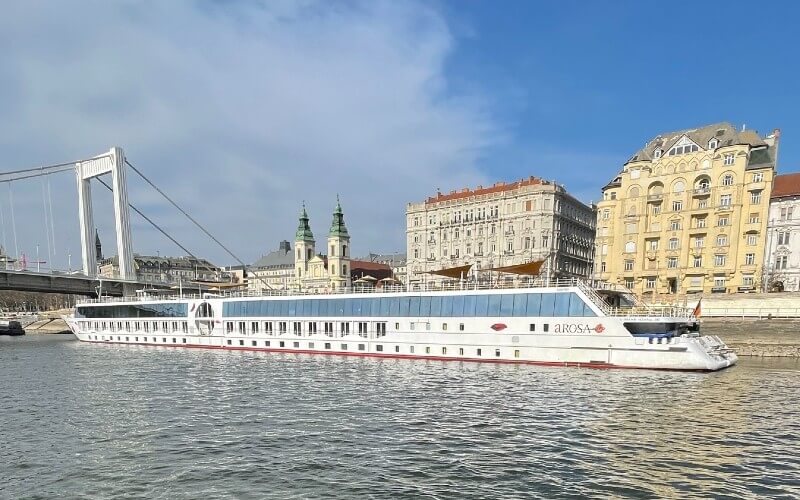 On the whole, you get what you pay for, and the value for money with a river cruise is comparable to an ocean cruise. Once you add up everything that you spend on the trip, including drinks, flights, excursions, taxes and gratuities, the prices of ocean and river cruises are quite similar.
For more information about what you get for your money on a river cruise, check out this post by Emma Cruises – Why Are River Cruises Expensive?
How Much is a River Cruise on Every River Cruise Line?
To guide you towards the best river cruise for your budget, I've listed all of the major river cruise lines sailing in Europe in price order, from the cheapest to the most expensive.
The price listed below is the lead-in price based on two adults sharing the lowest-grade cabin. Of course, this isn't a like-for-like comparison for the cost of river cruises, as the more expensive cruises tend to have more included.
| River Cruise Line | Price From (Per person for 7 nights) |
| --- | --- |
| A-Rosa | £505 |
| Arena Travel | £699 |
| TUI | £699 |
| CroisiEurope | £797 |
| Amadeus | £961 |
| Avalon Waterways | £999 |
| Saga | £999 |
| Titan | £1199 |
| Emerald Cruises | £1329 |
| Riviera Travel | £1359 |
| APT | £1495 |
| Viking | £1495 |
| AmaWaterways | £1740 |
| Uniworld | £1749 |
| Scenic | £1995 |
| Tauck | £2470 |
How Much is a Viking River Cruise?
Viking river cruises cost more than most other river cruises. You can expect to pay anywhere from £1,500 ($2,000) per person for a 7-night European cruise in a standard stateroom to £13,000 ($17,000) per person for a 14-night Mekong cruise in an Explorer Suite.
What are the Cheapest River Cruises?
The cost of river cruises does vary throughout the year. You can find some great European river cruise deals in March and April as this is the start of the season and the weather isn't always great. Choosing a cabin on the lowest deck with windows rather than a French balcony can give you a considerable saving.
The cheapest river cruise lines to consider are A-Rosa, Arena Travel, TUI and CroisiEurope. Arena Travel and TUI are adults-only, whereas A-Rosa and CroisiEurope also accept children.
Why Choose a River Cruise?
If you're trying to decide between an ocean cruise and a river cruise, then here are some of the reasons why a river cruise might be the best option for you…
1. Kids Sail Free
A-Rosa and CriosiEurope both have 'kids cruise free' offers. A-Rosa's offer is the best, as it means that children aged 15 and under cruise for free all of the time and on almost every ship. Families can even book two interconnecting cabins and pay for just one.
You won't find a deal that good with ocean cruises. Check out my guide to learn more about why I recommend A-Rosa for families: 10 Reasons To Love A-ROSA Family Cruises.
You can learn more about CroisiEurope's offer here: Kids Sail Free with CroisiEurope River Cruises.
2. See More of Each Destination
River cruise ships dock right in the heart of each city, rather than on the outskirts. So you can step off the ship and begin exploring immediately without the need for a coach or taxi.
As you cruise from port to port, you'll see the most beautiful scenery, rather than just water. Plus, as many river cruise ships have bicycles that you can use for free, you can see more of each place by bike, or even cycle along the river bank and meet the ship at the next port of call.
Many river cruises include evenings in port so that you can experience each city by night as well as in the daytime.
3. Enjoy a Personalised Service
As river cruise ships cater for around 150 guests, you'll enjoy a personalised service and get to know the crew members. You'll never have to queue at guest services, or anywhere at all.
The sun deck of each river cruise ship is incredibly spacious, with enough loungers for everyone, and you can arrive at the restaurant whenever you want to, without having to wait for a table. All in all, it's a much more relaxed affair.
When a River Cruise Might Not Be for You
1. If You Have a Baby or Toddler
River cruises aren't great for very small children, and most family river cruise lines don't accept under fours. There's no space to store a pushchair, yet you'd need one when you head ashore to explore.
The top deck of a river cruise ship would be a dangerous place for any child who you don't trust 100% not to climb on the railings. While ocean cruise ships usually have railings that are at least shoulder height and often made of glass to be climb-proof, on a river ship they're waist height at most.
2. If You Have Limited Mobility
Most river cruise ships aren't wheelchair accessible. You won't find accessible cabins and many ships don't have a lift, so being able to climb stairs is a must.
Those who need to use a scooter to get around in port will likely find that there's nowhere to store it on a river ship. On ocean cruises, you'll see lots of people who use scooters or wheelchairs, but sadly river cruise ships just don't have enough space to accommodate them.
3. If You Want to be Constantly Entertained
If cruising is all whizzing down waterslides, climbing rock walls, bouncing on virtual-reality trampolines and watching Broadway-style shows in the theatre, then a river cruise probably isn't for you.
Of course, you can be very active on a river cruise, and there'll be plenty of opportunities for cycling and hiking. But if you like to sit in a sunlounger while your teenagers are off having fun doing the activities without you, then you simply won't be able to do that on a river cruise.
For families who enjoy taking walking tours together, learning about history and culture, sampling local foods and playing a board game or two before bed, a river cruise can be a really great bonding activity. But it's not for everyone.
To Conclude
I hope that this guide has given you some insight into how much a river cruise costs. Yes, many of them are expensive – most river cruises are on par with five-star luxury hotels but with a lot more included.
There are some good cheap river cruise options, even for families and solo travellers. But a river cruise isn't for everyone, so it's wise to do your research before you go ahead and book one.
NEW DEALS JUST RELEASED!
Don't miss the latest river cruise offers…
Related Posts: