Years ago, cruising had a bit of a reputation as being 'just for old people'. But boy, how times have changed! Virtual reality trampoline anyone? (You'll find those on Royal Caribbean's ships).
But what about river cruising? Are river cruises good for families? The answer is a resounding YES! But, with some caveats. As with any cruise holiday, you need to pick your river cruise carefully to find one that suits your family.
First, let's make sure we're all on the same page when it comes to knowing what to expect from family river cruises in Europe.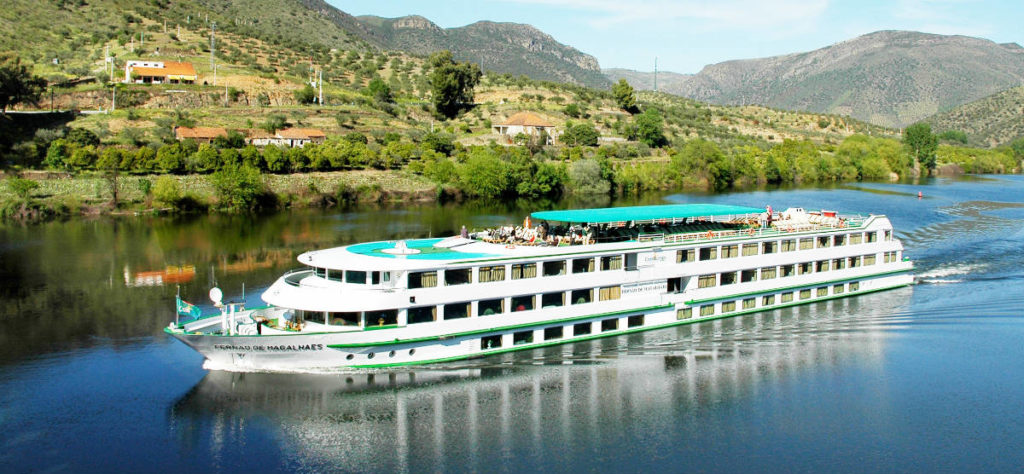 What is a family river cruise like?
River cruise ships are pretty small; at least compared to ocean ships, anyway. Whilst an ocean ship might have anywhere from 2,000 to 6,000 passengers on board, river cruise ships tend to accommodate about 200 people.
The relatively small size of river cruise ships means that there's obviously no room for things like water slides, rock climbing walls or any of the activities your kids would go crazy for on an ocean cruise.
However, there are some things they'll like, such as small swimming pools, Jacuzzis, cinemas, games consoles and giant noughts and crosses. 
Each day you'll stop at a different port of call. Your ship will often dock right in the heart of the city, so you can get off and explore on foot, on a coach or maybe on bikes if your ship has those to borrow.
European river cruises for families
Europe is the ideal destination for family-friendly river cruises. Whilst you may be tempted by exotic river cruises on the Amazon in South America, the Nile in Africa and the Yangtze and Mekong in Asia, the waterways of Europe offer a much more child-friendly experience.
Those living in the United States might also want to consider US river cruises on the Mississippi.
If you're looking for the best river cruises in Europe for families, the most important thing to think about is the river cruise line you choose.
There are about 20 river cruise lines, but only five of them are really kid-friendly so these are the ones you should consider.
Which river cruise lines are child-friendly?
The family-friendly river cruise lines are:
CroisiEurope
Uniworld
AmaWaterways
Tauck
A-ROSA
Each family-friendly river cruise line has its own merits, and which to choose depends very much on what kind of family you are.
Let's take a closer look at each of the river cruise lines so you can decide which is the best for your family…
---
1. CroisiEurope family river cruises
CroisiEurope is a French-owned, family-run river cruise line. These child-friendly river cruises are popular with families all year round, but particularly in the summer holidays.
Summer cruises with CroisiEurope have a kids' club on-board so that children can have fun with new friends and parents can enjoy some quality time on their own. As well as the activities, sports and pool games, the children put on a show at the end of the cruise for parents to watch.
Whilst river cruises, on the whole, tend to be quite expensive, CroisiEurope's prices are very reasonable, so this river cruise line would make a great choice for families on a budget.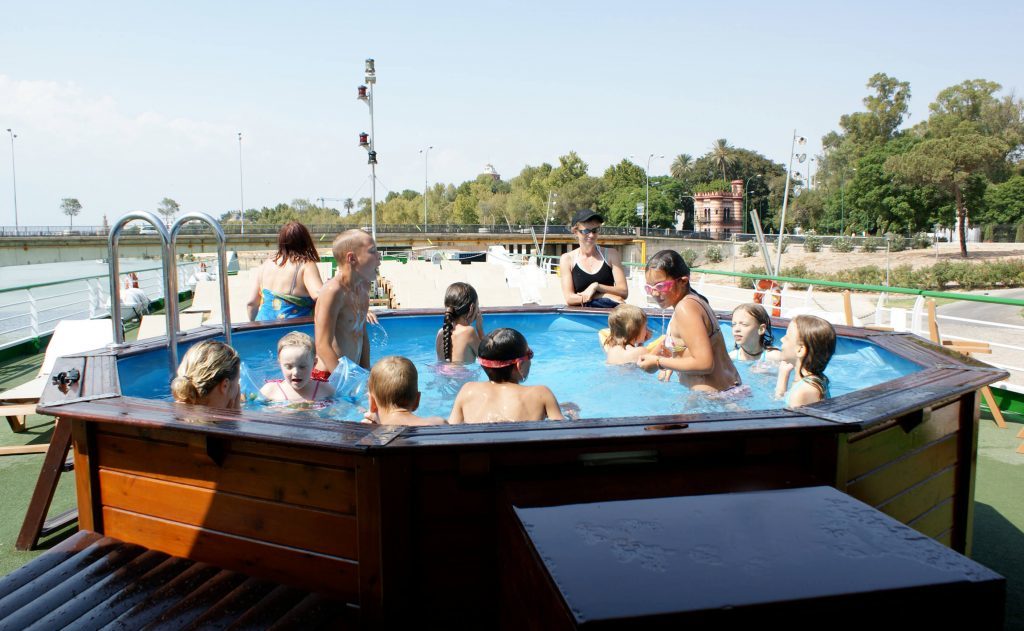 Minimum age to cruise with CroisiEurope: CroisiEurope has no minimum age to sail in Europe. For cruises in Russia, Asia and South Africa, the minimum age is seven years old.
Accommodation: One child can share with two adults. Or children can have the cabin next door from age five.
Child fares: In an odd twist to the norm, kids sail free during the school holidays in July and August on a selection of cruises in Spain, Portugal and Italy. At other times they receive a discount of 20%. For single parents, the single supplement is waived when travelling with children.
Click to visit the CroisiEurope website.
---
2. Uniworld family river cruises
Uniworld offers a boutique river cruising experience. Travel + Leisure magazine has named Uniworld as the 'World's Best River Cruise Line' year after year. But this luxury river cruise line isn't just for adults.
Onboard Uniworld's opulent river boats, families can enjoy activities together, such as local language classes, craft workshops or making desserts with the help of the ship's pastry chef. There's even a Soda Sommelier serving soft drinks from local regions.
Parents can enjoy romantic meals together as children are entertained at the Young Travellers Table along with their new-found friends and Uniworld's dedicated Family Hosts.
There are lots of organised activities for children on-board, so parents get a break too. A lovely touch is that young travellers receive a surprise gift on their pillow each night of the cruise.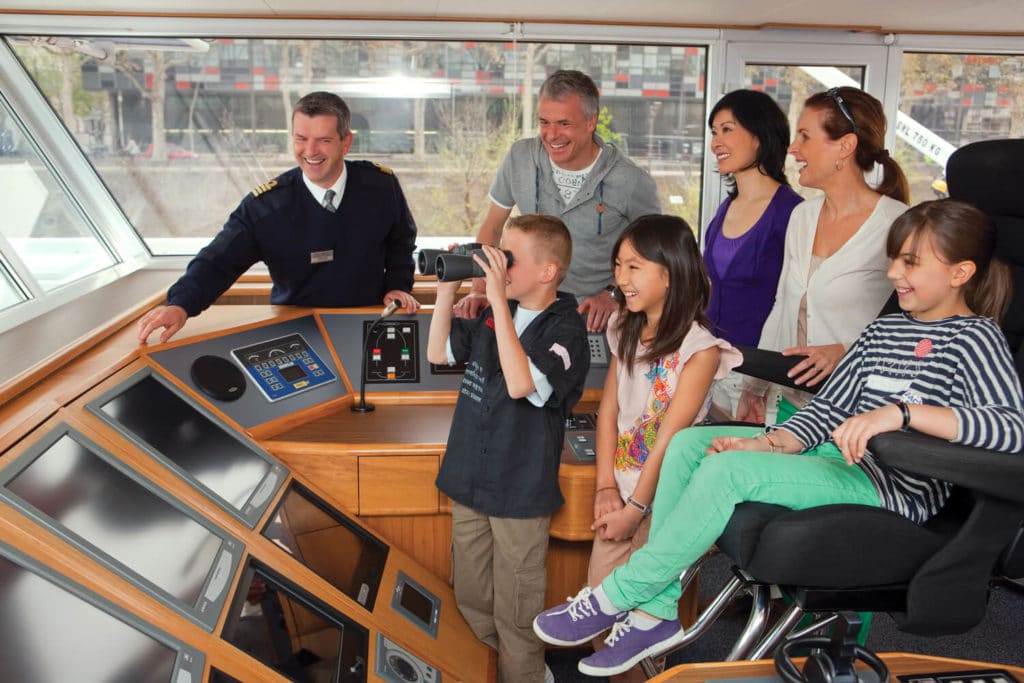 Minimum age to cruise with Uniworld: Children must be four years old or over.
Accommodation: Interconnecting rooms are available.
Child fares: Children aged 4 to 17 get a 25% discount when travelling with an adult (except in suites).
Click to visit the Uniworld website.
---
3. AmaWaterways family river cruises
The launch of AmaWaterways' ship AmaMagna, in May 2019, has really drawn attention to how family-friendly river cruising can be.
This new double-width ship, which sails on the Danube, has a whole host of facilities that kids will love. When the theatre isn't in use, it becomes a cinema showing the latest kids' movies. There are also Playstations and Nintendo Switches as well as board games and, importantly, a decent-sized swimming pool.
Whilst most of AmaWaterways' river boats have bicycles that guests can use ashore, AmaMagna also has child-sized bikes so that the whole family can explore together.
The cruise line has a partnership with Disney, offering 'Adventures by Disney cruises'. Here, you can visit the French villages that inspired the tale Beauty and the Beast, enjoy a magical carriage ride in Budapest and eat breakfast doughnuts shaped like Mickey ears.
You can read more about AmaMagna from Cruise Lifestyle here.
Minimum age to cruise with AmaWaterways: Children must be four years old or over to cruise, but this river cruise line isn't recommended for children under eight years old.
Accommodation: Adjoining cabins provide accommodation for up to five people. Cabins with sofa beds are available for families of four. If you prefer, children under 11 are allowed to share a bed with two adults.
Child fares: Children pay the full adult fare.
Click here to visit the AmaWaterways website.
---
4. Tauck family river cruises
Luxury river cruise line Tauck was one of the first river cruise lines to offer family-friendly cruises and has done so since 2010.
The 'Tauck Bridges' range is available during the summer holidays in July and August each year. These river cruises include a variety of shore excursions that the whole family will love, such as walking in the footsteps of gladiators at the Colosseum, riding an ancient Ferris wheel in Vienna or learning how to make marzipan in Germany.
Tauck is an all-inclusive river cruise line. Holidays with this company include everything, from flights, hotels and airport transfers, to unlimited food and drinks, as well as gratuities. Shore excursions are also included, which makes deciding what to do in each port really easy.
Minimum age to cruise with Tauck: Children must be three years old or over to cruise. Shore excursions also have minimum ages assigned to them.
Accommodation: Cabins with sofa beds accommodate families of up to four people.
Child fares: Children pay the full adult fare.
Click to visit the Tauck website.
---
5. A-ROSA family river cruises
German-owned river cruise line A-ROSA has highly recognisable ships which have a smiling mouth on the front. This cruise line offers lots of opportunities for family-friendly river cruises in Europe.
In the onboard kids' club, youngsters can enjoy activities such as treasure hunts, a pirate day and arts and crafts workshops. The whole crew get involved in entertaining children – they can make pizzas in the ship's kitchen or visit the captain on the bridge.
There is a specially-designed children's menu so you can be sure that even the pickiest of eaters are well catered for. Family shore excursions are available too, visiting local theme parks and animal attractions.
Minimum age to cruise with A-ROSA: Children must be two years old or over to sail and four years old or over to use the kids' club. Cabins with French balconies are not recommended for children under seven years old.
Accommodation: Family cabins have a double bed and two singles. Connecting cabins are also available.
Child fares: Children under 15 travel free of charge, except on the Douro where they receive a discount of 25%.
Read more: 10 reasons to love A-ROSA family cruises
Click to visit the A-ROSA website.
---
What to know before booking a river cruise with children
On most river cruises, there will be much more for children to do during the school holidays – they'll find other children to play with and organised activities.
However, the school holiday periods may be different in other European countries, so check with your chosen river cruise line to find out when's the best time to travel.
River cruise cabins can be quite compact, especially if you have children in with you. Packing light can be a good idea to save space. Plan ahead with a river cruise packing list to ensure you only bring the essentials.
Whilst some river cruises allow young children on board, a river cruise probably isn't the best holiday for babies or toddlers. For one, babies come with a lot of stuff, and there isn't much room for things like pushchairs on board. Also, it's much easier to climb railings on a river cruise ship, so you would need to watch toddlers like a hawk at all times.
Suggested read: What is a French balcony on a ship?
Related Posts: