How amazing is it when you stay on a ship or in a luxury hotel and they've thought of everything?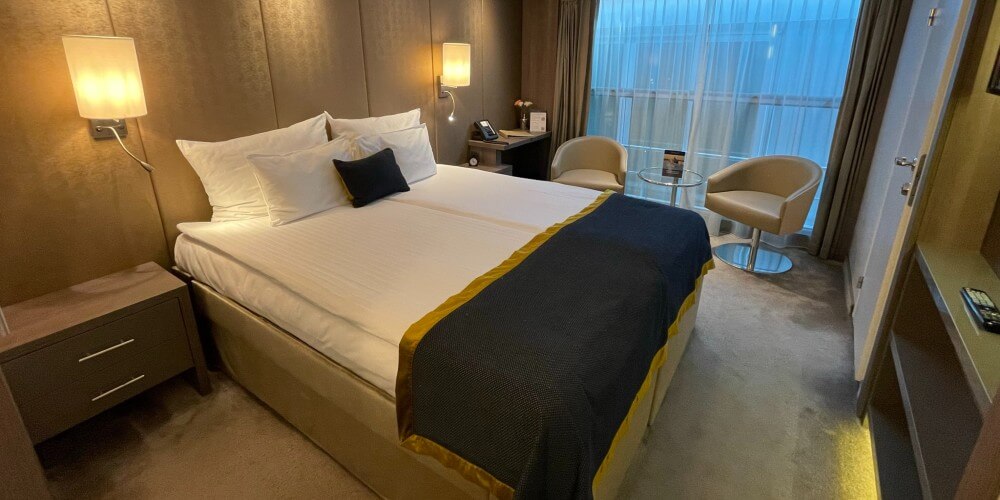 I've been on a couple of river cruises, along with spending time exploring nine river cruise ships over two days, and was blown away by how many thoughtful little touches I came across on board. Some of these cost barely anything to the cruise line but go a long way to show guests how much they're thought of.
Many cruise lines and hoteliers could learn a lot from this, so read on to see what small delights I discovered during my river cruise experiences…
1. Spare Reading Glasses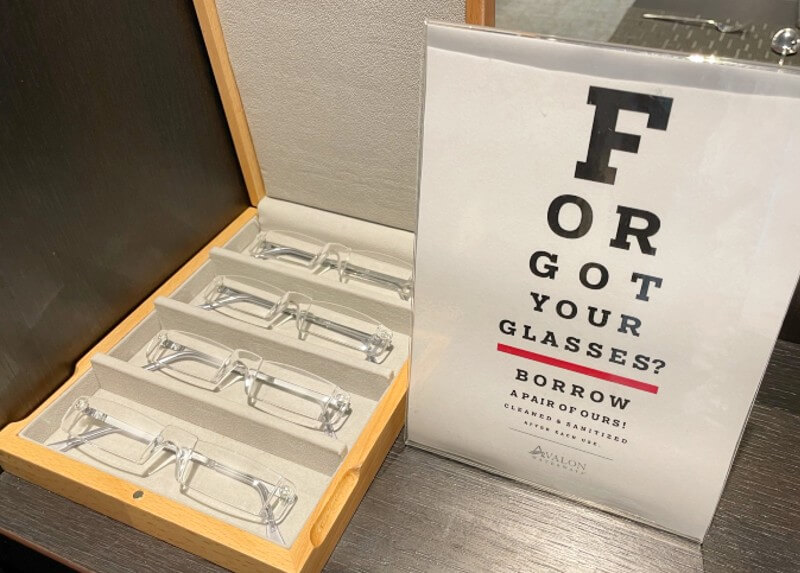 If you wear glasses only for reading, you'll be familiar with the feeling of being handed a menu, only to realise that you've forgotten your reading glasses. Not a problem on an Avalon Waterways ship – you can choose from a selection of freshly sanitised glasses to borrow.
2. Sweets in the Lobby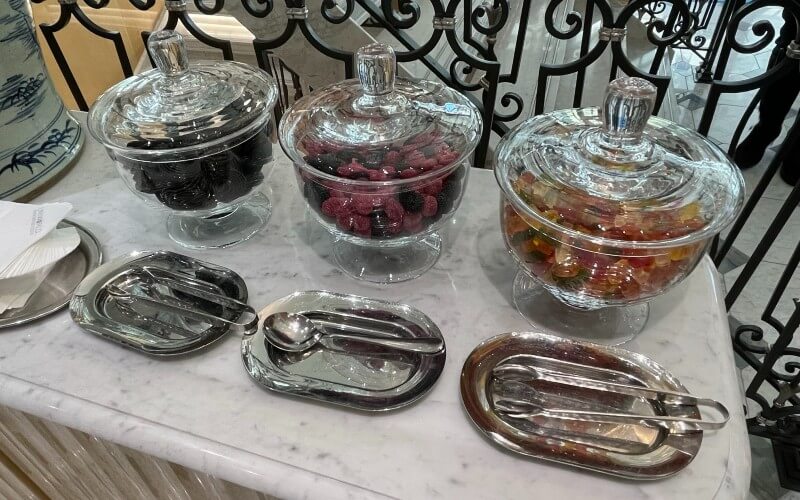 On a Uniworld river cruise, you'll struggle to walk through the lobby without being tempted by this display of gummy sweets and liquorice. There are even little paper bags so that you can take some with you as you head off on your excursions.
3. Fresh Flowers Everywhere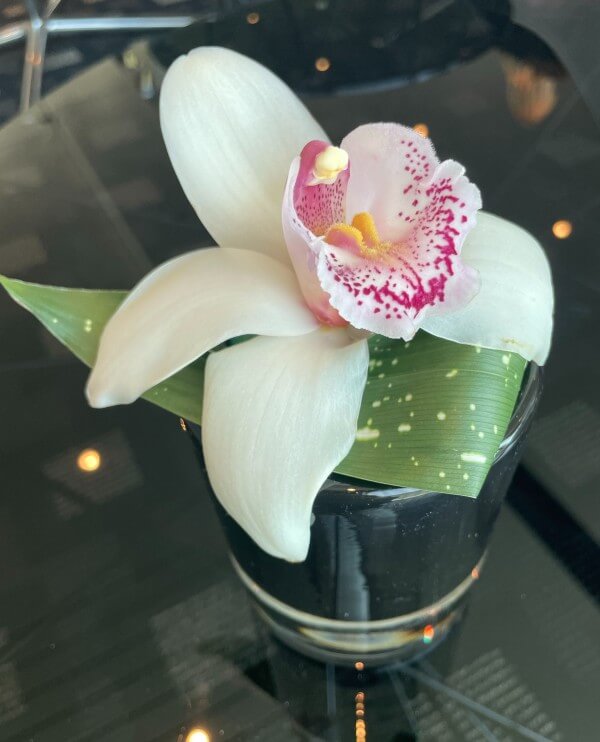 I'm always amazed by the beautiful fresh flowers on river cruise ships – in the restaurants, in the lounge and even in your cabin. They always look so perfect that I think that they must be artificial, but on closer inspection, they're real!
4. Individual Towels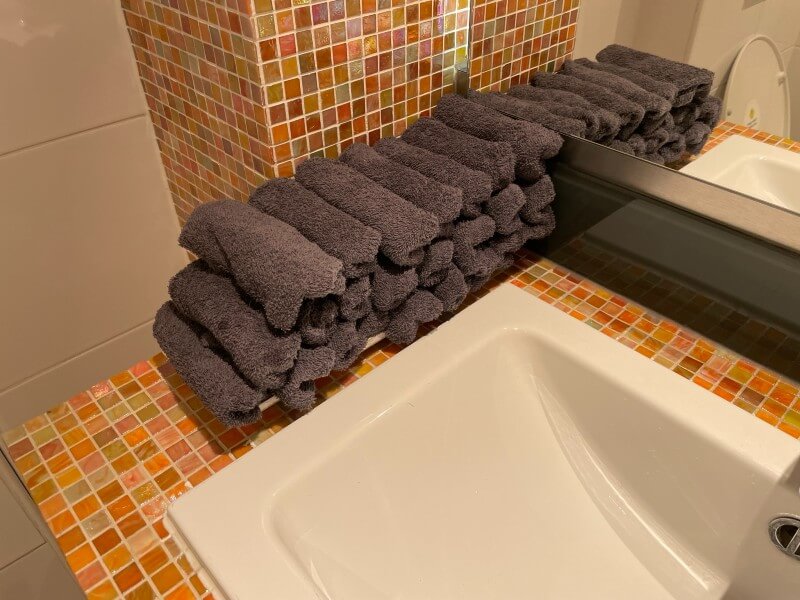 On a river cruise, whenever you visit a public bathroom you'll find individually-folded towels to dry your hands on. This just feels so luxurious! This system would never work on a large ocean cruise ship with the number of people on board, but on a river cruise, it does.
5. Umbrellas by the Door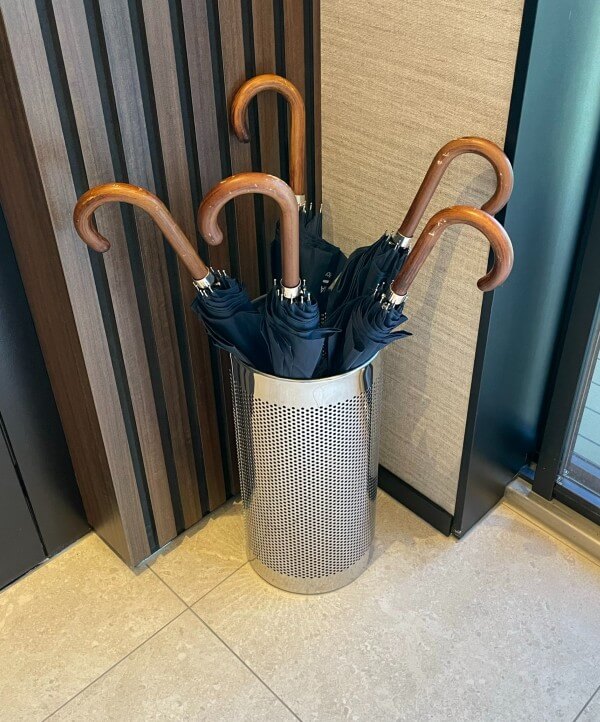 We all know that the weather in Europe can be unpredictable. But that's not so much of a problem when there's an umbrella ready for you to borrow as you leave the ship.
6. Blankets on the Chairs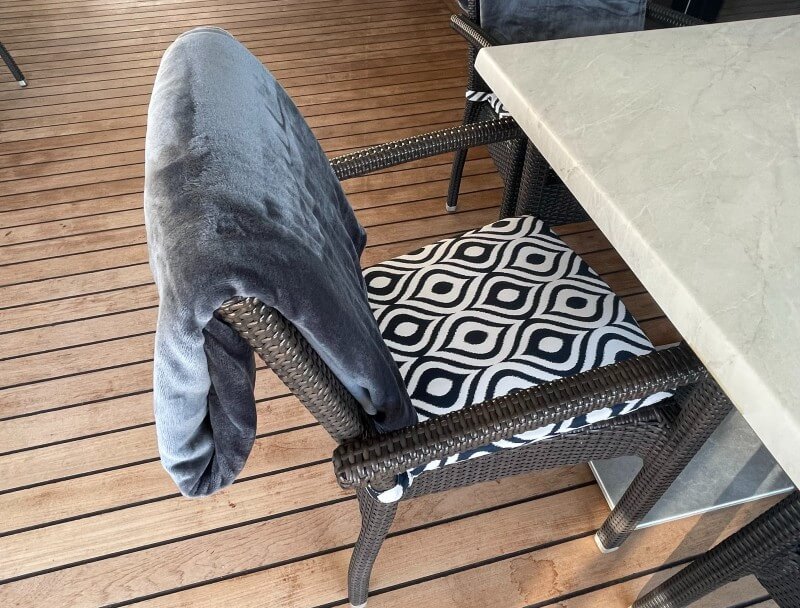 Another thoughtful solution to the inclement weather of Europe is these gorgeous fluffy blankets that are placed on the outdoor chairs so that you can still enjoy sitting outside as the temperature drops. They're so soft!
7. A Cute Message on Your Key Card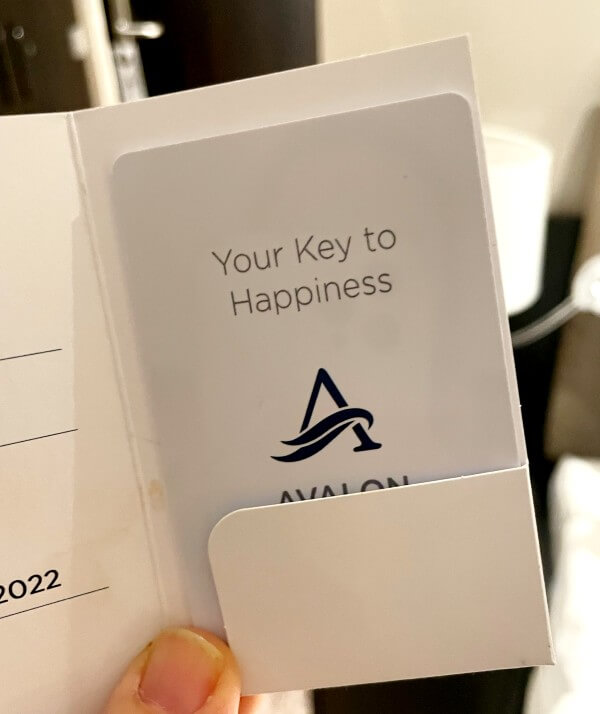 On a cruise, your cruise card really is your key to happiness. I just think it's cute that on Avalon Waterways it says that on the card.
8. Reusable Water Bottles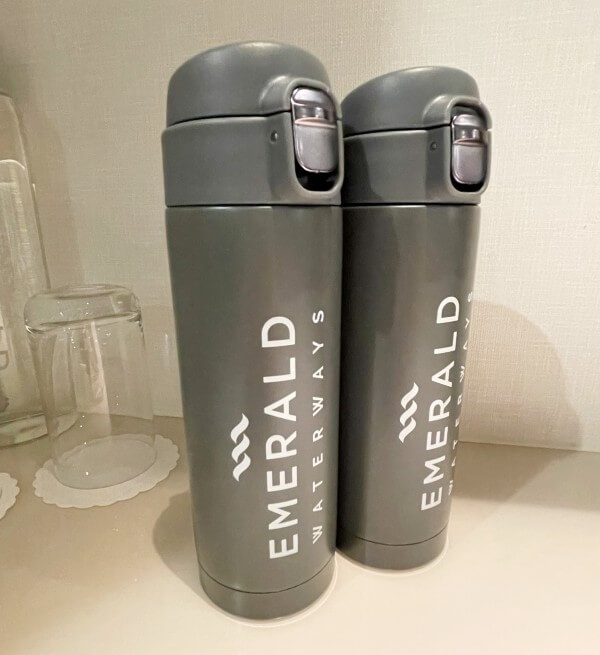 Sustainability is a major focus for the river cruise lines right now. To reduce plastic waste, Emerald Waterways provides every guest with a reusable water bottle that also makes a great souvenir to take home.
Suggested read: Scenic vs Emerald River Cruises: What's the difference?
9. A Handy Desk Drawer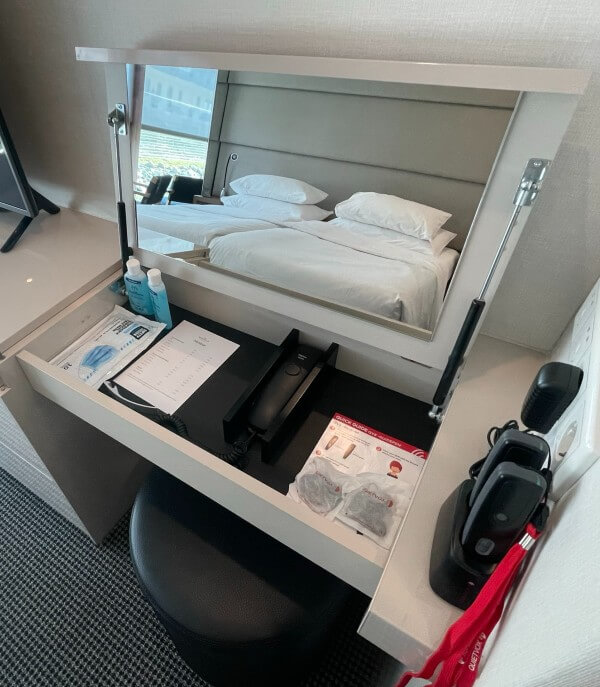 River cruise cabins are carefully designed to maximise the space. This room on a Scenic River Cruises ship has a clever lift-top desk that conceals your room phone and other useful bits and pieces like masks and hand sanitiser. With the added mirror, you can also do your hair and makeup here.
10. Audio Guides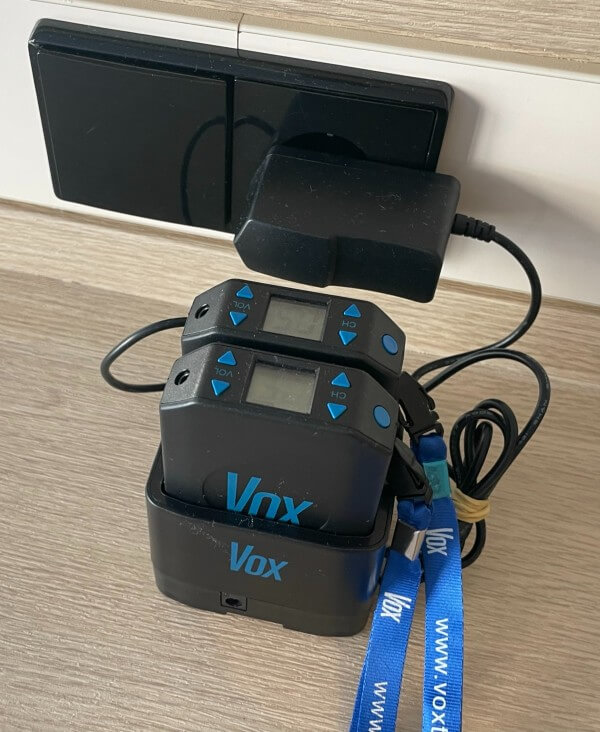 Most river cruises include guided walking tours. To make it easy to hear your guide when you're in a group, you'll be provided with audio guides. Simply plug in your headphones and you can listen to the commentary as you explore.
11. Umbrella and Shoehorn in the Wardrobe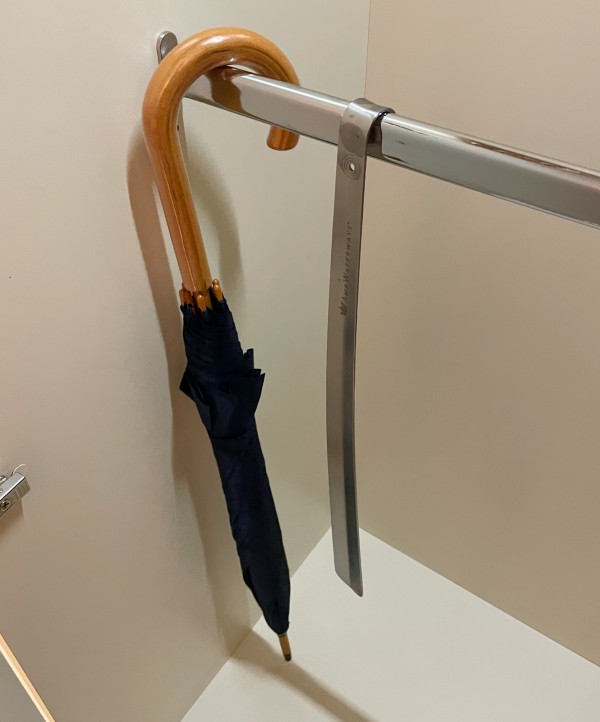 On an Ama Waterways river cruise, it was nice to see that there was an umbrella in the wardrobe in case I needed it. The shoehorn was also a thoughtful addition that takes up no space at all, yet some people would find it to be handy.
12. Slippers, Shoe Polish and Sewing Kit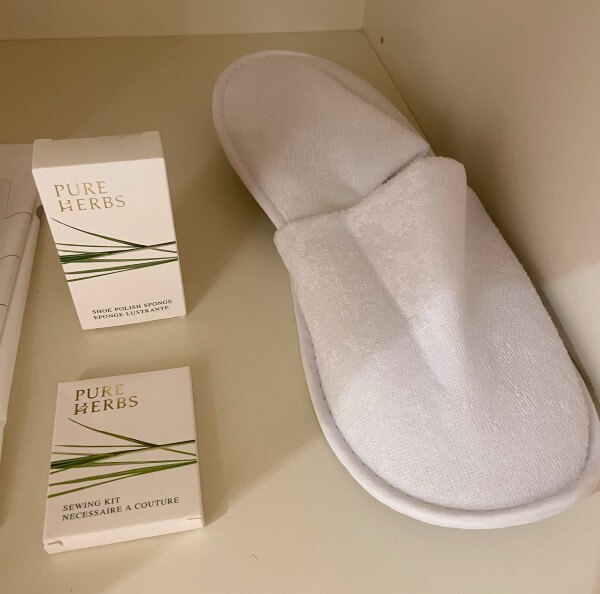 Also in the wardrobe were slippers, a sewing kit and shoe polish. Even if these things aren't in your room, you can always request them from the guest services desk (or your butler if you have one!) But I do prefer when things like this are just there so you don't have to ask.
13. Plenty of Fancy Toiletries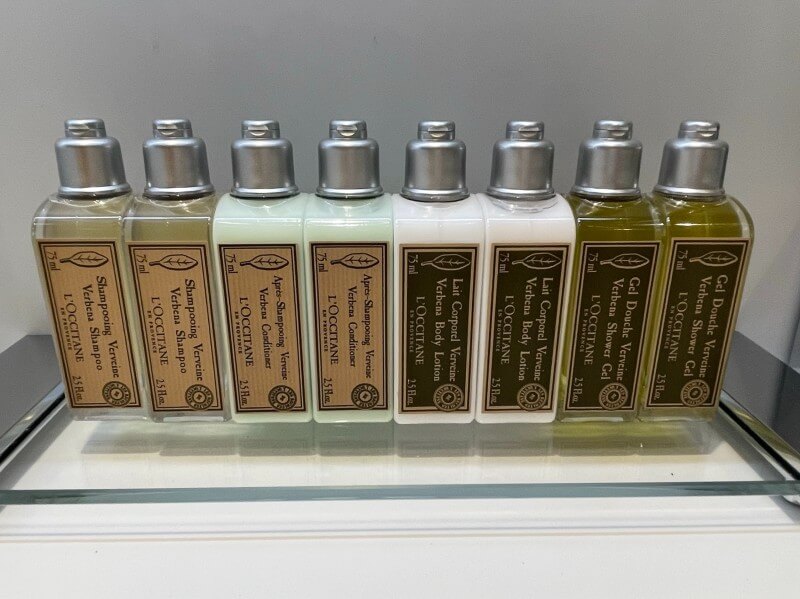 River cruises always come with toiletries and how my heart sings when there's separate shampoo, conditioner and body wash. Nobody likes that three-in-one stuff that you get on most ocean cruise ships! Scenic river cruise ships have L'Occitane toiletries, and lots of them too.
14. Bathroom Bits and Pieces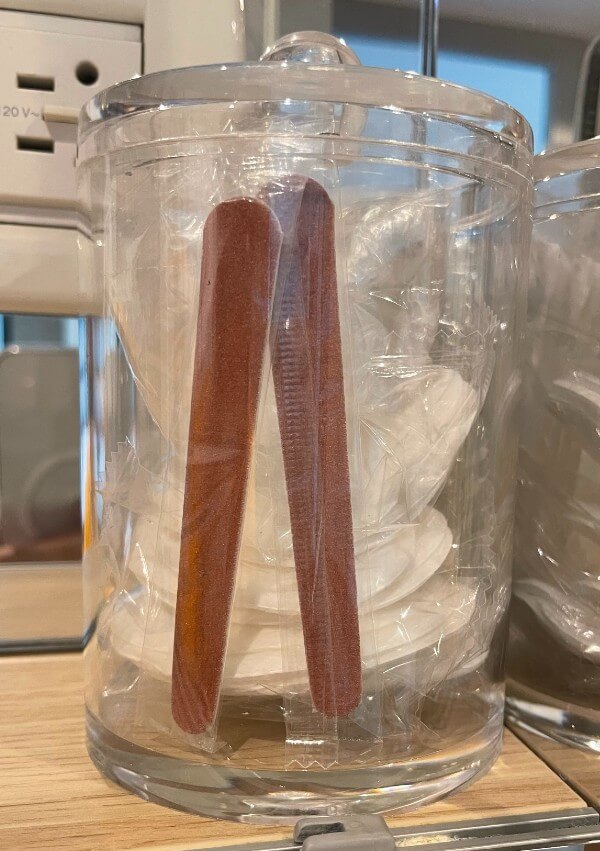 Nail files, cotton wool pads, cotton buds… I'm always in awe of how many thoughtful touches you'll find in your room on a river cruise ship.
15. Kettle in Your Room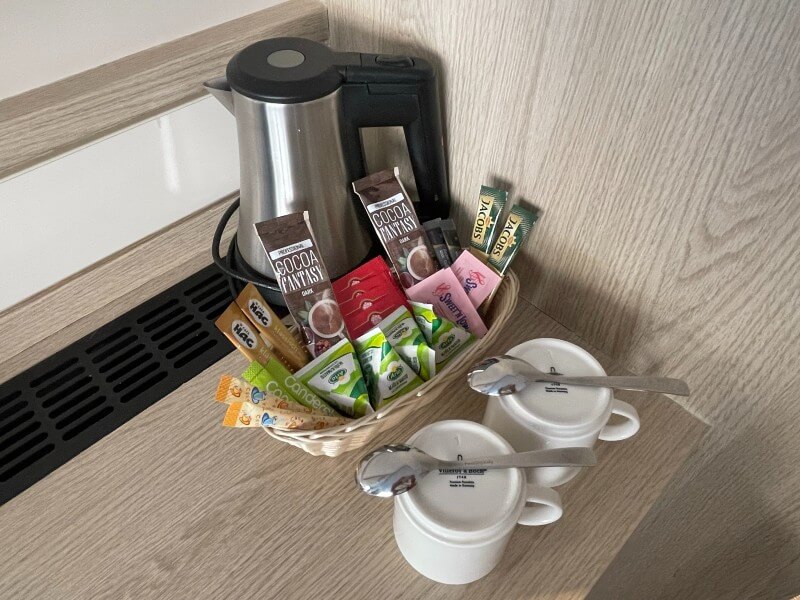 As us Brits appreciate a good cup of tea first thing in the morning or a hot chocolate before bed, you'll find that most river cruises that cater for British guests have kettles in the cabins.
16. Coffee Machine in Your Room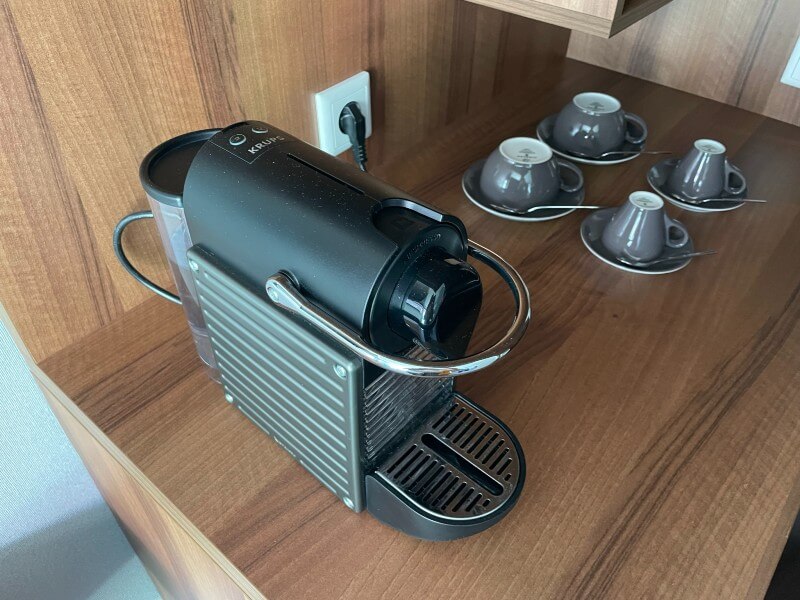 In my opinion, there's only one thing that could be better than a kettle in your room – a coffee machine in your room! Especially when it comes with lots of different pods to choose from. If you need special milk like soy, oat or almond, the staff will be happy to bring this for you too.
17. A Bell Jar of Treats
Imagine returning to your room after a day of exploring ashore to find a glass cloche filled with chocolate-covered strawberries. The delight! Mini pastries, cakes, cookies and canapes are also popular treats for those lucky enough to stay in a suite on a Scenic river ship.
18. Chocolates on Your Pillow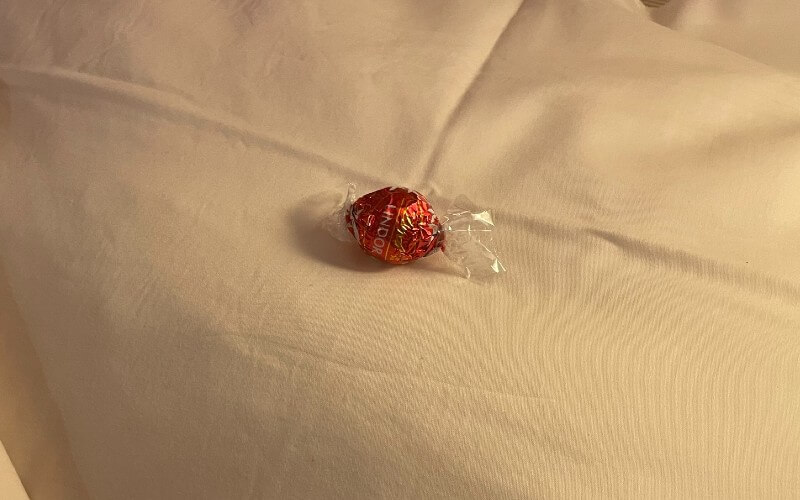 Each night when I returned to my room on A-ROSA Donna my bed had been turned down and there was a single Lindor chocolate on my pillow. Such a nice touch!
19. Earplugs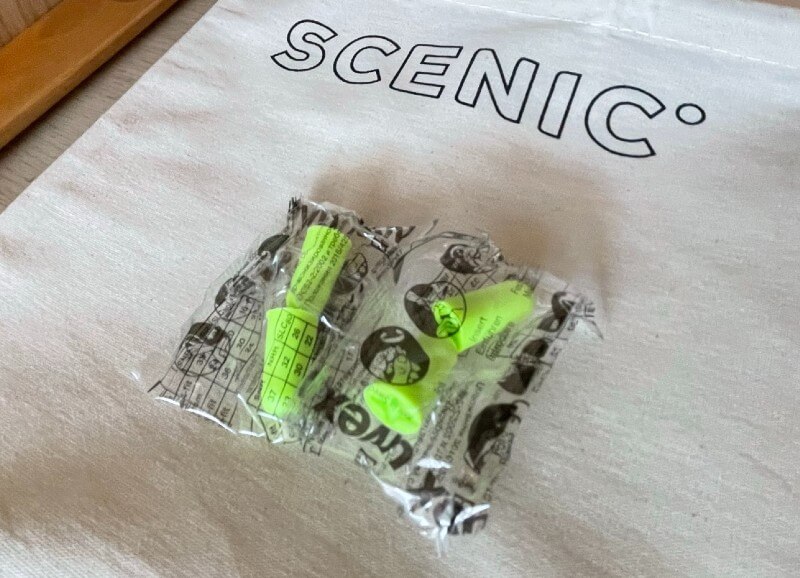 Oftentimes, you only realise that you need earplugs when it's the middle of the night – and that's not the best time to go and source some! That's why Scenic river cruise ships have them in your cabin, just in case.
20. A Note from Your Cabin Assistant
A little card from your cabin assistant allows you to call them by name whenever you need anything. On the back, you may find some suggestions for the different things you can request, such as different pillows.
21. A Pre-Breakfast Appetiser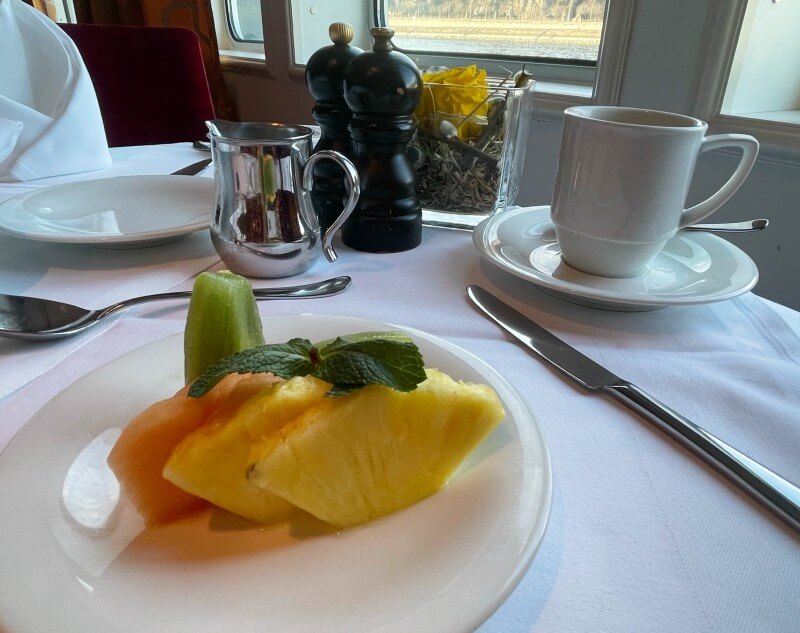 On a recent Ama Waterways cruise, as I perused the breakfast menu the waiter brought me a plate of fruit. 'Some vitamins, while you browse?', he offered. What a lovely way to start the day right!
22. Thoughtful Buffet Options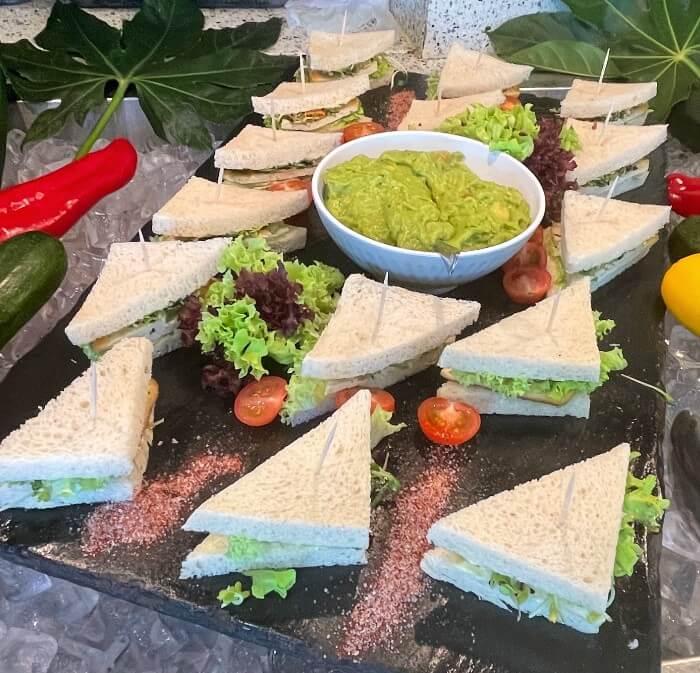 It would have been easy for the A-ROSA chefs to put the smashed avocado and tomatoes inside the tofu sandwiches. But not everyone likes avocado and tomatoes. How thoughtful to have this separate so that you can add it if you wish.
23. A Selection of Spices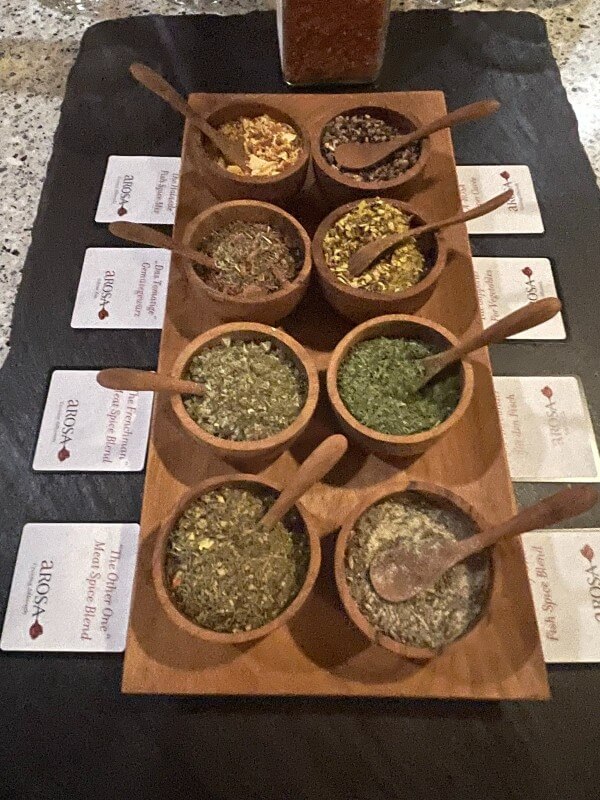 On an A-ROSA cruise, your food will never be bland with this selection of spices that you can help yourself to. You can add these to soups, stews and salads to give your meals a unique flavour to suit your own preferences.
24. All of the Teas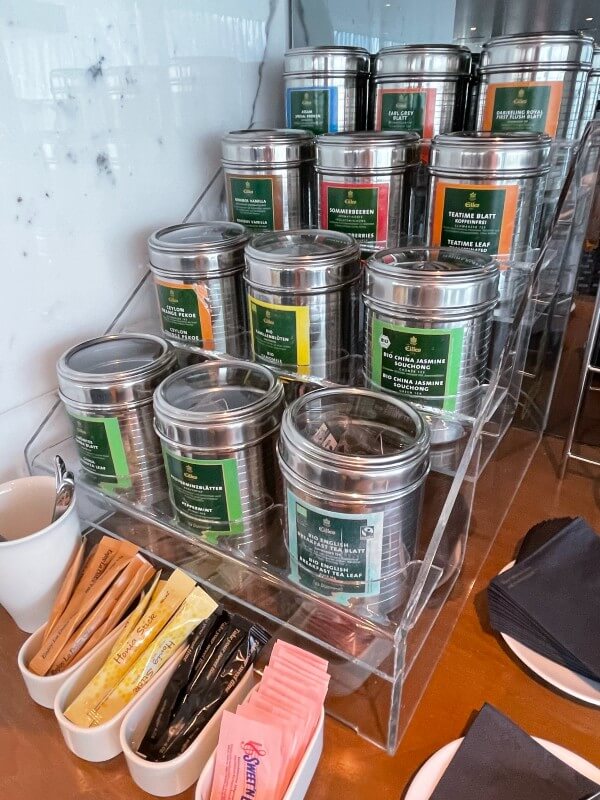 On river cruise ships there's always an area where you can help yourself to tea and coffee throughout the day. With so many different teas to choose from as well as a coffee machine that makes many options, you may have a problem deciding which to go for!
25. Books to Borrow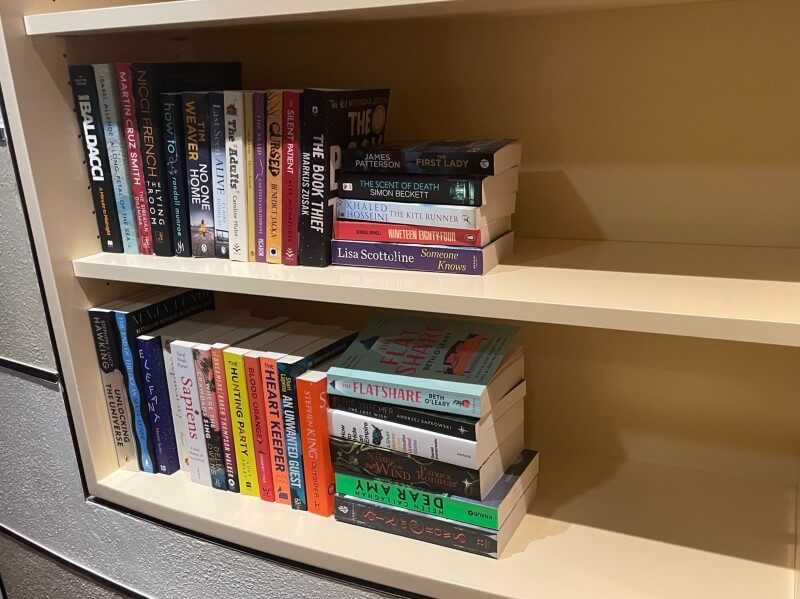 Most river cruise ships have a library on board with books you can borrow. However, I particularly like this mini-library on board A-ROSA Donna. You can donate your own books when you've finished them or swap them for one on the shelf.
26. Games and Puzzles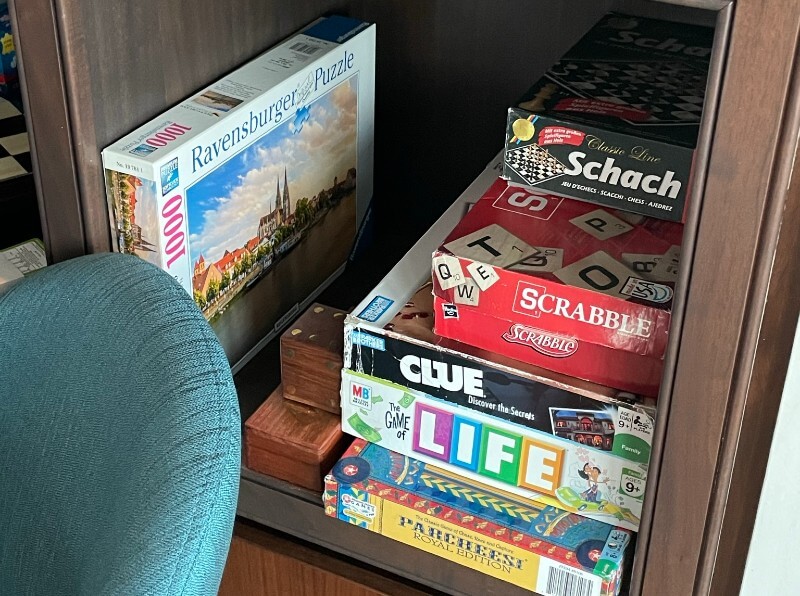 You probably won't have time to play games on your river cruise, but if you do, you'll be sure to find a stack of games that you can borrow should you wish to.
27. Sunlounger Shades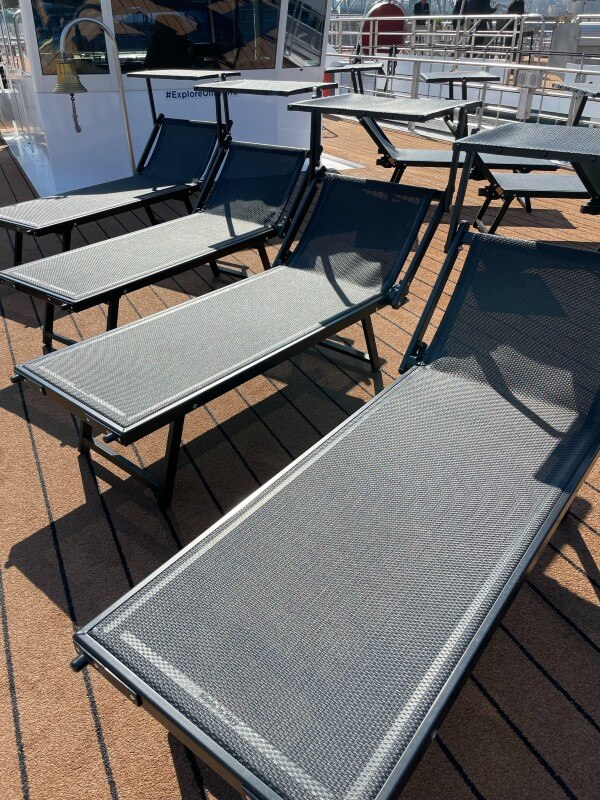 Want your body in the sun but your face in the shade? No problem! Honestly, I wish that all sunloungers came with this extra part that shields your eyes from the sun so you can read your book more easily!
To Conclude
If you're used to taking ocean cruises, then I have no doubt that you'll be pleasantly surprised with some of the thoughtful little touches that you'll find on river cruise ships. With fewer than 200 guests on board and a higher staff to guest ratio, the crew members have the time to make sure that everyone is really well looked after.
Now if you're wondering how much a river cruise costs to make all of this possible, then you may be pleasantly surprised by the answer.
I have that information for you here: How Much Are River Cruises?
Related Posts: