Avalon Waterways and Viking River Cruises are two popular river cruise lines, each offering a range of cruises along the waterways of Europe and Asia. But how do these two companies compare if you're choosing between them?
Viking and Avalon Waterways may seem to offer a similar experience at first glance. However, when you take a closer look you'll see that there are some key differences that are likely to sway your decision.
Read on to find out which is the better choice for your next river cruise…
Comparing Avalon Waterways and Viking River Cruises
Ships
River cruising's biggest difference from ocean cruising is the size of the cruise ships, which usually accommodate fewer than 200 passengers per ship. This allows for more intimate getaways with small groups in the dining venues and lounges on-board, as well as attending shore excursions while in port.
But within the river cruise industry, the different lines have some key differences in the design of the ships. So, let's take a look at how Avalon Waterway's ships compare to Viking's river ships.
Avalon Waterways' ships
Avalon Waterways has 20 ships to choose from in its portfolio, including 13 owned 'Suite Ships' which are based in Europe. There are also three owned ships that reside in Asia, alongside five ships that are chartered for use in China, South America and India.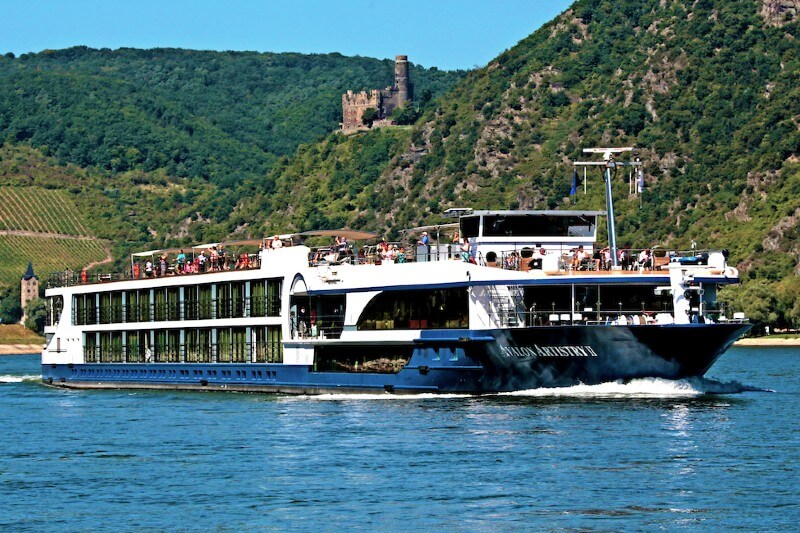 Avalon Waterway's European river cruise ships each have a guest capacity of either 128 or 166. They're all fairly new, entering service between 2011 through 2019.
The Asia-based ships are much smaller, accommodating just 36 passengers and entering service between 2015 and 2017. The chartered ships vary in capacity, from 32 passengers to 392.
On European cruises, Avalon Waterways' cabins offer spacious accommodations with 24/7 open-air access and bigger views than most. Beds are configured to be facing the windows for the best views.
Avalon's 'Suite Ships'. in particular. offer something very special indeed. These have the widest opening windows in river cruising with the industry's only 'Open-Air Balcony'. Opening up to eleven feet wide, these huge windows make the room feel like a balcony.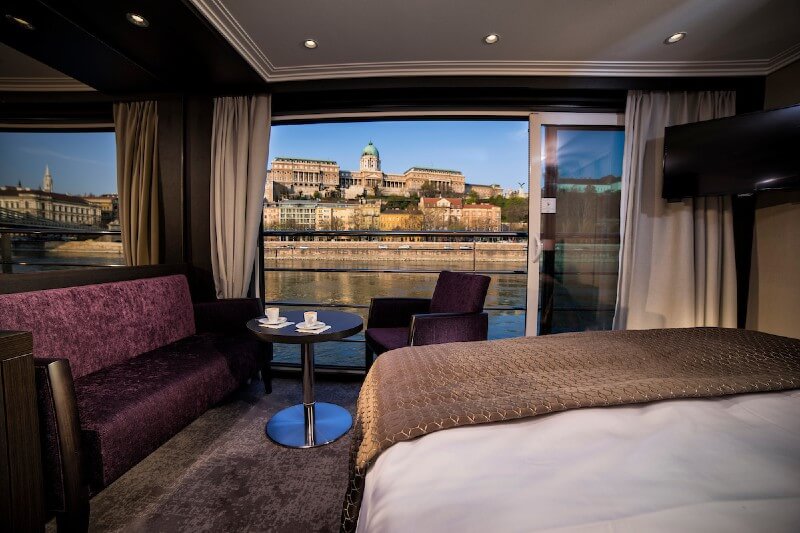 Viking river ships
Viking River Cruises has an incredible fleet of 77 ships in its portfolio in 2022, 55 of which are the iconic Viking Longships that sail in Europe. A further ten ships are also based in Europe, sailing along the Elbe, Douro, and Seine rivers, as well as Viking Saigon which sails on the Mekong River.
Five ships are chartered for use in destinations such as Russia, Ukraine and Egypt. There's also another ship due to debut in 2022 – Viking Mississippi – to sail along the renowned American river.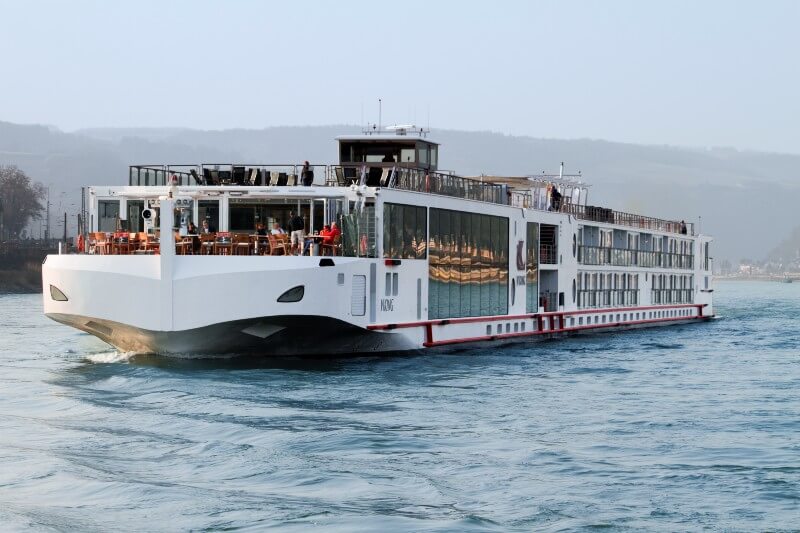 The Viking Longships carry 190 passengers and include some of the largest suites on Europe's rivers as well as the most al fresco dining opportunities. Their design is patented, offering a maximised passenger capacity by redesigning hallways and the bow to increase space on board.
During a rapid expansion of this class of ship, Viking christened 16 ships over two days in 2014, meaning it made the Guinness Book of World Records.
There's a choice of accommodation on board each Viking ship, ranging from Scandinavian-designed staterooms to luxurious Explorer Suites affording 270-degree views.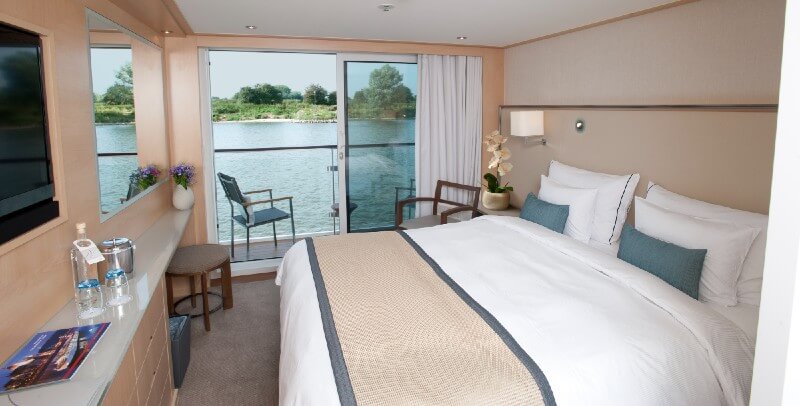 Destinations
Both Viking and Avalon Waterways offer the majority of their river cruises in Europe. The most often cruised rivers include the Rhine, the Danube, and the Douro, but both Avalon and Viking offer a wider selection for guests to choose from.
The following table shows how many cruise itineraries are available for each destination or river.
Note that this information is correct as of January 2022. Please check the cruise lines' websites for the latest availability.
| Destination | Avalon | Viking |
| --- | --- | --- |
| Rhine | 94 | 11 |
| Danube | 82 | 7 |
| Rhone | 37 | 2 |
| Main | 27 | 5 |
| Seine | 21 | 2 |
| Moselle | 12 | 4 |
| Douro | 0 | 2 |
| Elbe | 0 | 2 |
| Mississippi | 0 | 5 |
| France | 26 | 8 |
| South America | 6 | 0 |
| Asia | 4 | 1 |
| Egypt | 2 | 1 |
| Russia | 0 | 1 |
Avalon Waterways destinations
Avalon Waterways covers the most popular European rivers such as the Rhine, Main and Danube, as well as sailings along the Mekong through Cambodia and Vietnam; India's Ganges River; and the Amazon River, as well as the unique Galapagos Islands in Ecuador.
Viking river cruise destinations
While the number of itineraries appears to be smaller with Viking than Avalon, Viking offers more choices of sailing dates thanks to the sheer size of the fleet, 55 of which are based in Europe alone!
Viking covers all of the most popular rivers but doesn't visit South America or India. However, Viking does features itineraries along the Elbe and Douro rivers, as well as destinations including Russia and Ukraine, which cannot be reached on a cruise with Avalon Waterways.
Food
Both Viking River Cruises and Avalon Waterways include a wide variety of dining options to cater to all tastes. Wine, soda and beer are included at lunch and dinner with both cruise lines, although Avalon cruises also include the option of complimentary sparkling wine with breakfast!
As well as the main dining room, each line also offers alternative dining venues so you have a choice of where to eat during your sailing.
Avalon Waterways food
Avalon Waterways prides itself on offering fresh, local food on its menus. The cruise line has an initiative in partnership with Austrian brothers, Leo and Karl Wrenkh – leading chefs in the healthy-dining movement – to offer a program named 'Avalon Fresh'. The selections available on this option include wholesome yet satisfying dishes to provide fresh and healthy meals.
The cruise line also introduced the 'FlexDining' approach to onboard dining, removing the need for restrictive seating and limited settings.
Dining experiences include welcome and farewell cocktails and canapes, daily a la carte breakfast and a lunch that includes regional specialities and Avalon Fresh options.
Dining options on Avalon Waterways ships include BBQ-style al fresco dining on the Sky Deck (weather permitting), lunch in the Panorama Lounge, four-course dinners in the Panorama Dining Room and daily afternoon tea. There's also complimentary room service available for continental breakfast.
Viking food
Viking focuses on pairing the destinations with the menus aboard your ship, providing an enriching culinary experience. There are two venues to dine on most Viking ships: The Restaurant which is the main dining venue and the Aquavit Terrace which is the alfresco venue.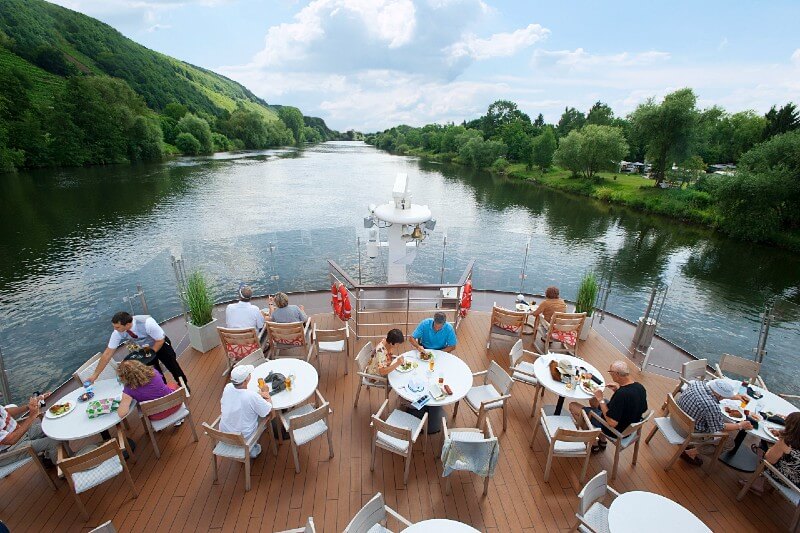 The Restaurant offers regional cuisine with classic dishes featuring locally-sourced ingredients. The Aquavit Terrace is a revolutionary venue that offers the most stunning views while al fresco dining on Europe's rivers. You can dine here for breakfast or lunch in an inviting space that's perfect for a sunny day.
Just like Avalon Waterways, Viking also offers both welcome and farewell cocktails. Ships also feature an outdoor herb garden and a selection of regional wines to further your dining journey on board.
Activities and Entertainment
As river cruises are generally focused on the destinations you visit, the onboard amenities are nothing compared to what you'd expect to find on ocean cruise ships. However, both Viking and Avalon Waterways do offer a range of things to do on board.
Viking river cruises are strictly for adults only and all guests must be aged 18 or older. As for Avalon Waterways, children aged eight and over are permitted on board, but there are no dedicated activities or facilities for kids. If you're planning a river cruise with kids, I suggest you read this guide to the best river cruise lines for families.
Things to do on an Avalon river cruise
Avalon Waterways includes a few activities on board its ships to enjoy in the daytime. There's a state-of-the-art Fitness Centre to keep you active while sailing, as well as a Club Lounge Library with books, cards, and board games. There's also complimentary wifi provided throughout the ship and computer stations.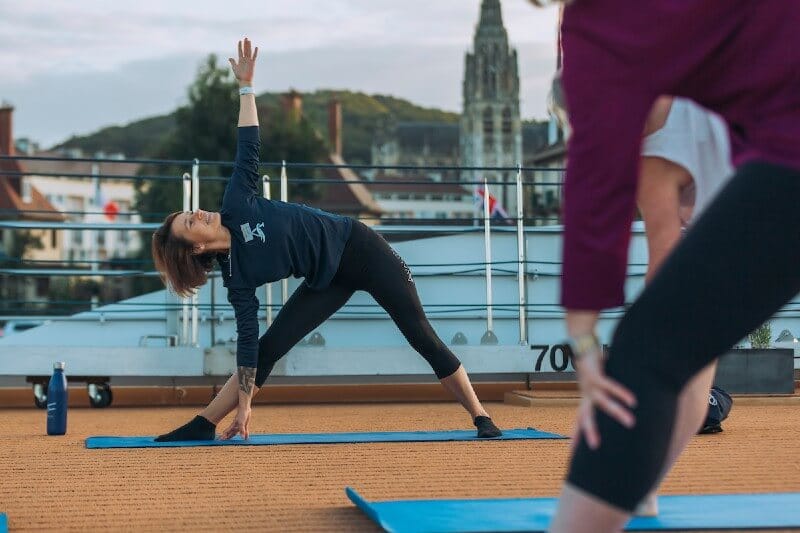 On the Sky Deck, you can find premium lounge chairs, a whirlpool and a game area. The Club Lounge offers 24-hour self-serve beverages including complimentary cappuccinos, lattes, hot chocolate and a selection of teas and cookies throughout the day.
In the evenings, the Panorama Lounge offers cosy seating, panoramic windows and a dance floor. There's also the Observation Lounge where you can enjoy premium spirits in an upscale bar setting.
Things to do on a Viking river cruise
Viking also offers a selection of onboard activities to keep guests entertained while sailing or docked. There's a walking track and sports deck, alongside a curated library featuring destination-focused reading all hand-selected to enhance your experience.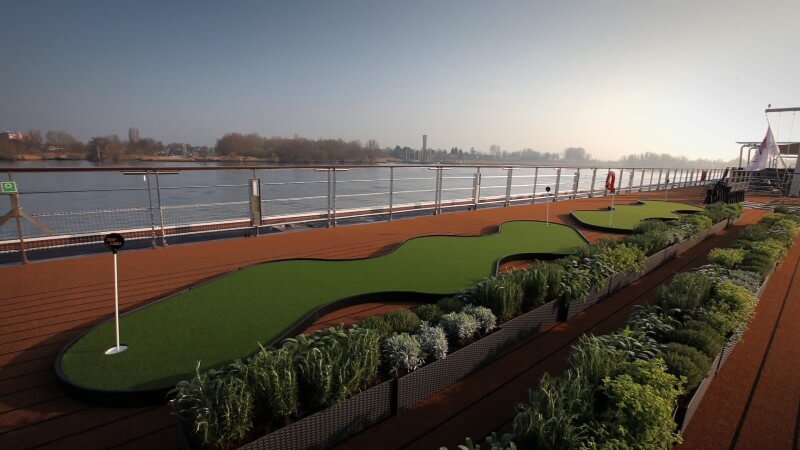 Each destination also has a series of short films which can be viewed in your stateroom at any time to suit you. These provide unique insights into the destinations in your itinerary and deepen your understanding. Viking emphasises this knowledge with guest lectures and port talks, designed to shed light on the region's culture and history. They also provide information on your upcoming port must-sees and highlights.
Viking invites local artisans on-board to demonstrate their crafts such as glass-blowing or lace making. There are also culinary demonstrations that present a collection of treats and drinks to immerse you in the destinations.
For the evenings, each Viking itinerary includes one or more Destination Performances which feature some of the most cultural arts from the region. Alongside these, local ensembles and acclaimed choirs are invited on board to perform for further enrichment.
Price
Both Avalon Waterways and Viking river cruises are similar in terms of price and value, though this can depend on unique offers and sailing dates.
However, one important distinction to make is that the price of Viking river cruises usually includes flights, transfers, taxes and fees. So while a Viking river cruise can look more expensive, the overall price that you pay once everything's included may be lower than with Avalon Waterways.
The price of Avalon Waterways river cruises
An eight-day Rhine cruise sailing from Amsterdam to Basel with Avalon Waterways starts at £1,435pp, based on an Avalon Deluxe Stateroom at double occupancy.
Viking river cruises include:
Accommodation
All meals
Wine, beer and soft drinks with lunch and dinner
Excursions
Wifi
Shore excursions
Bicycles to use in selected ports
Onboard gratuities
Not included:
Flights
Overseas transfers
Taxes and fees
The price of Viking river cruises
An eight-day Rhine cruise sailing from Amsterdam to Basel with Viking starts at £1,845pp, based on Standard Stateroom at double occupancy.
Viking river cruises include:
Return flights from regional UK airports
Overseas transfers
Accommodation
All meals
Wine, beer and soft drinks with lunch and dinner
Wifi
Shore excursions
Onboard gratuities
Taxes and fees
Not included:
Bicycles (can hire locally)
You can see how the price of Viking and Avalon Waterways river cruises compare to other river cruise lines in this guide: How Much Are River Cruises?
The Verdict
While the differences between the two cruise lines aren't huge, Avalon Waterways and Viking River Cruises do offer slightly different experiences.
Viking River Cruises is the most famous of all river cruise brands, with the most ships. You're sure to pass a Viking Longship or two whenever you take a cruise on one of Europe's waterways. While Avalon isn't as well-known, the company has been in existence since 2004 and offers a good alternative for luxury travel lovers.
Avalon offers a wider range of destinations outside of Europe than Viking. It's also a better choice for those with special diets as there are plenty of vegetarian and vegan options – something which you may struggle with on a Viking river cruise.
Avalon Waterway's ships are also more innovative, with floor-to-ceiling panoramic windows that open wide to give the feeling of a private balcony.
But, before you get swayed by the luxury of Avalon Waterways, be sure to consider the price of the extras you'll need. Flights and transfers aren't included so your cruise price will surely rise once you add these on.
Related posts: