Are you wondering whether to choose Scenic or Emerald for your next river cruise? I've enlisted the help of river cruise expert Jenny Cookman from River Cruising with Jen to explain how these two brands differ and help you decide which to choose…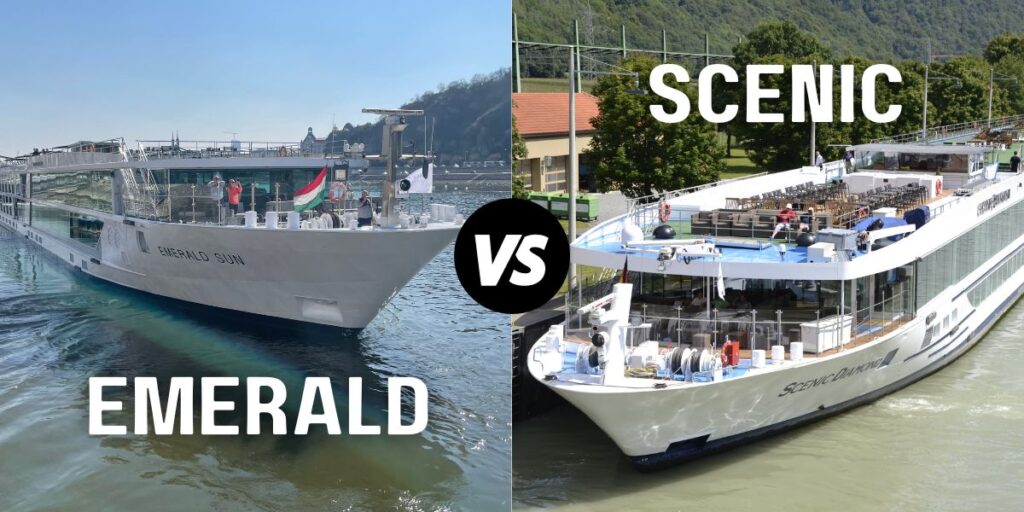 Jenny writes…
Choosing between Scenic and Emerald
Scenic Luxury River Cruises and Emerald River Cruises are sister brands owned by the Scenic Group. Both offer exceptional experiences.
I've been lucky enough to sail with both and the ship designs and attention to detail are outstanding. A common factor, with both brands, is the fantastic staff who work hard to create an unforgettable experience for guests.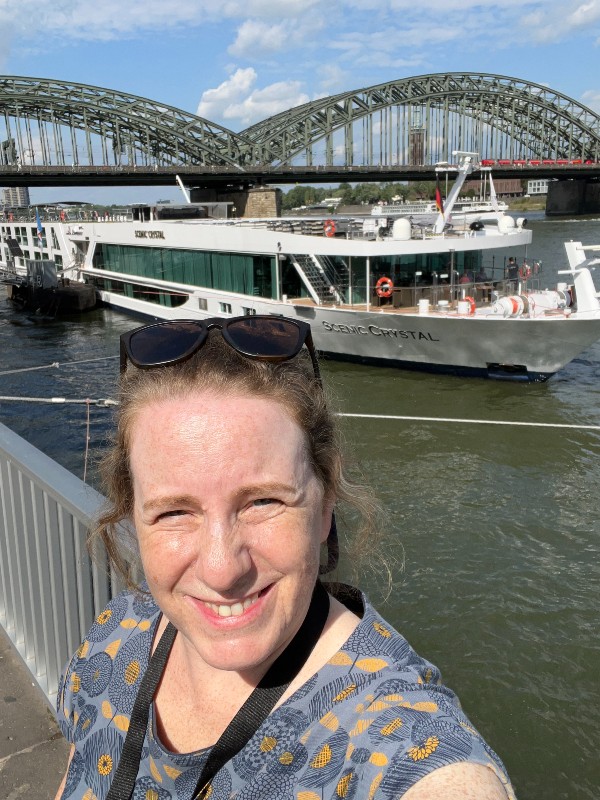 So, what is the difference between Scenic and Emerald? In this blog, we'll delve deeper into the similarities and differences between the two brands to help you make an informed choice for your next river adventure.
Ultra Luxury vs Luxury
Scenic and Emerald both offer beautiful five-star ships. Scenic offers an ultra-luxury, all-inclusive option while Emerald offers a luxury experience with an eye for greater value and with slightly less included. Emerald offers the best of both worlds; with a lower price tag, you'll still be onboard some of the most luxurious ships on the rivers.
Emerald = Luxury
Scenic = Ultra-Luxury
Glen Moroney, the owner of Scenic, told River Cruise Advisor that Emerald is a "four-star product operating on five-star hardware." Scenic sits in the ultra-luxury space while sailing with Emerald is a luxury experience.
History of the Brands
Providing a high standard of luxury tours for many years, a natural next step for Scenic Tours was to join the world of river cruising. In 2006 they began to charter ships along Europe's rivers. These itineraries proved very popular with guests and quickly sold out.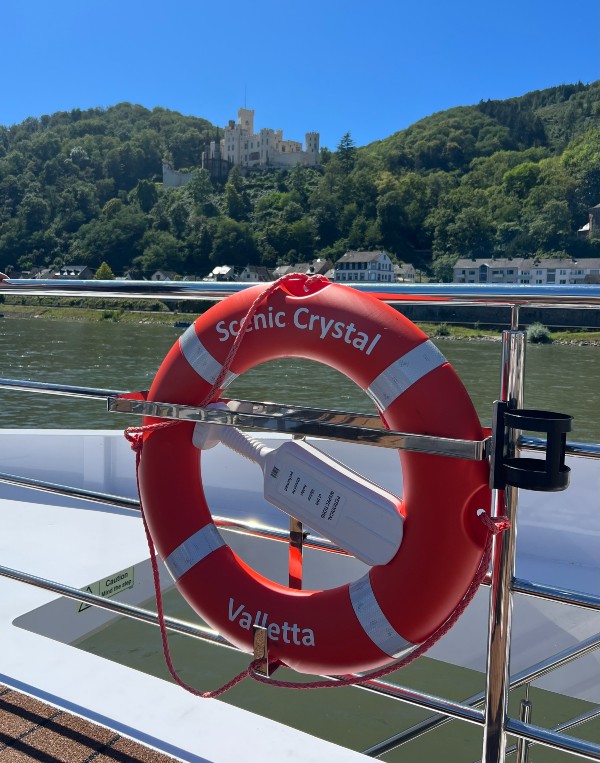 With a desire to create ships tailored to the Scenic guests' needs and expectations, they designed and commissioned the Scenic Space-Ships. In 2008, the first in the new fleet were Scenic Sapphire and Scenic Emerald. Flooded with natural light at every turn, it's easy to see why the name Space-Ships was chosen.
Emerald, the sister brand of Scenic, was introduced in 2014. The intention was to combine innovative design with the promise of exceptional value for money. Emerald Star-Ships were born. The pioneering swimming pool that converts into a cinema at night is the most impressive pool that I have seen onboard a river ship.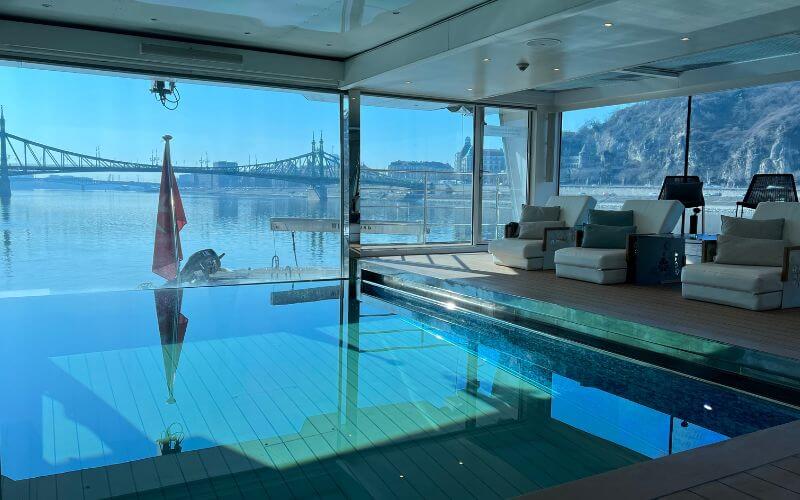 Emerald was the first river cruise line to introduce Activity Managers on board their European Star-Ships. These dedicated team members facilitate the Emerald Active programme, giving guests the opportunity to stay active while on board with fitness classes, including yoga and aqua aerobics.
In 2017, Scenic became the first and only river cruise operator to feature Salt Therapy Lounges on Scenic Diamond and Scenic Sapphire in France. In 2019, due to popular demand, these were added to the ships on the Rhine, Main and Danube rivers.
My experiences
It has been a privilege to sail on the Scenic Azure on the Douro, the Scenic Crystal on the Rhine, and the Emerald Sun on the Danube.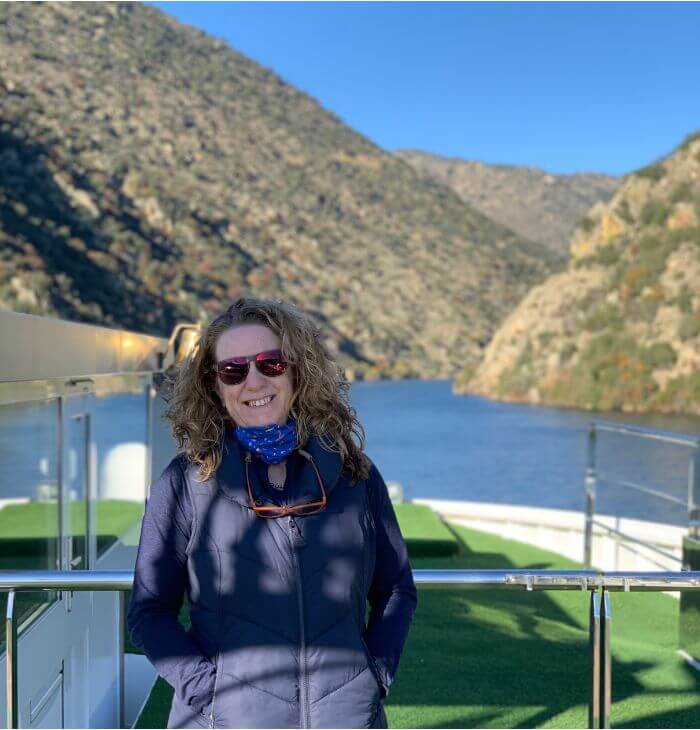 You can read my review of the Scenic Crystal here.
All three ships are beautiful with elegant, contemporary decor and fantastic use of natural light.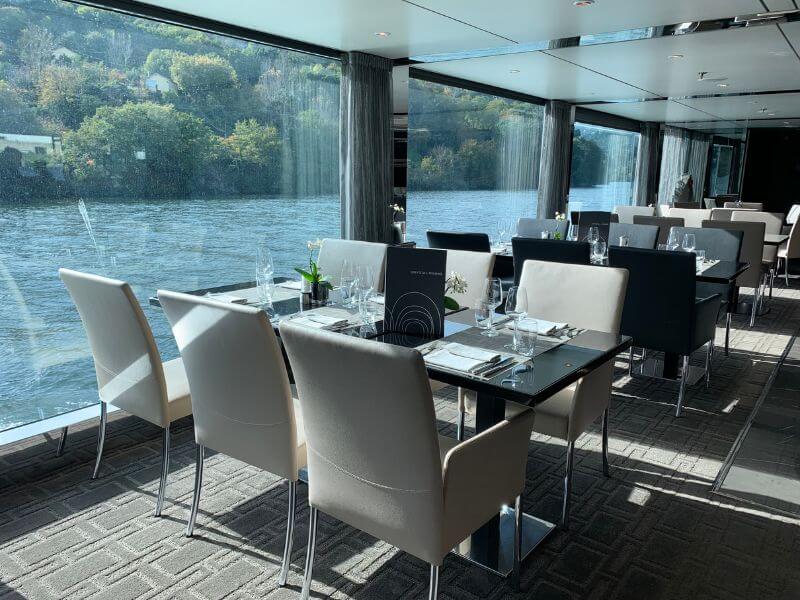 I love the innovative Scenic Sun Lounge – a balcony area with a floor-to-ceiling retractable window, opening to allow uninterrupted river views and fresh air.
Dining is an important feature on a river cruise and there is an emphasis on exceptional food, often with a local theme. I can personally confirm that the food was delicious on all three ships. I enjoyed the option of room service from our personal Butler on the Scenic ships, allowing for a relaxed lunch in my room.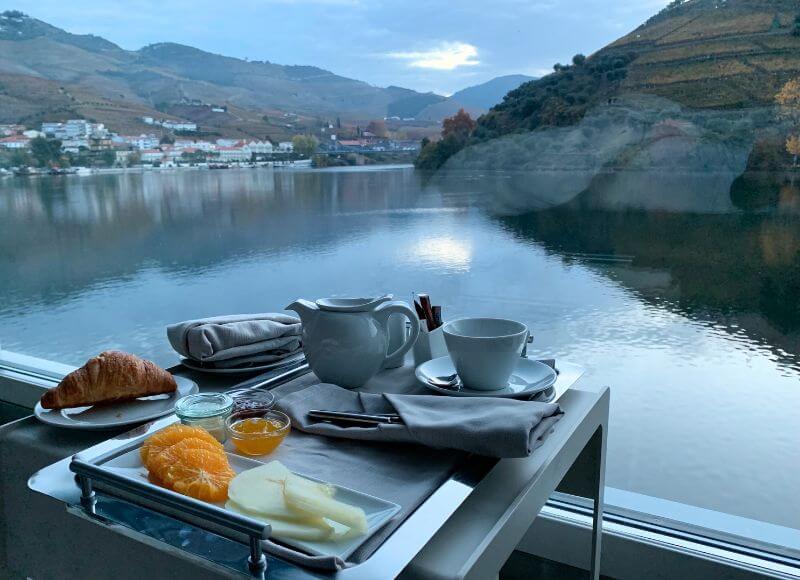 A highlight of Scenic Crystal was the speciality Italian restaurant, Portobellos, with all guests invited to dine at no additional cost. We also enjoyed quiet lunches here, with a beautiful river view.
Scenic also provide a mini bar that can be customised with your favourite drinks and is restocked each day.
You'll see below that Emerald has a range of more active excursions which is a consideration if you like the idea of more physically challenging options. I found all the tours on each itinerary to be of a very high standard with exceptional local guides. It's a pleasure to hear their stories and learn about local life.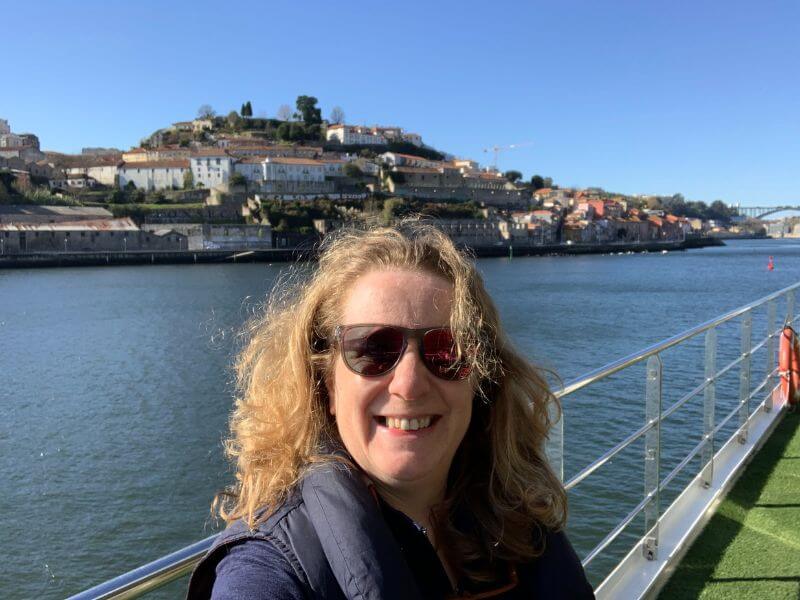 Scenic includes all the excursion options and curates incredible, exclusive experiences as part of their Enrich programmes. During the Danube itineraries, guests are treated to a unique private concert in Vienna. With Emerald, the culturally enriching Emerald More excursions are an optional extra at additional cost.
Scenic vs Emerald: Comparison Table
This table shows some of the similarities and differences between the brands:
Scenic
Emerald
Ships
Sapphire, Diamond, Gem, Ruby, Pearl, Crystal, Jewel, Jade, Opal, Jasper, Amber, Azure and Spirit
Sky, Star, Dawn, Sun, Luna, Destiny, Liberté, Radiance, Harmony
Itineraries
Rhine, Main, Danube, Moselle, Douro, and MekongFrance: Rhône, Saône, Gironde, Dordogne and Garonne and Seine
Rhine, Main, Danube, Moselle, Douro, and Mekong France: Rhône, Saône,
Butler service
Butler service for every suite (including room – service)
In room drinks
Mini bar restocked daily
Fresh water daily
Fresh water daily
Meals
All onboard meals included
All on board meals included
Drinks
Complimentary beverages all day (a few premium options are not included)
Complimentary tea and coffee
Wine, beer and soft drinks with lunch and dinner on board (drinks package available)
Complimentary tea and coffee
Excursions
Expert local guides to lead excursions

Included:
Scenic Freechoice – a diverse range of activities for guests to select from each day.
Scenic Enrich – exclusive experiences handcrafted to immerse guests in the local culture.
Expert local guides to lead excursions

Included:
Emerald PLUS – excursions providing fascinating insights into the local area.
Emerald ACTIVE programme includes bike rides, yoga and guided hikes.

Additional charge:
Emerald MORE – explore at a deeper level with unique insights into local life.
Fitness and wellness
Innovative Salt Therapy Lounge
Fitness and wellness area
Onboard wellness coach
Innovative indoor pool with retractable roof which transforms into an evening cinema.
Fitness and wellness area
Activity Managers
Bicycles onboard
Complimentary e-bikes
Bicycles on board
Gratuities
All gratuities included
All gratuities included
Wi-Fi
Wi-Fi on board
Wi-Fi on board
Notes: Emerald Radiance and Emerald Harmony do not have bicycles onboard or an indoor pool, they feature pools on the Sun Deck / Pool DeckEmerald ACTIVE excursions not available on Southeast Asia itineraries.

Flights and Transfers: Any flights included are up to a set credit amount, when paying in full only. If credit is exceeded, charges will apply. Airport transfers are only available on the first and last day of your journey and at times designated. Transfers outside these times will be at your own expense and must be secured by your own arrangements. Full terms and conditions apply.

All the information is correct to the best of my knowledge (October 2023).
Conclusion
In summary, Scenic Luxury River Cruises and Emerald River Cruises each have their unique strengths and cater to different traveller preferences and budgets. If you seek a truly all-inclusive luxury experience and are willing to invest, Scenic may be your choice.
On the other hand, if you prioritise affordability and flexibility, while still enjoying luxurious comfort, Emerald could be the perfect fit.
Jenny can help you book the perfect river cruise. Please get in touch with her here: www.rivercruising.blog or by email: [email protected]
NEW DEALS JUST RELEASED!
Don't miss the latest river cruise offers…
Related Posts: